THE QUEEN
Queen Mary Hotel Alive and Thriving in Long Beach
by Bonnie Carroll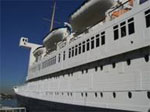 The word is that a group calling itself 'Save The Queen' is busy making innovative changes to the historic vessel, which sailed for the US for the first time on June 1, 1936.

Having found a new home in Long Beach several years ago, the vessel went though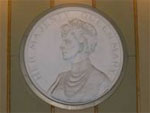 some setbacks, but is now practically sailing away with crowds of visitors each day.
The Sir Winston Restaurant is my favorite dining venue on board t
he QM, and is always filled to capacity with diners. Executive Chef Thierry Ruaux was born in Normandy, France. His classical training in France, along with chef experiences at Le Meridian and additional distinguished dining venues makes dining on the QM a culinary treat. Maitre d' (JB) John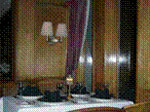 Bowshewicz is the consummate host with the most, and the service is traditional and formal, with waiters in tuxedos and great attention to detail.
A wonderful start is the Sir Winston's Seafood Platter, consisting of fresh seafood favorites on a bed of radicchio lettuce, or champagne scallops with creamy spinach and mushrooms. Other appetizers include escargots au pastis, foie gras, lobster cake Churchill or brie en croute. French au gratin or lobster bisque soups are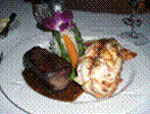 also a nice start to a dinner at this renowned venue. Don't miss the warm spinach salad with sweet red onions and roasted walnuts and mushrooms in port wine smoked bacon dressing.
Entrees include three signature dishes, The Sir Winston's Wellington is beef tenderloin with foie gras in phyllo dough and covered with cognac truffle sauce, The Prime Minister's Trio which features filet mignon, prawns and scallops topped with caviar on mushroom risotto, and The Downing Duet, which I loved, is a filet with morel mushroom sauce combi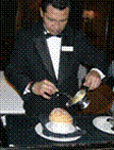 ned with a broiled lobster tail with drawn butter. Other entrée dishes are rack of lamb, chateaubriand, several wonderful fish dishes, venison chops, braised rabbit, duck magret, Asian ahi and a prime New York steak for true meat lovers.
The Sir Winston has a private little bar area where guests can wait for their table or enjoy an after dinner brandy. The wine list at the restaurant is filled with favorites from around the world, and the sommelier will be happy to assist you with wine pairing during your visit. Any outstanding meal deserves a s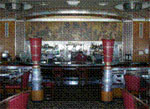 weet ending, and the Sir Winston's Soufflé with Grand Marnier is served with crème anglaise, chocolate sauce and whipped cream. The soufflé must be ordered thirty minutes in advance, but it is sensational.
The Observation Lounge is alive with music at night and a pleasant place to enjoy a cocktail while enjoying the Long Beach skyline in the afternoon. The Art Deco design is original and unique, and the bar features the painting "The Royal Jubilee Week, 1935" depicting a composite caricature of London types celebrating the 25th anniversary of the reign of King George V that was celebrated around May 6, 1911, by A.R. Thomson. Thomson's paintings can also be seen in the Cocktail Bar and Promenade Deck of the Queen Mary. A.R. (Tommy) Thomson was an artist who distinguished himself not only by his rise from utter poverty to become a distinguished Royal Painter, but who also happened to be deaf. His story is often recounted as both remarkable artistic expression and personal inspiration.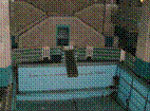 The rooms and suites are ocean liner size, tight but extremely comfortable, with everything an arms reach away. The bathrooms have signs indicating a choice of hot, cold, and sea water. Original fans can be found in the rooms, as well as beautiful writing desks, dining furniture, and copies of the A.R. Thomson paintings. The pool area has always fascinated me. It is an indoor pool, and had private change rooms for guests. The young men who worked as servers in this area were not allowed to enter through any of the doors or move about where guests were swimming or resting. They climbed up endless stairs in a tunnel to bring replacement towels and do spec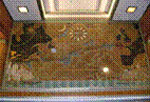 ific tasks, virtually without being seen by any of the guests.

The Sunday Brunch on Salon level is the best I've seen since the old days at the Santa Barbara Biltmore Hotel, but offers an international array of all things delicious, from individual French crepes to hand made tortilla's, Chinese favorites, a magnificent array of fresh seafood, and lovely desserts. So many food stations and they are all wonderful. The room features a magnificent wall clock, and murals. The historic tours and ghost tours given are filled with helpful information on the years of service this vessel has given to the world, as a pleasure ship and as one that served its country during war ti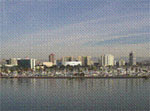 mes. The ghost tours are filled with stories of guests who keep coming back because they obviously liked it on the QM.

The sundeck is a peaceful spot to start the day with a walk around the ship, where visitors can see the huge dome that currently houses the Star Trek exhibit, but in years past was also home to the Spruce Goose, built by Howard Hughes. A collection of little gift shops, a Russian submarine, and boat cruise centers dot the area surrounding the hotel, and Long Beach has lovely little red busses that transport visitors all around the city for free. They stop in front of the QM every fifteen minutes. Those going to the Convention Center or the Aquarium have a quick and easy transport back and forth. If I did not mention it, this is a very child friendly hotel, with special programs for kids and the Sunday brunch offers a children's table filled with all the foods they love. The hotel offers coupon books with special offers for families to local attractions.

There are memorabilia shops where guests can purchase books, cards and apparel to remind them of their visit, as well as replica's of Art Deco items for their homes. The Queen Mary Spa is where guests can have a massage, facial or body treatment to lose their jetlag. It is small and not very glamorous, but the treatments are quite good.

All in all, a weekend on this historic old girl is worth the trip. There are so many things to do on and off the ship. The food is all wonderful, and the staff aim to please. They must be doing something right because I keep coming back and never seem to tire of the experience!
The Queen Mary
1126 Queens Highway
Long Beach California 90802-6390
---