CHEF/HOTEL PROFILE   .    .    .
HEAVEN AT THE BEACH -- MAR Y VINO – LOCATED AT PLAYA LOS ARCOS RESORT
By Bonnie Carroll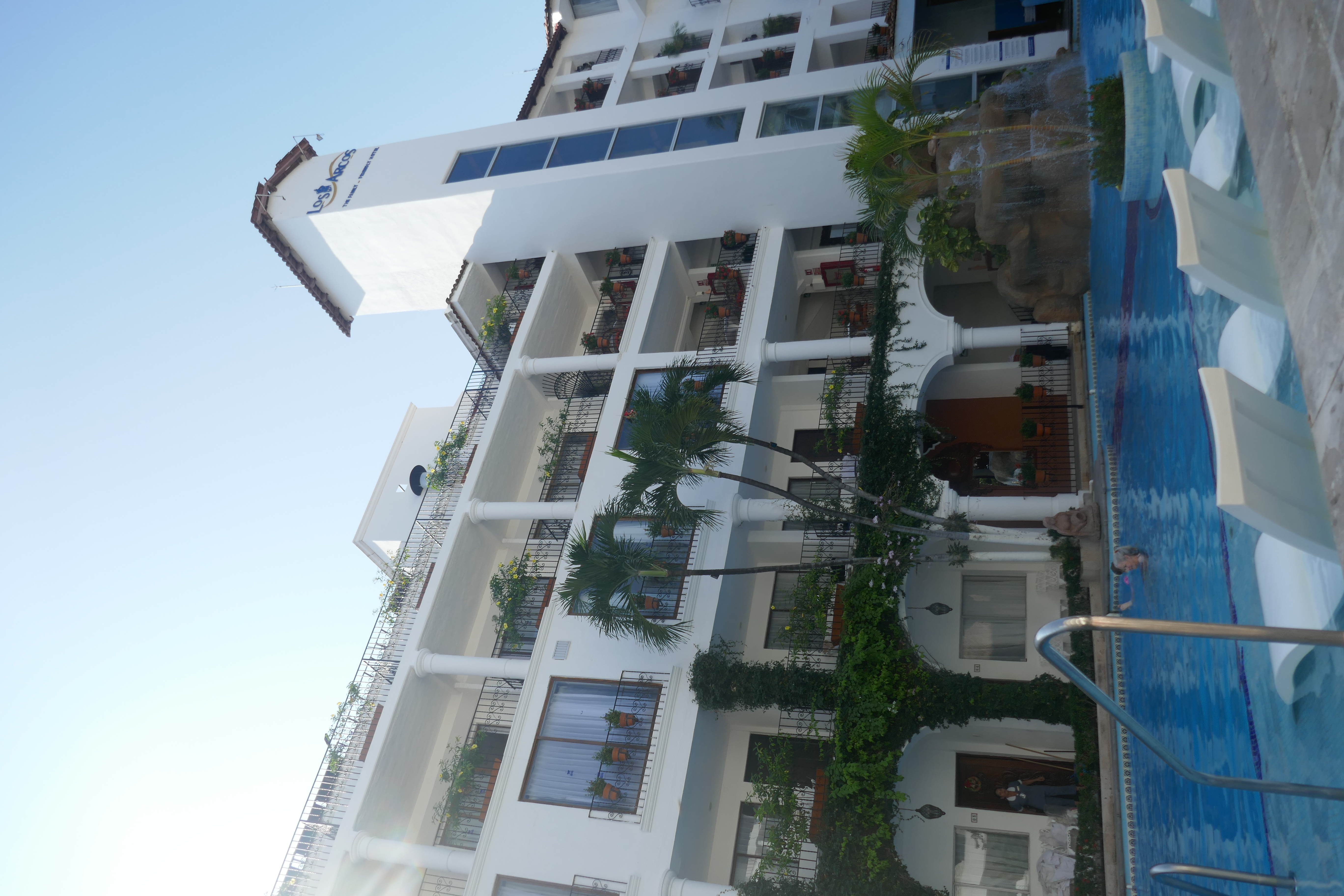 Los Arcos Resort Pool (photo: BCLBN)
MAR Y VINO
While enjoying my stay at Playa Los Arcos Resort in Puerto Vallarta I had the opportunity to experience a sunset dinner at Mar Y Vino seaside restaurant, featuring Latin seafood international cuisine, fine wines, tequilas and a bevy of specialty cocktails, all served in an elevated venue overlooking the Los Arcos beach. This entire dining process is experiences while gently soaking your feet seated in their chic dining pool. Words cannot accurately share the pleasure of this experience; however, I saw a review in Trip Advisor where a guest described it as "7th heaven."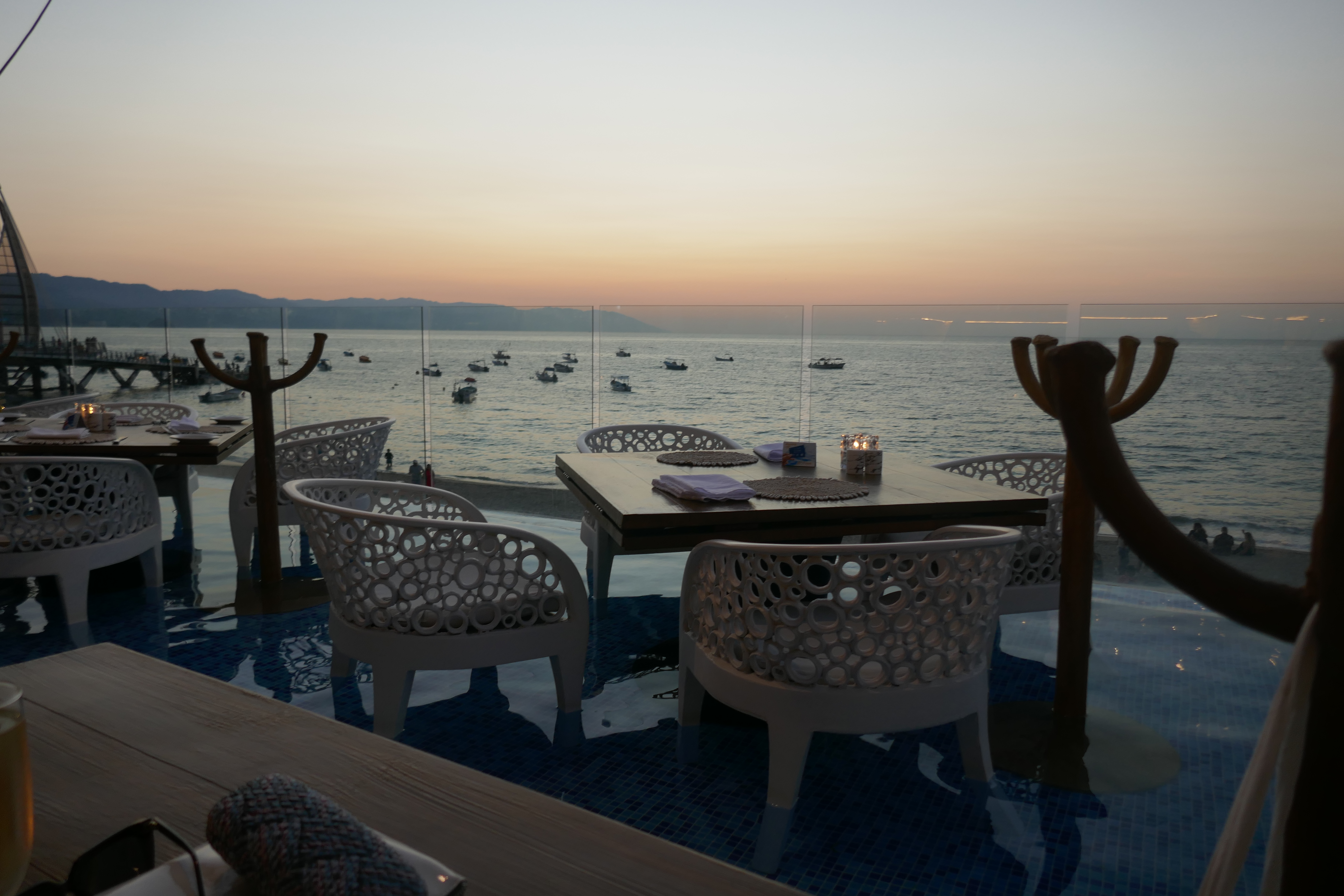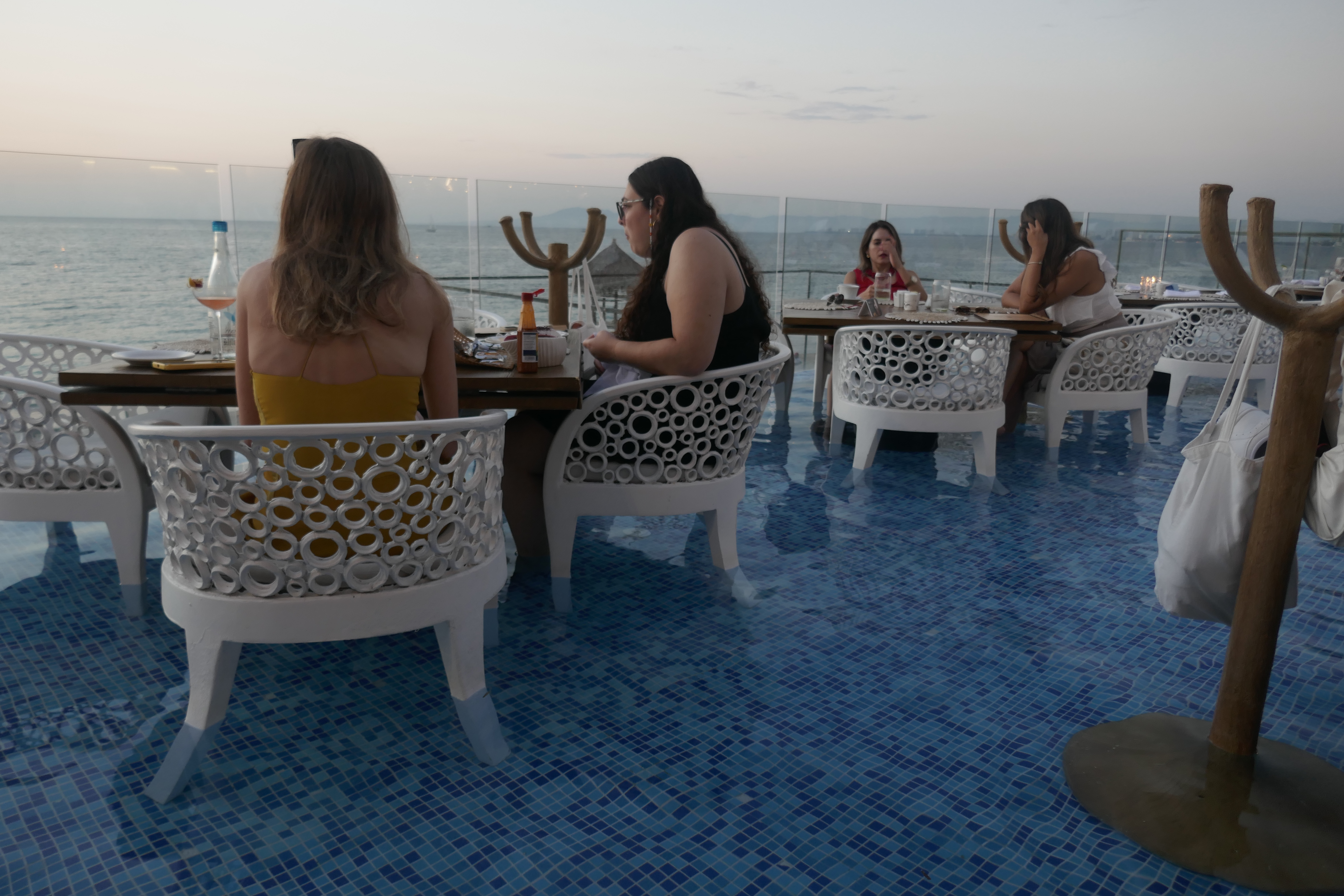 Mar Y Vino Ultimate Water Experience (photos: BCLBN)

I arrived at Mar Y Vino as the sun was beginning to set over the beach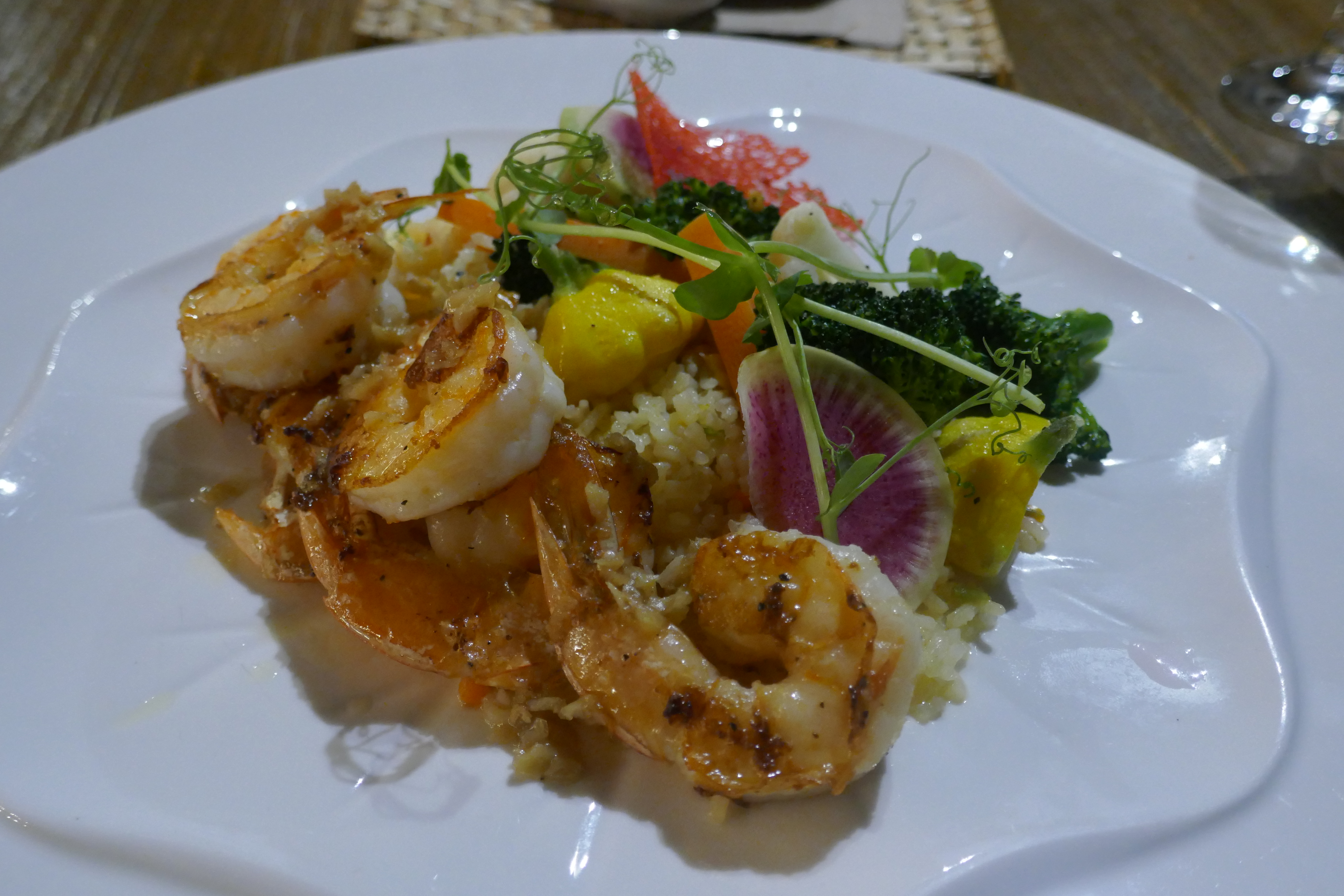 and sat overlooking the ocean view, with my feet relaxing in the pool, where I could chat with my talented server Nester and Chef Christian during dessert. My selections of seafood au gratin in clam shells, and a fresh Shrimp entrée were outstanding. I enjoyed watching a sommelier creating a magical Puerto Vallarta mocktail at another table and was at complete peace watching the ocean go through sunset light changes as waves were breaking below me.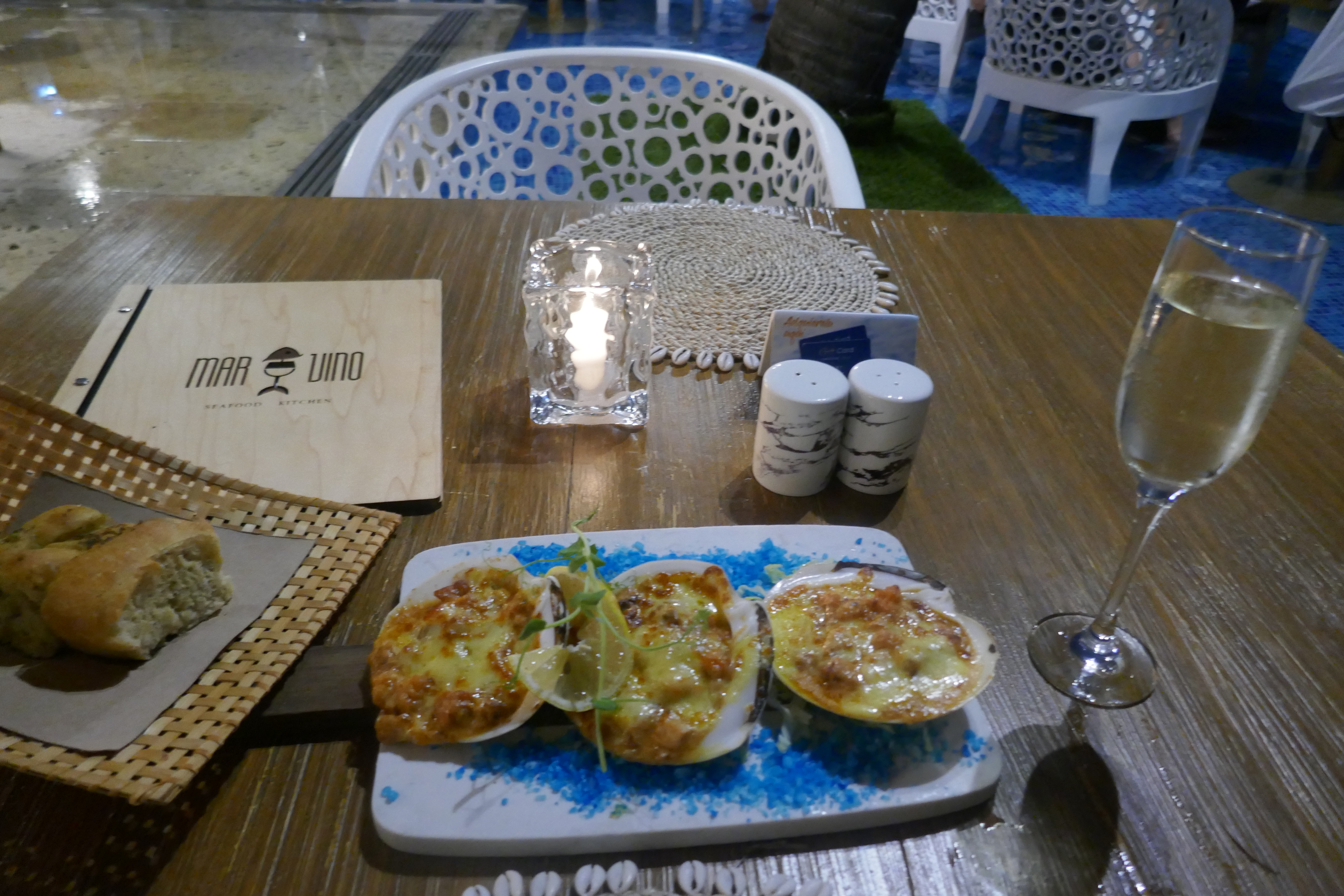 Mar Y Vino Seafood Gratin (photo: BCLBN)

The cuisine here is Latin seafood outstanding, and the crowd were also a very sophisticated group who seemed to be mostly locals who thoroughly enjoyed the unique ambiance, fine food and outstanding service. I look forward to my next visit in 2023 with great anticipation.
PLAYA LOS ARCOS
Playa Los Arcos is an all-Inclusive and European Plan Beach Front Resort in Puerto Vallarta Old Town, overlooking Banderas Bay. It features 3 outdoor pools with a waterfall, a spa, free Wi-Fi, and free on-site parking. Air-conditioned rooms and suites at Playa Los Arcos have a private balcony, some with Pacific Ocean views, framed by Colonial Mexican architecture, charming décor, and views of the gorgeous golden sand beach. The beachside restaurant is an ideal spot for Mexican happy hour and features amazing cocktails.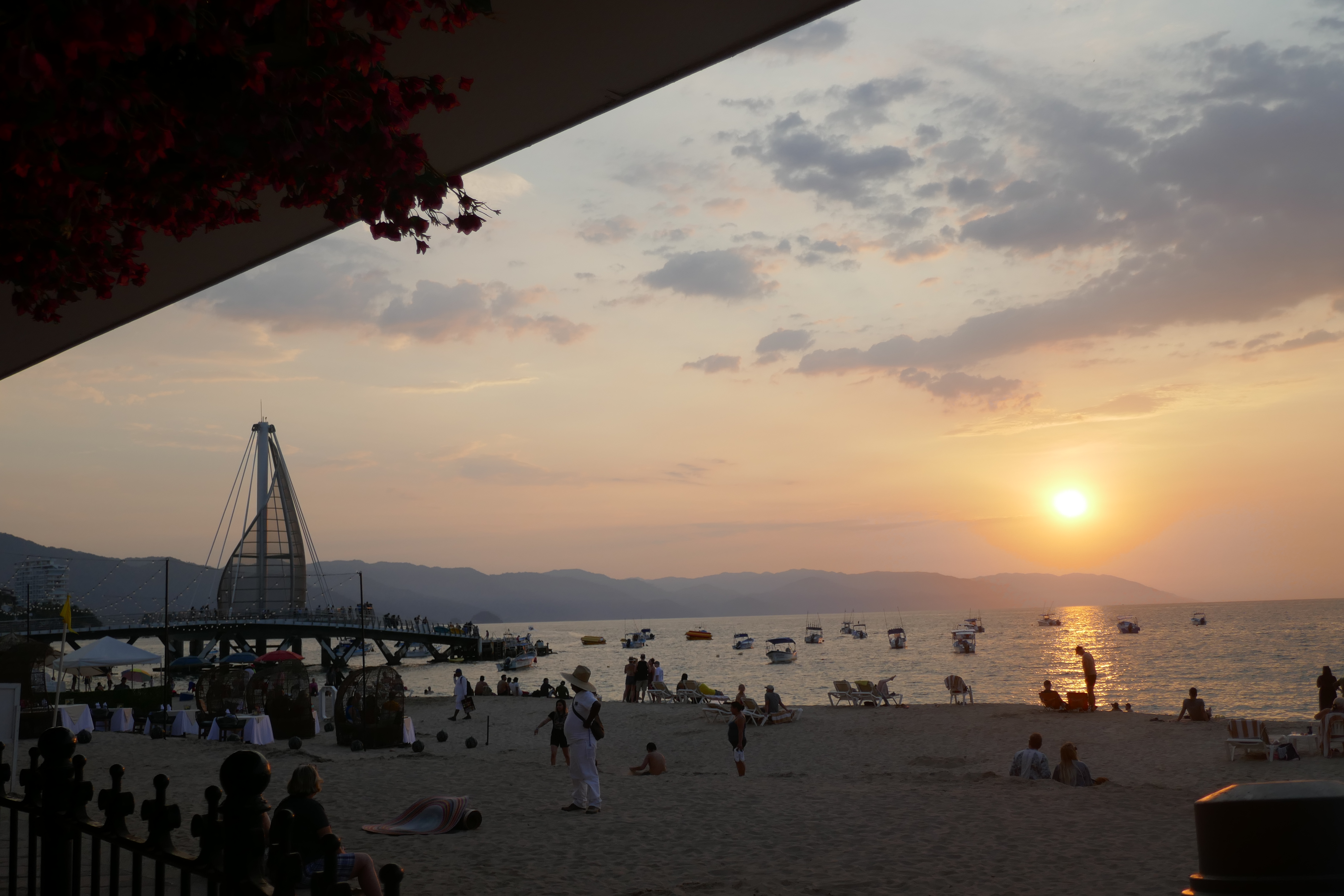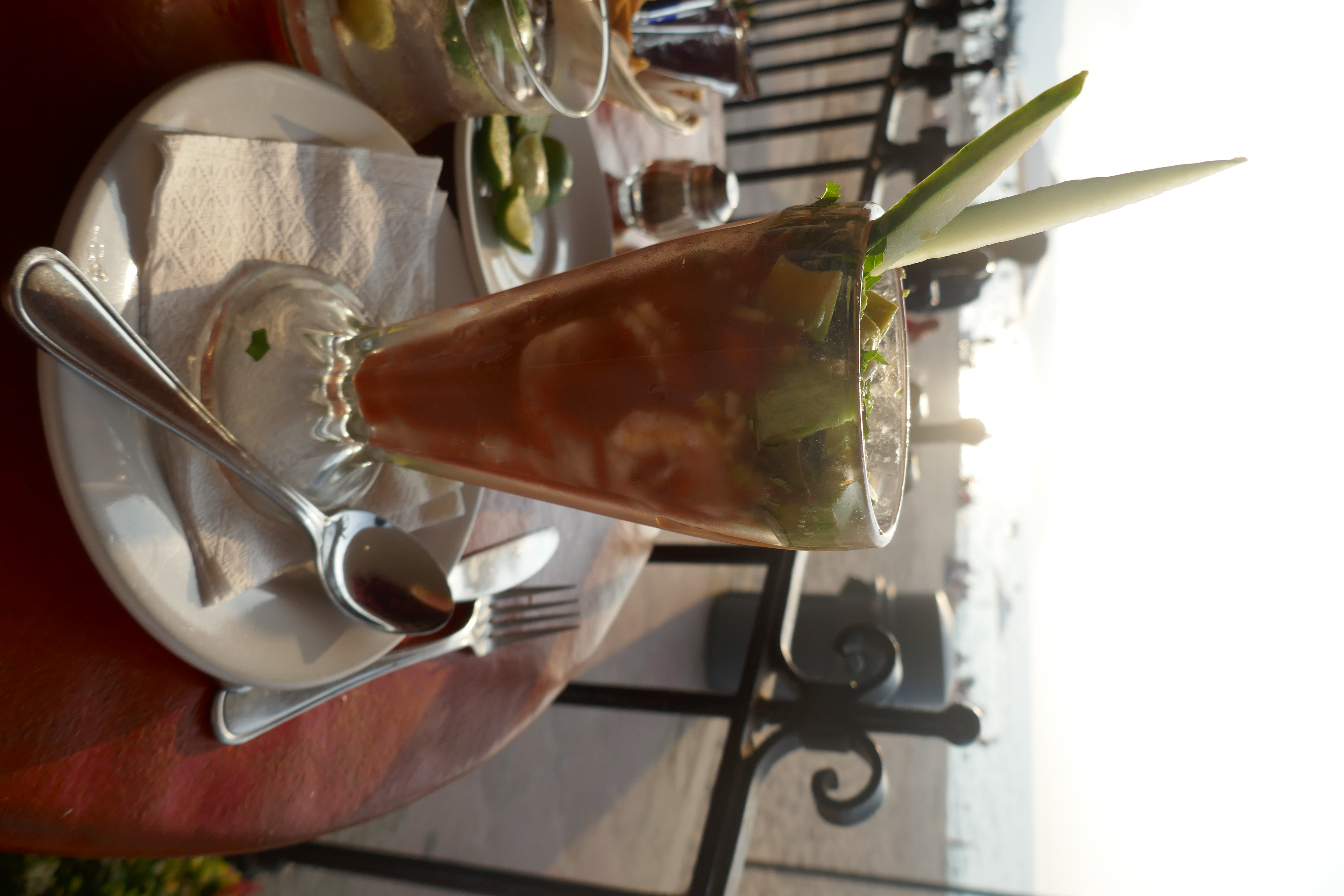 Ultimate Sunset Bloody Mary at Los Arcos Beach Hotel (photos: BCLBN)

The Los Arcos Resort is home to Mar Y Vino Latin Seafood International Restaurant & Bar, and Café Maximilian serving Austrian & European cuisine. Guests at the hotel may enjoy live music at the historic beachfront Palapa Bar or have Mexican food at the Mi Pueblito.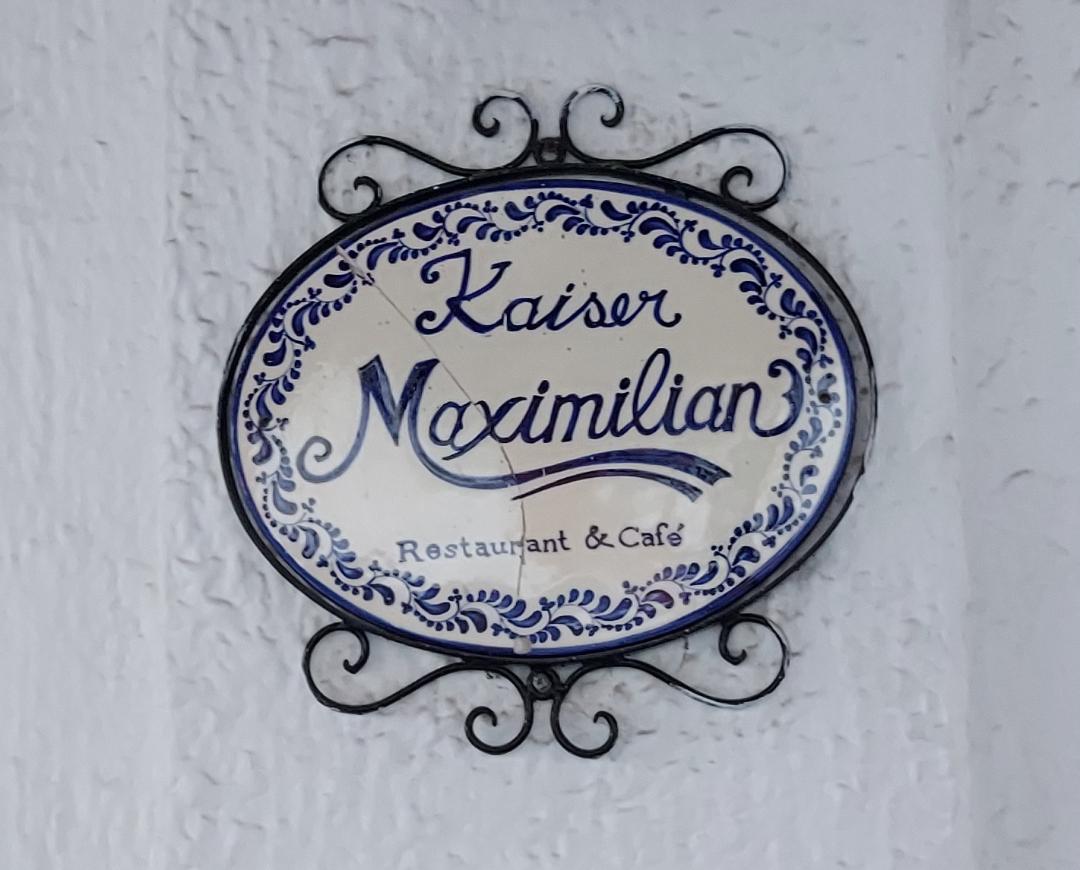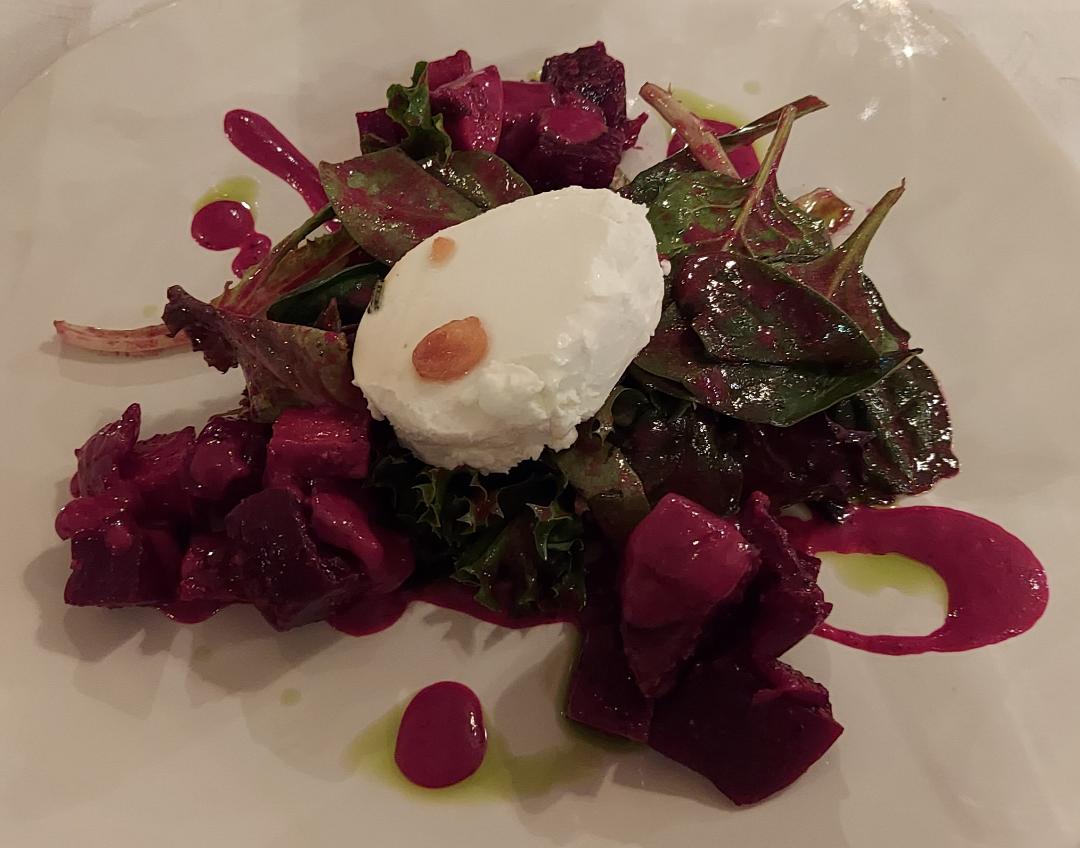 Kaiser Maximilian Fine European Cuisine (Beet Salad) Photos: BCLBN
There is also guest service at a 24-hour front desk and tour desk. Walking along the Malecon Boardwalk into the center of Puerto Vallarta, a 20 minute walk, is wonderful exercise after dinner in the evening or to go shopping during the day, where shops are open late in the evening and feature everything from beautiful jewelry to colorful local art work. A visit to Our Lady of Guadalupe Cathedral is a must during any visit to Puerto Vallarta and provides some beautiful opportunities for photographers to capture the beauty of this historic place of worship.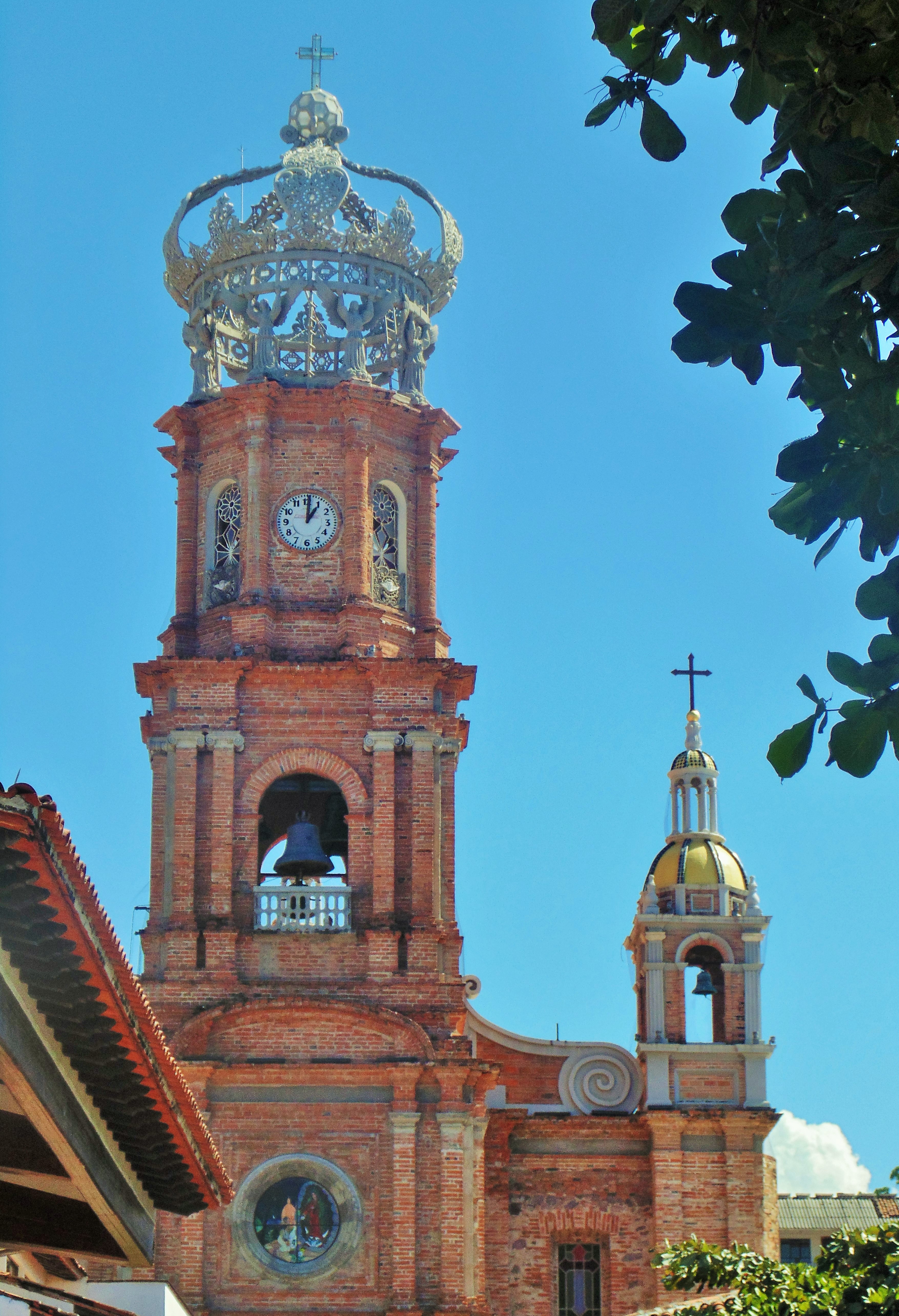 Our Lady of Guadalupe
Puerto Vallarta's Romantic Zone, also known as Viejo Vallarta (Old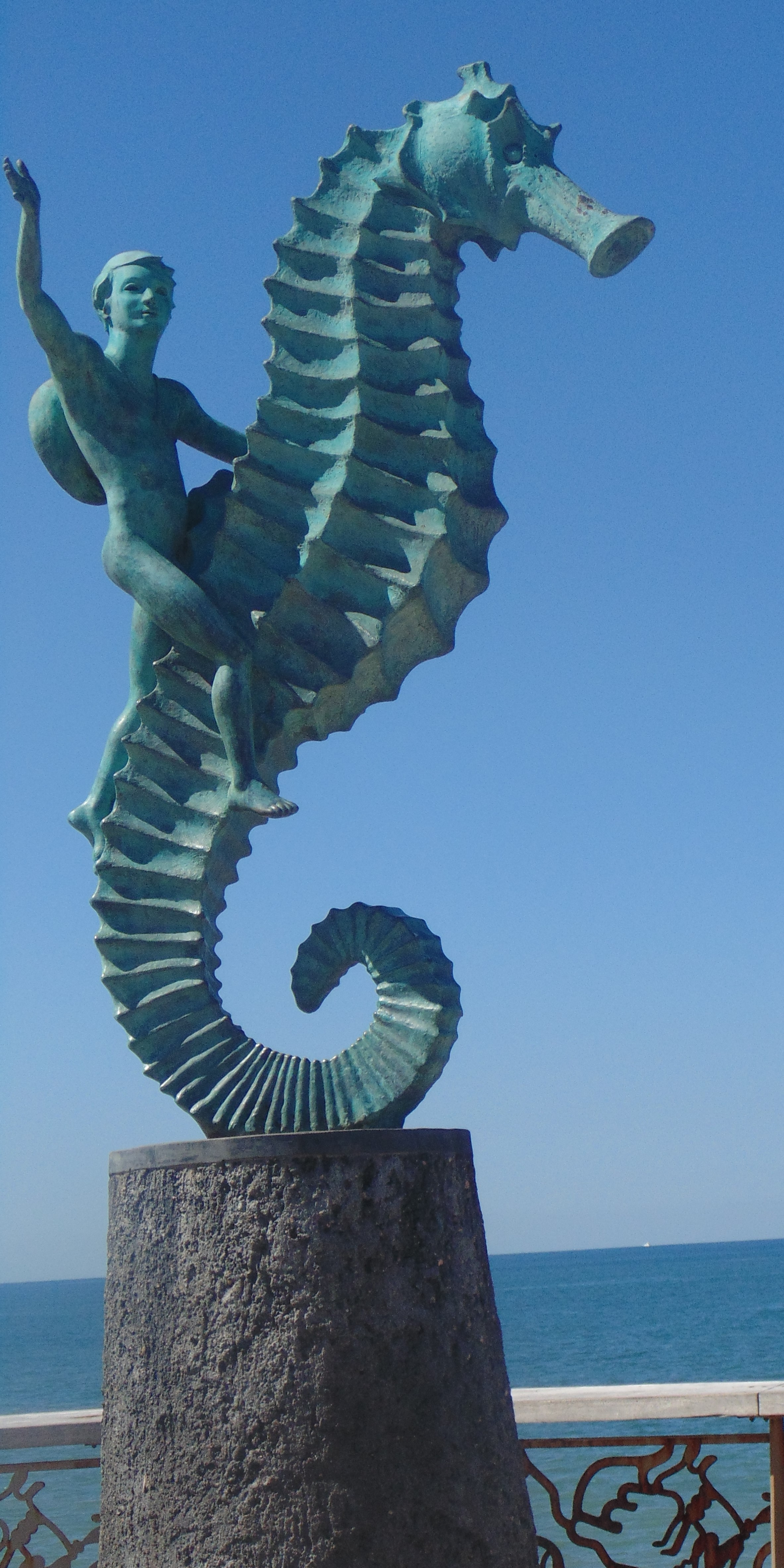 Vallarta), Old Town, and the South Side, is just south of downtown Puerto Vallarta and is one of the busiest parts of town. The streets are smaller and there is a higher concentration of cafes, bars, shops, and restaurants per square foot than almost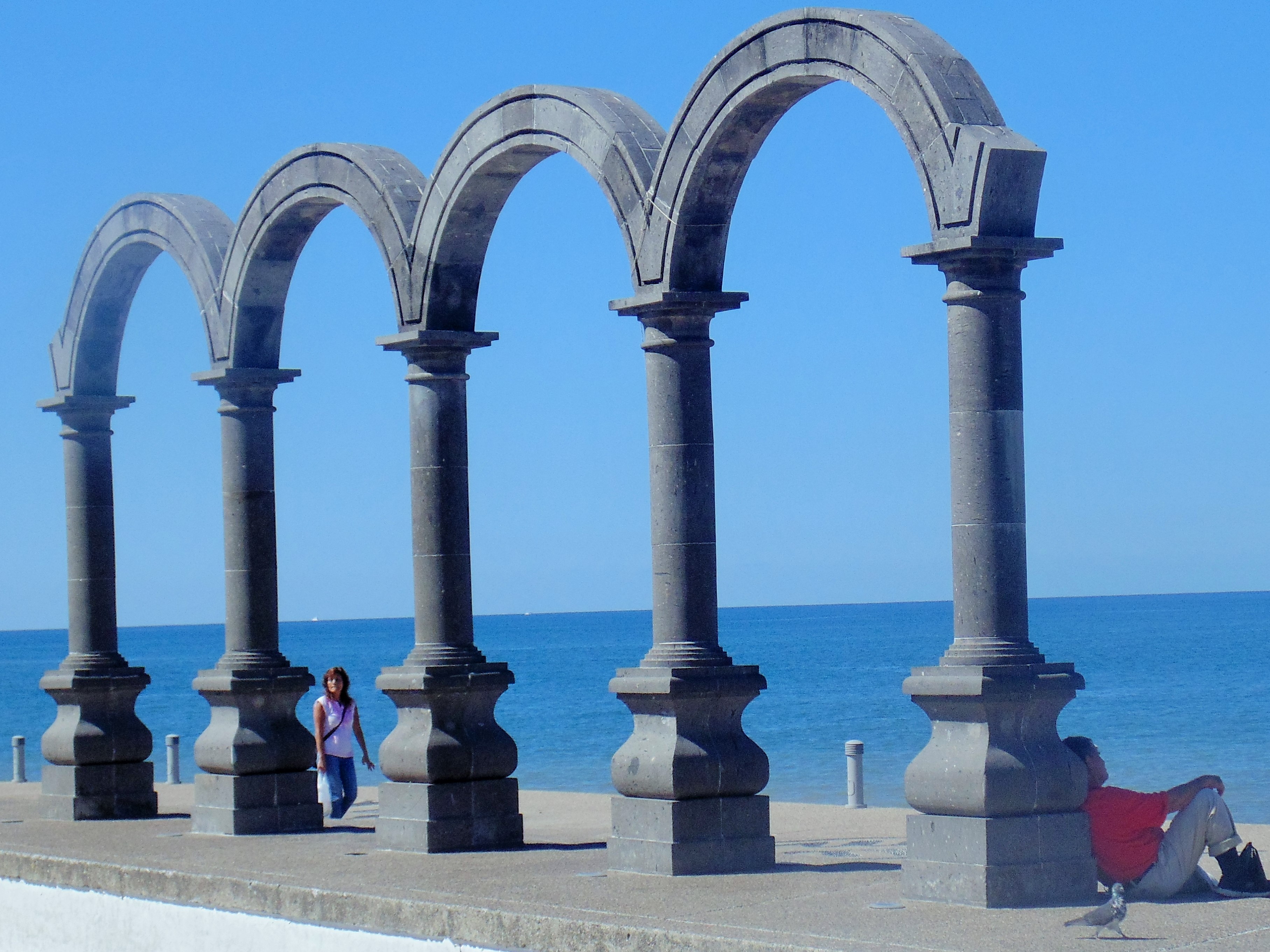 anywhere else in the city. Your trip to Puerto Vallarta is not complete without enjoying this neighborhood (barrio) in the Romantic Zone. As with the downtown area, this is where you'll experience the heart and soul of this once sleepy little fishing village and its Mexican culture. It is bounded by the Cuale River to the north and Las Estacas Beach (Hyatt Ziva) to the south. It is also known as the South Side and Colonia Emiliano Zapata. If you really want to enjoy Mexico and the true Puerto Vallarta experience, then the Romantic Zone (Zona Romántica) is where it's at. This is also the part of town most recurrent visitors stay at and the ex-pats enjoy visiting at night. (Photos: BCLBN)

MAR Y VINO AT PLAYA LOS ARCOS RESORT
Located in Playa Los Arcos Resort Hotel in the Romantica Zone, Calle Olas Altas 380, Puerto Vallarta 48380 Mexico +52 322 121 8852 - Playa Los Arcos Resort For detailed information visit: www.playalosarcos.com, www.maryvino.com.
---