Chef/Hotel Profile . . .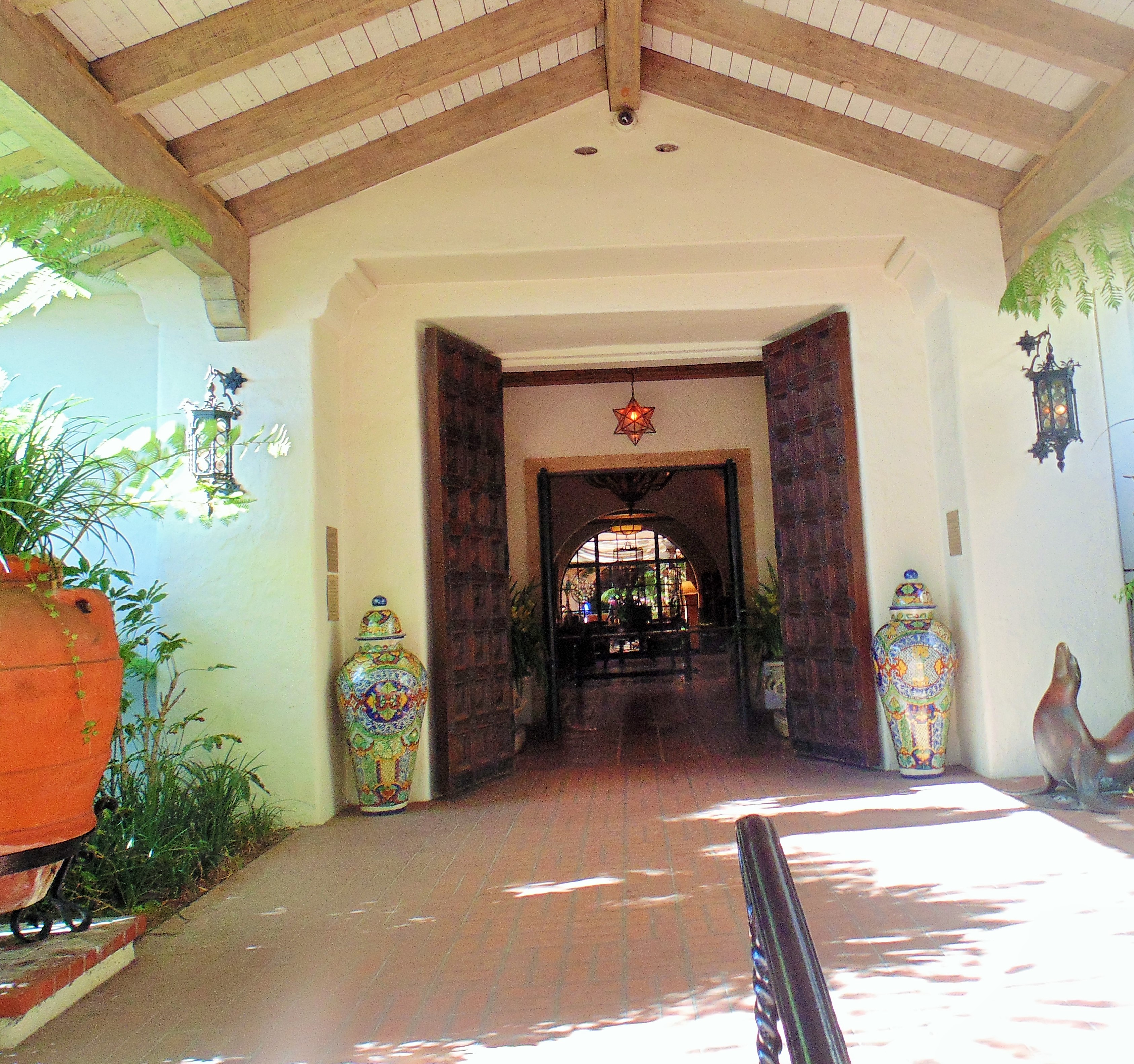 BRUNCH BLISS AT FOUR SEASONS RESORT THE BILTMORE 
Scrumptious Eggs Benedict with a Butterfly Beach View
by Bonnie Carroll
One of the first recommended food adventures on my list of to-dos when I moved to Malibu from the Mid-West in 1977 was to experience the Sunday Brunch at the Biltmore Hotel in Santa Barbara. Several friends had raved about the deliciously decadent spread they served at this historic hotel overlooking Butterfly Beach, and I happily drove up highway 101 to see what all the fuss was about.
From my first visit to this seaside hotel resort I was delighted with the laid back elegance of the Meditterranean Revival, Spanish Colonial Revival and Morrish styles of arhitecture in the hotel that had opened in 1927, the remarkable quality of the food and beverage service, as well the attentive attitude of the staff throughout the hotel. In 2000 Ty Warner took over the iconic property and proceeded to give it a badly needed $240 million dollar facelift by adding exquisite art and antiques, and doing renovations throughout the hotel, including the Bella Vista and Ty Lounge.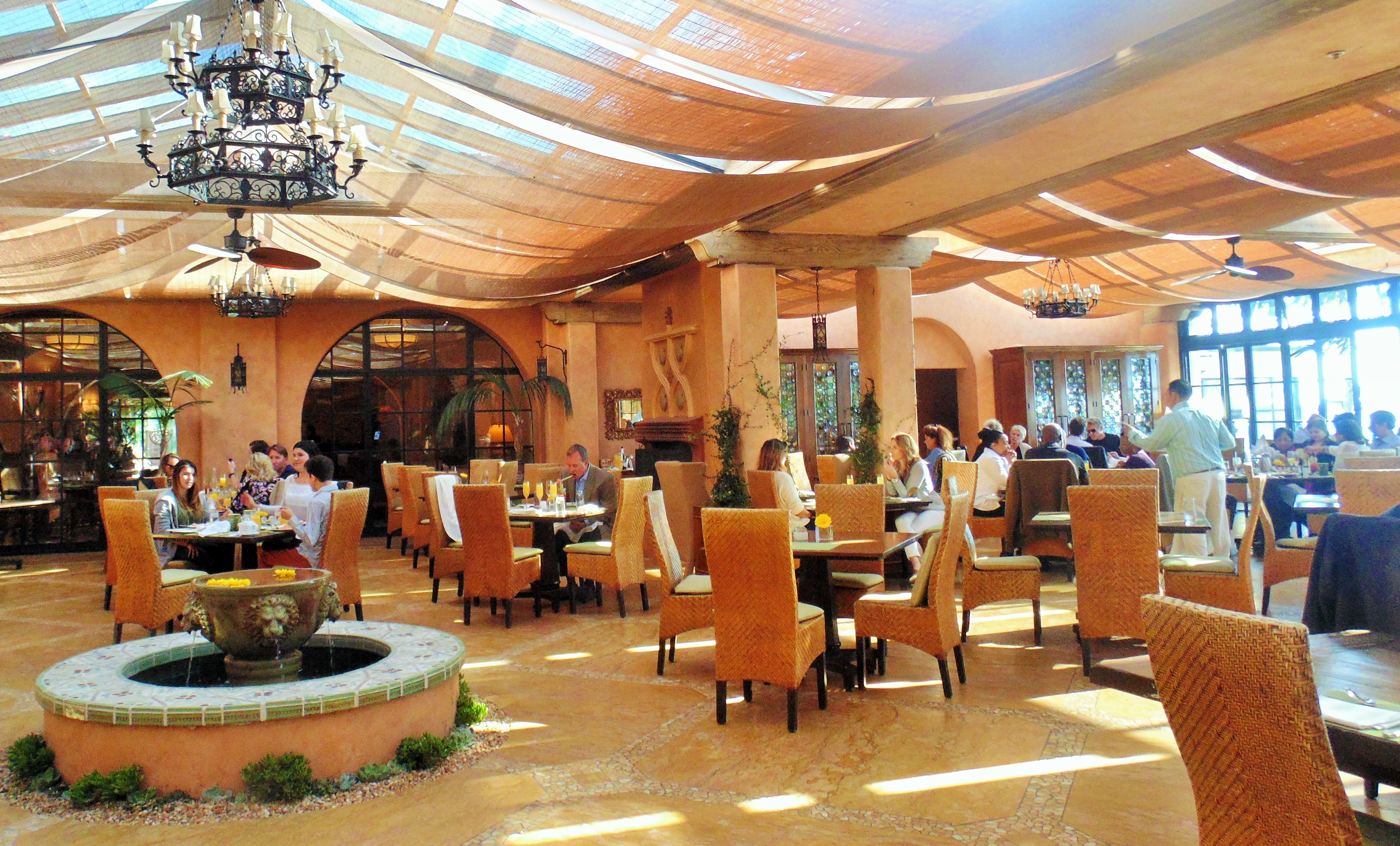 Today the brunch is served adjacent to the Bella Vista, which features expansive ocean views and a heated outdoor terrace, where Executive Chef Alessandro Cartumini showcases organic, Italian-inspired California cuisine, and the pastry chef Don Hall presents a rotating collection of the finest signature desserts to be found anywhere in the world. A few include vanilla lychee panna cotta with apricot gelee, fresh fruit tartlets, opera cake coconut-banana cream pies, chocolate mousse cake with almonds and cinnamon, tiramisu, New York cheese cake, chocolate flowerless cakes and warm cherry fancier.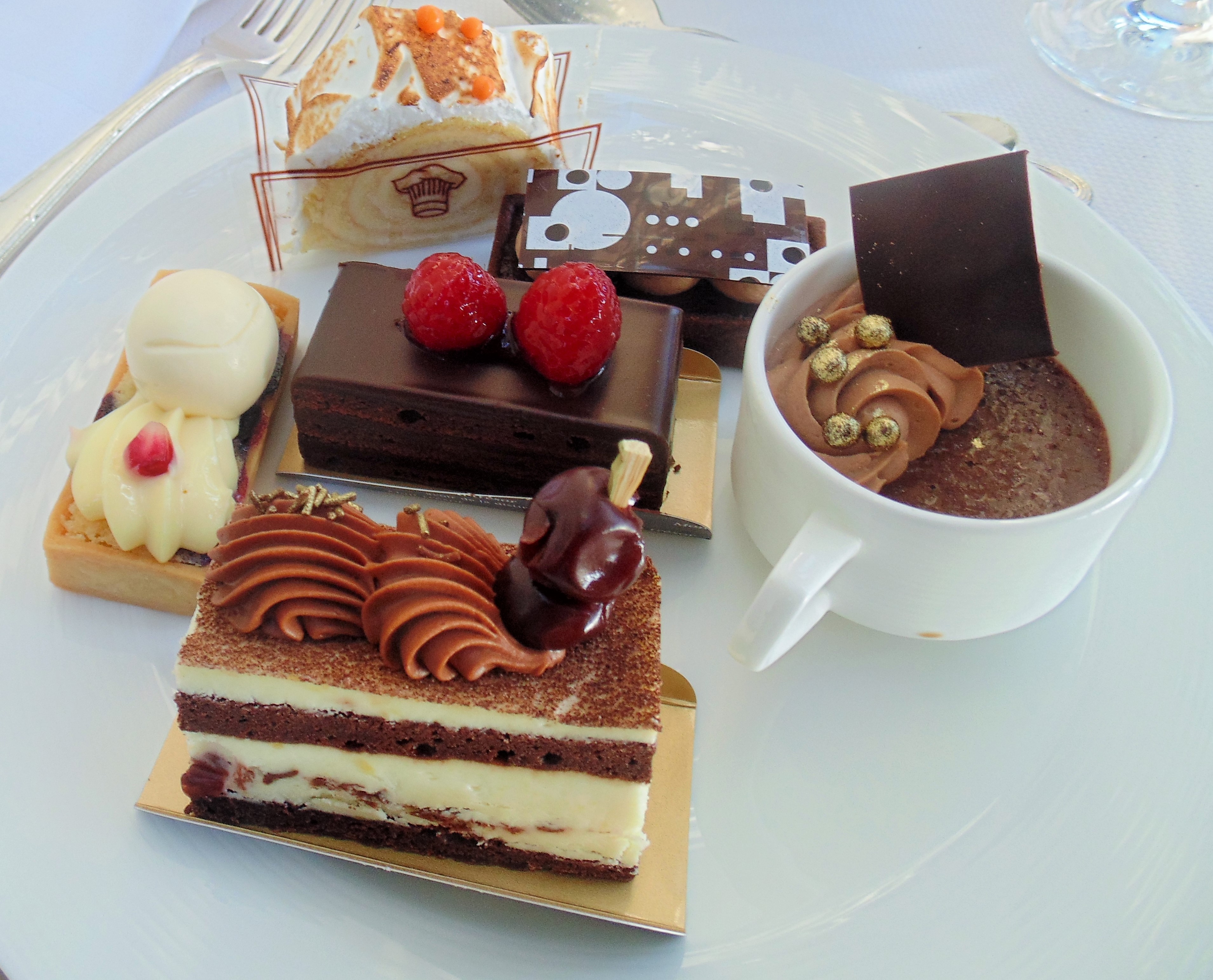 A Sunday brunch highlight is the seafood table filled with fresh shrimp, oysters and crab claws accompanied by lemons, cocktail sauce and mignonette, as well as Santa Barbara smoked salmon with capers, onions, eggs and parsley relish to be enjoyed with bagels and whipped cream. They also feature a colorful selection of American sevruga caviar, wasabi tobiko, flying fish roe and salmon roe with traditional condiments that can be enjoyed with freshly made sweet corn blinis.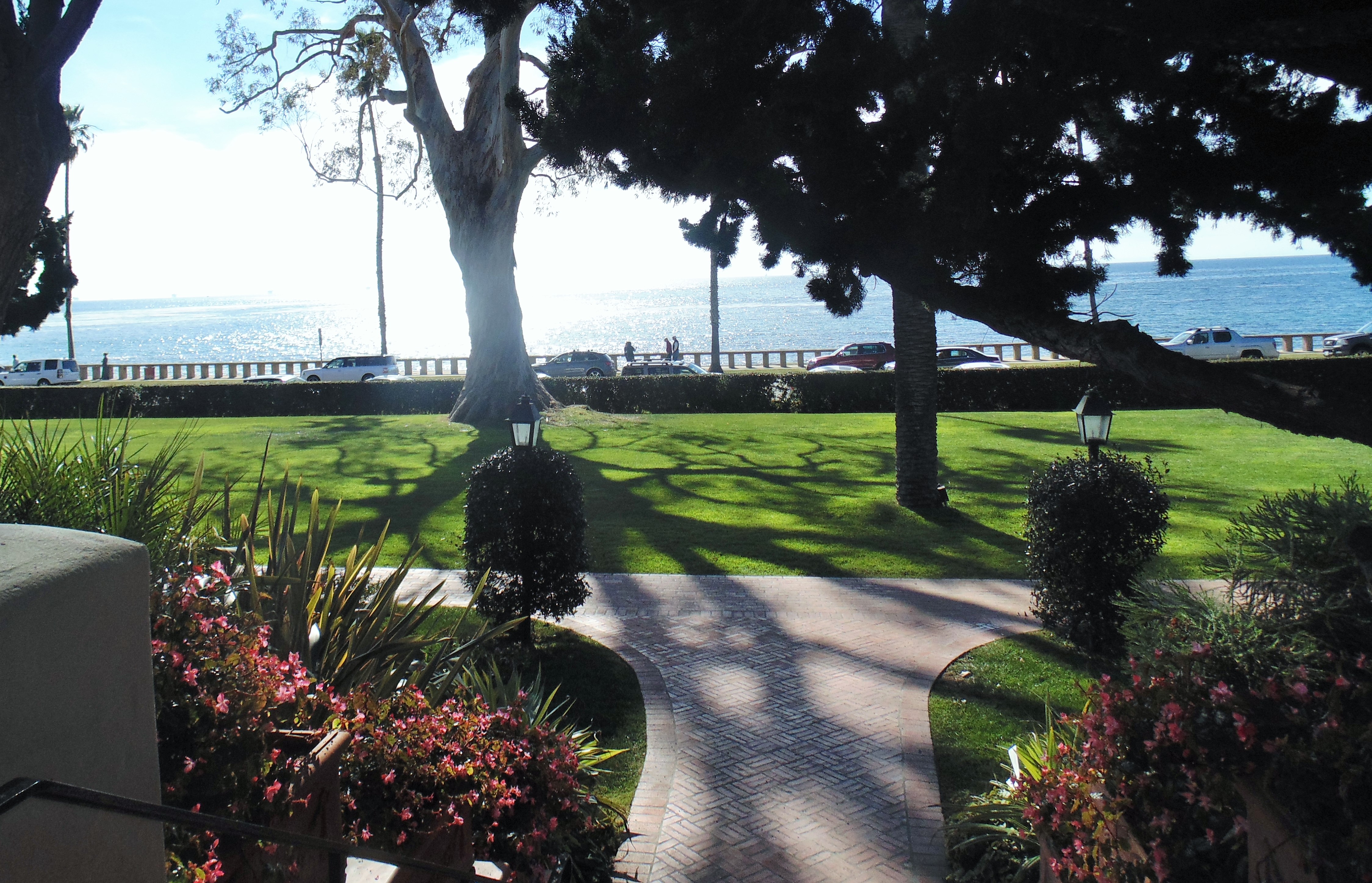 An amazing salad, charcuterie and cheese station includes roasted tomatoes, Burrata cheese, petit basil, extra virgin olive oil, butternut squash, Feta, candy walnuts, honey truffle vinaigrette, five spiced duck breast, brocolini, soba noodle salad, grilled asparagus, rock shrimp, hearts of palm, lime vinaigrette and a selection of whole cheese with dried fruits and charcuterie to be savored with rustic country bread crostini, sun dried tomato pesto, eggplant and olives, assorted artisan olives, sushi and sashimi of California rolls of crab, cucumber and avocado and tuna sashimi with wakame, seaweed salad, salmon and tuna sushi, wasabi and pickled ginger.
There is a carving station where melt in your mouth crusted lamb rack with mint jelly, prime rib of beef au jus with horseradish cream and a fantastic plank roasted wild salmon are served, alongside an omelette station where anything you could possibly want in your egg or egg white omelette is offered.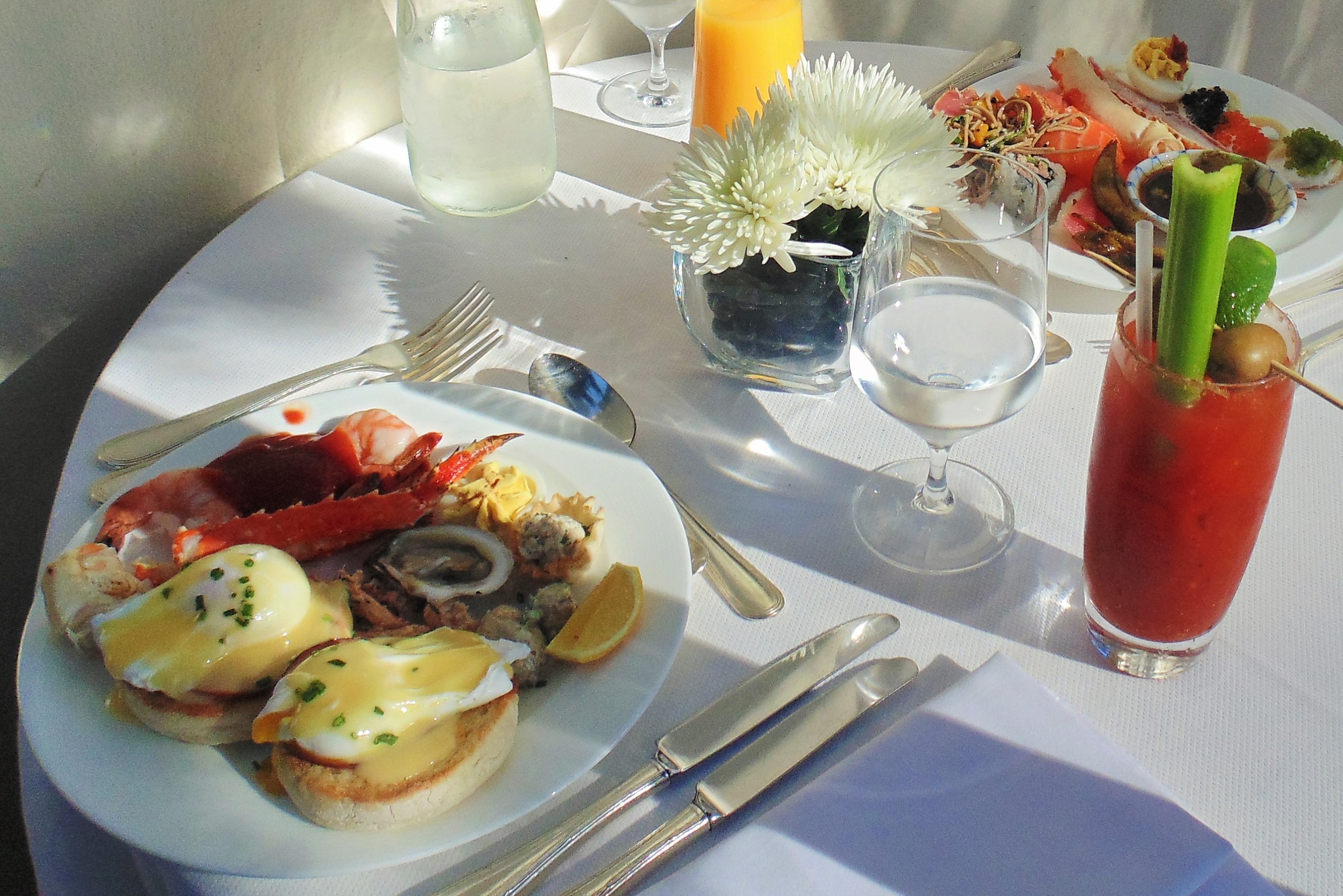 However, the crème de la crème of this entire Sunday by the sea adventure is the eggs Benedict made to order station, where a charming chef was busy poaching eggs and serving them on toasted muffins with a choice of crab cake, citrus Hollandaise, lobster salad Bearnaise, spinach, traditional Canadian bacon, and roasted tomatoes. What a fabulous treat to enjoy with pork sausage, applewood smoked bacon, chicken sausage, beef short rib hash and more. This egg heaven combination was made to be enjoyed with a Mimosa, signature bloody Mary or a selection from Bella Vista's comprehensive wine list featuring local wine growers.
It's a wonderful thing to have splendid memories of past dining experiences with loved ones in blissful resort destinations, but it is even more meaningful to be able to relive the same pleasures ten and twenty years later in the same venue and experience it as being just as outstanding or better than your first encounter. It's heart warming to know the Santa Barbara Biltmore Hotel & Spa has made the journey from renowned historic past to a remarkable present with grace and style. For reservations visit http://www.fourseasons.com/santabarbara/.
Four Seasons Resort The Biltmore Santa Barbara
1260 Channel Drive, Santa Barbara, California 93108, Tel. 1 (805) 969-2261
---