Health Minded - Fall Recipes
FALL IN LOVE WITH THESE HEARTWARMING RECIPES FROM LOSALT
~ Delicious Seasonal Recipe Ideas from LoSalt®, a Leading Reduced Sodium Salt ~
 Fall is here. School is back in session, the trees are once again changing colors and, of course, that means Halloween isn't far behind. While a little extra sugar consumption may be unavoidable during this time of the year, between the crisp caramel apples and Halloween candy hitting the shelves, it doesn't mean you have to overload on the salt as well.
As people start packing their summer clothes away and digging for their warm sweaters, it's the perfect time to change up your recipes for seasonal, heartwarming fare. LoSalt, a reduced sodium salt with 66 percent less sodium than regular table, sea and rock salts, can be used to add a healthy kick.
"LoSalt offers a positive step toward helping consumers lower the sodium value of recipes without losing taste," said Jo-Ann Heslin, registered dietician and nutritionist and author of 29 consumer wellness and nutrition books.
 South Carolinian Nathalie Dupree offers up a soup recipe incorporating LoSalt. Dupree is a best-selling author with 13 hardback and two softback cookbooks and more than 300 television shows for The Food Network, PBS, and The Learning Channel. She was awarded the prestigious "Grand Dame" of Les Dames d'Escoffier, an international organization of top women in the culinary field, as well as 2013 Woman of the Year by a prestigious organization of French Chefs in America.
 Don't sacrifice any salty taste, and try out these delicious fall recipes.
Sweet Potato with Greens and Bourbon Soup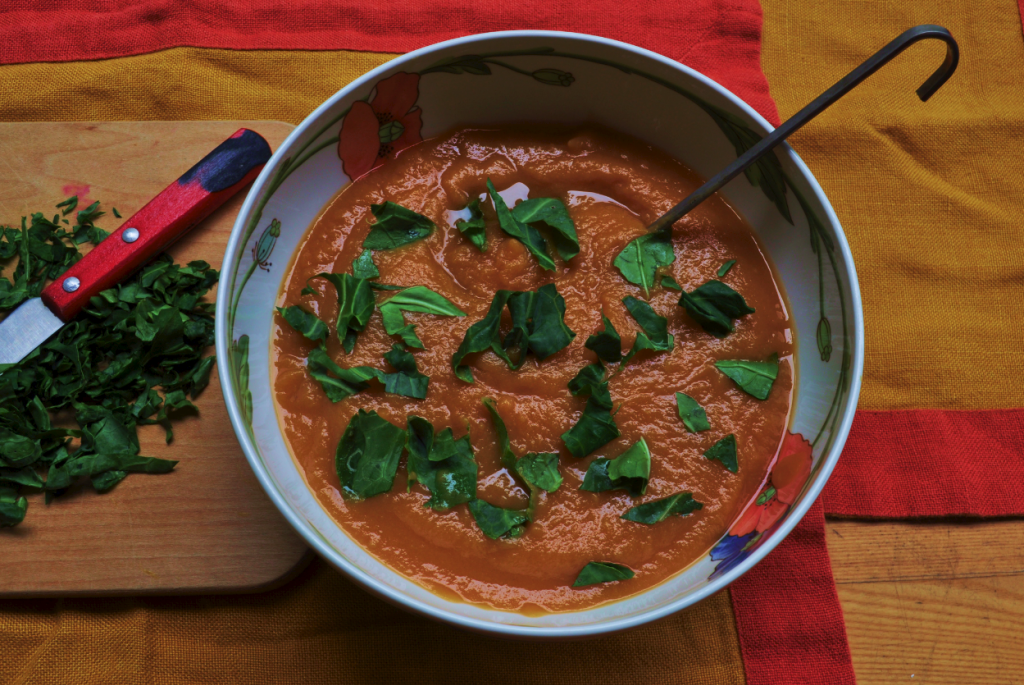 Recipe by Nathalie Dupree
Serves 4 to 6
 This rich golden soup is uniquely Southern with the sweetness of the potato enhanced by the addition of the bourbon.  Of course, it could be served completely smooth, but I like it part chunky.  It may be made several days in advance and reheated, or frozen.
 Ingredients:
·         3 tablespoons butter
·         4-5 medium sweet potatoes, peeled and sliced roughly
·         6 cups chicken stock or broth, fresh or canned
·         1/4-1/3 cup bourbon
·         1 tsp or more LoSalt
·         Freshly ground black pepper
·         1 cup fresh greens, turnips, greens, collards or sweet potato leaves
Directions:
Melt the butter in a large skillet. Add a layer of potatoes and brown on both sides. Remove and repeat until all are browned. Add 5 cups of the chicken stock. Cook, covered, until the potatoes are tender enough for a fork to pierce them easily. When they are tender, purée the solids using an immersion wand blender, food processor, or sturdy blender, adding liquid as necessary to create a smooth texture.  Return to the soup. Taste. Stir in as much of the remaining cup of chicken stock as is necessary for a medium-thick soup. Add the bourbon and bring to the boil. Season as needed with LoSalt and pepper. Roll the greens into a cylinder shape and sliver.  Stir into the soup.
Variation: Omit the greens and bourbon, add 1 tablespoon fresh chopped ginger or curry to the puree before returning to the soup.
If canned chicken stock or broth is purchased for the recipe, LoSalt recommends a low-sodium option.
Read on for additional recipes as well from LoSalt
Spiced Butternut Squash Soup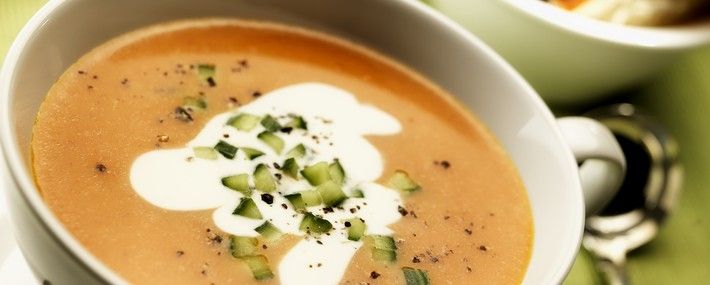 Recipe by LoSalt
Serves 4
 Ingredients:
·         1 butternut squash (weighing about 2.2 lbs)
·         About 4 tablespoons olive oil
·         1.75oz plain flour
·         1/4 cup vegetable or chicken stock
·         1 tablespoon mild curry powder or curry paste
·         1/2 cup soured cream
·         Half a small cucumber, (peeled if wished) and finely diced
·         LoSalt and freshly ground black pepper, to taste
Directions:
1.    Preheat the oven to 180°C FAN/400°F/Gas Mark 6
2.    Halve the squash lengthways, scoop out the seeds then cut away the skin or peel with a vegetable peeler. Cut into large chunks and scatter into roasting tin. Toss with a few tablespoons of olive oil, season with LoSalt and roast for approximately 30 minutes until tender.
3.    Tip the butternut squash and any sticky pan juices to a large saucepan and stir in the curry powder. Cook on a high heat for a good 2 minutes to toast the curry powder and release the flavours.
4.    Stir in the flour and cook for a further 2 minutes then gradually add the stock, stirring continuously. Bring to the boil, reduce the heat, half-cover and simmer for a further 30 minutes.
5.    Leave soup to cool a little, then using an electric food blender or stick blender, puree the soup until smooth. Taste and adjust seasoning with LoSalt and freshly ground black pepper. Mix half the cucumber with the soured cream and season with LoSalt and pepper.
6.    To serve, ladle the soup into warm bowls, and serve with a dollop of soured cream, some diced cucumber and a grinding of black pepper.
ALTERNATIVE GARNISH: Beetroot Crisps
Preheat oven to 160°C FAN/350°F/Gas Mark 4. Peel and slice 2 medium beetroot very thinly, then rinse in cold water and dry well on kitchen paper. Arrange on a nonstick baking tray and cook for approximately 25 minutes, or until crisp. Sprinkle with LoSalt and serve a pile on the side of each dish.
 LoSalt® is the U.K.'s leading healthy, low-sodium alternative to salt sold worldwide and in more than 4,500 stores in the U.S., including national chains such as Kroger, Whole Foods Market and Safeway as well as natural food stores and independents.  LoSalt has 66 percent less sodium than regular table, sea and rock salts, but tastes just like regular salt.  A great source of potassium, LoSalt is a natural product.  It is a product of Klinge Foods Ltd., based in East Kilbride, Scotland just south of Glasgow.  For more information, please visit their website http://www.losalt.com/us, become a fan at https://www.facebook.com/losalt and follow them at https://twitter.com/LoSaltUS.
---