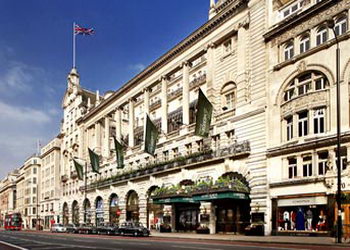 LE MERIDIEN PICCADILLY
Traditional Tea at The Terrace
by Bonnie Carroll
The Le Meridien Piccadilly is a five star luxury hotel that opened in May 1908, as the Piccadilly Hotel, and is located right in the heart of London's West End. The location, between Piccadilly and Regent Street, is ideal for business and leisure visitors. It stands just yards from Piccadilly Circus, a quick stroll to Buckingham Palace, or Trafalgar Square. The Fortnum and Mason Department Store, Covent Garden Theatre District and Soho are also nearby. Mayfair, the most prestigious residential area is North West of the hotel and features wonderful shops, boutiques, bars and restaurants.
The interior of the hotel is a mix of Edwardian and contemporary design, with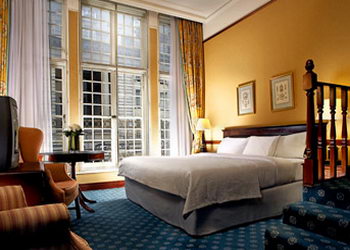 marble floors and original artwork. Guests may select from 266 luxurious guestrooms on nine floors. Classic English style bedrooms are elegant and Club rooms offer a new contemporary chic ambiance; guest in these rooms have access to the Club Lounge where continental breakfast is served daily, and free WiFi workstations can be accessed. In the evening drinks and canapés are served in the Club Lounge. The fine amenities at Le Meridien Hotels are always a pleasure.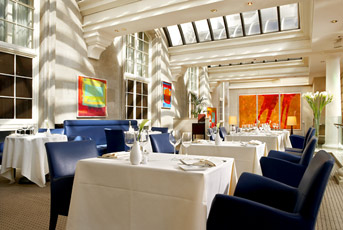 Dining at the hotel is a delight. The Terrace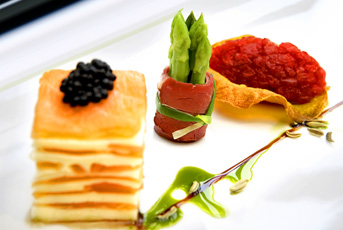 Restaurant and bar at the top of the hotel features a beautiful glass atrium. This restaurant is a true blending of modern and traditional in design. Natural sunlight meets stone pillars with classical style, offering patrons a relaxed and elegant dining experience. If you prefer a chic Venetian "al fresco" lunch, it can be served on the

balcony. Chef Bishop's menu is international, with cool fashionable touches that will satisfy the ultimate connoisseur.  If it's a full English breakfast you want, or if you have a taste for slow cooked Venison, you will enjoy  his menus. Daily Afternoon Tea at The Terrace is also accompanied by live piano music.
The Burlington Bar is strictly British in feel, and is complimented by the Mezzanine Lounge, as well as the Cigar Club, which opened in 1999. Light meals and snacks are served at all of the above. The Oak Room Lounge is a another delightful spot for afternoon tea and serves light meals on weekends.
The 'Piccadilly Health Club' on the lower ground floor measures some 40,000 square feet and is a peaceful marble retreat, complete with a beautiful swimming pool, squash courts, dance studio and multi gym with cardio

equipment and free weights. The Jacuzzi, sauna and steam room facilities are luxurious and quiet, where the staff provides efficient and unobtrusive service. Decleor products are available to patrons in the Beauty treatment rooms. The health club services are complimentary to guests during their stay at the hotel.
LE MERIDIEN PICCADILLY
21 Piccadilly
London, England  W1J OBH
United Kingdom
(44)(207)734 8000
www.starwoodhotels.com
---