CHEF/HOTEL PROFILE .   .   .

RENIASSANCE MONTREAL NEW KID ON THE BLOCK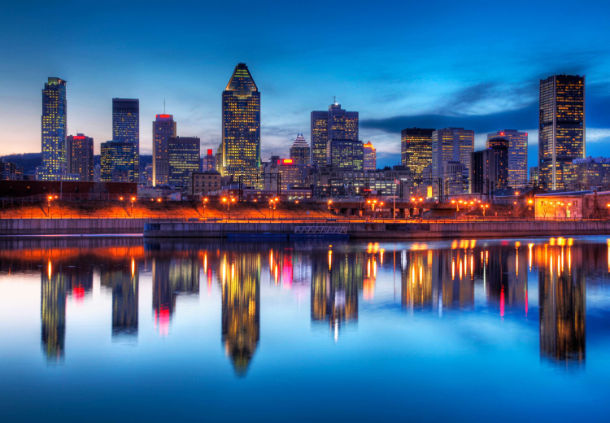 Montreal Skyline
Travelers drawn to the romance of French Canada and its reputation as a winter wonderland will be wooed by the new Renaissance Montreal .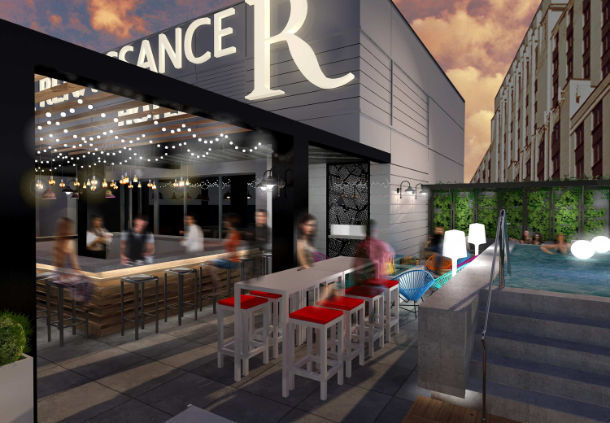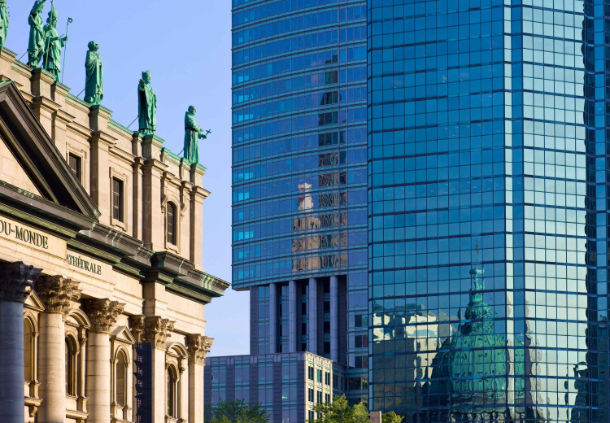 Renaissance Rooftop Lounge with City View
In the heart of downtown Montreal, steps from the iconic Place Ville Marie and the shopping hub of St. Catherine Street, a design adventure awaits. Featuring splendid rooms and a lobby inspired by local street art, this sophisticated hotel with its eclectic flair perfectly blends business with pleasure. The staff of this new property provide all the information needed to totally enjoy your time in Montreal. 
Each winter, Montreal offers an idyllic mix of cool activities, from snowshoeing and skating, to the famous Festival Montreal en Lumiere, when the city and its gastronomy are spotlighted.
In Renaissance Montrealís inviting living spaces, guests find a vibrant mix of street art and sophisticated, modern furnishings, complemented by the exotic flavors of signature restaurant, East, and the cocktail creations of master mixologist Lawrence Piccard. In springtime, the warmer weather will be savored from Renaissance Montrealís rooftop terrace Ė the only one of its kind in the cityís downtown area. Guests may dip in the stainless steel plunge pool or enjoy bites from the outdoor bistro with panoramic city views. The hotelís signature Navigators are available anytime to advise guests on the best that Montreal has to offer.
ASIA East Restaurant
Dining can be enjoyed at the new ASIA East restaurant in the hotel or by taking a short walk to one of Montreal's finest restaurants TOQUE French Restaurant serving Quebecois dishes, owned by award winning Chef Normand Laprise, open for lunch and dinner, reservation required (+1 514 499 2084).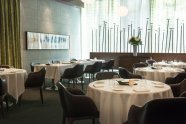 Chef Normand Laprise TOQUE RESTAURANT Nearby

Renaissance Hotels believes in defying business travel conventions for guests who crave unexpected experiences. At Renaissance Hotels, It's Business Unusual. Each of the brandís 160 hotels, located in over 35 countries around the world, is unique and every stay offers unconventional programs that help business travelers discover rich, local experiences. We promise to feed the curiosity, fuel the imagination and excite the senses of our guests, who see their business trip as an exciting opportunity for new, interesting and sharable experiences. We understand their desire to make the most out of every moment and we offer signature events in our lobbies, bars and lounges designed to showcase emerging talent in music, the arts, mixology, gastronomy and more. Renaissance Navigators are neighborhood experts who are ready to assist guests in discovering true local flavors and activities. R.E.N. Meetings offers groups an experience beyond a traditional meeting, rooted in creative sensory meeting design and custom-curated local Navigator excursions and networking events. At Renaissance Hotels, we work to ensure that every trip is transformed into an eye-opening, unforgettable journey. To discover more visit www.renhotels.com. For upcoming events visit www.renhotels.com/events
.
---