RIB 'N REEF STEAKHOUSE
A Montreal Icon for Great Steak, Seafood and Fine Service
By Bonnie Carroll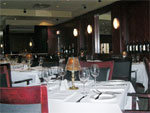 Located at 8105 Decarie Boulevard, in Montreal, Quebec, the Rib 'n Reef Steakhouse has maintained a renowned reputation for their outstanding grill preparations and classical service for over 45 years. The minute you enter the front door of this Steakhouse you are given a warm greeting, and you know this will be a memorable dining experience.
The ambiance is one of old world elegance, with big inviting leather booths, soft lighting, and warm artistic touches that tie the room together tastefully.  For four decades this premier steakhouse in Montreal has provided the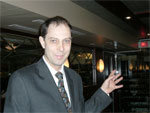 ultimate experience in fine dining, and has blended the classics with everything new to drive their passion right into the 21st century.
Their steak is outstanding, and according to Abdo Abouhamad, the restaurant general manager, "Our meats are aged on site for 4-6 weeks.
 
It's pricy but it guarantees the texture and outstanding quality of the meat by sealing in the juices and the flavor."  I can attest to the extremely delicious
flavor of their meat, as well as the attractive presentation. The wide variety of fresh fish and seafood brought in daily from around the world, and the huge live lobsters in their viewing tanks have contributed to the restaurants outstanding reputation as well.
The house seafood platter is immense, and contains a collection of beautifully prepared fresh seafood, with a bevy of sauces to sample as well. You should come with a hearty appetite to Rib 'n Reef because the portions are more than ample, however, you can always take some home. The staff is happy to wrap up what's left for you to enjoy next day. The lobster and steak combo is simply wonderful. The mashed potatoes with garlic are delicious with this item. 
 
When it comes to wine this is a connoisseurs heaven. The prestigious wine cellar, considered one of Montrea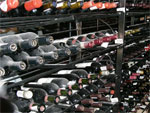 l's best, contains outstanding wines from around the world, as well as a few fine California wines. Owner Peter Katsourdas created the wine cellar, which offers wine ranging in price from $50 to $10,500 per bottle. Sommelier Patrick Schmidt, who says "whoever says you can't have it all hasn't seen our wine list", manages the 2000 square foot area, which cradles more than 9600 bottles.
Additional menu items of interest include the rack of lamb, filet mignon, New York sirloin, and the signature prime rib of beef. Also, enjoy the broiled seafood platter with potatoes M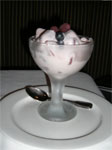 onte Carlo, or Lyonnaise. The creamed spinach or ouster with mushroom spinach make a delicious side dish, and don't miss the lobster bisque. Believe it or not, this restaurant continues the old tradition of dishes prepared tableside by very adept servers. They include steak tartar, crepes Suzette, cherry jubilee and a chateaubriand with a signature sauce.                                   
After dinner ask if you may go upstairs and visit the Cigar Lounge, Montreal's most man has the right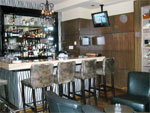 to enjoy his success by satisfying his cravings' and Rib n Reef has everything one could need to accomplish this goal.. The Cigar Lounge is a membership club, and was designed with an air filtration system that keeps the atmosphere smoke free. Located up a flight of stairs, the cigar aficionado's den is modern, yet comfortable, and features a small bar which showcases a collection of fine after dinner cordials to enjoy with your favorite cigar. This is a place that I can picture Governors' Schwarzenegger and Richardson having a good smoke together. It's private, comfortable and offers the finest in everything. For additional information or reservations visit: www.ribnreef.com.
---
CANARY HOTEL OPENS COAST RESTAURANT & BAR
Brian Parks Premieres "Weekly Farmers Market Dinners"
by Bonnie Carroll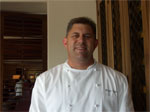 Following a costly renovation of the former Andalucia, and a grand opening as the new Canary Hotel in Santa Barbara, the elegant Spanish style hotel offers a great new look and experience. Executive Chef Brian Parks, who was formerly with the Water Grill in Los Angeles, and also executive chef at a sister hotel, Casa Del Mar, in Santa Monica is presenting healthy and innovative new menu items.
The Coast Restaurant and Bar is a refreshing change from the old dining venue in the hotel. It is now a room that works, and has a fun oyster bar leading to private dining areas that overlook Chapala and Carrillo Boulevard. The décor is reminiscent of a cozy Santa Fe style, featuring warm tones that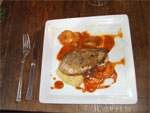 area comfortable and historic photos of old Santa Barbara provide a nostalgic touch.
Along with the regular menu of fish, fowl and delicious ribs, Chef Parks is currently presenting a weekly Farmer's Market Dinner, highlighting produce from the
weekly produce market. My dinner at Coast featured 'local corn' and the dinner included chilled corn chowder crowned with fresh lobster with chives and a drizzle of olive oil. This chilled soup on a very warm day was simply outstanding. The main course was a 'deconstructed Bouillabaisse' which consisted of shrimp, scallops and grilled fish sitting on corn mash, similar to potatoes in texture, and simply delicious. The unforgettable grand finale was the corn soufflé wit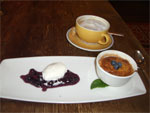 h bourbon blueberries and cream. Coast offers fine wines and some refreshing organic options that pair nicely with the weekly dinner. For a before dinner option you might try the Coast Peach Bellini.
Canary hotel is also offering a wine tasting each Monday on the roof from 5:00 to 8:00 at a cost of $20.00 on a first come first serve basis.
For Coast Restaurant & Bar or wine tasting information visit: www.canarysantabarbara.com. The Canary is a member of The Leading Small Hotels of the World.
The Canary Hotel
31 West Carrillo
Santa Barbara, California 
---