CHEF/HOTEL PROFILE  .   .   .
EL ENCANTO ON THE TERRACE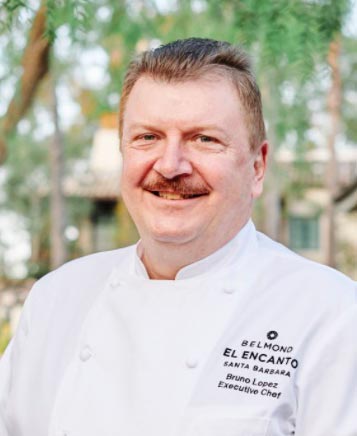 Executive Chef Bruno Lopez Offers Divine Brunch Plates & Moet Chandon
By Bonnie Carroll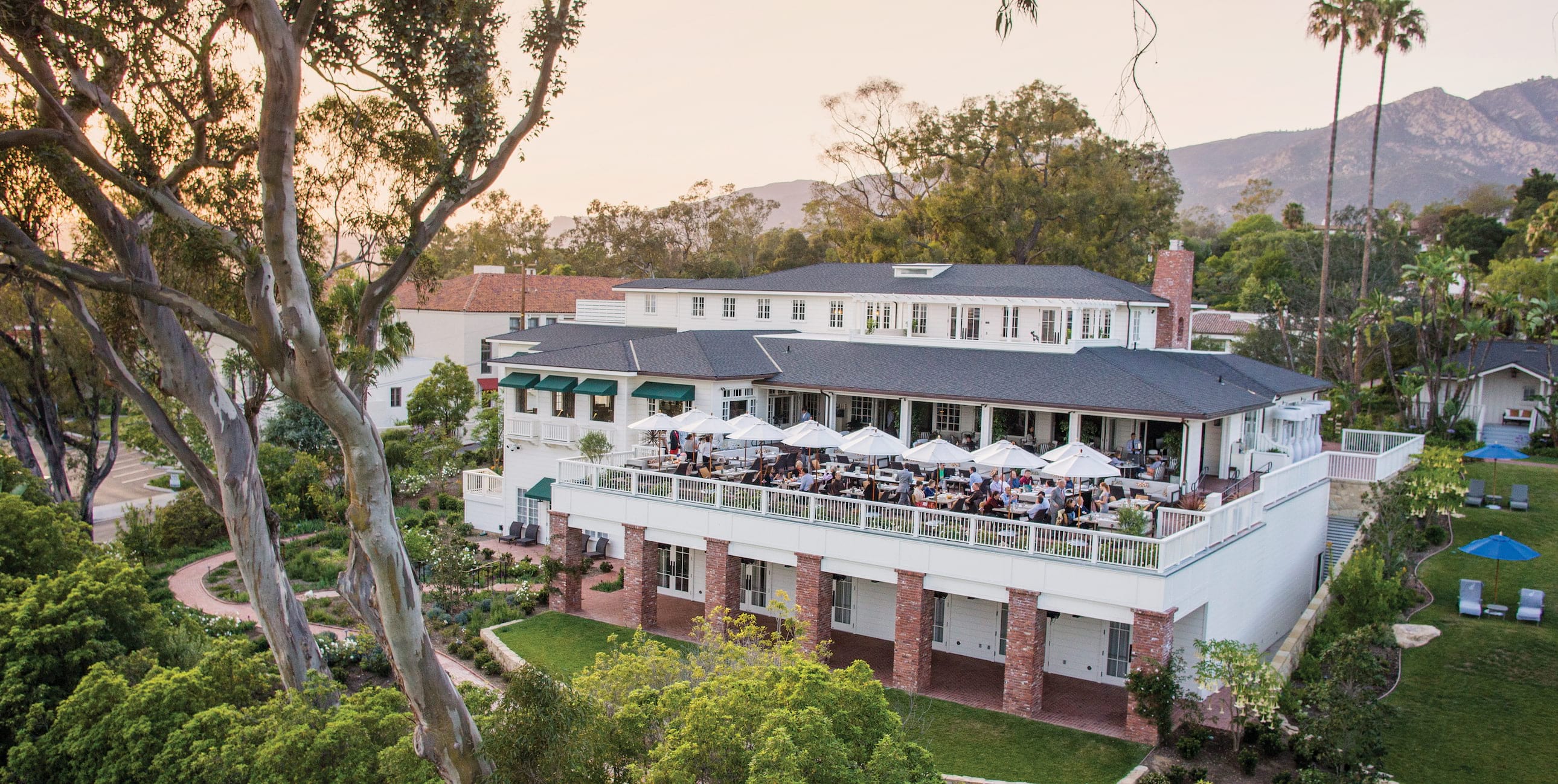 SUNDAYS ON THE TERRACE BELLINI BRUNCH is a favorite destination for Santa Barbara area locals, as well as guests vacationing at the historic Central Coast hotel with a history. Brunch guests savor a menu filled with delightful and healthy surprises created by Chef Bruno Lopez to enjoy with Moet Chandon Champagne and live jazz from 11:00 am and 2:00 pm.
 The menu offers freshly pressed juice ABC - apple, beet, carrot, CGT- carrot, ginger, turmeric, KAC- kale, green apple, cucumber, celery, spinach, a sunrise bakery basket, mini croissant, brioche, baguetini, cheese sticks, olive rolls, an assortment of starters including deviled eggs on frisée, smoked salmon, endive leaves, baby bagel and cream cheese, beet napoleon, cream of
avocado, goat cheese, bay scallops, ceviche in radicchio, ahi tuna poke, grilled vegetable and quinoa salad with herb aioli. Choice of one Crab Cake Bendedict, Pancetta, lemon hollandaise, crispy hash browns, shaved fennel salad, Santa Barbara Poached Avocado, tomato, poached egg, yogurt, paprika sauce, Huevos Rancheros Pulled pork, organic sunny side egg, Carpinteria avocado, queso, tomato salsa, Butternut Squash Pancake with Seasonal berry compote, house-made granola, maple syrup,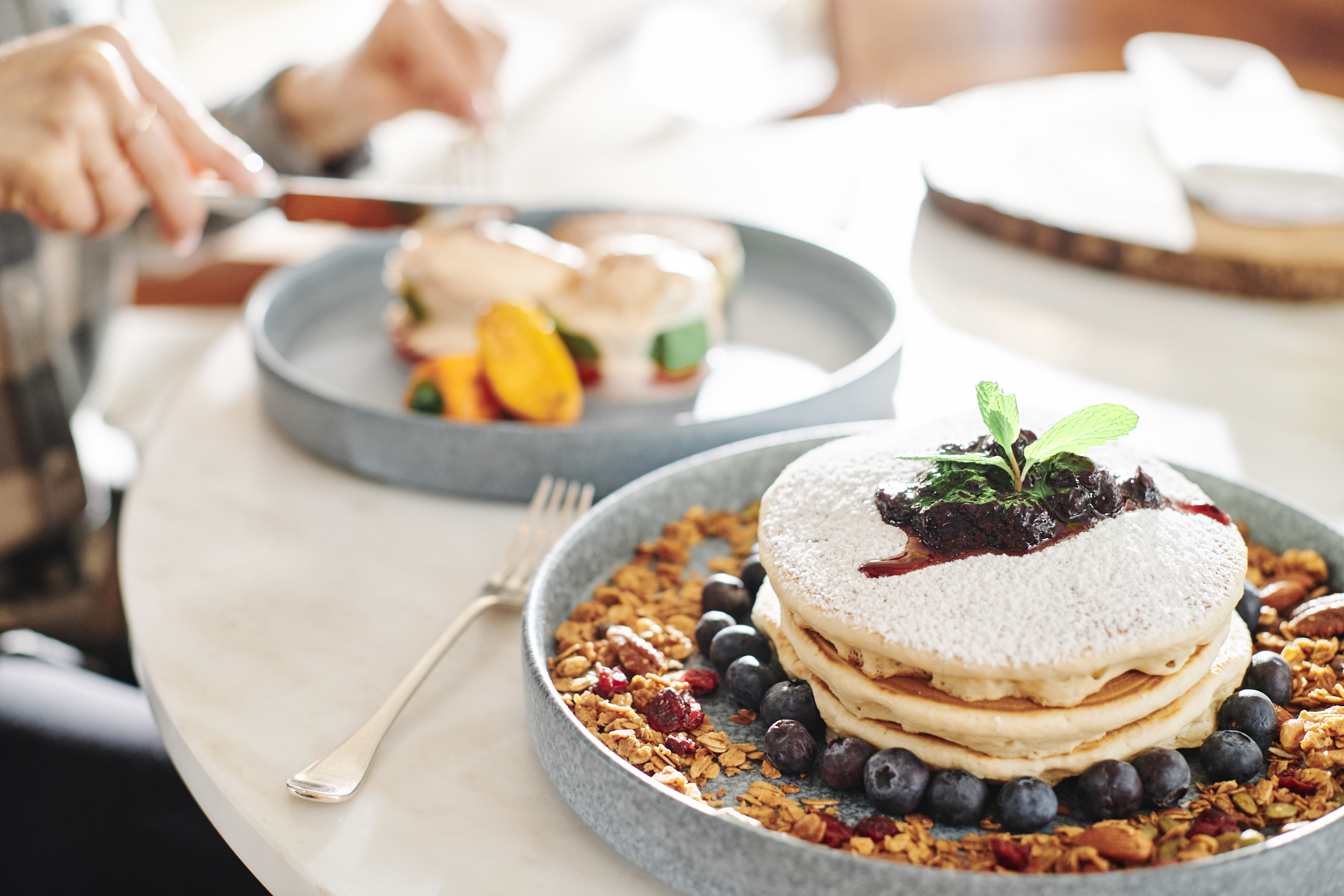 Crème Brûlée French Toast Brioche with varied currant marmalades, Mary's Free-Range Chicken, Braised romanesco broccoli, confit lemon slices, Steak Frites Black peppercorn bordelaise sauce, garlic herb fries, Pacific Striped Bass, Parsnip puree, root vegetables, choice of horseradish or tzatziki sauce, Glass Noodles Jicama, carrots, scallions, cucumber, bean sprouts, sesame seeds, peanut/soy sauce, Sweet Treats Pastry Chef's selection of delectable treats and Bottomless Bellinis or Mimosas with Domaine Chadon Brut NV at $95.00 per person and $45 per child 12 and under.  
I first met with Chef Bruno Lopez in 2006 when he was the Chef de Cuisine at the Bel Air Hotel in Los Angeles, California, and also at the Four Seasons Regent Beverly Wilshire Hotel in Beverly.
His reputation for beautiful prepared and presented cuisine preceded him when he made the move to Santa Barbara, and locals are delighted to have him here at El Encanto. 
Below is a link to the Chef Bruno Lopez brunch I reported on in 2007 which includes a bevy of information on his career as a master chef. I hope you enjoy learning about his exceptional education and chef experiences and I hope you will treat yourself to a delightful brunch with a view at El Encanto.
2007 Profile on Chef Bruno Lopez:
Please see full review on Chef Lopez at Bel Air Hotel  2007.
http://www.lifebitesnews.com/profile/apr07/profile.html
www.lifebitesnews.com/profile/apr07/profile.html
El Encanto Hotel
805-845-5800
Santa Barbara, California 93103
---