SPORTING VILLA MARIA
Serenity by the Sea in Abruzzo Italy
By Bonnie Carroll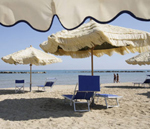 The Sporting Villa Maria Hotel is located in Abruzzo, a region which sits gracefully between the Gran Sasso, Majella and the Adriatic Sea. It is on the border between the Marche and Molise and Abruzzo has always been described as strong and gentle due to the gentle welcome given to visitors to revel in all there is to experience here, an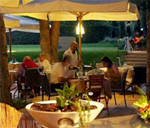 d strong for their ability to remain tied to their historic roots. The area is closely tied to religious holidays, and festivals.
Located in the Provence of Chieti, this four star boutique hotel has an outdoor dining area overlooking the sea that is such a lovely place to begin the day or a romantic spot to watch a sunset. Understandably, this venue began as the meditative home to the Paolini Friars, and today offers the serenity of the sea in a park like setting. The pool and exercise areas include a sauna and steam room and provide a private place to keep in shape. The menu is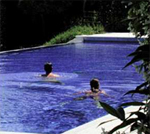 filled with fresh and natural recipes that focus on dishes of the area, and the hotel service is wonderful.
I would describe the 70 rooms as "W" Hotel style. They are simple but elegant, attractive and comfortable, with all amenities. The rooms overlooking the sea present a night listening to the sea, and enjoying soft breezes.
Shuttles will take guests to a bevy of historic museums, castles, specialty craft design destinations, or for a picnic on the beach, complete with an umbrella.
This unique area of Italy is overflowing with history, and the lovely Sporting Hotel Villa Maria is a perfect central point from which to take fun and interesting tours of discovery in the Abruzzo region.
C.da Pretaro • 66023 Francavilla al Mare (Ch)
Tel. (+39) 085.45.005.1 • Fax. (+39) 085.69.30.42
villamaria@sportingvillamaria.it