CHEF/HOTEL PROFILE  .  .  .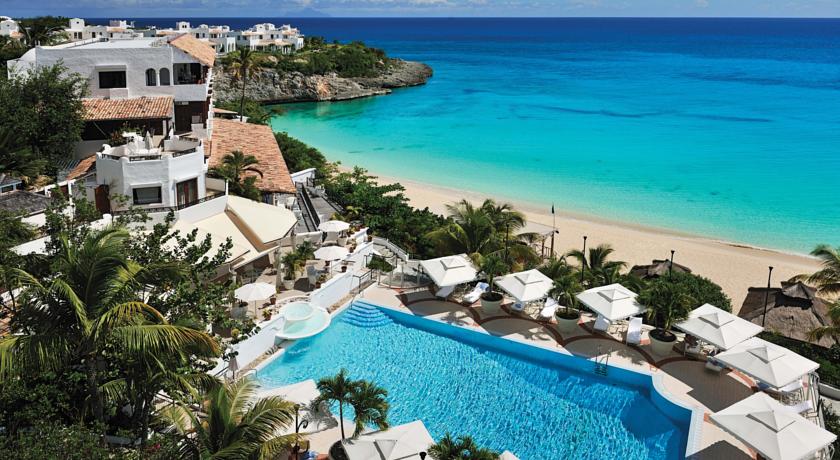 BLISS AT BELMOND LA SAMANNA St. Martin
Whitewashed buildings, Exquisite Sandy Beach, and Michelin Star Chef Serge Gouloumes
by Bonnie Carroll

Welcome to La Samanna Resort and Spa, a world-class luxury resort hotel. This is the perfect place for a peaceful stay in the heart of the Caribbean. Always ranked among the best hotels in the Caribbean for its service, La Samanna, a secluded haven for luxury, elegance and superb cuisine.
Belmond La Samanna is a hotel on the half-French, half-Dutch island of Saint Martin in the French West Indies. It is located adjacent to Baie Longue, the island's largest beach. Its original owners were James and Nicole Frankel and it was designed and built by architect Happy Ward, of the Barbados firm Robertson Ward, created in the style of a traditional Mediterranean villa. Construction began in 1971 and was completed in 1973. Frankel named it after his three children—Samantha, Anouk and Nathalie—combining the letters of their names and adding the French prefix, "La."
I had the pleasure to visit this property shortly after it opened in the 70s and was dazzled by its beautiful location, and enjoyed a cocktail by the pool. It's comforting to know Orient-Express has done this amazing renovation and such a blissful area is now home to a renowned five star respite on St. Martin. They have two pools, with beverage service, a kids day camp and nanny services. Their is a tennis court, business center and gym. The La Samanna Spa offers a bevy of divine treatments in it's own serene location.

In addition to the hotel buildings there is a row of cottages to rent along the beach. There are also four villas situated on the cliffs above the beach. It has attracted famous guests including Jacqueline Kennedy Onassis, Robert Redford, Donald Trump and Barbara Walters. In 1996, Orient-Express Hotels acquired La Samanna and embarked on a programme of renovation. In 2014 Orient-Express Hotels changed its name to Belmond Ltd. At that time the hotel was renamed Belmond La Samanna
THREE-BEDROOM COTTAGES & VILLAS


Private Dining in your Cottage or Villa
For those seeking luxury Caribbean vacations with family or friends, our spacious cottages are the perfect choice. Stay close to your loved ones at this indulgent St. Martin hotel. Our Three-Bedroom Cottages feature ample space, luxuriously furnished living rooms and spectacular views of the Caribbean Sea. All Three-Bedroom Cottages are located directly on the beach. The ideal size for large families or couples traveling together, there are two bedrooms downstairs and one master bedroom upstairs. Each room has either a king-sized bed or twin beds and an en-suite bathroom. The master bedroom also features a private patio with outdoor living and dining area. The Premium category offers special added luxuries, including in-room check-in, Champagne and fruit upon arrival and an iHome music player with a selection of music.
Private and exclusive, the luxury Caribbean Villas are the perfect getaway for family and friends. Some of the finest accommodation in St. Martin, Villas at Belmond La Samanna are palatial yet comfortable and offer three or four bedrooms. Master bedrooms have generous private terraces overlooking the Caribbean Sea, and the fully equipped kitchens are perfectly suited to entertaining. Large bathrooms feature both a rain shower and spacious tub. Wrapped around the front of each Villa is an oversized terrace—the perfect vantage point from which to enjoy the spectacular sea views. Architectural details include floor-to-ceiling windows, graceful archways, teak accents and Italian marble flooring.

TRELLIS Restaurant, one of several dining venues at La Samanna, offers the ultimate in island fine dining. Enjoy beautifully crafted, traditional French cuisine in an elegant bistro setting. You'll also discover a tempting display of local catch and fresh lobster. Be sure to indulge in a bottle of Grand Cru from the acclaimed cellar, which boasts one of the most extensive collections in the Caribbean.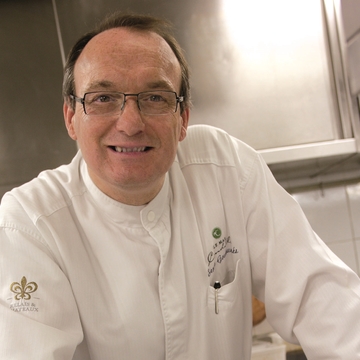 Executive Chef Serge Gouloumès
A native from south-western France, chef Serge Gouloumès began his career locally before traveling abroad. After a brief stay in Belgium and Luxembourg, he left Europe for the Caribbean islands, where he was head chef in Saint Martin.
Four years later, he decided to leave for the United States, where he expanded his knowledge working for Patrick Terrail at the Ma Maison in Beverly Hills. In 1991 he returned to France where he spent two years at the 4*de luxe Aspen Park in Meribel. Following this, he then became executive chef in charge of the kitchens of the Royal Plaza hotel, (5*), Montreux, Switzerland. Serge then decided to head for the Cote d'Azur, spending six years as Head Chef of the "Star of the Seas" at the Miramar Beach hotel in Theole. In 2001, the opening of the five star Le Mas Candille gave Serge the opportunity to demonstrate his knowledge of gastronomy, where he became Head Chef of the restaurant Candille.
In 2005 Serge was awarded with a Michelin star. While the quality of chef Gouloumès cuisine is a product of his 30 years as a Chef de Cuisine, as consequence of all his travels around the world, Serge Gouloumès's culinary style has influences from the south, the east and Asia. As well as being head chef at Michelin starred Le Candille chef Gouloumès also teaches in culinary schools across the world including Japan, Barbados and Australia.

Private Dining in the Cave Wine Room
A delightful chef special Menu Decouverte Discovery Menu is offered at $99.00 by Executive Chef Serge Gouloumes, and includes Amuse bouche, Sea scallops carpaccio with guacamole and corn chutney, Mojito cucumber soup, Yellowtail snapper, sauteed squid with olives & pesto, sweet potato tart, Duck nem confit with ceps & Cognac juice, potato chantilly. The resort has a cellar with 12,000 bottles of wine including 146 varieties of Bordeaux, and has its own private label: Hospices de Beaune La Samanna.
BELMOND LA SAMANNA
PO Box 4077, 97064 St Martin, CEDEX, French West Indies
Tel: 590 590 87 6400
Email: reservations.las@belmond.com
Reservations (Toll-free): 1 800 957 6128
---