RENAISSANCE HOLLYWOOD HOTEL
Eye of the Entertainment Center
by Bonnie Carroll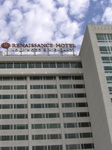 The Hollywood Renaissance Hotel on Hollywood and Highland is a city within the city of Hollywood; and entertainment Mecca that is home to world travelers and international celebrities. This is an area of Los Angeles that is alive with energy, and in the middle of it is a hotel property that provides guests a relaxing respite. The property is modern, and the rooms and suites have a chic and comfortable ambiance, with panoramic views of the city that are remarkable. Naturally, the top floors are the best for panoramic scenes, and the 19th floor offers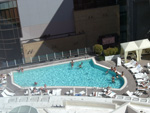 a private club where light meals and refreshments are available to key holders throughout the day. This option is especially appealing if you need to grab a quick breakfast for an early morning check-out.
The hotel pool is piano shape and has all the charming cabanas and eclectic lounge accoutrements. Guests may enjoy meals or snacks by the pool throughout the day. while overlooking the entrance to the Kodak Theatre, which is guarded by giant elephant statues, and you have  may have watched a parade of stars walk the red carpet to the Oscar Awards each year on television. It is a spectacular location that is watched over by the world renowned Hollywood sign. Adjacent to the pool is the entrance to Spa Luce, a brand new facility that offers state-of-the-art body t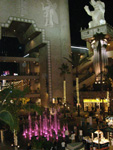 reatments in a sanctuary of tranquility, where they also offer a spa lunch if you wish. The shrimp cocktail Martini is perfect.
The Kodak center provides so much for guests to do. It houses a bevy of trendy shops, theatres, restaurants and the American Film Institute. Evening here proves to be a glamorous time to experience Hollywood Boulevard at its sparkling best. From the Pantages Theatre to the Roosevelt Hotel it is all fantasy, and filled with people.  Graumanís Chinese Theatre attracts hundreds of people daily to see and touch the stars that fill their entrance, and actors in movie themed c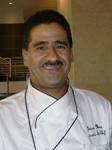 ostumes pose for pictures, for a fee.Tours to all the studios offered through the hotel, and it is just minutes from most major attractions by taxi or public transportation.
Twist Restaurant in the Hollywood Renaissance offers a versatile menu, with items to please any age. The seared scallops with watermelon gazpacho, radish, cucumber and yuzu granita is outstanding, as is the tea smoked New Zealand lamb rack with minted sugar snap peas and stone fruit cous cous. Some of the small plates on the menu can also be enjoyed in the Spa Luce, and they include a delicious grilled shrimp martini, with salsa, or a quinoa salad setting on a portobello mushroom cap, and accompanied by roasted beets, Italian parsley and bal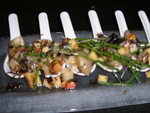 samic syrup. Chef Antonio Moreno has designed a menu with travelers from a bevy of destinations in mind, and it is all good. Originally, the son of a farmer in Santa Maria, Chef Moreno worked his way up the ladder from a kitchen helper to top chef, and says he would not change a thing.
Location is everything, in the movies, and for travelers. Guests at this hotel do not need a car. Walking is the way to see this wonderland, that is why they call it the Hollywood Walk of Fame, and it is entertaining. Parking at the hotel can be done without breaking the bank by using the self-park for $10.00 a day. This is a great option for families on a budget who really cannot afford the high fees most hotels charge currently.
Whether you are planning a family trip to see Hollywood, or you are a local who just want to have an escape weekend, this property offers a great get-a-way experience, complete with a spa, and a night out to see the most recently released movies or hot new show at the Pantages.  Who knows, you might event see George Clooney wondering around, I did!
Renaissance Hollywood Hotel
1756 North Highland Avenue
Hollywood, CA 90028
323-856-1200
www.renaissancehollywood.com
                    Go to Publishers Page to see Chef Moreno Recipe
---