March 2005
Chef Fabrizio Innocenti
Grand Hotel di Firenze, Florence, Italy
by Bonnie Carroll
Award winning executive chef Fabrizio Innocenti, is a member of the Italian gastronomique royalty of the Starwood Hotel family, and his palace is the historic Grand Hotel di Firenze, in the romantic city of Florence, Italy. The hotel is located on the Piazza Ognissanti, just walking distance from the Ponte Vecchio, the oldest bridge over the river Arno, the Pitti Palace and an endless collection of designer shops, historic churches and museums. Books and movies have been filled with scenes and sonnets depicting the beauty of this renowned European venue, but Florence, described as the home of art, food and fashion is so much more.
This is a walking city and visiting the exquisite palaces, quaint and modern shopping centers, art museums, and sampling the world of wonderful tastes in the restaurants and café's is such a delicious and soul satisfying adventure. The Grand Hotel is just that... Grand, and gracious! It's sister hotel across the piazza, The Westin Excelsior, is equally charming, where the lobby restaurant and bar provide a perfect meeting place for cocktails with friends after a busy shopping day. The accommodations in both hotels offer views of the city that will stay with you forever.

The In Canto Restaurant in the Grand Hotel is surprisingly modern, but the menu is filled with exquisite traditional flavors of Italy and presented in Innocenti "stacks" that are so artistic it seems unfair to disturb their stylish beauty. Rarely in my life have I ever tasted such magnificent food that was so thoughtfully and creatively presented. I am grateful for the opportunity to have interviewed chef Innocenti, but even more grateful to have experienced his bold culinary genius.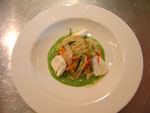 Entrée items included lamb chops stuffed with onions and foie gras with virgin olive oil and candied vegetables; classical fiorentina T-bone steak; sword fish rolls filled with shrimps, served on a bed of sweet and sour vegetables "caponata style" and a light celery mousse; balsamic vinegar glazed tuna fillet in a pastry crust of spring herbs served with swiss chard and shallots and last but not least marinated mix grain peppers boar fillet served with gratinated fennels and apples compote in a Tuscan dessert wine sauce. I so enjoyed an appetizer of Carpaccio di Manzo - beef carpaccio with "Chianti flavours" and artichokes, dressed with olive oil, sweet and sour apple, citrus fruit drops and pine nuts. Naturally, the pasta dishes and risotto are unique and simply outstanding.

In Canto also offers an unusually large variety of outstanding wines by the glass, and in the afternoon provide a delicious cheese & wine menu item that is the perfect respite after a hectic day visiting the Piazza Del Duomo, Boboli Gardens, or time spent admiring Michelangelo's David at TheAcademy Gallery.

Every Italian city has some unique style or feeling that stays with you forever, and Florence is alive with creative energy that appears in everything you see, hear and eat. The Grand Hotel and Westin Excelsior put you in the middle of all this wonderment, and just writing about it makes me look forward to my next trip. Ciao Bella!