CHEF/HOTEL PROFILE   .   .   .
HOTEL HASSLER ROMA DECKS OUT SANTA SUITE FOR CHRISTMAS
This is my favorite hotel in Rome and I have had the pleasure of being hosted by the Wirth's. Although I've done photos over espresso in their rooftop restaurant (the Header for my Life Bites News was taken from this location) I would so love to be there for the holidays visiting friends, and spending Christmas at the Vatican.

Hotel Hassler Roma
, the iconic 5-star hotel located atop the Spanish Steps, offers guests the ideal getaway to live out a true Roman holiday for the festive season. This holiday season, for the first time, the Hassler will offer a new immersive Christmas experience, offerings guests the chance to sleep in a decked-out "Santa Suite." The suite is transformed into a winter wonderland with trimmed trees, lights, ornaments and festive decor. Upon arrival, guests will be treated with seasonal goodies delivered by Santa. The Santa Suite will be available from December 10, 2021 to January 3, 2022, priced at €4,500 (approx. US$5,230) per night based on two guests sharing.
In addition to the Santa Suite, The Hassler is offering an "Enchanting Christmas Dream" package, which includes a three-night stay with a daily buffet breakfast, airport transfers, afternoon tea for two in the beautiful Salone Eva, and a gourmet Christmas Eve Dinner for two at the Michelin-starred Imàgo restaurant. Guests will also receive an exclusive gift from the AmorVero Home collection as well as a sweet Christmas surprise in-room.
The three-night package starts at €2,664 (approx. US$3,090) based on two guests sharing a room, and is valid for stays that begin on either December 22, 23 or 24. For New Year's Eve, the Hassler is offering an equally extravagant experience, including a three-night stay, airport transfers, a bottle of Champagne upon arrival, afternoon tea for two, a New Year's Eve Gala dinner for two at either Imàgo or Salone Eva, followed by dancing in the Salone Medici. Prices for the three-night package range from €3,432 (approx. US$3,990) to €4,692 (approx. US$5,450), depending on the room type and gala dinner choice.
Set atop the Spanish Steps and featuring a panoramic view of the entire city, Hotel Hassler Roma is owned by President and General Manager Roberto E. Wirth, fifth generation of a famous Swiss hotelier dynasty. For more than a century, Hotel Hassler Roma has continued its legacy as Rome's five-star lodging of choice for the world's elite and discerning travelers. Each of the 87 rooms, 21 of which are suites, is individually designed with an elegant combination of classic and contemporary touches. Highlights include the Michelin-starred panoramic restaurant, Imàgo, the Salone Eva and Palm Court restaurant and the Hassler Bar, as well as the neighboring, Hassler-owned
Il Palazzetto
, a hotel, wine bar and special event space.
____________________________________
RYOKAN MALIBU
BLISSFUL LUXURY ON THE BEACH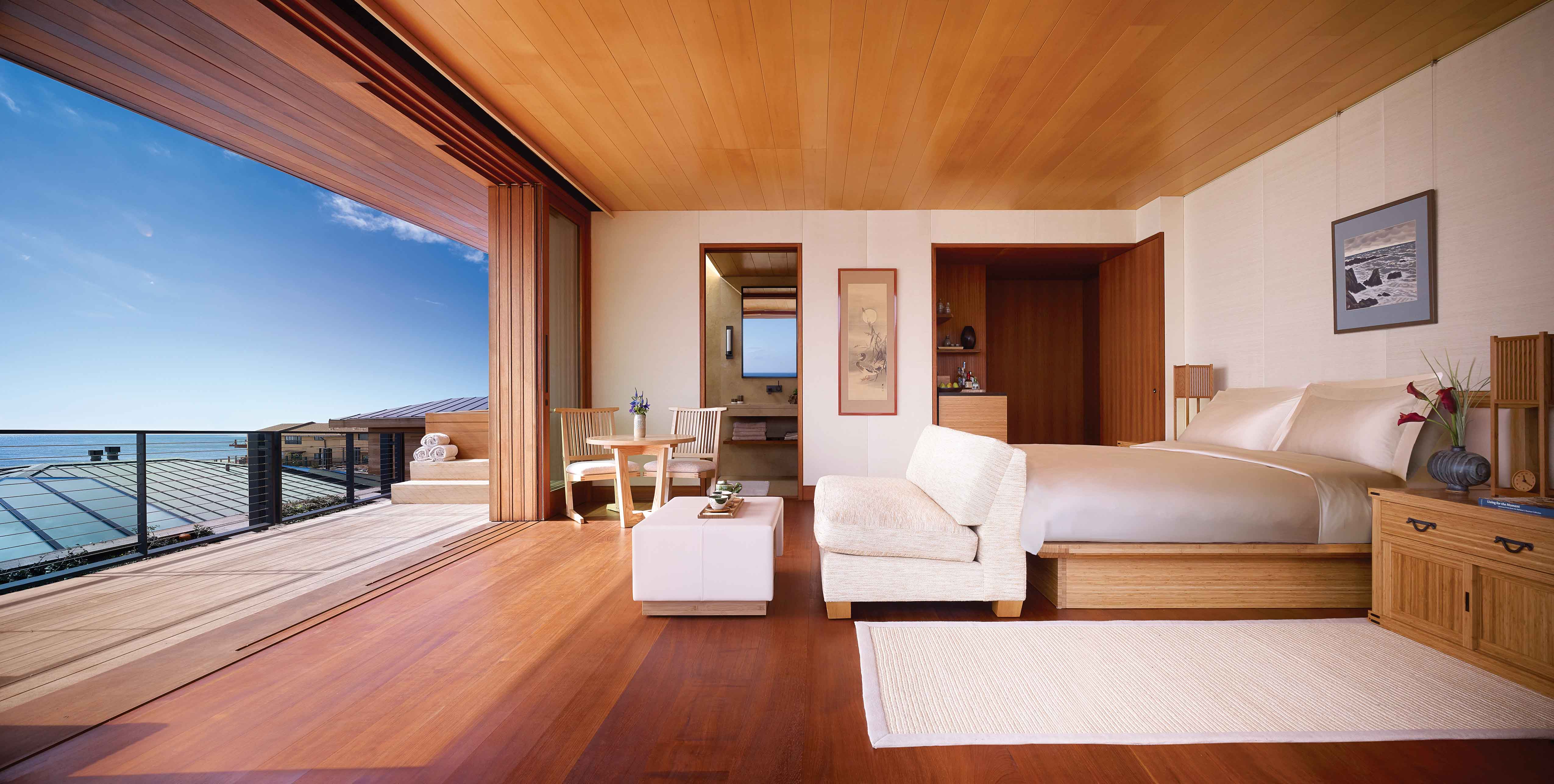 By Bonnie Carroll
Private Nobu Ryokan offers an adult-oriented escape to enjoy comfort and bliss on Carbon Beach in Malibu.
Drifting above the Pacific, the Nobu Ryokan Malibu is a triumph of architectural carpentry and subdued hospitality. This intimate 16 room, adult oriented retreat honors the traditional Japanese Ryokan, featuring teak soaking tubs, indoor/outdoor fireplaces, serene outdoor patios, timeless artwork, and gracious accents. Beautifully blending traditional Japanese minimalism with the elegant flair of the California coastline, this discerning sanctuary boasts a rich, natural aesthetic and an ethos of pure tranquility.
Upon arrival, you will be greeted by unforgettable views of Pacific Ocean and savor tranquil landscaping that sets the tone for a private oasis. Exclusivity and privacy are paramount, with an emphasis on low-key comfort and high-end indulgence. A bevy of luxurious amenities await guests, coupled with gracious service and Nobu comforts. Located between the hidden beauty of Carbon Beach and Pacific Coast Highway, the first of the Ryokan Collection choose Malibu for its renowned restaurants, shops and luxurious beaches to enjoy the ultimate escape. Carbon Beach is Nobu Ryokan's backyard featuring expansive views of the Pacific Ocean offering guests a memorable sunrise walks along the clear, blue waters, or a leisurely afternoon spent on the sand. The Nobu Ryokan offers a unique blend of Japanese hospitality and Californian ease. Ryokan guests are also welcomed to play tennis at the private Malibu Racquet Club, just minutes away.
The secluded primary entrance opens onto an ocean-view courtyard, home to filled with lush native California fan plants. Winding paths lead to one of many sheltered enclaves with stunning concrete fireplaces, overlooking the expanse of Carbon Beach.
In-room features include: In-room dining custom crafted by Nobu Malibu, Italian bed linens by Anichini, Teak soaking tubs (select rooms), Indoor or outdoor fireplaces (select rooms), Complimentary valet parking, wi-fi access, In-room Nespresso machine & Ikaati tea,  mini bar beverages and snacks, Custom made Mauro Spina luxury bath amenities, Custom made linen yukata. Nobu Ryokan is an adult-oriented establishment.
*Nobu Ryokan Malibu is committed to accommodating persons with disabilities. Please inquire about our Garden rooms for accessible accommodations
 Nightly rates begin at $2,000 per night and there is a 2- night minimum stay requirement.
TASTE OF NOBU TREAT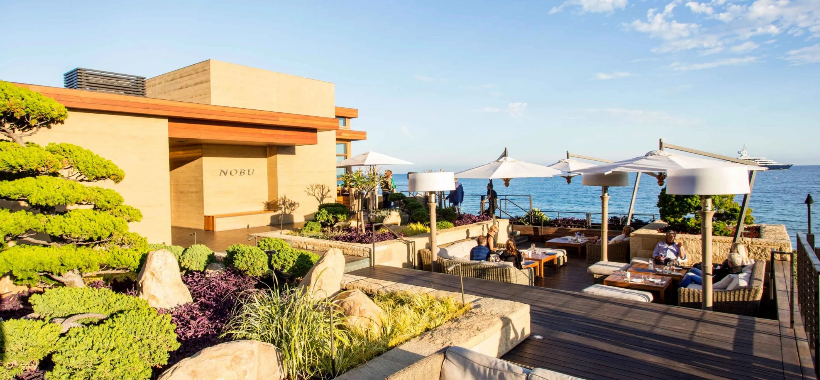 The real treat of a visit to Nobu Ryokan is the dining experience which is the heart of Nobu Hotels. They have created an experience honoring their Japanese roots, which includes their Taste of Nobu experience of breakfast for two, priority reservations at Nobu Restaurant in Malibu, and a tasteful welcome amenity upon arrival. Taste of Malibu is available for three-night stays or longer and excludes holidays.
NOBU RYOKAN MALIBU
22752 Pacific Coast Highway
Malibu CA 90265
ryokan@nobuhotels.com
reservations Monday to Saturday 8:30 am to 5 pm
---