January 2006
BRINGING IN THE NEW YEAR AT THE SIMPSON HOUSE
by Bonnie Carroll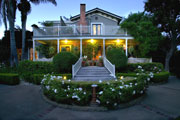 Beginning in January registered guests at The Simpson House Inn will enjoy the opportunity to participate in a highly educational culinary experience with Chef Robert Reynolds, who educates students around the world on the art of French cooking. A former owner of Le Trou Restaurant in San Francisco, he studied with Josephine Araldo, a Chef Patissiere certified from the Cordon Bleu in Paris, and trained professionally with Madeleine Kamman, a chef and professor of International repute in Annecy, France.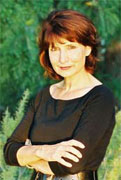 Winter will also celebrate a guest program to include the amazing energy and insights of Rita Rivest, talented Life Coach, who assists guests in designing a diet, identify stress management tools, and elevate their well being levels through the use of reflection and meditation. Her observations and skill in providing clients with the best possible food for optimum energy are well known, both in New York and California, and each participating guest has the opportunity to hike on her private ranch, as well as work on body strength, with time for meditating and considering positive life change options.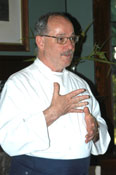 The Italianate Victorian Simpson House Inn was built in 1874 by Robert and Julia Simpson, who had immigrated to Santa Barbara from Scotland. Over the years The Simpson House has had many gracious owners, and in 1976 Glyn and Linda Davies joined this prestigious group and began their labor of love to restore the historic property. The Simpson House Inn opened its doors in 1985, and has been designated by AAA as a Five-Diamond destination for the past nine years. The Inn is surrounded by lush hedges that provide complete privacy to guests in the beautifully manicured English-style garden, where visitors can relive the grace and charm of old Santa Barbara.
The historic house withstood the 1920s earthquake, and is filled with antiques. The living room and dining room provide a communal meeting area where guests gather for afternoon English tea service, a buffet breakfast and a complimentary wine and hors d'oeuvres service that features some of Santa Barbara's finest wines.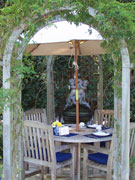 Located walking distance from many of the renowned historic sites in the city, The Simpson House Inn offers a convenient home base destination for guests to study the interesting sites in the surrounding area. The Santa Barbara Trolley provides free tickets to guests for a ride on their antique trolley, which travels throughout the city from early morning until late afternoon. Some stops of interest include The Wharf, Santa Barbara Mission, and trendy shopping venues. There are also countless annual festivals and musical performances, as well as art shows to enjoy.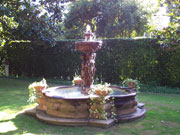 The rooms and cottages are a combination of antiques and state-of-the-art amenities, and each room or cottage has a beautiful view overlooking the serene flower and herb garden, and gazebo. The library in the house offers a fine selection of movies on CD, and a collection of best sellers, along with historic photos and travel information to enjoy. The personal touches and attention here are simply amazing, and they have thought of everything, including a massage therapist who will come to your room from a local spa.
To start your New Year with a focus on good health call The Simpson House in Santa Barbara at 1-800-676-1280 or visit www.simpsonhouseinn.com.
Note: This page is traditionally devoted to Hotel/Chef profiles, however, The Simpson House Inn has been voted "Life Bites" 2005 Best Bed & Breakfast Inn in California, and more than deserves this special profile.