HEALTH MINDED  .   .   .
11th Annual Heroes of Hospice of Santa Barbara Luncheon at Rosewood Miramar Focuses on Celebrating Those We Love  
Heroes to be recognized include, Santa Barbara Foundation, Charlie Zimmer,  
and HSB's Patient Care Services Team 
Hospice of Santa Barbara's (HSB) Heroes of Hospice (HOH) is back and at a new location this year.  The annual event will be held at the Rosewood Miramar Beach Resort on Sunday, September 10th from 11:00 am - 1:30 pm. 
HSB's Heroes of Hospice Luncheon honors the people and organizations that bring compassion and care, at all levels, to those in need in and near the Santa Barbara community. The demand for HSB's services continues to grow and fundraisers like HOH allow the organization to reach more community members.  
This year, Heroes of Hospice has a special focus on Celebrating Those We Love and their ongoing impact in our lives. Guests will be provided with an opportunity to donate and support the wonderful work of HSB in the name of their loved ones, helping bring programs and services, completely free of charge, to adults, children and seniors who are struggling with grief or life-threatening illness. 
2023 Honorees include the Santa Barbara Foundation with the Philanthropy Award, Hospice of Santa Barbara's Patient Care Services Team will receive the Staff Award, and a special Lifetime Hero Award will be given to longtime HSB supporter and champion, Charlie Zimmer.  The event will include a welcome reception, silent auction, lunch and the awards presentation. 
"All of our 2023 Heroes are being recognized for their outstanding and unique contributions they have made both to Hospice of Santa Barbara and to our community," said David Selberg, CEO of Hospice of Santa Barbara. "Heroes of Hospice is an important opportunity for us to come together and celebrate those who, in one way or another, make our work possible." 
Hospice of Santa Barbara's "Heroes" event will be held Sunday, September 10, 2023 from 11:00 am - 1:30 pm at the Rosewood Miramar Beach Resort. To learn more and purchase tickets, please visit: http://www.hospiceofsb.org/heroes 
ABOUT OUR HEROES 
Jackie Carrera, CEO of Santa Barbara Foundation
For over 90 years, the Santa Barbara Foundation has been a catalyst for change. They analyze issues to identify challenges that burden people every day in Santa Barbara County. They convene community stakeholders to build coalitions and partner with nonprofits and other leaders working on the front lines. Together, the organization charts a direction and mobilizes people to support the dynamic initiatives that makes Santa Barbara a better place now, and for generations to come. 
Tianna Swede, Patient Care Services Manager
The Patient Care Services Team at Hospice of Santa Barbara is an interdisciplinary approach which includes social work, spiritual care, care coordinators, and volunteer services. This program serves patients and their families impacted by life threatening illness by addressing their emotional, social, spiritual and practical concerns. The primary focus of the program is to help patients and families maintain a good quality of life. 
Charlie Zimmer
Charlie Zimmer has been a constant presence and advocate for Hospice of Santa Barbara since serving as its Executive Director from 1979 until approximately 1990. He has volunteered on various committees to the Board of Directors from 2000 to today. He helped establish HSB's Foundation and was a mentor to other HSB leaders including Gail Rink, Steve Jacobsen, Tina Frontado (interim) and David Selberg. His impact has been immeasurable and HSB is grateful for his enduring compassion and commitment to the organization.
Hospice of Santa Barbara
Hospice of Santa Barbara provides professional counseling, support groups, and patient care services free of charge to individuals and families who are grieving the death of a loved one or experiencing the impact of a life-threatening illness. Hospice of Santa Barbara also provides counseling in our offices and on fifteen local junior and high school campuses to children and teens who are grieving the loss of a loved one. For more information about Hospice of Santa Barbara including volunteer opportunities or to help support these free services, call (805) 563-8820 or visit www.hospiceofsantabarbara.org.
♦  ♦  ♦
___________________________________________________________________
HEALTH MINDED DESTINATIONS FOR FALL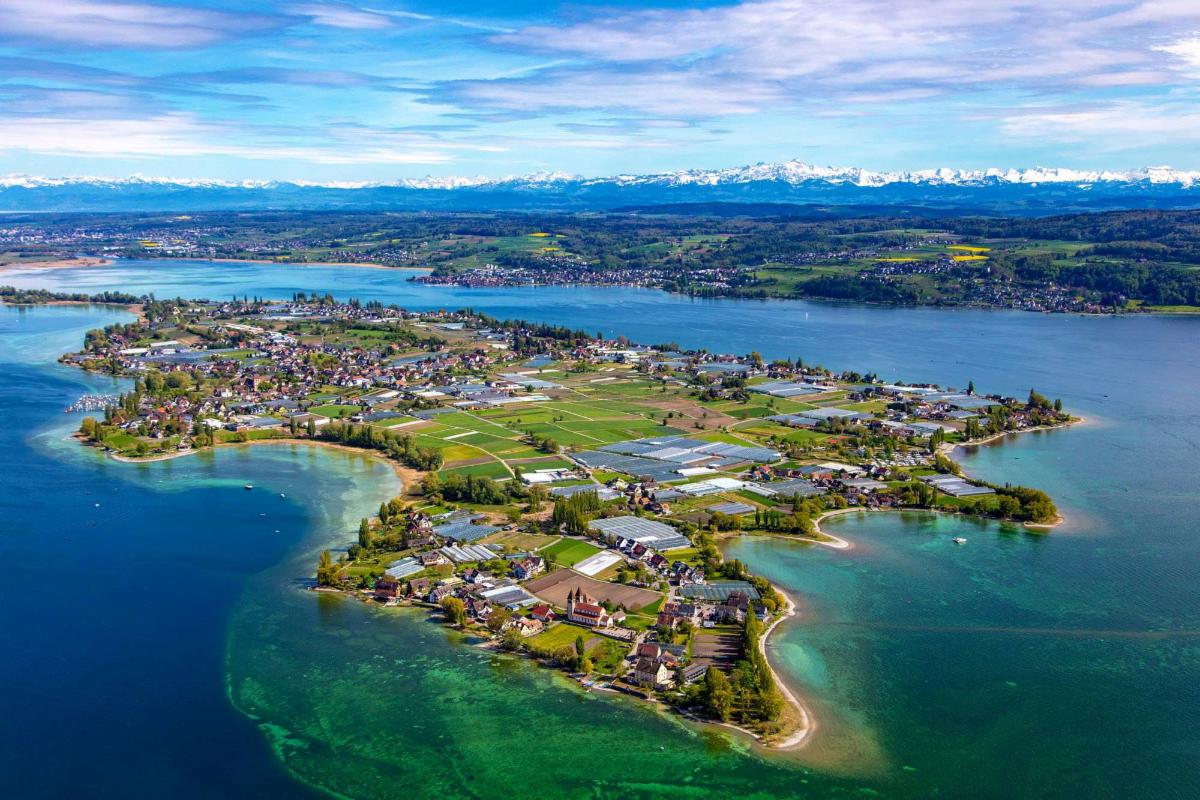 Arieal View of Lake Constance
Lake Constance: A Paradise for Fall Travel
Four Countries, One Destination
Nestled between SouthWest Germany, Switzerland, Liechtenstein, and Austria, Lake Constance is a paradise for fall travel. Food harvest festivals, fish weeks, soft autumn air, wines, biking and walking, and extraordinary scenery in the heartland of Europe are a tonic for travelers around the world.
It is so unusual to get four countries in one destination. Your vacation quadruples in value as you can experience the distinct culture of each country and yet experience all of them in one unhurried trip. Stopping in each country for two or three days allows one to absorb the local culture through festivals, the traditional dishes and wines. Even though you could, in one day, enjoy breakfast in Switzerland, lunch in Austria, coffee and cake in Liechtenstein, and still get back in time for dinner in SouthWest Germany, you will get a real sense of the destination if you take it at a more leisurely pace.
Local Products
"Farm-to-Table" truly defines the culinary traditions of Lake Constance. Specialties from local farms, orchards and the lake find their way onto plates around the four-country region. Some of the famous specialties from each country include, the Swiss potato Rösti; the German "Kässpätzle," or pasta with cheese; the pork shoulder, "Schäufele;" and the filled raviolis, or "Maultaschen." Sweet hearty dumplings from the Austrian Arlberg along with apricot and ham dumplings are not to be missed. "Dünnele," small pizzas, in every form: traditional with cream and ham, refined with smoked salmon, sweet and flambéed with plums are perfectly paired with a fruity white wine crafted from the Müller-Thurgau grapes, or a red from the Schaffhausen pinot noir region, or even a Schnapps or Obstler.
Produce and products including cheeses from the local village dairies and farms; cucumbers from the UNESCO monastery and garden island of Reichenau, one of Germany's oldest agriculture sites; mild and flavorful heirloom onions "Höri-Bülle;" wines from six wine districts each with its own character; hops brewed after centuries-old traditions; Swiss Chocolate and the family-friendly Chocolarium in Switzerland; fine fruit spirits; whiskeys; and gins from local grains are abundant and delicious. Apples, pears and cherries fill the stalls at the weekly and evening markets.
Fall Festivals
During the Apple Weeks in September and October, restaurants and farms organize special events around the apple along the German and Swiss shores. At the same time, during the Fish Weeks, the chefs of various restaurants at western Lake Constance serve 3-course menus at a single price. Whitefish, perch and other fish fresh from the lake are served to create delicious fish menus. From mid-October until the end of November, Triesenberg (Liechtenstein) invites guests to sample the very best of regional cooking at the Triesenberger Weeks. At this festival, a variety of restaurants serve a selection of dishes from the Walser people who are native to Liechtenstein and the surrounding area. The dishes include pasta-like 'Chääschnöpfli' and the sweet 'Öpfelchüachli' (apple-flavoured doughnuts) that are traditional today and were even typical of the region many centuries ago. 
The towns of Lindau, Nonnenhorn, Bodolz, Wasserburg (Germany) and Bregenz (Austria) have special open days in the month of October when owners open their doors for special tours. In all of the towns there are fall wine tastings and pairings with the local cheeses that you cannot find elsewhere; restaurants open their kitchens; fish hatcheries welcome visitors; and orchard owners host hikes through their fields. It is a special time to peek behind the curtain and get a real taste and feel for the local production and traditions. At the beginning of the month, introducing this "Genussherbst," there is a special gourmet hike with different tasting stations along the way. It is a healthy eight miles long through orchards and vineyards, past special vantage points, and regional delicacies with corresponding beverages at the various stations.
Special Outings
A picnic with local produce can be a relaxing way to independently enjoy the region and shoreline. Visitors can order complete meals to go in knapsacks, including family meals, vegan, vegetarian, and classic, and a bottle of wine is included. It is a particularly relaxing way to feel like a local and be part of the landscape. Two historic steam boats, the Hohentwiel and the Oesterreich, offer themed tours and gourmet five course meals at lunch and dinner giving visitors special and relaxing experiences with excellent menus and outstanding views as they tour the lakes.
Where to Stay
The views from every angle around the lake deliver a five-star experience no matter what type of lodging you are seeking. From cozy pensions to contemporary spas and grande dame hotels, there is a hotel and amenity for all budgets. Some newcomers include, Seehotel am Kaiserstrand directly on the shore of Lake Constance in Lochau between Bregenz and Vorarlberg in Austria. Switzerland's Tailormade Hotel LEO St. Gallen designed by star architect Roger Boltshauser is located right at the train station. Next year, a new hotel focusing on sustainable and organic products, das Zeppelin Hotel, will open in SouthWest Germany's Friedrichshafen in a green park setting and right on the shore where the famous Zeppelin museum is located.
Many of the charming towns around the lake are worth at least one overnight. St. Gallen in eastern Switzerland is a UNESCO World Heritage site known for its baroque cathedral and the famous abbey library. The medieval lakeside town of Meersburg is a step back into past with its cobblestone, winding streets and enormous baroque palace. Equally charming is the old city of Stein am Rhein with its half-timbered buildings clustered in the old town. Konstanz is a bustling center full of restaurants and shops with a delightful walk along the harbor.
The Bodensee Card PLUS, the holiday pass of Lake Constance, offers 160 attractions, including museums, castles, theme parks, free boat trips, and swimming pools. To get to Lake Constance from the US or Canada, fly to Bodensee-Airport Friedrichshafen (via Frankfurt) or to Stuttgart Airport or Zurich Airport in Switzerland. Also, trains from all over Europe go straight into Constance and from there you can drive, bicycle, or go by ferry to various points around the lake.
Lake Constance is an ideal destination especially in fall when students are back in school and the summer rush is over, and calm days, bright fall colors, and harvest time festivals prevail. You can enjoy the atmosphere and soak up the local culture of four distinct cultures and countries at a relaxing pace within one destination. 
___________________________________________________________________
TRAVEL TO AND FROM HAWAII REPORTS: LBN from AP Report 8/13
A volunteer in the aftermath of the wildfire in Lahaina, western Maui, Hawaii. Officials have warned tourist not to travel to the island. Photograph: AFP/Getty Images
Hawaii fires: tourists warned against travelling to Maui in wake of disaster
Officials say hotel rooms needed to house thousands of displaced residents
Associated Press
Sun 13 Aug 2023 19.58 EDTLast modified on Mon 14 Aug 2023 16.24 EDT
Officials in Hawaii have urged tourists to avoid traveling to Maui, as many hotels prepared to house evacuees and first responders on the island after wildfires killed more than 90 people and destroyed hundreds of homes.
About 46,000 residents and visitors have flown out of Kahului Airport in West Maui since the scale of the devastation in the historic town of Lahaina became clear on Wednesday, according to the Hawaii Tourism Authority.
"In the weeks ahead, the collective resources and attention of the federal, state and county government, the West Maui community, and the travel industry must be focused on the recovery of residents who were forced to evacuate their homes and businesses," the agency said in a statement late Saturday. Tourists are encouraged to visit Hawaii's other islands.
Governor Josh Green said 500 hotels rooms will be made available for locals who have been displaced. An additional 500 hotel rooms will be set aside for workers from the Federal Emergency Management Agency. Some hotels will carry on with normal business to help preserve jobs and sustain the local economy, Green said.
The state wants to work with Airbnb to make sure that rental homes can be made available for locals. Green hopes that the company will be able to provide three- to nine-month rentals for those who have lost homes.
On Saturday, Hawaiian native and Hollywood actor Jason Momoa also warned tourists against travelling to the island.
"Maui is not the place to have your vacation right now," he wrote on Instagram. "Do not convince yourself that your presence is needed on an island that is suffering this deeply.
As the death toll around Lahaina climbed to 114, authorities warned that the effort to find and identify the dead was still in its early stages. The blaze is already the deadliest US wildfire in more than a century.
Crews working with dogs have covered just 3% of the search area, Maui Police Chief John Pelletier said Saturday.
"We've got an area that we have to contain that is at least 5 square miles, and it is full of our loved ones," he said, noting that the number of dead is likely to grow and "none of us really know the size of it yet."
"It will certainly be the worst natural disaster that Hawaii ever faced," Green said as he toured the devastation on historic Front Street in Lahaina. "We can only wait and support those who are living. Our focus now is to reunite people when we can and get them housing and get them health care, and then turn to rebuilding."
At least 2,200 buildings were damaged or destroyed in West Maui, Green said, nearly all of them residential. Across the island, damage was estimated at close to $6bn.
As many as 4,500 people are in need of shelter, county officials said on Facebook, citing figures from the Federal Emergency Management Agency and the Pacific Disaster Center.
The latest death toll surpassed that of the 2018 Camp Fire in northern California, which left 85 dead and destroyed the town of Paradise. A century earlier, the 1918 Cloquet Fire broke out in drought-stricken northern Minnesota and raced through rural communities, destroying thousands of homes and killing hundreds.
The cause of the wildfires is under investigation. Hawaii emergency management records do not indicate that the warning sirens sounded before fire hit the town. Officials sent alerts to mobile phones, televisions and radio stations, but widespread power and cellular outages may have limited their reach.
Fueled by a dry summer and strong winds from a passing hurricane, the wildfires on Maui raced through parched brush covering the island. "It outpaced anything firefighters could have done in the early hours," US Fire Administrator Lori Moore-Merrell said.
Maui's firefighting efforts may have been hampered by limited staff and equipment.
Bobby Lee, president of the Hawaii Firefighters Association, said there are no more than 65 county firefighters working at any given time, who are responsible for three islands: Maui, Molokai and Lanai.
NOTE:
 I hope you appreciated this article. Before you move on, I was hoping you would consider taking the step of supporting the Guardian's journalism. 
From Elon Musk to Rupert Murdoch, a small number of billionaire owners have a powerful hold on so much of the information that reaches the public about what's happening in the world. The Guardian is different. We have no billionaire owner or shareholders to consider. Our journalism is produced to serve the public interest – not profit motives.
And we avoid the trap that befalls much US media – the tendency, born of a desire to please all sides, to engage in false equivalence in the name of neutrality. While fairness guides everything we do, we know there is a right and a wrong position in the fight against racism and for reproductive justice. When we report on issues like the climate crisis, we're not afraid to name who is responsible. And as a global news organization, we're able to provide a fresh, outsider perspective on US politics – one so often missing from the insular American media bubble. 
Around the world, readers can access the Guardian's paywall-free journalism because of our unique reader-supported model. That's because of people like you. Our readers keep us independent, beholden to no outside influence and accessible to everyone – whether they can afford to pay for news, or not.
If you can, please consider supporting us just once from $1, or better yet, support us every month with a little more. Thank you.
Betsy Reed
Editor, Guardian US
__________________________________________________________________
 Johnny Jet (Johnnyjet.com) reported Maui wants you to come to visit and some airlines are giving reduced rates, plus great hotel rates are available. Reported 8/30/23.

__________________________________________________________________
The Finest in Independent Living
VISTA DEL MONTE
Without the hassles of mundane chores, you're free to enjoy the things you really want to do. At Vista del Monte, you'll have time to engage in what's most meaningful to you: pick up a new skill or hobby, travel, discover an interesting sport, or make more time to socialize. Whatever it is, we can help. With our Independent Living services, we take care of all the practical tasks, including transportation, housekeeping, and maintenance. Our culinary staff prepares delicious meals, handles all the day-to-day chores, and your wellbeing needs are attended to—all in one place. For information visit: www.vistadelmonte.org. Vista Del Monte – Santa Barbara, California – 805-687-0793
---