www.centralcoasthomehealth.com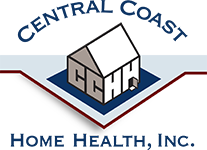 HEALTH MINDED  .   .   .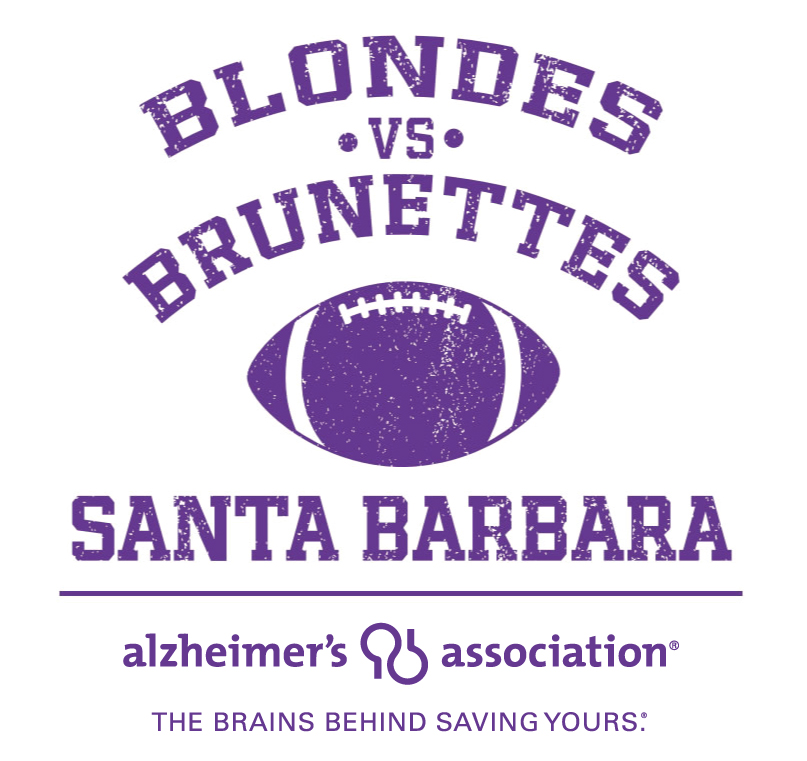 BLONDES VS. BRUNETTES WAS A BRILLIANT 4TH ANNUAL EVENT TO BENEFIT ALZHEIMER'S ASSOCIATION CALIFORNIA CENTRAL CHAPTER
by Bonnie Carroll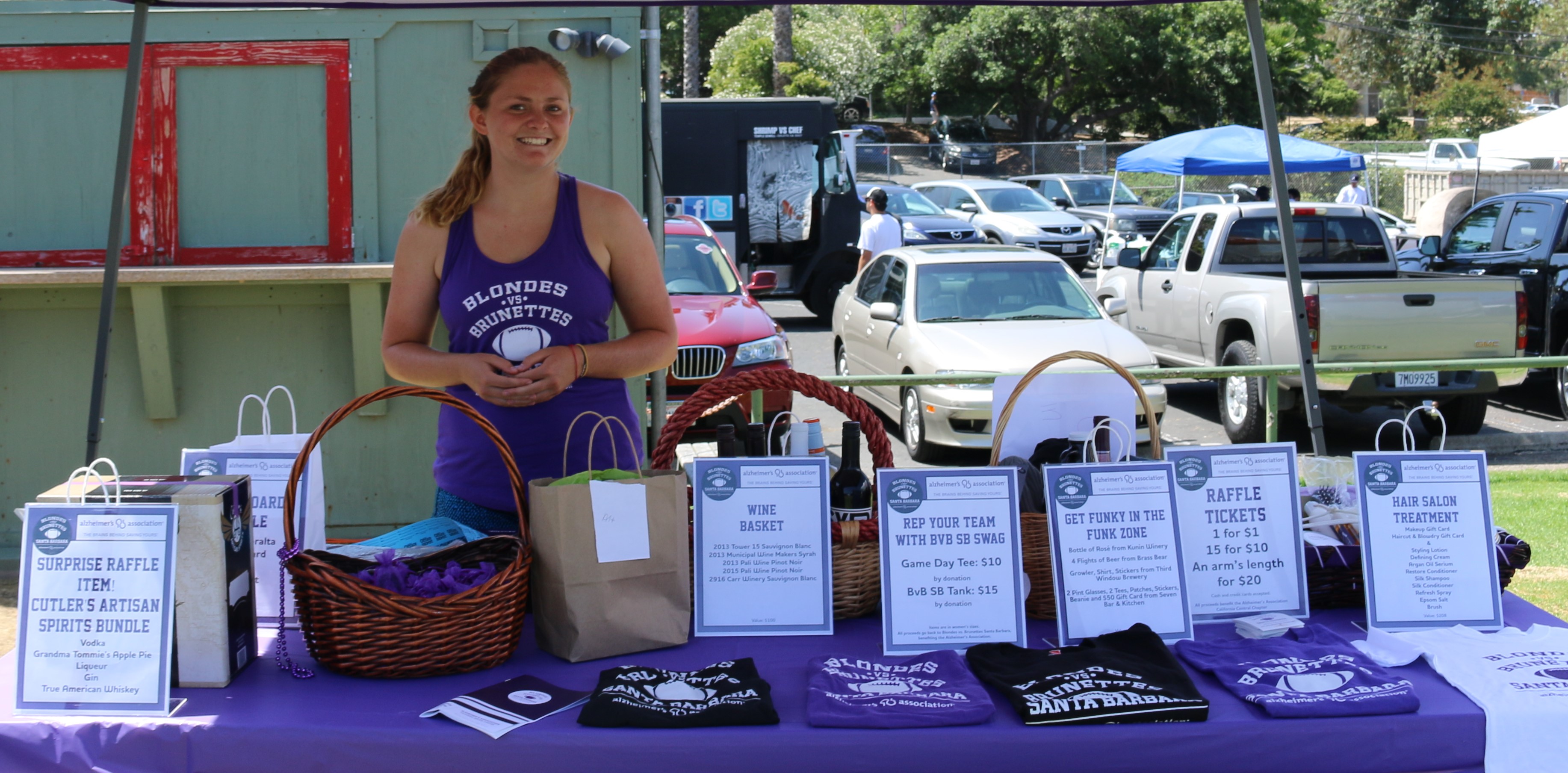 Gift Sponsors Raffle Table

Team Captains Kiersten Hess (Blondes) and Breanna Czenczelewski (Brunettes) were stunning on the field at Bishop Garcia Diego High School yesterday. RivALZ players have given their time at the annual event to raise awareness and funds for the Alzheimer's Association. The spirit and dedication of these amazing women was inspiring. Congratulations to the Teams, kind Sponsors and generous supporters!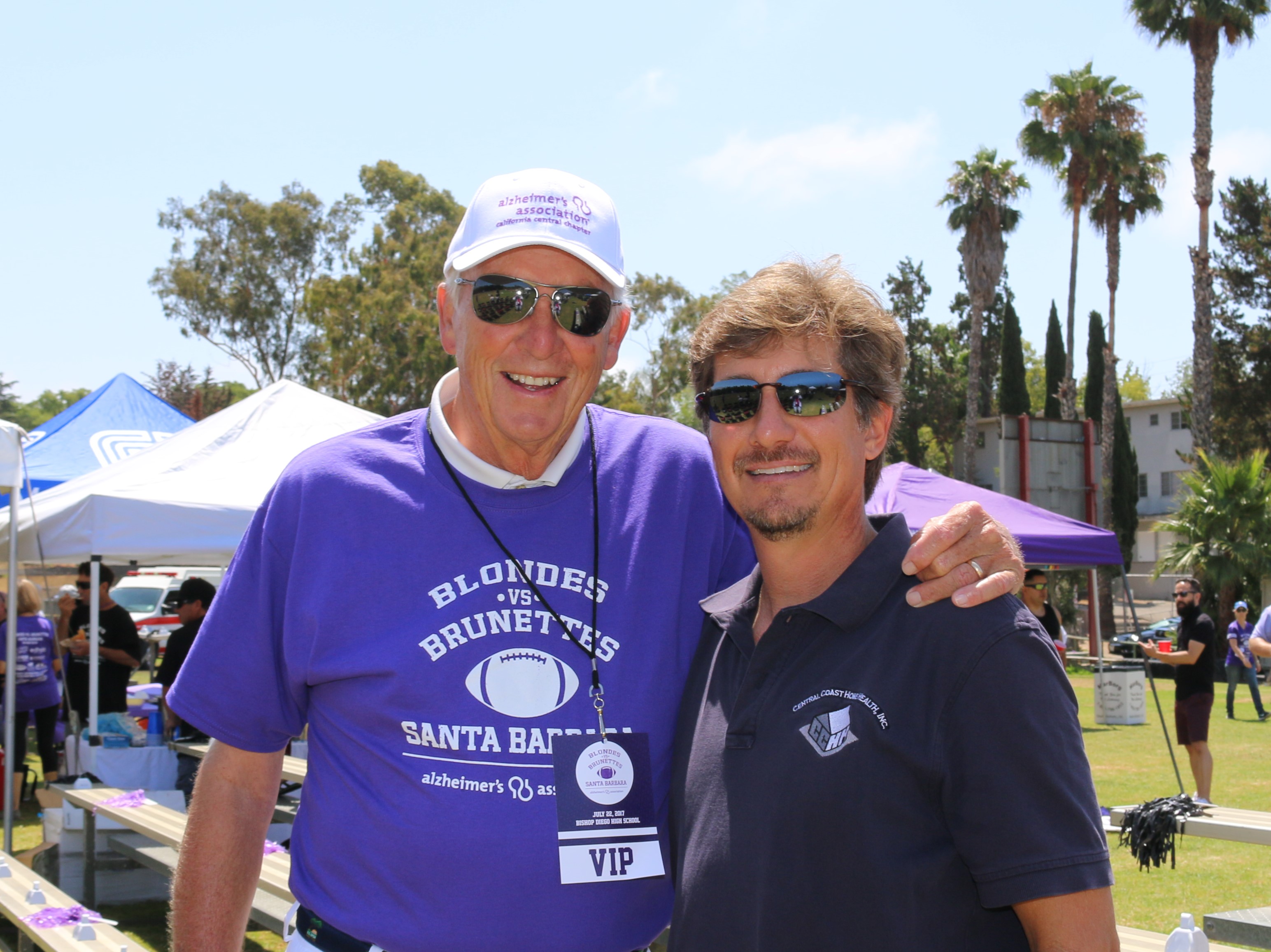 VIP Dave Morley & CCHH Jerry Jordano
Jerry Jordano, Partner of Central Coast Home Health, Inc. was a Team Sponsor for this year's Blondes Vs. Brunettes and enjoyed chatting with friend and VIP guest Dave Morley before the RivALZ game began. Edhat my favorite online Santa Barbara news magazine sponsored a booth where Sue Foley and her son met with event attendees, while my favorite managing editor Lauren Bray of Edhat was a player in the game. Sadly, Lauren suffered a serious injury to her leg and is on crutches. Who ever dubbed this a 'powder puff' event was mistaken. VIP Sponsors and food vendor trucks fed the hungry crowd and provided cool beverages throughout the afternoon.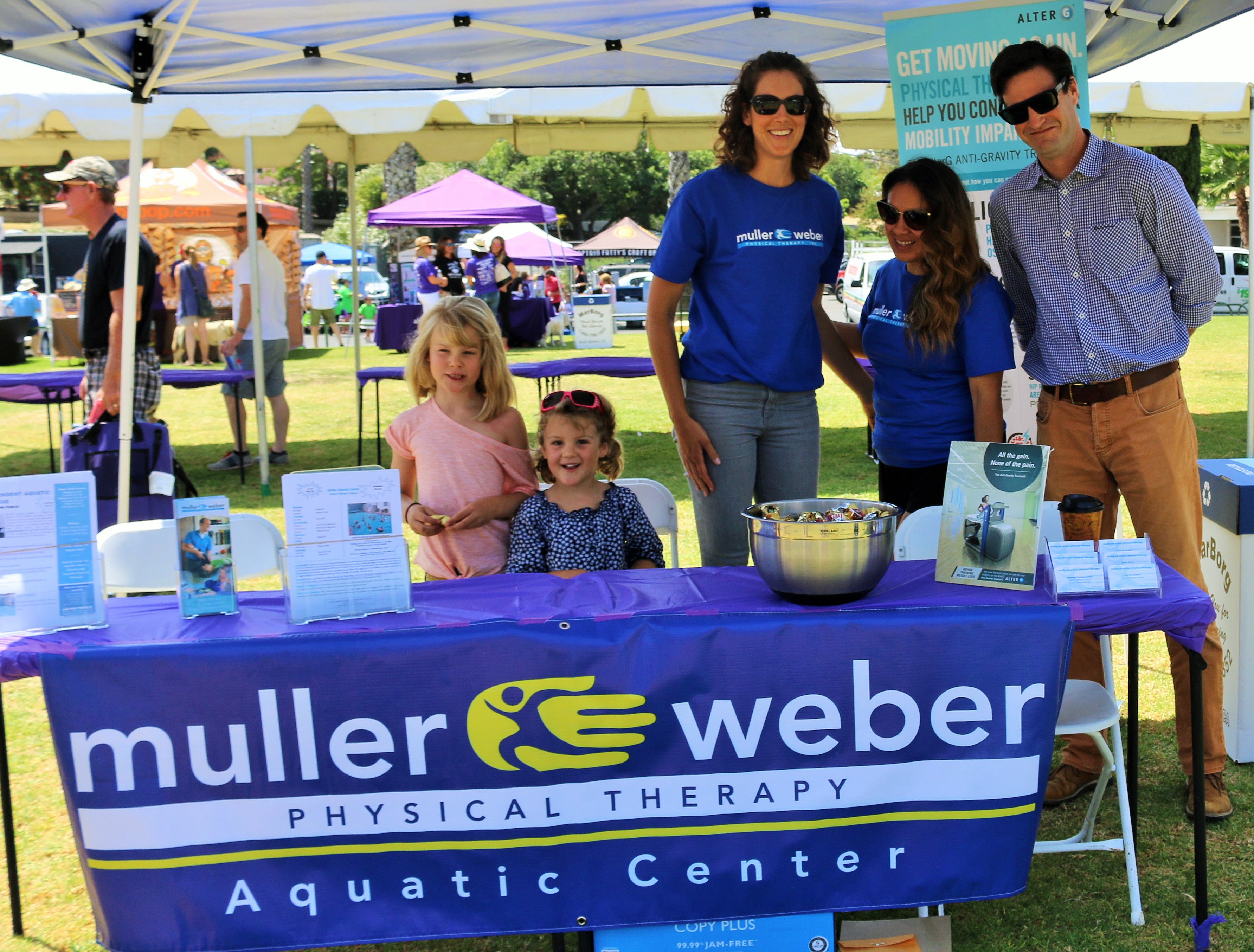 The Muller & Weber Team

Sponsors, players and fans all seemed to enjoy themselves while savoring the food from Shrimp vs. Chef, Draughtsmen, 805 Street Bites, SB Woodfire Catering, Santa Barbara Brewing Company, ParadICE, Mr. E's Freeze and more. Children loved the Kids Zone, and totally got into the spirit with items donated by Muller & Webber Physical Therapy and others. The gift drawing tables were filled with amazing ticket items donated by generous local gift sponsors.
Mode of the day was a 2017 Blondes Vs. Brunettes T-shirt at the RivALZ game supporting Alzheimer's Association California Central Chapter at Bishop Garcia Diego High School. Jerry Jordano, Central Coast Home Health, Inc. and CCHH staff member Maureen Boles were rooting for both teams. It looked like everyone went home with a team T-shirt this year.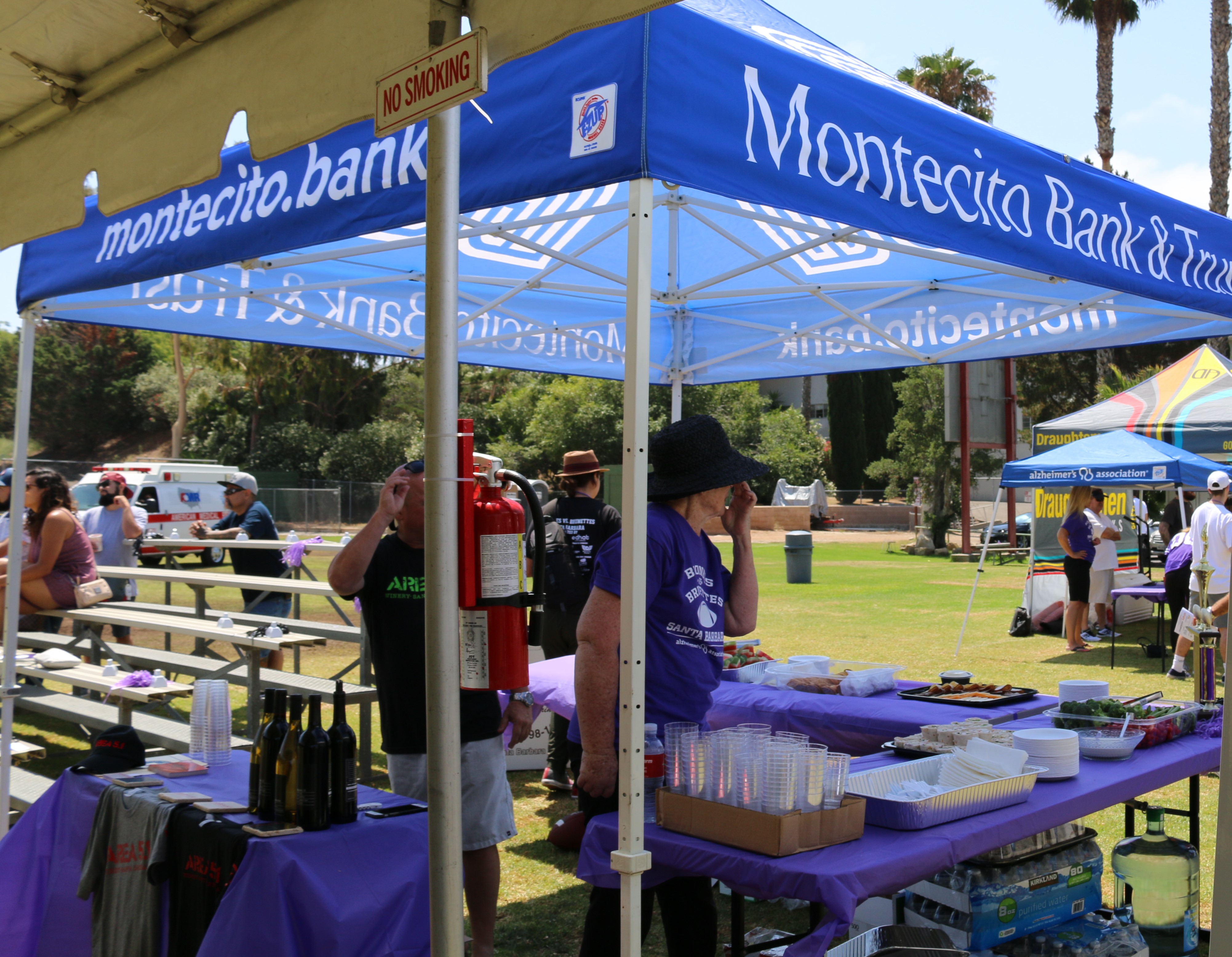 Wines & Waters from Montecito Bank & Trust
Montecito Bank & Trust, event sponsors, were busy pouring wine and serving iced beverages to attendees as large groups and families with friends were seated under tents to stay cool during the game. Everyone was enjoying the fantastic food and snacks being served. I especially liked the coconut ice cup, and was told the Woodfire Pizza was outstanding.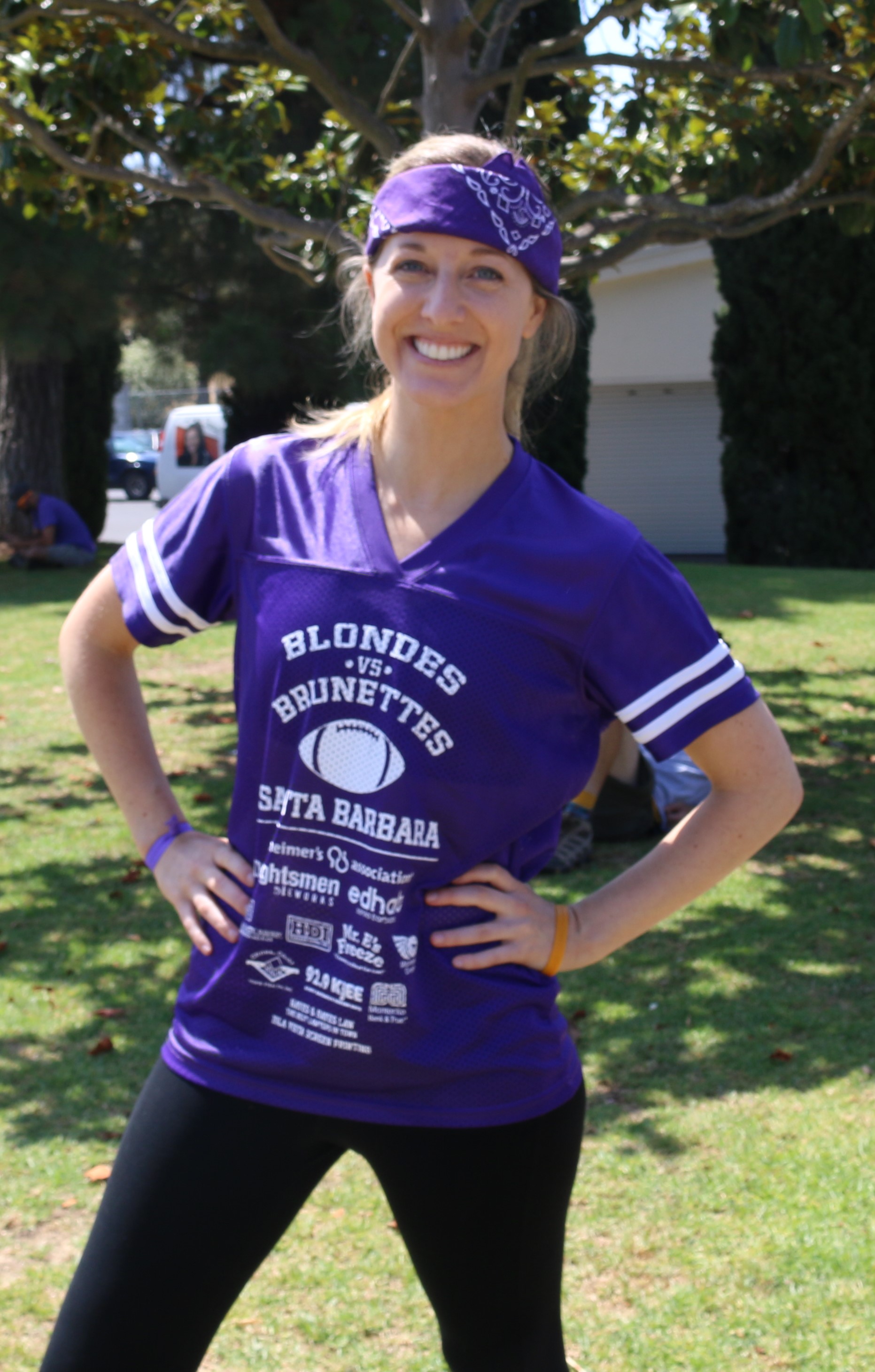 Lauren Bray, Managing Editor Edhat.Com
This 4th Annual event in support of the Alzheimer's Association was a real love fest. The kindness and generosity of everyone in the community was so appreciated. Kudos to all the food, beverage and snack people who 'brought it' and to those brave women who went out there and played their hearts out to increase awareness and funding for the Alzheimer's Association California Central Chapter. Bravo!!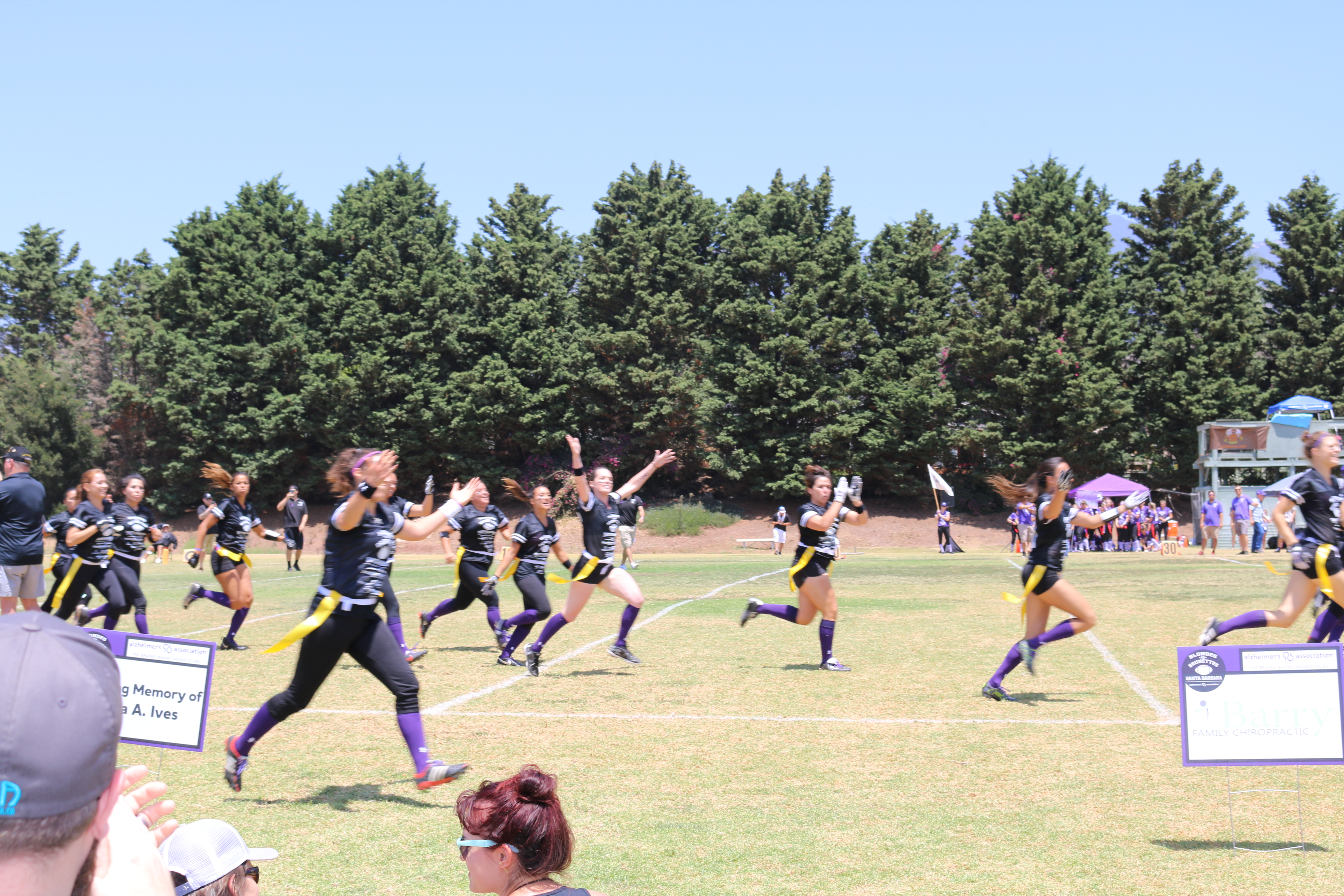 Congratulations to the Dark Side Winners 14-28
For additional information on Blondes Vs Brunettes or to make a donation to Alzheimer's Association California Central visit: www.alz.org/cacentral.
-  -  -  -  -  -  -  -

2017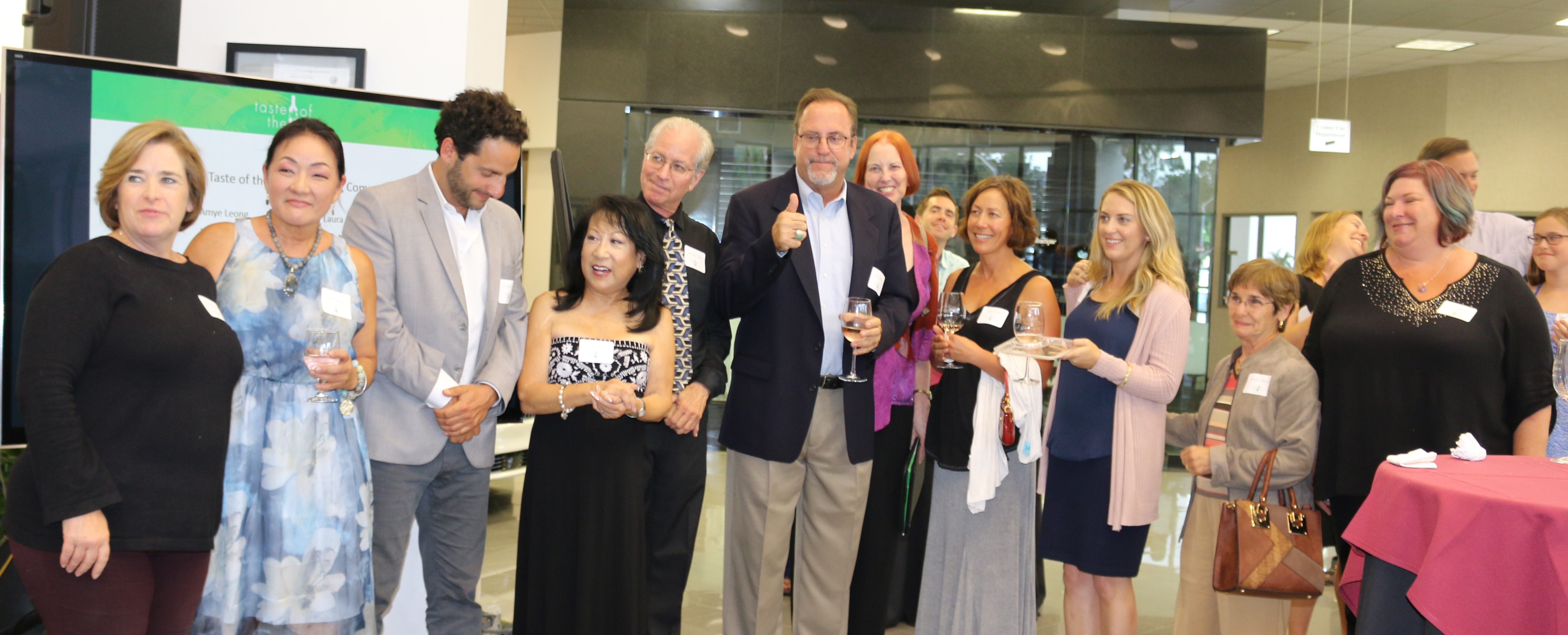 Taste of the Town Honorees were Announced by the Arthritis Foundation Central Coast leadership board and staff at the Kickoff Celebration hosted by Santa Barbara BMW.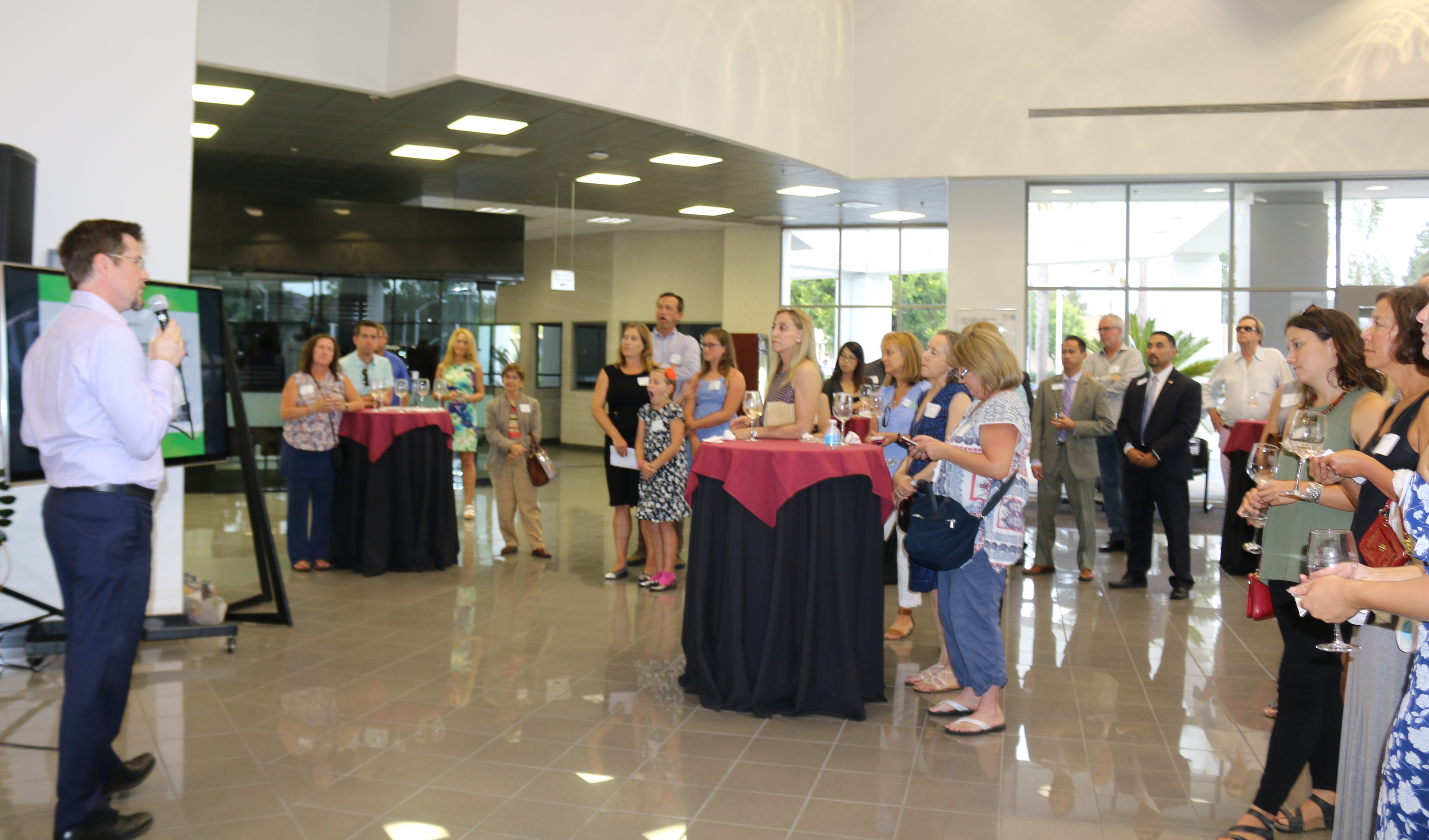 Sponsors and friends of Arthritis Foundation Central Coast, including Central Coast Home Health staff, gathered to meet the 2017 honorees, along with board and staff who will participate in the 36th Annual Taste of the Town. Michal Weisbrook, Executive Director shared that renowned New York Chef Mark Strausman from Freds of Barneys New York will be flying to Santa Barbara to prepare the Connoisseurs' Circle Gala Dinner, which will be paired with Margerum Wines, to be held on Friday, September 8 at Bacara Resort & Spa.
The Taste of the Town will be on Sunday September 10 from noon 3:00 p.m. at Riviera Park where the finest restaurants, caterers, wineries, breweries and spirit providers will be serving sips and tastes to attendees. Opal Restaurant & Bar co-owners Tina Takaya abd Richard Yates return as honorary co-Chairs of the philanthropic culinary tradition. A full list of the sponsors and food & beverage participants can be seen at www.arthritis.org/tasteofthetownsb.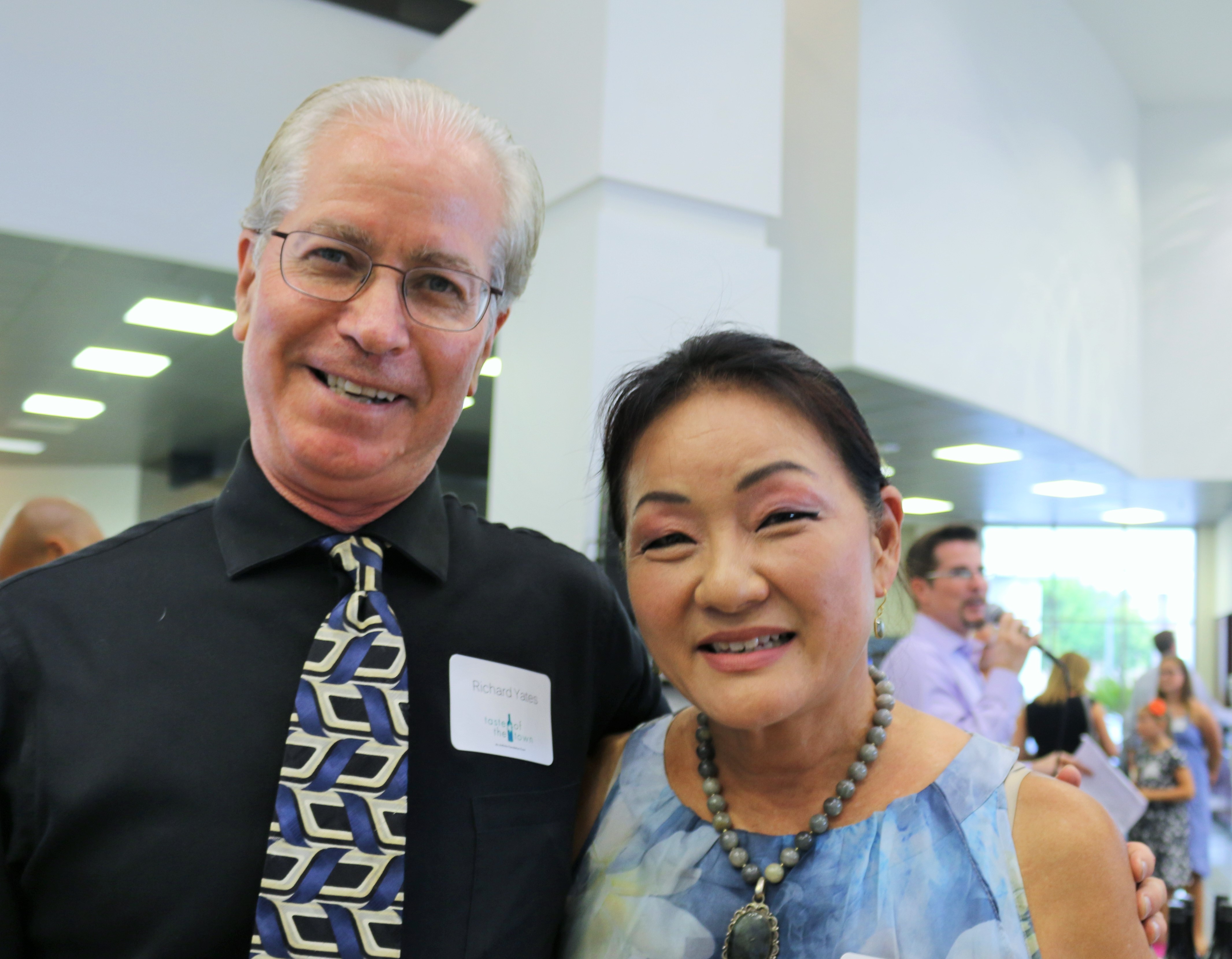 Opal Restaurant & Bar co-owners Richard Yates & Tina Takaya
Co-Chairs of 36th Annual Taste of the Town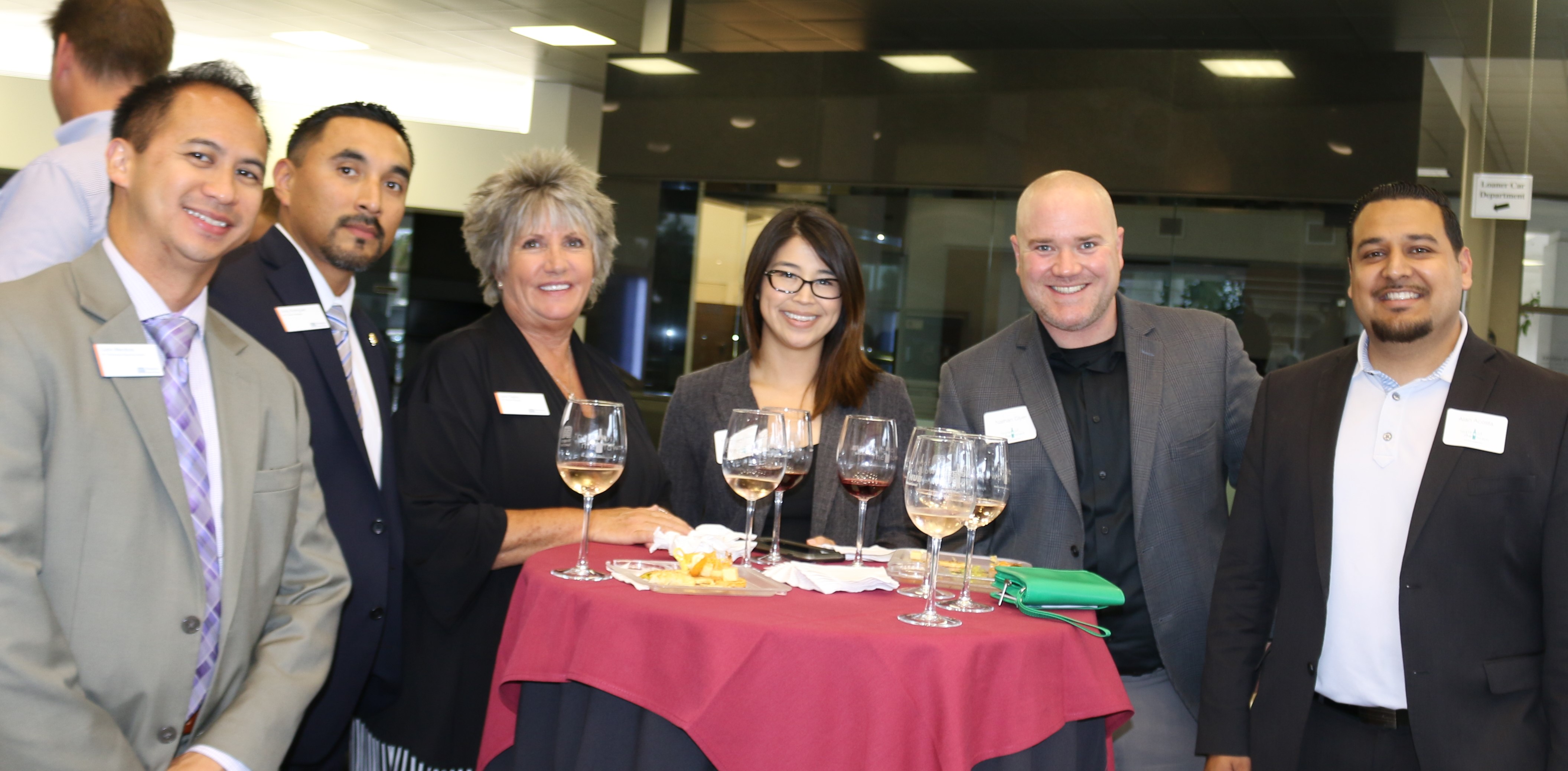 Montecito Bank & Trust Sponsor Team
It was announced at the Taste of the Town kick-off that the entire 2017 event was being dedicated to the late Michael Towbes, who began working for the success of Arthritis Foundation Central Coast thirty-six years ago.
It was a wonderful start to what looks to be an amazing weekend raising funds and awareness for the Arthritis Foundation Central Coast.
Hors d'oeuvres were prepared by Opal Restaurant & Bar and were presented by volunteers from Santa Barbara City College culinary students, Wine was presented by Margerum Winery in the BMW Santa Barbara Showroom.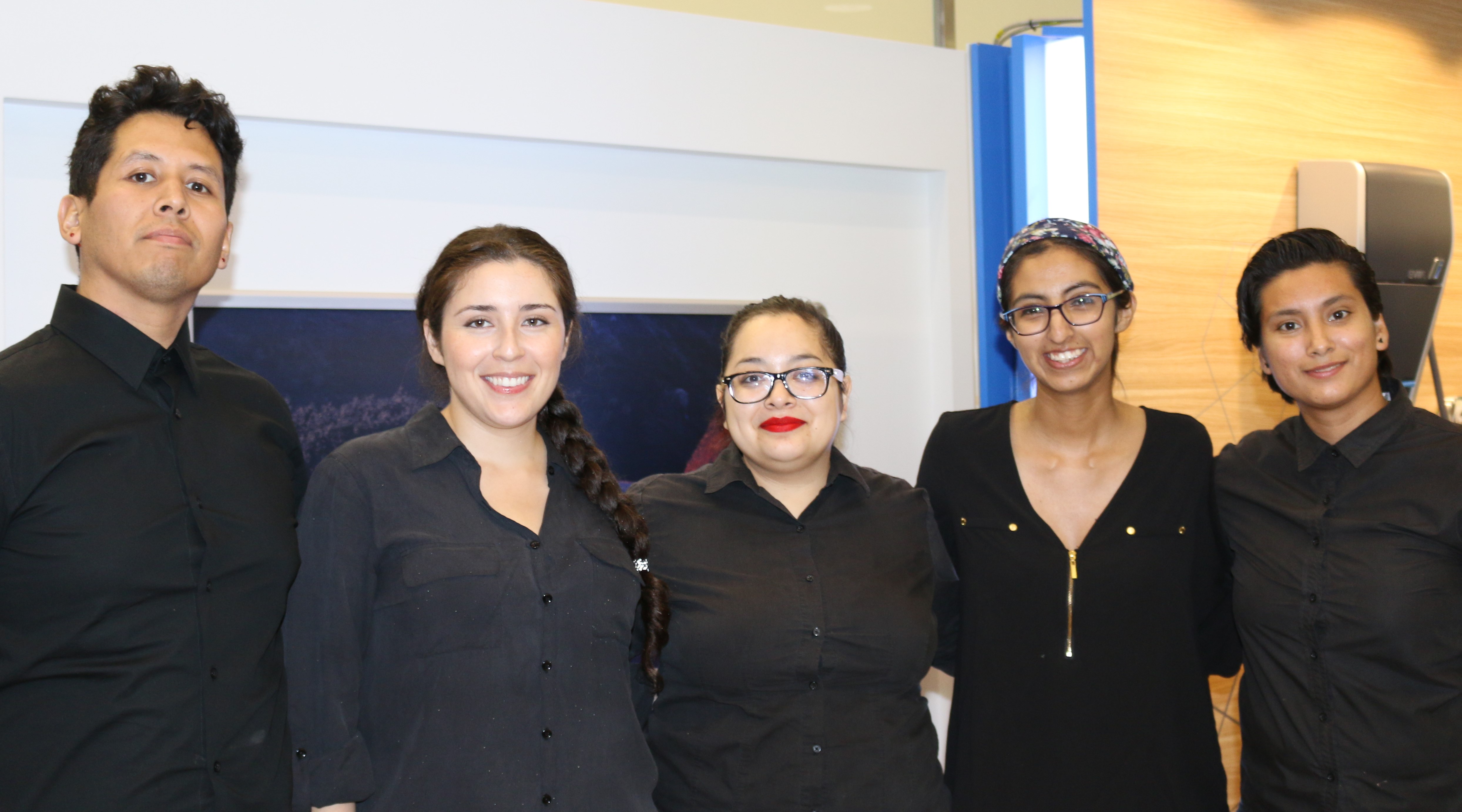 SBCC Culinary School Volunteers Martin De Lunaj, Anissa Perez, Heidi Estrada, Serina Soto & Jessica Martinez
2017 Taste of the Town Honorees:
HONORARY LEAD VINTNER - Doug Margerum, Margerum Winery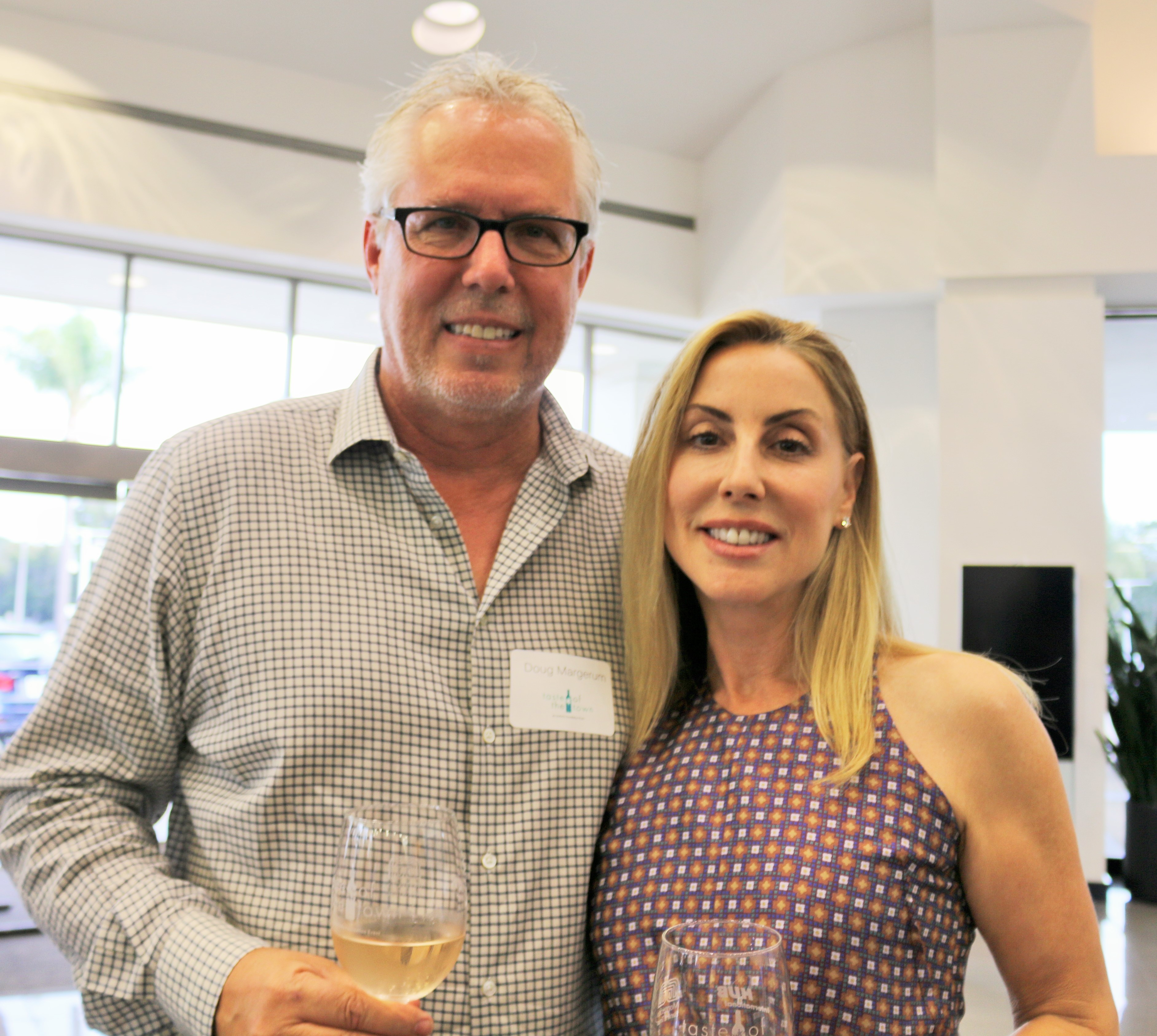 Doug & Marni Margerum, Margerum Winery
MEDICAL HONOREE - James C. Zmolek, MD, Sansum Clinic
Michal Weisbrock with James c. Zmolek, MD & Mrs Zmolek

YOUTH HONOREE - Lilly Trautwein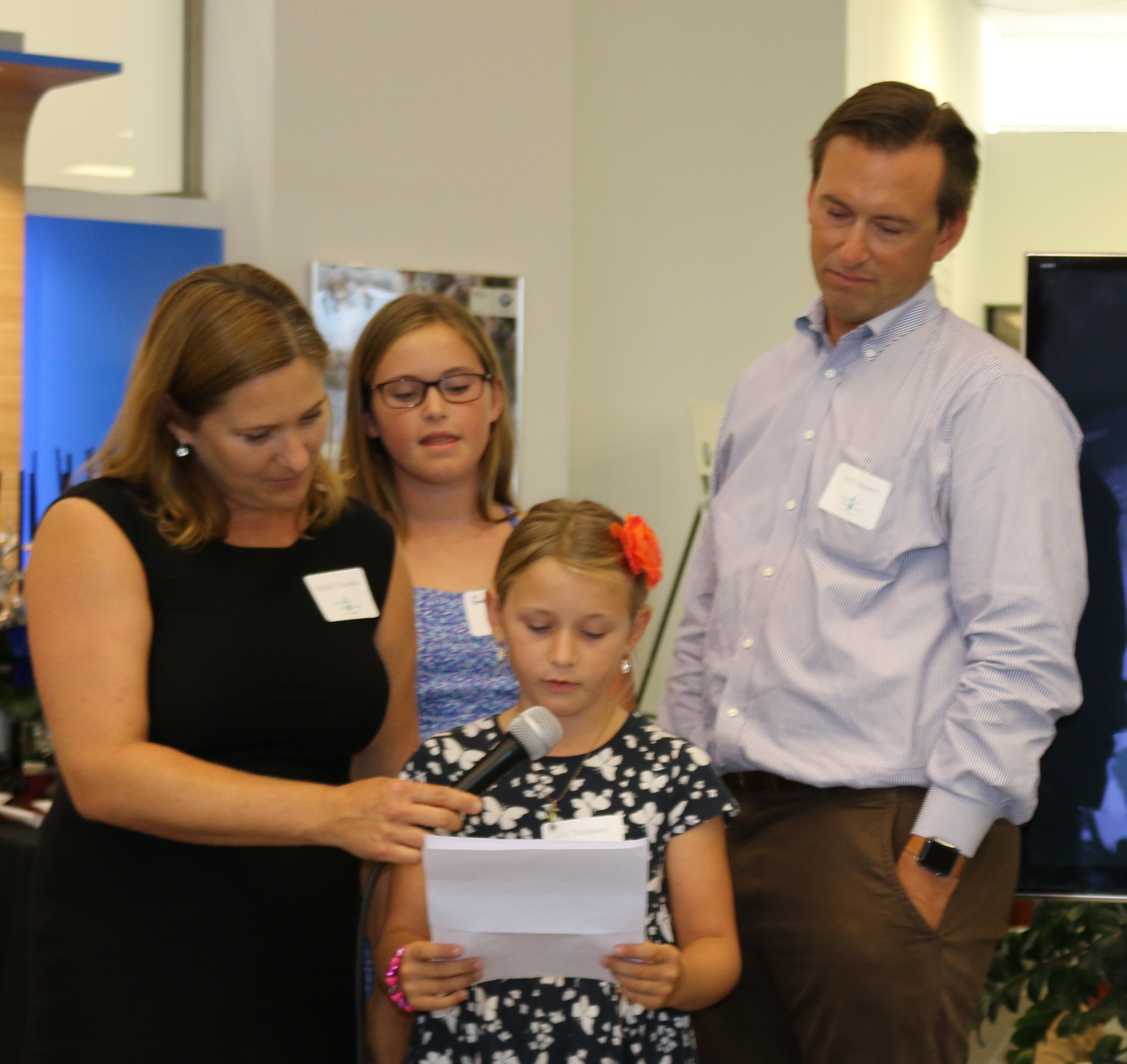 Youth Honoree Lilly Trautwein & Family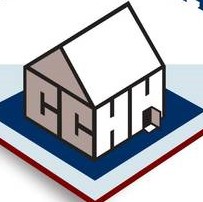 ___________________________________________________________________
PET HEALTH MINDED  .  .  .
WHAT IS TURMERIC
You've probably heard of turmeric. You know, the orange spice that gives curry its deep, earthy flavor and is commonly used in Thai and Indian dishes. In fact, there is a good chance you have some in your cupboard. A member of the ginger family, turmeric is native to Southeast Asia and the Middle East and is popular in Ayurvedic and Eastern medicines.
There have been a lot of studies performed on turmeric, over 6,000 to be more specific. Throughout the span of these studies, we've learned a great deal about its active ingredient curcumin, which is found in the roots and bulbs. Curcumin, also coined "Cure-Cumin" by one Baylor University study, offers a wide variety of health benefits to you and your pup. This herb is anti-inflammatory, anti-fungal, antibacterial, antiviral, antioxidant, and can even help fight cancer (but more about that later).
While there have been some impressive advancements in western medicine, it's no secret that preventative medicine is something that has just recently become popular in our corner of the globe. But it really is true: sometimes the best cure is prevention. Don't believe us? Read on to learn more about the healing properties of turmeric!
BENEFITS OF TURMERIC
Anti-Inflammatory
Inflammation is not inherently evil. In fact, it's the body's natural response to bacteria, trauma, toxins, heat, among other causes. If your pup is exposed, the body will jump into action and send an army of white blood cells to the exposed area, increasing blood flow and causing inflammation. This is the body's process and it is a miraculous thing.
Chronic inflammation, on the other hand, is behind almost all disease. Luckily, Turmeric has anti-inflammatory properties that rival ibuprofen. In fact, in one 2014 study, curcumin outperformed ibuprofen in people with arthritis. Additionally, another 2004 study found that it also outperformed aspirin.
Powerful Antioxidant
Turmeric is a powerful antioxidant! As you may know, antioxidants are miracle workers as they slow aging, degeneration, and even have the ability to increase your lifespan. How do they do this? By fighting free radicals.
Free radicals naturally occur in your body but "they're also formed when your dog is exposed to chemicals, pesticides, processed foods, pollution, radiation and toxins." naturally occurring and can do some serious damage to you and your pup's cells. In fact, they even play a role in the development of cancer.
Treat And Prevent Cancer/Tumors
As we discussed, turmeric is a powerful antioxidant so it's no surprise that it can help prevent cancer. But…did you know it can actually reverse cancer?
Not only do studies show that turmeric can prevent cancer, but there is evidence that it can also treat cancer naturally and even shrink tumors! "This has to do with the spice's amazing ability to shut down blood vessels that feed tumors" as well as it being an antioxidant.
Of the 65 million companion dogs in the United States, it's estimated that nearly 6 million dogs will be diagnosed with cancer this year. The numbers are similar for cats as well. Turmeric is an effective way to protect your pet from becoming a statistic.
Relieve Arthritis Pain
In addition to treating the inflammation that causes arthritis, turmeric can also treat that pain and symptoms associated with arthritis as well.
A 2014 study followed a two groups of patients with knee osteoarthritis. 185 patients were given Curcuma domestica extracts and 182 patients were given ibuprofen, both for 4 weeks straight.
The Curcuma domestica extracts were just as effective as ibuprofen. The biggest difference was that patients who went the holistic route experience less gastrointestinal issues than the ibuprofen group.
Treat Gastrointestinal Disorders
Remember how I mentioned that turmeric works wonders in the anti-inflammatory department? Well, that also holds true for gastrointestinal disorders such as Inflammatory Bowel Disease (IBD), "a chronic relapsing-remitting condition that afflicts millions of people throughout the world and impairs their daily functions and quality of life."
In fact, a recent study showed the curcumin can protect intestinal cells from inflammatory damage which serves as more evidence that curcumin plays a preventative role in IBD.
Heart Health
Another important benefit of turmeric is it supports good heart health. As you may know, there are two types of cholesterol: LDL (the bad kind) and HDL (the good stuff). Studies show that turmeric can actually lower LDL and thin the blood, reducing the likelihood of your pet having a blood clot.
Support Liver Function
The liver is a key player when it comes to your pet's health. It works full-time, regulating blood, removing hazardous toxins, processing nutrients, and producing bile which aids in the breakdown of fat.
"Various studies have found out that curcumin found in turmeric can improve bile flow and benefit in various diseases affecting bile duct." Essentially, turmeric supports the liver function and helps it breakdown fat and remove waste.
Holistic Alternative to Steroids & Other Pharmaceuticals
As you can see, turmeric offers a wide variety of benefits regarding preventative care. In fact, the benefits are so well studied and widely known that many use turmeric as a holistic alternative to various pharmaceuticals on the market. In addition to anti-inflammatory drugs like ibuprofen, turmeric has also been used to replace arthritis drugs, steroids, chemotherapy, inflammatory bowel disease drugs.
Speaking of steroids, studies show that curcumin is just as effective as steroids, a popular remedy for dogs who struggle with allergies and joint pain. An additional study showed that taking both curcumin and a steroid simult
aneously will decrease the usual side effects associated with the steroid.
Other Benefits
Can help with weight management
Kills parasites such as fleas and ticks
Can elevate mood and treat depression
Relieves allergies
Alleviate joint pain
Remedy for diarrhea due to it being a binding agent
Prevents cataracts
Can help treat epilepsy
High in fiber, vitamins, and minerals
How To Give Your Pup Turmeric
Ok, we get it. Turmeric works wonders for your pet health. But what is the best way to incorporate it in our fur baby's diet? It turns out it's not as simple as sprinkling a little of this savory spice on their breakfast, lunch, and dinner. The biggest reason? Turmeric isn't easily absorbed by the body. Luckily, Australian Veterinarian Dr. Doug English developed a few different methods of feeding your dog turmeric. Download his recipes below for easy access!
Quick note: Regarding serving size, English recommends you start with 1/4 tsp 2-3 times a day and increase dosage every 5-7 days until you find what works for your pup!
Golden Paste For Dogs
Turmeric Gravy
Turmeric Oil
Supplements
If you decide to go the supplement route, make sure you purchase from a reputable source as there are many faux supplements out there that contain little to no turmeric. Wherever you go, be sure to do your research and read the fine print.
Dosage
When it comes to proper dosage, every dog will be a bit different. That's why it's important for you to monitor your pup when introducing turmeric into their diet.
According to Dogs Naturally Magazine, "the recommended dose for dogs is 15mg – 20mg per pound of body weight per day, or more simply put, 1/8 to 1/4 tsp per day for every 10lbs in weight."
Also, turmeric leaves the body quickly so it's best to administer smaller amounts with every meal, throughout the day.
Best Practices When Buying
As mentioned above, not all supplements are created equal. The same is true for plain, ol' turmeric. It is best to buy organic turmeric at your local health food store or co-op versus shopping at a grocery store which generally contains a fraction (sometimes only 2%-4%) of curcumin by weight and may be grown using pesticides and over chemicals.
When shopping, look for products with 95% curcuminoids. Additionally, products that contain black pepper or piperine are preferable as it helps with absorption. Which leads us to…
Bioavailability
Speaking of absorption, let's talk about that. It turns out, turmeric isn't easily absorbed by dogs. That's why the all of the recipes Dr. Doug English invented have some sort of base. If the turmeric isn't mixed into some sort of paste, oil, or gravy, there is a good chance it will just pass through your dog's digestive system without being absorbed.
Luckily, there are a few things you can do to increase the likelihood of it being absorbed. If you don't go with one of the recipes above, RealFarmacy recommends that you at least:
Add Black Pepper
In addition to being antibacterial and having antioxidant potential, black pepper is also a digestive aid that has the ability to prevent the liver from excreting curcumin so quickly.
Add Healthy Fat
Turmeric is fat soluble which means that adding a little healthy fat (we love coconut oil) will increase absorption so your fur baby can benefit from all the perks that turmeric offer.
Add Some Heat
The final piece to the puzzle is heat! Warm your oil of choice up in a pan to increase bioavailability and optimize the health benefits of turmeric.
Medical oncologist Dr. Saraswati Sukumar states, "If you have any sauté, just sprinkle it in. The moment you heat oil and add turmeric to it, it now becomes completely bio-available to you."
Side Effects & Other Precautions
While turmeric is all natural and has generally regarded as safe, there are a few things you should know before introducing the spice to your pup's diet.
Turmeric is a blood thinner, which reduces the likelihood of strokes and heart attacks. However, if your pet is on medication that already thins their blood, this could be problematic for their health.
Turmeric is a binding agent so it is a great remedy for diarrhea. Unfortunately, if your pup is not well hydrated, too much turmeric can cause constipation and upset your dog's stomach.
According to Keep The Tail Wagging, there are a number of other side effects reported if too much turmeric is incorporated into the diet. It's important to note that the following was reported in humans and there is very evidence that dogs experience adverse side effects from turmeric.
gallbladder problems
increased brusing
decreased blood sugar
infertility
iron deficiency
Once again, these side effects were reported in humans and only became problematic when the recommended dosage was exceeded.
Over-supplementation
Have you ever heard the saying, "Too much of a good thing is a bad thing"? Well that holds true for supplements as well. Many pet owners aren't aware that some supplements conflict with each other supplements.
Additionally, the compounded effects of certain supplements can cause major problems for your pup. For instance, we know that turmeric thins the blood but, so does garlic. If your dog ingests both on a regular basis, this could lead to adverse affects.
If your dog is on any other medications and/or supplements, it is best to consult with a holistic vet before introducing getting on the turmeric train. Chances are it will be fine, but it's always better to be safe than sorry.
Foul Odor
Believe it or not, people have reported that their dog will start to smell like cat urine around their face. While this is not a hazardous side effect, it can be unpleasant for pet owners, especially those who shower their fur babies with kisses to the face.
Luckily, there is a very simple remedy. Apparently, adding a dash of cinnamon to the turmeric mixture will counteract the odor.
Bottom Line
"When diet is wrong medicine is of no use.When diet is correct medicine is of no need." – Ayurvedic Proverb
As a society, we are so quick to rely on pharmaceuticals that, oftentimes , only address the symptoms and not the root problem. Not to mention the fact that most of these drugs come with a laundry list a side effects.
When it comes to our health, we need to move in the direction of preventative care and natural medicine. This starts in the kitchen.
__________________________________________________________________
---