Santa Cruz Organic® launches refreshing TeaZer™ organic sparkling teas
Four refreshing flavors add a fizzy twist to tea time
To tease and please the palate, Santa Cruz Organic®, introduces its new TeaZer™ organic sparkling teas. Blended with fair trade certified tea from Choice Organic Tea and Santa Cruz Organic fruit juice, each TeaZer offers just the right mix of fresh tea and real fruit taste. Lightly sweetened and conscious of calories to please any discerning drinkers, TeaZers utilize a blend of green, white and black tea for a trinity of taste.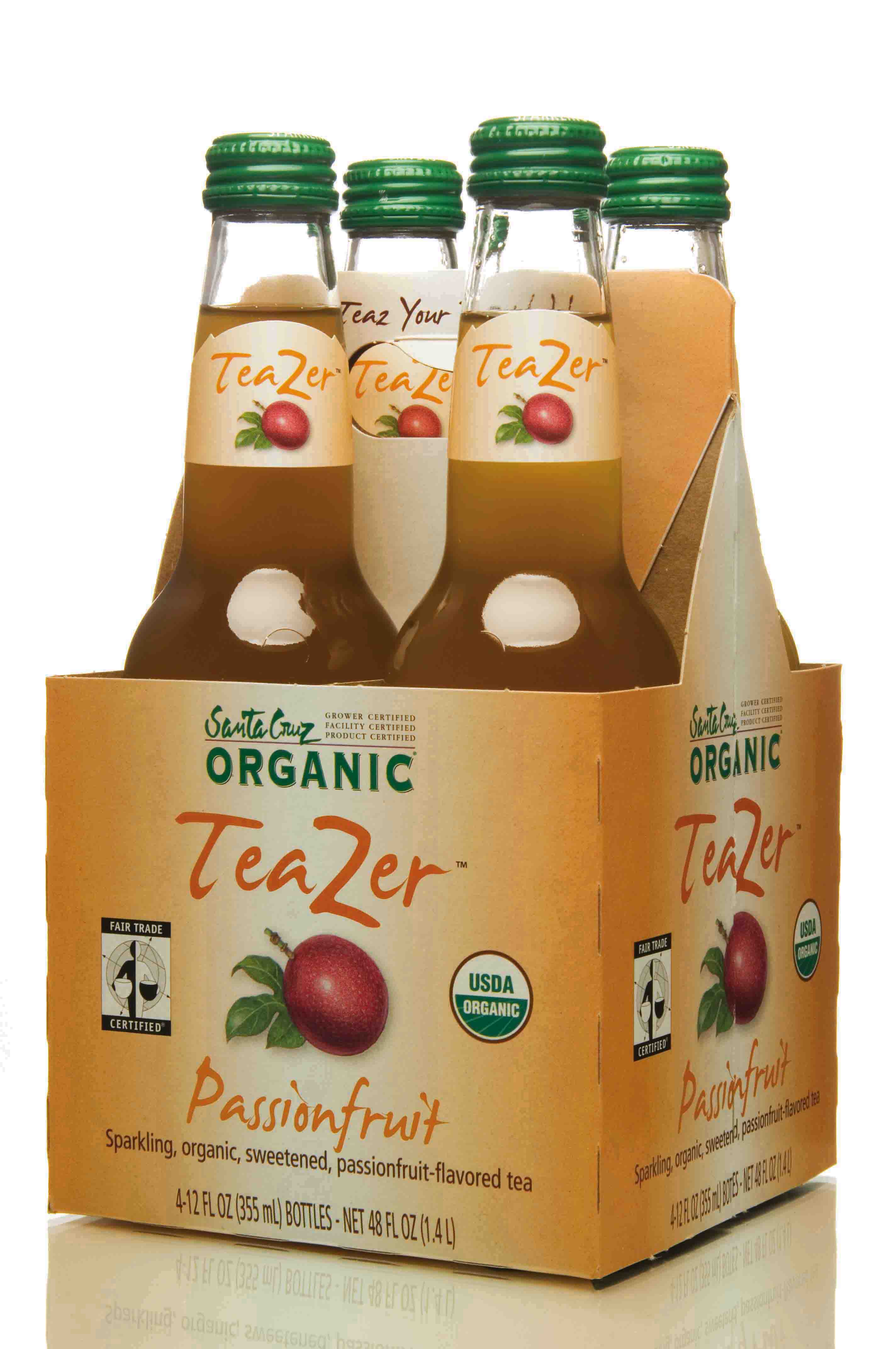 Each of the four new flavors includes a splash of juice to add subtle flavor and character to the carbonated tea blend:
Lemon – a touch of crisp lemon

Raspberry – neither sweet nor tart, just a hint of ripe raspberry

Pear – the nuance of a fresh piece of fruit

Passion fruit – a reminder of tropical flavors
Santa Cruz Organic found the perfect partner in Choice Organic Teas. Sharing a commitment to the environment, both brands are Green-e certified, purchase renewable energy certificates to offset 100 percent of the energy used to produce all products and source organic ingredients. Santa Cruz Organic is committed to a clean planet, recycling 96 percent of all production materials, while diverting over 37,000 tons of trash from the local area landfill over the past 13 years. All Santa Cruz Organic products are certified organic by the U.S. Department of Agriculture, promoting a healthy body and planet.
Available in 12-ounce recyclable bottles and sold in 4-packs for $5.49, Santa Cruz Organic TeaZers are available at Whole Foods Market starting this June. 
---
EarthTalkTM
From the Editors of E/The Environmental Magazine
Dear EarthTalk: I run a sorting machine at the post office, and am worried about all the paper dust swirling around the building. I asked both management and our union if this was a health or safety problem and both said no, but I'm not sure they really know. Can you set the record straight?
                                                                                                                        -- J.G. Eddins, Phoenix, AZ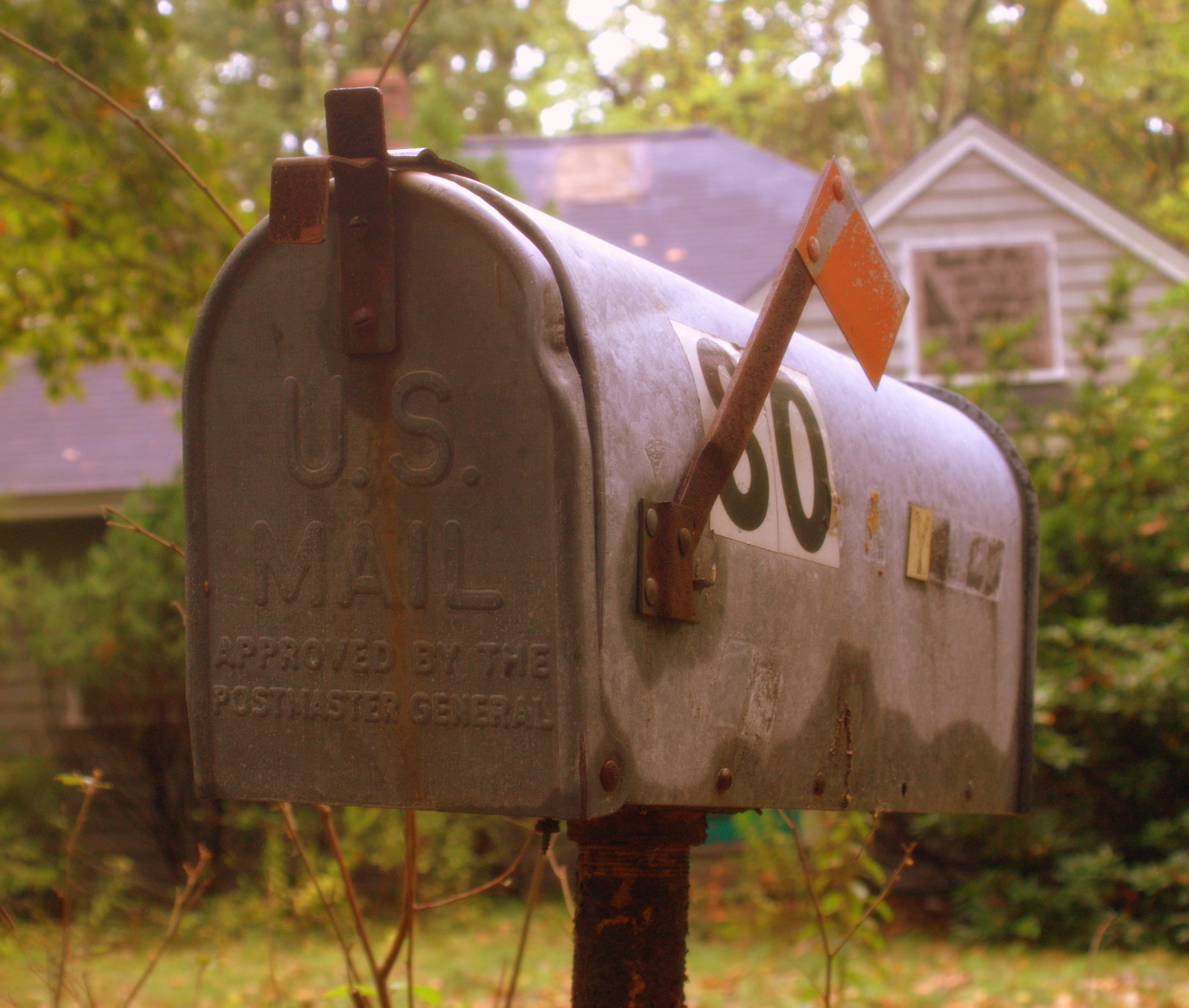 One of the drawbacks to the increasing mechanization of postal facilities is the increase in paper dust. The machines doing the grunt work loosen the dust and send it airborne where workers can breathe it in copiously. Contrary to what management and the union may say, paper dust can be a hazard to postal workers, causing and exacerbating respiratory problems. Sorting machines could also theoretically disperse contaminants (such as anthrax) intentionally sent through the mail into postal facilities, further adding to the risk of the job.
"There's no federal safety standard on it, so it's a real problem," reports Bob Williamson, president of the San Francisco chapter of the American Postal Workers Union (APWU). "We've had people who have developed occupational asthma from breathing the fine dust." Other reported problems include bronchitis, allergic reactions, migraines, bacterial infections, conjunctivitis and sore throats.
In the Fall of 2008, more than 450 current and former postal employees, many in the Chicago area, signed a petition to occupational health officials and postal unions blaming health problems on paper dust fibers inside post offices. Some are seeking health benefits to pay for related medical treatment.
"I do believe that my life is going to be shortened," Delphine Howard, a former manager at two local post offices, told Chicago's ABC7 News. "I started having severe bronchitis attacks, severe asthma attacks, and severe chest pains." She worked for the postal service from 1987 until 2005 when her doctor diagnosed her with "a medical condition that is affected by unclean air, dust particles and residue in volumes in her present employment areas." Several other Chicago area postal workers complained of similar symptoms as a result of ongoing exposure to postal dust.
The U.S. Postal Service (USPS) studied the issue in 1998 and found no direct link between health and postal dust, but did discover that sorting machines could send potentially carcinogenic volatile organic compounds (such as ink) and other irritants like dust mites, into the air. The USPS told ABC7 News it had "only received two direct complaints of respiratory problems in the last several years."
Diligent cleaning of the machines can help keep the problem in check. "Vacuum and wipe down the machines every day rather than resorting to the quicker method of blowing the dust off the machines and into the air," says the APWU's Williamson, adding that workers can also wear masks to minimize breathing in of postal dust and any contaminants in the air with it. He also recommends that post offices rotate their workers around to different duties to avoid perpetual exposure to potentially harmful or aggravating activities. Besides dealing with paper dust, mail sorters frequently suffer from muscular-skeletal problems associated with repetitive motion strain.
CONTACTS: American Postal Workers Union (APWU), apwu.org; U.S. Postal Service, usps.com.
SEND YOUR ENVIRONMENTAL QUESTIONS TO: EarthTalk, P.O. Box 5098, Westport, CT 06881; earthtalk@emagazine.com. Read past columns at: www.emagazine.com/earthtalk/archives.php. EarthTalk is now a book! Details and order information at: www.emagazine.com/earthtalkbook 
---
Live webcast - Alton Brown & Julie Packard
Celebrate World Ocean Day with one of the most famous figures in the food world and the founder of the Monterey Bay Aquarium.
Here's how to tune in:


Register today for webcast. If you have trouble accessing this link, cut and paste the following address into your browser: http://www.montereybayaquarium.org/efc/webcast.asp
Be sure to run a "system check" on the registration page to ensure that your computer is ready for next Friday.
Once you register, you'll receive a confirmation email, with a link to the webcast. On Friday, June 5 just before noon Pacific Time, click the link and watch the webcast directly from your computer. (And don't forget to turn on your volume.)
Thank you for joining this special event.
---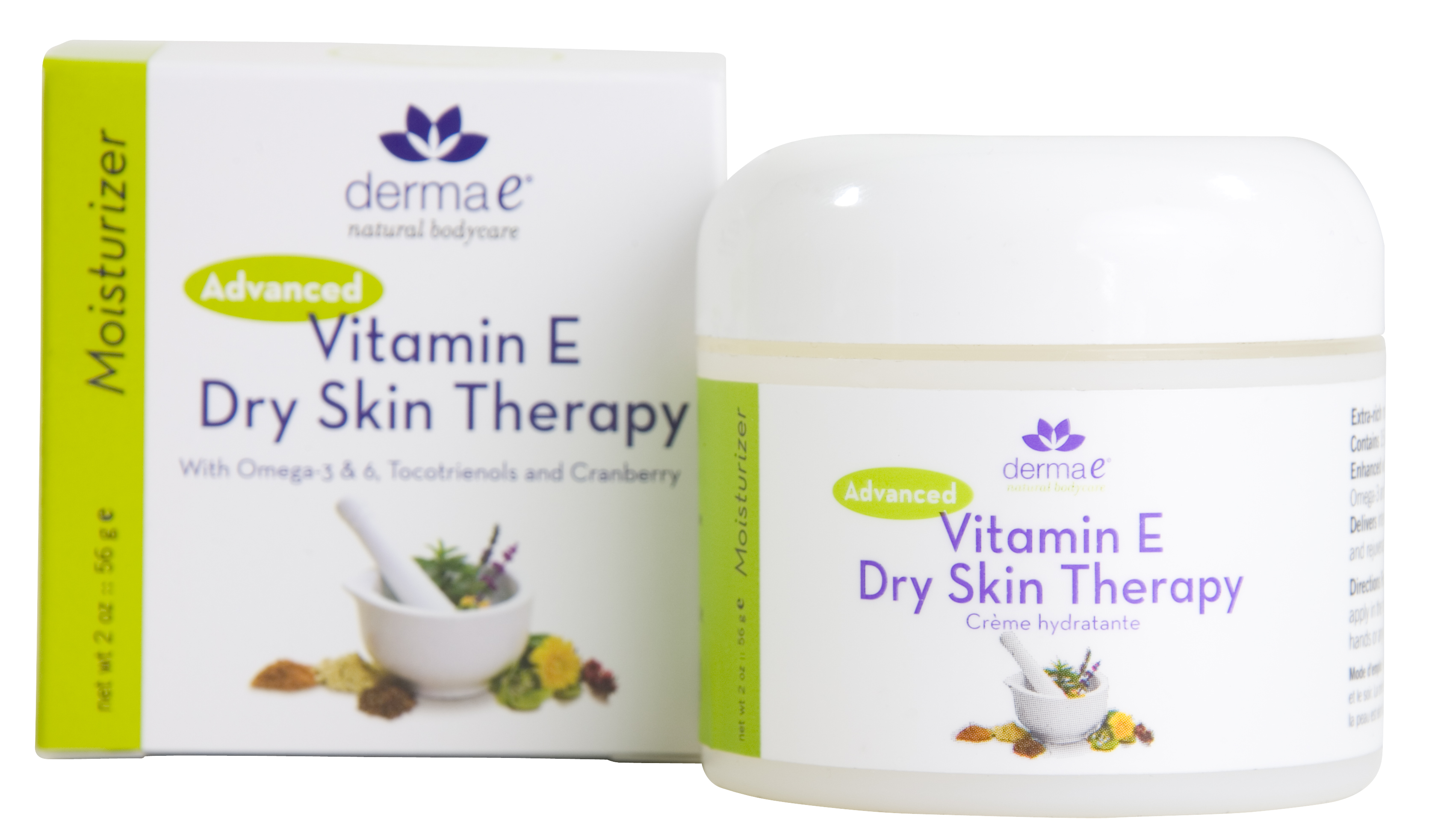 derma e® Announces a Product Makeover
derma e® Natural Bodycare, a pioneer in formulating cutting-edge natural skincare products with powerful antioxidants, nourishing vitamins and beneficial botanicals that deliver results, announces a product makeover for their most advanced, full spectrum Vitamin E crème. This same great formula now has a new name and fresh packaging enabling consumers to better understand the benefits of this advanced product. 
Formally known as Complete E® Cranberry Crème, derma e®'s Advanced Vitamin E Dry Skin Therapy is a result of the latest scientific research.  This superior formula:
·         Delivers all forms of high potency Vitamin E, i.e. tocopherols plus the tocotrienols, to provide deep, intensive moisture for optimal skin health. 
·         Contains Cranberry Seed Oil that provides Omega-6 and Omega-3 fatty acids essential for skin structure and health.
·         Helps soothe and repair dry, itchy skin.
·         Nourishes, softens and rejuvenates skin.
·         Offers excellent antioxidant benefits for anti-aging and overall skin health.
"This product makeover will help consumers better understand the multiple benefits of our most advanced Vitamin E crème. We also hope it will improve sales of such a superior formula," says Dr. Linda Miles L. Ac., D.O.M., Vice President of derma e® Natural Bodycare.
For 25 years, derma e® Natural Bodycare has pioneered the development of high-performance antioxidant skincare solutions. The comprehensive line of natural products is paraben-free, cruelty-free, 100% vegetarian and includes over 90 SKUs. derma e® can be found in 5000+ retail outlets across the U.S., with additional distribution internationally and on www.dermae.com. derma e® is family owned and operated and dedicated to serving the natural products retailer.
---
University of Michigan experts say proper nutrition essential for bone health
Musculoskeletal conditions, such as arthritis and joint pain, are the number one reason for physician visits and account for at least 50 percent of all chronic conditions in people over the age of 50 in the United States. With more than one in four Americans having a musculoskeletal condition requiring medical attention and the costs of these conditions toppling $849 billion annually, it's now more important than ever to understand and take proactive steps to keep bones healthy and strong.
Researchers at the University of Michigan couldn't agree more. In a recent scholarly review published in Sports Health: A Multidisciplinary Approach, they concluded that adequate nutrition is essential for overall skeletal health of people of all ages and all activity levels.
Dr. Ronald Zernicke,
Director of the University of Michigan Bone & Joint Injury Prevention & Rehabilitation Center, and his colleagues synthesized research conducted in the last 50 years on the role of diet on skeletal tissue and overall bone health. They specifically looked at the effects of dietary proteins, fats, and carbohydrates on bone health. What they found not only supports current facts about bone health and prevention of bone loss, but also validates nutritional strategies to help preserve bone structure and strength.
Historically, there has been debate about whether protein is detrimental or beneficial to bone health. Some of the earliest research suggested that high-protein diets are detrimental to skeletal health – particularly diets high in animal protein (red-meats). Conversely, there have been numerous studies to show that high-protein diets increase bone mineral content, decrease the risk of fractures, and increase fracture repair time after injury. High-protein diets are often recommended for adolescent and child athletes undergoing rigorous training. According to Dr. Zernicke's team, research suggests that adequate protein is essential for developing and maintaining healthy skeletal tissue.
Simple Carbohydrates and Bone Health
Diets high in refined sugar have been studied extensively and shown to affect bone growth and mechanical strength. Surprisingly, something as simple as drinking carbonated beverages, such as soft drinks and even sports drinks, is associated with significant decreases in bone mineral density – both in males and females. Zernicke suggests that some of these detrimental changes in bone related to the consumption of soft drinks are due to the decreased consumption of milk and other available fluids in favor of soft drinks. Drinking soft drinks can also lead to weight gain, a decrease in lean muscle mass, and can contribute to the loss of calcium and iron which are crucial to health and athletic performance. Zernicke says, "While it's vitally important to hydrate during any type of sport or physical activity, it might be worthwhile to drink bottled or tap water, milk, orange juice, or drinks fortified with calcium instead of reaching for a sugar-filled sports drink."
Fats and Carbohydrates Beneficial to Bone Health
Not all fats and carbohydrates are bad for you. Current research suggests that omega-3 fatty acids and complex carbohydrates, such as fruits and vegetables, may actually improve bone mass density and increase calcium absorption. Fruits and vegetables contain nondigestible carbohydrates, like inulin-type fructans, that cannot be digested by the small intestine. Hence, as they move toward the large intestine and begin to be processed, they produce organic acids that enhance the disbursement of calcium throughout the body.
Benefits of Calcium and Vitamin D
We have always been told that calcium and vitamin D are keys to good bone health, but these nutrients are proving to be just as important for muscle contraction, heartbeat regulation, nerve impulse transmission, regulation of blood pressure, and immune system function. The review looked at clinical recommendations of optimal calcium intake and determined that intake varied by sex and age. The daily adequate intake recommendation for young adults is at least 1,200 mg of calcium per day; women between the ages of 25 and 50 years need 1,000 mg per day; and postmenopausal women not on hormone replacement therapy need 1,500 mg per day.
Getting the adequate daily dose of calcium can be as simple as eating foods like cheese, milk, and yogurt, but dairy products are not the only source of calcium. Kale, turnip greens, broccoli, tofu, and calcium-fortified foods like orange juice can also contribute to overall dietary calcium intake.
Based on their comprehensive review of the scientific literature, Zernicke and his team recommend the following dietary steps to achieve healthy bones:
Avoid foods and beverages with poor nutrient density (such as sugars, carbonated beverages, or food high in sodium or saturated fat) because these will leave the body and skeleton devoid of the nutrients essential for healthy development.

Incorporate high energy density foods (such as polyunsaturated fatty acids – foods containing omega-3 like salmon and walnuts – fruits and vegetables high in potassium and fiber and high-quality animal or plant based protein) into your diet to ensure vitamin and mineral adequacy.

If there are dietary deficiencies, supplements (such as calcium carbonate or calcium citrates) can be used to enhance skeletal health.

Athletes should be consuming at least 1,200 to 1,500 mg of calcium a day by way of low-fat, low-sodium dairy products, vegetable greens or supplements.

Protein is extremely important for proper bone growth, especially in young athletes and physically active, growing children. 
The review from the U-M Bone & Joint Injury Prevention & Rehabilitation Center has shown that it's not only the quantity or the cost of bone health issues today that is cause for concern, it's the larger role that the skeletal system plays to protect vital organs against damage. Zernicke summarized the group's findings by saying, "Adequate nutrition is critical to the development and maintenance of a healthy skeleton. It's important for everyone, young and old, people who participate in sport and recreational activities, and everyone in between to make dietary choices that provide the foundation for overall bone health and physical performance."
The University of Michigan Bone & Joint Injury Prevention & Rehabilitation Center is a collaborative effort between the Medical School, the College of Engineering, the Division of Kinesiology and the School of Public Health. The Center's mission is to excel in the creation of new knowledge in all areas relevant to the prevention, treatment, and rehabilitation of musculoskeletal injury and arthritis. The Center is dedicated to c
onduct mission-driven research, train the next generation of multi-disciplinary researchers

,
p
rovide leadership for local, national, and international collaborations and partnerships, promote the effective translation, use, and exchange of knowledge
and d
evelop organizational excellence.
 For more information about the Center, visit
http://bjiprc.umich.edu
.
---
                   WHERE IS THE CLEAN AIR IN AMERICA?  
Each year, the American Lung Association grades air quality in America's cities. For those living with asthma and other lung diseases, knowing where to find a breath of fresh air can be a necessity. In addition, outdoor buffs wanting to live and vacation under America's cleanest skies can visit: http://tinyurl.com/d9ltal to see what cities the American Lung Association has identified as having the best air quality in each of our three key categories—ozone, short-term particle pollution  and year round particle pollution.
American Lung Association National Headquarters
1301 Pennsylvania Avenue NW, Suite 800
Washington, DC 20004  www.lungusa.org
---
Join Food Network star and author Alton Brown, along with Monterey Bay Aquarium Executive Director Julie Packard for our World Ocean Day Celebration Webcast, Friday, June 5 at noon Pacific time.
Want to learn why Alton Brown is such a staunch Seafood Watch advocate, and which sustainable seafood recipes he prepares in his own kitchen? There's only one way to find out. Register today - and tune in next Friday.
Alton, with his humor and one-of-a-kind enthusiasm will share the latest advice on preparing dishes that are healthy for you and for the oceans. Julie, a lifetime advocate for ocean conservation, will share the latest on the state of the ocean, and offer ideas about how you can protect the oceans with your purchasing power and by sharing your sustainable seafood smarts with friends and family.
Both of our guests will answer your questions throughout the program.
---