HEALTH MINDED   .  .  .
2019 ARTHRITIS WALK FOR A CURE IN SANTA BARBARA     by Bonnie Carroll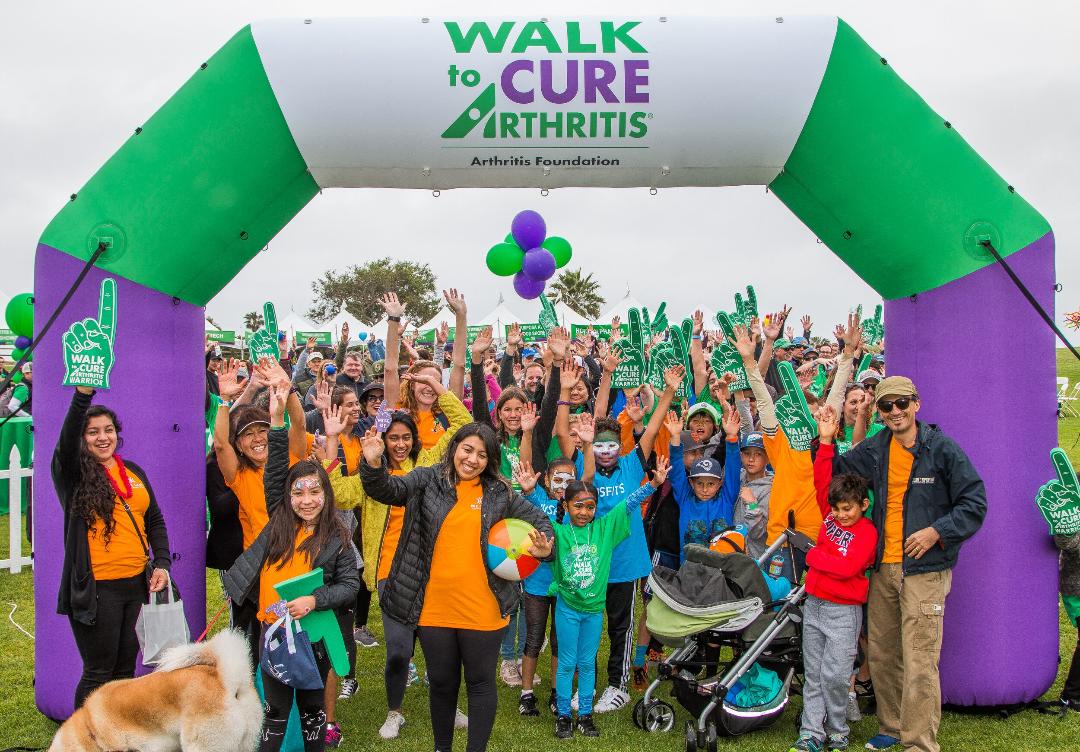 2019 Arthritis Walk Santa Barbara Kick-Off
The public of all ages, including an army of young kids and senior citizens always show up to walk for a cure for Arthritis at Santa Barbara City College, and walk they do! The one mile or three mile walk through the campus and along the beach on West Cabrillo Boulevard attracts a bevy of supporters and friends of the fight to find a cure for arthritis. Despite the June gloom morning and a little sprinkle it was a very successful event that raised needed funds.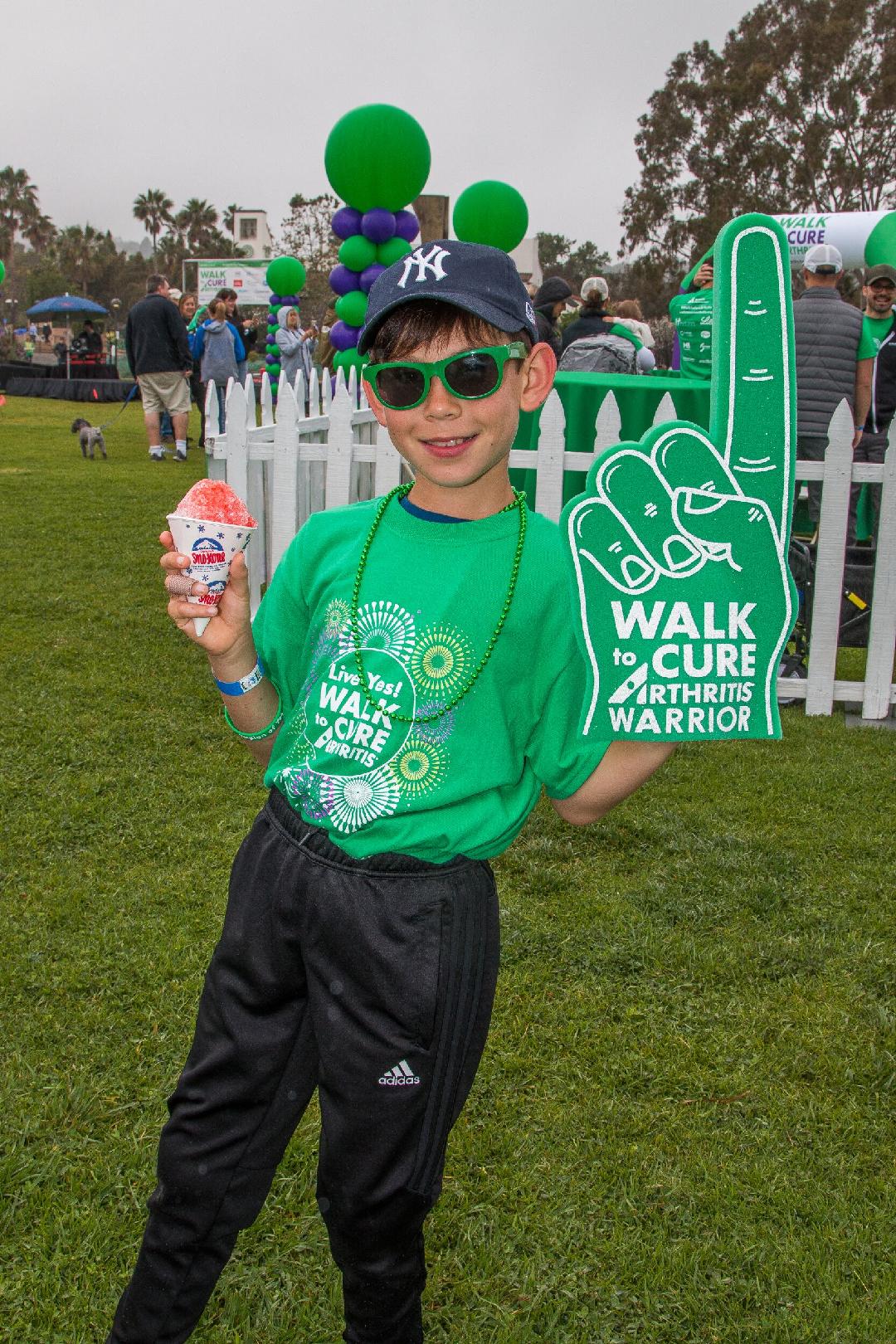 Max Cruse, Youth Ambassador 2019
This year's youth ambassador, 9 year old Max Cruse, joined the fun in the 'Kids Zone' where face painting and fun activities abound. Pets are welcome and many walkers bring their family dog to enjoy the day by the beach. A food table in the center of everything provides breakfast and lunch items for attendees each year. Teams representing event sponsors, local senior groups, area physical therapy groups including Muller & Weber, Central Coast Home Hospice, Vista del Monte and more could be seen in their team colors walking across the SBCC bridge to begin the walk.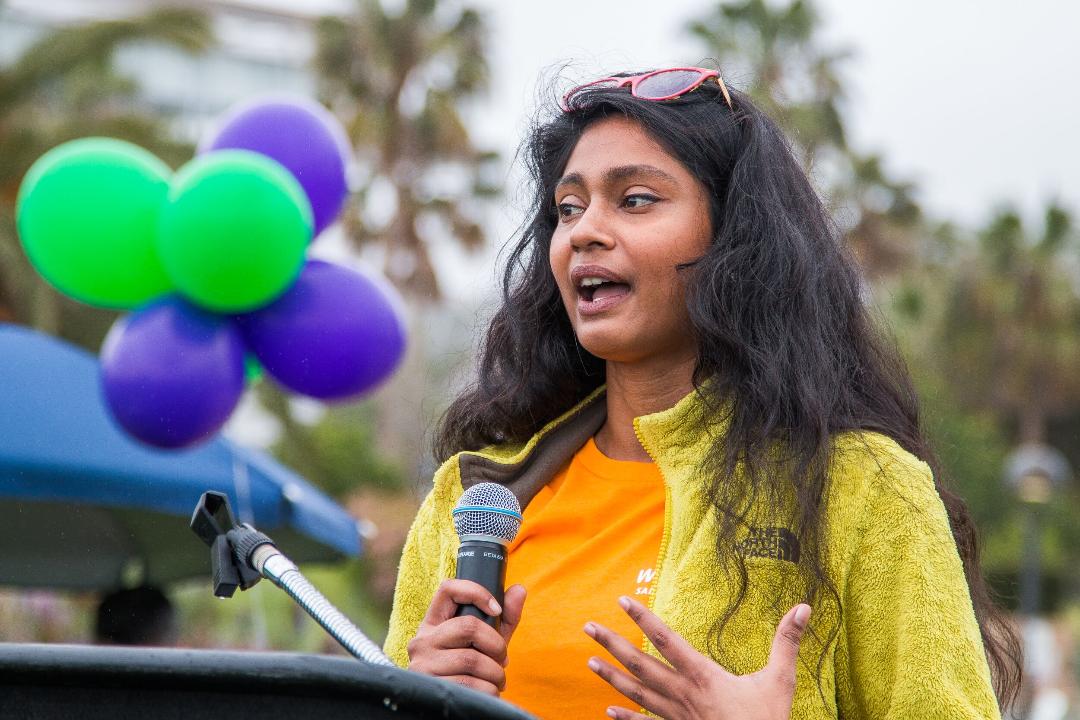 Erna Sharma, Medical Ambassador 2019
The Santa Barbara Walk to Cure Arthritis 2019 featured  local honorees Max Cruse, youth ambassador and Erna Sharma, medical ambassador from Sansum Clinic, who are putting a face on the diagnosis. They were given awards honoring their life journey and work with arthritis and were thanked for their event participation. Michal Weisbrock, Executive Director presented the recognition awards to the honorees for 2019.
According to Michal Wiesbrock, Executive Director of the Arthritis Foundation's Central Coast Office, "More than 50,000 adults and children in Santa Barbara County have the diagnosis of arthritis. Arthritis is costly, painful and debilitating, and makes a significant impact in the lives of people in this community, including children. By participating in and raising funds for the 2019 Santa Barbara Walk to Cure Arthritis, everyone helps us reach our local goal. According to Executive Director Michal Weisbrock they reached their fundraising goal of $75,000 for 2019 and will continue to raise funds through May to promote Natioal Arthritis Awareness Month. which will move us that much closer to better treatment options and a cure."
The Walk to Cure Arthritis is nationally presented by Amgen with additional sponsorship support from AbbVie, Sanofi Genzyme Regeneron and Bristol-Myers Squibb.The Santa Barbara Walk to Cure Arthritis is locally sponsored by Massage Envy, Cottage Center for Orthopedics, The Berry Man, Inc., Sansum Clinic, Pfizer, Vionic Group LLC, Central Coast, Vista del Monte Retirement Community and more. For additional information or to make a donation please visit: www.walktocurearthritis.org/santabarbara.
_________________________________________________________________
HATS ON FOR HEALTH CANCER AWARENESS MONTH
In support of Skin Cancer awareness month, Wallaroo Hat Company donated their sun protective hats, recommended by the Skin Cancer Foundation, to the Melanoma Research Foundation and the Polka Dot Mama Melanoma Research Foundation.
Wallaroo Hat Company has pledged their commitment to organizations dedicated to cancer treatment and prevention through this donation and continues to fulfill their commitment annually by donating a portion of their profits to the Skin Cancer Foundation.  
Made to block 97% of UV rays, their UPF 50+ hats are proven to aid in the prevention of skin cancer. Not only has Wallaroo been granted the Skin Cancer Foundation Seal of Recommendation, their hats are fashion-forward and come in a variety of styles and colors fit for any style.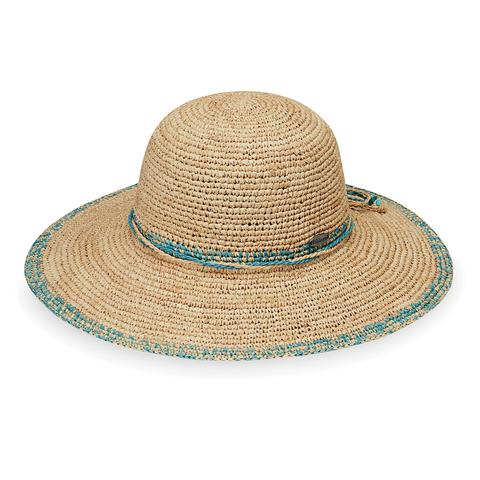 Additional information can be found at: https://wallaroohats.com
___________________________________________________________________
ASHA FOR EDUCATION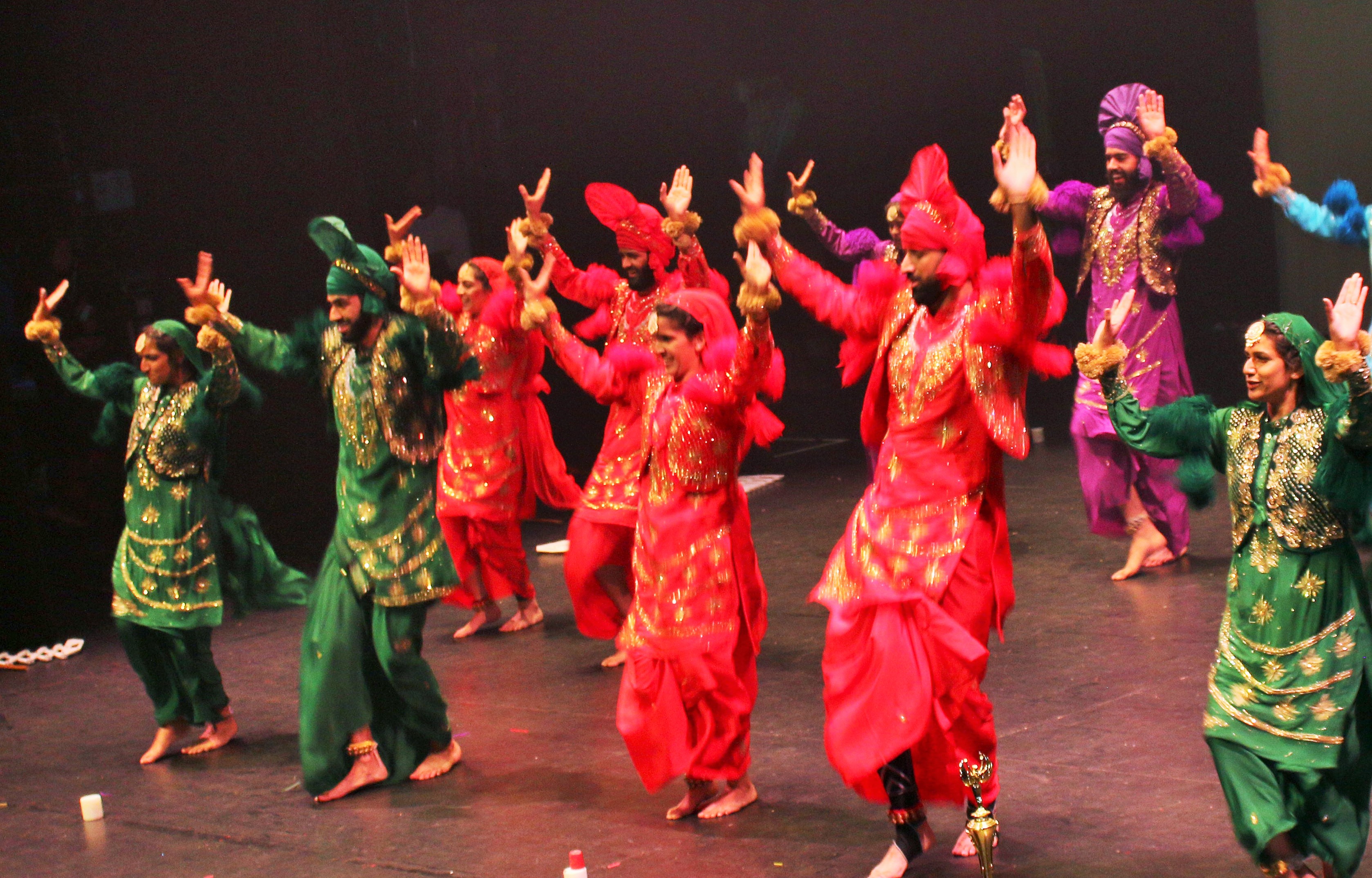 STUDENTS RAISE FUNDS AT DHADKAN 2019 NACHLE DEEWANE FOR INDIAN CHILDREN AT GRANADA THEATRE COMPETITION

by Bonnie Carroll
April 20, 2019 celebrated the 6th Annual DHADKAN Nachle Deewane competition, where Dhadkan founders realized a dream of founders Soham Tikekar & Nishu Viswanathan from 2013 to celebrate their dance competition in the Granada Theatre. Over 20 dancers, 24 acapella artists, and international performer ARJUN were participants of this year's event, representing 30 Dhadkan leaders and alumni who put in hundreds of hours over the year, working tirelessly to host the 2019 show. Kudos to UCSB Dhadkan 2018-2019 Presidents Erin Hague and Abhinav Tripathy on an amazing program of fantastic entertainment.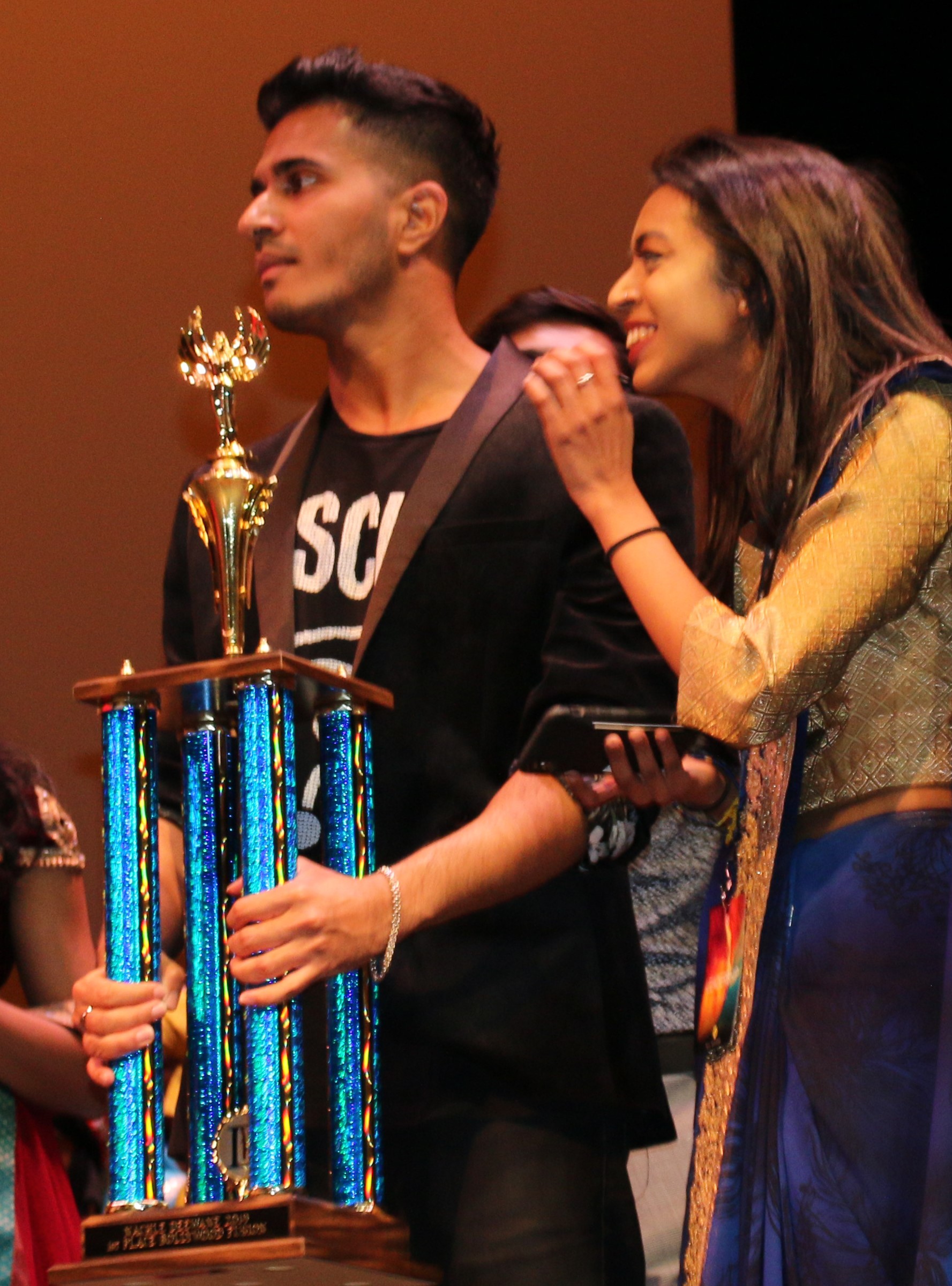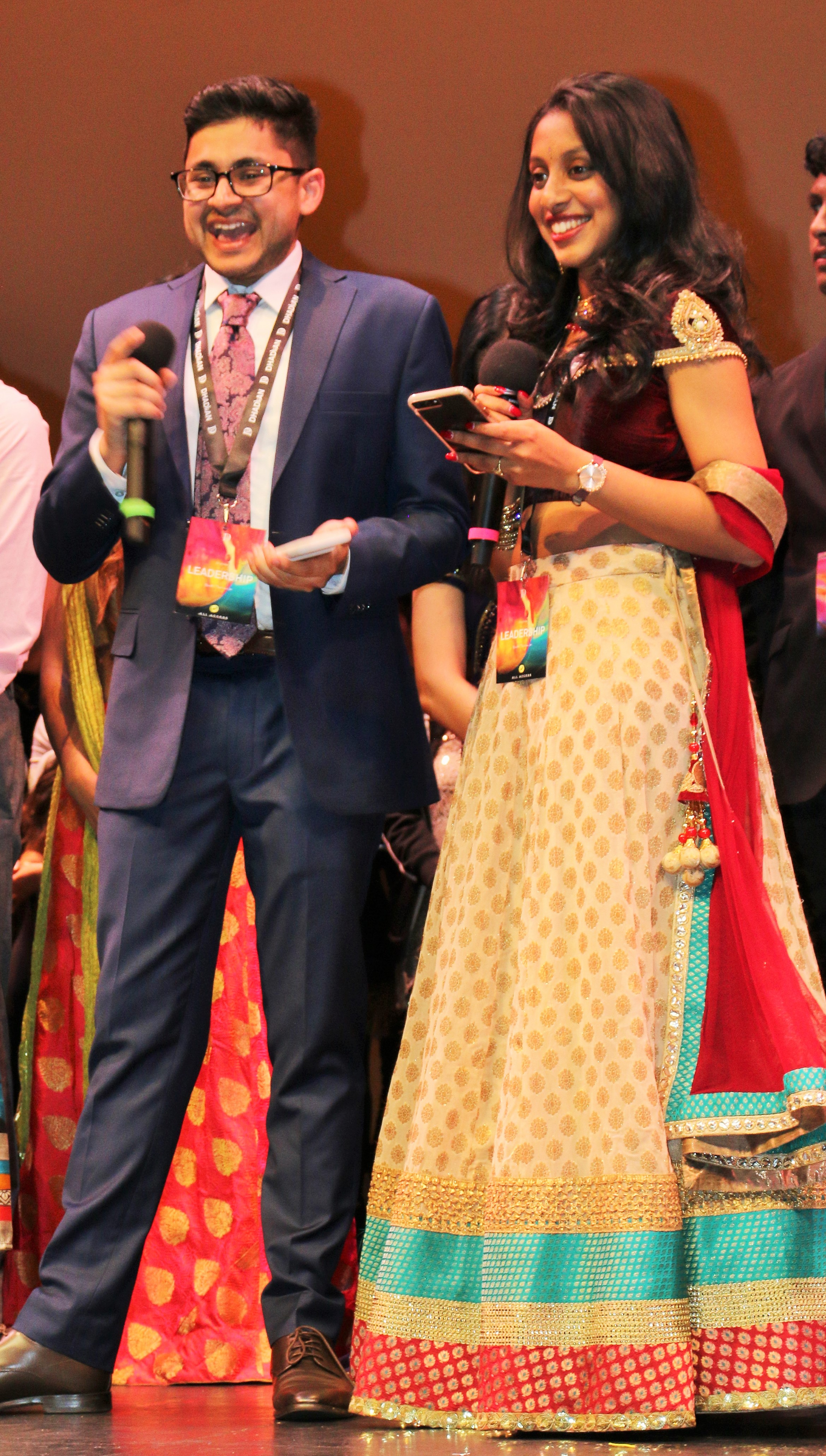 ARJUNA Presents Awards  - Founders Soham & Nishu Offer Congratulations
The colorful and exciting dance performances attracted a huge crowd of supporters from around the country and included Hindi-filmi Fusion & Bhangra dance teams representing Penn State, USC, UCBerkeley, two teams from UCSD, USC, UCDAVIS, STANFORD, UCLA, UTAUSTIN, followed by UCSB's Hollywood Acapella and UCSB's Vocalmotion, an all-women Acapella group. I enjoyed sitting next to a very enthusiastic mother cheering on her son, a lead dancer from UCSD. Outstnding performances by the Acapello groups Ravanni and Vocalmotion opened and closed the evening.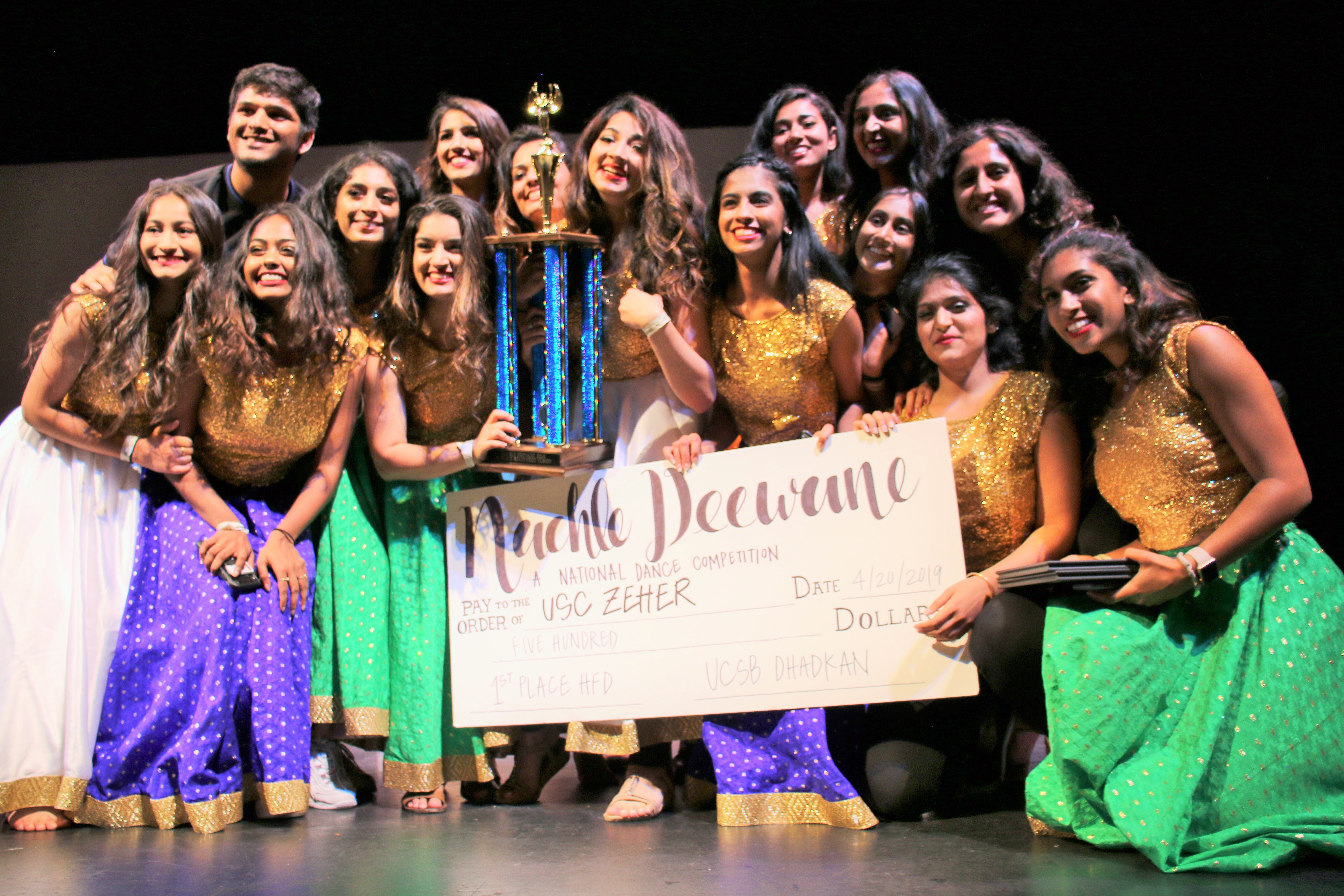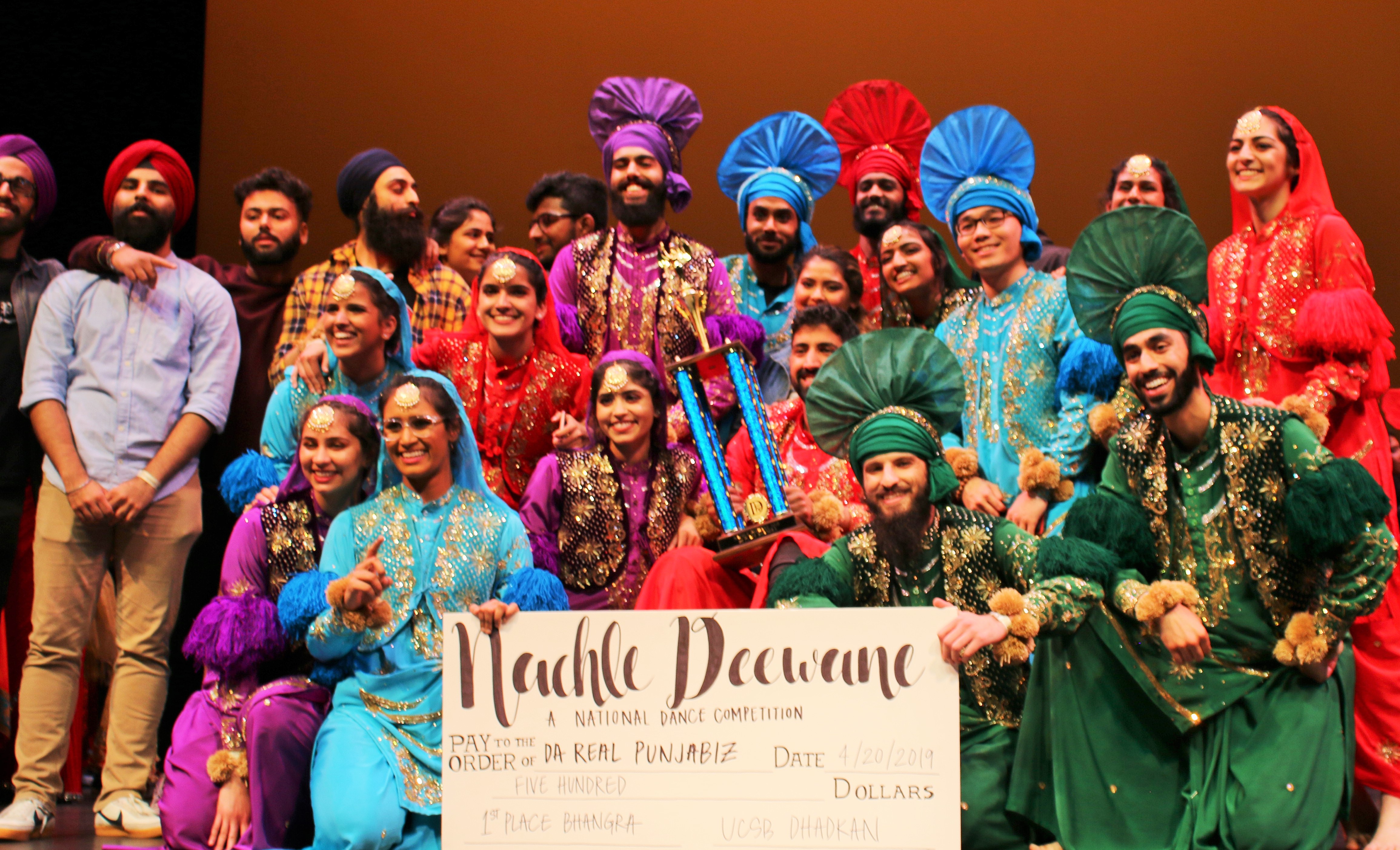 Winning Dance Teams
Hindi-filmi Fusion combines western techniques of contemporary and hip-hop with cultural styles of Hindi film, classical, and folk traditions and is one of the fastest growing dance forms in America today. Bhangra has a folk dance focus, native to the northern state of Punjab and was originally done in villages to celebrate the arrival of the harvest season. Nachle Deewane was honored as a unique part of Vaisakhi one of the largest festivals in Northern India. Judges for the 2019 competition included Karanveer Deol, Gurprit Pasricha, Nishu Viswanathan, Kavita Rao and Krishna Basude.
British Sri Lankan singer-songwriter, record producer and actor performed several numbers from his recent album and presented the Dhakan awards to the competition winners UCSC Zeher, award-winning Bollywood Fusion dance team and UCSD Da Real Punjabiz dance team established in 1999, who are renowned for bringing fusion and creativity to their performances.

Awards Finale with Event Cast on Stage
USCB Dhakdan, a registered 501(c)(3) organization carries out a number of high-impact projects across rural sectors of India. They have sponsored education, provided school lunches, and empowered thousands of children due to generous Dhakdan contribution year after year. Proceeds from the 2019 event will be used to carry out literacy projects through Asha for Education, an organization who annually schools over 200,000 children across 20 states in India, and whose mission is to ensure every child has equal access to education, providing change in impoverished areas of India and supporting the lives of those who need it most. For information or donations please contact Venmo@UCSBDhadkan or Paypal ifo@ucsbdhadkan.com.
___________________________________________________________________

Ridley-Tree Cancer Center at Sansum Clinic
540 W. Pueblo Street -
Santa Barbara
,
CA
93105
---