HEALTH MINDED   .   .   .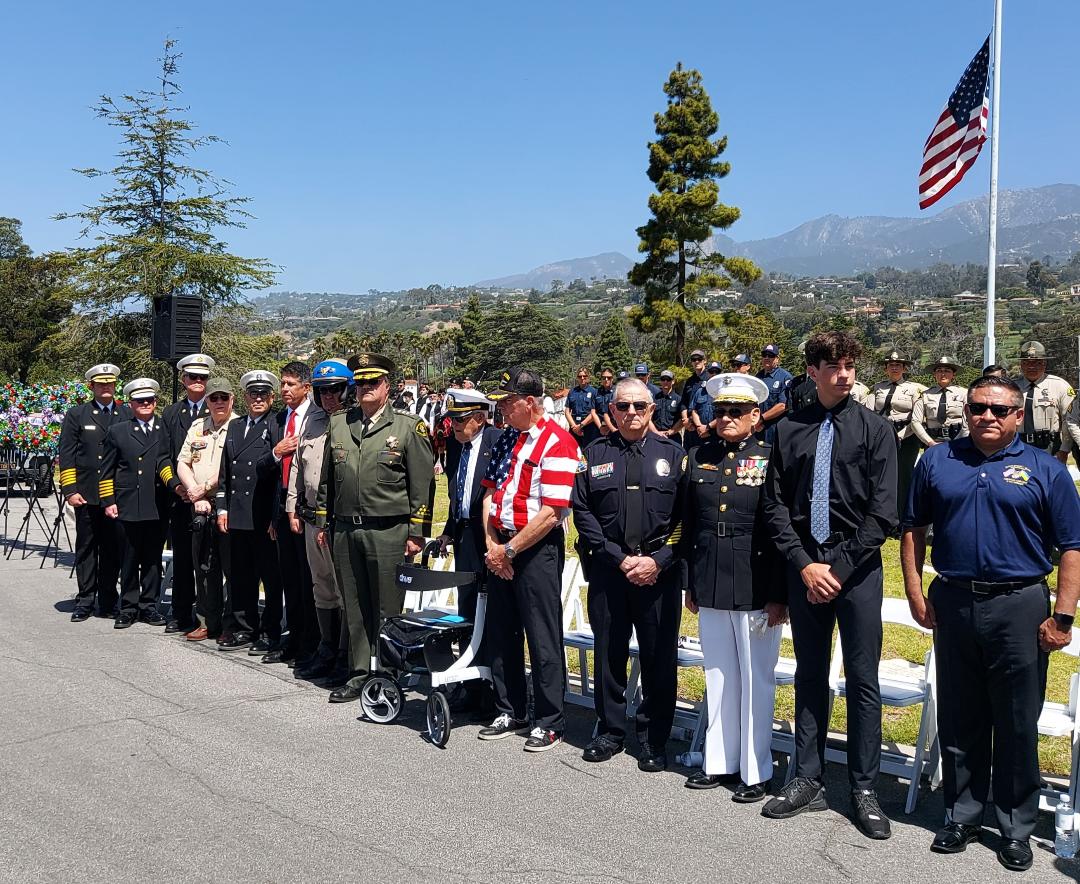 Pierre Claeyssens Memorial Day Celebration Honoring VIPs and First Responders
PIERRE CLAEYSSENS VETERANS FOUNDATION MEMORIAL DAY CEREMONY 2022
Special Honors To Local Santa Barbara First Responders
By Bonnie Carroll
Pierre Claeyssens Veterans Foundation (PCVF) Memorial Day Ceremony at the Santa Barbara Cemetery not only honored Santa Barbara Veterans, including representatives from all branches of Unites States military service, but for the first time they were joined by local First Responders to who were also honored at the annual Memorial Day Ceremony at the Santa Barbara Cemetery.

Representatives of local first responders attending included The California Highway Patrol, Santa Barbara Area, Santa Barbara County Sheriff's Office, Santa Barbara Police Department, Santa Barbara City Fire Department, Santa Barbara County Fire Department, and Montecito Fire Protection District.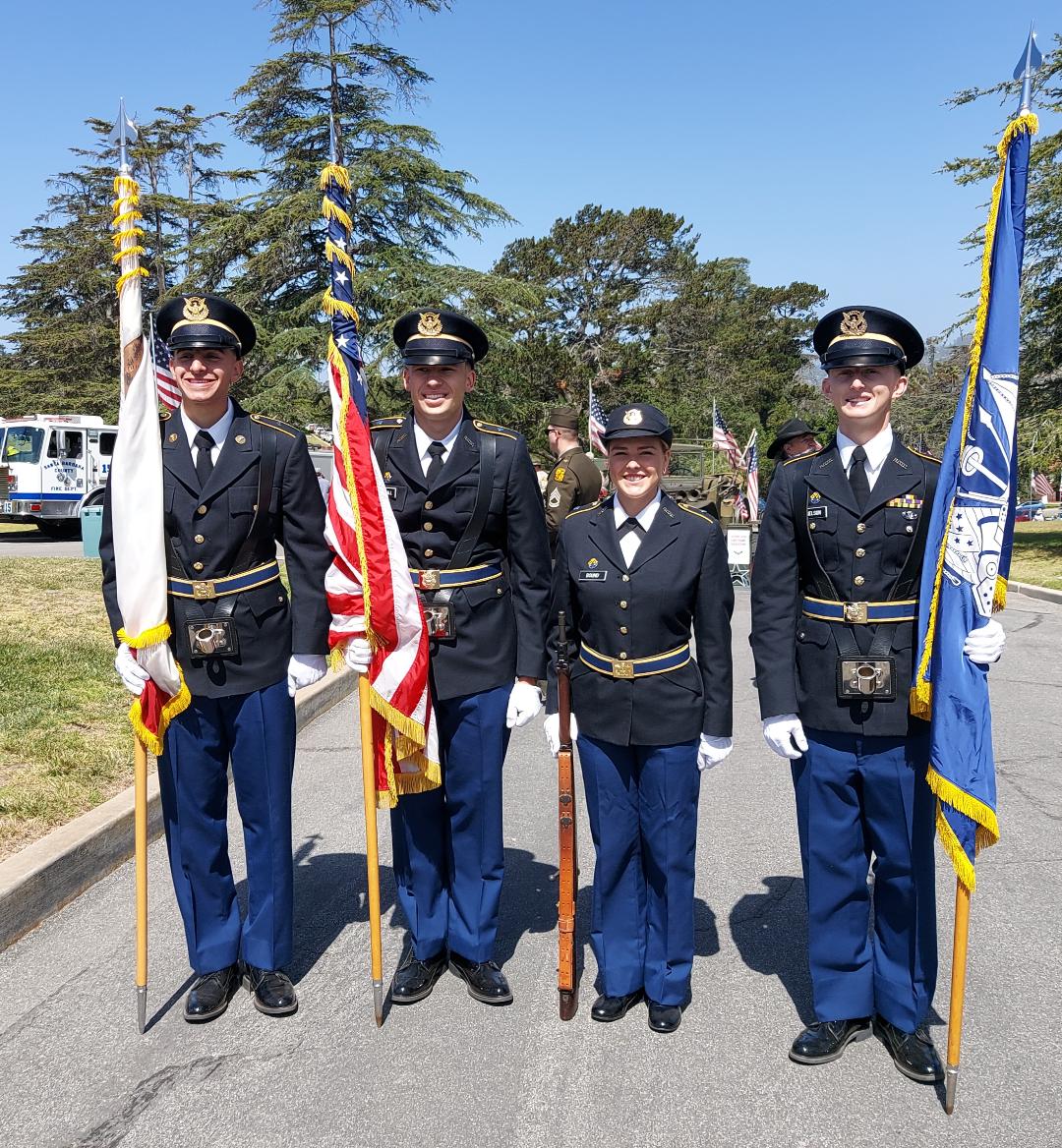 UCSB ROTC Color Guard
University of California, Santa Barbara ROTC Color Guard presented the colors, and the Santa Barbara Choral Society presented a moving rendition of "Battle Hymn of the Republic." Ryan Marsh, grandson of Brigadier General, Fred Lopez, USMCR (ret.) lead the Pledge of Allegiance followed by Dave Gonzales, Sergeant, Santa Barbara Police Department (ret) who sang our "National Anthem."  The Gold Coast Pipe Band are such an appreciated addition to the (PCVF) ceremonies who performed "Amazing Grace."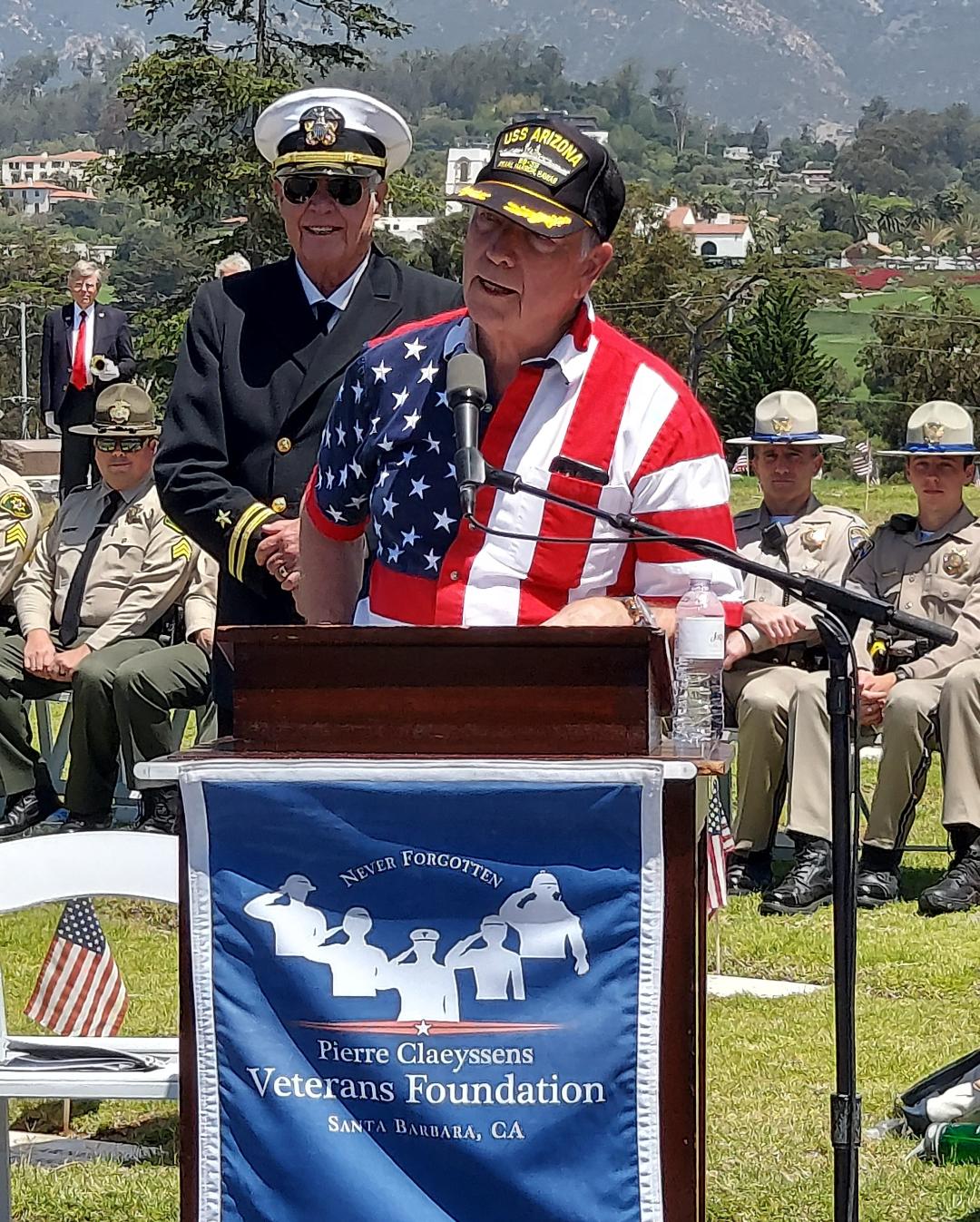 Emcee Lt. John Blankenship USN (former) and VIP Dana Newquist
Emcee Lt. John Blankenship (USN, former) kept the program moving and as usual was very entertaining. Chaplin jerry Gray (SSgt. USAF) gave the invocation.  Salud Carbajal, former US Marine and current U.S. Congressman spoke, followed by an amazing speech by BGen. Fred Lopez, USMCR (ret.).
Bob Burtness and Howard Hudson played "Taps" and The Condor Squadron Officer's and Airmen's Association, a unique non-profit organization founded in 1965 by a group of WWII fighter pilots, provided a thrilling flyover of the Condor Squadron's four T-6 Texan airplanes that was a huge crowd pleaser.
VFW Lifetime Member and PCVF co-founder of (PCVF) Lt. John Blankenship (USN, former) shared his gratitude to all those who make the Pierre Claeyssens Memorial Day Ceremony successful each year including fellow event production members, veterans, those currently serving the country and the generous people who volunteer and support the hour-long free event, including the water sponsors Gerd and Peter Jordano, Jordano Foodservice.
Dana Newquist reminded everyone not to forget to drop donations in the containers throughout the site, and then donated a huge check to help (PCVF) produce their annual events honoring veterans.
Pierre Claeyssens Veterans Foundation is committed to honoring the men and women who have served in uniform at any time. PCVF does this by supporting veterans and active duty members, and related partner organizations, in Santa Barbara and Ventura counties, as well as preserving military history and legacy. The Foundation works to uphold Pierre Claeyssens's vision that those who have served are "Never Forgotten." PCVF is funded entirely by private donations. For donations and information, visit www.pcvf.org or call (805) 259-4394. 

__________________________________________________________________
HOSPICE OF SANTA BARBARA SHINING LIGHT SOCIETY CELEBRATION
By Bonnie Carroll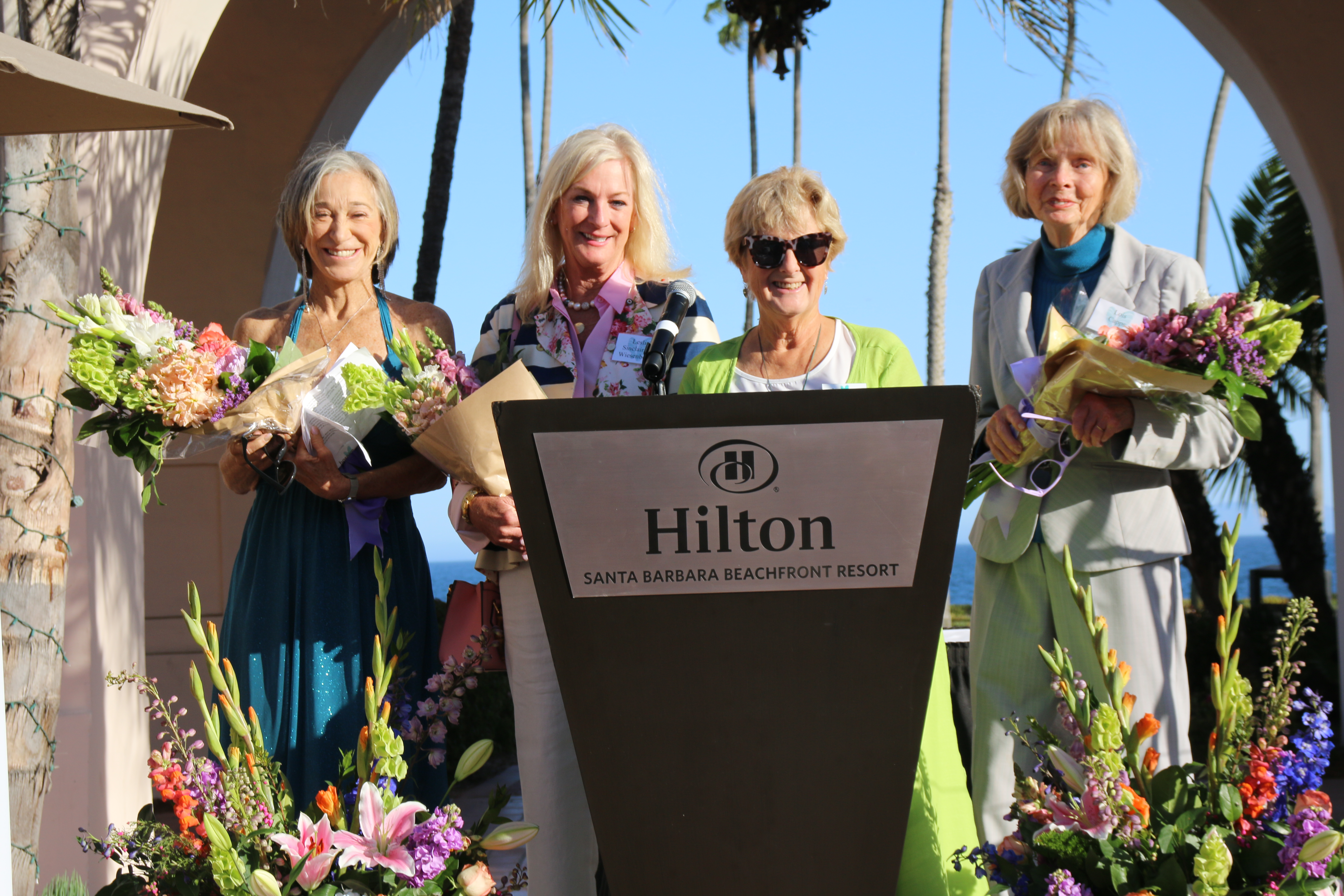 Hostesses Joyce Dudley, Leslie Von Wiesenberger and Lois Capps (L-R), Dana Vander Mey (Center)
The Hospice of Santa Barbara 2022 Shining Light Society Spring Reception & Open House at the Hilton Santa Barbara Beachfront Resort on May 12 was a joyful gathering of long-time and current HSB staff, volunteers and supporters who gathered to honor 2022 award recipients Lois Capps, Joyce Dudley, and Leslie Von Wiesenberger.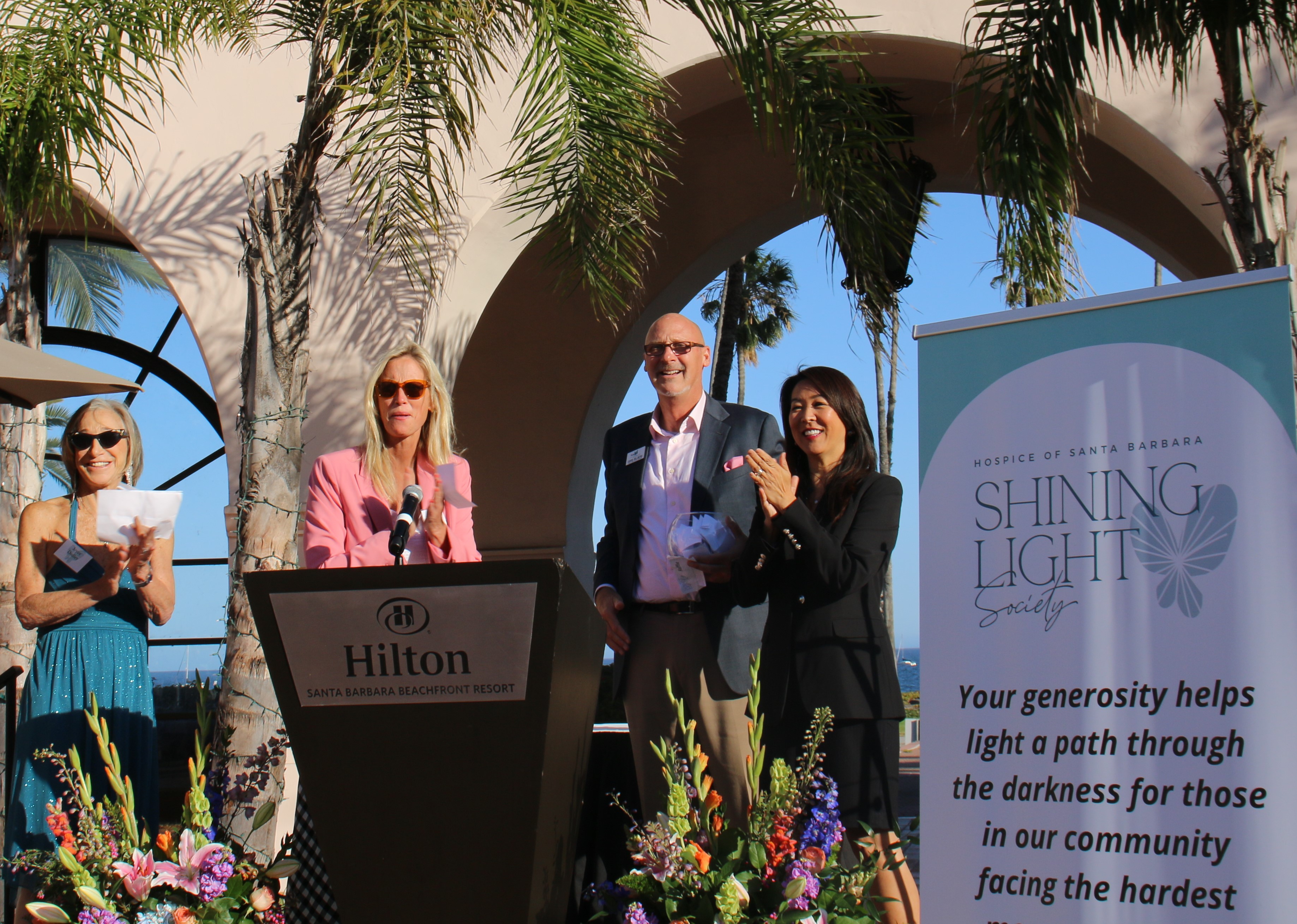 Joyce Dudley, Laura Capps, David Selberg & Susan Salcedo
District Attorney Joyce Dudley and Superintendent of Schools Susan Salcedo drew names for gifted prizes, which included a membership to the Santa Barbara Museum of Art., wine, and restaurant gifts and more. Dudley started by announcing "I am not running for District Attorney" and then shared her thanks to HSB for saving her life and keeping her sane with the counseling and ongoing love she and her sons received while her husband was dying.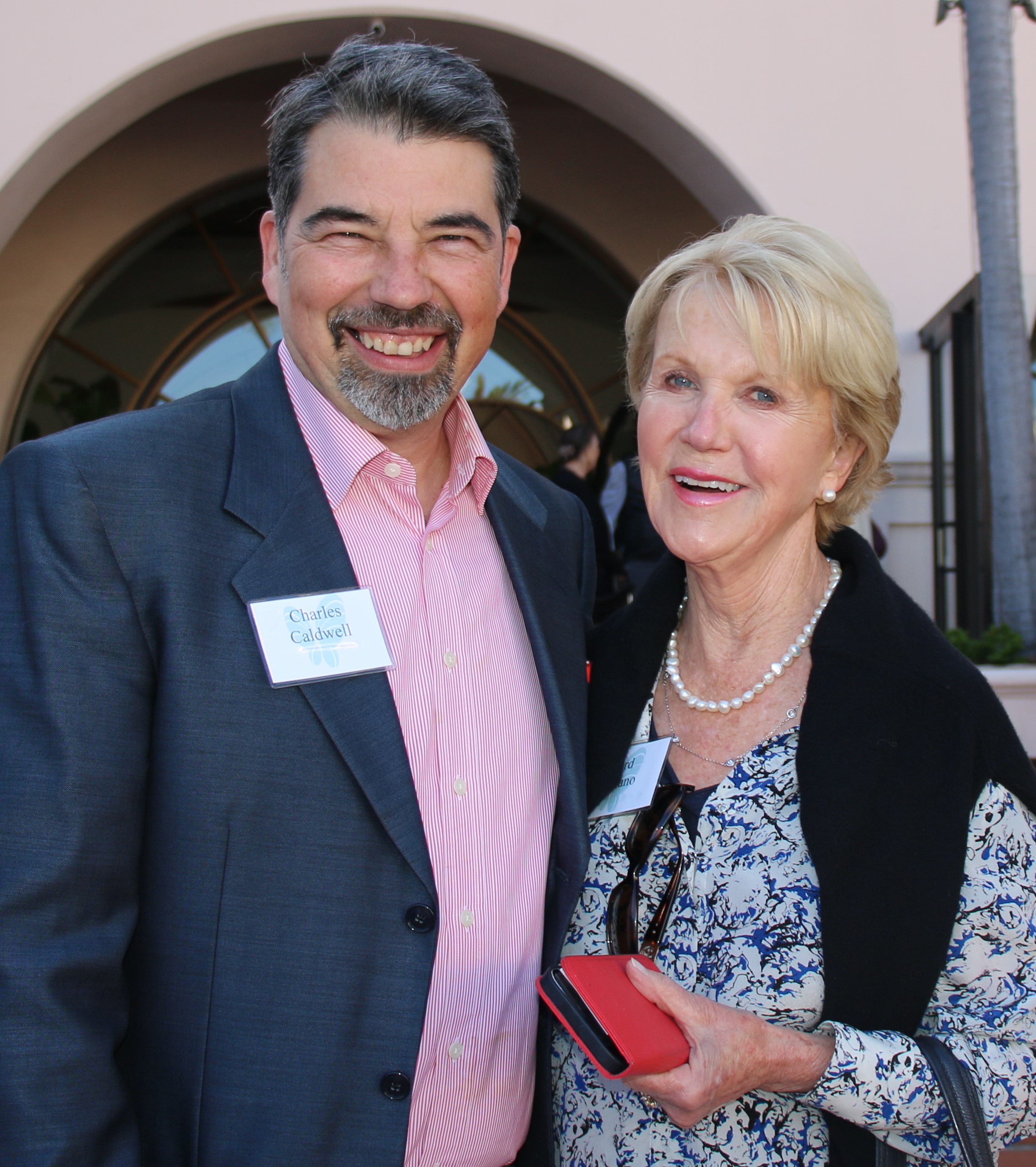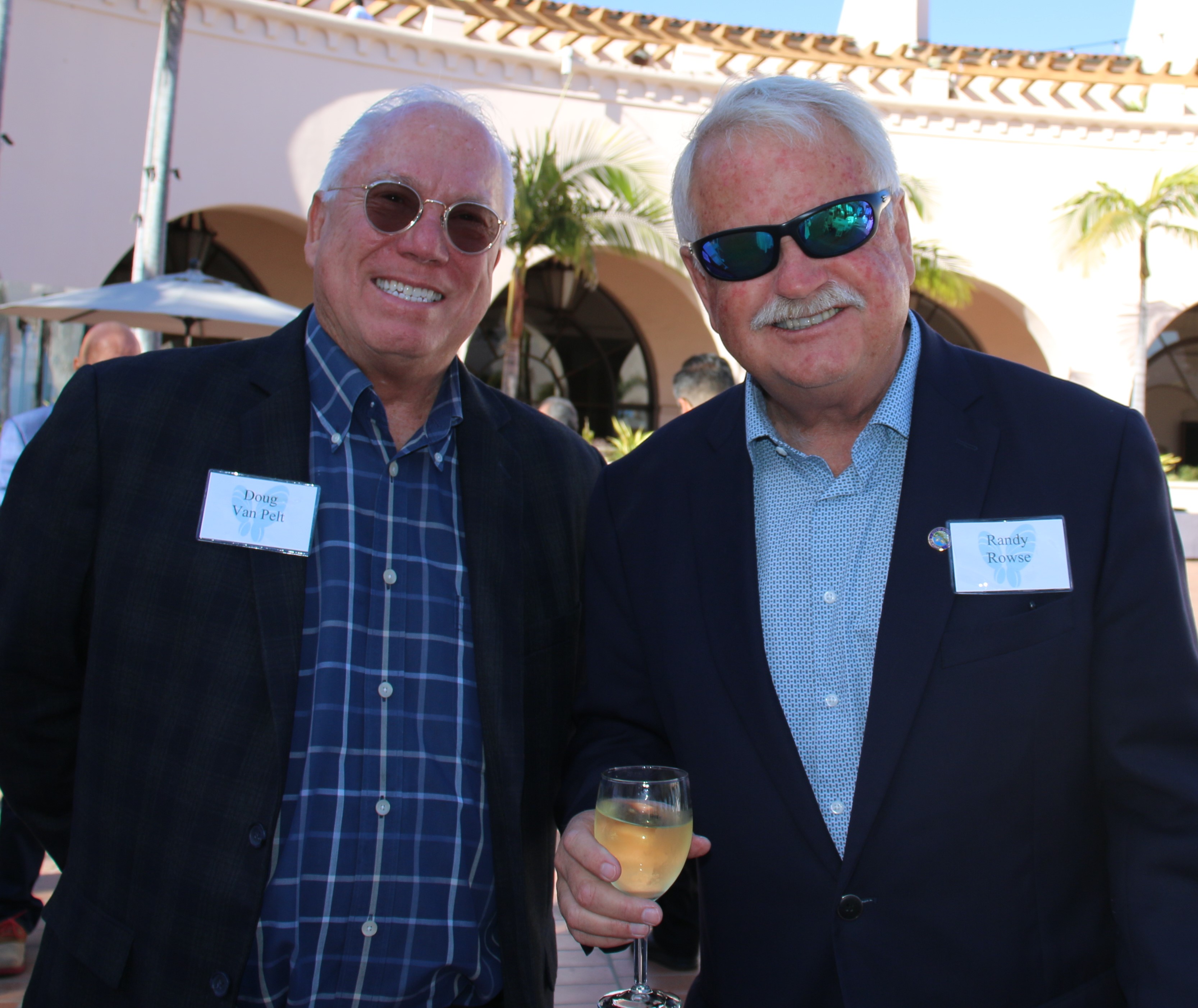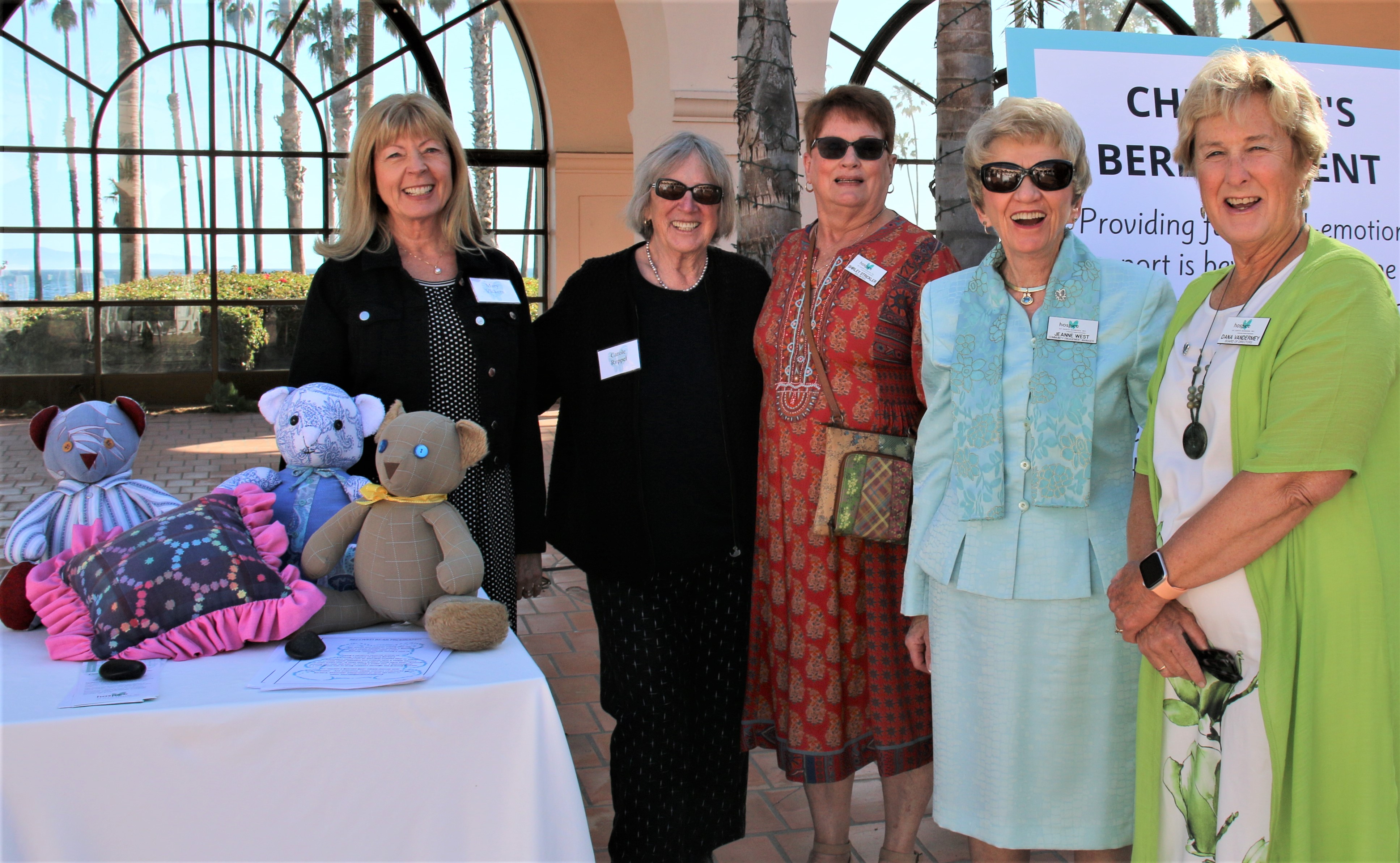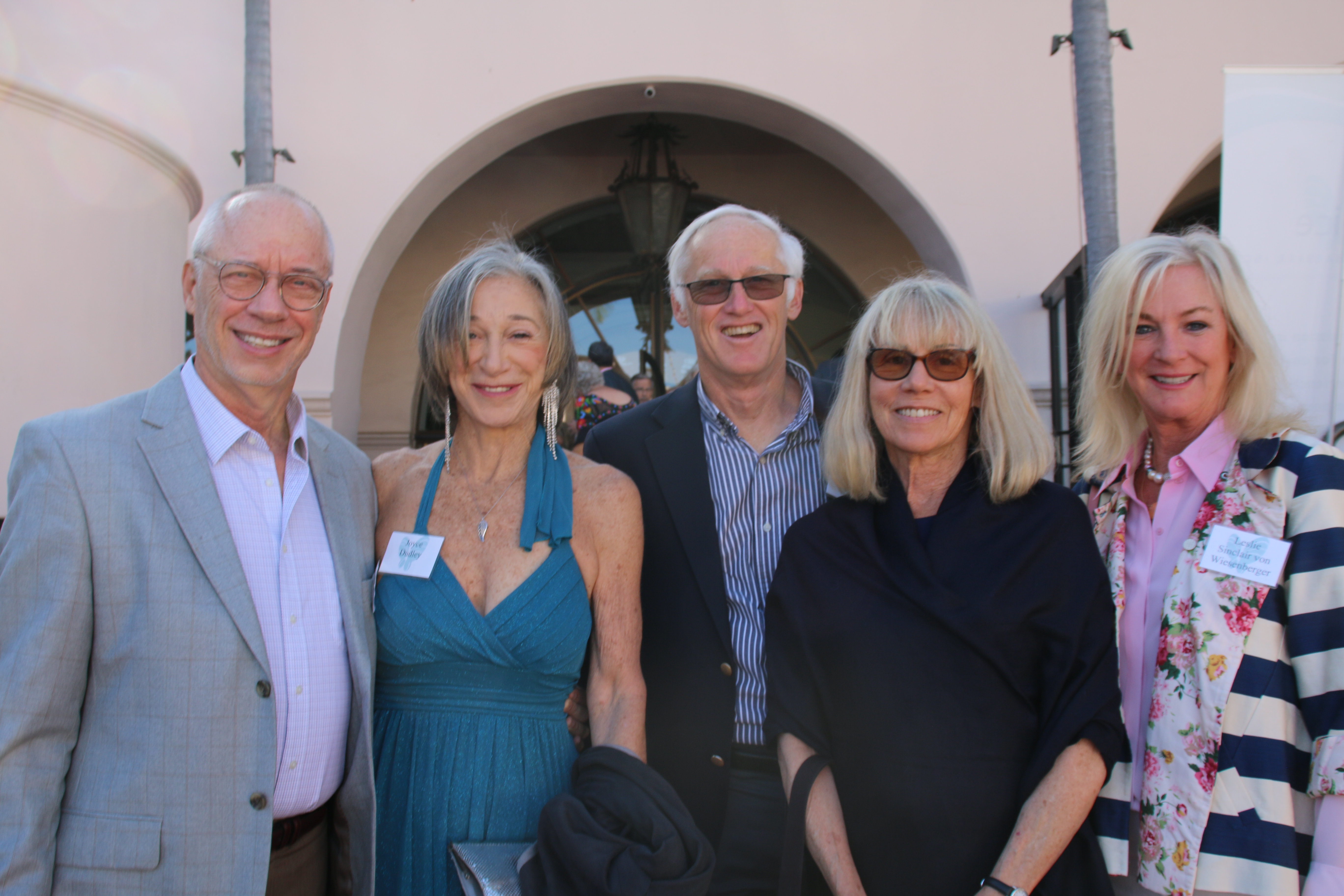 David Selberg welcomed and thanked everyone for coming and especially the long-time supporters like Tom and Eunice Fly, Charles Zimmer, Gerd and Peter Jordano who were all in attendance.
"After two-and one-half years of Pandemic it is heavenly to have you all here to thank for the work being done by HSB offering help in the most difficult times in life offering bereavement services and more to children, teens, seniors, high school students through the efforts of social worker's, care managers, trained volunteers who help whole families. Groups such as Care of Carpinteria, Neighborhood Clinics offering help to marginalized communities during crisis response including SBPD, Sheriff's, SBFD and more who allowed our counselors to assist working with the first responders. Michael Cruise, Trauma Councilor and team at Earl Warren Station, Adrienne's staff of workers from Me Vide Me Vos – My Life My Voice, and many more who helped so much by reaching thousands of people. Kudos also to those assisting with the successful and inspirational ongoing speakers' series made available to friends and supporters of SBH during the pandemic." said David Selberg.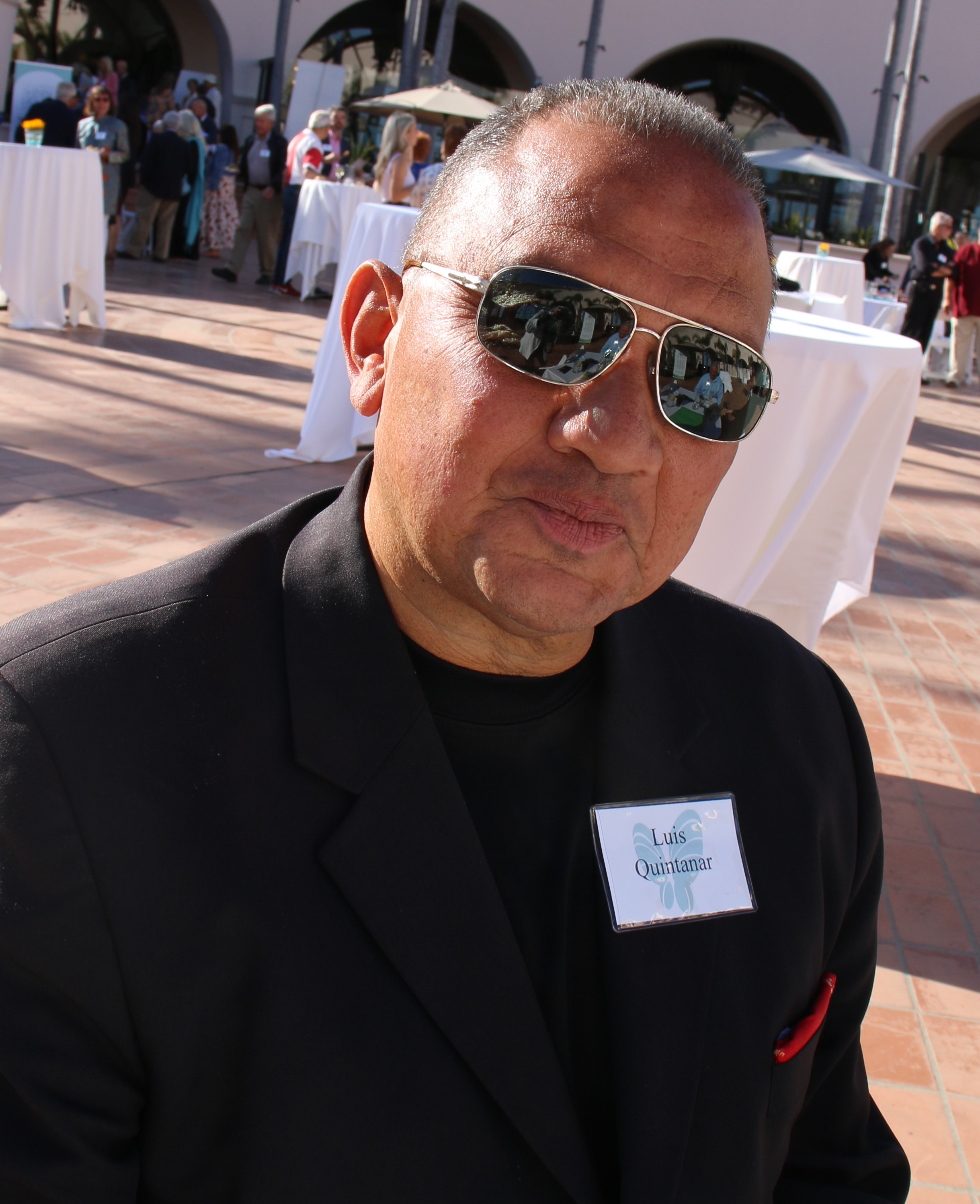 The featured speaker was Luis Quintanar who shared his sense of loss and failure when his twenty-two-year-old son was killed on the highway in 2015. He told of his state of hopelessness and the unexpected help he received from SBH and expressed his unending gratitude to the staff for guiding him through his hopelessness and grief.
Dana Vander Mey introduced honorees Lois Capps, Joyce Dudley, and Leslie Von Wiesenberger as David Selberg presented flower bouquets and photos were taken. Event guests lingered on the Plaza del Sol to sip cocktails, savor delicious food and enjoy being with one another after such a long hiatus.
Since 1974 Hospice of Santa Barbara, Inc. has been providing compassionate care and support to those impacted with serious illness and the bereaved in our community. We are the second oldest hospice program in the United States, and we continue to build today on our distinguished history. Compassionate Care, Freely Given. Hospice of Santa Barbara offers free counseling, support groups, resources and community education meeting the emotional, social and spiritual needs of people facing or grieving the death of a loved one. Hospice of Santa Barbara
____________________________________________________________________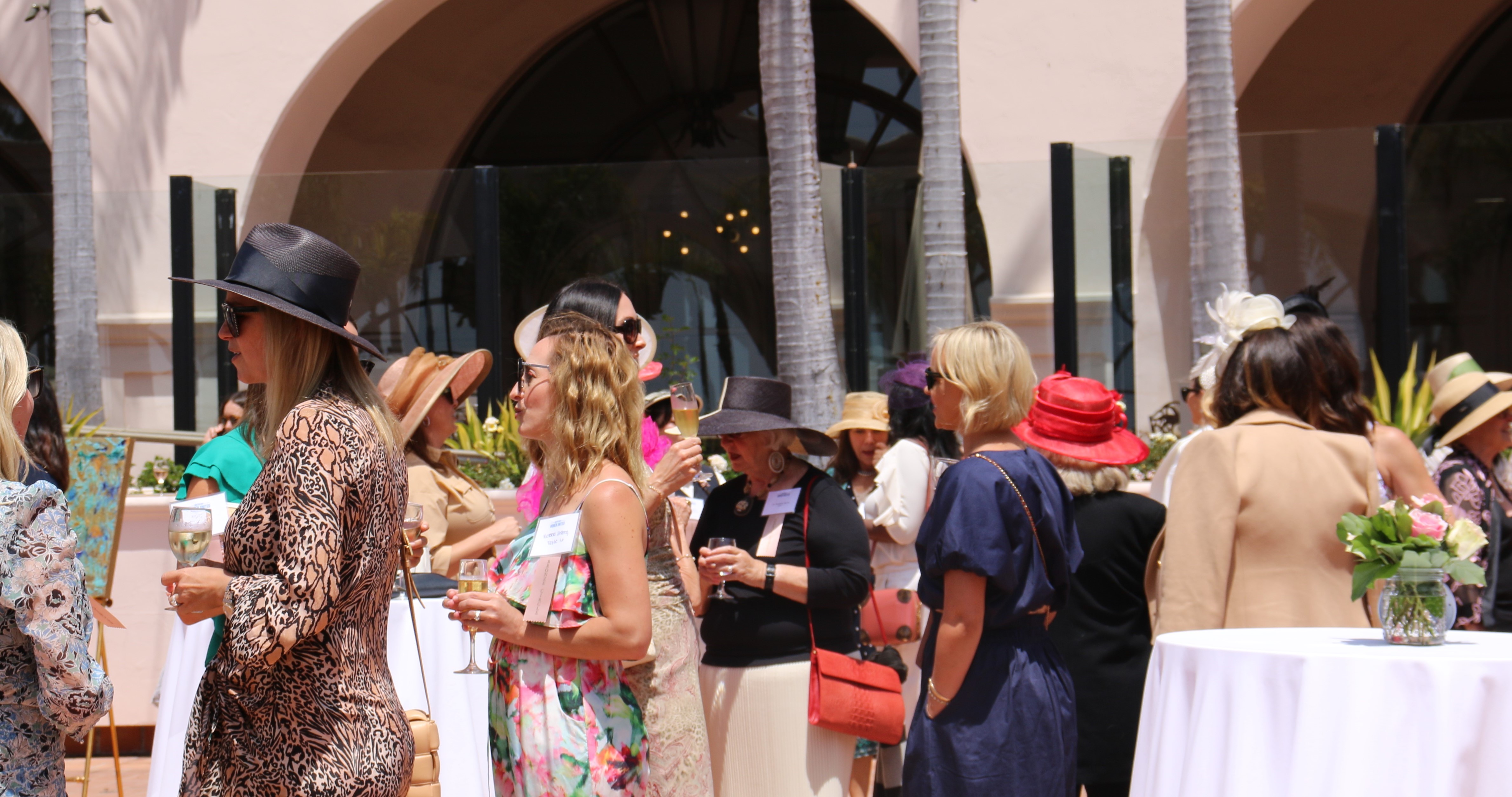 UNITED WAY OF SANTA BARBARA COUNTY DERBY LUNCHEON A WINNING TICKET
By Bonnie Carroll
On Wednesday, May 18th Women United and guests of United Way of Santa Barbara County filled the Plaza del Sol of Hilton Beachfront Resort to don their beautiful derby hats, raise auction funds, and enjoy the inspiring keynote speaker Beate Chelette of Growth Architects.
Shari Liu Fellows, Chair of Women United Leadership Team
Shari Liu Fellows, Chair of women United Leadership Team, opened and closed the program by sharing "Since the relaunch of Women United in December of last year, these amazing women have put their talents and skills to work in sharing the important story of United Way. The coming months will bring even more opportunities for this group to expand their reach and impact, and I look forward to being a part of those next steps in our Journey. I believe in the power of women. I believe in the work of United Way, and I believe in the ability of philanthropic partnerships to create a true, and meaningful impact. Together, we will be an important part of building brighter futures for students and families here in Sant Barbara County," "Our job is to be the person of the moment, that person who believes these kids have a fighting chance," said Fellows.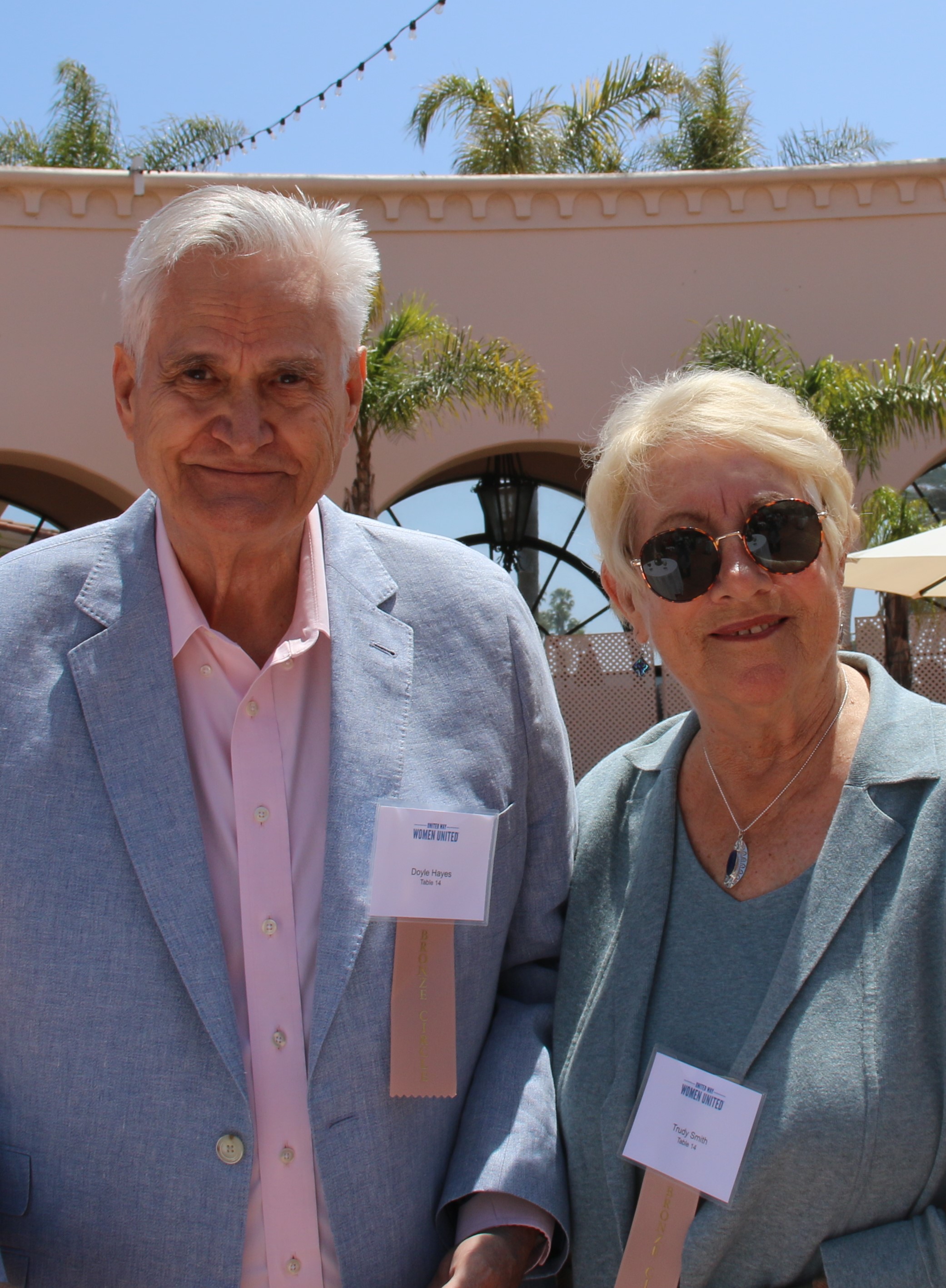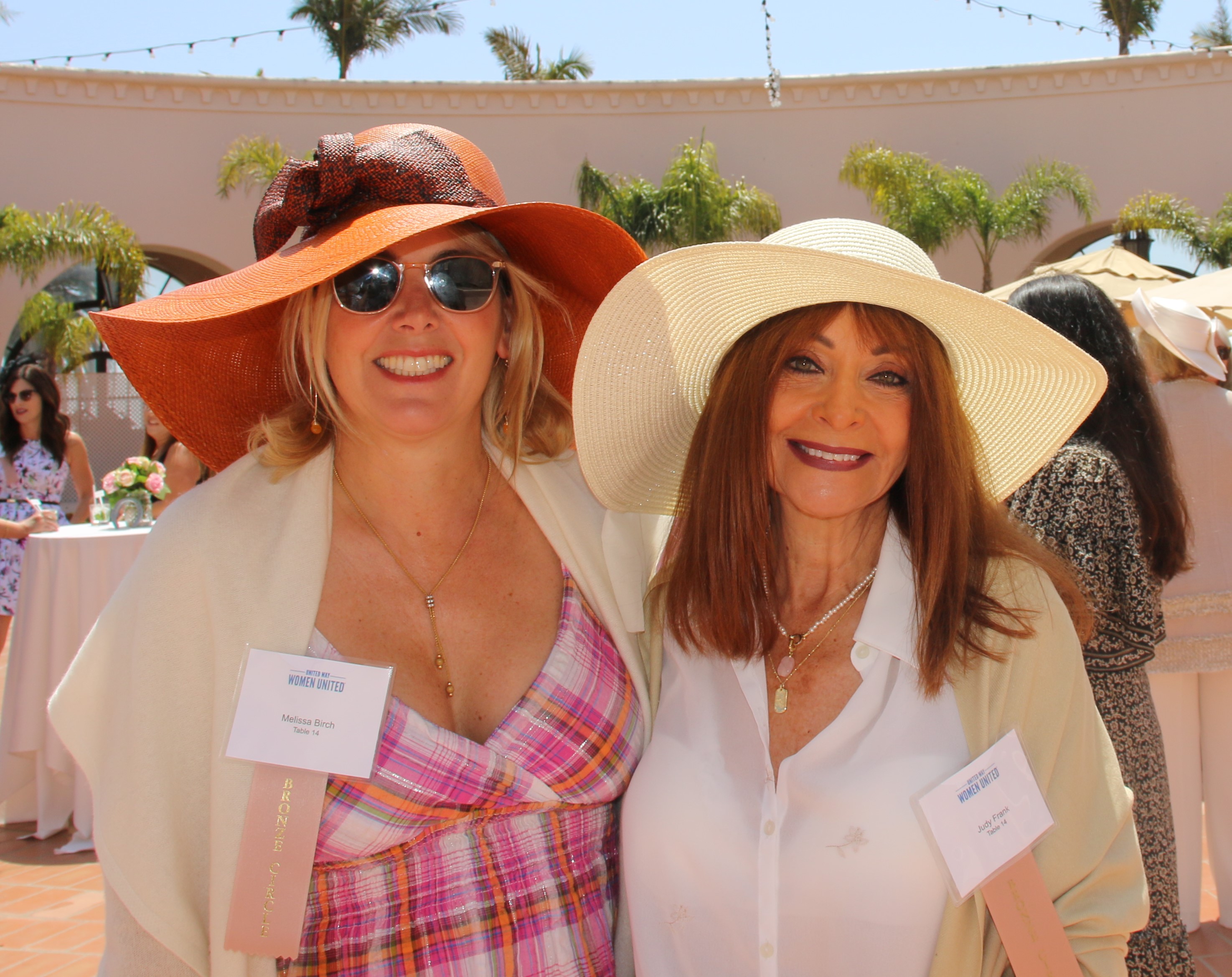 Supporting students in the community has always been an essential pillar in United Ways efforts to build a more resilient community. United Way steps in to fill the achievement gap that many low0resource students and families experience in reaching their educational goals and milestones through the creation of safe and supportive learning spaces for student throughout the year through programming like Fun in the Sun, the United Learning Centers, School-Based Programs, and Early Learning Success Institutes. The programs incorporate individualized academic support, access to community services, and a dedicated network of community partners and educators to support families and students in building a stronger foundation for a brighter future.
Keynote Speaker Beate Chelette is the Growth Architect and founder of the Women's Code, a strategic business and balanced leadership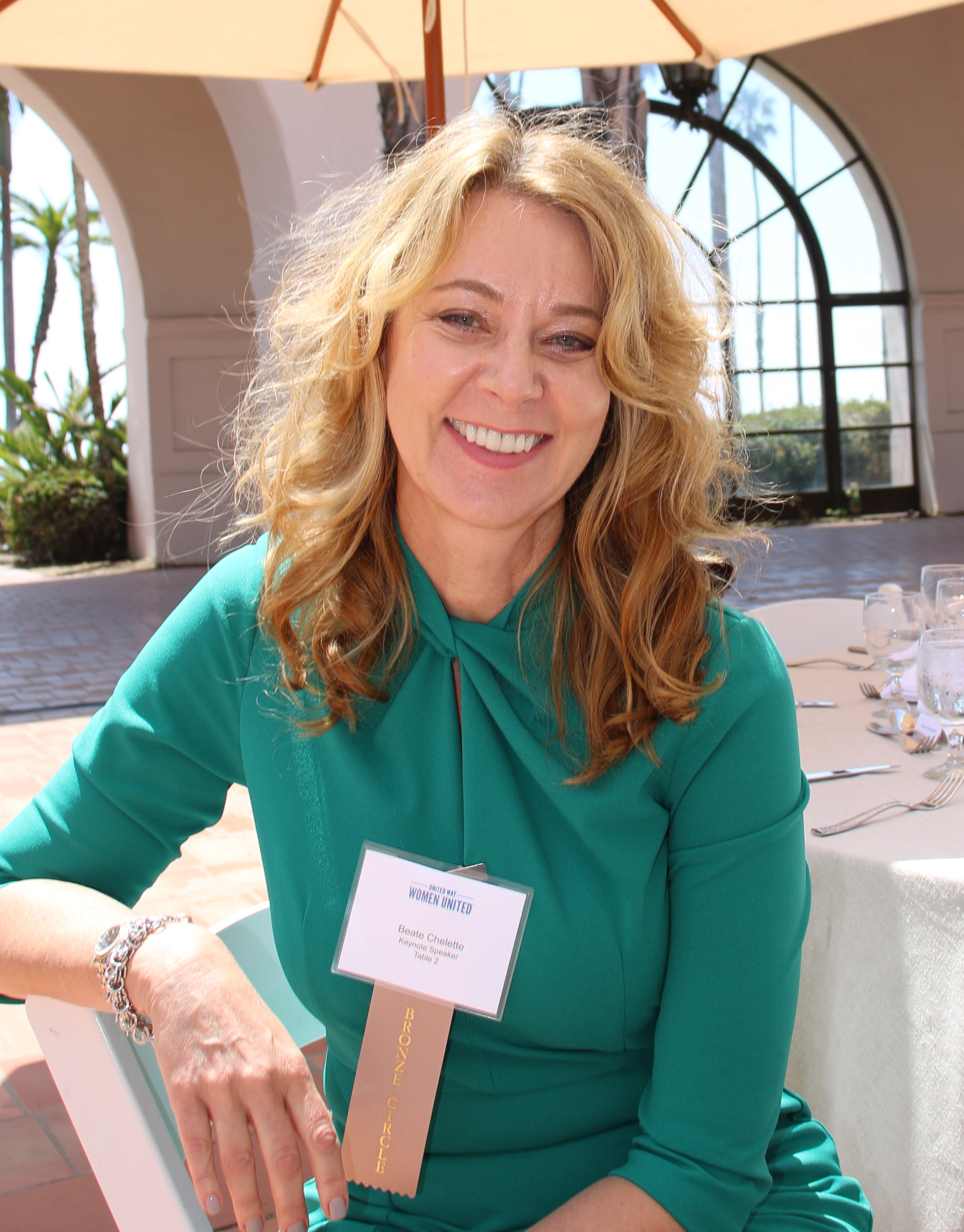 development company. After business challenges as a single mother, she developed a highly successful global photography business which she eventually sold to Bill Gates in a multimillion-dollar deal. She is "One of the 100 Top Global Thought Leaders in 2021" by PeopleHum, and "One of 50 Must Follow Women Entrepreneurs by HuffPost. Her book "Happy Woman Happy World _ How to Go From Overwhelmed to Awesome" is a #1 International award-winning Amazon bestseller is  recommended by corporate trainer and author Brian Tracy who calls it "a handbook for every woman who wants health, success and a fulfilling career."
Beate shared powerful moments of loss and solution from her own life including advise from her own father who told her to never forget the importance of every person in your work world and let them know it. She shared the special moments kids of United Way experience learning to ride a bike, or how to read and the special significance of fine programs delivered by the organization.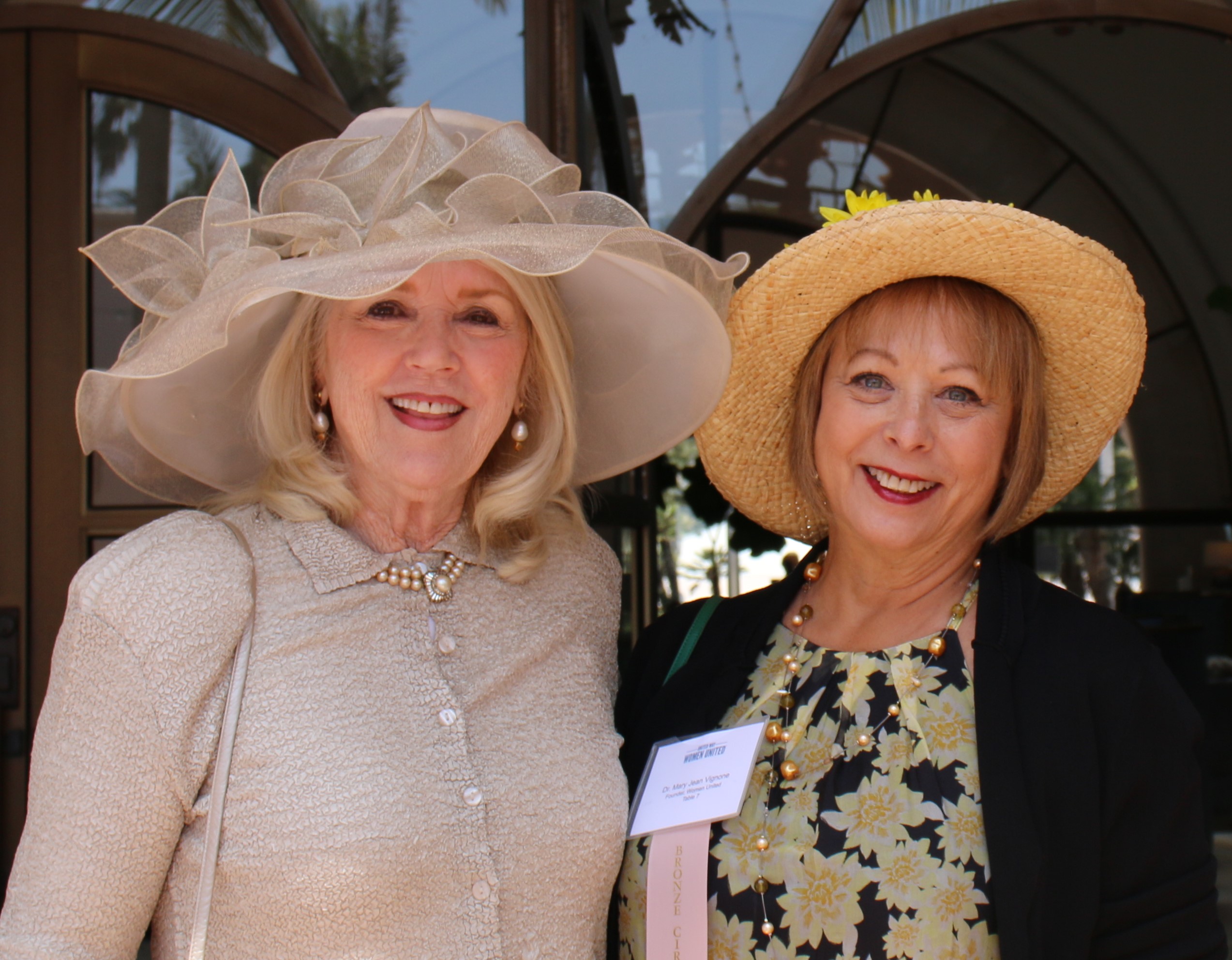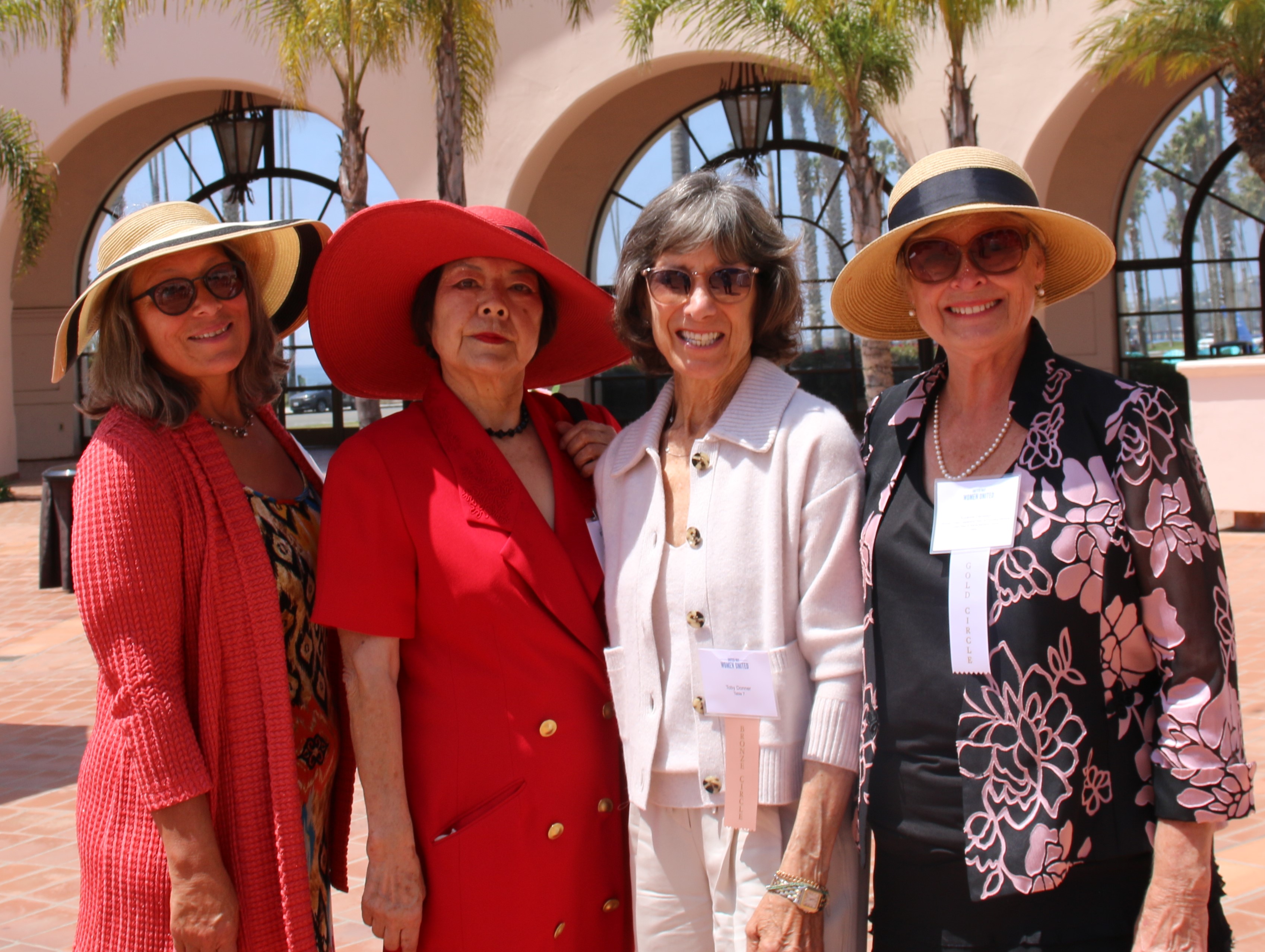 The silent auction, which was filled with amazing gifts donated by a bevy of generous area business owners including Santa Barbara Polo & Racquet Club, who was represented at the event by Polo Player Seamus Tuohy, who graciously posed for photos with guests.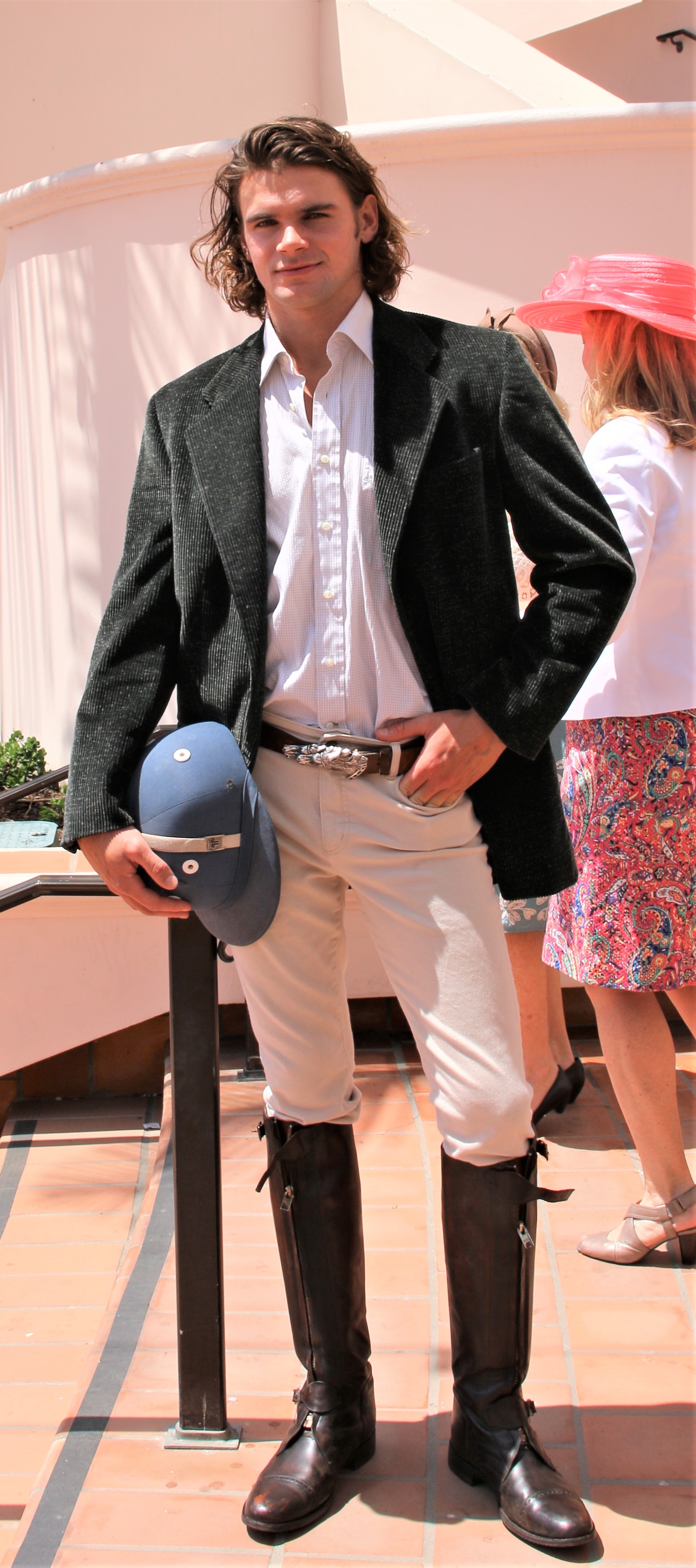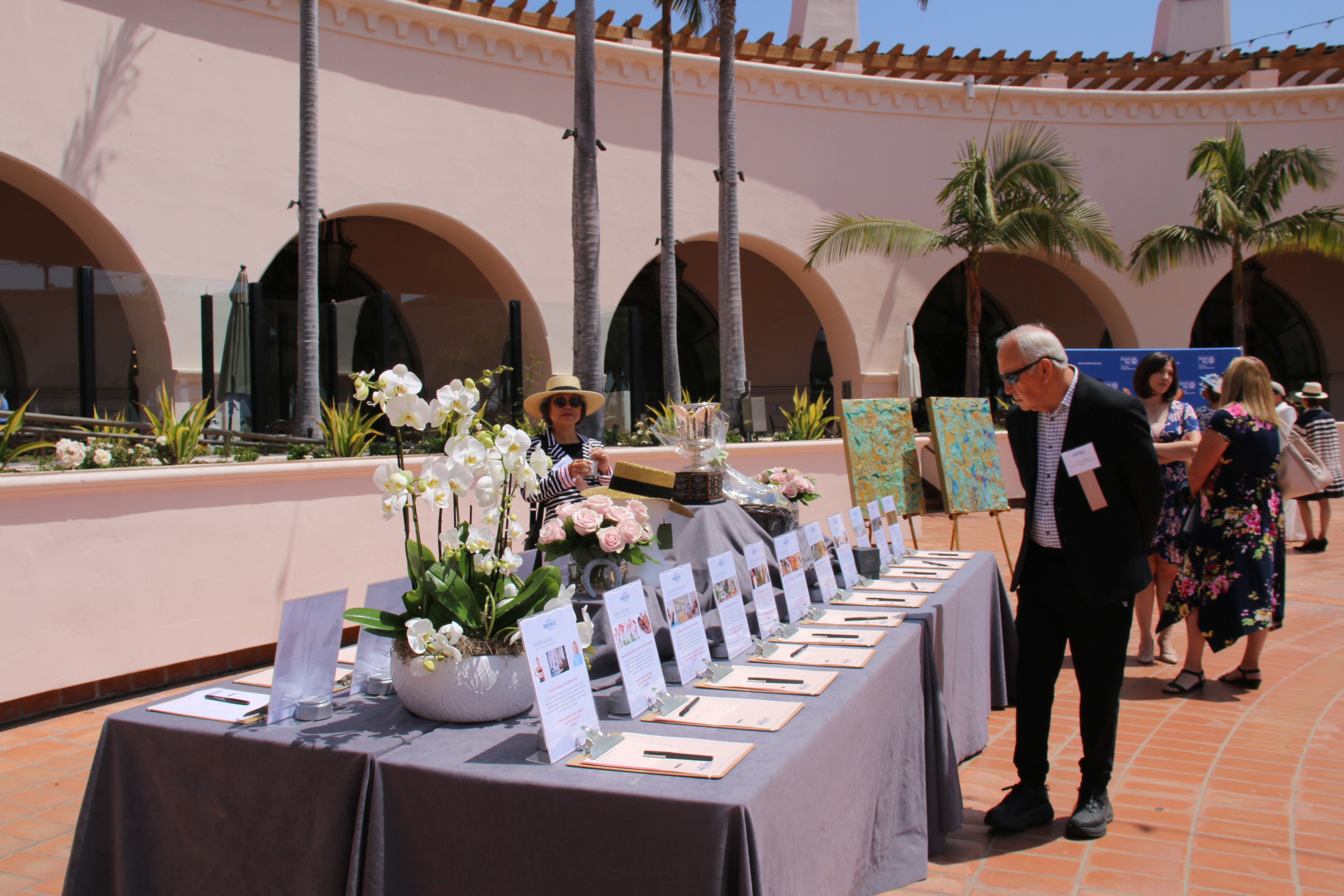 The 2022 Leadership Team includes Elisa Bartron Hills, Melinda Cabrera, Suzanne Danielson, Victoria Dominguez, Kristen d'Offay, Katie Hamdy, Jenna jobst, Andria Kahmann, Shari Liu Fellows (Chair), Erin Moy, Erin Murphey-Doherty, Holly Onak, Vanessa Ringel, Tanya Thicke, and Carly Walters.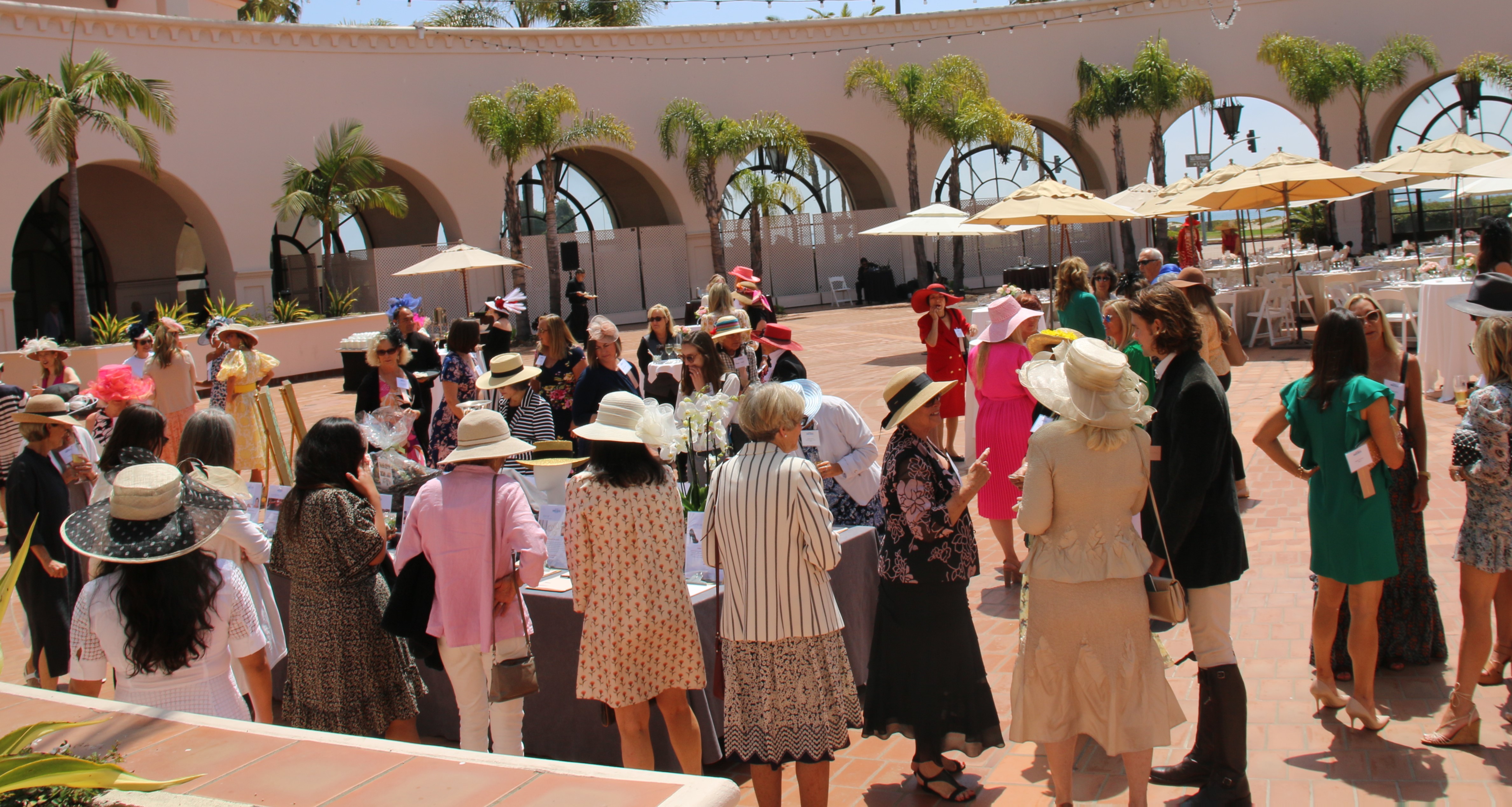 This was a truly charming gathering of philanthropic women who genuinely care about kids in need. To learn more about events & volunteer opportunities, please visit: unitedwaysb.org/women-united or contact vdominguez@unitedwaysb.org.
___________________________________________________________________
The Finest in Independent Living
VISTA DEL MONTE
Without the hassles of mundane chores, you're free to enjoy the things you really want to do. At Vista del Monte, you'll have time to engage in what's most meaningful to you: pick up a new skill or hobby, travel, discover an interesting sport, or make more time to socialize. Whatever it is, we can help. With our Independent Living services, we take care of all the practical tasks, including transportation, housekeeping, and maintenance. Our culinary staff prepares delicious meals, handles all the day-to-day chores, and your wellbeing needs are attended to—all in one place. For information visit: www.vistadelmonte.org. Vista Del Monte – Santa Barbara, California – 805-687-0793
---