CAN UNBALANCED HORMONES BE MAKING YOU FAT?
Renowned doctor explains how to unleash your body's fat burning potential
We've all heard it before: to lose weight, your body must burn stored fat. Yet despite counting calories and maintaining a regular exercise regimen, many of us still can't shed the pounds. According to the Centers for Disease Control, 66% of adult Americans are overweight and while the majority of them probably want to trim down, they're losing the battle of the bulge. That could be because they're not armed with the right weapons. You see, they're not just fighting fat. New research reveals the true culprit behind the weight loss struggle. Hormones.
According to author and nutritional expert Dr. Eric Berg, being overweight is your body's reaction to a dysfunctional glandular system. Until your glands function in a healthy manner, your body will stubbornly hold on to excess fat. "People think if they lose weight they will be healthy," says Dr. Berg. "But the truth is they must first get healthy before their bodies can kick into fat-burning mode."
Dr. Berg's new book, The 7 Principles of Fat Burning, explains why body shape is the best indicator of which hormones are unbalanced. You've probably heard of pear and apple-shaped bodies but didn't understand the cause of each particular body shape. "For instance, women who carry the bulk of their weight in the lower body have been referred to as having a pear shape," says Dr. Berg. "I call them an ovary type because the ovary system is not functioning properly and the hormone estrogen will cause fat to accumulate around the hips more than any other place."
In the book, Dr. Berg explains why assessing body shape is crucial to creating the right plan to nurture the glands back to healthy functioning. Readers can take an extensive quiz to identify their specific issues and discover their individualized body type. Because each gland controls distinct body features, readers quickly learn to differentiate one gland from another. The thyroid gland, for example, controls hair, nails, skin; energy level and body temperature compared to the adrenal gland which controls all stress responses and sleep patterns.
As Dr. Berg discovered through his extensive work with patients, each body shape requires corrective actions in addition to eating and exercise plans to restore the body shape. "Your metabolism is controlled by hormones," says Dr. Berg. "You have 6 fat burning hormones which are each triggered differently. To lose weight you must learn how to avoid the fat storing triggers and stimulate the fat burning hormones instead. Most people have been mistakenly focusing on the calories—the wrong thing."
The 7 Principles of Fat Burning is concise yet comprehensive. Unlike some books that lose the reader in scientific jargon when attempting to explain complex mechanisms of the human body, Dr. Berg has penned an easy to understand guide for anyone struggling to lose weight. The science behind each body type's diet and exercise plan is explained in no-nonsense terms that make it clear to the reader why the plan will work.
The book also explains the truth behind some of the most popular weight loss mantras, such as why drinking 8 glasses of water a day can actually harm some body types, how hormones in meat affect your body, and why eating in moderation—a one-size-fits-all approach to dieting—simply doesn't work.
Dr. Berg points out five key elements to weight problems that most people don't fully understand:
Why stress causes the body to store fat
What your food cravings mean
Why Europeans are thinner than Americans
How to avoid foods that trigger hormone induced fat
Why sleep problems are linked to weight problems
The 7 Principles of Fat Burning is not your standard weight-loss fare. Dr. Berg's plan for better health stands out from the pack because he teaches readers how to attack the true cause of their weight problems; unbalanced hormones. As he so aptly explains, the bottom line is clear: you can achieve weight loss and better health after you help your body's glandular system operate in a balanced way.
For a review copy of The 7 Principles of Fat Burning by Eric Berg, DC (KB Press 2006; 288 pp. hardback, $24.95) or to interview the author, contact Rachel Damien at 727-443-7115, ext. 206 or email rachel@event-management.com. Please include your name, publication, and mailing address with your request.
---
'Recharge' and hydrate, naturally
R.W. Knudsen's fruity thirst quencher, Recharge, creates a splash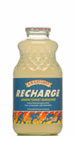 Staying healthy requires a balanced diet, exercise and remaining hydrated. With warmer summer temperatures approaching, even a simple daily routine can deplete the body of vital minerals and fluids. But there's a perfect way to stay hydrated: R.W. Knudsen Family's Recharge. An all-natural beverage, Recharge contains 50 percent juice, water, sea salt (for essential electrolytes) — and absolutely nothing artificial to slow you down.
The human body is made up of 70 percent water. Doctors say that dehydration begins when the body loses a mere 2 percent of its water. Replenishing those fluids is necessary for sustained energy, glowing skin and a clear mind, but drinking eight glasses of water daily may not always be enough. Each 8 ounce serving of Recharge contains 25 milligrams of sodium and 100 milligrams of potassium, an appropriate balance of two essential minerals to help the body restock for optimal functioning.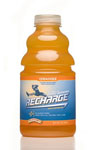 Available in grape, lemon, tropical, orange and organic lemon, Recharge is not just good for the body — it tastes great, too. Refreshing and fruity, each flavor is a treat to the senses. The natural and organic ingredients make it a good choice for the whole family and can satisfy the pickiest of palates.
To reflect the beverage's sporty personality, R.W. Knudsen is updating its packaging and label design this spring. The new packaging includes a shift to #1 recyclable plastic bottles, allowing the product to be more convenient for on-the-go activities. Recharge is also available in 16-ounce recyclable plastic bottles.
On the market since 1985, Recharge is the top-selling natural sports drink in the nation and can be found in both natural and conventional markets nationwide. For more information about where to purchase Recharge, visit www.knudsenjuices.com. The suggested retail price is $1.29 - $1.49 for the 16 oz size and $1.99 - $2.49 for the 32 oz bottle.
---
Unique Way to Celebrate Mother's Day & Mother Nature
Help reduce climate change with a tree!
This Mother's Day, many consumers are thinking outside the box – the gift box that is, and they're celebrating Mom and Mother Earth in the process. Dedicating trees through TreePeople's Gift of Life program provides a gift that lasts longer than cut flowers and is more original than a greeting card.
"Mothers love tree dedications," says Michelle Sadeh, Gift of Life program manager. "These gifts create a lasting difference in Southern California by helping restore forests impacted by wildfires, smog, drought, bark beetles and overuse." The trees planted by the nonprofit group TreePeople also combat global warming, provide flood protection, prevent and reverse water pollution, save energy and clean the air.
Mothers receive a card or certificate printed on recycled paper with beautiful, original artwork. A dedication of one tree is $25 and a grove of five is $100.
The dedicated trees will be planted by TreePeople staff and volunteers in the mountains and park woodlands of Los Angeles. Funding from this program helps plant thousands of trees annually.
For more information about Mother's Day Tree Dedications or to order, visit www.treepeople.org or call (818) 753-TREE.
---
EAT'N PARK PUTS HEALTH AND SAFETY OF CUSTOMERS FIRST
Restaurant chain is forerunner in effort to install AEDs at all locations
Pittsburgh-based Eat'n Park is believed to be the first restaurant chain nationwide to install Automated External Defibrillators (AEDs) in some of its 76 locations. Executives at Eat'n Park consulted with another Pittsburgh organization to guide them through the process of purchasing and installing their AEDs—NewHouse Medical. The company is a brand-independent solutions provider that assists in the design, development and implementation of public access AED programs.
Public access AEDs are used to treat sudden cardiac arrest (SCA), a condition caused by abnormal heart rhythms called arrhythmias. Victims of SCA collapse and quickly lose consciousness, often without warning. Unless a normal heart rhythm is restored, death will follow within a matter of minutes.
"Eat'n Park is setting a great example for the rest of the country. Public access AEDs should be available at every restaurant and other public gathering places," said Vince Mosesso, Jr., MD, FACEP, associate professor of emergency medicine, University of Pittsburgh School of Medicine, medical director prehospital care, University of Pittsburgh Medical Center, medical director, Sudden Cardiac Arrest Association.
Eat'n Park Director of Safety and Security, Bill Moore, initially installed AEDs in 3 restaurant locations as a test. Positive employee and customer reactions have encouraged Mr. Moore to plan to expand the AED program company wide. "Employee reaction has been great. Even though you do not need to be certified to use an AED, many employees are requesting certification. Just installing AEDs has really increased our safety awareness," said Moore.
To notify Eat'n Park customers of this added health service, the company has posted signs in the entrance of installed restaurants stating "This restaurant is equipped with an AED (Automated External Defibrillator)." On the sign is a picture of a red signature Eat'n Park Smiley face cookie in the shape of a heart.
AED program consultants from NewHouse Medical worked with Eat'n Park to select AED systems that are simple for the layperson to use. With the push of a button, a voice prompts the rescuer throughout the entire process. There is no need to worry about delivering an unnecessary shock; the system will not activate unless an abnormal heart rhythm is detected. If an abnormality is identified the machine will charge itself and instruct the rescuer to stand clear of the victim and to press the shock button.
"According to statistics, within ten minutes of unconsciousness, a victim will likely die.
The average EMS vehicle can take up to 12 minutes to respond. The answer is obvious—AEDs need to be more readily available to local communities," said James Heffran, Vice President, AED program implementation at NewHouse Medical. "Eat'n Park is the forerunner in the restaurant industry. They are taking the initiative to look out for the health and safety of their employees and customers."
Many victims of SCA have no history of heart disease, or if heart disease is present, it has not functionally impaired them. This is why it can strike anyone of any age at any time. SCA affects more than 250,000 Americans each year: nearly one death every two minutes (according to the American Heart Association).
Up to 50,000 of those deaths could be prevented using the Cardiac Chain of Survival (AHA):
Step one: Early access to care (calling 911 or other emergency number)
Step two: Early cardiopulmonary resuscitation (CPR)
Step three: Early defibrillation (AED)
Step four: Early advanced cardiac life support

"In addition to having AEDs available on site, an emergency response plan should be established and key individuals at each facility also should be trained to use an AED, as well as CPR," explained Mosesso. "Using all of these available resources greatly increases the rate of survival."
Through the guidance of NewHouse Medical, all Eat'n Park restaurant managers are undergoing training in CPR and the use of AEDs. "It's the right thing to do. We serve the public and there is a responsibility there, whether it's serving great food or helping a guest in need we want to be there for our guests." Moore.
Eat'n Park
Eat'n Park Restaurants, founded in 1949 as a family carhop, is an award-winning family restaurant chain with 77 locations in Pennsylvania, Ohio and West Virginia, and is a member of the Eat'n Park Hospitality Group, a leading, regional multi-concept foodservice company.
Other brands operated by the Group include, Park Classic Diner, a retro-eatery reminiscent of the company's roots, Six Penn Kitchen, an upscale American Bistro, Parkhurst Dining Services, a provider of contract-dining services to businesses, universities, and cultural centers; and CURA Hospitality, which offers contract dining and management services for senior living communities. Across its dining brands, the Eat'n Park Hospitality Group employs more than 10,000 team members in seven northeastern and Mid-Atlantic States