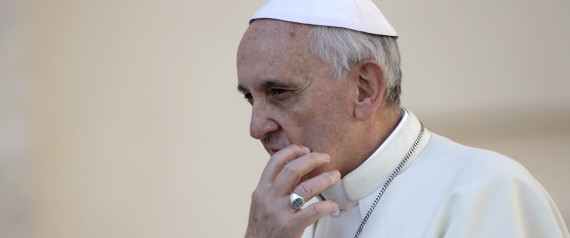 POPE FRANCIS SPEAKS ON GREATEST DANGERS TO FACE
On the greatest challenges for the church:
"The most serious of the evils that afflict the world these days are youth unemployment and the loneliness of the old. The old need care and companionship; the young need work and hope but have neither one nor the other, and the problem is they don't even look for them any more. They have been crushed by the present. You tell me: Can you live crushed under the weight of the present? Without a memory of the past and without the desire to look ahead to the future by building something, a future, a family? Can you go on like this? This, to me, is the most urgent problem that the Church is facing."
__________________________________________________________________                                                                                                                                                                        University of California Santa Barbara and H. Zisser, Sansum Diabetes Research Institute - Postprandial blood glucose control during an artificial pancreas study after a meal containing 50 grams carbohydrate with and without ultra-rapid-acting inhaled insulin. Graphic: The Doyle Group.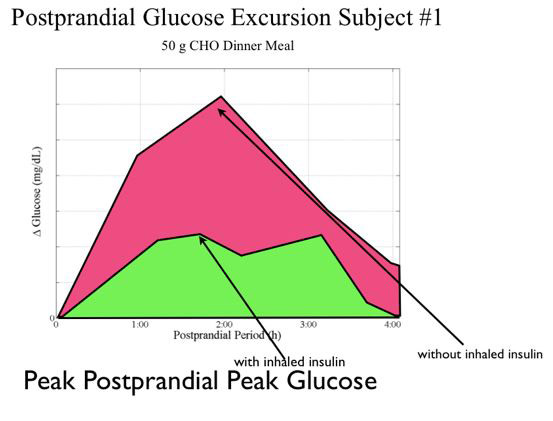 Sansum Diabetes Research Institute, University of California, Santa Barbara Conduct Innovative Artificial Pancreas – Ultra-Rapid-Acting Inhaled Insulin Trial Funded by JDRF
JDRF, Sansum Diabetes Research Institute, and the College of Engineering at University of California, Santa Barbara (UCSB) are pleased to announce the first successful clinical research trial using the artificial pancreas in conjunction with ultra-rapid-acting inhaled insulin. This represents a groundbreaking potential advancement in the treatment of type 1 diabetes (T1D). It establishes that the disease can be managed through a unified automated process that delivers precise amounts of insulin around the clock, based on real-time glucose measurements without the need for patient intervention, and is further enhanced and fine-tuned by the swift delivery of ultra-rapid-acting inhaled insulin during mealtimes. The artificial pancreas and inhaled insulin system work together to replicate the normal, healthy function of the human pancreas. This combination therapy has the ability to greatly improve the regulation of prandial and postprandial blood glucose levels. This research is funded by JDRF, the world"s largest non-profit supporter of T1D research.
Sansum Diabetes is the only site testing ultra-rapid-acting inhaled insulin in combination with the artificial pancreas. Principal investigator Howard Zisser, M.D., director of research and technology at Sansum Diabetes, acknowledged that "This study addresses one of the big questions in diabetes research, which is, "How do we manage meals with the artificial pancreas?"" He went on to point out, "The JDRF, Sansum Diabetes, and UCSB consortium has spent the past five years developing several approaches to an artificial pancreas to automate insulin delivery for patients with type 1 diabetes to improve glucose control throughout the day and overnight. JDRF recognizes that we can use technology to help improve the lives of people with type 1 diabetes until there is a cure."
As for this innovative study, Dr. Zisser stated: "Our preliminary results on the artificial pancreas working in tandem with the administration of mealtime ultra-fast-acting inhaled insulin are most promising. It's very straightforward to load the inhaler device and take the insulin. There's no needle involved and the small dose of inhaled insulin prevents the blood glucose from uprising very quickly just after eating or falling too fast an hour or two later. In this way, the subcutaneous insulin being supplied by the artificial pancreas" pump has the chance to actually work better."
Co-principal investigator Francis J. Doyle, III, professor of chemical engineering, Mellichamp chair in process control, and associate dean of research at UCSB explained that "The subcutaneous route of delivery is a very slow way to push insulin into the body, compared to the appearance of glucose in the blood stream following the meal. So we need a much quicker way to intervene. One way to do that is to dose with the pump, but again, you"re using a subcutaneous route of pushing insulin, which is slow compared to the way the pancreas would do this. So, by using inhaled, ultra- rapid-acting insulin, we have a chance now to manage blood glucose even better by emulating a more natural pancreatic function. We can get the insulin quickly into circulation and it will be cleared quickly and safely from the bloodstream."
Aaron Kowalski, Ph.D., vice president of treatment therapies at JDRF, remarked that "The early results of this exciting study are compelling. While more data are required, this protocol represents a potentially revolutionary way of combining the artificial pancreas with a simple-to-use inhaled insulin to significantly improve blood sugar levels. We are excited that Sansum Diabetes and UCSB researchers are working together with us and continuing to push the frontiers of diabetes research forward to benefit the quality of life for people living with the disease."
About Sansum Diabetes Research Institute
Sansum Diabetes Research Institute is an internationally recognized research center devoted to the prevention, treatment and cure of diabetes. Dr. William D. Sansum, who brought renown to Santa Barbara in 1922 as the first physician in the U.S. to produce and administer life-saving insulin to patients with diabetes, founded the nonprofit organization in 1944.
The Institute has gained global acclaim for its work to develop an artificial pancreas, its success in developing protocols to increase the incidence of healthy babies born to women with diabetes, and its work with people with and at risk for type 2 diabetes. Physicians and researchers continue to develop new treatment protocols for people with diabetes, including new drugs and medical devices.
It is our intention to use our past and present accomplishments to guide us into the future – to tap into the energy and commitment that made Sansum Diabetes Research Institute what it is today – a worldwide leader in diabetes research, education and care. For more information, please visit www.sansum.org
About the College of Engineering, University of California, Santa Barbara
The College of Engineering at UC Santa Barbara is dedicated to educating the next generation of engineering and science leaders to discover and apply breakthroughs in knowledge and technology. UCSB Engineering is recognized globally as a leader among the top tier of engineering education and research programs. Our programs are ranked consistently among the most prestigious Engineering institutions in the world.
UCSB Engineering is renowned in the areas of materials, electrical engineering, photonics, solid state lighting, bioengineering, nanotechnology, chemical engineering, computer science, and mechanical engineering. For more information about the Doyle Group"s research, please visit http://thedoylegroup.org/biomedical-control/
About JDRF
JDRF is the leading global organization funding type 1 diabetes (T1D) research. JDRF"s goal is to progressively remove the impact of T1D from people"s lives until we achieve a world without T1D. JDRF collaborates with a wide spectrum of partners and is the only organization with the scientific resources, regulatory influence, and a working plan to better treat, prevent, and eventually cure T1D.
As the largest charitable supporter of T1D research, JDRF is currently sponsoring $530 million in scientific research in 17 countries. In 2012 alone, JDRF provided more than $110 million to T1D research. More than 80 percent of JDRF"s expenditures directly support research and research-related education. In 2012 Forbes magazine named JDRF one of its five All-Star charities, citing the organization"s efficiency and effectiveness.
---