FILLED WITH LIGHT
®evolution Tea's New All Natural Bottled White-T ™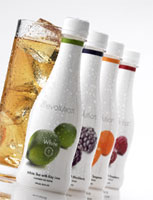 The highly stylized and attractive new product is calorie free, sugar free, preservative free, and read to drink. Made from premium white tea, which provides three times as many antioxidants as green tea. ®evolution White-T ™ contains purified water, select white tea, natural caramel color, citric acid and natural flavors of key line, blackberry, tangerine or raspberry. The White-T ™ is best served chilled or over ice, and should be refrigerated after opening. The product contains 0% calories, 0% fat, 0% Sodium Omg, 0% total carbs and no sugar or sweeteners. Look for this "as good as it tastes" new product at gourmet grocery, special retail, bookstores, coffee shops, convenience and grocery stores or online at www.revolutiontea.com. Cheers!
---
HAAGEN-DAZS MAKES THE IMPOSSIBLE POSSIBLE
New Light Ice Cream is 100% Haagen Dazs, 50% Less Fat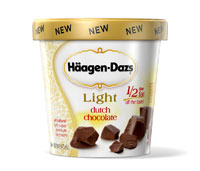 It's a light ice cream with half the fat, and it tastes as good as the original. The company has finally granted a wish that has been expressed to them for years by consumers; they created a great tasting light version of their famous Haagen-Dazs ice cream.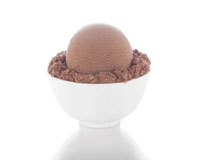 The new product comes in Vanilla Bean, Dutch Chocolate, Coffee, Dulce de Leche, Mint Chip, S'Mores, and Cherry Fudge Truffle. Available nationwide in June 2005; Available now in select markets. For information visit www.haagen-dazs.com.
---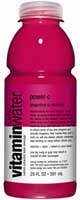 FIGHT THE FLU WITH A COLORFUL THIRST QUENCHER

Need a change? glacéau vitaminwater is enhanced water that is all natural, low-calorie and packed with nutrients. it provides more vitamins, more electrolytes and more taste than plain water and other beverage alternatives.
| | |
| --- | --- |
| power-c dragonfruit | vitamin c + taurine; provides more strength |
| defense apple-raspberry | c vitamins + zinc; provides more immunity |
| focus kiwi-strawberry | vitamin a + ginkgo biloba and gotu kola; provides more clarity |
| balance cran-grapefruit | vitamin c + yerba mate and ginkgo biloba; provides more flexibility |
| essential orange-orange | essential vitamins and minerals from a to zinc; essential nutrients |
| vital-t lemon tea | vitaminc + e (antioxidants); more vitality |
| endurance peach | vitamin e + astragalus and ginseng; provides more sustained energy |
| energy tropical citrus | vitamin c + ginseng and guarana; provides more immediate energy |
| stress b lemon-lime | 100% ofvitamins b3, b5, b6 and b12; provides more relaxation |
| rescue green tea | b complex vitamins + chamomile, hibiscus and rosehips; tranquility |
| multi-v lemonade | vitamins a, c and e + calcium; provides more calcium |
| revive fruit punch | b + potassium, gotu kola and ginseng; provides more recovery |