OUR DAILY BREAD MOVES UPTOWN
Original Bread Shop Opens on New De la Vina Restaurant Row
By Bonnie Carroll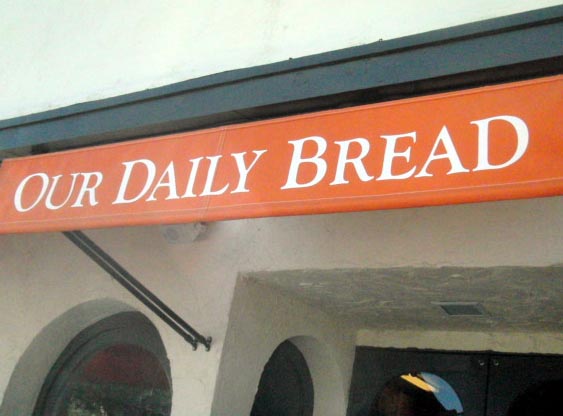 Thirty-one years ago Laurie Zalk and Ze'ev Zalk became partners in what turned into one of the most popular meeting places for local Santa Barbara residents. The small venue always smelled of the delicious fresh breads Ze'ev was baking, and became a favorite place for a quick business lunch, as well as a breakfast and coffee haunt for Farmer's Market shoppers each Saturday morning.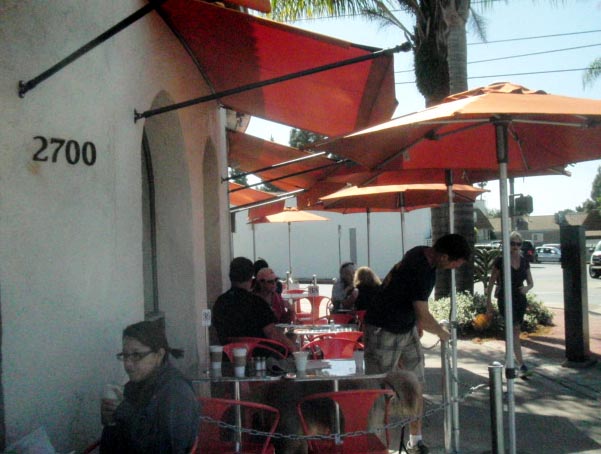 Ze'ev was born in Israel, and wanted to bake fine breads, Laurie was a jack of all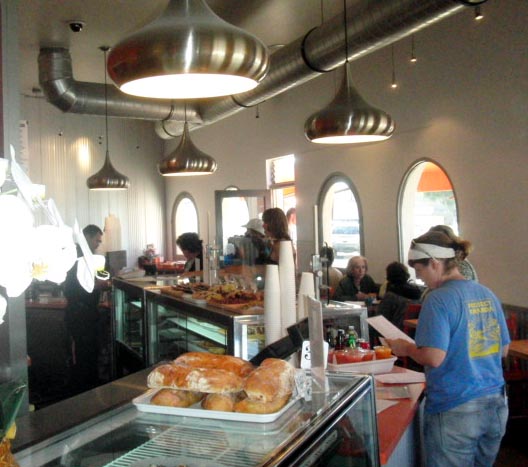 trades who managed to successfully keep all the business balls in the air, and although they loved their old location on Santa Barbara Street, around the corner from Sojourner Café, they needed room to expand and decided to join so many other restaurateurs who were opening venues on upper De la Vina Street. Their bright orange umbrella's and chairs adorn the corner where Mimosa once served French specialties, and Laurie says their old customers have followed them, but they are very pleased with the many new customers they have gained from the surrounding neighborhood.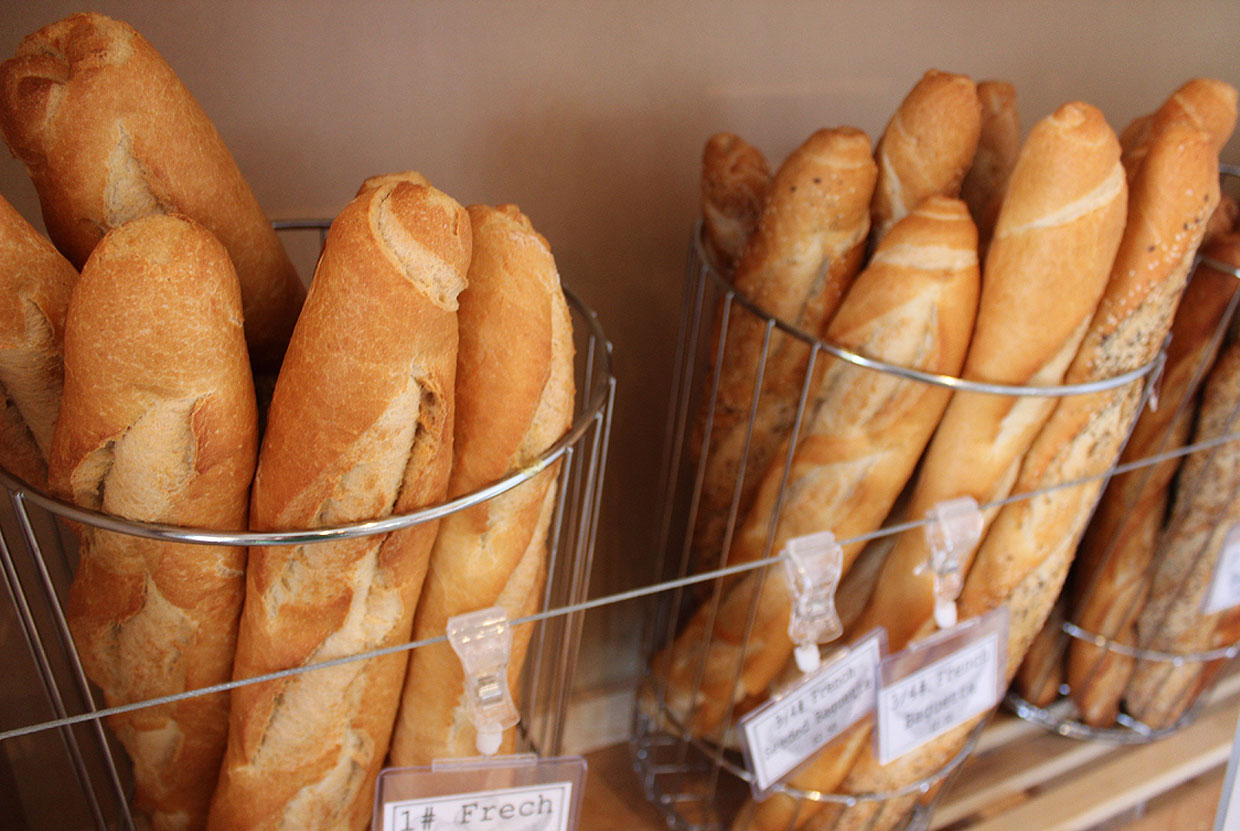 The scent of fresh baked breads, including gluten free breads and desserts, is still the first thing you are aware of when you enter Our Daily Bread, and the sparkling food cases feature the fine assortment of cakes, rolls and dessert items they offer. The menu has been lovingly created with good health being paramount, and features vegan and gluten free selections that are so delicious and beautifully presented.
Breakfast includes waffles, French toast, lemon-blueberry hotcakes, egg burritos, omelets and more; all served with bread, butter and jam. The also offer a beautiful smoked salmon or vegetarian Benedict that can be savored with a bloody Mary, Margarita or peach bellini. Fruit smoothies, pastries and rich coffee all make for a 'good morning' at the indoor-outdoor café.
At lunch time the place is packed, with outside tables full and people milling around waiting for to go items. If you have a preference for Panini's made with either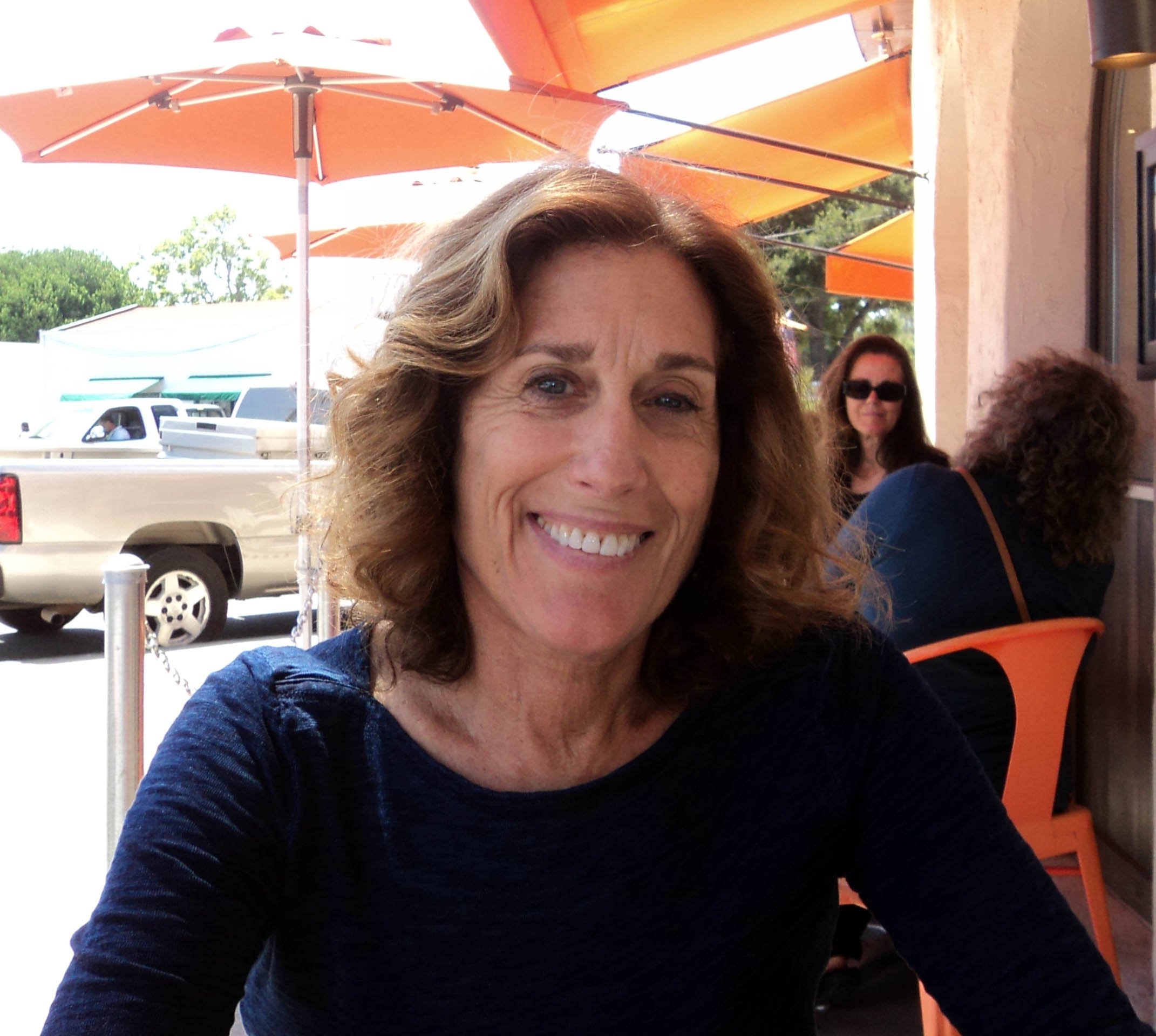 focaccia, ciabatta, multi-grain or sourdough you're in luck. Pastrami or turkey pastrami on rye with house slaw is also very popular with the lunch crowd, and the grilled fish tacos with cilantro aioli, pico de gallo, cabbage, lettuce and cheese will keep you coming back for more. Salads are also very special at ODB, featuring the freshest produce with delicious home-made dressing and large portions. I found the marinated kale with fresh lemon juice, olive oil, roasted hazelnuts and aged jack cheese to be the best I've had yet. According to Laurie "kale must be marinated properly or it is just too tough to enjoy eating, and we have perfected a method for this," she said.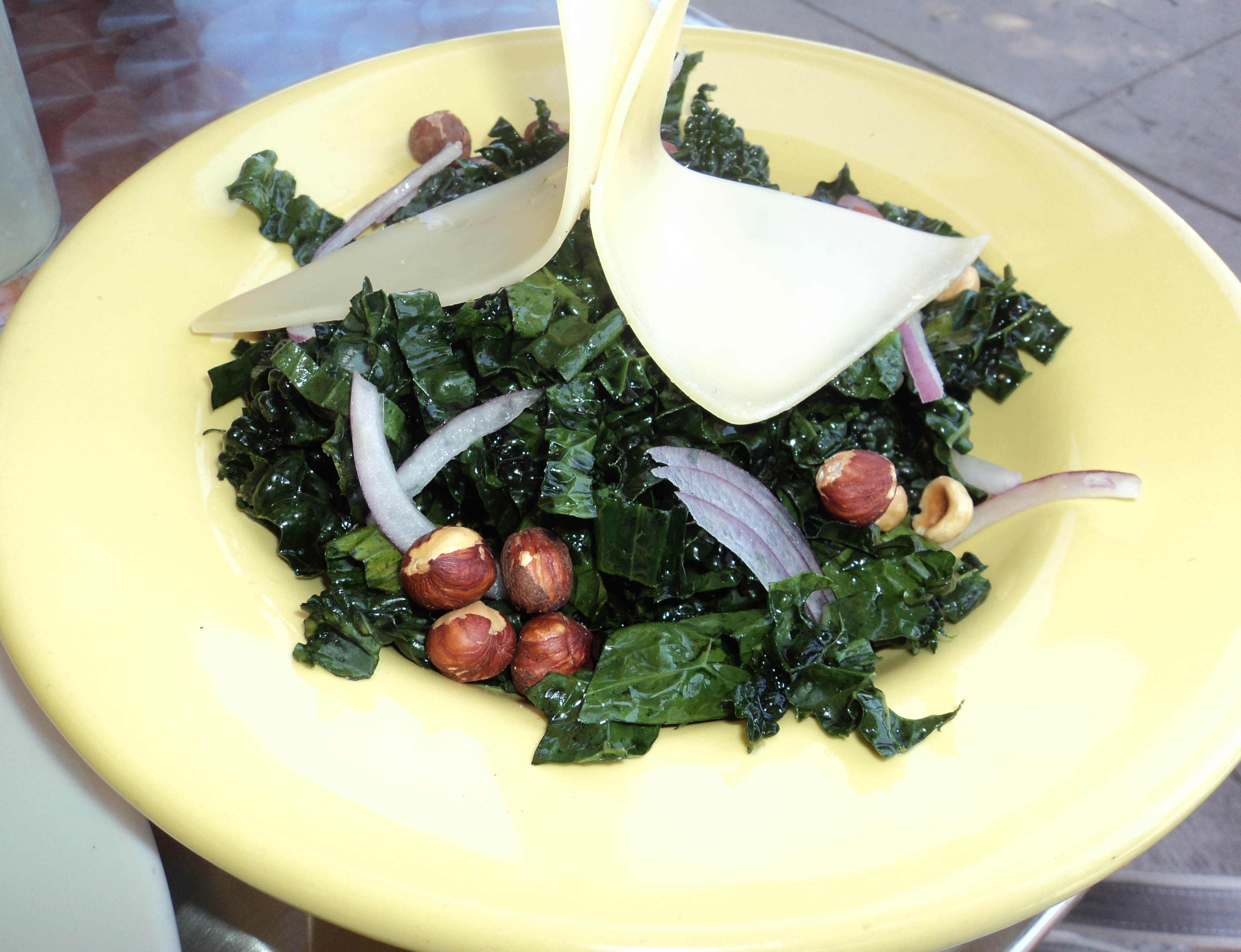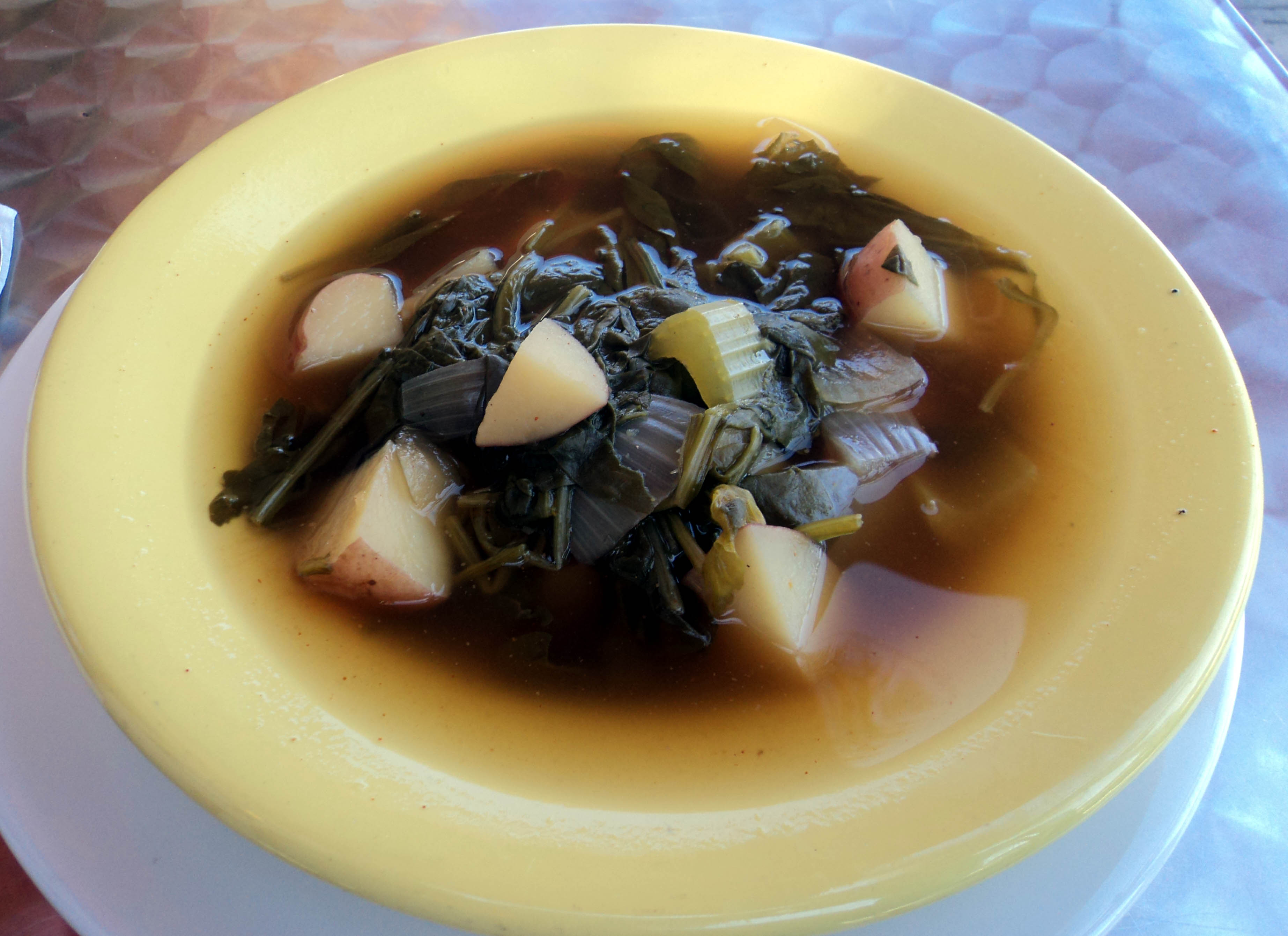 Soups are also pure and delicious. The spinach and potato soup has large chunks of potato blended with the spinach and onions and served with fresh bread. Burgers include quinoa, veggie and turkey with all the trimmings. They also do a tri tip torta with grilled onion, pico de gallo and provolone that is sensational.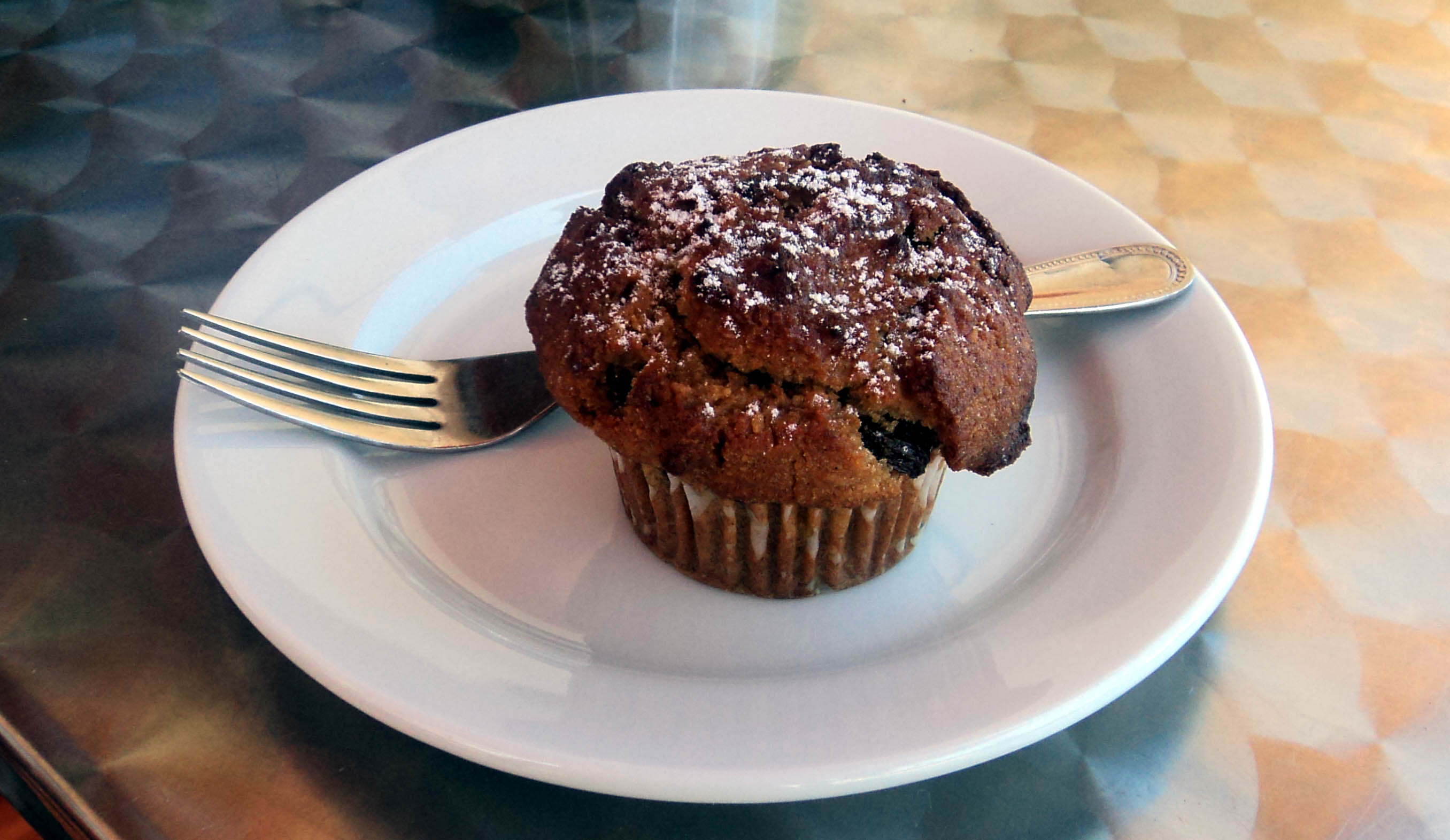 It is a bakery, so desserts are endless, and are also available in gluten free options. The marzipan cake is so light and is made with almond flour, and the carrot cupcake is filled with fresh raisins and carrot and is moist in the middle and crunchy on the outside. delicious!
If you just want small bites try one of many small plate salads or the cheese platter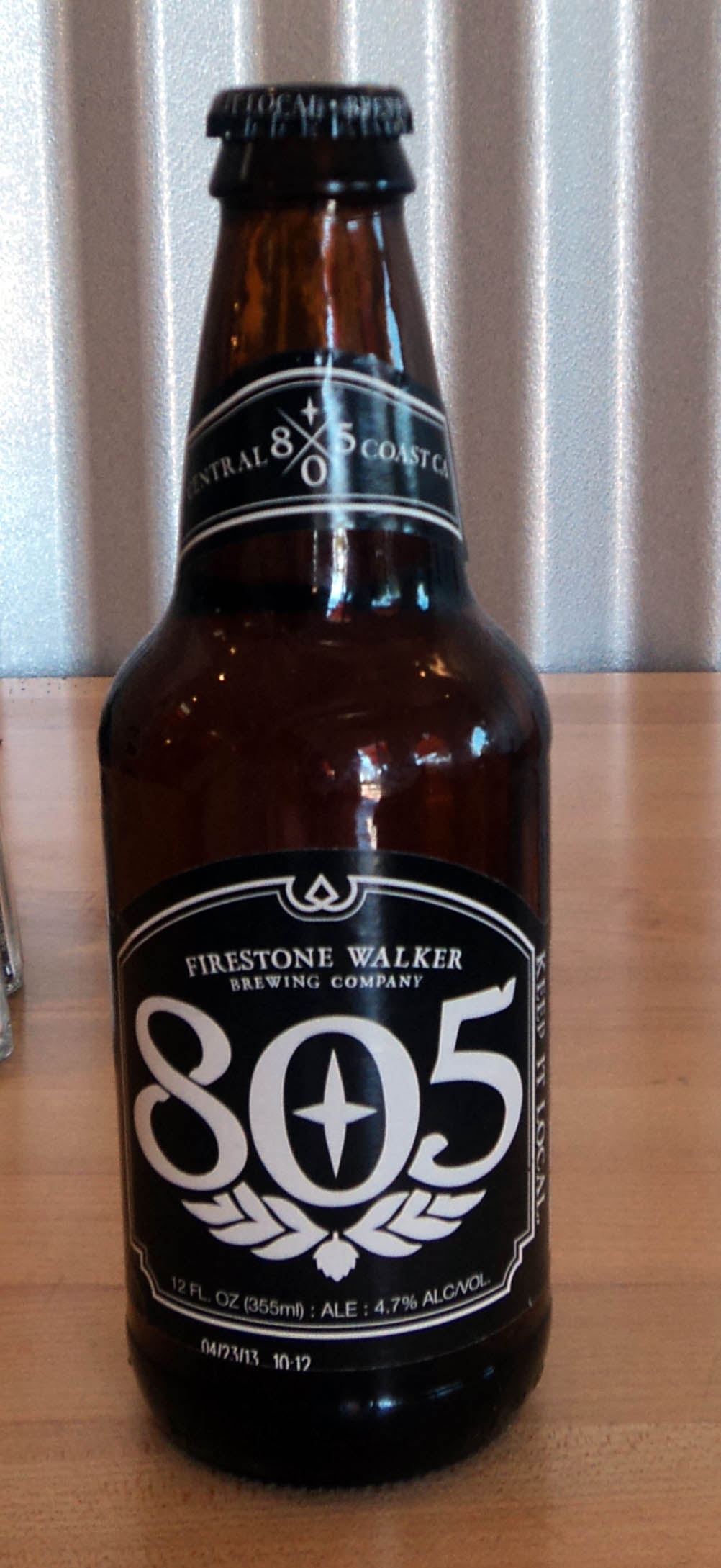 with 3 cheeses, dried apricots, dried cranberries, candied pecans and assorted breads. This pairs nicely with glass of wine from one of our local wineries or a cold beer by Stella Artois, 805 or Total Domination.
ODB supports "Share Our Strength" a national nonprofit working to end childhood hunger in America by connecting children with the nutritious food they need to lead healthy, active lives. Through its 'No Kid Hungry' campaign "Share Our Strength" ensures children in need are enrolled in effective federal nutrition programs; invests in community organizations fighting hunger; teaches families how to cook healthy affordable meals; and builds public private partnerships to end childhood hunger at the state and city level.
Our Daily Bread
2700 De la Vina Street
Santa Barbara, CA 93105
805-966-3894
           Hours: M-F 11:00-3:00    Sat: 11:00 – 3:00, Sun: 11:00-2:00
___________________________________________________________________
Dear EarthTalk: Might another possible source for ethanol be discarded pastries from bakeries? For that matter, wouldn't fermenting unsold bananas, oranges and apples from grocery store produce departments be able to provide an ample supply of fuel?    -- Curious in Warren, PA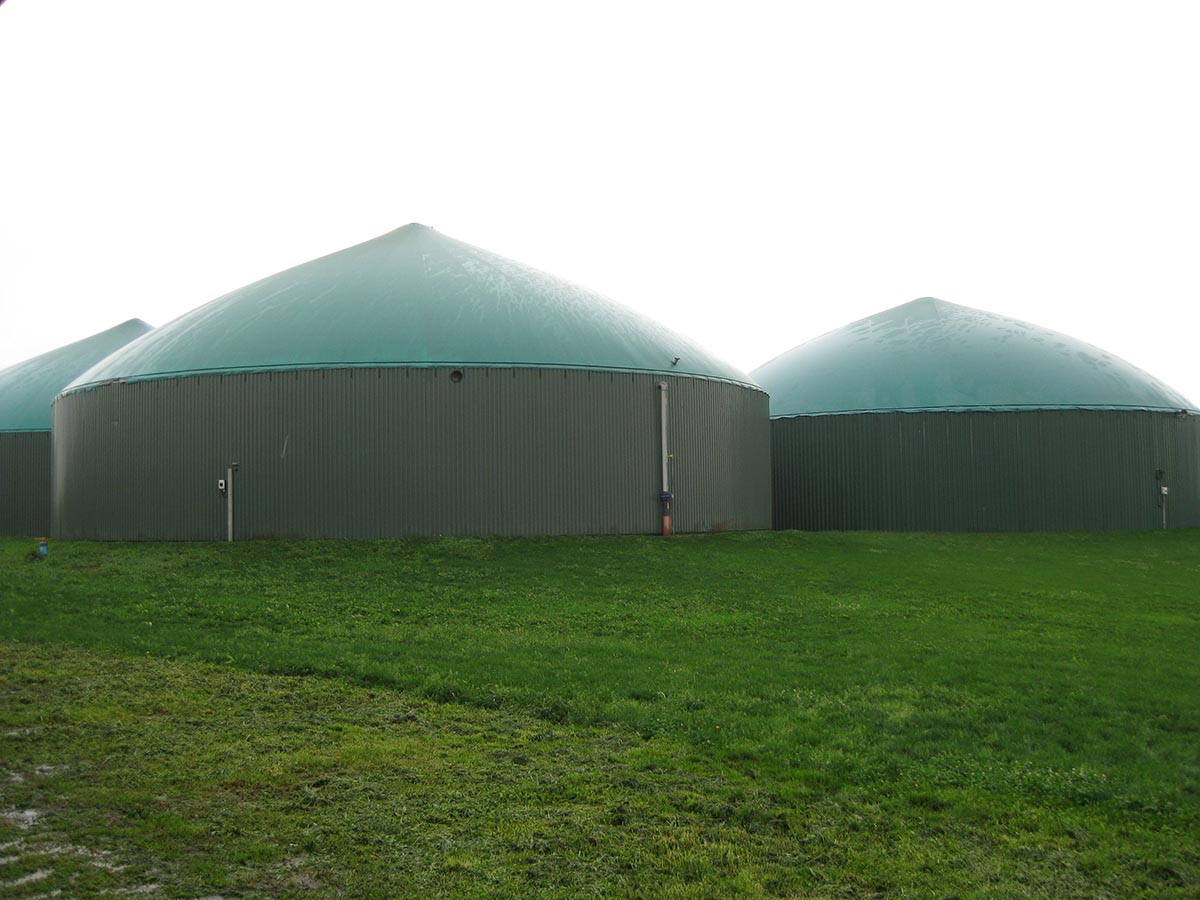 Food waste is indeed an untapped resource with great potential for generating energy. Some one third of all food produced around the world gets discarded uneaten, and environmentalists, energy analysts and entrepreneurs are beginning to take notice. Diverting even just a portion of this waste to so-called waste-to-energy (WTE) systems could free up large amounts of landfill space while powering our vehicles and heating our homes, and thus putting a significant dent in our collective carbon footprint. Perhaps that's why WTE is one of the fastest growing segments of the world's quickly diversifying energy sector.
Currently there are some 800 industrial-scale WTE plants in more than three dozen countries around the world, and likely thousands of smaller systems at individual sites. Most employ anaerobic digesters, which make use of microorganisms to break down and convert organic waste into a fuel such as biogas, biodiesel or ethanol. With some 70 percent of food waste around the world still going into landfills, there is a lot of potential feedstock to keep this environmentally friendly carbon neutral fuel source coming.
"Waste-to-energy doesn't involve drilling, fracking, or mining, and it doesn't rely on scarce and politically-charged resources like oil," reports RWL Water Group, an international company that installs water, wastewater and waste-to-energy systems. The waste from small slaughterhouses, breweries, dairy farms and coffee shops can power hundreds of typical homes each day if the infrastructure is in place to sort, collect and process the flow of organic material.
Navigant Research, which produced the 2012 report "Waste-to-Energy Technology Markets, which analyzes the global market opportunity for WTE, expects waste-to-energy to grow from its current market size of $6.2 billion to $29.2 billion by 2022. "With many countries facing dramatic population growth, rapid urbanization, rising levels of affluence, and resource scarcity, waste-to-energy is re-establishing itself as an attractive technology option to promote low carbon growth in the crowded renewable energy landscape," says Navigant's Mackinnon Lawrence. "China is already in the midst of scaling up capacity, and growth there is expected to shift the center of the WTE universe away from Europe to Asia Pacific."
The question is whether governments and individuals will make the effort to support diversion of waste into yet another separate stream. In areas where such systems are working, individuals are incentivized to separate out their organic and food waste because it saves them money on their trash pick-up bills. And bakeries, restaurants, farms, grocers and other big producers of organic or food waste provide an endless source of feedstock for WTE systems as well.
"We're barely scratching the surface of this potential—dumping over 70 percent of the world's food waste into landfills, rather than harnessing it for fuel and electricity," reports RWL. "Over the next 25 years, global energy demand will grow by 50 percent, while global oil supply dwindles at a rapid pace. Waste-to-energy is an obvious solution to meet the world's burgeoning energy demand."
CONTACTS: RWL Water Group, www.rwlwater.com; Navigant Research, www.navigantresearch.com. www.emagazine.com.
__________________________________________________________________                             
GLACEAU NEW FRUITWATER WILL SHINE AT EMMY'S
Fruitwater adds a little Sparkle at Governors Ball 2013
By Bonnie Carroll
The healthy drink of choice for presenters & winners at the Emmy Awards Governors Ball this year may be a new sparkler by Glaceau.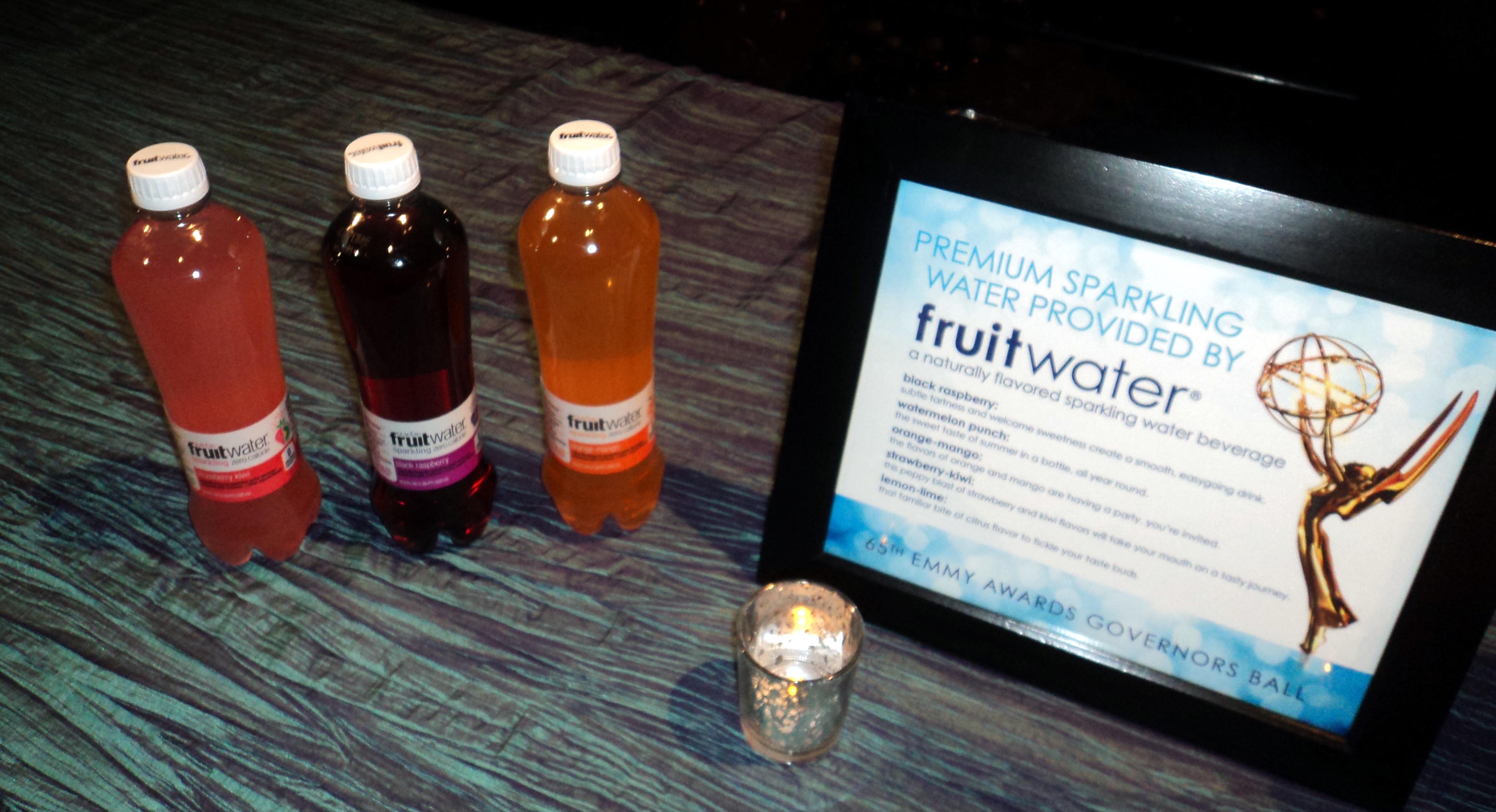 Flavor choices include black raspberry, orange mango, strawberry kiwi, lemon-lime and watermelon punch. The sleek new bottle design has not been seen in the U.S until now. Fruitwater is sweetened with sucralose, and is a good source of vitamins b5 and b6, zinc and magnesium and contains no juice – but it does contain buggles. It is available in most retail stories nationally. For additional information visit www.fruitwater.com.
_________________________________________________________________
SATISFY YOUR SWEET TOOTH WITH CRISPY GREEN
by Bonnie Carroll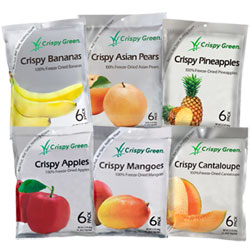 One of the easiest ways to keep your sweet tooth under control and avoid processed sugar, additives and unwanted calories is by selecting products that can deliver for you. Over the years my family has found the convenience, health aspects and great taste of Crispy Fruit to be key. These handy treats offers real fruit slice tastes, fiber and nutrients, and are only 55 calories per bag.
The light chip-like treats come in a bevy of wonderful flavors, one to please every member in your family happy, and they are loaded with fresh fruit, 10-15 pounds of fresh fruit are needed to produce one pound of freeze-dried fruit. They travel well, are compact and great for lunches, trips to the gym, or a handy snack to keep in the car for business or fun family trips; they appeal to all ages. Flavors include crispy pear, apple, mango, banana, cantaloupe, tangerine (new), and pineapple. For information or a store near you visit:CrispyGreen.con.
 __________________________________________________________________              
HARRY & DAVID TEAMS UP WITH NOREEN FRASER FOUNDATION ON BREAST CANCER AWARENESS MONTH FOR THE FOURTH CONSECUTIVE YEAR
Harry & David Introduces Latest Pink Pear Collection, Charitable Gifts to Support Breast Cancer Research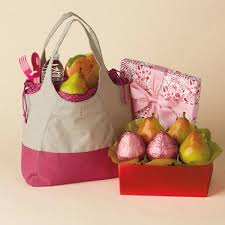 Harry & David announces today the 2013 Pink Pear Collection that will be available this October in honor of Breast Cancer Awareness Month. For the fourth consecutive year, Harry & David has partnered with the Noreen Fraser Foundation, a non-profit organization that focuses on advancing research, prevention and treatment of women¹s cancers, to raise awareness and support in the fight against women¹s cancers. A portion of the proceeds from the Pink Pear Collection will go to the Noreen Fraser Foundation.
Harry & David¹s Pink Pear Collection is made up of four charitable gourmet gifts, each with a pink twist. The collection includes Pink Truffles, Pink Moose Munch® Popcorn, the Pink Pear Gift Box and the Pink Pear Gift Basket. Harry & David will donate 25 percent of the proceeds of all online and in-store sales of Pink Pear products during the month of October to the Noreen Fraser Foundation.
Pink Truffles are a decadent and delightful treat made in Harry & David¹s candy kitchen with a signature blend of chocolate. The truffles are a thoughtful gift for a worthy cause, available in-store and online for $19.95.
Pink Moose Munch® Popcorn is created as a limited edition Moose Munch® Popcorn, produced in Harry & David¹s candy kitchen with cherries, vanilla, almonds and cashews, available in-store only for $12.95. 
 Pink Pear Gift Box is a gift that continues to give long after the box has arrived. It features Harry & David¹s famous Royal Riviera® Pears, including two wrapped in pink foil, in a beautifully wrapped gift box, available in-store and online for $19.95.
Pink Pear Gift Basket is a wooden crate filled with juicy Royal Riviera® Pears, strawberry truffles, strawberry yogurt covered pretzels and chocolate strawberries. It¹s as scrumptious as it is thoughtful - available online for $39.95
³We are delighted to continue our partnership with Harry & David during Breast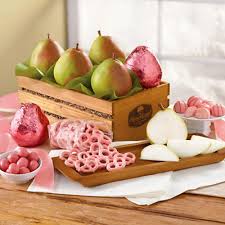 Cancer Awareness Month,² said Noreen Fraser, founder and CEO of the Noreen Fraser Foundation. ³Harry & David¹s gifts exude such quality and are a genuine joy to receive. We are thankful for their dedication to supporting breast cancer research by creating specialty products for this important cause.²
 ³Harry & David is pleased to continue our longstanding partnership with the Noreen Fraser Foundation by contributing to this noteworthy cause for a fourth consecutive year,² said Craig Johnson, CEO of Harry & David. ³We are grateful for the opportunity to raise awareness, knowing that a gift from our Pink Pear Collection plays a vital role in helping others.²
 For the latest deals and specials from Harry & David, join our Facebook fan page, Facebook.com/HarryandDavid.
 Harry & David¹s Pink Pear Collection will be available for preorder beginning September 1, 2013, and will be on sale for the entire month of October at HarryandDavid.com as well as Harry& David stores while supplies last. __________________________________________________________________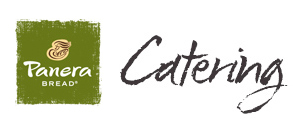 Panera Bread will donate $1 to their local food bank for every guest who registers for the MyPanera® loyalty program from September 1 through September 30, 2013, up to $15,000. Select bakery-cafes will "Go Orange," the designated color of Hunger Action Month, on September 5 to raise awareness about hunger locally.
---