NUTZ 4 SOUP
New Presentation for an Old Favorite
by Bonnie Carroll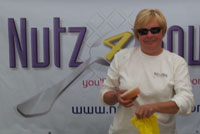 The hottest and healthiest trend in Los Angeles is a new online company called Nuts4Soup that has a soup of the month club, and offers the most delicious home-made soup you've tasted since your grandmother died. Not only is this soup delicious, it is nutritionally off the charts. Soups include Buddah's Lentel, a trip to the middle-east flavor; Kaui Karrot, made carrots, coconut, ginger and pineapple give it a taste of the south seas; Champagne Broccoli, 13 quarts of broccoli and a bottle of champagne in 16 quarts of soup that can be served with shredded low-fat cheddar cheese; wild mushroom artichoke, four types of mushroom with artichoke hearts, black olives and carrots that can also be used in risotto or as liquid for mashed potatoes.

I found these soup aficionados at the Beverly Hills Farmer's Market, where they give-a-way samples to locals and enjoy servicing their satisfied customers who come by to pick up their weekly supply of the original recipes. The talented soup chefs love creating healthy food products, and it shows by the response they get each Sunday. The many varieties of this wonderful soup, and the frozen foods, which include thirteen hour spaghetti sauce, caponata, and sun dried tomato pesto sauce, are the really the rage in Los Angeles, and can be ordered online at WWW.NUTZ4SOUP.COM or by calling 888-700-soup. Nutz4Soup ships to 50 States, and don't forget to check out their soup of the month club membership plan.

---
CURVES FOR WOMEN
A Comfortable Option for Women Around the World
by Bonnie Carroll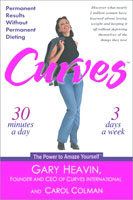 The workable theme of the Curves exercise plan is that time is not wasted on cardiovascular exercise prior to using the resistance machines. Between repetitions on the machines, there is a short cardio session. This workout system for really busy people with little or no time to go to a gym will help them get into shape. For women who are dieting, and have limited time for exercise or feel uncomfortable visiting a conventional health club, Curves is the perfect option.
The first Curves opened in Texas in 1992, and the women-only fitness centers have been opening in strip malls and neighborhood shopping centers around the globe. Gary Heavin, the founder of Curves, has been helping women lose weight for three decades. His theory regarding weight loss is not permanent dieting, but a simple 30-minute workout done three times a week. The goal of the 30-minute workout is to build muscle, since more muscle means more calories burned. Dieters spend 30 seconds on each machine, working abs, legs and arms; walking or jogging in place between machine stops. The circuit is repeated as many times as the dieter is able during the 30 minute period. The eating plan offers two options: either a low-carbohydrate or low-calorie regimen. Supplements are encouraged, including multivitamin, antioxidants and essential fatty acids.
The Curves diet plans are low-carb or calorie limited, and the initial two week phase is restrictive. Phase two allows 1,600 calories or 40 to 60 grams of carbs, and the third phase allows 2,500 to 3,000 calories during the maintenance phase. Eating out on this diet is fine, as long as you plan ahead and strategize to keep portions under control. Alcohol has too many calories, and is not recommended during phase one of the diet. This phase allows one or two drinks a week, and phase three permits a glass of wine or beer daily. There are no restrictions on caffeine, and the vegetarian needs to focus on a low-calorie plan, rather than the basic carb-sensitive plan that is generally implemented. Phase one of the diet takes 1 to 2 weeks; phase 2 lasts until you reach your target weight, and phase 3 as needed for maintenance.
For dieters who don't want to visit centers, the book 'Curves: Permanent Results Without Permanent Dieting' offers a similar at-home fitness regimen without machines. Authors Carol Colman and Gary Heavin have published this hardcover book, offering the 30-minutes-a-day, three-times-a-week approach to weight loss, based on improving muscle mass and pumping up metabolism, in order to lose those unwanted pounds. Other Curves tools include an eating guide, a quick survey to guage metabolism, and a variety of supplements. The book Curves is available in bookstores everywhere. For information go to the Curves International Home Page.
The Curves franchise in LA at Beverlywood is my favorite place to workout. This is a welcoming and fun venue, where women set goals to lose weight, increase their strength and take off inches. Curves is for women, and gives them the power to feel good about themselves. I have talked with many women who work this plan successfully, and I have seen the visible improvement in friends who made a decision to change their appearance with the Curves program. I feel very comfortable recommending the program to other women, especially those who are looking for a common sense weight loss program to follow, in a comfortable venue where time flies. For information go to info@CurvesLA.co
---
FILLED WITH LIGHT
®evolution Tea's New All Natural Bottled White-T ™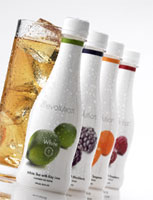 The highly stylized and attractive new product is calorie free, sugar free, preservative free, and read to drink. Made from premium white tea, which provides three times as many antioxidants as green tea. ®evolution White-T ™ contains purified water, select white tea, natural caramel color, citric acid and natural flavors of key line, blackberry, tangerine or raspberry. The White-T ™ is best served chilled or over ice, and should be refrigerated after opening. The product contains 0% calories, 0% fat, 0% Sodium Omg, 0% total carbs and no sugar or sweeteners. Look for this "as good as it tastes" new product at gourmet grocery, special retail, bookstores, coffee shops, convenience and grocery stores or online at www.revolutiontea.com. Cheers!
---
HAAGEN-DAZS MAKES THE IMPOSSIBLE POSSIBLE
New Light Ice Cream is 100% Haagen Dazs, 50% Less Fat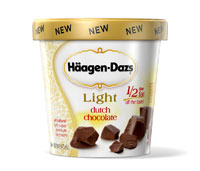 It's a light ice cream with half the fat, and it tastes as good as the original. The company has finally granted a wish that has been expressed to them for years by consumers; they created a great tasting light version of their famous Haagen-Dazs ice cream.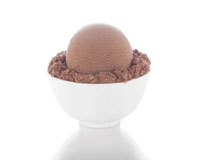 The new product comes in Vanilla Bean, Dutch Chocolate, Coffee, Dulce de Leche, Mint Chip, S'Mores, and Cherry Fudge Truffle. Available nationwide in June 2005; Available now in select markets. For information visit www.haagen-dazs.com.
---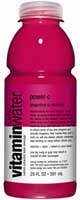 FIGHT THE FLU WITH A COLORFUL THIRST QUENCHER

Need a change? glacéau vitaminwater is enhanced water that is all natural, low-calorie and packed with nutrients. it provides more vitamins, more electrolytes and more taste than plain water and other beverage alternatives.
| | |
| --- | --- |
| power-c dragonfruit | vitamin c + taurine; provides more strength |
| defense apple-raspberry | c vitamins + zinc; provides more immunity |
| focus kiwi-strawberry | vitamin a + ginkgo biloba and gotu kola; provides more clarity |
| balance cran-grapefruit | vitamin c + yerba mate and ginkgo biloba; provides more flexibility |
| essential orange-orange | essential vitamins and minerals from a to zinc; essential nutrients |
| vital-t lemon tea | vitaminc + e (antioxidants); more vitality |
| endurance peach | vitamin e + astragalus and ginseng; provides more sustained energy |
| energy tropical citrus | vitamin c + ginseng and guarana; provides more immediate energy |
| stress b lemon-lime | 100% ofvitamins b3, b5, b6 and b12; provides more relaxation |
| rescue green tea | b complex vitamins + chamomile, hibiscus and rosehips; tranquility |
| multi-v lemonade | vitamins a, c and e + calcium; provides more calcium |
| revive fruit punch | b + potassium, gotu kola and ginseng; provides more recovery |