HEALTH MINDED  .  .  .
FOLLOWING 'SISI' ON THE VIKING NJORD
Royal Wisdom on Water Therapy

by Bonnie Carroll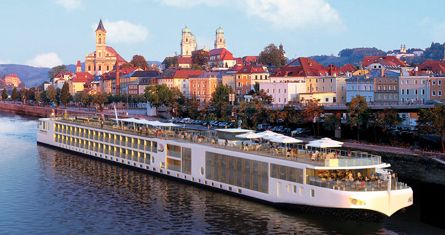 My journey up the Danube departed from Nuremberg following a charming German Mass in The Church of Our Lady and some delicious pastries in the city center. The Viking Njord's itinerary included stops in Regensburg, Melk, Passau, Munich, Vienna and Budapest, cities that all played a part in the life of Empress Elizabeth of Austria, Queen of Hungary. It was fascinating to know I was traveling a route European royalty had traveled for centuries to enjoy the healing powers of the Danube.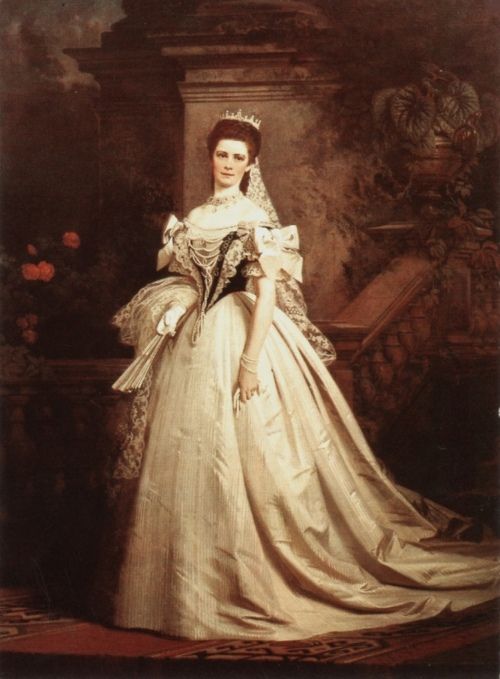 Elizabeth Empress of Austria, Queen of Hungary
"Sisi" Elizabeth of Bavaria, born Princess of Bavaria on December 24, 1837, was a cousin of future King Louis II. She was born in Munich and lived a carefree and happy adolescence at Possenhofen Castle on Lake Starnberg until she traveled up the Danube to become the wife of Emperor Franz Joseph I, and Empress of Austria at sixteen years of age. Elizabeth was also named Queen of Hungary for her devotion to their people, as well as the Queen consort of Croatia and Bohemia. Her way of dealing with an oppressive and controlling mother-in-law, Princess Sophie, who actually took her children from her immediately following their birth, was to distance herself from the unpleasant intrigues in the Hapsburg court in Vienna by traveling, and she seemed to fully understand the healing powers of water travel. She loved languages and learned Hungarian, Greek, Italian. During her journeys she developed a deep kinship with Hungary, and ultimately helped to bring about the dual monarchy of Austria-Hungary in 1867.
Godollo Palace
One of her favorite destinations, along with Madiera, Venice, and Corfu, was Budapest where she experienced a more relaxing lifestyle at Godollo, a palace gifted to Franz Joseph I and Elizabeth by the grateful Hungarian people. The Godollo Palace, located thirty minutes from the Budapest city center, is currently a very popular museum and event venue that showcases the life of "Sisi" and her family.
Regensburg means rain in German, and is a wonderful walking city with interesting Roman ruins and a rich history. The city center is filled with fine gift shops, including the Andreas Nuslan hat shop that designed hats worn by actor Johnny Depp as the Mad Hatter in the Disney film Alice in Wonderland, as well as stylish Bavarian hats for ladies and gentlemen. The historic Regensburg Cathredral is a popular destination, and the Wurst Kitchen "Wurstkuche" by the river's edge is a renowned foodie spot for fantastic sausages.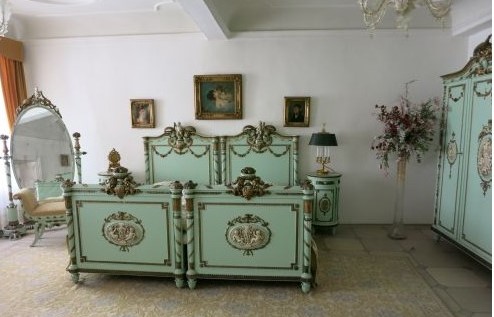 "Sisi" Room in Passau
In Passau the room Empress "Sisi" stayed in on three occasions, including on her trip to Vienna to marry Emperor Franz Joseph I, can be viewed at the Hotel Wilder Mann, and the delicate style of this room might indicate the nature of the lovely young woman who went on to save Hungary. In the exquisite Abbey of Melk, founded in 1089, the grandeur of the lifestyle in earlier times was emphasized by stories of traveling entourages of the royals, including 'Sisi" who often brought 200 or 400 people with carriages and horses to the Melk Abbey to be hosted by the Benedictine monks.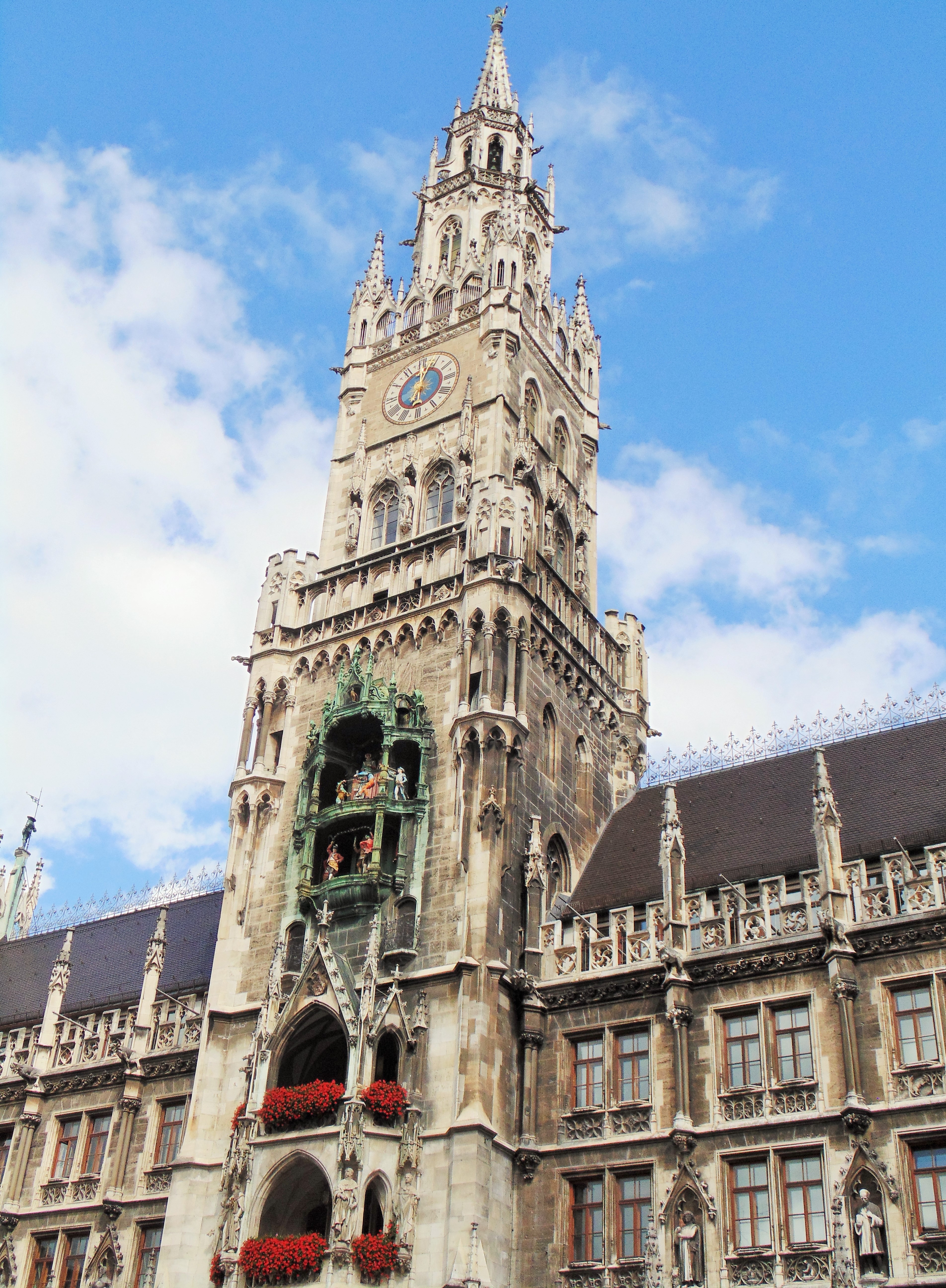 Rathaus-Glockenspiel                                          Melk Abbey
An unexpected detour due to low water levels on the Danube provided a surprise visit to Munich, the area where "Sisi" was born. En route to the city we visited the amazing BMW Welt Showroom, and it was fun to test some of the beautiful new autos. Much to my delight while touring Munich I had a chance meeting with the top chef in Munich Alfons Schuhbeck, owner of gourmet restaurant Südtiroler Stuben. Our tour introduced us to the Rathaus-Glockenspiel founded in 1902, where every day at 11 a.m. (as well as 12 p.m. and 5 p.m. in summer) in the City Hall it chimes and giant characters re-enact two stories from the 16th century to the amusement of mass crowds of tourists and locals. We also enjoyed an authentic Bavarian style lunch at the historic Ratskeller Restaurant. That night the Bavarian fun continued on the Viking Njord with dinner, music and dancing. The staff coordination of menu and activities with cities visited offers cruise passengers a unique introduction to food, customs and information while proving a great source of fun for everyone, including the crew.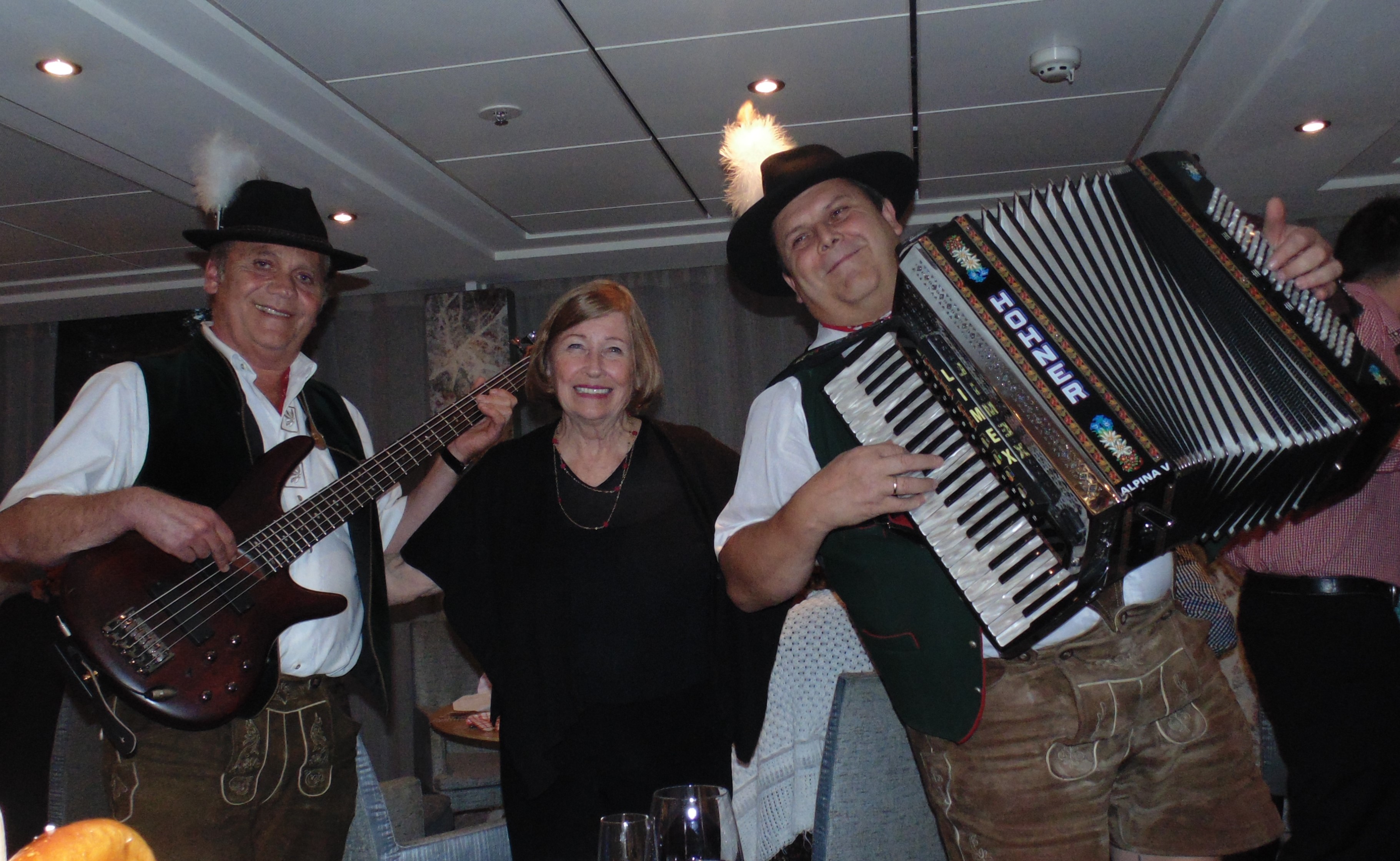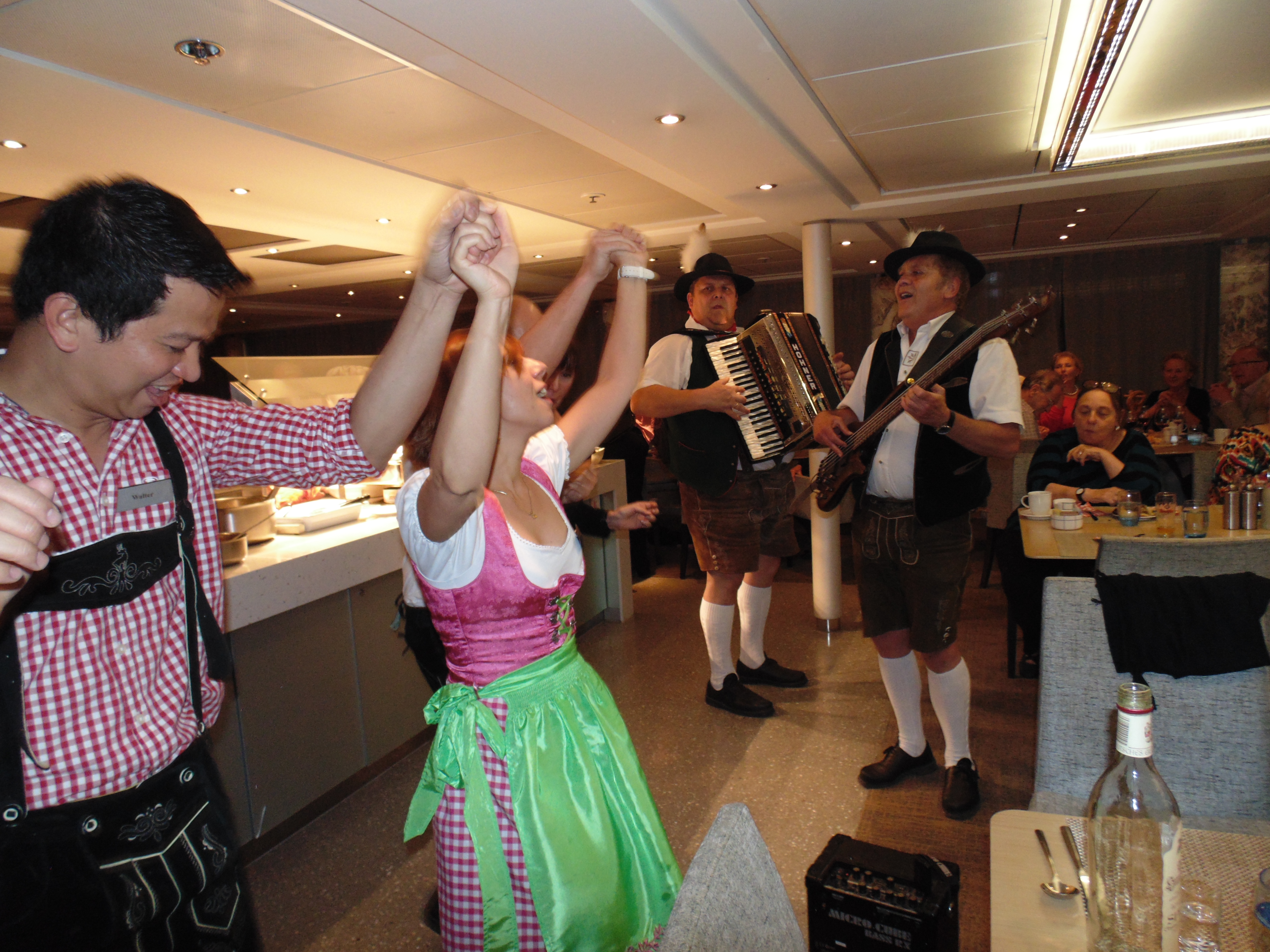 Following arrival in Vienna we took a morning tour through the city that was outstanding. During my own eight hour run through all the places I love in Wien I had an opportunity to visit the Sisi Museum to see the personal belonging of the Empress, interview the descendents of the Viennese royal perfume makers at J.B. Filz, relax in the garden of the Hofburg, and then savor an amazing Viennese lunch in the elegant Hotel Sacher Rote Restaurant, complete with Tafelspitz and Sacher Torte. Following a tour of the Imperial Hotel, my 'auf wiedersehen' Vienna dinner was savored in the elegant Opus Restaurant, where Chef Rubert Schnait prepared one of his award winning five-star dinners, which was a memorable tribute to his culinary perfection.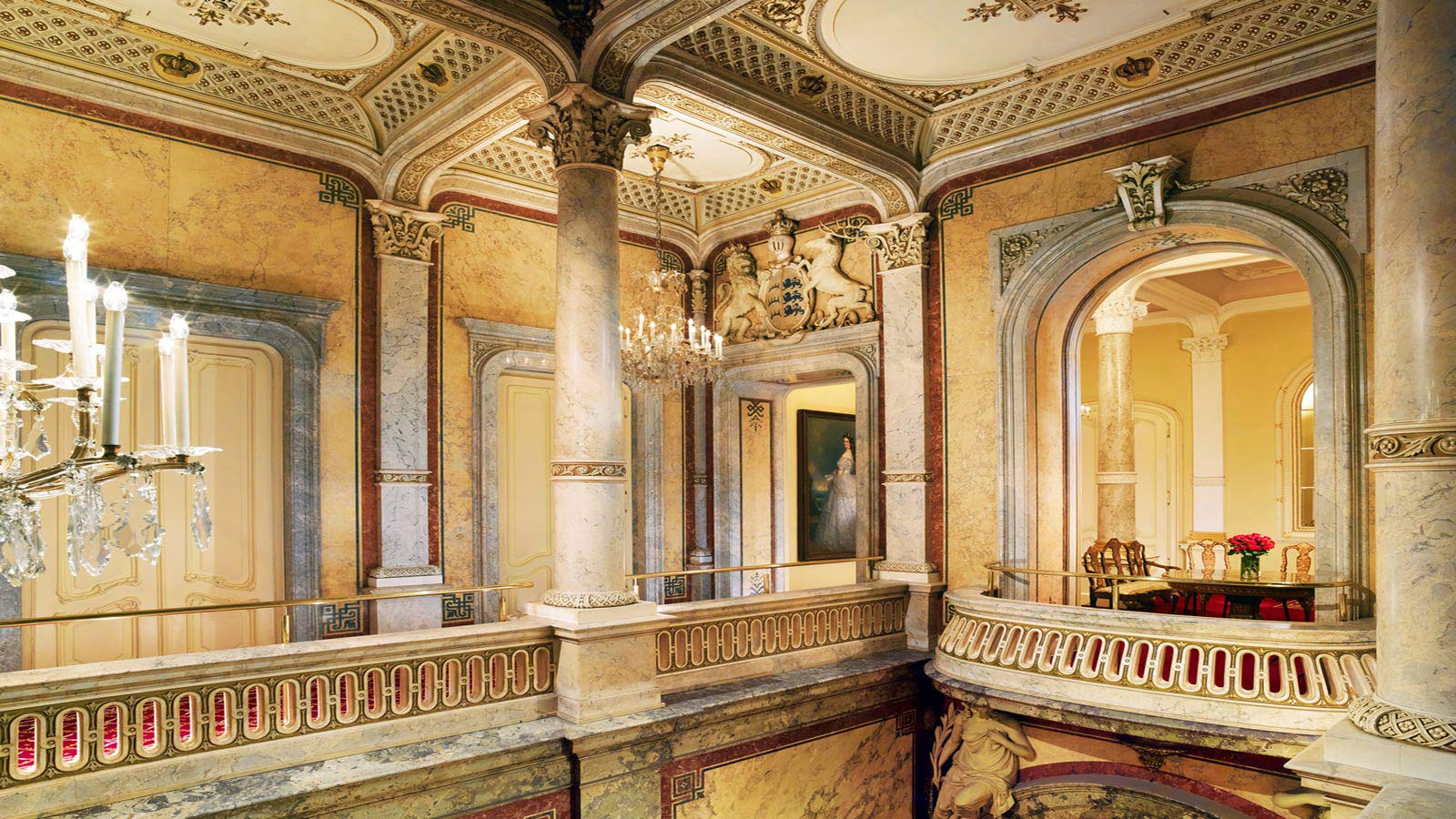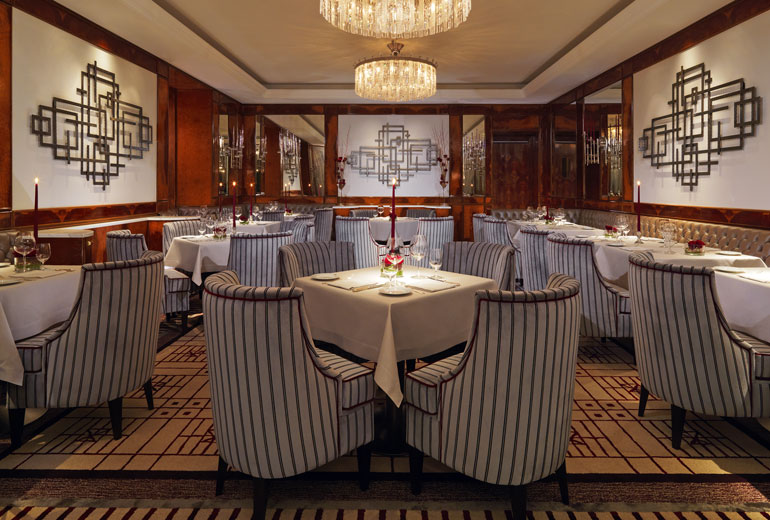 Hotel Imperial Vienna                                                                OPUS Restaurant
My last visit to Hotel Imperial in Vienna was forty years ago, when the Russian army had just left, and the city was dark and sad. It was so exciting on this trip to see the beautiful colors of the tiles on the rooftop of St. Stephen's Cathedral, the perfect condition of the Hofburg and its grounds, and the restoration that had been done in the two most beautiful and beloved hotels in Wien. Strange as this sounds, my day in Vienna just happened to be the anniversary of the death of Elizabeth Empress of Austria, Queen of Hungary. She was murdered by a lunatic while vacationing in Geneva, Switzerland when she was sixty years old. Sadly, she did not make the trip home to Vienna on the Danube, but in a special train car carrying her body through Hungary and Austria, and it was reported people could be seen sobbing at every station when the train was passing through. Written recollections of her funeral procession made it obvious she was as loved by her people as President John Kennedy was loved by every American, and the people grieved her shocking murder with the same depth of sorrow.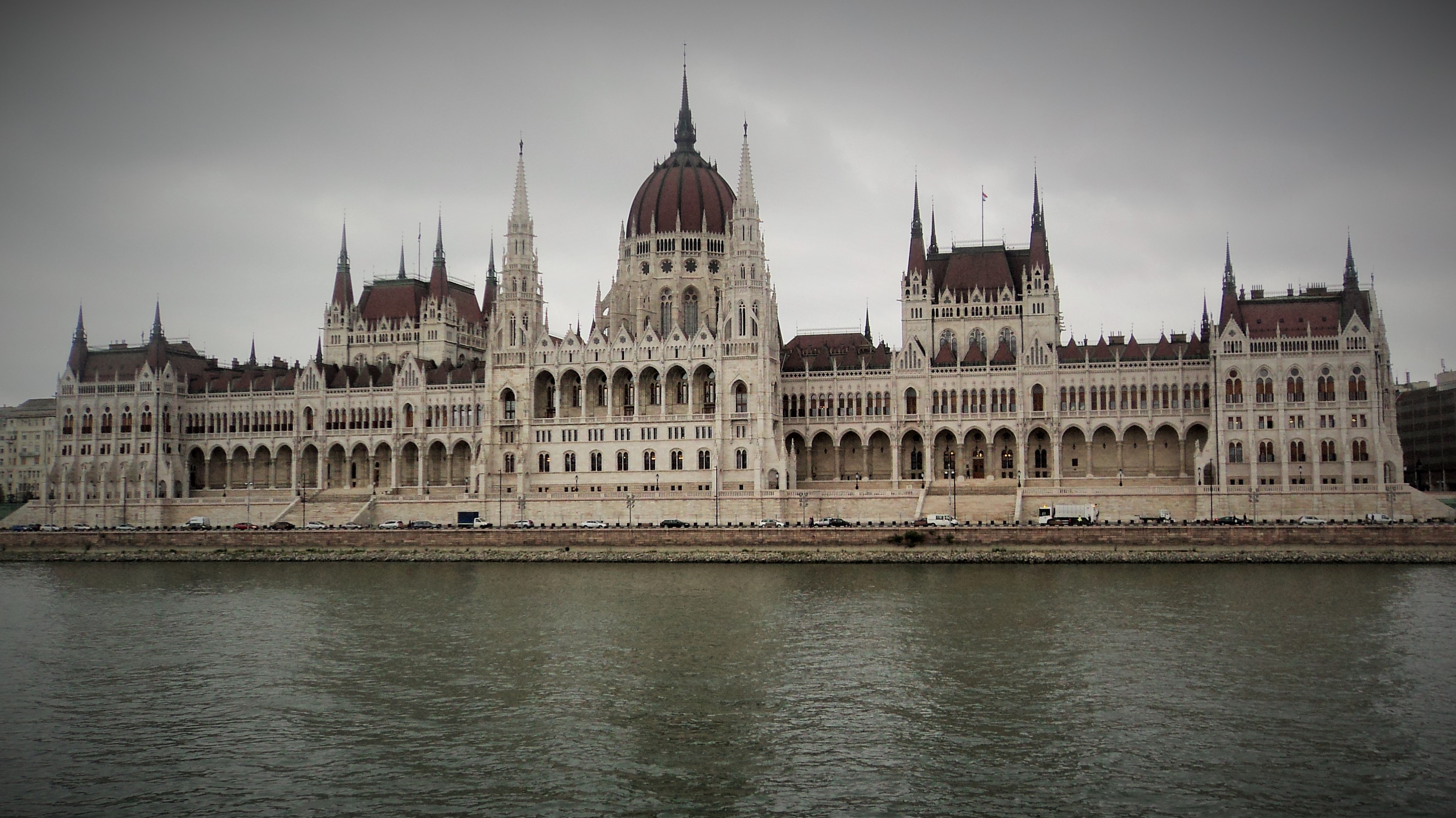 View arriving in Budapest
A special highlight of this trip for me was cruising into the Budapest harbor, where the beautiful Buda Palace and government buildings slowly appeared before my eyes as a magical vision of sheer elegance. The tour of Budapest was filled with historic details, and despite a light drizzle the evening light show of the city from the ships deck was simply brilliant. Dinner that night was all about Hungarian Gypsy music and dance, and the next morning after breakfast I said goodbye to our captain, crew and the friends I had made on the ship, before I was transported to my hotel for two more welcomed days in Hungary.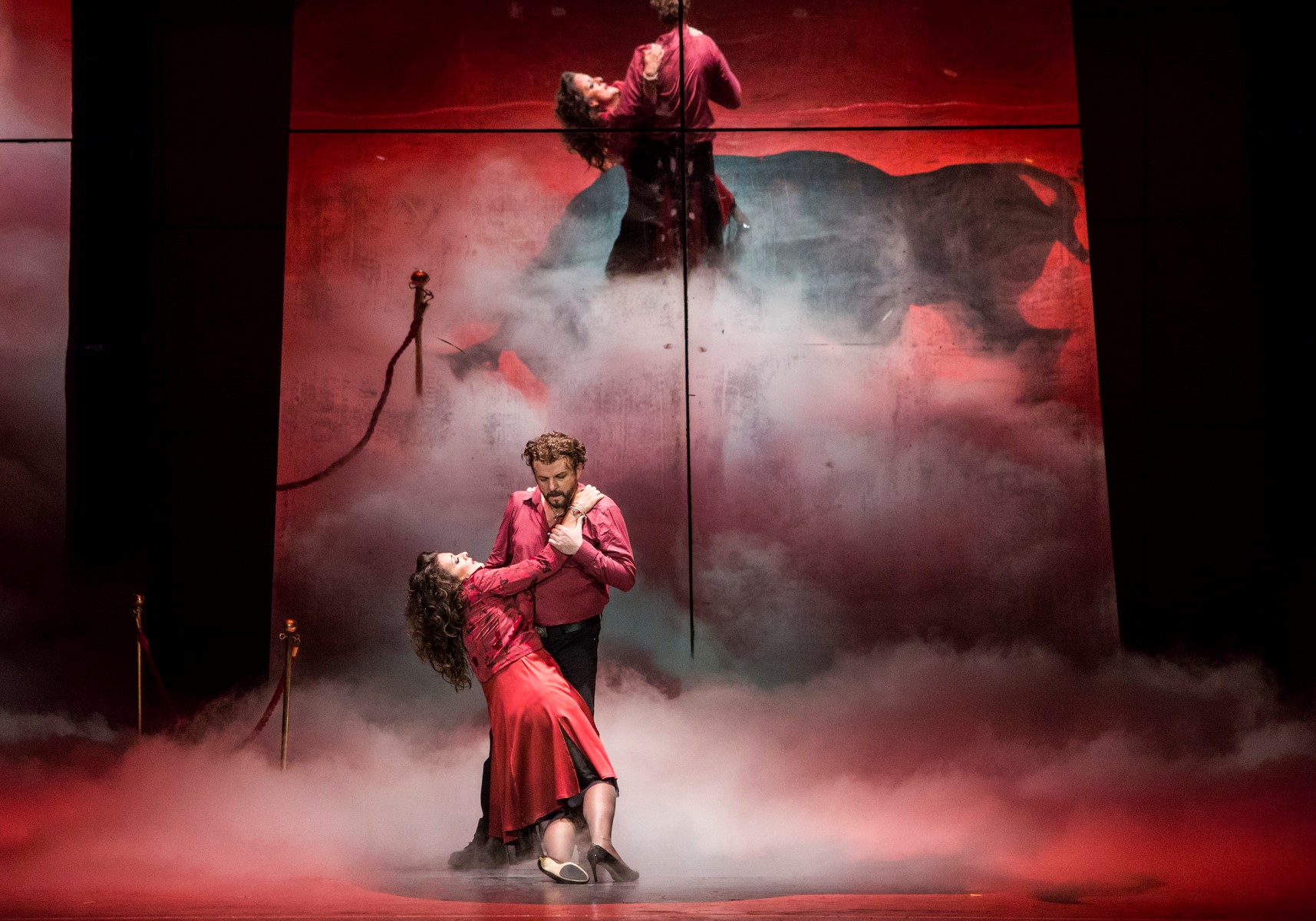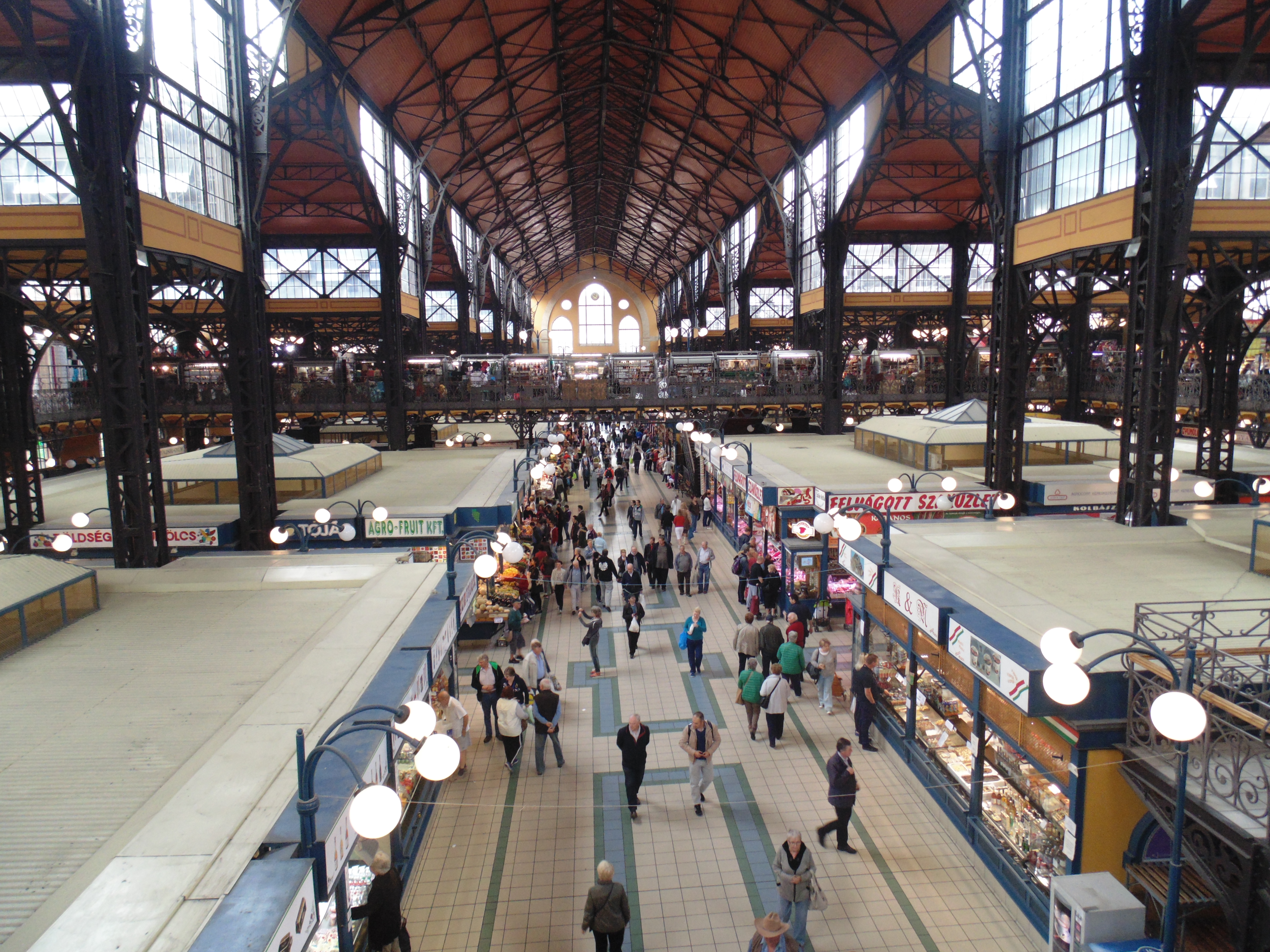 Bizet's Carmen at The Erkel Theatre                                             Taste Hungary City Market Hall
My first morning in Budapest was spent on a Taste of Budapest walking tour that began in the Central Market Hall, which opened February 15, 1897. We moved on foot to different city zones for a variety of tastes that commenced at The Tasting Table for an expert lesson on Hungarian wine. The entire experience was delicious and so much fun I would do it again in a heartbeat. That evening I attended the beautiful Erkel State Theatre Opera production of Bizet's Carmen, which was such a powerful and unforgettable production. A late dinner at Kor Cafe proved to be for me the most authentic examples of Hungarian cuisine in the form of ox cheek goulash with cous cous, served with a traditional cucumber salad. This cafe is a local favorite and everything is authentic, and served in an atmosphere that is warm and wonderful. The restaurant was packed with local families and couples.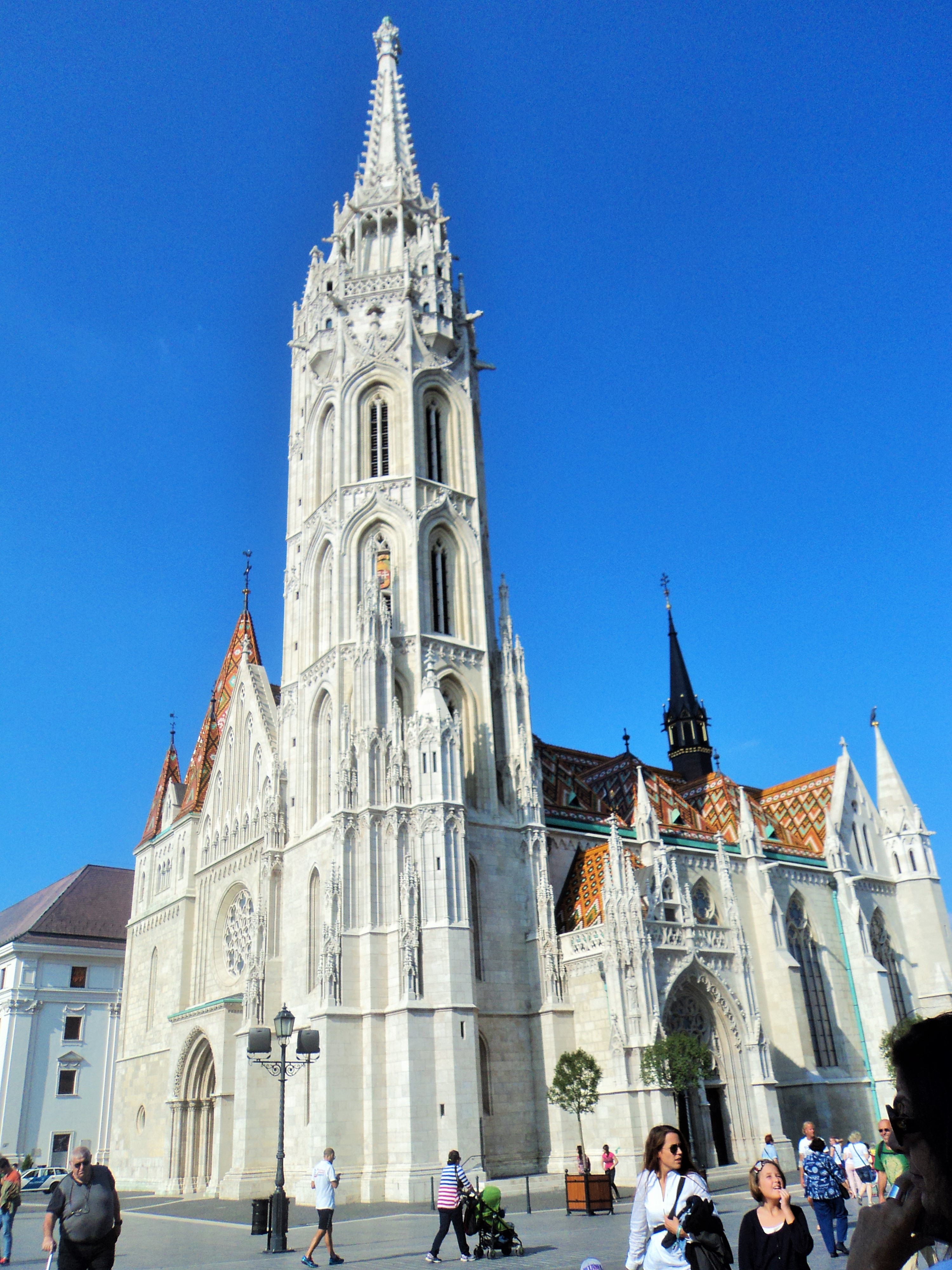 St. Matthias Church                                                         Gellert Baths 
My second day began watching the Budapest Marathon from my hotel suite window, and then savoring a delicious Sunday brunch in the Gresham Palace Brasserie before walking across the beautiful Chain Bridge to ride the funicular up the hill to the Budapest Wine Festival. The best in food and wine from Hungary and the world was being sampled all around the palace grounds. The view from the funicular going to the top of Buda Palace offers an optimum spectacular view of the Danube, Chain Bridge and Four Seasons Gresham Palace. The Matthias Church at Buda Palace was the coronation site of "Sisi" and the Emperior as King and Queen of Hungary. The exotic Gellert baths are yet another example of the importance of water therapy enjoyed by these Europeans for centuries, and today attract jet lagged tourists to relax in their magical waters.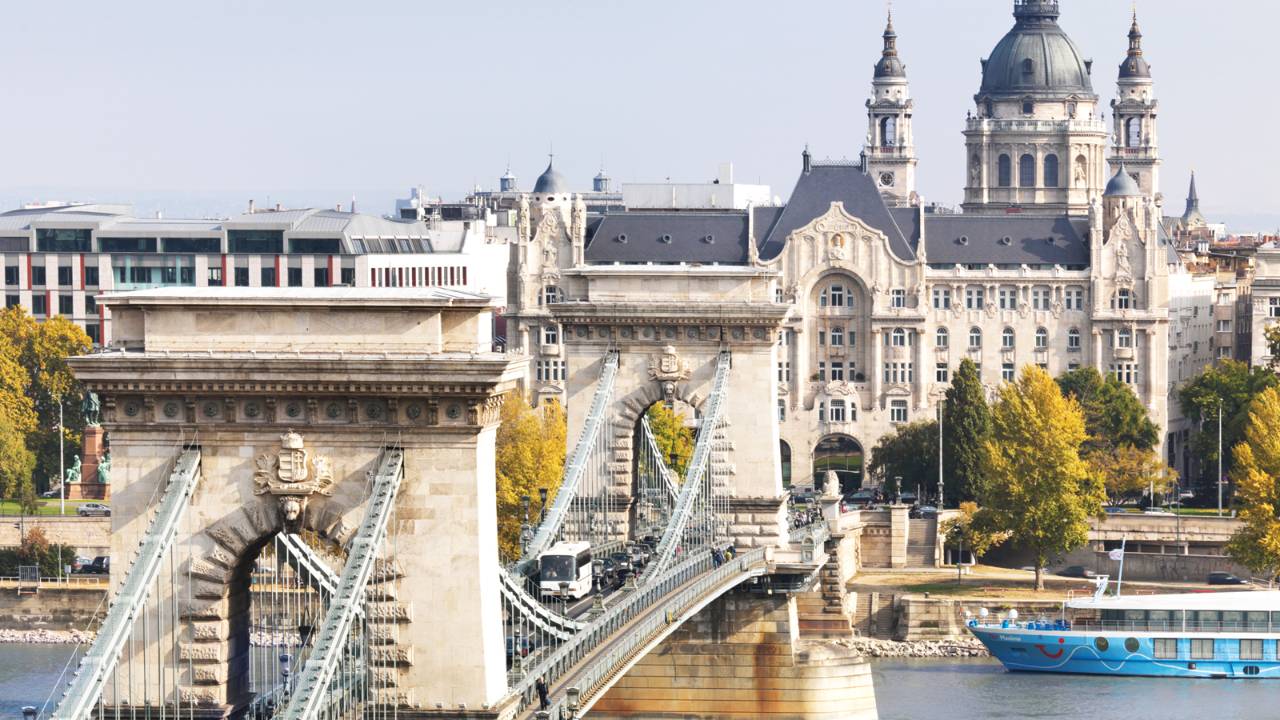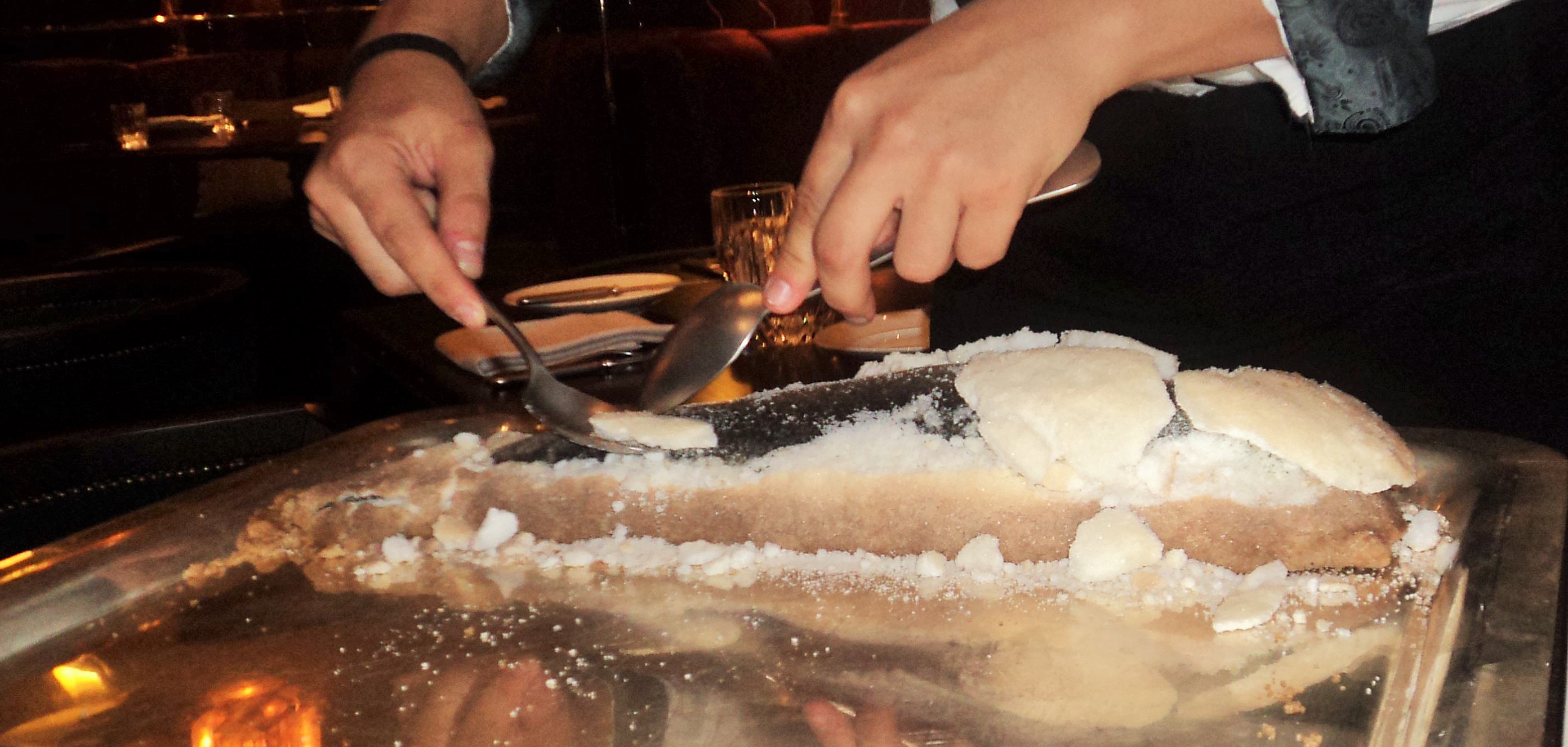 Four Seasons Gresham Palace                                    Kollazs Brasserie Signature Fish Dish
My last night in Budapest dinner was in the new KOLLAZS Brasserie & Bar at the Gresham Palace, where a signature recipe by their Chef made of traditional white fish baked in salt, and prepared at the table, proved to be the most awesome fish dinner I may have ever eaten anywhere in the world. The service and original recipes in KOLLAZS are five star all the way, and the staff goes above and beyond attentive. What I really adore most about the Four Seasons Hotels, all of them, is that I could stake my life on the fact that their chef knows how to make a perfect four and one half minute boiled egg, served out of the shell, and he will never let me down.
At 4:30 a.m. the hotel concierge helped me into a taxi and off I went to the Budapest Airport to board my Air France flight for Paris, and on to Los Angeles. What a gift to experience the best of these great cities in Germany, Austria and Hungry. How much I appreciate all the sweet people who took care of me on the ship, as well as so many others I met in cities along the way.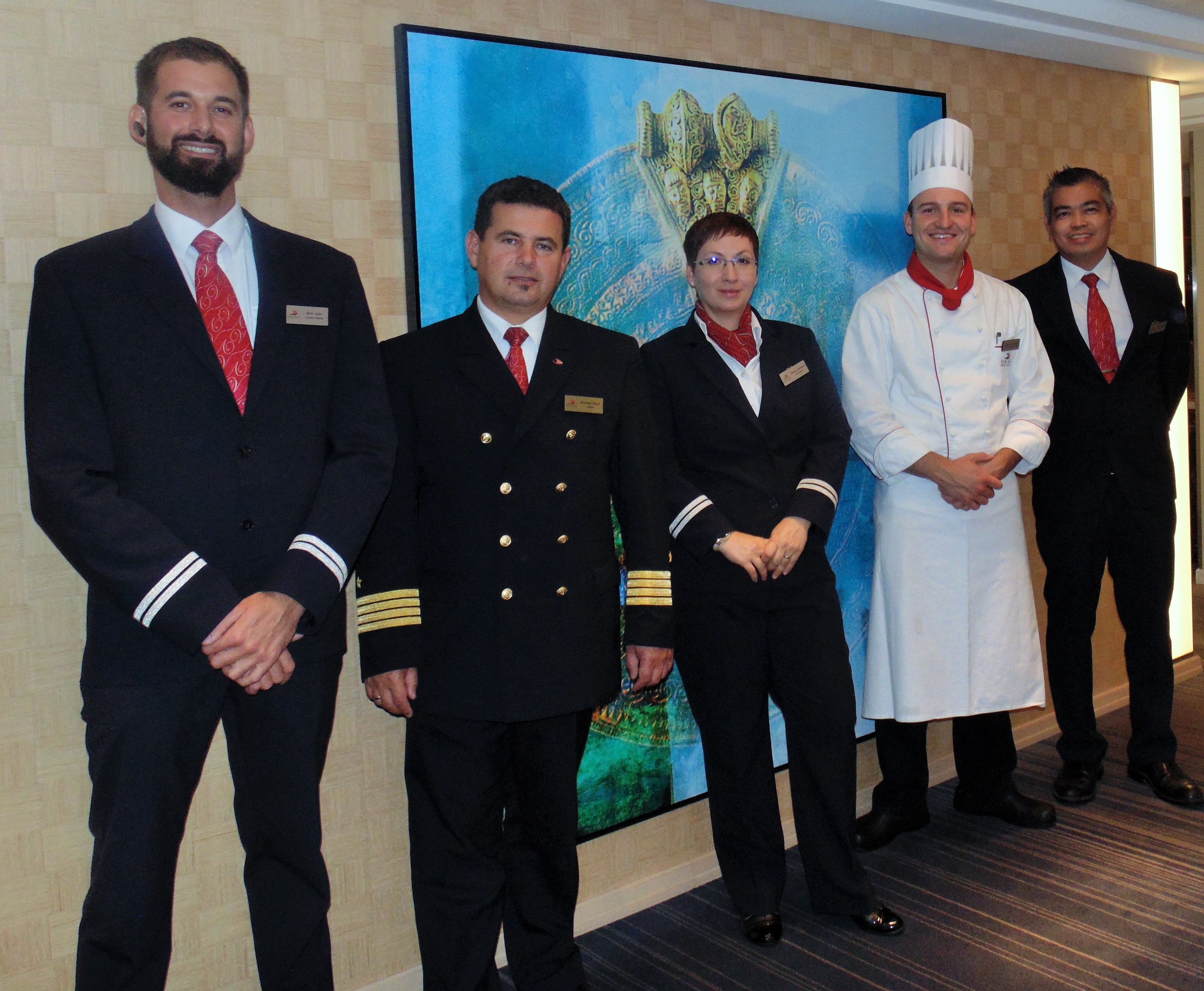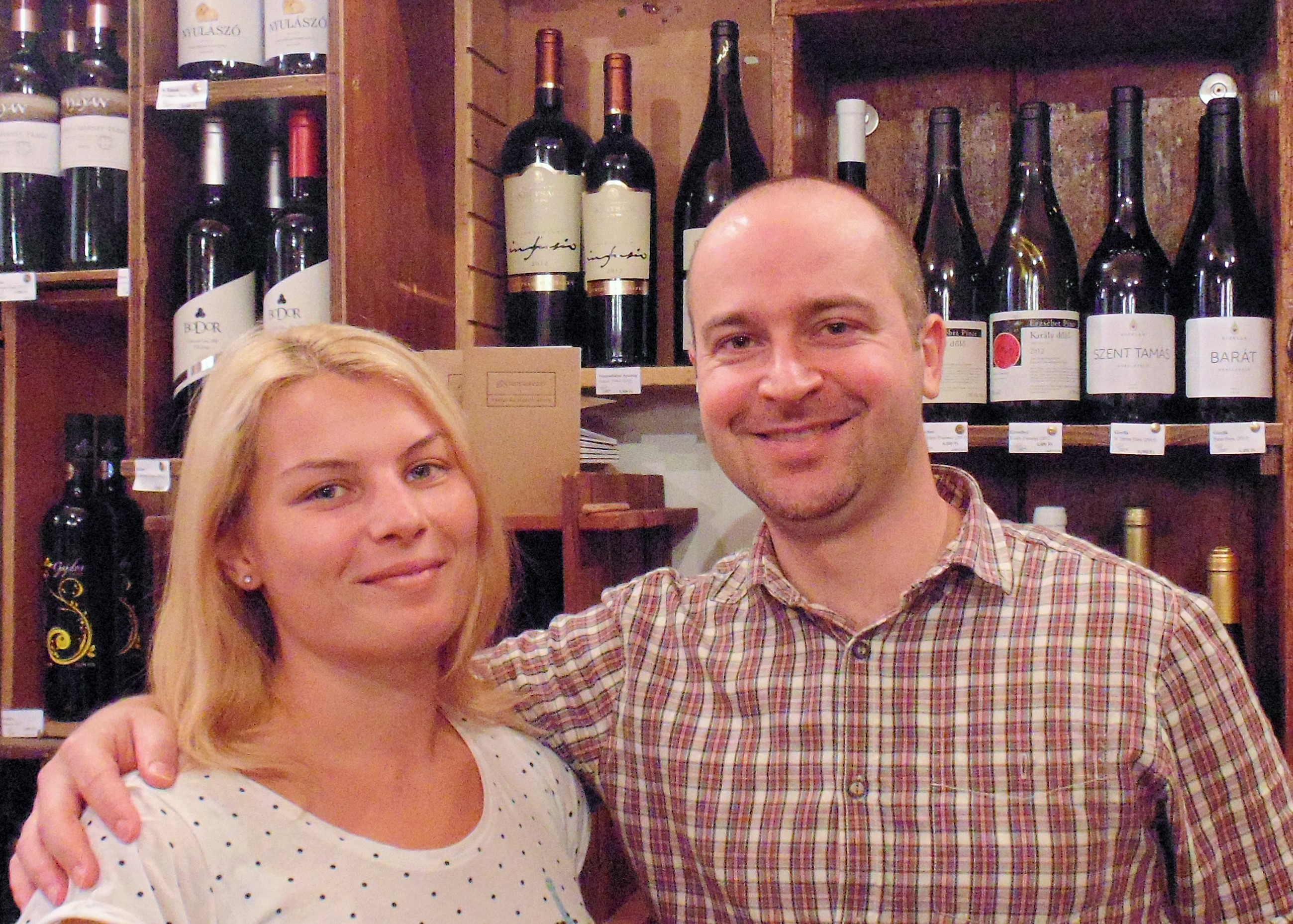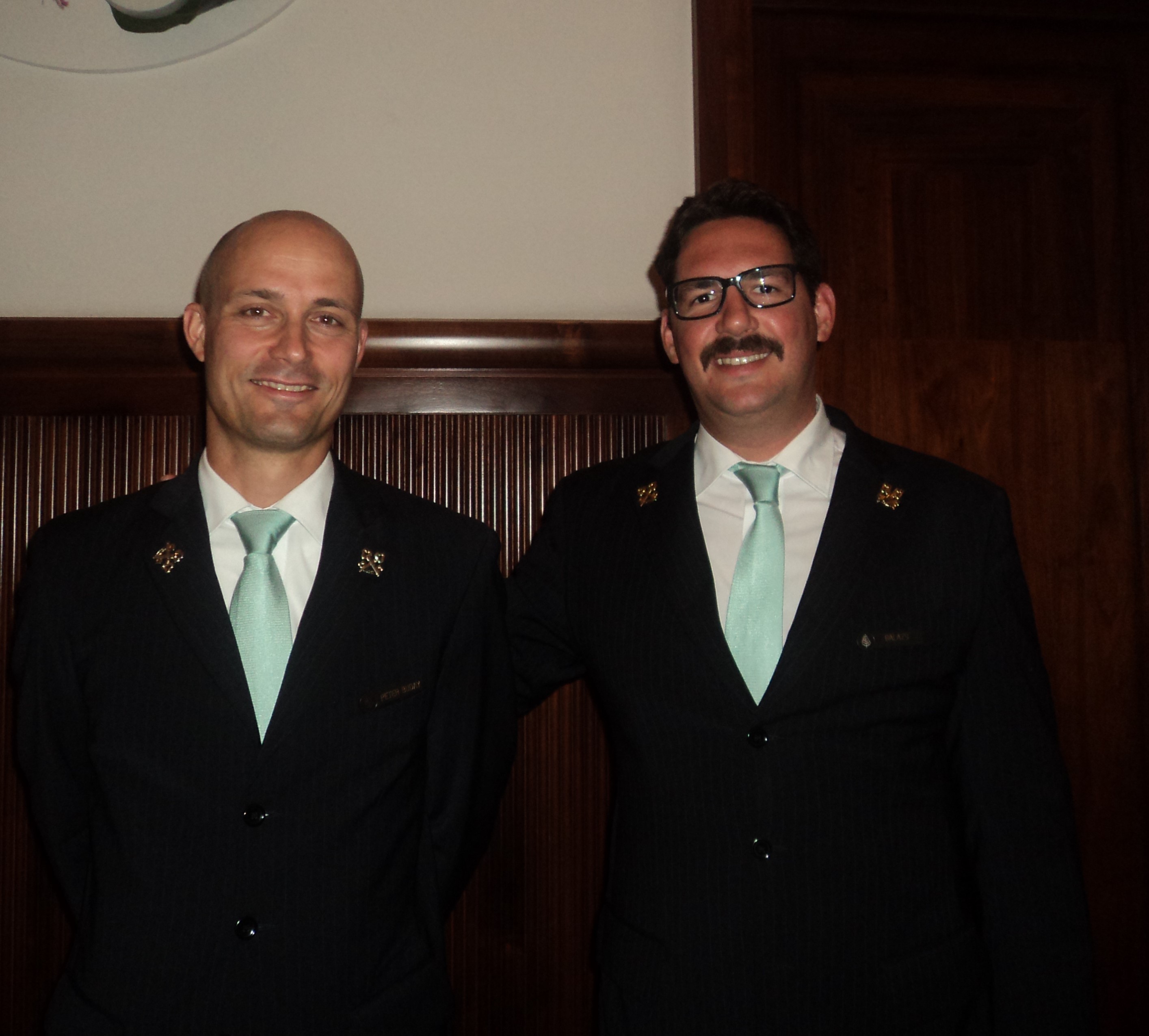 Viking Njord Staff                                       Tasting Table Budapest                     Clefs d'Or Gresham Palace
After all is said and done, I think my desire to follow "Sisi" on her travels up the Danube to become the Empress of Austria and then Queen of Hungary was a brilliant move. Traveling along the Danube is the purest way to experience these authentic destinations, while also feeling a peaceful connection to those who traveled the calm blue waters before you. Experiencing the places that Sisi loved so much left me with a special affection for the young woman who became Empress at sixteen, a young girl who went on to make such a remarkable place in history for herself.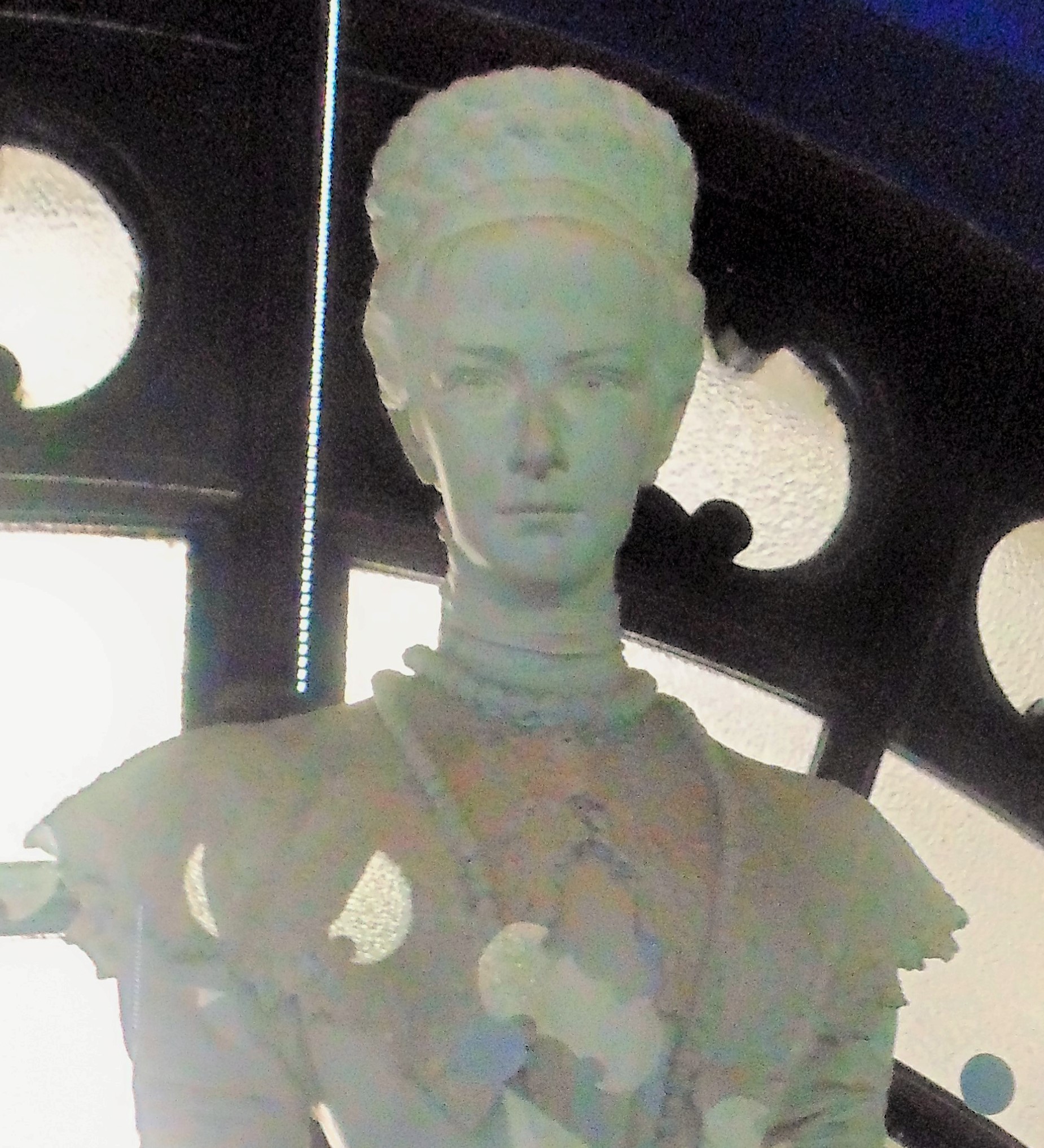 "Sisi" Museum - Hofburg Palace Museum
In an effort to learn more about "Sisi" I became a part of the actual locations where she spent significant moments of her life, including a previous trip I took to Geneva, the city of her death. She has given me an understanding and appreciation for these historic destinations that is priceless because I have seen them through her eyes in the documentation of her poetry, and through my own eyes as her sister in travel.
For information on the many Viking River Cruise destinations visit their website at www.vikingrivercruises.com, for information on Elizabeth Empress of Austria and Queen of Hungary visit: www.vienna.info.
---