It's Not Okay  
A Musical Journey to Inspire and Move You to Act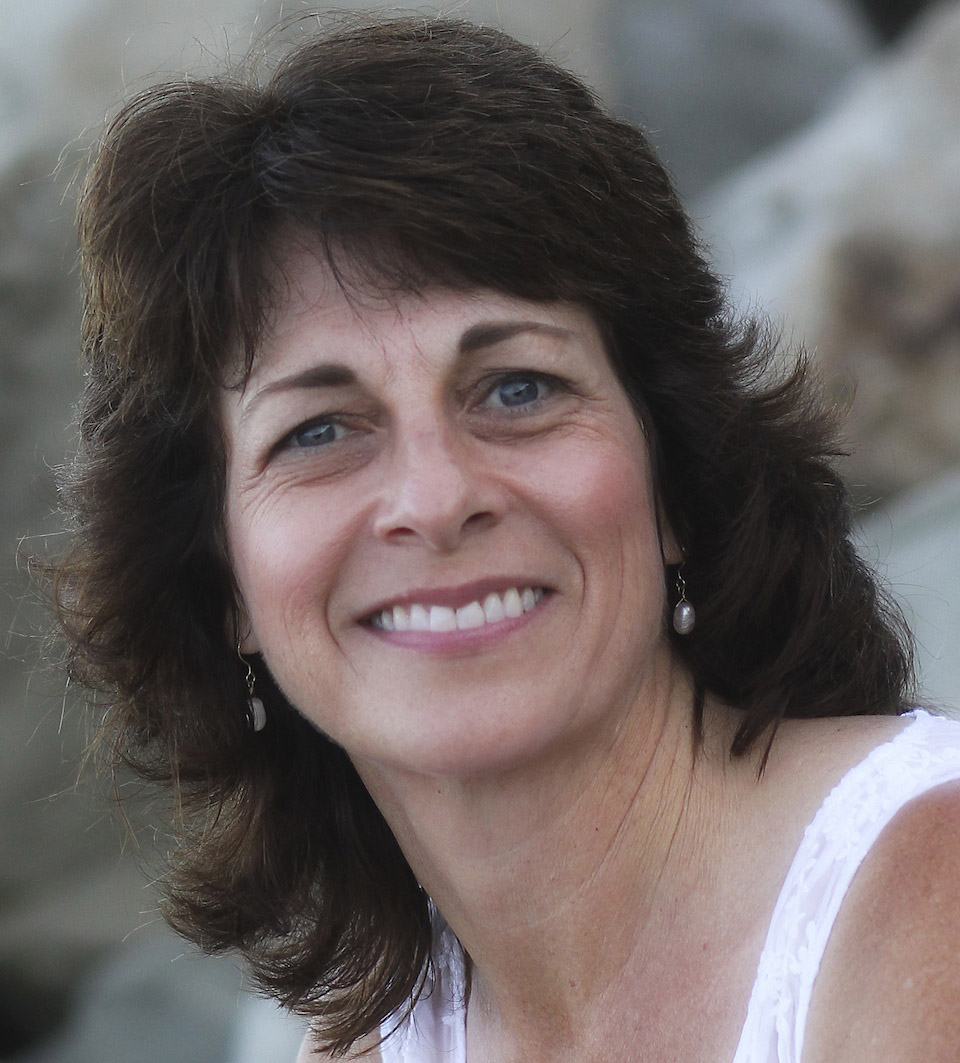 A Benefit Performance for CALM at the Lobero Theater
Linda Newlin, singer/songwriter, coach, speaker, educator and activist, has just finished writing her thought provoking musical journey entitled It's Not Okay, along with the much-anticipated release of her new CD, Love Your Self. The world premiere performance will take place at the historic Lobero Theater, 33E. Canon Perdido St. at 7pm on Monday, April 9.  Profits from the show will benefit CALM (Child Abuse Listening and Meditation), the Santa Barbara-based organization whose mission is, like the musical, to end all forms of abuse.  You can see the music video of the title tune on YouTube @ http://www.youtube.com/watch?v=idALxKBZ_W8 and you can also purchase Linda's CD on her website @ LindaNewlin.com.
This musical delves into the multi-layered subject of why It's Not Okay to abuse ourselves by not living our dreams, not being who we truly are and not shining our light in the world delivers multiple genres - from Broadway, to country, rap, rock and jazz.  Mixed in with laughter and words of wisdom, this one woman show provides hope as we collectively search for life's purpose and that which makes us 'sing.' This inspired music has been written and recorded in collaboration with extraordinary singer/songwriter, Kate Wallace and David West, of Play Ball Musical Services. According to Newlin, "I was fortunate to work with amazing local talent who supported my passion for authenticity and encouraging people to live their dreams by breaking free from all forms of abuse. It's not just physical and sexual violence. It's all the ways we abuse ourselves with negative self-talk, staying in empty relationships, working in unfulfilling jobs, and not allowing ourselves to be who we truly are." 
David West, producer of Love Your Self, says, "Linda Newlin's new CD Love Your Self is a beautiful and courageous wake up call. It is a long overdue proclamation that at least one woman will no longer tolerate society's tacit acceptance of the many faces of child abuse, domestic violence, and self abuse.  Nor will she allow those afflicted to recede into the shadows of 'victim-ness.'  Within this amazing album of songs is a highly motivational lesson in just how to Love Your Self.  The point of Love Your Self is not just to point an accusing finger at the man/woman in the mirror, but to show us finally, each of us have the power to turn the light on all forms of abuse and heal the personal and societal wounds."
West continued, "I have observed Linda throughout the process of production, and I can only describe her as a 'Force of Nature.' I watched as she focused her energy on her goal.  I watched as her energy attracted a cadre of creative people who seemed to come from nowhere to give advice, support and talent at just the time it was most needed.  And with the guidance of the amply talented Kate Wallace, I've seen her emerge as a gifted songwriter and song interpreter.  I have a feeling this is just the opening salvo."  West owns Studio Z and Play Ball Musical Services here in Santa Barbara. 
It's Not Okay is written, directed and performed by Newlin, with sound and multi-media design by Annie J. Dahlgren of Over 40 Productions.  Tickets to It's Not Okay are available at the Lobero box office or online at www.lobero.com.  VIP tickets are $100 and include CD/gift bag and reception with celebrity friends following the performance in the Lobero courtyard. General tickets are $40 and Students/Seniors $20 (all prices plus $5 facility fee).  The Lobero Theatre is located in the heart of downtown at 33 E. Canon Perdido St., Santa Barbara.  Box Office hours are Monday through Friday, 10am to 5pm and Saturday, 12pm to 5pm and two hours prior to all shows. Phone: (805)963.0761.  The Lobero is wheelchair accessible and has the assistive listening system in place for patrons who have hearing issues. 
---
EarthTalk®
E - The Environmental Magazine
Dear EarthTalk: What are the environmental implications of the road ahead as laid out by President Obama in his recent State of the Union?                                   -- Marilyn Pike, Bethesda, MD
The economy dominated President Obama's recent State of the Union address, but his discussion about energy and the environment took up almost seven minutes—or nine percent—of the hour-plus address. And while much of what Mr. Obama said was comforting to environmentalists, his statements about expanding natural gas production—albeit "without putting the health and safety of our citizens at risk"—and opening up more than 75 percent of our potential offshore oil and gas resources did not sit well.
Even so, natural gas is cleaner burning than oil or coal, and reducing our reliance on foreign oil is a good thing overall. "Right now American oil production is the highest that it's been in eight years," Mr. Obama said, adding that "…last year we relied less on foreign oil than in any of the past 16 years."

Michelle Wilson Berger of the National Audubon Society points out that when George W. Bush told us in his 2006 State of the Union that the U.S. was addicted to foreign oil, some 60 percent was coming from foreign sources. "Now it's just less than half," Berger says, adding: "The trend is going to continue in that positive direction and within a couple decades, it's going to be even less, say something like 36 percent."

Nonetheless, environmental advocates were hoping for less bullish talk from Obama on expanding fossil fuel development of any kind, given the dire climate predictions we are facing. But Obama isn't giving up his commitment to renewables, despite the recent bankruptcy of solar panel maker Solyndra after it had received upwards of $500 million in loan guarantees. "Some technologies don't pan out; some companies fail," stated Obama in the speech. "But I will not walk away from the promise of clean energy."

Obama also called on Congress to pass a new standard aimed at boosting wind, solar, geothermal and other renewables, and to extend related tax credits to help diversify and green the country's energy mix, adding that he wants to end tax subsidies for oil companies. In underscoring that Americans don't have to choose between the economy and the environment, he cited the case of the revival of the American auto industry thanks in part to automakers' willingness to innovate to meet aggressive fuel economy standards.

Fred Krupp of the Environmental Defense Fund considers Obama's State of the Union "a strong defense of the importance of clean energy to America's long-term economic prosperity."

Speeches aside, 2011 wasn't a bad year for Obama on the environment. He proposed raising the average fuel efficiency standard for new cars to 54.5 miles per gallon by 2025—this alone, says Natural Resources Defense Council's Frances Beinecke, "will save drivers more than $80 billion a year at the pump and cut our annual oil use by more than the amount we imported from Saudi Arabia and Iraq in 2010." Obama's recent rejection of the Keystone XL pipeline project—which would have transported dirty Alberta tar sands oil across U.S. soil—was another triumph, as were establishing the first national standards to limit mercury and other air toxins from power plants, proposing a visionary national oceans policy, protecting the Grand Canyon from uranium mining, and supporting clean energy investments at record levels.

CONTACTS: White House State of the Union 2012, www.whitehouse.gov/state-of-the-union-2012.
EarthTalk® is written and edited by Roddy Scheer and Doug Moss and is a registered trademark of E - The Environmental Magazine ( www.emagazine.com).
---
THE DOCTORS TALK FOOD WITH DISPIRITO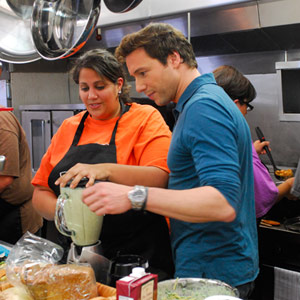 Rocco DiSpirito in the Kitchen at NBC
Photo Credit: Dave Bjerke NBC Photo
Emmy Award-winning syndicated talk show THE DOCTORS, along with special guest and celebrity chef Rocco DiSpirito, take a closer look at American food staples and examines the harmful additives and processes used to prepare them. 
Burgers* – Would you eat a burger made out of "pink slime"—the name given to the mechanically separated meat that's treated with ammonia hydroxide to kill bacteria like E-coli?  McDonald's, Taco Bell and Burger King, once purveyors of pink slime, say they have discontinued their use of this meat, made from discarded beef (i.e. everything else from the cow that had been deemed inedible), but who still does? Schools serve it up daily in kids' lunches. 
Chicken –To disinfect and cool chicken post slaughter, chickens are often soaked in a chlorine bath with a water-to-chlorine ratio up to 50 times more potent than the local swimming pool.  Then, to help hide the chlorine taste, the chickens are "plumped" with salt water, making the chickens larger in both weight and price.  Plus, via a scientific experiment, THE DOCTORS determined that chlorine baths may not even rid chicken of the bacteria the chlorine bath is supposed to prevent.
Ice Cream – One billion gallons of ice cream are consumed by Americans every year. The most popular flavor?  Vanilla.  Real vanilla beans are expensive, so to save money, many ice cream makers use a synthetic flavoring called piperonal which is also an ingredient in lice killer.   
Bread – Many breads are made with potassium bromate, which has been banned in Canada and the UK and has been named a carcinogen by the EPA, but has been approved by the FDA.  Plus, azodicarbonamide, found in many manufactured donuts and hamburger buns - as well as plastics, rubber and foam - has been found to  aggravate asthma symptoms and contribute respiratory problems in humans.
So, what does THE DOCTORS recommend to avoid these harmful foods? 
o    Look for fewer ingredients with words you can pronounce
o    Avoid "artificial flavors" as much as possible
o    Avoid "artificial dyes", especially Red 40, Blue 1, Yellow 5 & 6
Limit processed foods.
While it's not economical for everyone to buy organic all the time, it's worth spending a few extra dollars on organic poultry and beef. 
o    To save money, purchase the whole chicken.  Boneless, skinless chicken breasts are the most expensive by the pound.
o    Check the "sell by" dates, and plan to shop the day before when your butcher is likely to mark down the poultry and meat.
o    Consider buying direct from a farmer's market
Check the sodium levels on fresh and frozen chicken packaging.
o    A truly natural chicken breast has 50 to 75 mg. of sodium. If there's more than that, the bird has been "plumped". 
Cook for your family.
o    If you want to know what's in your food, make it yourself.
o    It's a great way to bond with your children and teach them about health.
Visit www.thedoctorstv.com for a cheat sheet that lists the harmful additives often hidden on food labels as well as a complete list of common additives to avoid.  Also find a recipe for a delicious homemade, super low-calorie ice cream by Rocco DiSpirito.
---
CURE FOR THE FLU                                                                  FROM MASTER CHEF HELENE AN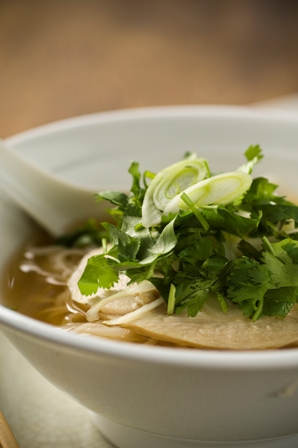 Phở Gà
for the soup
Enough stock and chicken for 5-6 bowls
3-4 pound organic free-range chicken with offal, and 2-3 pound of chicken bones
1 large onion peeled and cut in half
8 large cloves of garlic
65 grams of fresh ginger sliced in half lengthwise (about 3″ length)
roots and stems of 1 bunch of cilantro
3 whole star anise
2″x1″ piece of cassia bark (a.k.a. Saigon Cinnamon)
1/2 teaspoon cracked white pepper
80g yellow rock sugar (light brown sugar also works)
2 and 1/2 tablespoons fish sauce
1 tablespoon salt (or to taste)
for serving
for 5-6bowls of phở
20 ounces dried phở noodles or fresh rice noodle
1/2 small onion, very thinly sliced
2 scallions, chopped
chopped cilantro (about 1/2 cup), fresh lemon leaves, basil, bean sprouts
4 serrano chili peppers sliced thin (bird chilies or jalapenos work too)
Wash the chicken inside and out, including any offal it comes with and set aside. Using a broiler, torch, or a gas stove, burn the cut side of the onion, both sides of the ginger and both sides of the garlic. If you have some wire mesh you can set it on the gas stove for the garlic, otherwise a torch works great for these. You want the surface to be about 50% black as it adds a wonderful smoky flavor to the soup without making it bitter.
Put the neck, gizzards, heart and liver inside the chicken. Place the chicken breast side up and the chicken bones into a stock pot just a little larger than the chicken, then put all the other ingredients for the soup around the chicken. Add water until the top of the breast is almost covered. Cover with a lid and bring the water to a boil over high heat. When the water comes to a boil, skim off the excess fat and impurities on the top then turn the stove to low heat (do not remove the lid), and poach the chicken for 30 minutes.
Remove the chicken and set it aside to cool. When it's cool enough to handle, remove the offal from the cavity and set aside. Carve all the meat off the bones and return the bones to the stock. Simmer the stock for another 1 1/2 hours. Slice up the chicken meat and offal and put it in the fridge.
Soak the dried pho noodles in warm water for about 30 minutes to rehydrate them. Chop up your condiments and have them ready.
When your broth is done, strain it through a fine mesh sieve and skim off any excess oil. Taste the soup for salt and add more as necessary.
Bring the stock to a boil and in a separate pot bring water to a boil to rehydrated noodles, will cook in a matter of seconds, so a couple swishes is all it takes. Split the noodles into bowls and top with chicken, offal, onions, scallion and cilantro to taste, then ladle on the hot broth.
---
THE HEALTHY WAY TO HIT THE HAY!
COYUCHI BEDDING
Coyuchi – the first company to bring organic cotton to the U.S. not only has beautiful bedding collections to spruce up your bed for the spring, but all Coyuchi products are made from organic or all natural materials, free of the toxic dyes and finishes used in conventional textiles.
Below are some examples of Coyuchi bedding collections, which feature a variety of textiles, colors and styles that will help you transition from season to season.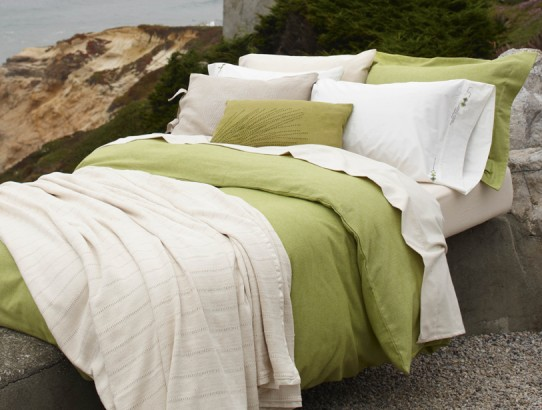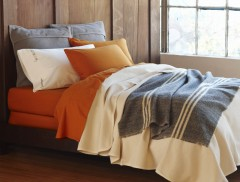 ---