Sunfood Nutrition introduces Maca Extreme
Ancient 'Superfood' From Peru Provides an Energizing and Nutrient-Dense Boost to Smoothies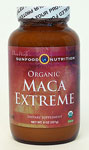 Over the past decade, the health food pioneers at Sunfood Nutrition have been re-discovering ancient superfoods from cultures around the world and introducing them to health-minded consumers in the North American marketplace. The company's latest discovery, organic Maca Extreme, is a nutrient-dense powder that is ideal for helping athletes, adventurers, raw food enthusiasts and people with active lifestyles boost their performance to the next level. Cultivated sustainably in the harsh high-altitude climate of Peru (11,000 - 14,000 feet), Maca Extreme is a raw, organic and concentrated form of the renowned maca root.
Maca is a flavorful superfood that has been cultivated and used as a traditional food and medicine by indigenous people of the Andes Mountains for more than 2,000 years. Maca was known to be consumed by Incan warriors to increase strength and endurance and is revered for its invigorating properties. This rare relative of the radish family is a highly nutritious food that has been traditionally used to increase energy, to support libido and fertility and to provide daily sustenance in a harsh, high-altitude climate.
Maca Extreme is a premium maca product because it is concentrated and easy for the body to digest (therefore less flatulence). Sunfood Nutrition uses a unique low temperature process that juices the maca root, removes it's excess fiber, and concentrates the nutrient rich compounds into a potent fine powder.
The Powerful Nutrition Profile
Maca is rich in calcium, magnesium, phosphorous, potassium, sulfur and iron, and contains trace minerals, including zinc, iodine, copper, selenium, bismuth, manganese and silica, as well as vitamins B1, B2, B-12, C and E. Maca also provides 18 amino acids, seven essential amino acids and is also a rich source of sterols and fatty acids. As a root crop, maca offers five times more protein than a potato and four times more fiber. Overall, dried maca powder contains 60% carbohydrates, 9% fiber, and more than 10% protein. It has a higher lipid (fat) content than other root crops (2.2%), of which linoleic acid, palmitic acid and oleic acid are the primary fatty acids.
Maca Extreme is offered in a powdered form that is easy to blend into smoothies, juices and other beverages and is also recommended to be added to enhance the flavor and nutrition of desserts, chocolate creations nut butters and other healthy recipes. The SRP for an 8-ounce amber jar is $25.95 and it is available at health foods stores in North America and at the #1 raw foods website, www.sunfood.com.
The Lore About Maca and the Emerging Science
Maca's reputation as a powerful strength and stamina enhancer as well as libido-enhancing food stretches back into prehistory. Now that this ancient superfood has been rediscovered, research is underway to better understand and substantiate its health benefits. Research has begun to substantiate claims that maca may:
Support immune system function and adaptability*
Promote healthy sexual desire*
Promote an overall sense of well-being*
Raw Superfoods & Sunfood Nutrition
The founder of Sunfood Nutrition, David Wolfe, is a leading authority on the raw food philosophy – a lifestyle and diet that has swept through Hollywood and far beyond. He is also the author of Eating for Beauty, Naked Chocolate, and The Sunfood Diet Success System. Raw foods are simple, easy to find, fun to eat, contain thousands of healthy nutrients, and conform to the biological design of the human digestive system.
The sun is the source of all life and raw plant foods represent the purest form of transformed sun energy. A living plant food diet eases digestion, boosts energy, and promotes normal cell function. Eating a mix of raw plant foods restores the body on a molecular level - building strong cells, raising alkalinity, and grounding the person in the natural world. Sunfood Nutrition and its website are dedicated to helping people succeed and prosper with the raw food lifestyle.
"Our products are inspired by the principles of sustainable agriculture, living in harmony with nature and ethical global cooperation," says Wolfe, whom is also the President of The Fruit Tree Planting Foundation (FTPF), a nonprofit dedicated to planting fruitful trees and edible plants to benefit the environment and all its inhabitants (www.ftpf.org). FTPF's mission is to plant 18 billion fruit trees across the world and encourage their growth under organic standards. For more information about Sunfood Nutrition and their raw food products, please visit www.sunfood.com.
CLICK HERE for a Choca-Maca Smoothie Recipe
---
SUSTAINABLE TABLE'S "EAT WELL GUIDED TOUR OF AMERICA"
KICKS-OFF AUG. 2 IN HOLLYWOOD
Tour to cross country via bio-fueled bus, celebrating local food in more than 25 towns and online at www.sustainabletable.org/roadtrip
Sustainable Table (www.sustainabletable.org), the nonprofit program that produced The Meatrix (www.themeatrix.com) movies and the Eat Well Guide (www.eatwellguide.org), is traveling across the country to celebrate local, sustainable food and the folks who produce, distribute, promote and eat it.
Kicking off in Hollywood on Aug. 2, Sustainable Table's "Eat Well Guided Tour of America" will travel via bio-fueled bus across the United States, stopping in more than 25 towns on its way to the Farm Aid concert in New York City on Sept. 9. The tour will visit restaurants that serve local, seasonal and sustainably-produced food, family farms and farmers markets in California, Oregon, Washington, Montana, Wyoming, Missouri, Nebraska, Iowa, Minnesota, Illinois, Indiana, Michigan, Ohio, Pennsylvania and New York.
"The Eat Well Guided Tour of America is more than just a road trip," said Diane Hatz, founder and director of Sustainable Table. "Given recent negative news about food, we want to show people the incredible, positive things happening in the sustainable food movement right now. The more people support their local farmers and local food systems, the better off our communities are"
From the kickoff event in West Hollywood's King's Road Park to the "Pie and Popcorn" barn-side film screening in Bowling Green, Ohio, Sustainable Table and its local hosts will delight in the summer's harvest while bringing together area residents for events that will include local food, great conversation and local music. Highlights of the tour include:
--"Pie Across America" - Pies are a great metaphor for local, wholesome food, and their ingredients tell stories about the people who bake them and the areas where they're created. Sustainable Table will honor pie-making traditions by baking, tasting, comparing, sharing and eating endless varieties of pies from across the country.
--The September launch of the Eat Well Guide "road trip" feature. Think Eat Well Guide meets Mapquest. Conscientious eaters will be able to map out routes with sustainable food outlets from start point to destination.
--Other web features - Video blogging, daily written updates, an interactive map where visitors can track the team's progress and check out site-specific photos, videos and recipes, as well as "Food for Thought," daily questions posed in-person and discussed on the Meatrix Forum.
Join Sustainable Table online or on the road! Visit www.sustainabletable.org/roadtrip to track the tour.
About Sustainable Table
Sustainable Table celebrates the sustainable food movement, educates consumers on food-related issues and builds community through food. Projects include The Meatrix, award-winning, humorous animations on industrial agriculture, and the Eat Well Guide, an online directory of sustainably-raised products from farms, stores, restaurants and other outlets in the United States and Canada. Sustainable Table is a program of GRACE.
---
THIS PRETTY PACKAGING PACKS A PUNCH…
FRUTZZO FIGHTS FREE RADICALS™
Rapidly Growing "Super Juice" Company Introduces Organic Varieties, Award Winning Packaging and Logo Design of Ultimate Antioxidant Beverage Line
Alpine, UT (June 25, 2007) -- Frutzzo, a pioneer in producing high antioxidant juices since 1999 (pomegranate juices since 2002 and the first organic pomegranate juice since 2003), introduces organic varieties of their fierce free radical fighting juice line, a bold new bottle shape and environmentally friendly packaging, along with a stimulating new trademarked logo and tagline, "Fight Free Radicals™", as it celebrates its eighth year of operation.
An early adopter of pomegranate, the richly colored fruit long hailed for its abundance of powerful antioxidants and folic acid, Frutzzo was the first company in America to market high potent antioxidant blends of pomegranate and nutrient dense ingredients such as blueberries, raspberry and acai (a power fruit from the Brazilian Amazon) along with other flavors. Frutzzo produces 100% fruit juice, boasting natural and now organic blends including 100% Pomegranate, Pomegranate Acai, Pomegranate Blueberry, Pomegranate Cherry, Pomegranate Passion Fruit and Pomegranate Raspberry.
"We believe in total health and that begins with what we put into our body. We keep this philosophy in mind when we source our ingredients to ensure that we're creating the purest and most nourishing juices," said Terry Xanthos, co-founder, Frutzzo. "We've enhanced our branding, redesigned the packaging and recently released our liter bottle to maintain our appeal with natural-focused shoppers and continue to garner new devotees out of conventional shoppers."
Frequently referred to as a "super fruit", pomegranate is believed to help prevent cardiovascular disease and posses anti-cancerous properties. Its popularity has soared in recent years because of the positive information about the fruit's antioxidants and overall health benefits. Pomegranate is derived from the latin pomum (apple) and granatus (seeded); revered as a symbol of health, fertility and rebirth, it is believed that it was actually a pomegranate between Adam and Eve, not an apple.
Frutzzo's superfighting juice combinations' new cleverly designed bottle recently won the Glass Packaging Institute's 2007 Clear Choice Award in the Organic Beverage Division. In keeping with its "green" theme, the award winning bottle is also kind to the environment utilizing recycled glass and metal caps that can be recycled. The company follows socially responsible and environmental business and manufacturing practices while supporting farmers, communities and fair trade. Frutzzo can trace all of its ingredient sources and has met with all its growers in California, the Amazon basin, South America, the Mediterranean, Turkey, and other areas across the globe.
About Frutzzo
Frutzzo's free- radical- battling juices are distributed nationwide and available in grocery stores, natural supermarkets, specialty stores and big box stores. Natural and organic 100% pomegranate and blended juice varieties come in 12oz bottles; new liter sized bottles are available in organic 100% pomegranate juice and organic 100% pomegranate and acai blend. For more information, please visit www.frutzzo.com.
---
DRY SODA ATTRACTING ATTENTION
Specifically developed to be paired with various food types, DRY is lightly sweetened, lightly carbonated, and is available in four distinct flavors: Lavender, Rhubarb, Kumquat and Lemongrass.
Launched in Seattle in 2005, the brand has been well-received in Los Angeles, and will soon roll out in other major markets including New York, Miami, Chicago and others. In Los Angeles, DRY Soda is presently available at Whole Foods, Wally's Wine & Spirits, and Vicente Foods with a retail price of $7.99/four-pack and $1.99/bottle. DRY Soda is also served at Four Seasons, The Beverly Wilshire, The Peninsula, W and the Biltmore Hotel, as well as restaurants 25 Degrees, Aroma Café, Bergamot Café, BLD, Ketchup, Little Next Door, Makai, The Penthouse and Tengu.
With a delicate sweetness and gentle carbonation, DRY Soda fills a void in the marketplace that no other brand presently occupies. Designed as an adult beverage, each bottle of DRY contains only 50-70 calories, far fewer than conventional sodas.
I'd love to set up a tasting/briefing with DRY founder/owner Sharelle Klaus, who developed the brand over the time she was pregnant with her four children. She was in search of the ideal, upscale, non-alcoholic beverage she could enjoy with meals in place of wine... and DRY shortly became her fifth baby. Visit www.drysoda.com for recipes.