HEALTHY FOR THE HOLIDAYS
Dear EarthTalk: I would like to make my holiday gifts matter this year. Where can I find ideas for green gifts?                                                                                -- Mary Baumgartner, via e-mail
The holidays are a great time of year to share your enthusiasm for protecting the environment with family and friends. One meaningful gift—a fashion-forward t-shirt from Rain Tees—can help fight environmental destruction far away while raising awareness here at home. Every Rain Tee is hand-made in the U.S. from eco-friendly fabrics and features original artwork created by children living in countries facing rampant deforestation. For every t-shirt the company sells, proceeds help the cause and Rain Tees' charity partner, Trees for the Future, will plant a tree in a critically endangered part of the world.
Another way to link your gifting and philanthropic tendencies is to donate to the Paradigm Project to help purchase clean burning stoves for poor families in Africa. Your donation goes toward reducing deforestation and respiratory disease in a developing country, and the Paradigm Project will send you a unique holiday ornament in exchange.
Many other non-profits also provide holiday season incentives to donate to their causes in the name of a friend or loved one. To wit, the NRDC's Green Gifts website offers dozens of gift opportunities related to various campaigns the organization is conducting around the world. By donating through the Green Gifts program, you and your gift recipient can help defend polar bears, protect clean water, revive rainforests or promote renewable energy, among other options. Similar land and species "adoption" programs that can be leveraged as holiday gifts are available from groups such as the Nature Conservancy, WWF, Defenders of Wildlife and the Whale Museum.

If not spending money is a priority this holiday season, you can make artwork or functional items out of leftover materials otherwise headed for the trash can or recycling bin. Handmade gifts in any form are always appreciated and will likely be cherished for much longer than anything store-bought.

But if making your own presents isn't your thing, a wide range of green gifts, large and small, can be found online. Some companies that specialize in fairly traded, sustainably sourced gift-worthy items include The Hunger Site Store, Branch, Low Impact Living, BGreen Apparel, A Greener Kitchen, Green Heart and Organic Bug, among many others. And once you've completed your green shopping, wrap up your gifts in the festive designs of Earth Presents, which sells 100 percent recycled/recyclable gift wraps. For still more ideas on where to source that perfect green gift, check out the website of the non-profit Green America, which provides links on its website to dozens of firms that sell sustainable wares.

No doubt it feels good to go green over the holidays, given the excess we typically associate with gift-giving. And given the poor state of the economy, it makes sense to give gifts that will last, whether they involve furthering important environmental work or providing items that haven't caused unnecessary environmental destruction in their manufacture and that won't break down once the holidays are over.
CONTACTS: Rain Tees, www.raintees.com; Paradigm Project, www.theparadigmproject.org; NRDC Green Gifts, www.nrdcgreengifts.org; Nature Conservancy's Holiday Giving, support.nature.org/site/PageServer?pagename=holidaygiving_xx_hgg; WWF Gift Center, www.worldwildlife.org/gift-center/; Whale Museum's Orca Adoption Program, www.whale-museum.org/programs/orcadoption/orcadoption.html; Green America, www.greenamerica.orgLondon 2012 reveals all communities on Olympic Torch Relay route and invites the UK to welcome the Olympic Flame next summer.
---
Get a jumpstart on your holiday shopping and receive
holiday pricing with free shipping*
on these new, collectible meditation CD sets.
We are so excited to announce our all-new collectible meditation CD sets based upon the meditation experience the world is talking about, The Chopra Center 21-Day Meditation Challenge™. Avoid the hassles of the shopping mall and conveniently order this amazing gift on line for your family and friends. Give the infinite gift of meditation this holiday season and get special holiday pricing plus free shipping for pre-orders by November 25. Learn more >>
A special gift for you to enjoy a balanced, calm and joyful holiday season...
The Chopra Center has a special gift for you to make this holiday season one of peace and bliss: a free guided meditation download from davidji. As you feel any unwanted stress building over the coming weeks, we invite you to enjoy this special meditation from our new Create Your Soul Profile Meditation CD-Set, to reconnect to the calm and wisdom within.

This is a limited time offer so take advantage now and receive before the holidays! www,chopra.com.
---
The London Organising Committee of the Olympic and Paralympic Games (LOCOG) today confirmed all the communities through which the Olympic Flame will be carried by Torchbearers during the London 2012 Olympic Torch Relay which is presented by Coca-Cola, Lloyds TSB and Samsung.
The announcement of the 1,018 villages, towns and cities on the route means LOCOG has realised the aspiration of taking the Olympic Flame to within an hour's journey time of 95% of the population. In fact, over 95% of the population will be within just 10 miles of the Olympic Flame next summer. The street by street detail of the route will be confirmed next year.

LOCOG has worked closely with representatives from a number of sectors in each Nation and Region to devise the route. Not only does the route include villages, town and cities, the Olympic Torch Relay will also take in hundreds of landmarks; from the famous to the unexpected; natural to the man-made; historical to the modern and will showcase and celebrate the diversity of the UK. By visiting different communities the Olympic Flame will connect the people of the UK to the Olympic Games, its values and its spirit.

LOCOG has also announced a selection of the modes of transport by which the Olympic Flame will be carried along sections of the route and hinted at some of the exciting challenges that the Olympic Flame and some of the Torchbearers who carry it will face along the way.

Travelling by different methods of transport including horseback, bicycle, tram and steam-train, the Olympic Torch Relay will also include exciting moments with extreme heights, high speeds and breath-taking spectacles. Every county in England and every Local Authority area in Scotland, Northern Ireland and Wales will host the Olympic Flame, with welcomes reaching as far north as Lerwick in Scotland to St Helier in the south, Lowestoft in the east and Enniskillen in the west. Well known landmarks including Snowdon, Stormont, Loch Ness and Stonehenge will be visited by the Olympic Flame. Many thousands of people are expected to welcome the Olympic Flame along the route each day and celebrate the achievements of the Torchbearers in parks, squares and streets right around the UK.

A list of the host communities and a selection of key moments announced today, images of the Torch and a short CGI digital fly through film that gives a taste of the journey are available for download here. People are invited to view the interactive map at www.london2012.com/olympictorchrelaymap to find their nearest community through which the Olympic Flame will be carried.

Sebastian Coe, Chair of LOCOG, said: 'I'm delighted that the Olympic Torch Relay will take the 2012 Games at almost every corner of the UK and that we have achieved our ambition to take the Flame to within an hour's journey of 95% of the population. Now everyone is invited to plan their welcome and find out where they can go to be part of this historic occasion. The Olympic Games are coming to you as the Olympic Flame gives our people and places their moment to shine.'

Jeremy Hunt, Secretary of State for Culture, Olympics, Media and Sport, said: 'When the Olympic Flame arrives here in the UK on 18 May next year it will mark the final countdown to the greatest sporting event the country will host in our lifetime. The Olympic Torch Relay will be an amazing opportunity for people to see the Olympic Flame in their own towns and communities. The Flame's journey is steeped in the rich history of the Olympic Games, travelling from Athens then right around the UK. I encourage everyone to get out and take part in the excitement of the Torch Relay as it comes through their town.'

The Olympic Flame will be lit in Olympia in Greece in May 2012. British Airways is a Supporter of the London 2012 Olympic Torch Relay and the Olympic Flame will arrive into the UK from Greece on 18 May 2012 on board one of its aircraft.

The 70 day Olympic Torch Relay, presented by Coca-Cola, Lloyds TSB and Samsung, will start at Land's End, Cornwall on the morning of 19 May 2012. On leaving Land's End, the Olympic Flame will travel an estimated 8,000 miles around the UK giving thousands of communities and individuals their moment to shine as the Olympic Flame comes to a place near them.

The Olympic Flame will be carried across the UK by 8,000 inspirational Torchbearers each of whom will have a story of personal achievement and/or contribution to the local community. In December this year, successful nominees will be contacted with a conditional offer and final Torchbearer places will start to be confirmed from February 2012 onwards.

On the final day of the Olympic Torch Relay, it is LOCOG's intention that the Olympic Flame will travel down the River Thames as it makes its way to the Olympic Stadium on 27 July 2012 for the lighting of the cauldron at the Opening Ceremony, signifying the official start of the London 2012 Olympic Games.

Today LOCOG launches two new public participation programmes. The 'Local Leaders' initiative is an invitation to people across the UK to take the 2012 Games into their community and create their own celebrations next year, for the Olympic Torch Relay and other key moments during the Olympic and Paralympic Games. People are encouraged to sign up to the Local Leader programme at www.london2012.com/localleaders to receive further information on a range of themed celebration ideas focusing on the Opening Ceremony evening, gardening, quizzes and barbecues and be in the front row to receive free London 2012 event materials.

Also launched today is the 'Get Set for the Olympic Torch Relay' education resource, available to all schools registered with Get Set, London 2012's official education programme. The aim of the resource is to provide schools with cross-curricular resources aimed at teachers working with 3 to 16 year olds to aid learning around the history of Olympic Torch Relays, the design of the London 2012 Olympic Torch Relay and the Torch itself. A further resource will launch next year to encourage schools to plan a welcome for the Olympic Flame and show support for the Torchbearers. Lloyds TSB, official Education Partner of the London 2012 Olympic Torch Relay, has launched its Flame Followers schools programme which complements the Get Set resources, and gives schools once-in-a-lifetime opportunities to be right at the heart of the excitement and celebrations of the Relay.

The three Presenting Partners of the London 2012 Olympic Torch Relay – Coca-Cola, Lloyds TSB and Samsung – will help bring the Olympic Flame to the people of the UK. Together they provide an optimum mix of previous Olympic Torch Relay expertise and community based programmes to support the staging of the Relay.

James Williams, Director, Olympic Torch Relay, Coca-Cola North West Europe and Nordics, said: 'London 2012 will see Coca-Cola presenting the Olympic Torch Relay for the eighth time, so we know just how powerful it is at uniting a whole country in support of the world's biggest festival of sport. In 2010, we saw far-flung communities right across Canada really come together to welcome the Olympic Flame, and now we can't wait to bring that magic to cities, towns and villages the length and breadth of the UK. We're very excited to be bringing music and celebration to the Relay, and to be shining a light on the best of British youth – our Coca-Cola Future Flames – throughout local communities around the UK.'

Sally Hancock, Director, 2012 Partnership and Group Sponsorship at Lloyds TSB, said: 'As the National Presenting Partner of the London 2012 Olympic Torch Relay, Lloyds TSB is helping to bring the Olympic Flame closer to communities across the UK. With branches on practically every High Street we're inviting everybody to celebrate the Relay with Lloyds TSB as it travels past their doorsteps next year. Young people and schools can also get involved through our Flame Followers programme and National School Sport Week (www.lloydstsb.com/london2012) and we're looking forward to giving everyone the chance to share the excitement in each of these villages, towns and cities as the Flame passes through.'

Mr. Gyehyun Kwon, Vice President & Head of Worldwide Sports Marketing, Samsung Electronics, said: 'We are extremely proud to be a Presenting Partner of the London 2012 Olympic Games. As a Worldwide Olympic Partner, Samsung will support each of the 1,000 villages, towns and cities as they celebrate their own Olympic Torch Relay moment, and help showcase the nation's cultural landmarks along the way.'

The full list of locations confirmed can be found here.
---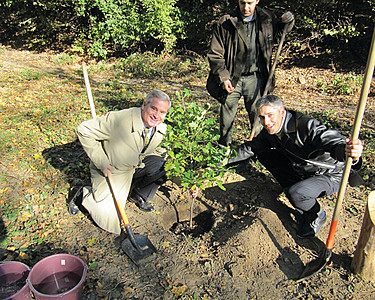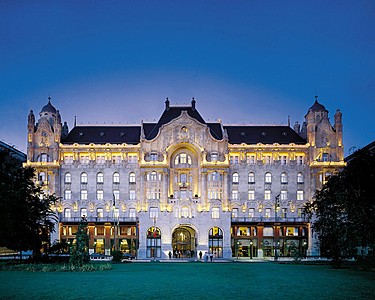 Four Seasons Hotel Gresham Palace Budapest is launching a festive charity campaign called "Wish Upon a Star" beginning December 1, 2011 and continuing through January 31, 2012. Guests can contribute with the purchase of a Silver Star card for HUF 3,000.00 to fund the Hotel's donation of educational books and toys to orphaned children in Hungary.
"Wish upon a star and make a child smile this holiday season – that's the motto of this year festive charity campaign," says Yves Giacometti, general manager at Four Seasons Hotel Gresham Palace. "We have been supporting local orphanages since the Hotel opened, and now we are inviting our guests to participate too. In February, we will purchase toys and books with the funds raised during the campaign and present the gifts to a local orphanage. All contributors will receive a letter of thanks."
Four Seasons Hotel Gresham Palace is also extending its soup kitchen project in cooperation with Menhely Alapítvány, a local shelter program, until the end of August 2012. Every Thursday, guests and employees are invited to support the kitchen by helping to prepare meals for homeless people at the shelter.
The Hotel also continues to support the global commitment of Four Seasons Hotels and Resorts to plant 10 Million Trees. This autumn, Four Seasons Hotel Gresham Palace has planted 220 oaks – the symbolic tree of Hungary – in the city, representing the Hotel's 220 employees.
Since its founding, Four Seasons Hotels and Resorts has strived to develop long lasting and positive influences on the communities where it operates and the people it employs and serves worldwide. The company lives its values consistently through its actions in three main areas of focus as chronicled on its new Living Values website: supporting sustainability, building communities and advancing cancer research.
---
The Hidden Blood Pressure Problem
WOMEN MUST READ THIS ONE!
Pulmonary hypertension develops when tiny arteries in the lungs become narrowed, stiffened or blocked due to cellular changes or scarring in the arteries' lining, Dr. Safdar explained. As blood flow is constricted, pressure in the pulmonary arteries rises and blood backs up, forcing the heart to pump harder. (Because blood flow between the heart and lungs is a separate "loop" in the circulatory system, pulmonary hypertension does not show up on arm cuff blood pressure readings.)
At first, symptoms occur only during exertion—and often are wrongly attributed to asthma, anxiety or being out of shape—but eventually dyspnea becomes constant. Additional symptoms include palpitations or racing heartbeat... dizziness or light-headedness... fatigue upon exertion... swollen ankles, legs or belly... and bluish lips and skin.
The longer pulmonary hypertension goes undiagnosed and untreated, the more damage is done. Possible consequences include arrhythmia (irregular heartbeat), heart failure, bleeding into the lungs and sudden cardiac death. The good news: For most patients, pulmonary hypertension can be controlled with lifestyle changes and medication.
One Symptom, Many Possible Causes
Not all cases of dyspnea are due to pulmonary hypertension, of course—in fact, there are dozens and dozens of different medical conditions that can cause shortness of breath. These include..
Kidney disease. When kidneys don't work properly, two complications contribute to dyspnea—anemia (a shortage of oxygen-carrying red blood cells) and buildup of fluid in the lungs.
Pulmonary embolism (blood clot in the lungs). Sudden, unexplained shortness of breath accompanied by sharp chest pain and/or coughing may signal this life-threatening medical emergency.
Cardiac problems. Possible heart-related causes of dyspnea include cardiomyopathy (weakened and/or enlarged heart muscle)... arrhythmia... pericarditis (inflammation of the sac around the heart)... or heart failure (in which the heart cannot pump enough blood to meet all of the body's needs). As Dr. Safdar pointed out, many people do not realize that shortness of breath also can be a symptom of heart attack. Noteworthy: A study in The New England Journal of Medicine found that among patients with no known history of coronary artery disease, those with dyspnea had four times the risk for sudden death as patients without dyspnea.
Self-defense for the Short of Breath
To protect yourself (as my friend Jackie learned), you need to take any and all breathing difficulties seriously. Here's what to do if you...
Have been sick with a bad cold, bronchitis or flu and are struggling to breathe normally—call your doctor. There is probably nothing seriously wrong, but it's best to check... and your doctor may be able to prescribe medication or provide other treatment to help you breathe easier while you recover.
Get winded more often and/or more severely for no apparent reason—see your doctor and ask for diagnostic tests. If your concerns are not taken seriously, seek a second opinion, Dr. Safdar advised.
Experience sudden, intense shortness of breath that is getting worse quickly and/or is accompanied by chest pain—get to the emergency room immediately. Prompt treatment is your best defense.
Source: Zeenat Safdar, MD, is an assistant professor of medicine and associate director of the Pulmonary Hypertension Service at Baylor College of Medicine in Houston. She is board-certified in internal medicine and pulmonary disease and is the author of numerous research articles on pulmonary hypertension and other lung conditions.
---