---
DIABETICS SEE DRAMATIC INCREASE
IN LOWER LIMB AMPUTATIONS
Close Eye on Symptoms and Awareness of New Treatment May Prevent
Loss of Toe, Foot or Leg
Many people suffering foot and leg pain falsely attribute their aches to temporary discomfort or simply "growing old," when something far more serious – and often preventable – is frequently taking place.

People that neglect foot and leg pain – particularly the 20.8 million people in the U.S. with diabetes – can be at risk for amputation. This neglect has contributed to a sharp rise in amputations, with the Centers for Disease Control finding the number of diabetes-related lower limb amputations to have increased by 227 percent between 1980 (33,000) and 2003 (75,000).

Diabetics are prone to amputation as the condition often causes blood vessels in the foot and leg to narrow, causing poor circulation. This makes diabetics susceptible to infection, making it difficult for these wounds to heal. In fact, nine out of 10 non-traumatic lower extremity amputations are instigated by an infection, according to a study led by Texas A&M University. The American Diabetes Association says that diabetes is the most frequent cause of non-traumatic lower limb amputations.

The unfortunate result of these trends is that each year, 75,000 people lose their foot, leg or toe due to diabetes, and 85 percent of these losses could have been avoided, according to the International Diabetes Federation.

New Laser Treatment is an Option in the Fight Against Amputation

Physicians now have a new tool in the fight against amputation. The CLiRpath "cool" excimer laser and catheter procedure vaporizes total arterial blockages that cannot be crossed by standard guidewires (small, flexible wires used to position catheters) in leg and foot arteries, restoring straightline blood flow, which promotes healing. Developed by Spectranetics Corp. (NASDAQ: SPNC), the minimally invasive CLiRpath procedure often enables patients to leave the hospital the day after the treatment. CLiRpath has been the subject of rigorous clinical trials, with limb salvage observed in 95 percent of patients surviving to six months(1).

"Among all the complications from diabetes, amputation can be the worst," said Dr. Craig Walker, of the Cardiovascular Institute of the South, in Houma, La., and one of the country's leading clinical investigators and cardiologists. "Amputation affects a person's quality of life drastically, from mobility to self-image. It is also associated with a decreased life expectancy. But, many amputations can be avoided by simply monitoring the symptoms and talking to a physician about your pain."

Common Warning Signs

The frequent culprit of diabetic amputations is peripheral arterial disease (PAD), in which plaque blocks foot or leg arteries, resulting in pain, development of ulcers and onset of limb loss. According to the American College of Cardiology, common symptoms of PAD are:

• Discomfort, cramping or heaviness in the toes, feet or legs
• Poorly healing or non-healing wounds on the toes, feet or legs
• Walking impairment
• Pain at rest that is localized to the lower leg or foot
• Abdominal pain that is provoked by eating
• Familial history of a first-degree relative with an abdominal aortic aneurysm

One Man's Story

In 1958, Tom Nelson decided to move from Minnesota to Colorado as a result of his love for the outdoors. Now in his mid-70s, Montrose, Colo., resident Nelson noticed exhaustion and increasing pain in his legs beginning to affect his day-to-day activities. No longer able to take his daily three-mile walks, Nelson's doctor detected arterial blockages in both legs. Fearing the worst, Nelson thought he would be bedridden or possibly facing amputation. This condition (frequently diagnosed as the most severe form of PAD, called Critical Limb Ischemia) is common in older people and particularly diabetics, affecting over 1 million people in the U.S. each year.

His doctor sent Nelson to Dr. Walker to undergo the CLiRpath procedure. Unlike bypass surgery or angioplasty and stenting techniques, the CLiRpath laser can vaporize blockages in the arteries in the leg and foot. Dr. Walker performed the procedure on both of Nelson's legs in February 2006. After a brief hospital stay, Nelson was released.

Nelson has had a stellar recovery since undergoing the CLiRpath procedure. At 75, he is now able to resume his vigorous physical activities, including mowing his 5,000-square-foot lawn without pain.

"Mr. Nelson's case shows that anyone, no matter how healthy, can suffer from arterial blockages in the legs," said Dr. Walker. "Loss of mobility is not always a condition of getting old. Many amputations can be prevented."

About Spectranetics Corp.
Spectranetics is a medical device company that develops, manufactures and markets single-use medical devices used in minimally invasive surgical procedures within the cardiovascular system in conjunction with its proprietary excimer laser system. Excimer laser technology delivers relatively cool ultraviolet energy to ablate or remove arterial blockages including plaque, calcium and thrombus. We believe our CVX-300(R) excimer laser is the only system approved in the United States, Europe, Japan, and Canada for use in multiple, minimally invasive cardiovascular procedures. These procedures include atherectomy, which is a procedure to remove arterial blockages in the peripheral or coronary vasculature, and the removal of infected, defective or abandoned cardiac lead wires from patients with pacemakers or implantable cardiac defibrillators, or ICDs, which are electronic devices that regulate the heartbeat. For more information, visit www.spectranetics.com.
---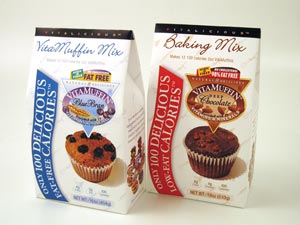 The latest in healthful treats to make and enjoy at home for the holidays
includes these fat free and delicious ready to make muffins.
---
TUMARO'S GOURMET TORTILLAS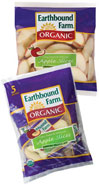 America's best-selling flavored tortilla brand, today launched a new line of flatbreads incorporating Solae® brand soy protein. The new Soy-full Heart flatbreads are the first nationally distributed soy-fortified flatbreads in the country and come in three varieties: [Wheat, Soy & Flax], [8 Grain 'N Soy], and [Apple 'N Cinnamon]. The flatbreads are also the first to carry the "Good Source of Whole Grains" stamp by the Whole Grains Council. Soy-full Heart flatbreads have 4g of fiber, 6g of protein and thanks to the flax in the Wheat, Soy & Flax flavor, have 420mg of Omega-3s. Taking "multi-grain" to new heights, Tumaro's new line is made with multiple whole grain flours including oat, wheat, red wheat, rye, barley, buckwheat, and rice. All varieties are 92% fat free, have 0 grams of trans fats, low cholesterol, low sodium, and are Kosher. "Solae® soy protein gives our flatbreads a nutritional punch that is unmatched in the industry," says Brain Jacobs, Vice President of Tumaro's. "Fortified with Solae® soy protein, Omega 3s, multiple whole grains and great taste, we expect our new flatbreads to revitalize the category." "Research strongly indicates that eating a diet rich in soy protein can help lower cholesterol and may help prevent heart disease," said Greg Paul, Ph.D., protein expert and director of health and nutrition for The Solae Company. "Unlike other protein sources,soy protein is low in fat and cholesterol-free."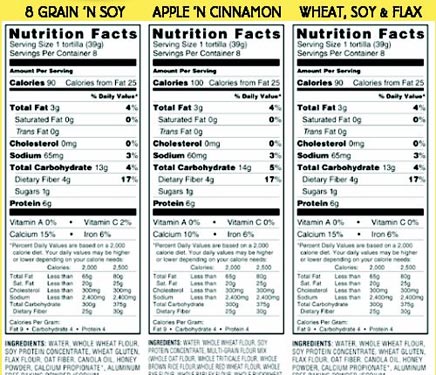 The new 2005 Dietary Guidelines recommend all Americans eat at least 3 daily servings (or 48 grams) of whole grains. Recent studies show that eating this amount of whole grains can reduce the risk of heart disease by 25 to 36 percent, strokes by 37 percent, Type II diabetes by 21 to 27 percent, digestive system cancers by 21 to 43 percent and hormone-related cancers by 10 to 40 percent. For more information, visit
www.tumaros.com or call 800-777-6317.