IMPROVING YOUR FACE VALUE
With a Younger Looking Smile
by Bonnie Carroll
The average senior man or woman can tell you, based on their own personal experience or by information found in current publications, the perfect age for a face lift is fifty-something. But, what about that beguiling smile that has been attracting your hearts desire for years? It is not unusual for people to require major dental work to maintain a youthful appearance in their forties, fifties and beyond. Just as face muscles tend to fall with age and require special attention, the caps that were gorgeous in your late thirties may start to crumble in your fifties, and with time teeth lose their bright and white dazzle. Another serious foe is gum disease or major bone loss, which doctors attribute to everything from family genetics to hormonal imbalances. These serious conditions may not only cause teeth to slant downward and appear off-balance, but may also be the impetus for actual tooth loss.
Plaque buildup is not necessarily a question of how often you put a tooth brush in your mouth, or whether you use the latest ultrasonic tooth brush. Some people are just highly prone to this condition, and according to Dr. John Ivey, a dentist who has been designing beguiling smiles for a huge practice of major celebrities, sports personalities and International socialites for over a decade, "why you have plaque buildup does not change the diagnosis, the treatment is the same whatever the cause. Vigilance in daily cleaning along with regular professional cleaning is imperative to successfully combat plaque buildup and keep your teeth strong."
According to statistics from the American Dental Association the use of veneers, porcelain caps and bleaching will only be successful if there is a healthy foundation to build on. There are new drugs available like Periostat, a prescription medication that works to eliminate plaque buildup in the mouth, as well as variety of electric tooth brushes, and plaque removing devices that aid in maintaining a clean mouth between professional servicing.
Your teeth can be as age revealing as your wrinkles, thinning hair and receding hairlines. A mouth that has worn or stained teeth, sitting in a receding gum line, can add unwanted years to your appearance. "The bleaching process or use of veneers can be like a fountain of youth, and can also reverse the natural aging process of the teeth," says Dr. Ivey.
| | |
| --- | --- |
| | |
| | |
The remarkable thing about a dentist with state-of-the-art equipment, as is the case with Dr. Ivey, is the literally pain-free experience he provides, and an added incentive to visiting his office is the video screen above the chair that allows patients to watch their favorite movies while the most sophisticated techniques in dentistry are being applied to provide them with healthier looking gums and a spectacular smile.
We are living in a time when men and women who are rapidly approaching or sailing by fifty continue to be a very viable and visible segment of the workplace, and keeping a youthful appearance is essential. Today you don't have to be a Sharon Stone or Jack Nicholson to have Dr. Ivey, DMD, give you fabulous looking teeth. So, if you're moving into the sensational senior phase of life, and you are still impassioned by life's game, perhaps you should improve your own face value with a younger looking smile as a sensible option. Dr. John Ivey has offices in Los Angeles at Beverly Hills, California, and can be contacted at 310-274-7124.
---
FILLED WITH LIGHT
®evolution Tea's New All Natural Bottled White-T ™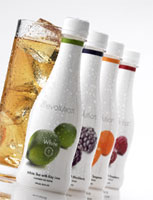 The highly stylized and attractive new product is calorie free, sugar free, preservative free, and read to drink. Made from premium white tea, which provides three times as many antioxidants as green tea. ®evolution White-T ™ contains purified water, select white tea, natural caramel color, citric acid and natural flavors of key line, blackberry, tangerine or raspberry. The White-T ™ is best served chilled or over ice, and should be refrigerated after opening. The product contains 0% calories, 0% fat, 0% Sodium Omg, 0% total carbs and no sugar or sweeteners. Look for this "as good as it tastes" new product at gourmet grocery, special retail, bookstores, coffee shops, convenience and grocery stores or online at www.revolutiontea.com. Cheers!
---
HAAGEN-DAZS MAKES THE IMPOSSIBLE POSSIBLE
New Light Ice Cream is 100% Haagen Dazs, 50% Less Fat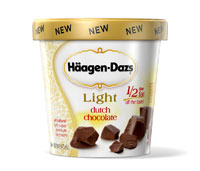 It's a light ice cream with half the fat, and it tastes as good as the original. The company has finally granted a wish that has been expressed to them for years by consumers; they created a great tasting light version of their famous Haagen-Dazs ice cream.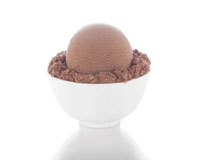 The new product comes in Vanilla Bean, Dutch Chocolate, Coffee, Dulce de Leche, Mint Chip, S'Mores, and Cherry Fudge Truffle. Available nationwide in June 2005; Available now in select markets. For information visit www.haagen-dazs.com.
---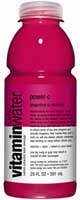 FIGHT THE FLU WITH A COLORFUL THIRST QUENCHER

Need a change? glacéau vitaminwater is enhanced water that is all natural, low-calorie and packed with nutrients. it provides more vitamins, more electrolytes and more taste than plain water and other beverage alternatives.
| | |
| --- | --- |
| power-c dragonfruit | vitamin c + taurine; provides more strength |
| defense apple-raspberry | c vitamins + zinc; provides more immunity |
| focus kiwi-strawberry | vitamin a + ginkgo biloba and gotu kola; provides more clarity |
| balance cran-grapefruit | vitamin c + yerba mate and ginkgo biloba; provides more flexibility |
| essential orange-orange | essential vitamins and minerals from a to zinc; essential nutrients |
| vital-t lemon tea | vitaminc + e (antioxidants); more vitality |
| endurance peach | vitamin e + astragalus and ginseng; provides more sustained energy |
| energy tropical citrus | vitamin c + ginseng and guarana; provides more immediate energy |
| stress b lemon-lime | 100% ofvitamins b3, b5, b6 and b12; provides more relaxation |
| rescue green tea | b complex vitamins + chamomile, hibiscus and rosehips; tranquility |
| multi-v lemonade | vitamins a, c and e + calcium; provides more calcium |
| revive fruit punch | b + potassium, gotu kola and ginseng; provides more recovery |