ABOUT PRIMORDIAL SOUND MEDITATION
The Mandala - A Visual aid used in Meditation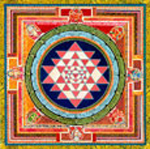 Primordial Sound Meditation is a healing practice that allows us to experience inner calm and deep relaxation. For thousands of years, people have used meditation to move beyond the mind's busy activity and emotional turbulence into profound peace and expanded awareness.
In the 21st century, the restful awareness we experience during meditation is more valuable than ever. The pace of life has accelerated, and every day we are bombarded with more information and stimulation than our ancestors encountered during entire lifetimes. Not surprisingly, the number of people suffering from stress, anxiety, insomnia, and chronic health problems is on the rise — and many are searching for peace of mind.
The most direct way to experience inner silence and well-being is meditation. As scientific research reveals, when you meditate, your breathing slows, blood pressure decreases, and stress hormone levels fall.
Primordial Sound Meditation isn't about forcing your mind to be quiet, but about experiencing the quiet that is already there. Even when your mind is filled with agitated thoughts, you still have access to the inner stillness and calm that always lies beneath the choppy surface of thought and emotion.
Even as your body is resting deeply in meditation, your mind is awake, though quiet. The term restful awareness captures the unique combination of physical relaxation and an alert yet quiet mind. Visit: www.chopra.com.
"The secret of health for both mind and body is not to mourn for the past, not to worry about the future, and not to anticipate troubles, but to live the present moment wisely and earnestly."
~ The Buddha
---
EARTHTALKTM
From the Editors of E/The Environmental Magazine
Dear EarthTalk: I need to replace my old TV. Can you tell me which of the latest models is the greenest? I was told that the flat-screen/plasmas are real energy hogs. What do you recommend?
-- Angela Montague, via e-mail
 
According to The Wall Street Journal's Rebecca Smith, a 42-inch plasma TV set can draw more power than a large refrigerator, even if the TV is only used a few hours a day. This is partly because many newer models don't turn off but go into "standby" mode so they can start up fast later with no warm-up period. "Powering a fancy TV and full-on entertainment system—with set-top boxes, game consoles, speakers, DVDs and digital video recorders—can add nearly $200 to a family's annual energy bill," she adds.
Smith recommends green consumers consider the Liquid Crystal Display (LCD) models, which typically uses less energy than comparable plasma sets. According to the U.S. Environmental Protection Agency (EPA), a 28-inch conventional cathode-ray tube (CRT) set uses about 100 watts of electricity. A 42-inch LCD set might consume twice that amount, while plasma could use five times as much, depending on the model and the programming. For the largest screen sizes (60 inches and up), projection TVs are the most energy efficient, clocking in at 150-200 watts—significantly less than the energy a plasma set would use.
"What scares us is that prices for plasma sets are dropping so fast that people are saying, why get a 42-inch plasma set when you can get a 60-inch or 64-inch one," says Tom Reddoch of the non-profit Electric Power Research Institute. "They have no idea how much electricity these things consume."
For its part, the industry is taking some steps to make its products more efficient, and to improve disclosure of energy usage. In June 2008 Sony pronounced its new 32-inch Bravia KDL-32JE1 LCD model "the world's most energy efficient television." Slated for sale in Japan in August 2008 for around $1,400, the new set utilizes fluorescent tubes to create higher levels of brightness with less energy consumption, but still delivers large resolution, a high contrast ratio and a wide viewing angle.
Beginning in November 2008, forward-thinking manufacturers will get a little boost from the U.S. government, which will start awarding the most energy efficient new TV sets "Energy Star" labels to help consumers identify greener choices. TVs bearing the Energy Star label must operate at least 30 percent more efficiently than standard models in both stand-by and active modes. Consumers can see which models qualify by visiting the televisions section of the EnergyStar.gov home electronics page. According to the EPA, if all TVs sold in the U.S. met Energy Star requirements, yearly energy savings would top $1 billion and greenhouse gas emissions would drop by the equivalent of taking a million cars off the road.
Of course, the greenest option of all (aside from getting out from in front of that tube and spending more time outdoors) is to keep or repair your existing CRT unit (a digital-to-analog converter will be needed after February 2009 when new signal specifications go into effect). Most CRT sets use less energy than any of the LCD or plasma models, and if it ain't broke, why fix it? Buying a new TV, even a greener one, only generates more pollution in production and transport, and creates waste in junking the old model.
---
JOHN MELLENCAMP ANNOUNCES FIRST
FARM AID MUSIC FESTIVAL IN NEW ENGLAND
 
Willie Nelson, Mellencamp, Neil Young and Dave Matthews
to headline Sept. 20 all-star concert event
 
Alongside farmers and food buyers at the Copley Square Farmers Market, Boston Mayor Thomas M. Menino and Governor Deval Patrick welcomed Farm Aid co-founder John Mellencamp to New England as he announced Farm Aid 2008 Presented by Whole Foods Market and Horizon Organic. The concert will take place on Sept. 20 at the Comcast Center in Mansfield, Mass., marking the first time the organization will bring its annual benefit concert to the region.
 
"New England was built on the strength of independent family farmers," said Mellencamp. "We can honor that independent spirit by joining Farm Aid to grow the movement that is changing the way all of America eats."
 
Farm Aid 2008 Presented by Whole Foods Market and Horizon Organic will feature headliners Willie Nelson, Mellencamp, Neil Young, and Dave Matthews, plus other top artists to be announced. The annual benefit concert will celebrate music and good food, featuring hands-on activities in the HOMEGROWN Village that will showcase the direct connection between who is growing our food and what we eat every day.
 
"We are proud to bring our annual Farm Aid concert to a region that has such strong agricultural roots and to the many people who love to eat the good food grown in New England," said Farm Aid president Willie Nelson. "I'm looking forward to bringing my friends together on the Farm Aid stage to celebrate and support family farmers."
 
The concert event will again feature family-farm identified, local and organic foods at concessions, setting an example of the many ways that family farm food can be integrated into the general marketplace.  
 
"Bringing Farm Aid's unique concert event to New England creates an unparalleled opportunity to showcase the innovation and determination of the area's farmers," said Carolyn Mugar, executive director of Farm Aid. "We're looking forward to a day filled with outstanding music and delicious food grown by these farmers from across the region."
 
As part of its work to increase the affordability and availability of fresh, healthy foods, Farm Aid also announced its support for the collaborative initiative between the Food Project and the city of Boston to help more families shop at farmers markets by building infrastructure that allows market vendors to accept food stamps.
 
Since its beginning, Farm Aid has traveled the country, staging annual concerts and supporting local organizations working to strengthen family farms. Farm Aid builds the Good Food Movement by connecting people with family farmers who are increasing the supply of local, humanely raised, sustainable and organic food.
 
Tickets for Farm Aid 2008 Presented by Whole Foods Market and Horizon Organic will go on sale July 28 at 10 a.m. EDT and are available at all Ticketmaster outlets, www.ticketmaster.com, or by calling (866) 448-7849.
 
Farm Aid will offer special advance sale tickets to its FarmYard members. To become a member of Farm Aid's FarmYard, visit www.farmaid.org.
 
Farm Aid offers corporate sponsorship opportunities for select companies. Contact Glenda Yoder at glenda@farmaid.org.
 
Farm Aid's mission is to build a vibrant family farm-centered system of agriculture in America. Farm Aid artists and board members Willie Nelson, Neil Young, John Mellencamp and Dave Matthews host an annual concert to raise funds to support Farm Aid's work with family farmers and to inspire people to choose family-farmed food. Since 1985, Farm Aid has raised more than $30 million to support programs that help farmers thrive, expand the reach of the Good Food Movement, take action to change the dominant system of industrial agriculture and promote food from family farms.
---
HEART SMART RECIPE
FROM HENRYFORD.COM
Spicy Thai Slaw
Prep Time: 15 minutes *
Cook Time: * (Total time will vary with appliance and setting.)
Level of Difficulty: Easy
Ingredients:
1/2 cup water
3 tablespoons rice wine vinegar
1 tablespoon low-sodium soy sauce
1 1/2 teaspoons cornstarch
1 teaspoon sugar
1 tablespoon creamy peanut butter
1 large garlic clove, peeled, minced
1 tablespoon freshly chopped cilantro
1/2 teaspoon crushed red pepper
4 cups finely shredded purple cabbage
1/2 cup shredded carrot
1/2 cup sliced green onions
In a small saucepan, combine water, vinegar, soy sauce, cornstarch and sugar. Bring to a boil and cook 1 minute, stirring constantly. Remove the pan from the heat. Add the peanut butter, stirring with a wire whisk until the mix is smooth. Stir in garlic, cilantro and red pepper. Cover the dressing and chill it. In a large bowl, place cabbage, carrots and green onion; add the dressing, tossing gently to coat. Cover and chill before serving.
YIELD: 8 servings
*TOTAL TIME: 30 minutes
Calories = 38 Protein = 1 gram Carbohydrate = 6 grams
Fat = 1 gram Saturated fat = 0 mg Cholesterol = 0 mg
Sodium = 144 mg Fiber = 1.5 grams Calcium = 27 mg
% calories from fat = 25%
FOOD EXCHANGES: 1 vegetable, 1/2 fat
---