HEALTH MINDED  .   .   .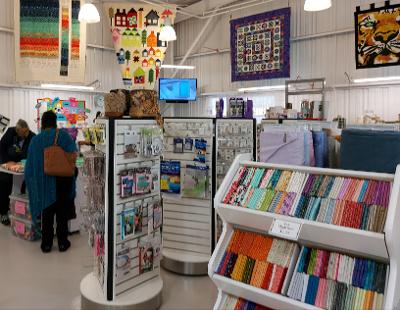 Grant House Sewing Machines in Santa Barbara

PANDEMIC ISOLATION REVIVES HEALTHY HOME ACTIVITIES
By Bonnie Carroll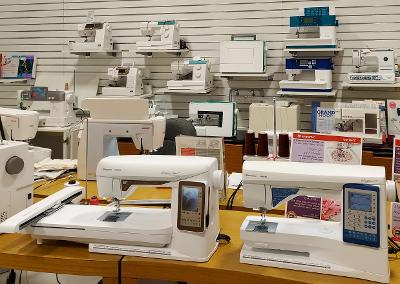 Sewing Machine Selection is Important
There has been a resurgence in crafting and sewing throughout the US. Sewing work and crafts that had gone by the by are now having a rebirth during the Pandemic isolation and the sewing machine has become a new best friend. Seniors who once used machines for home and fashion designs are once again looking for a bargain machine to begin making home items and doing their own repairs, and younger women with children are saving time and money by making kids apparel and creating home decorating items, as well as making extra money creating masks for sale in their local shopping venues.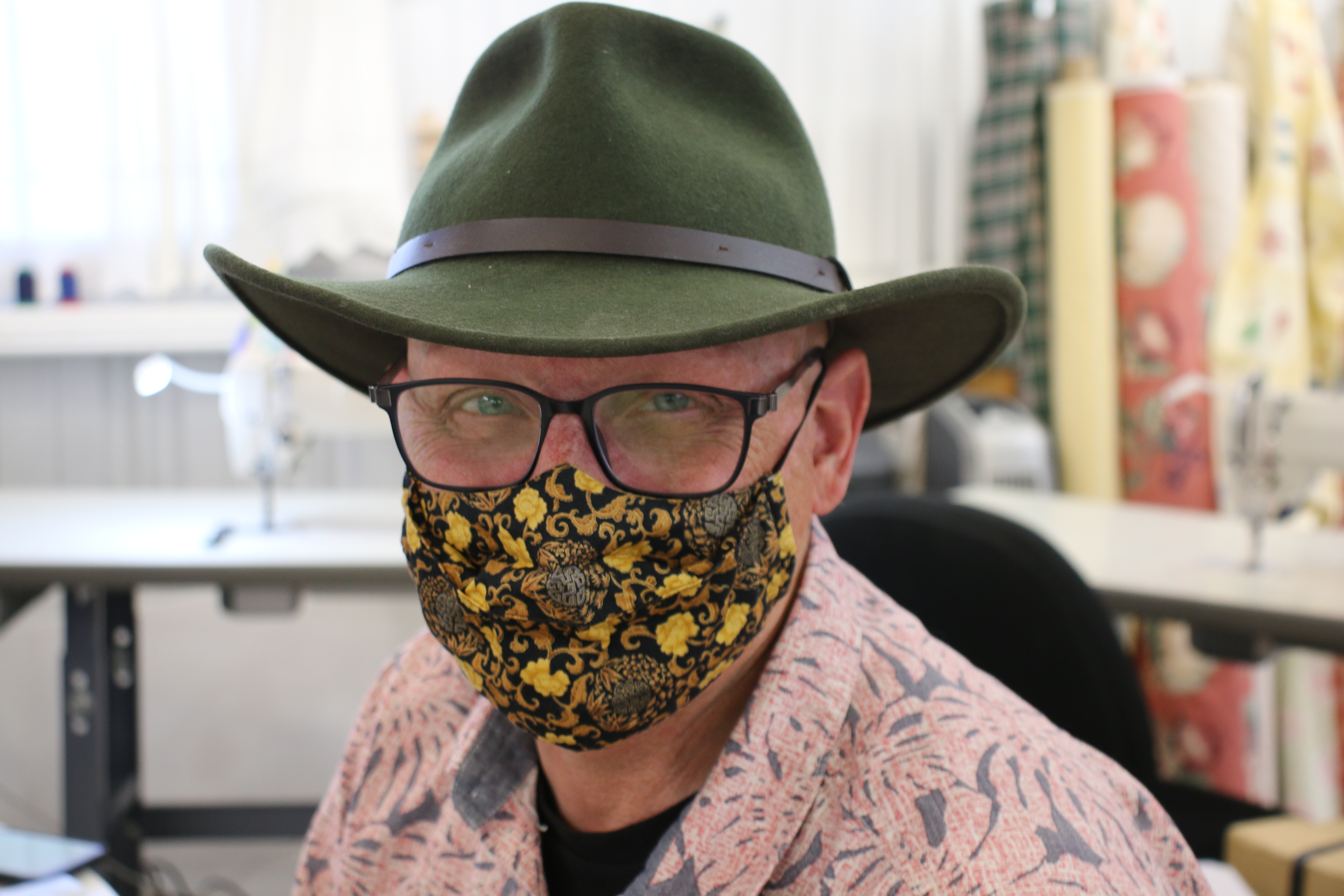 Grant House, Owner of Grant House Sewing Machines
Some business' have flourished due to the home isolations and compliances including a local business owner in Santa Barbara who recently celebrated forty years in business in the seaside community. Grant House, owner of Grant House Sewing Machines just celebrated his shop anniversary with some special discounts and welcomed his long-time and new customers to visit and celebrate. Grant House is a former Santa Barbara City Council Member and is well known and loved in the community. He loves helping his customers and has a great team working with him.

According to House "I've had young couples invest in new sewing machines with the intent to create garments and decorator items to sell as added income during the Pandemic 2020. We have many customers beginning to sew again and we have doubled our fabric, thread, pattern, ribbon and sewing machine inventory to meet the need." His store carries a huge variety of machines; from small and very affordable to extremely sophisticated styles. They also offer a variety of instruction classes from experts for anyone interested, and can arrange machine repairs and updates.
Santa Barbara has large groups of sewers who created quilting organizations in past years and they keep on attracting new members, and costume designers for annual Solstice Parade and Fiesta costumes have been patrons over the years. Many people I've talked to say they are finding time to create new quilts, and design children's clothing and costumes while at home. I am a great supporter of the belief that finding healthy outlets while staying home during the Covid-19 Pandemic is imperative and sewing is a productive way to make time fly.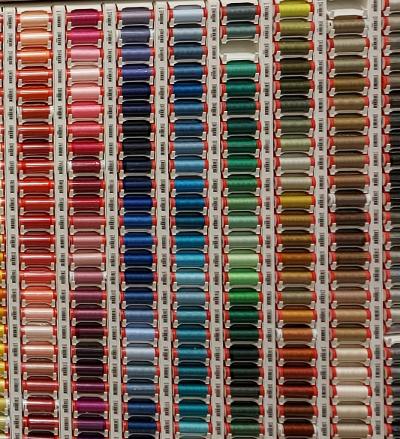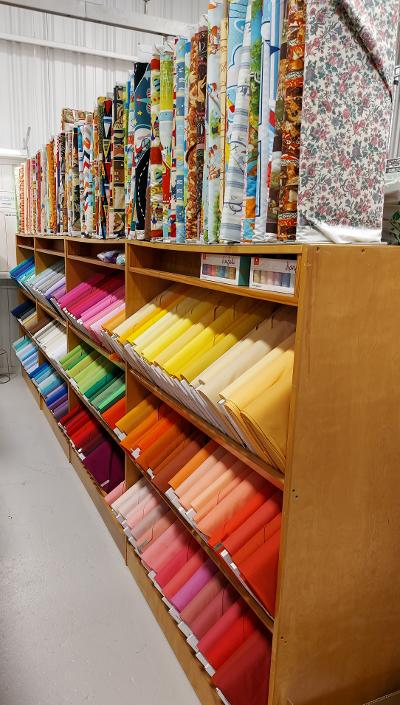 Endless variety of threads and fabrics
People have been creating and implementing home exercise rooms, getting back into creative cooking in a big way, learning to play musical instruments, as well as taking on home decorating projects; which can include designing and sewing to create a more appealing home environment or just making masks for your family or business associates to stay healthy.
I am one of those who has again begun to sew and realized how much I love it and what a relaxing pastime it is. I am certain most communities have sewing machine business' like Grant House where they can begin a new or get back into sewing or quilt making for fun and relaxation.  We are all  a little grateful for the renewed interest, and satisfaction found in designing and making items for our home and we appreciate having someone like Grant House in our neighborhood.
Grant House Sewing Machines
336b E Cota Street
Santa Barbara, CA 93101
(805) 962-0929
_____________________________________________________________
FSA Cooks Up Recipes for Brighter Futures
Cooking Up Dreams Fundraiser Transitions Due to COVID
Due to COVID-19 gathering restrictions, Family Service Agency (FSA) is pivoting its annual Cooking Up Dreams event, to a fundraiser and drawing. The popular foodie event that traditionally wows guests with a cooking competition and tasting experience will transition to a drawing for gift certificates to local restaurants and wineries that have previously supported the event. Proceeds from the fundraiser benefit mental health counseling and family support services for at-risk children, families and seniors provided by FSA, Santa Maria Valley Youth & Family Center, and Guadalupe's Little House By The Park.
"Last year's Cooking Up Dreams event was cancelled due to the pandemic. Even though we can't meet in person, we still need to raise critical funds for mental health counseling and family support services," said Executive Director, Lisa Brabo. "In 2021, FSA, SMVYFC, and LHP experienced an increase in services by 20%. There are a lot of families and seniors that still need our help."
This year, a portion of the sponsorship funds will be used to purchase gift certificates to 50 restaurants and wineries around the county. In lieu of attending an event, participants are being asked to donate the typical cost of a ticket ($125 and up) to the organization. In return, they will be entered into a raffle to win $50, $75, and $100 gift certificates to establishments in the Santa Barbara, Santa Maria, or Lompoc areas AND receive a recipe booklet containing delectable dishes from local chefs.
"In past years, restaurants have been generous in supporting our fundraiser by bringing their best dishes to our cooking competition. Knowing the toll the pandemic has taken on the hospitality industry, we hope to give back to these businesses, in a small way, and acknowledge the key role they play in our community," said Brabo.
Presenting sponsors of this year's Cooking Up Dreams are Marni and Michael Cooney and Tania and John Burke. Additional sponsors include Union Bank (Chef Sponsor); John and Jill Bishop, Timothy and Virginia Bliss, Les and Zora Charles, Gary Simpson and Home Improvement Center, Carole MacElhenny, and Tisha Weber Ford (Restaurateur Sponsors); Steve and Lupe Buhr, Liz and Andrea Butcher, Maureen Harmon, Sandy and Dave Nordahl, Maryan Schall, and Jane and Fred Sweeney (Maître D' Sponsors); and Lisa Brabo, CenCal Health, Rod Durham, James and Chana Jackson, James and Mary Morouse, Douglas Rossi, Tricia and Craig Price, SEIU Local 620, and Andrew Wilson (Host Sponsors). Media Sponsors are Santa Maria Times/Lompoc Record, Santa Barbara Independent, and Noozhawk.
For more information, including a complete list of sponsors and gift certificates, visit CookingUpDreams.org.
___________________________________________________________________
Santa Barbara Foundation Sponsors Hospice of Santa Barbara's illuminate Speaker Series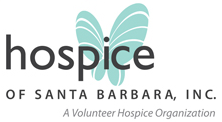 The illuminate Speaker Series Brings World-Renowned Speakers Every Month to Discuss How COVID-19 is Impacting Us All  
 Hospice of Santa Barbara (HSB) is proud to announce that the Santa Barbara Foundation (SBF) is a sponsor of the illuminate Speaker Series, a virtual series that brings world-renowned speakers every month to discuss how COVID-19 is impacting us all.  
As local nonprofits in Santa Barbara adapt to find new ways to serve their clients and causes, HSB is adjusting to the new realities that come with COVID-19 through their illuminate Speaker Series, which provides helpful resources to our community and beyond as we cope with our new reality.  
It is in this spirit that HSB has established the illuminate Speakers Series to address many aspects of the pandemic. As we all know, people are reeling from this world-wide crisis emotionally, socially, and economically. People have shared a variety of intense feelings they are experiencing during this time, among them: fear, deep sadness, anxiety, grief, uncertainty over the present and what the future holds, vulnerability, despair, anger, hopelessness….    
Each month, HSB draws big names to cover topics that range from "How do I find meaning during this challenging time?"; "How do I come to grips with the present new reality?"; "What should I take from this sorrowful time?"; "How should this crisis change me?"; "What are some practical ideas that can help me right now?"; "How can I help others?"; "How can I focus on cherishing the simple things of my life?"; "How do we find connection during this time of disconnection?"  
"Every month, through our illuminate Speaker Series we offer a free virtual event with amazing speakers who address common feelings and questions that relate to our new reality," said David Selberg, CEO of Hospice of Santa Barbara. "We are pleased Santa Barbara Foundation is a sponsor of our series so we can continue to bring new speakers through 2021."  
Past speakers include Roshi Joan Halifax, Frank Ostaseski, Katy Butler, Sharon Salzberg and Dr. BJ Miller. Future Speakers include Dr. Sunita Puri, Jenée Johnson, Nora McInerny and Pico Iyer. All illuminate Speaker Series events are FREE, but registration is required. To learn more, visit: http://www.hospiceofsb.org/hsbseries  
Hospice of Santa Barbara would like to give a special thanks to Natalie Orfalea Foundation and Lou Buglioli, Ridley-Tree Cancer Center and Santa Barbara Foundation for sponsoring the illuminate Speaker Series.  
Santa Barbara Foundation  
The Santa Barbara Foundation (SBF), the largest community foundation in the region  
and the county's go-to resource for investment and capacity-building, strives to  
mobilize and elevate all residents to thrive. Nearly every Santa Barbara County  
nonprofit organization and essential community project has been supported by the  
Foundation during its 93-year history.  
SBF is working to improve areas that affect quality of life in Santa  
Barbara County including childcare, workforce development, and workforce  
housing. The Foundation connects those who give with those in need - and all who  
dream of stronger, healthier communities. To learn more, please visit SBFoundation.org.  
Hospice of Santa Barbara  
Hospice of Santa Barbara provides professional counseling, support groups, and patient care services free of charge to individuals and families who are grieving the death of a loved one or experiencing the impact of a life-threatening illness. Hospice of Santa Barbara also provides counseling in our offices and on fifteen local junior and high school campuses to children and teens who are grieving the loss of a loved one. For more information about Hospice of Santa Barbara, including volunteer opportunities, call (805) 563-8820 or visit www.hospiceofsantabarbara.org. 

____________________________________________________________
NEW MASK FOR YOUR CONSIDERATION
As states continue to re-open, more and more counties are beginning to actively enforce mask-wearing measures. In some localities, residents can face fines up to $1,000 dollars for not wearing a mask.
One of the best ways to remain safe and compliant is to get a high quality face-mask that is effective, comfortable, and breathable.
Here's what's unfortunate: there's a lot of face masks out there that are made with poor quality materials, and multiple sizes/quantities are often unavailable.
However, now there's a new health supply store that has all of your masks needs covered. From reusable cloth masks, to KN95 filter masks, this site has them all available in plentiful quantities.
What is It?
It's called a KN95 Mask, and it's sold by an American company called Hope Health Supply. This mask provides unparalleled protection when you need it the most!
This mask completely covers your mouth & nose, and is extremely comfortable. It comes in both black and white in packs of 10, 25, 50, or even 100 masks, so you can choose the quantity right for you. Thankfully, the company has taken a hard stance against price gouging, offering these masks at just above cost.
Here's some of the cutting edge features of this face mask:
✅ Nano Technology Dust-Free Air Filter PM2.5
✅ Most Comfortable in it's class – can barely notice you're even wearing it.
✅ Non-Respirator: Don't risk exposing others around you to unfiltered air.
✅ Elastic dual-loop ear strap design that's strong and comfortable
✅ Fits all ages, perfect for men, women, and children
✅ Collapsable – put it in your pocket and take it anywhere
✅ Extremely Lightweight & Ultra Thin (2mm)
How does This Mask Filter Out Airborne Toxins?
Each KN95 mask is made up of 5 layers of a blown fabric featuring our patent-pending nanotechnology, giving you an extra level of protection you won't get with most other brands.
How Much Do KN95 Masks Cost?
Hope Health Supply is committed to getting face masks to as many people as possible. And they don't want the price tag to be a stumbling block.
So for a limited time Hope Health Supply is offering a 50% discount, selling for just $2.99 apiece.
Where can I Get My KN95 Masks?
Order a FDA-Registered KN95 Mask from the Hope Health Supply website here.
(To avoid getting scammed by the many counterfeit masks out there, please order from the official site.)
_________________________________________________________________
The Finest in Independent Living
Without the hassles of mundane chores, you're free to enjoy the things you really want to do. At Vista del Monte, you'll have time to engage in what's most meaningful to you: pick up a new skill or hobby, travel, discover an interesting sport, or make more time to socialize. Whatever it is, we can help. With our Independent Living services, we take care of all the practical tasks, including transportation, housekeeping, and maintenance. Our culinary staff prepares delicious meals, handles all the day-to-day chores, and your wellbeing needs are attended to—all in one place. For information visit: www.vistadelmonte.org. Vista Del Monte – Santa Barbara, California – 805-687-0793

---