THINKPRODUCTS INTRODUCES
THINKTHIN PINK, NATURAL NUTRITION BAR
TO BENEFIT SUSAN G. KOMEN FOR THE CURE
thinkThin Pink in Retail Stores October, Breast Cancer Awareness Month

"Inner beauty" natural nutrition bar maker thinkproducts (www.thinkproducts.com) has partnered with Susan G. Komen for the Cure in the creation of the thinkThin Pink bar, available in retail this October in honor of Breast Cancer Awareness Month. A special edition thinkThin bar dressed in a delectably breast cancer awareness pink wrapper, thinkThin Pink will be available for a suggested retail price of $1.69 in all national grocery, drug, and natural food stores, where thinkproducts are distributed. Fifteen cents from the sale of every thinkThin Pink bar sold at retail will benefit Susan G. Komen for the Cure, with a minimum guaranteed donation of $10,000. Along with all other thinkprod

ucts; thinkOrganic, thinkGreen and thinkThin, thinkThin Pink stays true to the company's commitment to vitality and providing pure foods that promote wellness and beauty from the inside out.
"I wholeheartedly believe in the functional power of pure natural foods," said thinkproducts CEO Lizanne Falsetto. "My personal family experience with cancer which we treated with natural methodology proved to me the viable connection between food and health. thinkThin Pink benefits a cause that hits close to home for over 3 million women that are living with breast cancer today. We distribute millions of our bars at retail every month and expect thinkPink to really bring in the bacon for breast cancer awareness."

thinkThin Pink comes in four delicious flavors: white chocolate raspberry, peanut butter caramel, blueberry dark chocolate and lemon burst. Every bar is packed with 20 grams of protein, all natural ingredients, is sugar free and gluten free, with only 2 net effective carbohydrates.
The thinkThin Pink bar, a brainchild of former model and CEO of thinkproducts, Lizanne Falsetto, was introduced to retail in a highly unusual fashion, during the Vitality Fashion Show at the Natural Products Expo on March 10, 2007. The event, presented by thinkproducts, Whole Foods Market and L.A. Models, demonstrated a new direction for the natural products industry that leaves behind the dated hippy-esque natural fashions of the past for the high fashion of today. Wowing the 1200 standing only attendees, thinkproducts made the connection between high fashion and food, inner and outer beauty.

About thinkproducts:
thinkproducts™ was founded by former international fashion model Lizanne Falsetto, who is a true believer in the healing and nourishing power of nature. Creator of all natural, convenient, great tasting, functional foods for people striving to live a life full of vitality and free of disease, thinkproducts was originally inspired by Lizanne's goal to create food for those who "think about what they eat." thinkproducts includes high protein thinkThin™; raw fruit and nut thinkOrganic™; superfood-rich thinkGreen™; and think5™ , made with 5 cups of fruits and vegetables. All thinkproducts are wheat/gluten free and designed to deliver powerful nutritional benefits. The company's commitment to vitality goes beyond food to support a vital cause - the prevention of breast cancer. A portion of the proceeds from every thinkThin Pink™ bar purchase is donated to Susan G Komen for the Cure. thinkproducts can be found in Trader Joe's, Whole Foods, Kroger, Fred Meyer, Ralph's, Target, and your local supermarket and independent natural and grocery retailers nation wide. thinkproducts can also be purchased directly from the company's website, www.thinkproducts.com. thinkproducts is headquartered in Ventura, California, and is one of the largest independent companies in the nutrition bar category.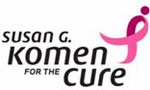 About Susan G. Komen for the Cure: Nancy G. Brinker promised her dying sister, Susan G. Komen, she would do everything in her power to end breast cancer forever. In 1982, that promise became Susan G. Komen for the Cure and launched the global breast cancer movement. Today, Komen for the Cure is the world's largest grassroots network of breast cancer survivors and activists fighting to save lives, empower people, ensure quality care for all and energize science to find the cures. Thanks to events like the Komen Race for the Cure, we have invested nearly $1 billion to fulfill our promise, becoming the largest source of nonprofit funds dedicated to the fight against breast cancer in the world. For more information about Susan G. Komen for the Cure, breast health or breast cancer, visit www.komen.org or call 1-800 I'M AWARE
---
Environmental Magazine:
A Budding Eco Fashion Industry Wants
Consumers to "Care About What They Wear"
Eco fashion is no longer about hippie skirts and Birkenstocks, says the September/October 2007 cover story of E – The Environmental Magazine (now posted at www.emagazine.com). New designers are emerging from L.A. and New York with clothing inspired by architecture, skyscrapers – even folding bicycles.

Brooklyn designer Nina Valenti launched the sustainable line naturevsfuture in 2002. "I design pieces that have a strong line, form and texture," she says. Her fabrics range from organic cotton, wools, hemp and soy to new recycled fabrics like POP, made from recycled soda bottles.

A folding bicycle provided the inspiration for Los Angeles designer Carol Young's spring collection. Specifically, it was the Dahon folding bicycle, a company founded in the '70s to encourage environmentally sustainable forms of transport. Young's label is called undesigned, and the simple, stylish clothes let the wearer move comfortably between office, bicycle, subway and sidewalk. "Clothing design is in a sense architecture miniaturized," says Young.

This new eco fashion appeals to people who live in an urban environment – Paris, New York, London, San Francisco – who use mass transit and need clothing that's flexible enough to take them from day to night.

Meanwhile, the concept of "refashion" has taken the idea of vintage to a new level. Refashion is about extending the life of clothing. From amateur how-to sites like ohmystars.net, which teaches "T-shirt surgery," to one-of-a-kind silk-screened bamboo tank tops on craft site etsy.com, to boutiques like Hairy Mary's on New York's Lower East Side, which sells reconstructed vintage dresses, refashioning is pushing the idea that each item of clothing tells a story.

Ethics & Anti-Fashion

While many eco designers seem engaged in their own personal Project Runway competition, others have come to this new fashion frontier led by ethical concerns first. Irish label Edun, founded by U2 singer Bono and wife Ali Hewson, is up front about its mission. The designers want their customers to think about the cotton in their clothing and the conditions under which it was produced. Their motto is "trade not aid," a focus on raising Africa's share of the global cotton market.

UK-designer Katharine Hamnett laid the groundwork for anti-fashion-fashion back in the '80s with her bold black-on-white message T-shirts. Hamnett's latest T-shirt reads: "Save the Future," a line she produced in partnership with the Environmental Justice Foundation for its campaign to end child labor in cotton farming, especially in Uzbekistan. Singer KT Tunstall wore the shirt when performing as part of Live Earth.

Beyond Burlap: The Search for Sustainable Fabrics

Major labels can order large quantities of organic cotton for a mainstream clothing line, but emerging eco designers face serious hurdles. Most mills aren't interested in producing specialty fabrics in small quantities, forcing designers to use an extremely limited color palette or find creative alternatives, such as working from recycled fabrics or making one-of-a-kind pieces.

"Without a doubt, the most difficult part of designing sustainably is the sourcing of fabrics and materials," Brooklyn designer Bahar Shahpar says. "Choice is extremely limited in terms of color and print."

Until wider fabric varieties become available to fledgling designers, some like Young use designer surplus to add color and texture to their collections. The designers behind the rock n' roll-inspired T-shirts at New York's SDN collect used T-shirts as blank canvases and sell the silk-screened final products through eco-boutiques like Sodafine in Brooklyn. "It's tough to find T-shirts with nothing on them," says Kyle Goen, who started the line with lifelong friend Marcus Hicks. "We put the word out to friends before they throw them out."

Designers want to distance themselves from the shapeless eco fashions of yesteryear, when words like "hemp" and "organic" inspired visions of hippies in a hacky sack circle. While the colors are limited, the cut, the fit and the high-end price tags suggest sophistication. In fact, designers often take pride in the fact that the sustainability of their clothing is not immediately recognizable.

"I'm encouraged by the attention I receive as an 'eco-designer,'" says Shahpar, "but my hope is that my customer will pick up my clothing because they appreciate the design, the story and the process that went into each piece."

Mainstream Bound

While eco fashion has trickled into the mainstream via the organic Eco jeans line from Levis and men's organic T-shirts from the Gap, consumer demand has not been loud enough to merit much of a major market turnover. Deciding to buy organic clothing does not necessarily follow the decision to buy the organic food that has a direct effect on one's personal health.

What's needed, according to designers like Young, is a shifting of consumer consciousness. Shoppers have become used to the disposable clothing model. But they could, instead, see clothing as "something cherished." Young says, "I'd rather have fewer items of things that I love than a closet full of things that I'll never wear and have no connection to."
Economic choices can have a significant impact on how clothing is produced, but while demand for organic cotton clothing has doubled between 2005 and 2006, according to the Organic Consumers Association, and is growing faster than the demand for organic food, it still represents a very small percentage of the market. Cotton Incorporated Executive Vice President Mark Messura says his organization has been tracking consumer interest in organic cotton for the past decade and most shoppers have little interest. "Most consumers don't understand organic. With clothing in particular," says Messura.

Instead, the most noticeable environmental changes in the clothing industry are coming from businesses wanting to extol their own corporate virtues. Gap Inc., for example, has a representative on the Better Cotton Initiative (BCI) Steering Committee. BCI promotes environmentally, socially and economically sustainable cotton cultivation around the globe and aims to put "Better Cotton" into the supply chain by 2012. Other representatives who've joined BCI come from H&M, Adidas and IKEA.

Back in 1996, outdoor- and adventure-clothing specialist Patagonia switched its entire sportswear line to organically grown cotton.

Trend setting, sustainably made designer fashions will certainly continue to attract a niche market, but these larger corporate initiatives are the kind that can create lasting change in the marketplace. The more consumers know about the content of their clothing, the more they may begin to see it in all of its "life cycle," from grower to garment. The eco fashion movement, on a small or large scale, is about drawing the connections between consumers and their clothing, moving away from a disposable mentality. It's a major shift for a generation accustomed to buying clothes with a shopping cart.

E – The Environmental Magazine distributes 50,000 copies six times per year to subscribers and bookstores. E also publishes EarthTalk, a nationally syndicated environmental Q&A column distributed free to 1,500 newspapers, magazines and websites throughout the U.S. and Canada
---
Hair Care: "An Ounce of Prevention is Worth a Pound of Cure."
Dr. Alvi Armani World-Renowned Hair Transplant Surgeon and Hair Loss Expert Offers Advice
Taking your hair health seriously is an important part of maintaining your follicles, especially if you do have a genetic predisposition to thinning or balding. People who are dealing with hair loss have the most to gain from taking special steps, which should start with a healthy lifestyle and an adequate exercise campaign. Healthy hair is, in part, a sign of a healthy body and immune system. A diet rich in nutritious fruits and vegetables, as well as sufficient amounts of protein, will assist your hair health.
Dr. Antonio Alvi-Armani (http://alviarmani.com), a world-renowned hair loss expert, with offices worldwide, is also author of "How to Beat Hair Loss: The Complete Guide to Surgical, Medical, and Alternative Treatments for Hair Loss" (Redom Books Inc., 2003). Dr. Armani is a member of the International Society of Hair Restoration Surgery, American Society of Hair Restoration Surgery, European Society of Hair Restoration Surgery, American Academy of Cosmetic Surgery, Italian Society of Hair Restoration, Ontario Medical Association, College of Physicians & Surgeons of Ontario and the Canadian Medical Association. He has earned numerous awards and accolades over the years and has contributed to numerous scientific journals and conferences around the world. His dedication and advancements in the industry has benefited patients around the globe.
Many people don't begin to know where to start when faced with hair loss or pattern baldness but Dr. Armani has the answers. By following, these simple steps one will be on there way to a healthier head of hair:
It is important to minimize your use of chemical treatments such as dyes, tints, bleaches, straightening, and permanent waves or hair will become excessively brittle and possibly fall out.


Gentle shampoos will cleanse the scalp surface of oily secretions that tend to build up on the skin. Some experts believe these oily deposits may contribute to abnormal hair loss, as the secretions have a high content of the male hormone, testosterone, which is known to contribute to the death of follicles when it converts to the DHT (a male hormone responsible for follicle demise) in some people.


A cream rinse and conditioner is recommended for your daily hair care routine. It will help protect the follicles from the shock associated with combing and hair drying. It is best to allow your hair to try naturally if possible, so only use a hair dryer if necessary and make sure it is on a low heat setting and at least six inches from your head.


Try to avoid pulling your hair, especially at the side of your head, as it can cause a loss of hair. Ponytails and braids should ideally be avoided or at least minimized for this reason. Combing excessively or with fine tooth combs and stiff bristles should be kept in check- especially if you have curly hair.


Try to protect your hair from harsh winds, winter weather, and excessive heat. The
sun can bleach your follicles and cause a brittle condition that may lead to loss. Rainwater also tends to carry pollutants from the atmosphere, which can quickly damage sensitive hair, so use caution whatever the weather and cover your head with a suitable hat.


Swimming pools should be another area of caution and a swimming cap used if you regularly visit a chlorinated pool. The chemicals associated with pools can cause damage to follicles over the long term and it is recommended that you delicately shampoo your hair after a swim.
---
Rachel's

Rachel's™ begins with all the benefits of yogurt including calcium for the bones and probiotics to support digestive health. Every luscious cup delivers an added boost of Omega-3 DHA and NutraFlora® - a natural prebiotic that has been shown to help increase calcium absorption.
All that, in ten extraordinary flavors.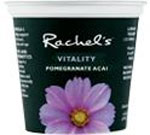 The Essenceline offers blissfully blended mood-inspiring yogurt. The essence of scrumptious satisfaction.
Vitality - Pomegranate Açai
Revive- Peach Green Tea with Ginseng
Glow - Berry Jasmine with Zinc
Relax- Vanilla Chai
Calm - Plum Honey Lavender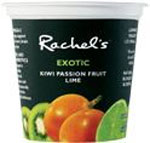 The Exotic line offers luscious blended yogurt inspired by the planet's most alluring fruits and flavors.
Orange Strawberry Mango
Pomegranate Bluberry
Mango Pineapple
Kiwi Passion Fruit Lime
Cherry Blackberry
---
UNCLE BENS RISOTTO FOR THANKSGIVING?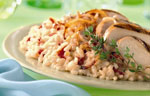 The new and improved formula blends medium grain Italian rices for a creamier texture and mild essence suitable for more delicate and unique flavor combinations. An improved "al dente" cooking process hydrates the grains for a perfect balance of soft outside with a slightly firm inside. The lighter appearance draws attention to your signature ingredients. UNCLE BEN'S® Ready Risotto can be heated and served in less than two minutes. New technology delivers improved holding time for Peparation flexibility. visit www.MARSfoodservices.com.
---
EARTH TALK
From the Editors of E/The Environmental Magazine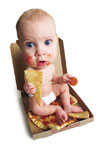 Dear EarthTalk: I want to give my baby fresh, organic food but I don't have the time to make her special meals. What options are out there? -- Marie L., via e-mail
Babies deserve the best possible start in life, so giving them nutritious food is a must, not only for good health but also to establish positive eating habits as early as possible.
According to Consumers Union (CU), publisher of Consumer Reports magazine, commercial baby foods, many of which are made up of condensed fruits and vegetables, can contain high concentrations of pesticide residues. "A lot of these pesticides are toxic to the brain," says Philip Landrigan, a professor of pediatrics and preventative medicine at Mount Sinai School of Medicine in New York City. Citing studies that have linked smaller head circumference and reduced intelligence in babies to in utero exposure to pesticides consumed by their mothers, Landrigan says it is best not to gamble when it comes to baby food.
If you're not already serving organic baby food, CU urges making the switch as soon as possible. A 2005 study ordered by the U.S. Environmental Protection Agency measured pesticide levels in the urine of 23 children in Washington State before and after a switch to an organic diet. After five straight days on the diet, pesticide measures fell to undetectable levels and remained so until the conventional diets resumed. The study concluded: "An organic diet provides a dramatic and immediate protective effect" against pesticide exposure.
Fortunately for concerned parents the organic food industry is growing rapidly, and one result is the availability of a wide selection of organic baby foods in both natural food stores and mainstream supermarkets. Some leading jar- and box-based choices come from Gerber, Earth's Best, Homemade Baby and others. And frozen meals from the likes of Happy Baby, Plum Organics, Bobo Baby and other relative upstarts mix good flavor and fresh healthy ingredients with convenience. Using the power of cold temperatures to keep their foods fresh allows these companies to avoid the use of traditional preservatives.
Happy Baby's frozen meals come in individual cubes in flavors like "Baby Dahl and Mama Grain," an organic mixture of bananas, black beans and quinoa (pronounced KEEN-wah). Quinoa is a high-protein whole grain that is considered a complete protein because it contains all eight essential amino acids.
Plum Organics offers flash-frozen, nutrient-rich organic meals that come in reusable four-ounce cups in varieties like "Super Greens" (peas, spinach and green beans) and "Red Lentil Veggie" (potatoes, carrots, corn and red lentils). Bobo Baby specializes in organic, kosher and allergen-free flash-frozen baby meals.
For parents inclined toward cooking instead of opening jars or microwaving, making baby food out of fresh organic ingredients does not have to be complicated or time-consuming. Fresh Baby sells cooking kits, cookbooks and food trays to help parents concoct and serve the freshest and healthiest baby food possible right from their own kitchens.
CONTACTS:
Earth's Best, www.earthsbest.com;
Homemade Baby, www.homemadebaby.com;
Happy Baby, www.happybaby.com;
Bobo Baby, www.bobobaby.com;
Plum Organics; www.plumorganics.com;
Fresh Baby, www.freshbaby.com.