SOYAFARM -- A GREAT NEW TASTE FROM JAPAN
by Bonnie Carroll
The Soyafarm products company from Japan is now offering one of the best 'fast food' soy menus anywhere with their line of delicious and easy to prepare frozen appetizers and entrees. They come fully cooked, frozen and ready to serve.
This is one of the best appetizer items of its kind that I have ever tasted. The Edamame Shumai, Asian Dumplings with authentic dipping sauce will delight you and your guests. The tofu nougats also make my 'new best morsel list' and these two items are also microwavable. They are meatless, have a gourmet taste and are very quick and easy to prepare. For information please visit: soyafarmusa.com.
Below please find information on the Edamame Yuba Stick.
---
WUDEL INC. INTRODUCES BREAKTHROUGH OMEGA-3 POWDER
First of its kind, Omega-3 fish oil powder can be added to food or juice without affecting the taste.
Would you believe that brownies can be brain food or that pancakes can be good for your heart? A new, breakthrough product makes this possible. WUDEL Inc. announced the introduction of Omega-3 Brain Booster™, a powdered fish oil supplement with no unpleasant smell or taste.

"Years of research have proven that omega-3 is essential to a healthy diet, and both children and adults are not getting enough," said John Wudel, President and Chief Executive Officer of WUDEL Inc. "Omega-3 Brain Booster™ allows moms to get omega-3 into their children's diets without them noticing a difference in taste. You can add it to pasta sauce, oatmeal, or just stir it into juice and you get all the benefits of omega-3 plus a good helping of protein."
Omega-3 Brain Booster™ includes 500mg of Omega-3 from the Ocean™ (EPA and DHA), rice protein, and a proprietary enzyme blend to help the body digest the omega-3 and protein. A unique double micro encapsulation process stabilizes the fish oil powder and neutralizes the taste and smell.
Omega-3 has been shown to have a significant affect on many body systems and functions, including cognitive function, cardiovascular health, and visual function. Because the body does not produce omega-3, it is necessary to get it from outside sources. As one of the first fish oil powders on the market, Omega-3 Brain Booster™ provides an alternative to large, unpleasant fish oil capsules.
"Our diets are completely out of balance because we are eating way too much of the bad fats and not enough of the good fats, like omega-3," said registered dietitian Monika Woolsey. "There are dozens of conditions and diseases that exist today because of the imbalance of omega-3 fatty acids. Omega-3 Brain Booster™ provides a unique delivery system that makes getting omega-3 painless – for children and adults."
With worries about mercury contamination on the rise, Omega-3 Brain Booster™ is the perfect solution. It has been third-party tested to ensure that there is absolutely no risk of mercury. The fish oil ingredient in Omega-3 Brain Booster™ is purified through molecular distillation and has received US Pharmacopeia verification, which is the strictest quality assurance testing in the world.
Omega-3 Brain Booster™ is available at local health food stores and online. For more information on the benefits of omega-3 or to order Omega-3 Brain Booster™ visit www.Omega3powder.com.
---
For Everything NEW, PMA's 2006 Fresh Summit Is for You
The Produce Marketing Association (PMA) Fresh Summit International Convention and Exposition "For Everything NEW" is expected to attract over 17,000 attendees and 800 exhibitors worldwide October 20-24, 2006 at the San Diego Convention Center in San Diego, California, USA.
PMA president Bryan Silbermann remarked, "PMA's Fresh Summit targets individuals from companies big and small across the entire industry, from produce to floral, retail to foodservice and global to local. It offers the once-a-year access to new products, trends and ideas that impact your industry, your company and your career."
Silbermann will deliver his "Fresh Outlook on the State of the Industry" address on Saturday, October 21 at the opening lunch general session, offering the latest insight and analytical perspective on issues and trends affecting the industry. Additional speaker highlights include:
Steve Young, Hall of Fame quarterback, will use sports metaphors to describe the elements needed to create a successful business team in "Hall of Fame Advice on Personal Leadership" at the closing breakfast general session on Tuesday morning.
T. Scott Gross, author of Positively Outrageous Service, will present a comprehensive presentation on brand identity and positioning in "The Mechanics of Micro-Branding" during the Sunday breakfast general session.
Jeffrey Gitomer, author, speaker and sales expert shares his frank real-world sales advice in his presentation "Customer Loyalty is Priceless: Sales Strategy & Relationship Building" at the Monday breakfast general session.
Patrick Lencioni, founder of a specialized management-consulting firm, will offer suggestions for effective team building and management with "Five Dysfunctions of a Team" during the Monday lunch general session.
Detailed information on the Fresh Summit schedule of events, hotels, registration and exhibitors can be found on PMA's Fresh Summit Web site, http://www.pma.com/freshsummit/.
Founded in 1949, the Produce Marketing Association is the leading trade association serving more than 2,100 companies representing all segments of the global produce and floral supply chains. Members rely on PMA year round for the business solutions they need to increase sales and consumption, build strong professional relationships, and expand their business opportunities.
---
EARTHBOUND FARM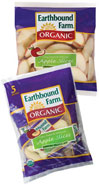 My favorite organic farm in California has some great new products you should know about. Especially in this hot weather we have been enjoying--or not enjoying!

The new lemonade and carrot juices are simply wonderful and work for any meal or snacktime.
The apple slices are a perfect afternoon pick-me-up at work, or will surely be the snack of choice for your children in their back-to-school lunch boxes in September.
New Products from Earthbound Farm!
Organic Lemonade Earthbound Farm's organic lemonade is refres
hingly tart with a sweet, citrus burst in every sip.
Organic Carrot Juice Earthbound Farm's organic carrot juice is delicious, sweet, healthy, and refreshingly light.
Organic Apple SlicesThe most convenient way to get your apple-a-day! These apple slices are always crisp, always delicious. Try them in our 12-ounce Family Pack or our 10-ounce Pack with individually wrapped 2-ounce Mini Packs. For information on more the wonderful Earthbound Farm products visit www.earthboundfarm.com.
---
EARTH TALK
From the Editors of E/The Environmental Magazine
Special to Life Bites News
Question:
Dear EarthTalk: A friend of mine refuses to swim at our beach near Los Angeles because the water is too polluted. What is the status of beach pollution, and is it safe for my kids and me to take a dip? -- Oscar Jeffries, Santa Monica, CA

Answer:
Pollution levels are not the same at all beaches, so local conditions dictate whether or not it is safe to swim in the ocean near you. Local officials are required by federal law to monitor coastal pollution levels and post warnings as needed. But some local water quality officials are more diligent than others, so if you have any reason to doubt the cleanliness of the beach water, it is best to stay out.

Beach pollution originates with a variety of sources, including human, animal, agricultural and industrial waste, as well as leaked motor oil and gasoline, among other contaminants flushed out to coastal regions. Swimming in contaminated beach water can expose people to harmful chemicals bacteria and viruses.

According to the U.S. Environmental Protection Agency (EPA), the most common illness associated with exposure to contaminated beach water is gastroenteritis, which rears its ugly head in the form of nausea, vomiting, stomach ache, diarrhea, headache and sometimes fever. Ear, eye, nose and throat infections can also ensue from swimming in polluted water. In rare cases--though not typically in the U.S. or Canada--swimmers are exposed to more serious diseases such as dysentery, hepatitis, cholera and typhoid fever.

Back in 2000, Congress called on the EPA to update its beach water health standards by 2005 to reflect increased pollution over the past 20 years--when the agency last issued standards. They missed the deadline, so in 2006 the Natural Resources Defense Council (NRDC) filed suit against the EPA for failing to honor its Congressional mandate. On the same day it filed suit, NRDC issued a report showing that beach closings due to hazardous bacterial contamination had jumped 50 percent in Los Angeles County last year alone. Further, across the U.S. beaches were closed or posted with health advisories 20,000 times in 2005.

According to NRDC, New Hampshire and Delaware had the cleanest ocean beaches, with contamination exceeding federal safety levels in only one percent of the samples taken. But beaches in California, Florida, Georgia, Louisiana, Maryland, Massachusetts, Michigan, Rhode Island and South Carolina were in violation of existing contamination standards at least half the time water samples were taken in 2005.

NRDC acknowledges that better local monitoring may explain the increased number of closings in 2005, but warns that many beaches deemed safe according to 20-year-old standards may not actually be so. For its part, the EPA reports it will now not be able to issue updated standards until 2011.

North of the border, Canadians can worry less about contaminated ocean beaches due to less developed coastlines. But the Great Lakes that Canada shares with the U.S. are notoriously polluted and the Great Lakes Commission has been working since 2000 to reduce the amount of raw sewage and industrial pollution jeopardizing water quality there. As with swimming at ocean beaches, freshwater swimmers should always check with local water authorities before diving in.

CONTACTS: EPA Beach Pollution Info, www.epa.gov/beaches/learn/pollution.html; NRDC Beach Pollution FAQ, www.nrdc.org/water/oceans/qttw.asp; Great Lakes Commission, www.glc.org.
---
EARTH TALK
From the Editors of E/The Environmental Magazine
Special to Life Bites News
Question:
Dear EarthTalk: The term "sustainable" seems to be the new green buzzword. What exactly does it mean, particularly when applied to such things, say, as transportation or agriculture? -- Steve Nezhad, Portland, ME
Answer:
"Sustainable," quite simply, is the positive result of conducting economic, social or environmental activities in such a way that current needs are met without compromising the well-being of future generations. A sustainable activity also does not despoil the here and now, in part because of how it may affect the future.
For example, cars that run on oil and gasoline are unsustainable on both counts: They make use of a non-renewable resource (that is, one that will be completely depleted at some point in the future); and they pollute the environment right now. Thus they negatively impact the present-day as well as tomorrow.
What, then, is sustainable transportation? Any option that moves people or goods while impacting the environment minimally. Walking and bicycling are the most sustainable, using no energy except for leg power and consuming very little or no resources. And public transportation moves large numbers of people at once while also saving space, as one negative impact of cars is that activities tend to spread out through the process of sprawl, creating the need to travel greater distances to obtain goods or get to work.
As such, to a large extent transportation can be made more sustainable through urban design. The closer together we locate shopping and entertainment centers, the easier it is for public transport to get us there, and the less reliant we are on cars. And cars themselves can be more sustainable by running on clean fuels or on technologies, like hybrids, that use less fuel. Better yet, cars of the not-too-distant future will be powered by fuel cells, which run on hydrogen and spew no pollution. Ideally, that hydrogen will be made from water, using power from solar energy, thus creating no pollution at that point in the process, either.
In the realm of farming, sustainable agriculture in its ideal form provides a living for those who farm and supports the local community's needs while maintaining the natural ecology of the farm and its surrounding environment. According to the National Safety Center (NSC), a "sustainable" farm produces crops without damage to the farm's ecosystem, including the soil, water supplies and other adjoining resources. Sustainable agriculture is also "intergenerational," says NSC, in that it seeks to pass on to future generations a conserved natural resource instead of one that has been depleted or polluted.
Some examples of sustainable agriculture include avoiding chemicals, rotating crops, and choosing crops that suit the climate, so as to reduce the need for chemicals and preserve the long-term fertility of the soil. In light of modern developments, some might add that avoiding genetically modified crops would also fit with the sustainable model, given the uncertainty of their impact on ecosystems and personal health.
Robert Gilman of the Context Institute defines sustainability as "extending the Golden Rule through time…Do unto future generations as you would have them do unto you." Meanwhile, Paul Hawken of the Natural Capital Institute offers an equally concise summary: "Leave the world better than you found it, take no more than you need, try not to harm life or the environment, make amends if you do."
CONTACTS: Context Institute, www.context.org; Natural Capital Institute, www.naturalcapital.org. Send questions to: EarthTalk, www.emagazine.com/earthtalk/thisweek/