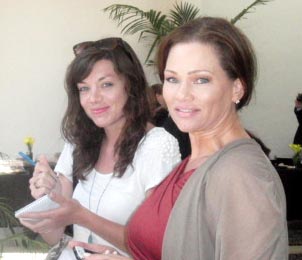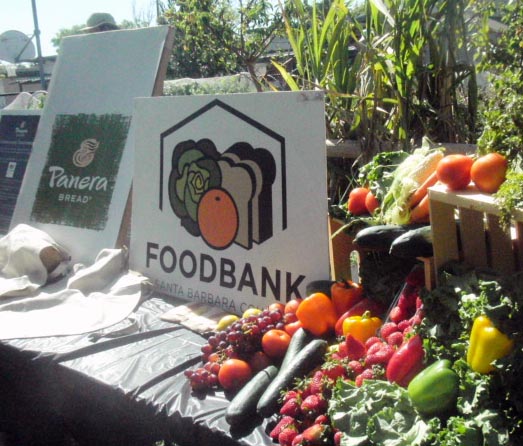 (R)Managing Dir. Ingrid Roberts             Food Bank Table in Isla Vista
PANERA MAKING ITS MARK IN  SANTA BARBARA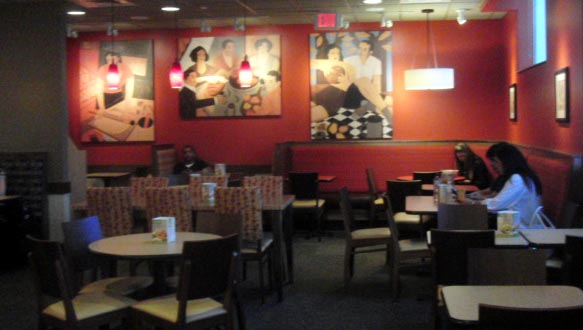 Opens Second Café While Supporting Santa Barbara Food Bank "Grow Your Own Way" Program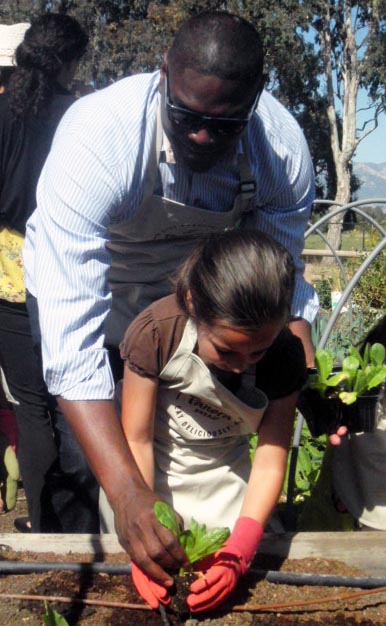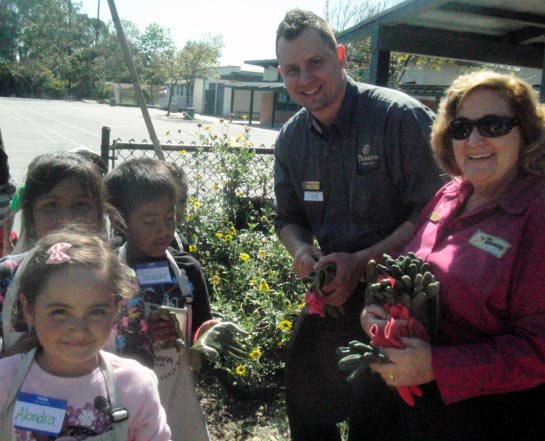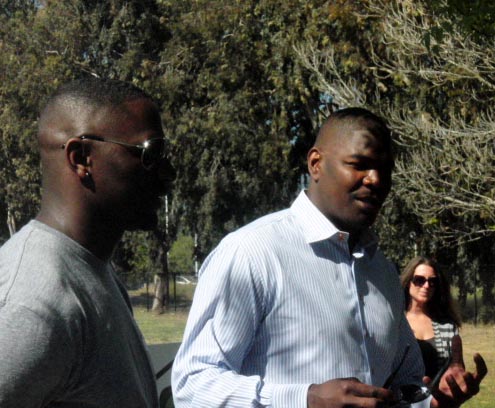 Second and third grade students from Isla Vista Elementary School, along with representatives from Panera Bread, First Pick Management and Foodbank of Santa Barbara County participated in a ceremonial seed-planting event at the Isla Vista elementary school garden today. They were joined by Keyshawn Johnson, NFL Super Bowl champion along with his friend Anthony Henry, Dallas Cowboy great; both men are members of First Picks Management Team. A bevy of area Panera Bread store managers and Isla Vista school staff helped the children with aprons and garden gloves.
It was obvious the two football greats, Keyshawn Johnson and Anthony Henry loved helping the kids with their planting. Keyshawn gave a short talk before the planting to explain to the children how important good food is, and how much fun a home garden can be.
Mary Kahn, principal of Isla Vista elementary school and Oscar Carmona of the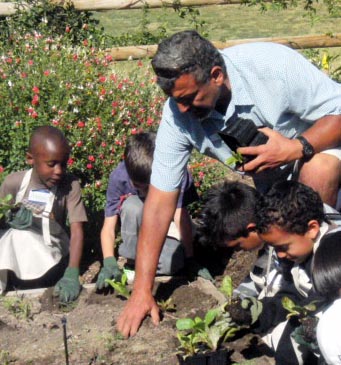 Foodbank of Santa Barbara County expressed their appreciation for the support being given to the program by Panera Bread. "It's necessary for our kids to learn about the importance of fresh and nutritious food early on," said Principal Kahn. The financial support and coffee grounds Panera is donating will help us encourage and inspire even more people to grow food at home, which will help augment the amount of food the Foodbank distributes annually," said Oscar Carmona of the Santa Barbara Food Bank..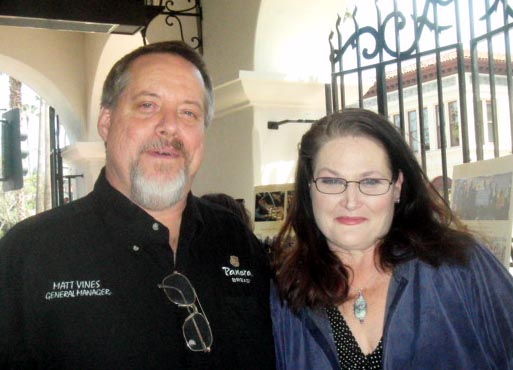 Matt Vine, General Manager of the second Santa Barbara Panera Bakery Café greeted media representatives, including Mary Hilton of Life Bites News at the opening of their second restaurant last month at 700 State Street , where samples of the delicious sandwiches, salads, soups and of course bread, exotic teas and pastries were sampled. The first Panera  restaurant is located on State and La Cumbre Streets. Vine said that all the members of the Panera family are happy to be working in the Santa Barbara community, "we appreciate the loyal patrons we have garnered since our La Cumbre location opened and welcome the community to our second location," said Vine. The Panera Bread Company began in St. Louis, Missouri and today owns 1,625 franchises throughout the United States and Canada.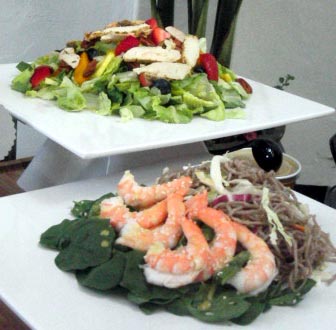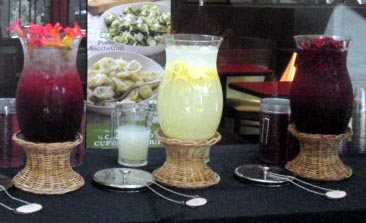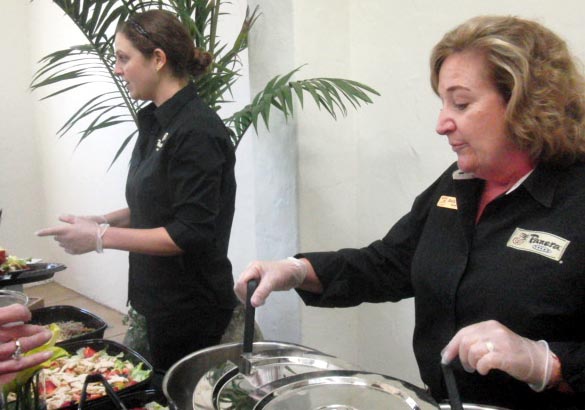 Santa Barbara County Foodbank celebrates 30 years of eliminating hunger and food insecurity by distributing nutritious food, education and resources through its 300 member non-profit agencies. For additional information visit: www.foodbanksbc.org.
_________________________________________________________________ EarthTalk®
E - The Environmental Magazine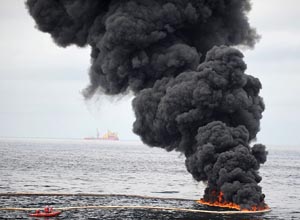 Dear EarthTalk: The three-year anniversary of the 2010 BP oil spill just passed. What do green groups think of the progress since in restoring the region?           -- Mary Johannson, New York, NY
When an undersea oil well blew out 50 miles off the Louisiana coast on April 20, 2010 and caused an explosion on the Deepwater Horizon drilling rig above it (killing 11 workers), no one knew that an even bigger disaster was yet to come. Over the next three months, 4.9 million gallons of crude poured into the water before BP could get the wellhead capped to stop the flow of oil into the Gulf of Mexico.
According to BP, which has already spent $14 billion on clean-up and restoration, the Gulf is returning to baseline conditions prior to the disaster. "No company has done more, faster to respond to an industrial accident than BP did in response to the Deepwater Horizon accident in 2010," reports the company.
But not everybody sees the situation that way. Many environmentalists are concerned that, while BP has done a thorough job removing visible oil from the water column and surface, little has been done to repair damage to marine life and ecosystems.
"Three years after the initial explosion, the impacts of the disaster continue to unfold," says Doug Inkley, senior scientist at the National Wildlife Federation (NWF). A recent report by the group found that the three-year-old spill is still having a serious negative effect on wildlife populations in the Gulf. For one, dolphin deaths in the region have remained above average every single month since the disaster. In the first two months of 2013, infant dolphins were found dead at six times pre-spill average rates. Says Inkley: "These ongoing deaths—particularly in an apex predator like the dolphin—are a strong indication that there is something amiss with the Gulf ecosystem."
Gulf dolphins aren't the only ones suffering. NWF found that more than 1,700 sea turtles were stranded in coastal areas of the Gulf between May 2010 and November 2012—almost three times the pre-spill rate for the animals. Researchers have also detected changes in the cellular function of Gulf killifish, a common bait fish at the base of the food chain. And a coral colony seven miles from the offending wellhead struggles due to oil and dispersants compromising its ability to rebuild itself.
"The oil disaster highlighted the gaps in our understanding of the Gulf of Mexico," says Florida State University oceanographer Ian MacDonald. "What frustrates me is how little has changed over the past three years. In many cases, funding for critical research has even been even been cut, limiting our understanding of the disaster's impacts."
MacDonald and others are optimistic that a federal court will find BP accountable for further damages in a civil trial now underway. NWF says that substantially more money is needed to carry out restoration efforts vital to the biological and economic stability of the Gulf region. "Despite the public relations blitz by BP, this spill is not over," says NWF's David Muth. "Justice will only be served when BP and its co-defendants pay to restore the wildlife and habitats of the Mississippi River Delta and the Gulf of Mexico."

CONTACTS: BP Gulf of Mexico Restoration, www.bp.com/sectionbodycopy.do?categoryId=47&contentId=7081352; NWF, www.nwf.org.

EarthTalk® is written and edited by Roddy Scheer and Doug Moss and is a registered trademark of E - The Environmental Magazine (www.emagazine.com). Send questions to: earthtalk@emagazine.com. Subscribe: www.emagazine.com/subscribe. Free Trial Issue: www.emagazine.com/trial.
____________________________________________________________________
The Travel Yogi Engages
Top Yoga Alliance-Certified Instructors
For Domestic / International Retreats
 
The Travel Yogi (http://thetravelyogi.com/), specialist in international yoga retreats and yoga adventures, has engaged for the 2013-2014 seasons top internationally recognized yoga instructors to lead the company's destination-driven yoga retreats.
 
A few of these celebrity teachers are Kathryn Budig, Annie Carpenter and Jennifer Pastiloff who, as with other The Travel Yogi instructors, are Yoga Alliance-certified, indicating standards-based knowledge in the field of yoga.
 
Jennifer Hoodevik, The Travel Yogi founder and director, says she and the team have practiced with the teachers the company engages so that they can be as informed with regards to the teacher's yoga style and vibe as they are with the exotic destinations they promote.
 
"We love having such a wonderful variety of yoga styles represented.  Even within the same yoga discipline, all teachers bring their own humor and personality to their approach; humor being our operative word when it comes to choosing our teachers" Hoddevik said.
 

Budig's yoga training is grounded heavily in Ashtanga with a light-hearted spin. She teaches creative sequences that make arm balances and inversions accessible to her students. She is engaged for, among others, a 2013 New Year's retreat to Baja, Mexico, where yoga will be paired with outdoor adventure and optional whale watching and surfing. Kathryn is well known for her writing, down-to-earth approach and personality and her amazing inversion practice and teaching. See: http://thetravelyogi.com/adventures/baja/
 

Known as a "teachers' teacher," Carpenter's yoga classes marry juicy movement with rigorous discipline and a diligence with regards to alignment.  Annie believes that practicing yoga provides "points of dharana" — gateways to inner stillness and compassion. She leads public classes, in-depth workshops and SmartFLOW teacher trainings (200 and 300/500) at Exhale Center for Sacred Movement in Venice, CA.  She will be teaching with The Travel Yogi in the Galapagos this year. See: http://thetravelyogi.com/adventures/galapagos-islands/
 

Pastiloff, a vinyasa flow teacher and poet, is the creator of "Manifestation Yoga": Causing Breakthroughs In Your Life Through Your Asana Practice. Jennifer's classes are vibrant and soulful with a touch of irreverence.  She is also an ambassador of Lululemon Beverly Hills and Manduka. Her classes combine her love of words and poetry, music and the healing arts.  Yogis can team up with her and best-selling author, Emily Rapp, for a Manifestation Yoga & Writing Retreat in Stowe this Oct 17-20: http://thetravelyogi.com/adventures/vermont/
 
The Travel Yogi's list of international and domestic destinations for 2013 include but are not limited to Aruba, Galapagos, Santorini, Maui, Cabo, Tulum, New Zealand and Vermont. Guests practice and play with some of the world's best known yoga instructors.
 

About The Travel Yogi
The Travel Yogi is about expanding boundaries through yoga and travel.  Founded in 2010, the goal is find balance and personal transformation through yoga practiced in naturally inspiring destinations.  The Travel Yogi engages truly gifted teachers who can expertly handle all levels of experience and ambition. The Travel Yogi distinguishes itself by discovering and organizing compelling locations that get yogis traveling adventurously and with purpose. For more information visit online: http://thetravelyogi.com/ or call: 562.335.8000.
---