SLEEP POSTURE PILLOW COULD BE THE ANSWER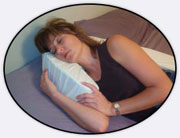 A new 'better sleep' solution on the market is the invention of Dr. Cole, who has created a pillow that promotes a good night sleep wherever you go.
The primary objective of the Sleep Posture™ Pillow is to position you for a full night of restful sleep by "training" you to sleep on your side, providing support for your head, neck and spine. Side posture sleeping is the most natural position for our body. It resembles the fetal position we all began life with and allows the muscles and bones a chance to relax.The benefits of the SleepPosture™ Pillow are many. Here are just a few.
Beyond support for your head, neck and spine, the pillow prevents rolling on your back or stomach and torsion -- twisting your spine in two directions at once. An ear space on the pillow prevents painful "ear folding".
Side sleeping helps reduce snoring that can be a dangerous sign of sleep apnea.
Reduce bed soreness combining the SleepPosture™ Pillow with a regular bed pillow to rotate positions from the back to the sides.
This positioning can reduce stress on your heart, particularly if you have been diagnosed with congestive heart failure, by sleeping in an upright position' it allow the heart to work with gravity and decreases stress.
The SleepPosture pillow, at first, may not be comfortable for you. Why? The Sleep Posture pillow is helping to train you to sleep in a better posture for better health. Anytime we try a new diet, exercise, sport, or physical activity, there is an adjustment period. Changing years of "sleep behavior" also takes time. Give the pillow at least two to three weeks of nightly use. For information visit www.sleepposture.com.
---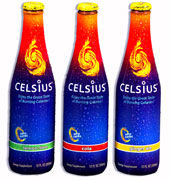 CELSIUS - Earth's First Calorie Burning
A fun new diet drink that tastes good, while purporting to burn calories. The attractive bottled beverage comes in three flavors; cola, ginger ale, and lemon-lime. and is referred to as an energy supplement. For purchase information see www.celsius.com.
---
"SUPERFOODS" FOR YOUR HEART

From blackberries to bananas and tomatoes to spinach, there are certain fruits and vegetables whose vitamins and nutrients naturally promote heart health. These are so called "Superfoods" -nutritionally dense foods with targeted health benefits. For example: Eating just 2 bananas a day can reduce blood pressure by 10%.
The new www.dolesuperfoods.com website offers an easy to understand breakdown of these Superfoods and their benefits (skin and heart health, your immunity system, joints - even your brain). Also keep an eye out for the Dole Superfoods logos found on fruits and vegetables nationwide. This Superfoods campaign is an initiative of the Dole Nutrition Institute, an education foundation in Westlake Village, CA, which strives to make health and nutrition education and resources available and easily accessible to people of all ages. Please visit www.dolenutrition.com for more information.
VAN'S HEARTY OATS WAFFLES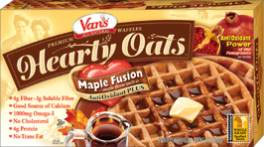 Van's Waffles, with decades of experience in all natural and organic baking, has just released a new line of Hearty Oats waffles that are great for the heart! These waffles have: -Antioxidants from 1 whole pomegranate in one serving-1,000mg Omega-3 from Flax-No trans fat, cholesterol, artificial colors, flavors or preservatives-Are an excellent source of whole grains and a good source of calcium.
They come in three appealing flavors: Maple Fusion (the first "grab-n-go" syrup-infused waffle sold in supermarkets and in other food and health stores!), Oats N' Honey and Berry Boost. Please visit www.vanswaffles.com
---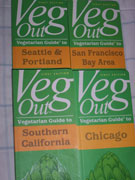 VEG OUT
Vegetarian Guide to Cities around the country offer those who adhere to strictly vegetarian diets a quick reference for eating out in Chicago, San Francisco, Southern California, Seattle & Portland, and more. These handy little books fill the needs of vegetarians, vegans and veg-friendly people traveling in the U.S. For information view www.gibbs-smith.com.