DENISE AUSTIN'S NUTRITIONIST GIVES ADVISE
ON CARBS AND ENERGY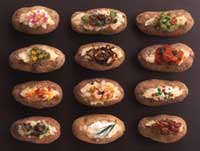 Just as Denise Austin, Fitness Expert recommends holding a family meeting to discuss and create a family fitness plan, Riska Platt stressed the importance of creating a family eating plan. A plan which could include the use of the Food Guide Pyramid comprised of bread, cereal, rice and pasta: 6-11 servings. The Idaho potato is a great carbohydrate source, delivering 26 grams of carbohydrates and providing great energy. Vegetable groups: 3-5 servings; Fruit group: 2-4 servings; Milk, yogurt and cheese group: 2-3 servings; fats, oils and sweets: use sparingly.
Nutritionist Platt says "I don't advocate the elimination of any major food group from a diet. Carbohydrates have come under attack lately and unjustly. Carbohydrates are the best fuel for working muscles. and potatoes are one of the best sources of complex carbohydrates. One Idaho Potato delivers 3 grams of dietary fiber, 4 grams of protein, 25 grams of carbohydrates, 45% of the RDA for Vitamin C, plus thiamin, iron, phosphorus, magnesium, copper and folic acid—not to mention built-in portion control. Visit www.idahopotato.org for more potato healthy dietary information.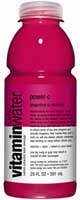 FIGHT THE FLU WITH A COLORFUL THIRST QUENCHER

Need a change? glacéau vitaminwater is enhanced water that is all natural, low-calorie and packed with nutrients. it provides more vitamins, more electrolytes and more taste than plain water and other beverage alternatives.
| | |
| --- | --- |
| power-c dragonfruit | vitamin c + taurine; provides more strength |
| defense apple-raspberry | c vitamins + zinc; provides more immunity |
| focus kiwi-strawberry | vitamin a + ginkgo biloba and gotu kola; provides more clarity |
| balance cran-grapefruit | vitamin c + yerba mate and ginkgo biloba; provides more flexibility |
| essential orange-orange | essential vitamins and minerals from a to zinc; essential nutrients |
| vital-t lemon tea | vitaminc + e (antioxidants); more vitality |
| endurance peach | vitamin e + astragalus and ginseng; provides more sustained energy |
| energy tropical citrus | vitamin c + ginseng and guarana; provides more immediate energy |
| stress b lemon-lime | 100% ofvitamins b3, b5, b6 and b12; provides more relaxation |
| rescue green tea | b complex vitamins + chamomile, hibiscus and rosehips; tranquility |
| multi-v lemonade | vitamins a, c and e + calcium; provides more calcium |
| revive fruit punch | b + potassium, gotu kola and ginseng; provides more recovery |