Having and Keeping Skin to Die For 
by Bonnie Carroll
We all want to look our best, and strive to find products that work best to maintain beautiful healthy skin. Upon researching the subject, I discovered some amazing products available that deserve a special mention.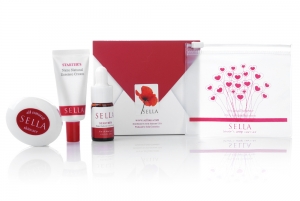 The first product on my report is SELLA premium, created in South Korea by Lim Dal Myan. Sella is beautifully packaged and offers a full line of natural products that are distributed in the US from Chicago, Illinois.The line includes serum, soap, lotion, mask, body soap, hand soap, hair soap, hand and foot lotions and more.
Of all the products on the market this one seems to provide not only outstanding packaging, but pure and natural products for women with sensitive skin and allergies. The nano face soap sits on a sophisticated self-adhesive fixture that looks beautiful in the bath and the product makes your skin soft as a baby's bottom. The serum is equally chic and disappears into the skin to make your face glow. The silky facial essence cream is smooth and gives the skin a visual softness. The hand cream is a product any woman could become addicted to. It really is absorbed into dry hands and keeps them feeling silky. For additional information visit www.sella.com.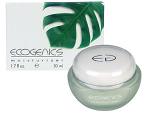 Another amazing and delightful skin care line is EcoGenics, founded by Ann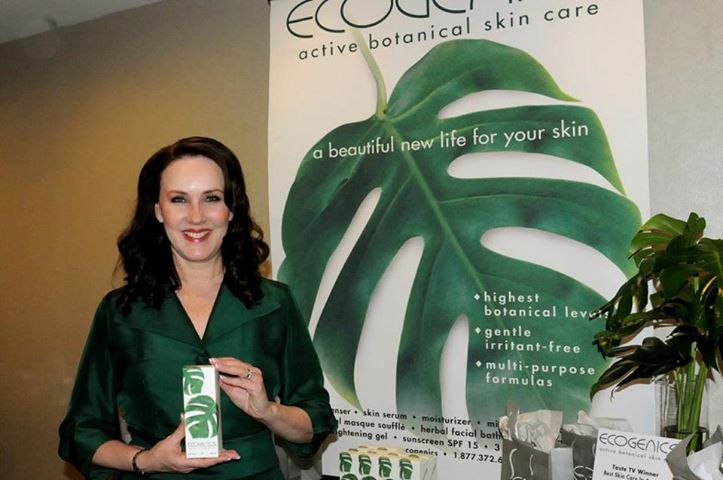 Mc Donnell. This is a woman founded and owned company that has taken a pure and natural approach to skin care. They offer a complete line of beautiful and thoughtfully designed products including: skin cleanser, serum, micro-dermabrasion cream, mineral mask and more. The moisture crème is one of my skin product favorites. This posh light green cream is easily absorbed and leaves your skin shining. Although these products are odorless, there is a clean absence of scent that is pleasant.
Recently, the company created a compact travel case containing a collection of products for women world travelers. It contains the three basic essentials for your daily skin care, and is easy to carry through security check points in any airport. EcoGenics was a celebrity gifting sponsor for the GBK Oscar suite at the W Hotel in Hollywood this year. For additional information please visit: www.ecogenics.com. 
Both the Sella and EcoGenics products won top skin care awards at the 2012 TasteTV Awards in Hollywood, California in February and were also sponsors for the TasteTV Awards in 2013.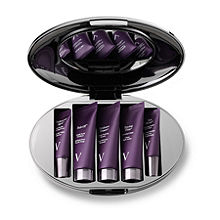 Vbeaute
Last, but by no means, least is Vbeaute  This is the ultimate in European chic packaging, combined with magnificent skin products designed to address the needs of women of every age. Their advertising is seen in the finest women's style magazines, and these products are used by women of taste around the world. Their slick violet pearl travel case, which holds a collection of skin care products for traveling women, is beautiful and completely practical The company also offers a complete line of sensitive skin care products.  For skin care and product information visit: www.vbeaute.com.
_________________________________________________________________
THE BENEFITS OF WINE FOR A YOUTHFUL LOOK
By Bonnie Carroll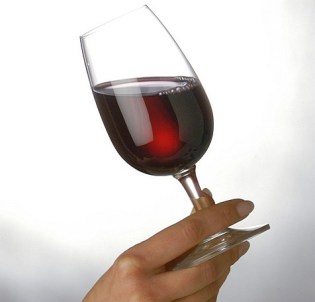 Recent studies have indicated that the antioxidants found in wine grapes may assist in fighting the aging process. Below are some facts on what a Vinotherapy spa does for women, and where to find one.
A skin treatment of soaking in a wooden vat of wine may not sound legitimate for good skin care, but now clinical researchers are saying it does. The fruit of the vine may be one of nature's most powerful anti-aging tools. Polyphenols found in grapes are the same antioxidants responsible for upping cardiovascular health. They work internally to fight cancer and obesity, and can smooth lines and erase age spots on the skin.
Resveratrol, a well known polyphenol is the main star with respect to anti-aging with vin. It is very potent and is more powerful than vitamin based antioxidants that contain C and E commonly used in skincare products. Resveratrol is typically found in higher concentrations in red grapes, although researchers have discovered the varietal is sometimes less important than the environment in which a grape is grown. The theory is that grapes grown in cooler climates have higher levels of antioxidants, which is why French wine may be better than Californian wine if you're looking to get the optimum anti-aging power.
Some experts say that anti-aging products containing the actual wine and not grapes may have better topical benefits, due to the increase in polyphenols during the fermentation process. It is a given that wine based beauty is on the move, especially now that resveratrol is being made available to skincare companies as an anti-aging ingredient., and may replace vitamin C as the ultimate antioxidant for the fountain of youth seekers.
If you want to know where you can get these anti-aging wine treatments the experts in vinotherapy spas recommended the following: Le Sources de Caudalie, featuring Bordeaux Vinotherapies and offer therapies on their luxurious hotel grounds. Relais San Maurizio in the Langhe vineyards of the Piedmonte region of Italy offer treatments in the cellar of an ancient monastery. Acuba in Spain is home to Can Bonastre, located 35 minutes from Barcelona, where you will be pampered on a lovely 16th century estate. Alder-Thermae Spa in Tuscany is another favorite of Italian spa babies. Canada offers Vine Luxury Spa in Alberta, Canada and California's Kenwood Spa in Sonoma has received high marks for their vinotherapy treatments.
A moral to this story could be – if you can't fly off to Italy, Canada or California to soak up some vin, try sipping a nice glass of red wine before bed tonight safe in the knowledge that it won't stain your skin and it's the easier gentler skincare regimen for today's busy woman. v
 ________________________________________________________________ 
EarthTalk®
E - The Environmental Magazine
Dear EarthTalk: I understand that, despite the popularity of organic foods, clothing and other products, organic agriculture is still only practiced on a tiny percentage of land worldwide. What's getting in the way?                                                                                         -- Larry McFarlane, Boston, MA
Organic production may still represent only a small fraction of agricultural sales in the U.S. and worldwide, but it as been growing rapidly over the last two decades. According to the latest global census of farming practices, the area of land certified as organic makes up less than one percent of global agricultural land—but it has grown more than threefold since 1999, with upwards of 37 million hectares of land worldwide now under organic cultivation. The Organic Trade Association forecasts steady growth of nine percent or more annually for organic agriculture in the foreseeable future.
But despite this growth, no one expects organic agriculture to top conventional techniques any time soon. The biggest hurdle for organics is the added cost of sustainable practices. "The cost of organic food is higher than that of conventional food because the organic price tag more closely reflects the true cost of growing the food," reports the Organic Farming Research Foundation (OFRF). "The intensive management and labor used in organic production are frequently (though not always) more expensive than the chemicals routinely used on conventional farms." However, there is evidence that if the indirect costs of conventional food production—such as the impact on public health of chemicals released into our air and water—were factored in, non-organic foods would cost the same or as much as organic foods.
Other problems for organic foods include changing perceptions about just how much healthier they are than non-organics. "Many devotees of organic foods purchase them in order to avoid exposure to harmful levels of pesticides," writes Henry I. Miller in Forbes. "But that's a poor rationale: Non-organic fruits and vegetables had more pesticide residue, to be sure, but more than 99 percent of the time the levels were below the permissible, very conservative safety limits set by regulators—limits that are established by the Environmental Protection Agency and enforced by the Food and Drug Administration."
He adds that just because a farm is organic doesn't mean the food it produces will be free of potentially toxic elements. While organic standards may preclude the use of synthetic inputs, organic farms often utilize so-called "natural" pesticides and what Miller calls "pathogen-laden animal excreta as fertilizer" that can also end up making consumers sick and have been linked to cancers and other serious illnesses (like their synthetic counterparts). Miller believes that as more consumers become aware of these problems, the percentage of the agriculture market taken up by organics will begin to shrink.
Another challenge facing the organic sector is a shortage of organic raw materials such as grain, sugar and livestock feed. Without a steady supply of these basics, organic farmers can't harvest enough products to make their businesses viable. Meanwhile, competition from food marketed as "locally grown" or "natural" is also cutting into organic's slice of the overall agriculture pie.
Organic agriculture is sure to keep growing for years to come. And even if the health benefits of eating organic aren't significant, the environmental advantages of organic agriculture—which are, of course, also public health advantages—make the practice well worth supporting.

CONTACTS: Organic Trade Association, www.ota.com; OFRF, www.ofrf.org.
EarthTalk® is written and edited by Roddy Scheer and Doug Moss and is a registered trademark of E - The Environmental Magazine (www.emagazine.com). Send questions to: earthtalk@emagazine.com. Subscribe: www.emagazine.com/subscribe. Free Trial Issue: www.emagazine.com/trial.
________________________________________________________________
Pet Health
MEGA-PET ADOPTION EVENT
DOGGIE DRUM CIRCLE
DOG TRICKS CONTEST
FASHION SHOW
WHAT:  Dog, Cat and adoption event and family fun at the Camarillo PetCo!
WHEN:  Saturday, July 27 from 11:00 - 4:00
Doggie Drum Circle - 11AM raising awareness of adoptable pets. Bring your own drum. Both canines and humans are invited.
        Dog Tricks Competition - NOON
        Doggie Fashion Show - 1PM
WHERE: 177 West Ventura Boulevard, Camarillo, CA  93010
 805-384-5435
WHO: PetCo is a leading retailer of premium pet food and supplies with more than 850 stores in 49 states. At this location, you'll find more than 10,000 high-quality pet products, as well as professional dog training, pet photography, and a full-service grooming salon.
Best Friends Animal Society is guided by a simple philosophy: kindness to animals builds a better world for all of us. When Best Friends was founded in the early 1980's, roughly 17 million dogs and cats were being killed in U.S. shelters every year. What's more, the conventional belief was that little could be done to lower that terrible number. Because the mission of a no-kill city can only be achieved when people come together, Best Friends works collaboratively with animal rescue groups, city shelters and passionate individuals to make this a reality. In early 2012, the Best Friends Pet Adoption & Spay Neuter Center in Mission Hills, California opened to the public. 
---