HEALTH MINDED  .  .  .
CARMEL CHEF'S STASH LAUNCHED BY RESTAURATEUR GABE GEORIS & CHEF BRANDON MILLER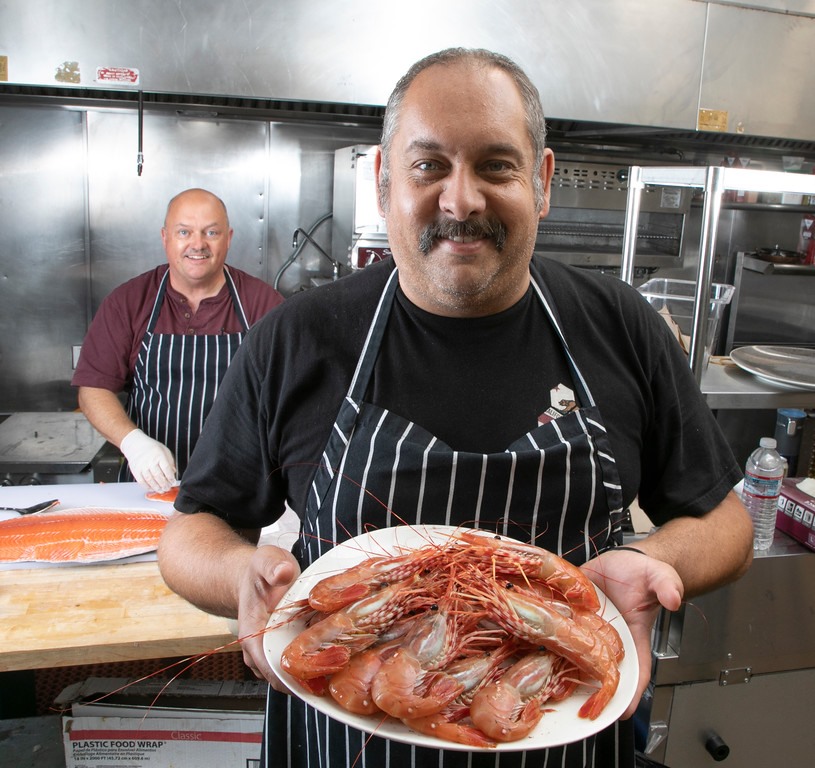 Chef Brandon Miller & Restaurateur Gabe Georis 
Carmel locals can now get their Stash of the best locally sourced foods through
TheChefsStash.com and pickup box of ingredients for a weeks worth of varied,
healthy, and delicious meals. 
Locals can now get their Stash of the best locally sourced foods through TheChefsStash.com and pickup box of ingredients for a weeks worth of varied, healthy, and delicious meals.  Depending on your choice of Vegetarian, Pescatarian, or Original All Things Stash, you'll get an assortment of vegetables, fruits, fish, meats, eggs, milk, fresh pasta, legumes, and gourmet goodies such as olive oil, honey, jam, pickles, cheese, or specialty sauces.
The Chef's Stash is the brainchild of chef and restaurateur Gabe Georis and his partner, longtime local chef Brandon Miller, who previously worked together to make Carmel Spanish tapas eatery Mundaka one of the top restaurants in the village. And the idea of getting the box curated by the two food mavens out of the back door of a restaurant is precisely what they envisioned  "That's the feeling we wanted to convey — getting the hook-up from us out the back door," said Georis, who literally grew up in the restaurant business. "We know who has the best stuff locally, the best produce, the best fruit, the best chickens, and our Stashers get to take advantage of that inside scoop. It's fun.
The concept grew out of necessity stemming from sheltering in place. His restaurants shuttered, Georis found himself cooking at home more than usual, and being a well-connected chef and restaurateur, had access to the best produce and meats available from vendors who, in normal times, supplied his restaurant. However, as a wholesale buyer, he found himself with far more food than his family could use. So he recruited about a dozen of his friends who also like to cook at home and would divvy up the boxes of produce, meat and other items Georis was able to source.
 "People who signed on were excited about it, because they were getting higher quality ingredients at a good price, and avoiding the exposure of going to the store" he said. "They were surprised each week to see what they got, and we started sharing recipe ideas on a text thread and later Instagram. People would take photos of what they were cooking with the boxes to share and inspire each other to cook tasty dishes.
 And what started as a casual thing between friends grew into a full fledged business after word spread and more people wanted in.  The new website Chef's Stash (TheChefsStash.com) launches at the end of August and allows customers to sign up for a weekly stash of their choice or sign up for a subscription to get a stash weekly and save some money on the weekly box.  The website also is host to useful and inspiring content such as recipe ideas, tips and tricks on cooking, and videos of the Chefs preparing fun and easy dishes like mackeral salad with arugula pesto or melon and mint gazpacho.
 Here's how it works:  Go to the website and sign up for which stash you want and if you want it for 2 or 4 people (by Tuesday at 5pm).  Select any addons like local wine, a bouquet of flowers etc... and pick up your Stash on Friday between 3-7pm.  Voila!  Just like that you're a foodie insider and set up with inspiring ingredients to cook great meals at home!
Chefs Stash pickup location is on Mission St. Between Fifth and Sixth Avenues (across from Katies Place Restaurant)
 All of the products the chefs source are organic, natural, grass-fed, sustainably caught, hormone-free, antibiotic-free, pasture-raised, local, fresh, and top quality. All seriously happy food with a conscience that will make you the dinner hero in your home.
 The ingredients in a box changes week to week, depending on availability and what's fresh or in season that week. So, patrons often don't know exactly what they're getting until Friday, which appeals to them.
 One customer commented "The Chef's boxes have saved us and inspired us during the crazy time of COVID.  It's the highlight of our week to go pick it up on Fridays!" Another happy Stasher says "We're so excited on Friday to see what we get, it feels like Christmas!"
 We reach out to cool local small businesses, such as getting cheese from The Cheese Shop or sausage from the Pig Wizard, jams from Happy Girl Kitchen, even green soap from Eco Carmel," said Georis. "So, you're not just supporting us, you're supporting a lot of small local businesses. We're all trying to make it through this craziness!"
"This is more than a box of delicious, locally sourced food, it's an experience curated by a professional chef! You can't buy produce like this in a store! Five stars for freshness and variety. … tomatillos, fresh English peas, kumquats, squash blossoms, fava beans…"Sara M.
Some of the locally owned businesses they source from include (but is not limited to):
Farms include Coke Farms, Mariquita Farms, Borba Family Farms, Pinnacle Farms, Prevedelli Farms, Prevedelli Farms, Lonely Mountain, Everlasting Garden, Yerena Farms, Blue Heron Farms, Alberto's Farm, P+K Farms. Ranchers/Fishermen/Food Producers/Purveyors include Savor the Local – farm and dairy deliveries, Coral de Tierra Cattle Co. – beef and lamb, Pig Wizard – sausages and bacon, Real Good Fish – fish and shellfish, Sea Harvest – Fish, Happy Girl Kitchen – jams and preserves, Past Palatte – fresh pasta, Living Circle Farm – honey, Schoch Family Farmstead – milk and cheese, Chesse Shop Carmel – international and local cheeses, Cousin's Dozens – eggs, Ad Astra – bread, Far West Fungi – mushrooms, Sightglass – cofee,
A typical box might include these ingredients (this one from July 17, 2020): Monterey Bay Macheral – whole, Fogline Chicken, PigWizard Spicy Sicilian Sausage, Mike Jone's house ground half steer, Chefr's Stash Apricot-Plum-Corn Chutney, Chef's Stash Salsa Verde, Gabriela's Pierogi Soup, Bell Peppers, Italian Heirloom Brocollini, Beefsteak Tomatoes, Cherry Tomatoes, Yellow Onions, Persian Cucumbers, Rainbow Carrots, Rainbow Chard, Chanterelle Mushrooms, French Green Lentils, Baby Gem Lettuce, Mini Squash, Watermelon, Nectarinas, Blackberries, Dill, Fennel, Mint, Parsley, Verve Coffee, Flowers.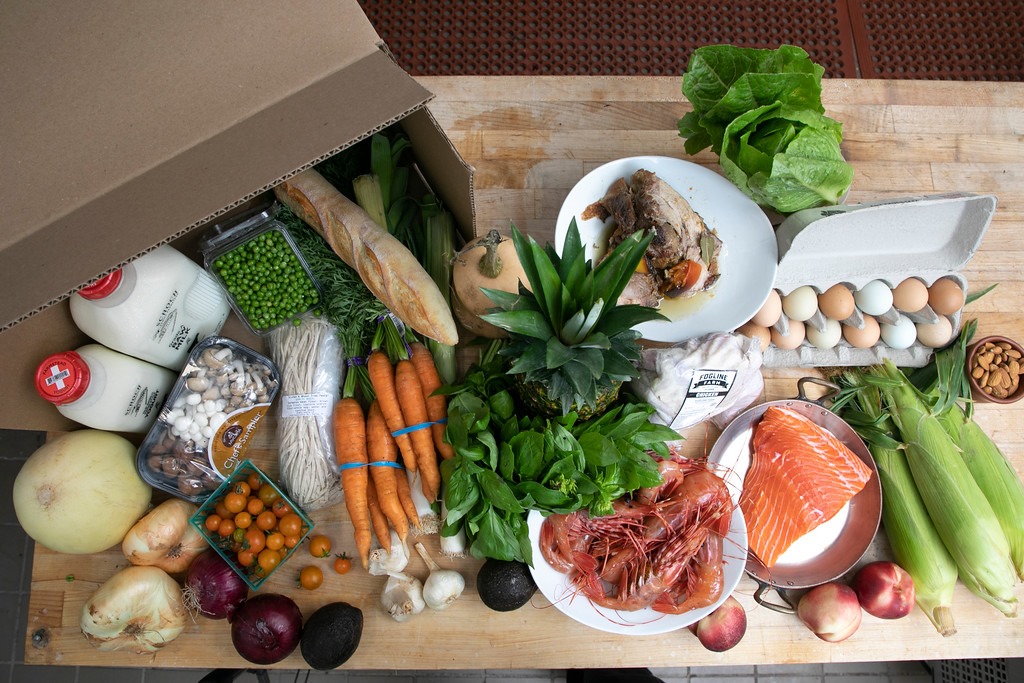 Chef's Stash, a box of meats, seafood, fruits, vegetables and more curated by the two chefs for weekly pickup.
From agnolini to zucchini, get a week's worth of the finest food the area has to offer. Feeds a household of two, four, or more, and includes recipes, tips and tricks. Add on featured noshes like honey, charcuterie, wine, cheese and enjoy (It's like having a best friend who's a chef) This week there is a special treat of pickled vegetables including carrots, red onions and purple cauliflower made by Chef Brandon Miller. Amazing to top a burger. Order by 5PM on Tuesdays, pick up 3-7 PM Fridays at Mission St between 5th and 6th (across the street from Katy's Place). https://thechefsstash.com/.                                                                                                                                                                                                                                        BC/LBN           
____________________________________________________________________
CENTRAL COAST RESTAURANTS MEETING PANDEMIC DEMANDS
By Bonnie Carroll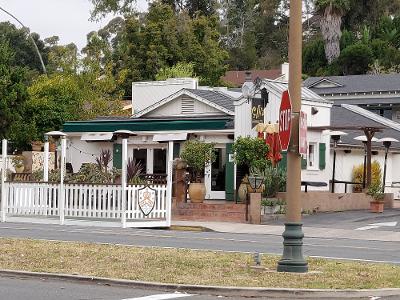 Cava Street Patio on Coast Village Road, Montecito
This month I traveled by car from Santa Barbara to San Luis Obispo to Carmel-by-the-Sea and marveled at how restauranteurs are adapting to pandemic demands by designing street patio venues and creating special menus in a need to financially survive during this unforeseen health tradgedy. Their hard work and creative effort to be totally compliant and to attract patrons seems to be working and is so inspiring.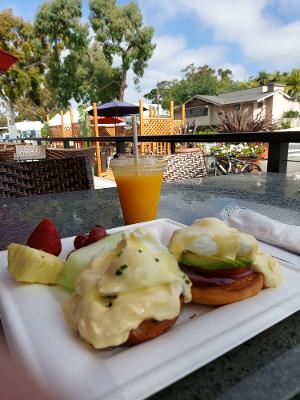 Renaud's Patisserie Patio Breakfast & Street Dining

The Montecito Inn Coast & Olive Al Fresco Patio is one of the many charming Al Fresco venues on Coast Village Road, and in my is leading the pack in Al Fresco elegance and tasteful menu selections, with Lucky's, Renaud's Patisserie, Ca Dario, Los Arroyos and more creating their unique streetside venues and specialty menus to attract patrons during the COVID 19 Pandemic.
The ambiance sitting under the tree lined street is total charming and the service from individual restaurant venues seems quite good. Many have designed specific menus to adapt and masks are required until the meal is served. All restaurant staff are wearing masks and hand sanitizing stations are everywhere. The whole experience is so like being in Europe in summer!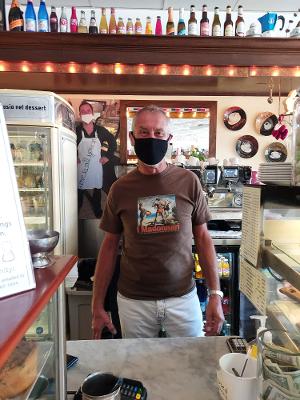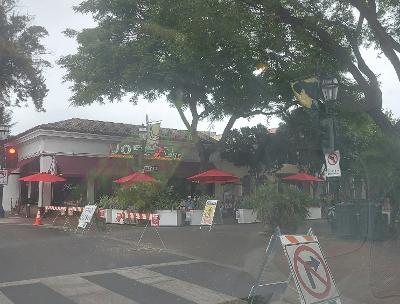 Owner Renato Moisa Via Maestra 42 Adds Streetside Dining along with Joe's Cafe

On State Street in Santa Barbara Opal Restaurant and Bar, along with Via Maestra 42 are packing them in for lunch and dinner, and both Richard Yates, Opal partner and Renato Moisa, Via Maestra 42 owner are striving to meet every need to be totally compliant in their safety standards. My lunch at Via Maestra 42 was so welcome and as always Italian delicious!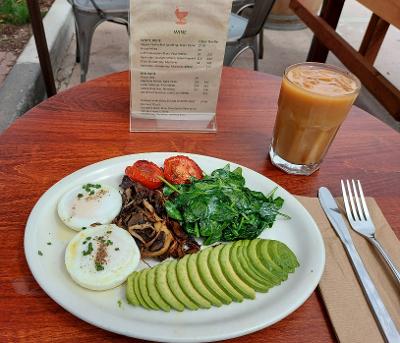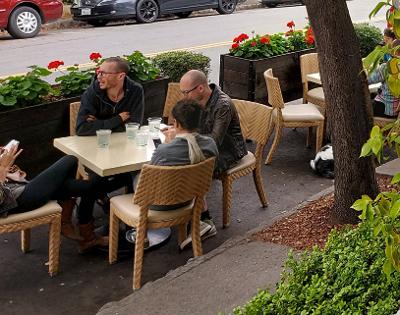 Breakfast at Carmel Belle, Lunch at Brophy's Tavern, Carmel by the Sea
In Carmel-by-the-Sea so many restaurant owners have built very chic street venues for dining comfort and I loved Giovanni's Ristorante Italian Garden structure with Italian opera playing. A favorite breakfast place of mine Carmel  Belle also had built a great setting to enjoy one of their totally healthy breakfasts, and Brophy's Tavern with only four tables out front was packed with people waiting the whole time I was a guest across the street at the Hofsas House Hotel. Lugano Swiss Bistro moved their whole operation out on the patio creating a delightful evening dinner venue to experience everything Swiss, especially the Fondue.
New SLO Hotel and nearby Restaurant & Bar Pandemic Ready - -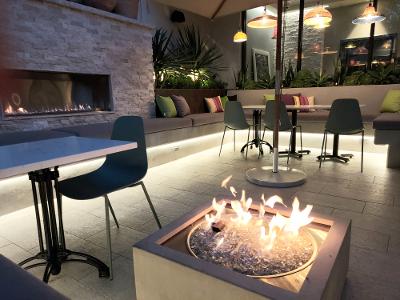 Hotel Cerro SLO Turns Fig Patio into Guest Dining Venue
My stop at Hotel Cerro to enjoy dinner on their Brasserie SLO Fig Tree Patio was truly a gourmet surprise and a beautiful outdoor venue for a memorable evening. They were also serving on the patio in front of the restaurant on Marsh street, where couples and families enjoyed great burgers and SLO brew. Around the corner at 736 Higuera Street The Carissa outdoor patio provides a wonderful venue for people watching or just feeling laid back under a big old tree overlooking the creek. Their watermelon margaritas and tacos hit the spot!
The Carissa Creekside Patio Expanded
All these restaurants in all these cities were totally complying in necessary safety requirements and everywhere I traveled people were wearing their masks, separating, and using hand sanitizer stations provided for them. I have been sheltering at home since mid-March and this was my first venture out traveling. I was surprised and pleased to know people get it and are doing their part to beat this virus and I am praying daily that all my restaurant owner friends will make it through this pandemic nightmare intact.
California Highway Compliance --

I also stopped at Big Sur Lodge and Ragged Ridge Resort traveling up California Highway 1 and was delighted to see people complying with masks and being so courteous! California travelers rock!!
_____________________________________________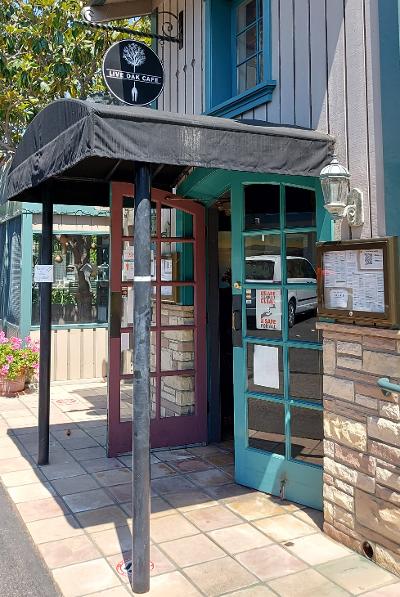 Live Oak Cafe, Santa Barbara California adds Walk-Up Window & Outside Dining
LOCAL RESTAURANTS RISE TO THE OCCASION
Restaurant Business News - Sponsored content from our partner
 General Mills Convenience & Foodservice on Aug. 07, 2020

While the ongoing pandemic has wreaked havoc on the restaurant industry, it hasn't stopped the ingenuity of independent restaurants nationwide. Many are finding new ways to offer the familiar favorites and comfort food their loyal customers are seeking more than ever.
"It's uplifting to see how many neighborhood restaurants have adapted to better serve their customers during these unprecedented times," said Alyca Judge, senior marketing manager at General Mills Foodservice, which hosts the annual Neighborhood to Nation Recipe Contest that celebrates local restaurants.
"The impact of COVID-19 on our beloved restaurants only underscores the special role they play in the hearts of their customers and our communities."
Local restaurants are carefully and creatively strategizing ways to keep their communities well-fed and taken care of. Here are what some local favorites are doing. 
Switching up menus to reflect changing tastes
Anne Klingler, who owns Outlanders in Marquette, Mich., switched up her menu to add an entirely new service model to accommodate how consumers are eating now. The restaurant, known for its homestyle cooking and "family meals made simple," created a drive-thru barbecue, offering burgers, hot dogs and barbecue pork and sides like grilled zucchini, cheesy penne, cole slaw and more. Customers can either pick food up and bring it home, never leaving their cars, or they can dine in an outdoor area with picnic tables and umbrellas.
In addition, Klingler is launching a late-night delivery service in August that will focus on snacks and more indulgent foods like tacos, nachos, cookies, brownies and popcorn.
"With all of our offsite catering and summer festivals cancelled, we are facing a big loss in revenue so wanted to try something new," said Klingler. "Plus, who hasn't wished someone would deliver caramel corn or nachos to their door at midnight?"
Stocking essentials
While Suzanne Raiford of Daisy's Lunchbox Cafe and Bakery in Searcy, Ark., didn't make big changes to her menu, she did use a portion of the restaurant's PPP loan to stock an assortment of essentials customers were seeking at the onset of the pandemic. For a short time, the restaurant had a pop-up shop stocked with toilet paper, hand sanitizer and spray, baking supplies and face masks. Even today, Raiford said she is carrying masks, which are still in demand.
Taking care of the regulars
When Shar'els Cafe in Oakdale, Minn., first learned that restaurants throughout the state would need to close indoor dining rooms, the restaurant quickly stocked up on to-go packages and later converted a parking lot to an outdoor dining space.
Myles Buersken, whose parents have run the restaurant—known for its robust breakfast menu and homestyle cooking—for 25 years, says they are grateful they never had to close their doors completely and credits the cafe's customers and local community for their overwhelming support.
"We were determined to do our best and find ways to continue to serve our loyal customers," said Buersken, who added that the restaurant has a number of customers who come in every day and some who come for both breakfast and lunch. "It has been touching to see some of our customers show up with tears in their eyes and eager to support us. We are proud to continue to serve them the food they love." 
Family meal kits
When the pandemic hit, Brooke May, owner of La Luncheonette Craft Food in Belton, Texas, launched family-style portions and meal kits at her restaurant, beloved for its Mexican craft food and Mediterranean-inspired dishes. The kits, serving two to four people, include everything from brunch items to enchiladas, tacos, quesadillas or taquitos.
May often posts Facebook videos to promote select menu items on specific days, such as Taco Tuesday, Way-Back Wednesday and Taquito Thursday, which also happens to be kids' day—kids get a free meal with purchase of an entree. 
"During these chaotic times, I think we are all craving a bit of routine," said May.  "Doing the family meals and having 'day of the week' specials has been well received as customers know what to expect on these days and it helps our staff keep their sanity, too."
For information on this year's Neighborhood to Nation Recipe Contest with $100,000 up for grabs for local restaurants, please visit www.NeighborhoodtoNation.com.
This post is sponsored by General Mills Convenience & Foodservice
__________________________________________________________________
SANTA BARBARA MAYOR SAYS WEAR THE MASK:
Santa Barbara County Health Orders Report 7/14/2020

Health Officer Order to Close Additional Business Sectors 
in Santa Barbara County
In response to the State Public Health Officer Order on July 13, 2020, Santa Barbara County Health Officer Dr. Henning Ansorg has issued a Health Officer Order mandating the closure of additional indoor business operations. This guidance is in effect and will continue through August 12, 2020 or until it is extended, rescinded, superseded, or amended in writing.
As required by the Health Officer Order the following sectors must close indoor operations:
Outdoor operations of the above listed sectors may continue, if outdoor operations are allowed by the licensing or permitting authority. Outdoor operations may be conducted in a tent, canopy or other sun shelter as long as the sides are not closed.
The full Health Officer Order can be found
here
. For more information about COVID-19 and the response locally, please visit
www.publichealthsbc.org
or call the County Call Center at 1-833-688-5551.
_________________________________________________________________
How Airlines Are Changing the Flying Process
Fasten your face mask: Safety procedures are different in the COVID-19 age
Report from AARP by Elaine Glusac, AARP, Updated August 14, 2020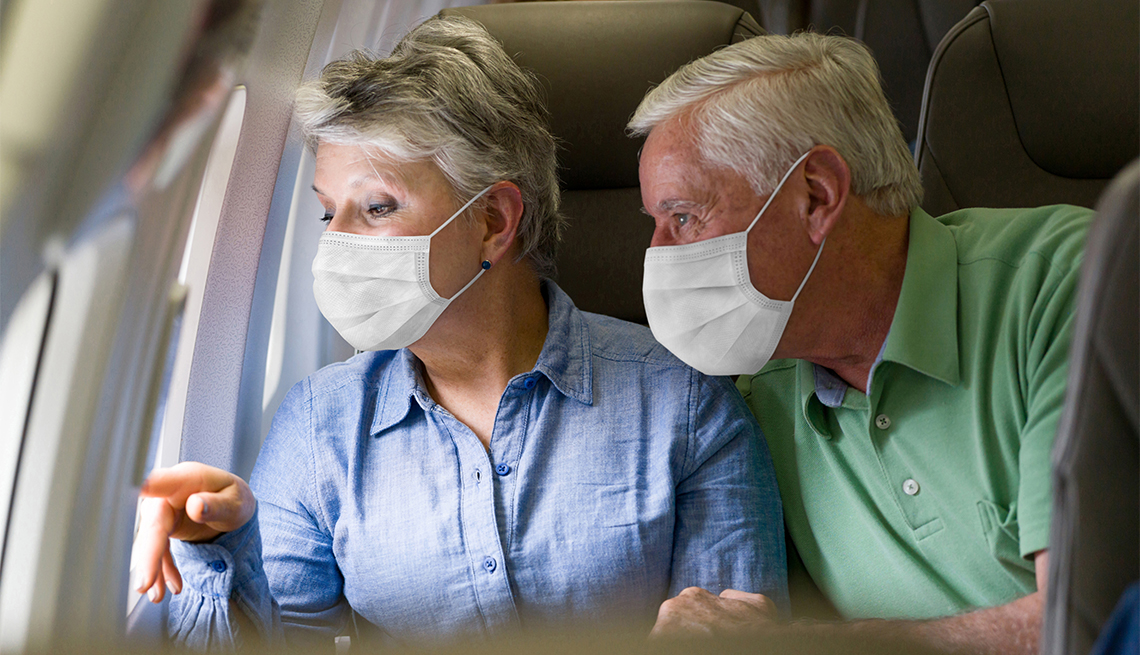 Hispanolistic Getty Images

Here's what to expect if you plan to fly in the coming weeks.
Pre-flight
Once you are through security (see new rules) and arrive at the gate, don't expect an empty concourse. The number of airline passengers screened by the Transportation Safety Administration (TSA) ticked up from about 80,000 a day in mid-April to about 762,000 on Aug. 10, though it's still down substantially from about 2.6 million on that day a year ago. Some airlines are limiting the number of passengers per flight to prevent the crowded conditions that might lead to infection. American Airlines and United Airlines have lifted capacity constraints, though both will allow customers to move to another flight free of charge if their scheduled flight is 70 percent or more full.
The major airlines are now serious about enforcing their requirements that passengers (unless they are 2 and under, usually) wear face masks during boarding and on the plane, as well as in areas throughout airports they serve, such as customer service counters and gates. The only time masks may be removed is for eating or drinking. They've announced that travelers who refuse to wear masks onboard will not be allowed to fly. "If a customer is unable to wear a face covering or mask for any reason, Southwest regrets that we will be unable to transport the individual," the company said in a statement.
Delta doesn't permit masks with vents or valves, which allow air to be expelled, nor face shields (unless worn with a mask). It offers customers complimentary replacements if they show up wearing masks with valves. Exemptions require completing a "clearance to fly" procedure that, according to the airline's website, "can take over one hour." American won't allow face coverings with valves starting Aug. 19.
Many airlines are also handling boarding differently to encourage physical distancing. Southwest Airlines, for one, previously asked customers to line up in two adjacent lines of 30, but it's now boarding just one line of 10 people at a time.
Alaska Airlines, Allegiant, Delta, Frontier, JetBlue and United are boarding their planes from the rear rows forward, to avoid crowding in the aisles.
American Airlines continues to board passengers by groups — it says the row system works only if everyone is at the gate, which is impossible with the number of connecting flights it operates — though agents space people out during boarding.
Spirit asks passengers to scan their own boarding pass and will allow anyone to board at the end of the boarding process to reduce their time on the plane.
Frontier is the first U.S. airline to take passengers' temperatures with a touchless thermometer before boarding, and will block anyone with a temperature of 100.4 F or higher from flights. Frontier says it "will work with that customer to rebook travel on a later date or otherwise accommodate the traveler's preferences with respect to their reservation." Like other airlines, it's also asking passengers to complete an online "health acknowledgment" before check-in to confirm, among other things, that they will wash or sanitize their hands before boarding, will check their temperature before heading to the airport, and have had no symptoms related to COVID-19 in the previous 14 days.
Air Canada is taking passengers' temperatures before boarding now as well.
In-flight
Seat spacing: As traffic in the air increases, empty middle seats are becoming less common, and passengers may have to fly next to strangers, especially on American and United. JetBlue, though, is blocking middle seats on larger aircraft and aisle seats on smaller planes through at least Oct. 15, and Alaska Airlines has said it will do so through Oct. 31.
Delta says it is capping seating at 50 percent capacity in first class and 60 percent in the main cabin, and blocking middle seats as well as some aisle seats on planes that have two-by-two configurations through Sept. 30. Southwest is blocking middle seats through Sept. 30. Allegiant says it spaces people out as practicable "but on fuller flights, that's not always possible," according to a spokesperson. Allegiant fliers can opt to be notified if their flight exceeds 65 percent capacity and can request a credit voucher or choose another flight, though they must pay any fare difference.
Cleaning: All carriers have announced enhanced aircraft cleaning procedures, including the use of hospital-grade disinfectants. Southwest reports, "We deep clean each plane from nose to tail for nearly 6-7 hours every night," and says the airline uses "a sophisticated air recirculation system that introduces fresh air into the cabin every second while inflight." Delta claims that the airline is using "state-of-the-art air circulation systems with industrial-grade HEPA filters on many Delta aircraft that extract more than 99.99 percent of particles, including viruses." And Air Canada notes that, among other cleaning procedures, "We're rigorously grooming all headrest covers."
Food: Galleys are largely retired for now. JetBlue's beverages and snacks come in a sealed bag. Frontier planes will carry only a limited amount of bottled water for sale. In the main cabin on flights between 900 and 2,199 miles, American hands out snacks and bottled water only at boarding; on flights over 2,200 miles, snacks and nonalcoholic drinks are available in-flight. Delta encourages travelers to bring their own snacks and nonalcoholic beverages. Southwest serves water and a snack mix on flights over 250 miles, "when available."
Entertainment: Many airlines have removed seat-back literature, including in-flight magazines (American's publication, American Way, is a prominent exception). Alaska has moved the content to its app. Unless you're flying JetBlue, don't assume you'll have a seat-back screen; most major carriers, including United and American, were already moving their video entertainment to their apps for in-flight viewing before the pandemic. JetBlue will enable your personal electronic device to act as the seat-back television remote control on some planes.
Personal protection: All domestic carriers require that customers wear face masks in flight (see above, under Preflight).
Wearing masks off the plane: Depending on your destination, expect to keep your face covering on after landing until you leave the airport. Reagan National and Dulles International airports, in Virginia, and Los Angeles International Airport are among the many large airports that require everyone in public spaces to wear face coverings.
Editor's note: This article was originally published on June 5. It's been updated to reflect new airline procedures.AARP.
____________________________________________________________________
8th ANNUAL HEROES OF HOSPICE
...September 16, 2020 6:00 pm Log-in.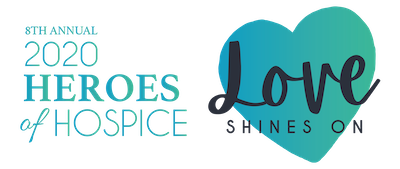 For details and donations visit www.hospiceofsb.org
___________________________________________________________________
The Finest in Independent Living
Without the hassles of mundane chores, you're free to enjoy the things you really want to do. At Vista del Monte, you'll have time to engage in what's most meaningful to you: pick up a new skill or hobby, travel, discover an interesting sport, or make more time to socialize. Whatever it is, we can help. With our Independent Living services, we take care of all the practical tasks, including transportation, housekeeping, and maintenance. Our culinary staff prepares delicious meals, handles all the day-to-day chores, and your wellbeing needs are attended to—all in one place. For information visit: www.vistadelmonte.org. Vista Del Monte – Santa Barbara, California – 805-687-0793

- - -
---