HEALTH MINDED   .   .   .

CHRISTIAN GUIER, M.D. NAMED DIRECTOR OF SANTA BARBARA FASTTRACK ORTHOPEDICS WALK-IN CLINIC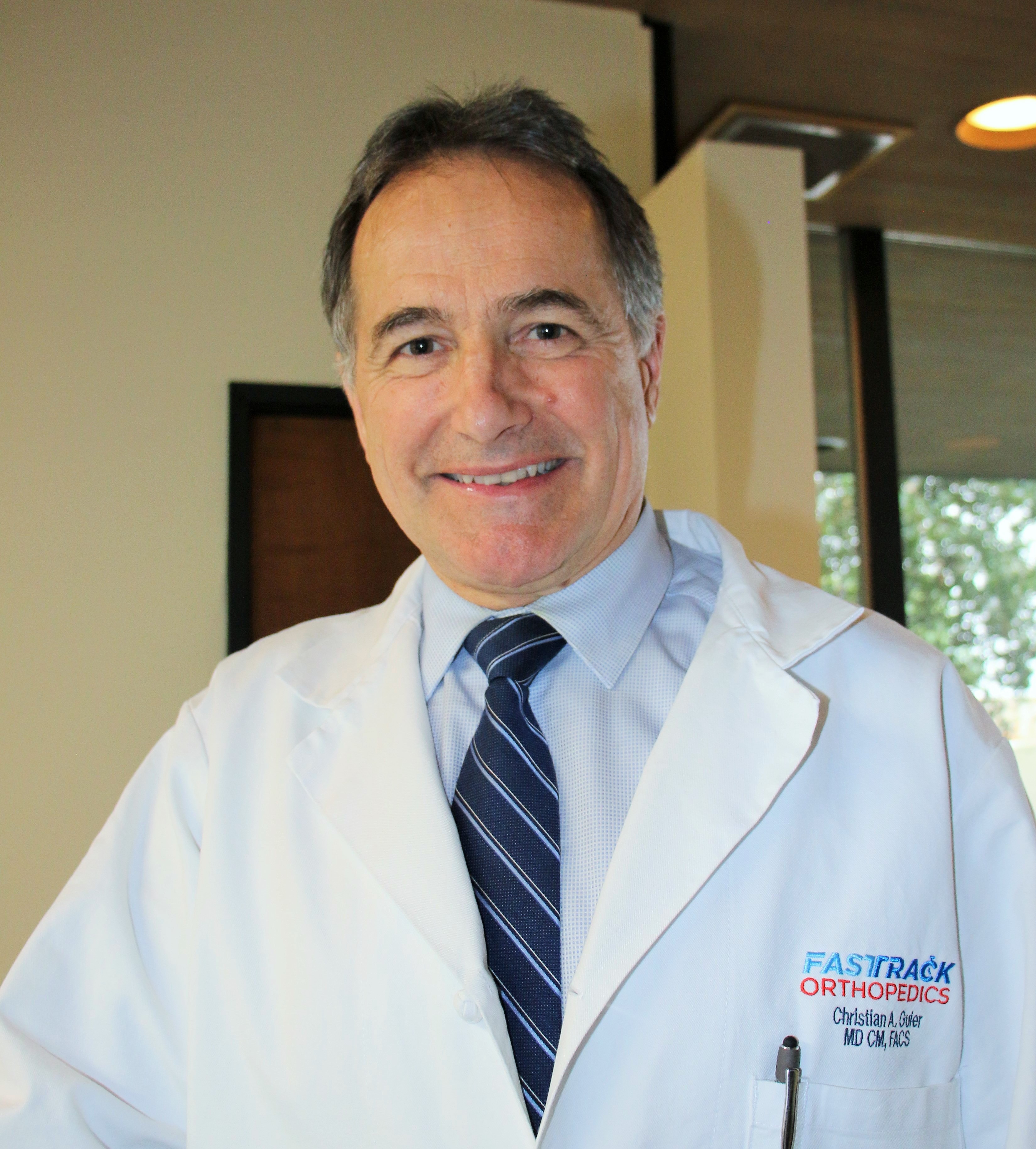 Christian Andre Guier, MD, CM, FACS
Dr. William R. Gallivan Jr. and the Orthopedic Institute of Santa Barbara (OISB) team have welcomed new staff member Christian A. Guier, MD. Dr. Guier will be directing the newly opened FastTrack Orthopedics Walk-In Clinic at the Orthopedic Institute of Santa Barbara located at 320 West Junipero Street. The FastTrack Walk-In Clinic will be treating conditions that occur as a result of injury to the locomotor system, as well as soft tissue injuries such as lacerations and contusions.
Christian Andre Guier, MD, CM, FACS is a graduate of McGill University Medical School in Montreal Canada. His curriculum vitae contains an impressive 36-year history in orthopedic surgery from Montreal to San Francisco, as well as ongoing physician and surgeon services to the French National Ski Team – World Cup Circuit. While in Wyoming he administered care to the Jackson Hole Grizzlies and Jackson Hole Moose semi-pro hockey teams. The new doctor in town is board certified, holds numerous honors and awards and has held appointments on countless boards & committees over the years. He is currently seeing patients in the new FastTrack Walk-In Clinic.
Both Dr. Christian Guier and Dr. William Gallivan have worked in disaster relief situations (in Haiti), and have a commonality in experience working in medically deprived and serious need situations that seemed to indicate a perfect fit for a partnership in this FastTrack medical venture. "This seems like a situation that was meant to be from my first meeting with Bill Gallivan. The more we talked the more it seemed like a win-win for everyone. I am happy to be working with Dr. Gallivan and his professional team at OISB," said Dr. Guier.
FastTrack will be utilizing four exam rooms as well as the existing physicians office that has an examining table, the exray room complete with a diagnostic ultrasound and fluoroscopy (live X-ray) unit and will offer evaluation and recommendations following a concussive type injury as well as examine and evaluate acute low back pain. The clinic offers the ability to triage, evaluate and treat injuries with diagnostic accuracy, using the history and physical exam model complemented with diagnostic x-ray and ultrasound evaluation finalized with an assessment and comprehensive treatment plan.
Doctor William Gallivan, Jr. is a board certified, fellowship trained orthopedic surgeon with 25 years experience providing top quality sports medicine and superior orthopedic surgery services in a professional, compassionate and timely manner. Since opening his practice in 1992, he has focused on sports medicine and total joint replacement. He was the first surgeon on the West Coast to use Computer Assisted Surgery (CAS) to perform hip resurfacing. He also utilizes Navigation for the minimally invasive total hip and knee replacement surgeries he performs. With a comprehensive approach, he has developed a Rapid Recovery program. This protocol has enabled the vast majority of his patients to leave the hospital after one day. For information on OISB and the new FastTrack Orthopedics Walk-in Clinic visit www.gallivanmd.com.
The FastTrack Orthopedics Walk-In Clinic has been created because life . . . happens, and when it does the walk-in clinic offers immediate care for fractures and sports trauma or minor to serious injuries for adults and children at Orthopedic Institute Santa Barbara where board certified orthopedic surgery and sports medicine services are available with on-site X-ray availability. Costs are commensurate with the usual and customary accepted charges for services billed to insurance carriers. These are not billed at emergency room rates, but rather, orthopedic clinic rates. There is no facility fee charge for the services provided. FastTrack charges a flat rate and accepts and submits claims to all Insurances, Medicare, and Sin-Cal. The clinic hours are Monday to Friday 7:00 am to 8:00 pm. Check website for Saturday schedule. For information call 805-220-6020 visit: www.FastTrackOrthopedics.com.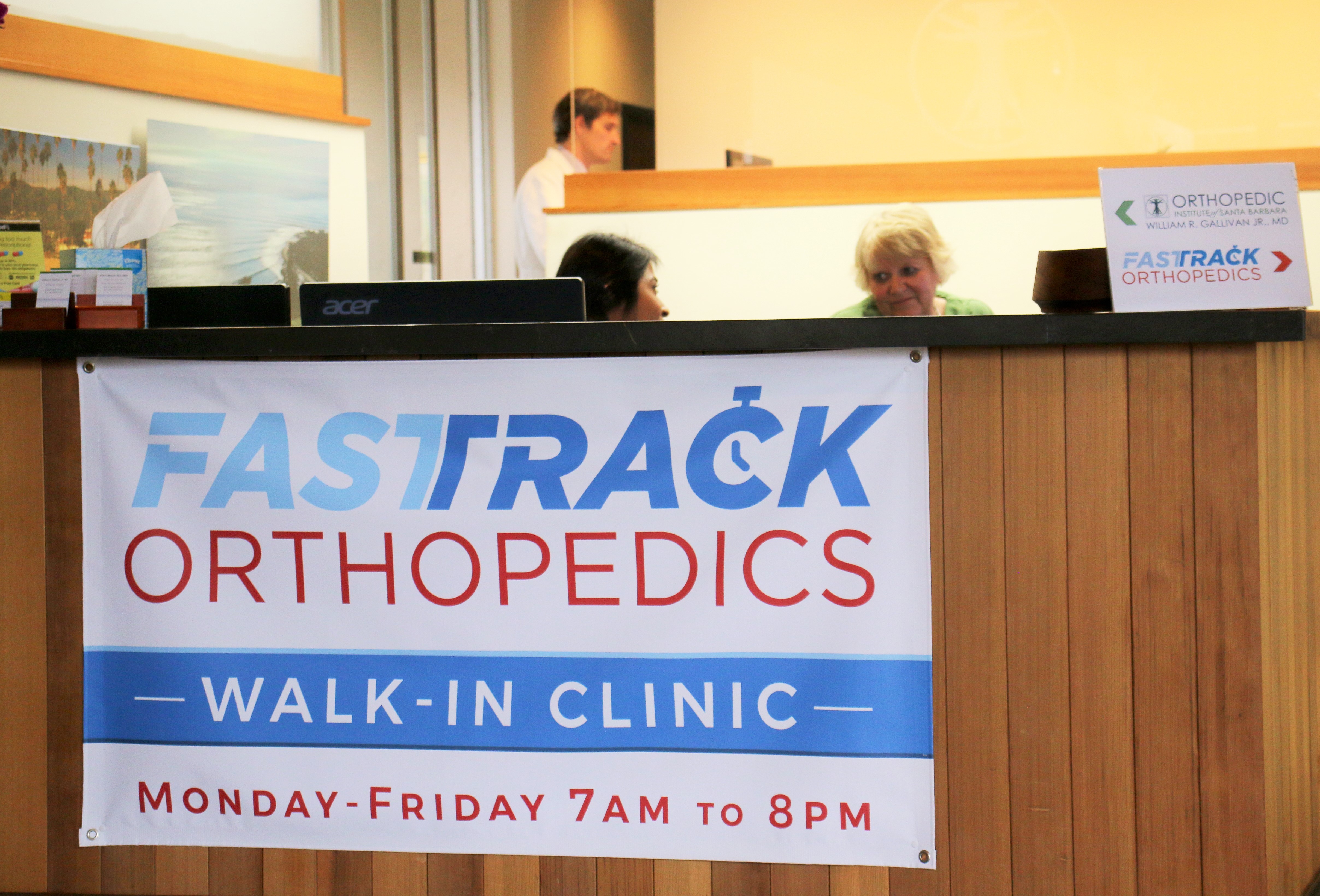 __________________________________________________________________
Story written by a dear friend and PR associate Barbara Meltzer appeared in Aging Today and she was kind enought to agree to let me run it in LBN. It is such a delightful article on seniors and improv and i hope you like it.  Enjoy!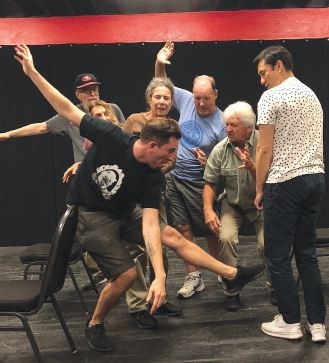 By Barbara Meltzer
It was an average Saturday morning in Los Angeles, yet there I was in a studio walking around the room flapping my arms and cooing as I gamely tried to transform myself into a mourning dove. I was taking Aretha Sills' weekend intensive improvisa­tion workshop, playing a "game" called "Animal Imag­es." Why am I here, I won­dered, as I flapped and cooed. And that was before I started conversing in gibberish.
I have never wanted to be an entertainer and still get nervous when I speak to groups. Appearing "foolish" is one of my greatest fears. But I have always believed that somewhere inside of me, the little girl who was shy, quiet and not very playful was long­ing to be set free.
In a moment of vulnerabil­ity, I revealed this to my friend Paul Sand, who happens to be an original member of Chi­cago's The Second City impro­visational comedy group. He suggested that I take an im­provisation class and recom­mended Aretha Sills, the daughter of Second City founder Paul Sills and grand­daughter of Viola Spolin, the originator of Theater Games.
No Script, No Regrets
Improvisation is all about spontaneity and being in the moment. There's no script and nothing to memorize. As an example, Sills had that Saturday directed three players to be seated in the middle of the room. Two would speak in gibberish. The third person had the difficult job of translating. It was very funny, and while the words meant nothing, it was fascinating to see how much body lan­guage and tone suggested a story.
So many opportunities to look foolish, I thought, but with trepidation and a dose of courage, I jumped feet first (literally) into Sills' class. We were a multi-generational group of 15 people (called "players" in improv lingo), and I was the oldest and the only first-timer.
While trying not to compare myself to others—one of my greatest skills—I participated in every­thing. In improv there is no right or wrong, no good or bad. Soon one begins to feel safe. By the second day of the weekend workshop, I sensed the little box opening and before I knew it, freedom flew out and "foolish" had transformed into "playful." Spolin said that playing these games is a sort of vacation from one's everyday self, and the routine of everyday living. She's right about that, but it's so much more. Though exhausted after six hours a day (one for lunch) of playing, I felt myself swelling with pride and eager to share my story with others. I was already thinking about starting a class in my city.
Improv Benefits Older Adults
Inspired by my experience in the group with multiple ages, I decided to check out improv classes created just for older adults. Second City's home, Chicago, seemed a good place to start. Sure enough, they have a class for people ages 55 and older called "Humor Doesn't Retire." According to Becca Barish, L.C.S.W., Second City's Director of Wellness Programs, the class provides many ben­efits to "players," including increased positivity, a sense of comfort and ease with the unexpected and increased self-awareness.
"Participants often report that the changes result in enhanced problem-solving abilities and greater facility in social situations," says Parish, who is also a Second City–trained improviser. When asked about the class, 80-year-old member Helen Haugsnes said, "I want the whole world to know improv dissolves that crust of old fogey with an injection of elixir from the Fountain of Youth."
The nonprofit Mob Rule, Inc., has held an improv class for older adults in Santa Monica for al­most 20 years. Many of the participants, who range in age from 70s to 90s, have formed a strong community. According to Second City–trained instructor Brian Hamill, "Many of the students have become very close and help each other through illness and the loss of spouses. In addition, the spontaneity of improv enables folks to be less fearful of the unknown and to more readily see solutions for real life experiences."
I chatted with 80-year-old Luba, who has been a class member for about three years. Once ago­raphobic, she said, "Improv opens your child mind. It's like recess. There is no wrong way to do things and this makes me feel more confident in others areas of my life. It gives me a reason to leave my home and be with people who are now my friends."
Participating in an intergenerational class appealed to me, so I asked Sills about what the ben­efits might be versus those gained in classes open only to older adults.
She said, "I think older players are able to bring the whole of their experience to workshop, which elevates the level of play for everybody, and I find that younger players take inspiration from realizing aging doesn't mean giving up playing. We all benefit in so many ways from getting to be free of all the labels the culture imposes on us (young, old, etc.) and just be fellow players sharing a moment together."
There are groups for players who prefer to only work with other older adults. "I think older adults believe they are not welcome or feel uncomfortable because 'improv' classes can skew young, but in reality I want them to know they are needed and wanted," says Sills. It works best when we all play together."
I will be taking more improv classes. Though the fear still lingers, the "new" Barbara is eager to "play." Or as Spolin has said, "Get out of your head, into the space and await the invisible stranger." Thanks to Sills' class, I found the stranger—and she happens to be me.
Barbara Meltzer is founder and principal of the Los Angeles–based public relations and marketing agen­cy, Barbara Meltzer & Associates. She can be reached at barbara@meltzerpr.com or by visiting www.melt­zer pr.com. Meltzer served previously on the Aging Today Editorial Advisory Committee.
Editor's Note: This article appears in the January/February 2019 issue of Aging Today, ASA's bi-monthly newspaper covering issues in aging research, practice and policy nationwide. ASA members receive Aging Today as a member benefit; non-members may purchase subscriptions at our online store.
Where to Find Improv
 
Sills/Spolin Studio of Improvisation
Aretha Sills offers workshops, which use the methods of improvisational theater innovators Viola Spolin and Paul Sills, in Los Angeles and around the country.
Contact: www.violaspolin.org/workshops
 
Improvisation for Parkinson's
This class gives students with Parkinson's a chance to laugh together and learn the tenets of improv: patience, listening, not second-guessing oneself and focusing on others. Participants can gain confidence and effective cognitive behavioral skills that include problem-solving, emotional work and identification. Improv games and exercises, which apply humor in an interactive, supportive environment, are based on Viola Spolin's work. The class is held at Second City in Chicago.
Call: The Training Center, 312-664-3959
 
Improvisation for Caregivers
Classes focus on offering individuals in a caregiving setting more agency, support and informed agility to navigate within the caregiving space. Classes are free and held at the Lou Ruvo Center for Brain Health—Cleveland Clinic, Las Vegas, Nev.
Contact: Ruth Almen at Almenr2@CCF.org or call 702-483-6054
 
The Memory Ensemble
An eight-week theater intervention program for persons with early-stage Alzheimer's disease and related conditions, The Memory Ensemble is an improvisation experience for people with memory loss. It is offered by the Mesulam Cognitive Neurology and Alzheimer's Disease Center of the Northwestern University Feinberg School of Medicine and the Lookingglass Theatre Company, in Chicago.
Contact: cnadc-admin@northwestern.edu.
 
A Theater Improvisation Wellness Activity for Seniors
Conducted by Brian Hamill of Mob Rule, Inc. (a nonprofit community outreach project), this two-hour improv games and skills workshop, held in Santa Monica, Calif., is fun and safe, with an emphasis on wellness.
Call: 310-394-9871
________________________________________________________________
Grand Velas Riviera Nayarit Ups the Ante on Healthy Dining Options
With Fit Bowls, Vegan Sushi and Even Anti Flu Juice
The Grand Velas Riviera Nayarit has expanded its healthy dining options. A highlight is special Vegan Sushi developed by Nikki Sharp, a Los Angeles-based health coach, yoga instructor, vegan chef and best-selling author of Meal Prep Your Way to Weight Loss and The 5-Day Real Food Detox, who hosted the resort's 2018 Wellnessing Getaway. Other additions include a fit bowl with 20 different vegetable, grain and fruit options to mix and match and four other types of bowls with novel healthy ingredients. This can be teamed up with four different juice combos including one designed for the flu season.  The new lineup of offerings complements the resort's vegan and vegetarian tasting menus offered at its fine dining restaurants.
The unique vegan sushi is made with quinoa and cauliflower rice, purple cabbage, red pepper, carrots, avocado and cilantro.
To make one's own salad, complements like almonds, hazelnuts, sunflower seeds, pumpkin seeds, amaranth, grated coconut, chia, linseed, dried cranberries, dried blackberries, spirulina, dates, and prunes can be added to different types of lettuces like romaine, kale, red leaf, arugula, spinach, green leaf, little gem, and mesclun greens. A variety of vinaigrettes are provided for dressing. Four types of bowls are offered from a quinoa, chickpea, sweet potato purée, beetroot, and sunflower seed mix and rice noodles with black beans, French beans, and green beans to a compilation of wild rice, lentils, sweet potato with paprika, cabbage salad, carrots, and brussels sprouts and an açai bowl.  Juice options include a signature Green Juice; Anti-Flu Juice with ginger, orange, lemon, pineapple, and honey; Detox Juice with pineapple, spinach, beetroot, ginger, and coconut water; and Energetic Juice with beetroot, carrot, celery, green apple, cucumber, and coconut water.
Gourmet meals and premium branded beverages are included in the rates. Rates at Grand Velas Riviera Nayarit's start at $336 per person per night in double occupancy. Rate also includes luxury suite accommodations, 24-hour in-suite service, nightly entertainment, taxes, gratuity, and more. For reservations or additional information, please call 1-888-407-4869 or visit https://vallarta.grandvelas.com/.
About Grand Velas Riviera Nayarit:
The AAA Five Diamond Grand Velas Riviera Nayarit enjoys a privileged natural setting with flowering, landscaped gardens beside a long stretch of pristine beach and a dramatic backdrop of the Sierra Madre mountains. The centerpiece of the gardens is a three-tiered, multi-temperature infinity pool, a preferred spot for catching the legendary sunsets. The resort features 267 ocean-view suites, some with private plunge pools, and all with fully stocked mini bar, L'Occitane amenities and Nespresso machines. Wellness Suites include a personal training session and massage in-suite in addition to other fitness amenities, such as a Lifecycle Exercise Bike, organic soaps, Aromatherapy Kit, and more. Of the resort's six restaurants, three, serving French, Italian and Mexican gourmet cuisine, have received AAA Four Diamond awards for distinguished cuisine and presentation.
In November 2018, the resort opened a new Asian-inspired restaurant to complement its renowned dining program. An oasis of wellbeing, Se Spa has been included on Forbes Travel Guide's list of The World's Most Luxurious Spas. This Puerto Vallarta spa offers 20 treatment suites, more than 30 spa treatments, many inspired by the native traditions of Mexico and a signature water journey. Other features include a fitness center, 24/7 in suite service, water sports, business center, tennis, baby concierge, Kids' Club, and state-of-the-art Teens' Club. The all inclusive resort in the Riviera Nayarit features more than 25,000 square feet of indoor meeting facilities, including the Grand Marissa Ballroom, which consists of more than 6,000 square feet and is easily subdivided into five separate rooms. The resort's facilities also include four other rooms ranging from 681 to more than 1,954 square feet that offer several arrangement variations to maximize meeting productivity and efficiency. Things to do in Puerto Vallarta include water sports, exploring the lush jungle, visits to traditional villages and more. This Puerto Vallarta luxury resort has won numerous awards from Condé Nast Traveler, Travel + Leisure, TripAdvisor, U.S. News and World Report and Forbes, which named it one of the Top Ten Coolest All-Inclusives. A member of Preferred Hotels & Resorts, Grand Velas Riviera Nayarit was built and is operated by Eduardo Vela Ruiz, founder and president of Velas Resorts, with brother Juan Vela, vice president of Velas Resorts, by his side. For reservations or more information, call 1-888-407-4869, email reservationsrn@velasresorts.com or visit https://vallarta.grandvelas.com/.
_________________________________________________________________________

Ridley-Tree Cancer Center at Sansum Clinic
540 W. Pueblo Street -
Santa Barbara
,
CA
93105
---