HEALTH MINDED   .   .   .
DROOPING LIDS NO LONGER A PROBLEM WITH UPNEEQ
FDA Approved Product for Non-Surgical Eye Solution
                By Bonnie Carroll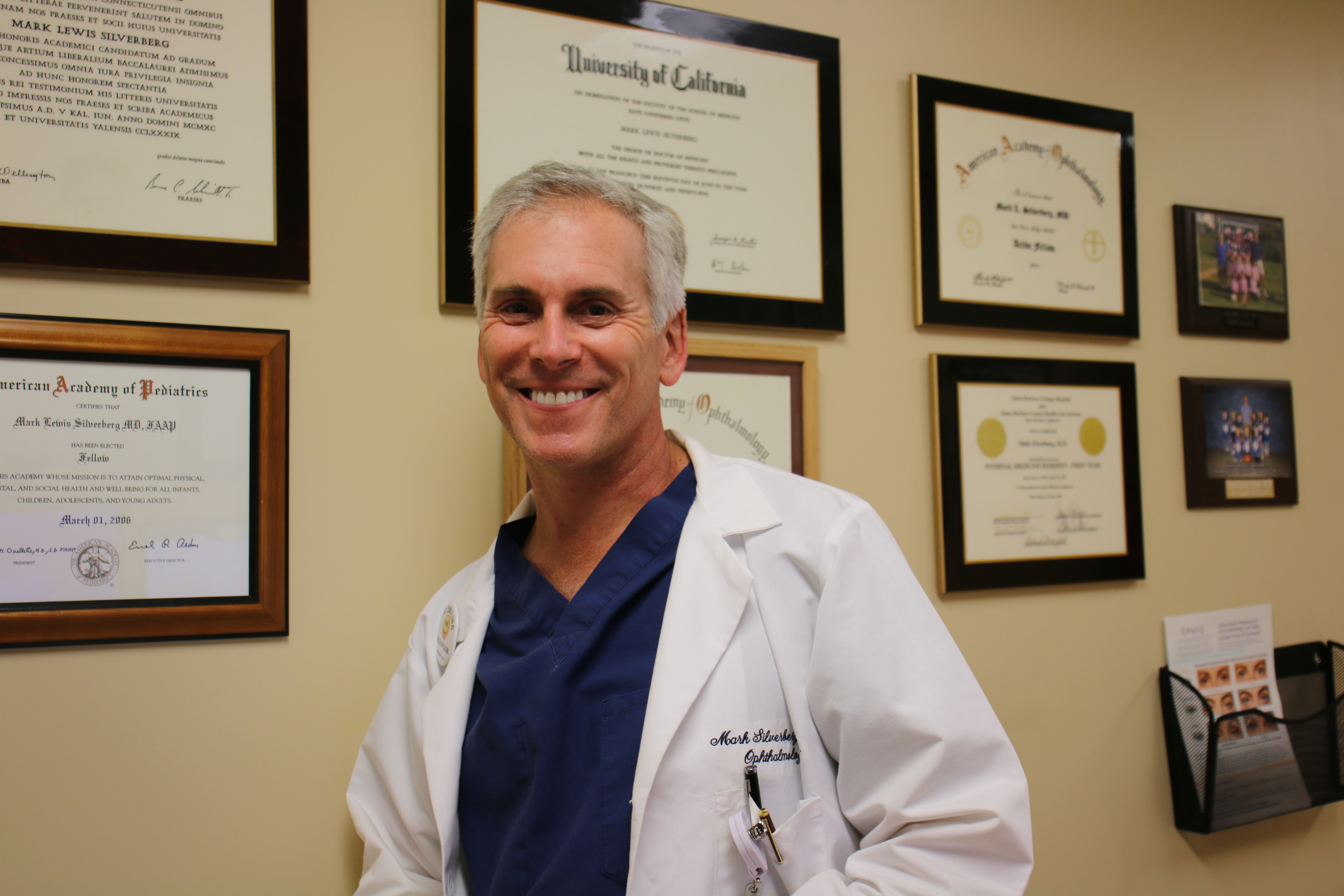 Mark L. Silverberg, MD
 Mark L. Silverberg, MD, a Sansum Clinic Ophthalmologist since 2001, has created at new eye drop called Upneeq that takes the tired appearance from the eyes of senior patients and gives patients with double vision new hope through eye muscle surgery.
Dr. Silverberg specializes in saving children and senior's sight. He is a board certified ophthalmologist trained at the Jules Stein Eye Institute at UCLA, where he completed a fellowship in pediatric ophthalmology and adult strabismus. Mark received his bachelor's degree with honors (Magna Cum Laude) in philosophy from Yale University and earned his medical degree from the University of California, San Francisco. He completed his internship at Santa Barbara Cottage hospital and ophthalmology residency at Manhattan Eye, Ear and Throat Hospital in New York City.
Although Dr. Silverberg practices comprehensive ophthalmology and specializes in pediatric eye disease he also has a unique interest in eye muscle problems and double vision, which affect not only children but countless senior citizens today. He is an Assistant Clinical Professor at the Keck School of Medicine of USC, lectures nationally and internationally on eye muscle disorders often and has served as an ophthalmology consultant for some well-known TV series including CSI.
Dr. Silverberg is a member of the American Academy of ophthalmology, the American Association for Pediatric Ophthalmology and Strabismus, as well as a volunteer affiliate of Surgical Eye Expedition (SEE) International and has donated his services to local SEE events and performed volunteer eye surgery in Kenya, Vietnam, and Fiji. "I've come to the realization that there are plenty of underserved people here in my town. I participate in the local arm of DEE International, Santa Barbara Vision Care to help pediatric and strabismus patients at no charge," says the doctor.
Growing up in Encino, California, he followed in the footsteps of his dad, an ophthalmologist who he describes as a great role model. He now lives happily in Hope Ranch with his wife and three children where he enjoys surfing and running.  
According to Dr. Silverberg a short time ago his mother piqued his interest in trying to find a solution to what he and his senior mother call "tired eyes" that affects so many seniors today. It's a condition that causes the eyelids to fall and affects vision, but people either had to just live with it or undergo eye lid surgery. With many experiments and time Dr. Silverberg developed a formulation that lifted the eyelids without dilating the pupils. Patients are now thrilled to experience his FDA approved Upneeq eye drops that not only improve the upper portion of the user's peripheral vision, but also provide the user with the benefits of beautiful, uplifted eyelids without going under the knife. Dr. Silverberg's mother proudly uses his new product, along with a bevy of A-list actors and actresses in Hollywood and around the country and many seniors living in Santa Barbara, California. Dr. Mark L. Silverberg, MD Sansum Clinic Elings Eye Center (Bldg. B) 4151 Foothill Road Santa Barbara, CA 93110

Eyes After Upneeq Drops
If your eyes look "tired" or "sleepy," you may have a condition called acquired blepharoptosis (also known as acquired ptosis or low-lying lids). For information visit  www.Upneeq.com
__________________________________________________________________
SYV PHP Awarded $223,516.80 to Fight Youth Substance Abuse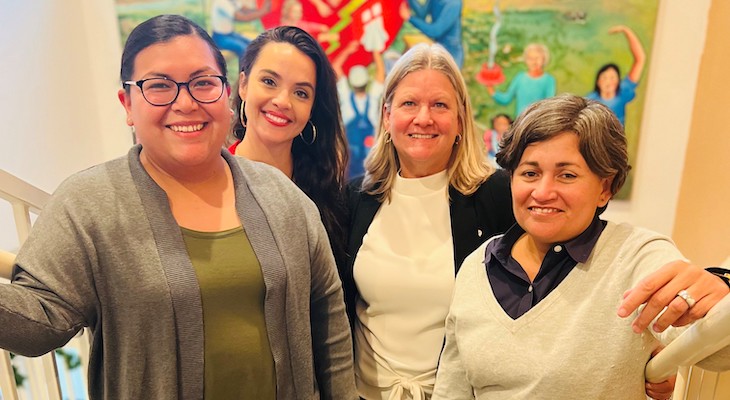 PHP and the Santa Ynez Valley Youth Coalition have served the community for 15 years providing education, diversion and prevention to our youth. Valerie Kissell, CEO of PHP states, "It is hard to find a family in our community that hasn't felt the devastating impact of substance use disorders among their children. Either through medical issues or entanglement with the justice system, substance abuse can tear a family apart and have long lasting implications."
Elevate Youth California, a project of The Center at Sierra Health Foundation under contract with the California Department of Health Care Services (DHCS), is funded by Proposition 64 revenue, which legalized adult non-medical use of cannabis in California. Awarded partner projects will work with youth ages 12 to 26 and provide youth social justice, peer support and mentoring in low-income communities of color, including Tribal communities and LGBTQ communities.
"Elevate Youth California prioritizes youth leadership and invests in healing and community growth," said Chet P. Hewitt, president and CEO of Sierra Health Foundation and The Center. "Our new partners will work directly with youth to improve the environment of communities impacted by the War on Drugs, which has led to inequity in our health systems and the criminalization of youth in low-income communities and communities of color. California's youth are talented, capable and ready for this investment."
With the Cove Champions Project, PHP joins 60 additional community-based and Tribal organizations throughout California awarded a total of $52 million for youth substance use prevention activities in this round of funding. A full list of organizations that received awards is posted on the Elevate Youth California website.
"It is inspiring to see the level of positive change that the 61 culturally responsive Elevate Youth California community partners presented in their applications," said Marlies Perez, chief of DHCS' Community Services Division." As the COVID-19 pandemic continues, and our young people re-engage in school and community, the third cohort of nonprofit community and Tribal partners have found innovative ways to meet the multiple complex needs of our young people."
Elevate Youth California is funded through the DHCS Proposition 64 California Cannabis Tax Fund, Allocation 3, Youth Education Prevention Early Intervention and Treatment Account. Proposition 64 funding prioritizes youth education, prevention and early intervention. Elevate Youth California connects youth and their families to programs that include wraparound care in communities disproportionately harmed by past and current drug policies and criminalized for substance use disorder. Learn more by contacting People Helping People at 805-686-0295.
About Santa Ynez Valley People Helping People: Founded in 1992, People Helping People is dedicated to improving the lives of individuals and families in the Santa Ynez Valley, Los Alamos, and surrounding communities by addressing emergency and basic needs, furnishing comprehensive integration family and individual support service, and acting as a catalyst for positive community change.
About Elevate Youth California: Elevate Youth California is a statewide program supporting community leaders who are addressing substance use disorder by investing in the youth leadership development and activism of youth of color and LGBTQ+ youth ages 12 to 26. Through Elevate Youth California, The Center at Sierra Health Foundation has awarded a total of $56.2 million in funding to support racially and culturally responsive, trauma-informed, population-based and place-based approaches to youth substance use prevention. Learn more at elevateyouthca.org.
___________________________________________________________________
The Finest in Independent Living
VISTA DEL MONTE
Without the hassles of mundane chores, you're free to enjoy the things you really want to do. At Vista del Monte, you'll have time to engage in what's most meaningful to you: pick up a new skill or hobby, travel, discover an interesting sport, or make more time to socialize. Whatever it is, we can help. With our Independent Living services, we take care of all the practical tasks, including transportation, housekeeping, and maintenance. Our culinary staff prepares delicious meals, handles all the day-to-day chores, and your wellbeing needs are attended to—all in one place. For information visit: www.vistadelmonte.org. Vista Del Monte – Santa Barbara, California – 805-687-0793
---