HEALTH MINDED     .     .     .
ALZHEIMER'S ASSOCIATION CALIFORNIA CENTRAL COAST CHAPTER
Second Annual 'Your Brain Matters' Luncheon
Honoring Leeza Gibbons and Caregiver Doug Yarrow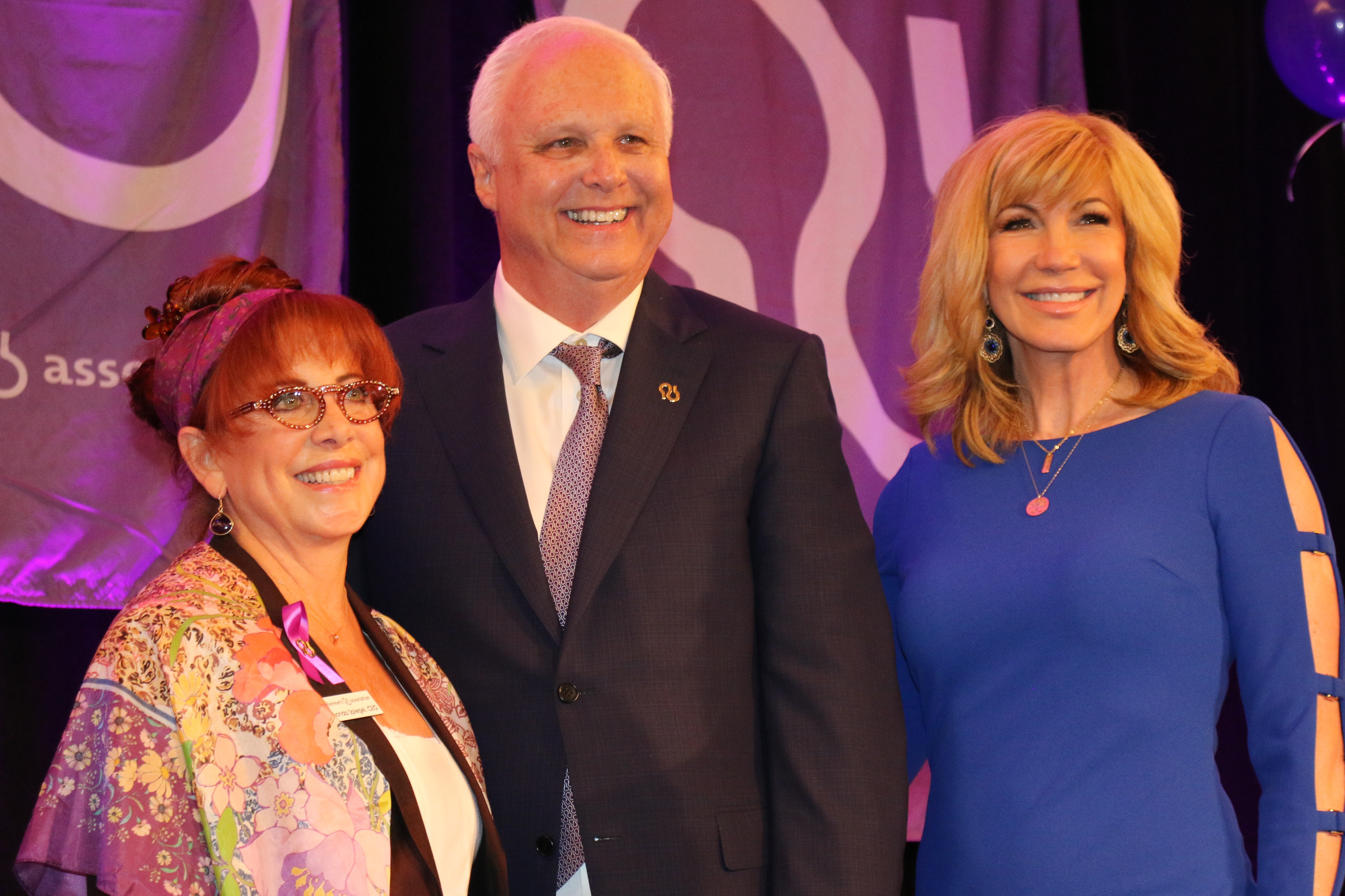 The Alzheimer's Women's Initiative, Ventura County, led by Chair Amy Commans of the Alzheimer's Association, California Central Coast Chapter, presented the Second Annual 'Your Brain Matters' Luncheon at the Four Seasons Hotel Westlake Village on Friday, May 10, 2019. The event focused on the importance of brain health, and honored caregivers who care for individuals living with Alzheimer's disease or related dementias. This year's recipient of the Alzheimer's Leadership Award was Leeza Gibbons, talk show host and Alzheimer's Champion, who was also be the keynote speaker. Dr. Rebecca Edelmayer, Director of Scientific Engagement for the Alzheimer's Association was a fantastic Scientific Speaker. The brilliant women professionals who spoke at this luncheon are living examples of the Alzheimer's slogan "The Brains Behind Saving Yours." It was shocking to hear that Alzheimer's is the 6th major cause of death in the U.S. and the 3rd in the State of California.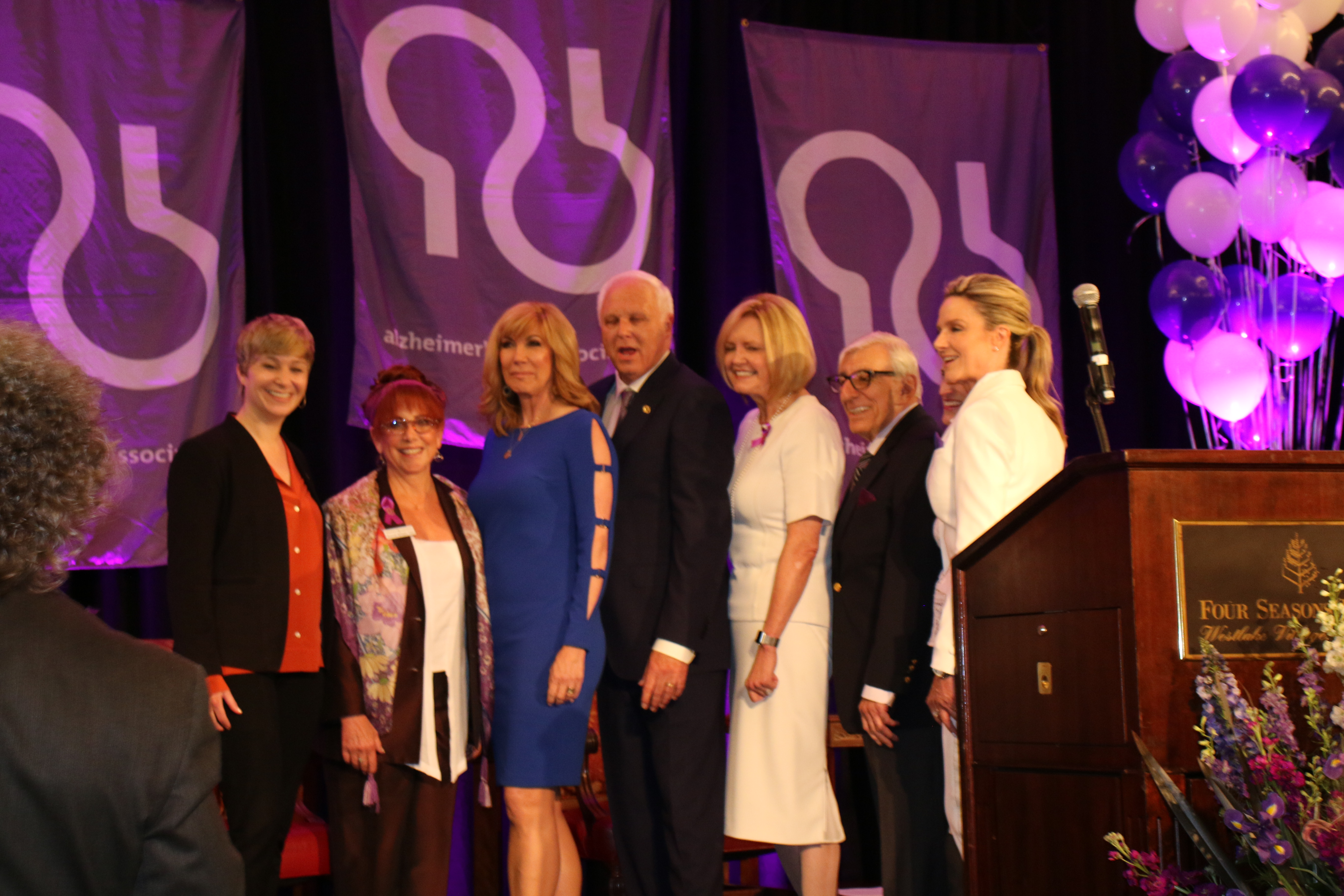 Leeza Gibbons talk about her mother's battle with Alzhweimer's was very touching, but the powerful facts on how "Alzheimers affects twice as many wome as breast Cancer today and how the numbers keep rising in this healthcare crisis world wide and the end of Alzheimer's starts with you" was a home-run for all the women in this room. "This is a terrible, polarizing illness that destroys the brain killing nerve cells and tissue, it 'Eats Your Brain' and takes the patient's whole family down as well," she said. Prior to introducing Doug Yarrow 2019 Caregiver's Award recipient Gibbons said " Caregiver's are the headliners in this picture. Theresa Valco and Rebecca Edelmayer, Ph.D. joined Leeza in a panel discission on Alzheimer's and work being done to combat it and educate the public on diagnosing Alzheimers. The National aggressive plan of action is to efect a cure by 2025 by doing the research to find biological factors and causes, by staving off symptoms through style interventions, medications, and fight, and know that I'ts game on!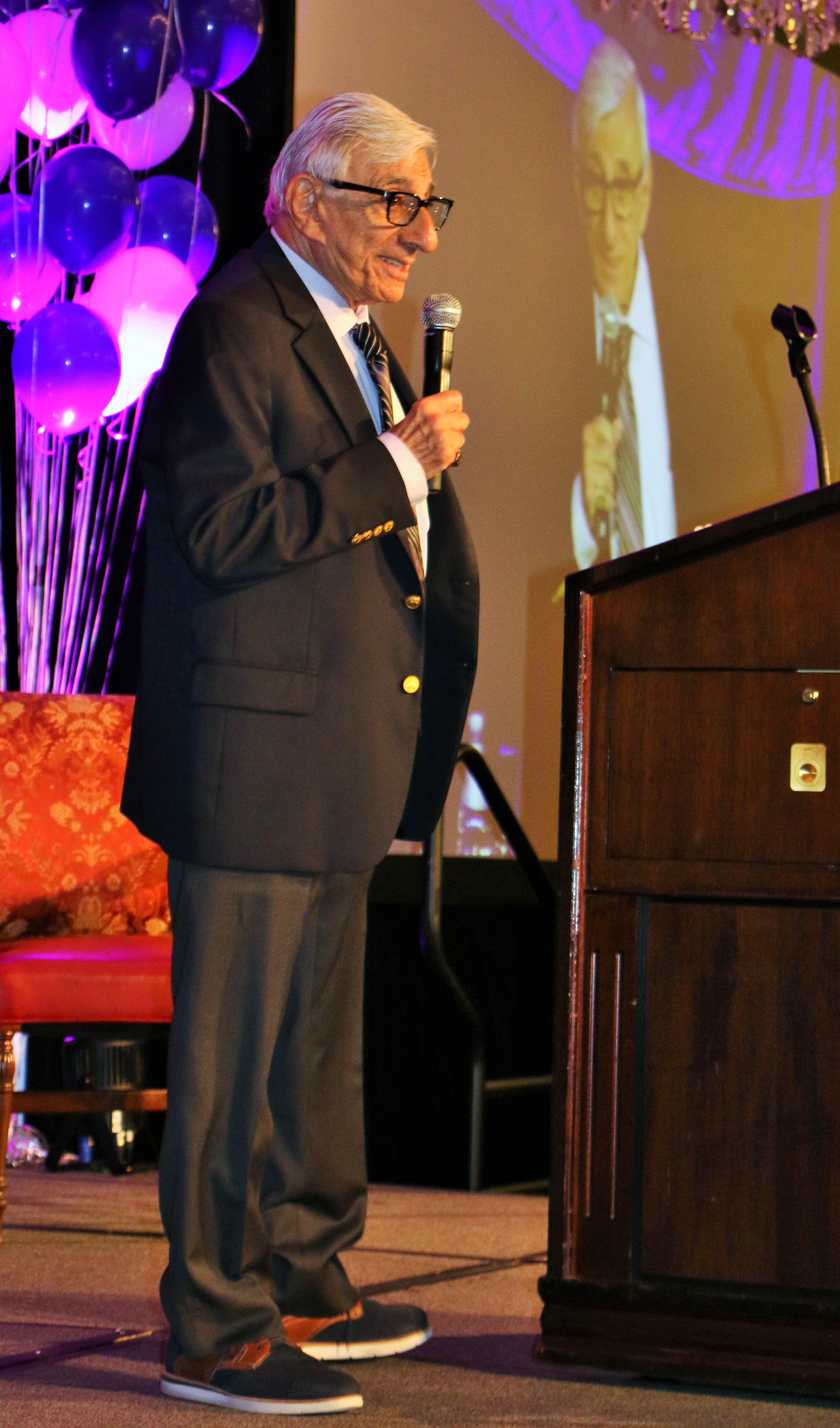 Comedian James Farr of "Mash" fame filled in for Bob Eubanks and shared some wonderful memories of his time with his mother. 2019 Caregiver Award Recipient Doug Yarrow gave a beautiful sharing with video of his life, hope and dreams with his wife, and how it all changed with the Alzheimer's diagnosis. Those of us who have lost friends or family to this desease know how painful it is to love someone who no longer knows who your are. Doug's story was very touching and also his hope for a cure was so inspiring.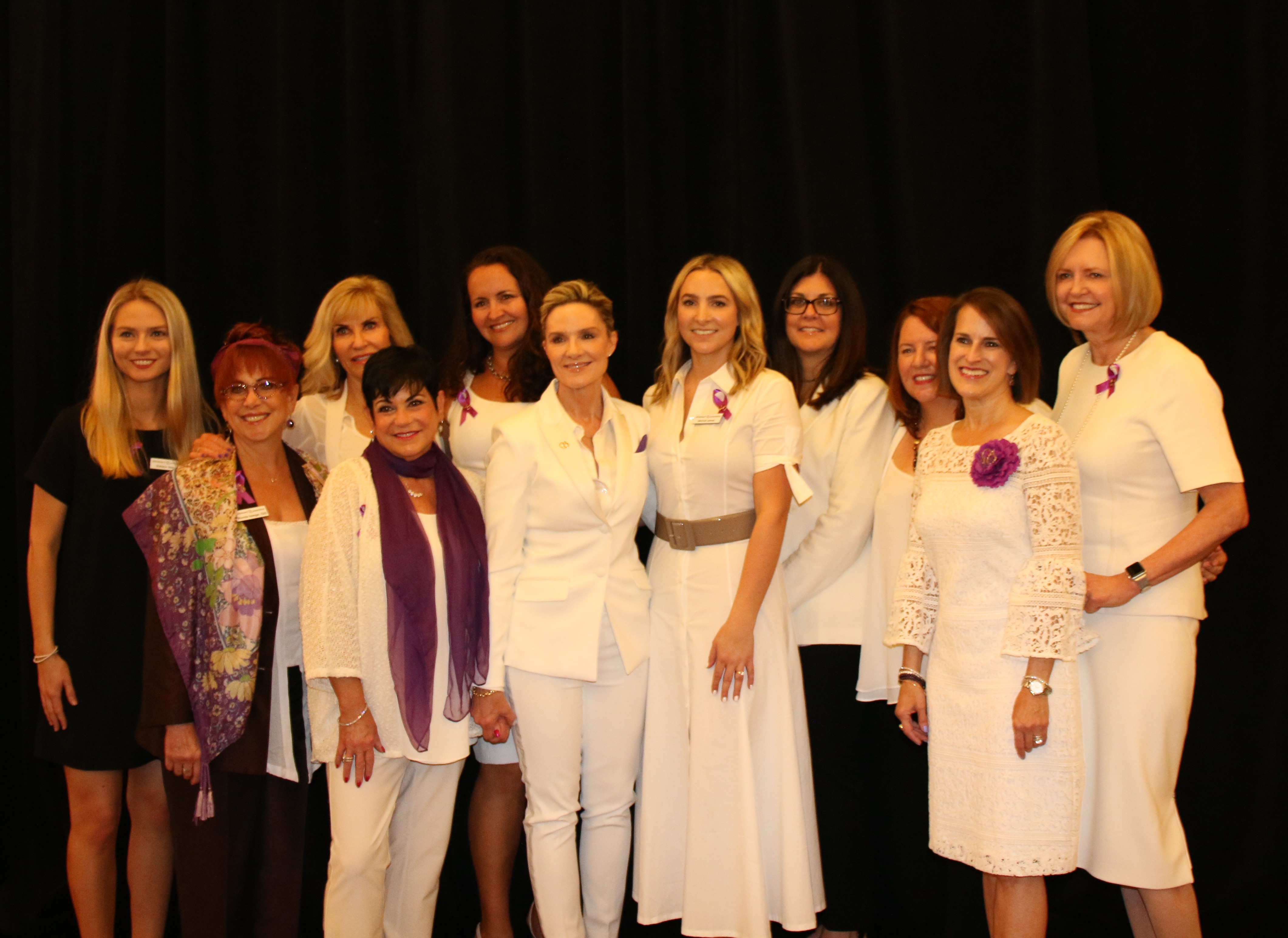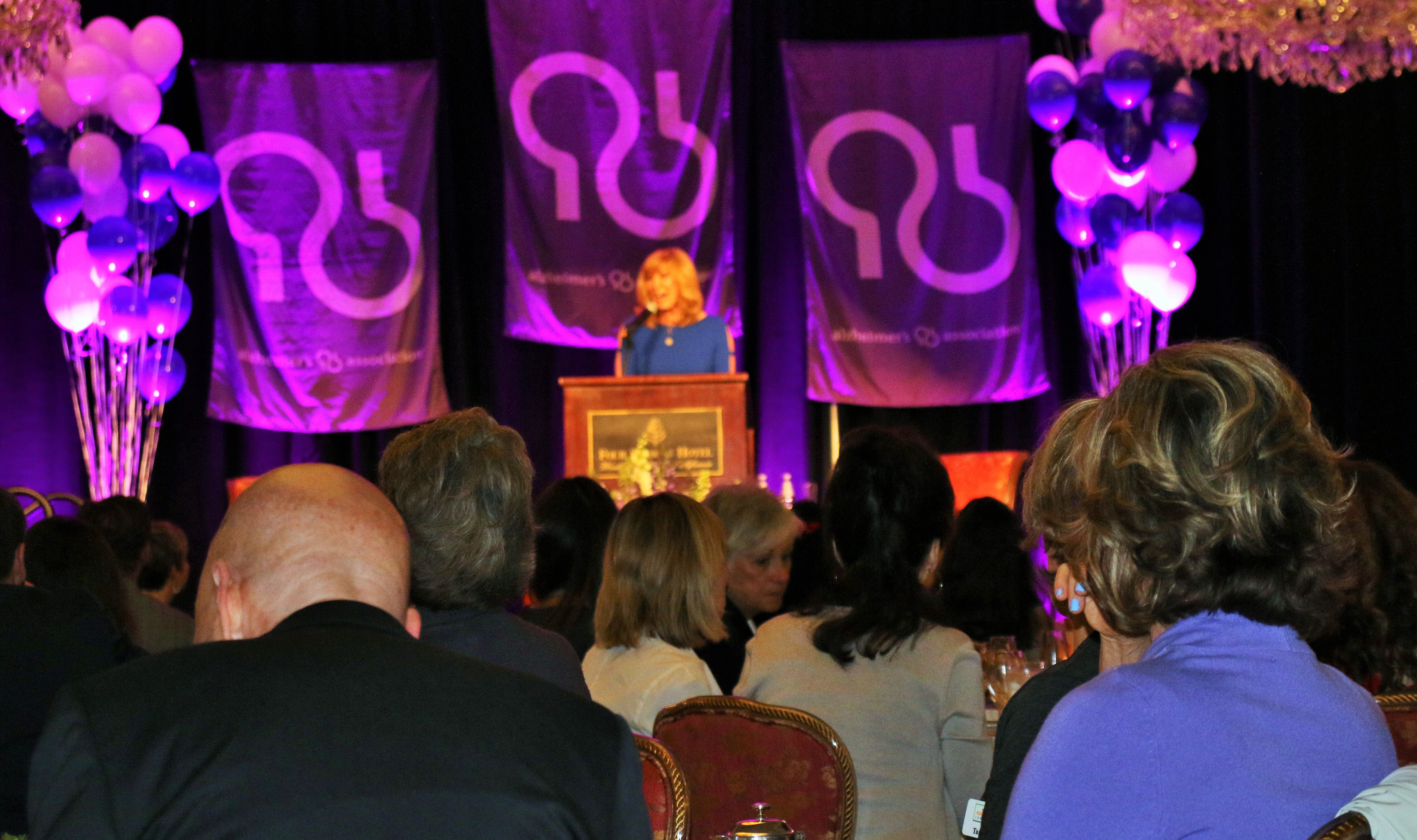 The luncheon featured extraordinary raffle prizes (view and pre-purchase raffle tickets online at act.alz.org/awivta that began on April 1), The ballroom lobby was alive with guests bidding on lovely items. "Memories in the Making" art created by Alzheimer's and dementia patients was available for donation, Alzheimer's education, and limited edition amethyst bracelets created by local artist Leslie Schneiderman were also available. Some amazing items in the live auction included a week at a luxury beach home on Silver Strand Beach a week at a cozy Mammoth home. 3 night sty st Rnch La Puert Wellness Resort & Spa, and an overnight stay for 2 at Rosewood Miramar Beach Montecito.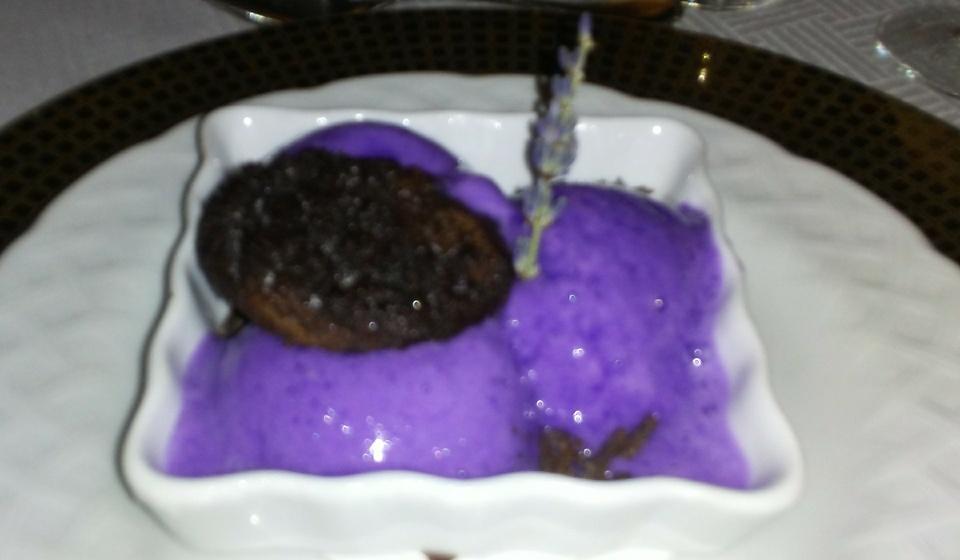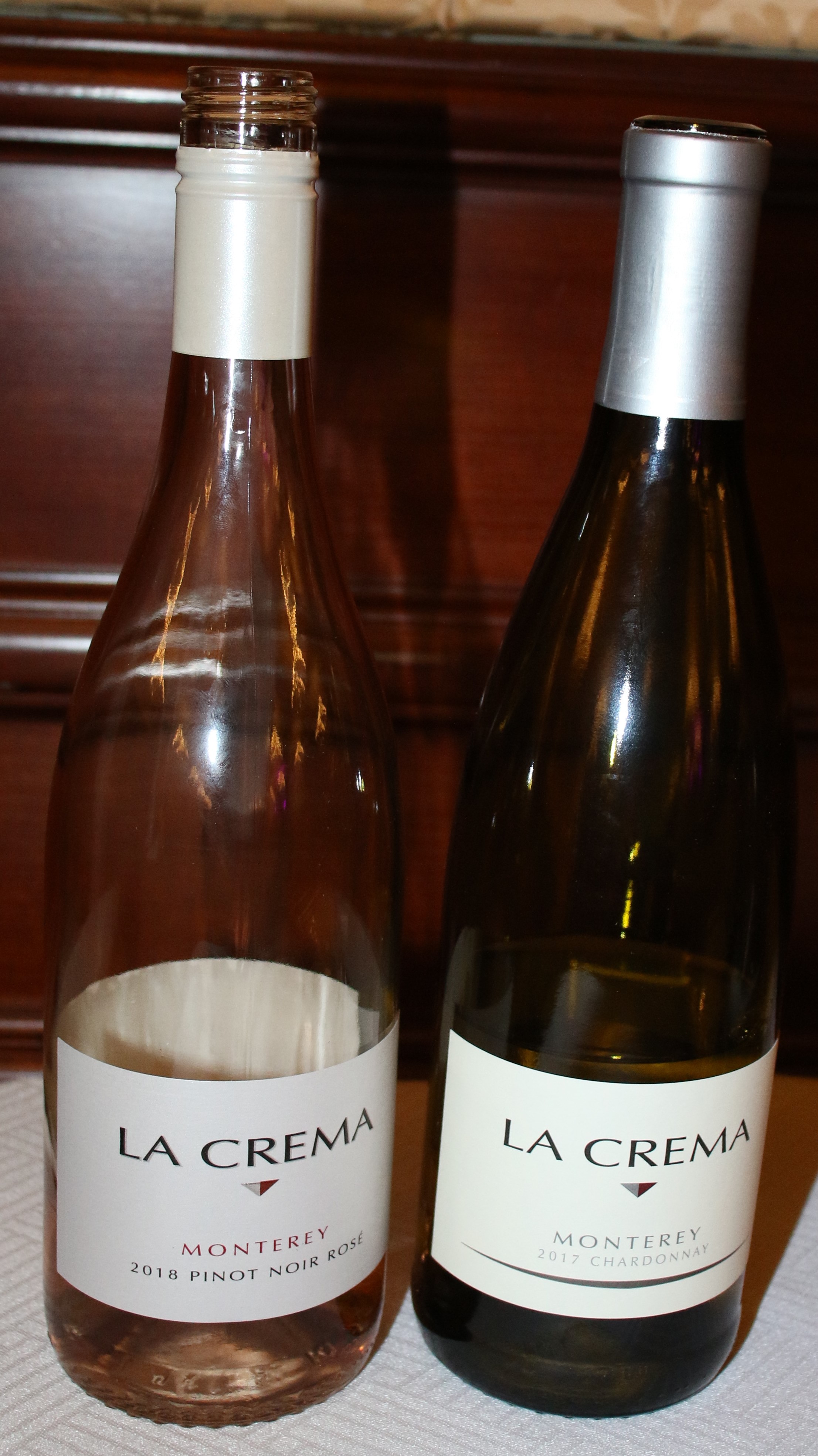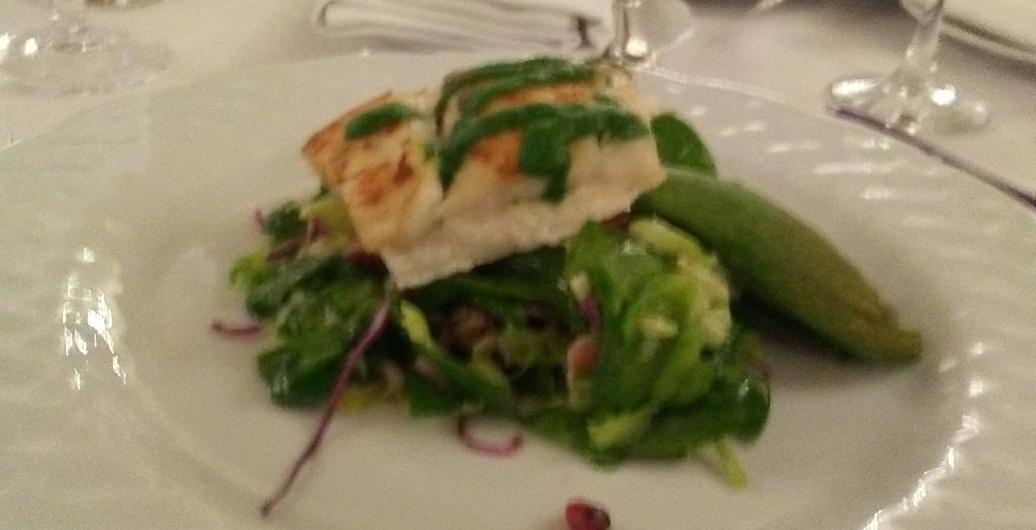 Bravo to the Alzheimer's Association California Central Coast Chapter, the board of directors, staff from Ventura, Santa Barbara and San Luis Obispo as well as the "Angels in White" and all the generous sponsors who made this afternoon possible. Special thanks to Four Seasons Hotel Westlake Executive Chef Jose Fernandez and Executive Pastry Chef Patrick Fahy who prepared a luncheon using greens with avocado and a lavender sorbet dessert with a chocolate walnut cookie, all paired with Juffers and La Crema wines.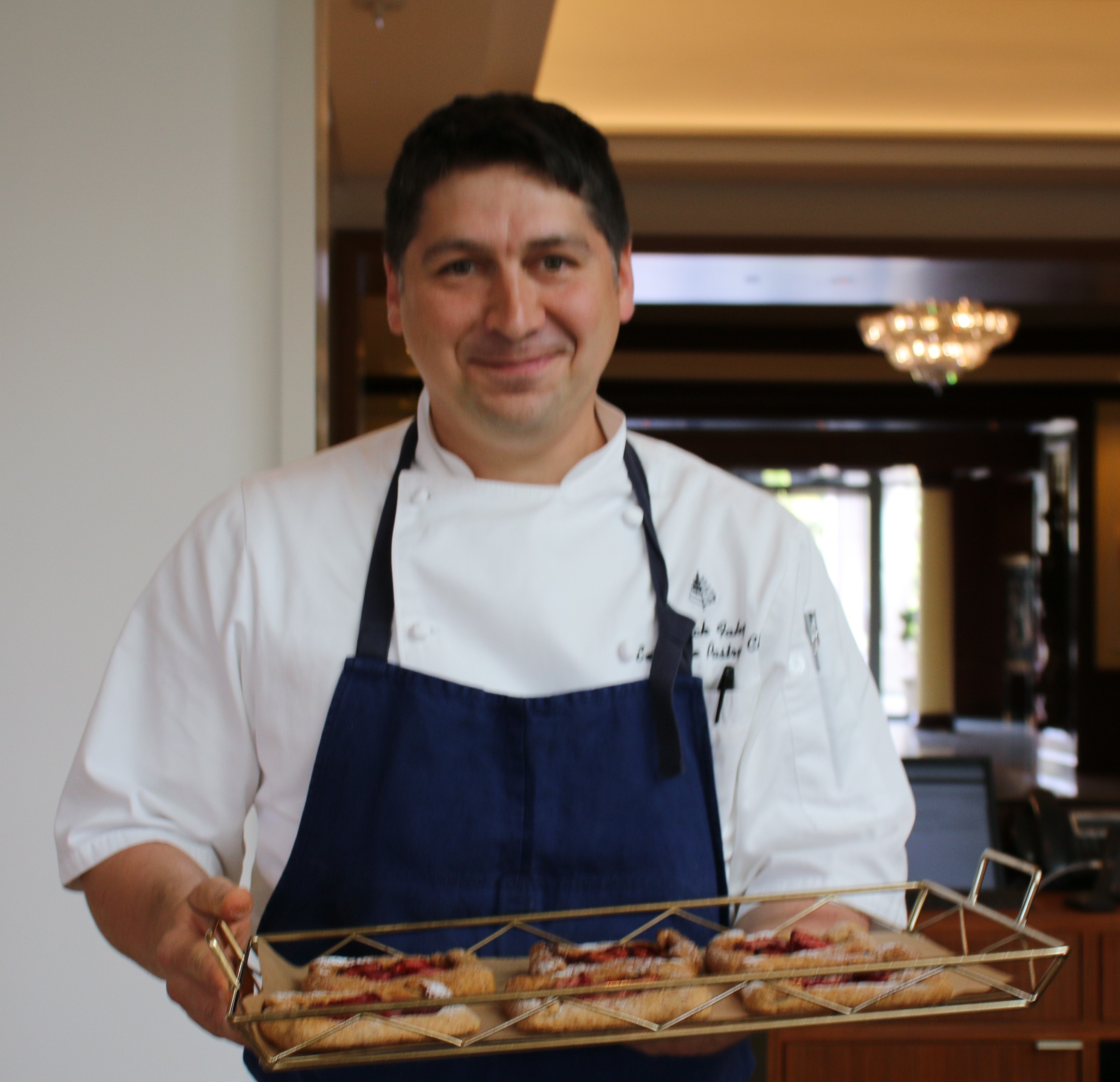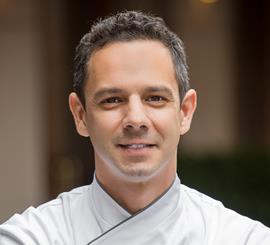 Executive Pastry Chef Patrick Fahy & Executive Chef Jose Fernandez
About the Alzheimer's Women's Initiative
Inspired and influenced by "The Shriver Report: A Woman's Nation Takes on Alzheimer's," a group of key women leaders and visionaries came together to use their amazing brains to help wipe out Alzheimer's disease. With women at the epicenter of the Alzheimer's crisis, these women were charged, inspired, and moved to form the Alzheimer's Women Initiative (AWI), a volunteer-driven community group, which aims to educate families, associates and neighbors on the economic and human impact of Alzheimer's, honor those who selflessly provide care for people affected by Alzheimer's, expand the resources available to the local families who are living with Alzheimer's each and every day, and advocate for more federal research dollars to find a way to prevent or cure Alzheimer's disease.
About the Alzheimer's Association
The Alzheimer's Association is the world's leading voluntary health organization in Alzheimer's care, support and research. It is the largest nonprofit funder of Alzheimer's research. The Association's mission is to eliminate Alzheimer's disease through the advancement of research; to provide and enhance care and support for all affected; and to reduce the risk of dementia through the promotion of brain health. Its vision is a world without Alzheimer's. The Alzheimer's Association California Central Coast Chapter is headquartered in Santa Barbara, CA, with regional offices located in San Luis Obispo and Ventura Counties. Visit www.alz.org/CACentralCoast or call 805.892.4259.
__________________________________________________________________
SPRING INTO GOOD HEALTH WITH WOMEN'S COUNCIL OF SANSUM CLINIC
by Bonnie Carroll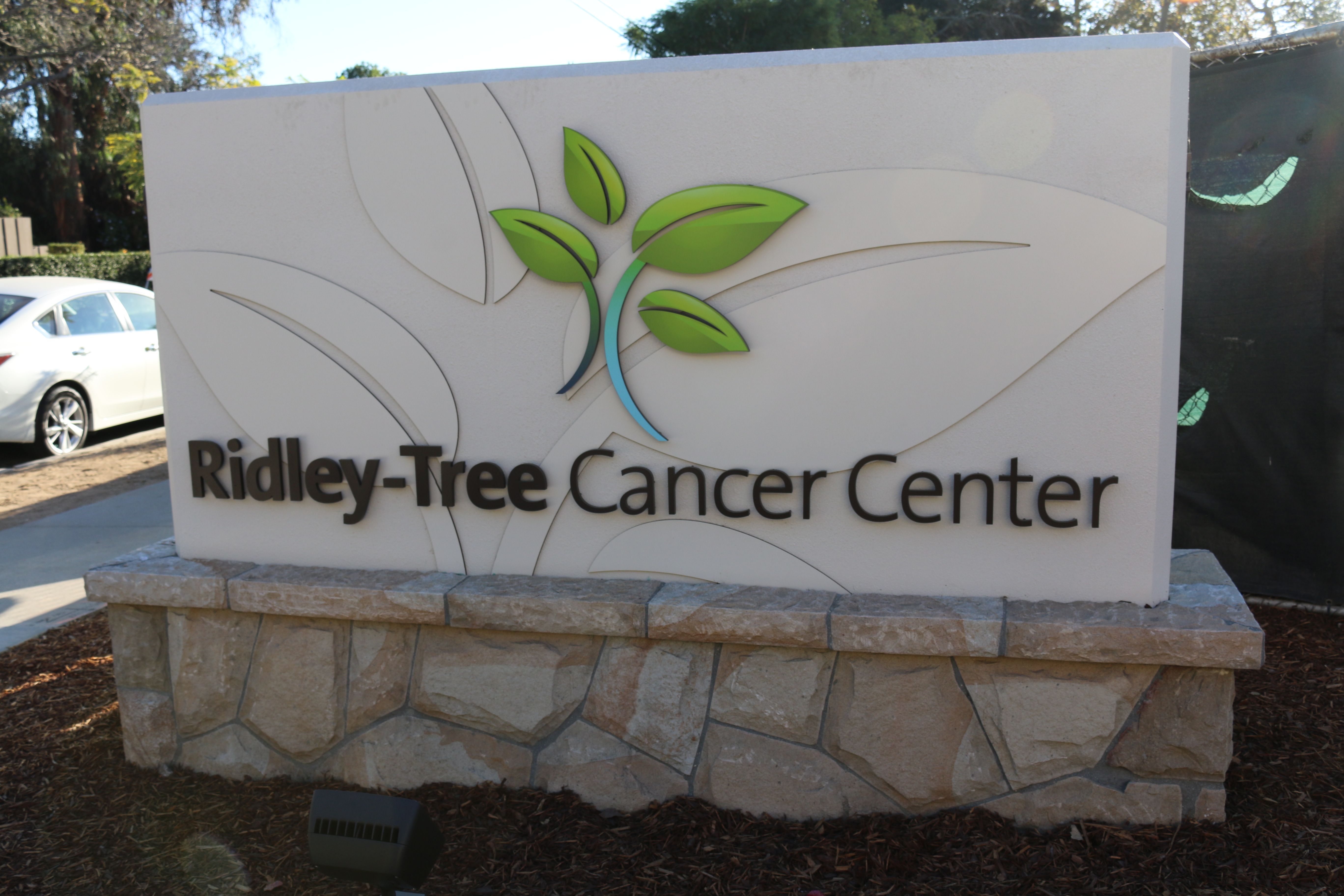 The "Spring into Good Health" afternoon program with the Women's Council, who work closely with the Sansum Clinic Marketing and Philanthropy departments of Sansum Clinic at Ridley-Tree Cancer Center, provided an opportunity for attendees to experience a warm welcome from Majorie Newman, MD Sansum Clinic Medical Director at the opening of the health focused agenda.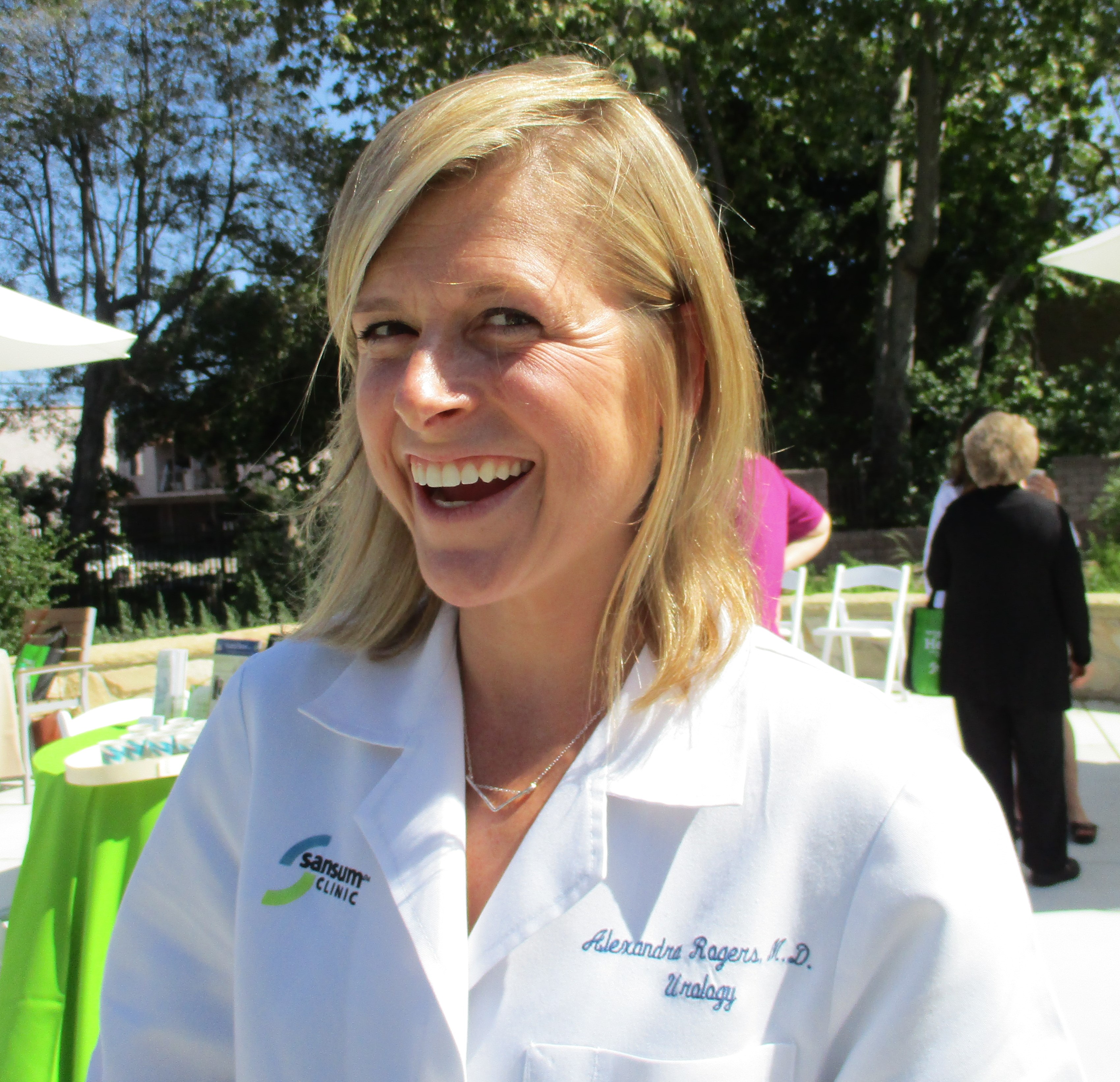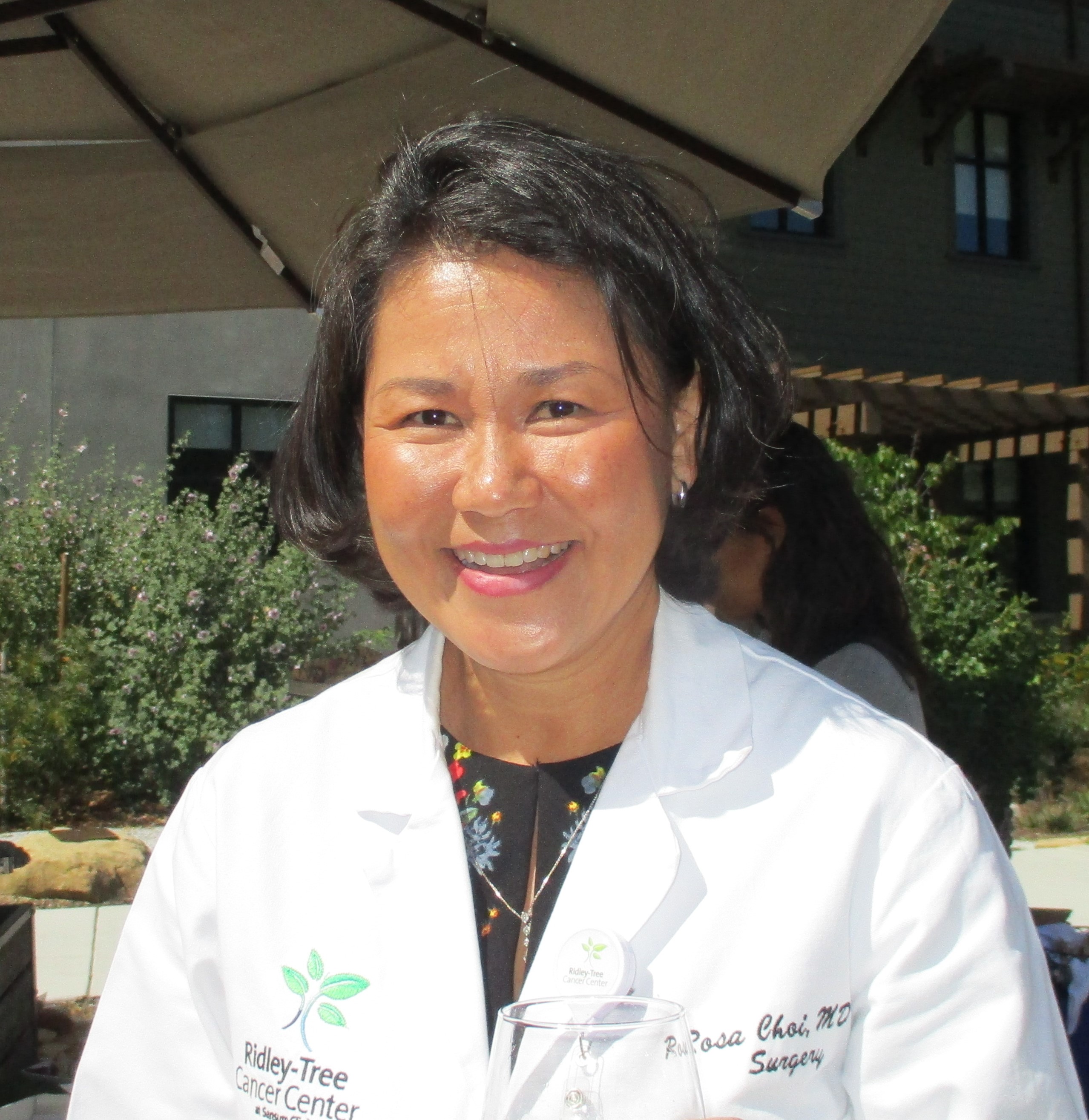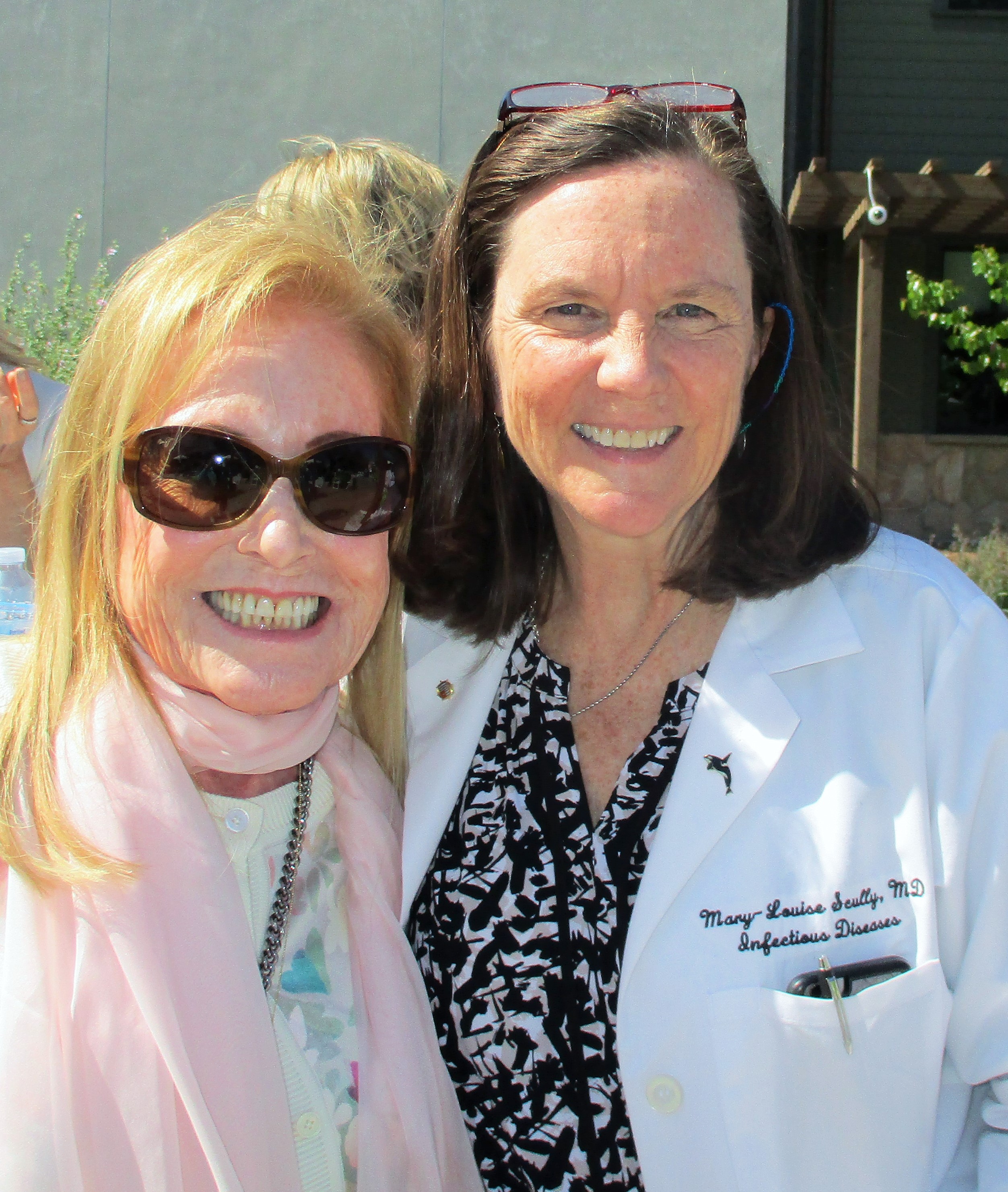 The program included valuable information from a panel of six outstanding women doctors including Toni Myers, MD, Ophthalmology, Rosa Choi, MD, FACS, Breast Surgery, Alexandra Rogers, MD, Urology, Mary Louise Scully, MD, Infectious Disease/Travel & Tropical Medicine, Heather Terbell, MD, Obstetrics & Gynecology, and Mica Bergman, MD, Oculoplastic Surgery, and the tea that followed included an introduction to station coordinators with helpful products & services.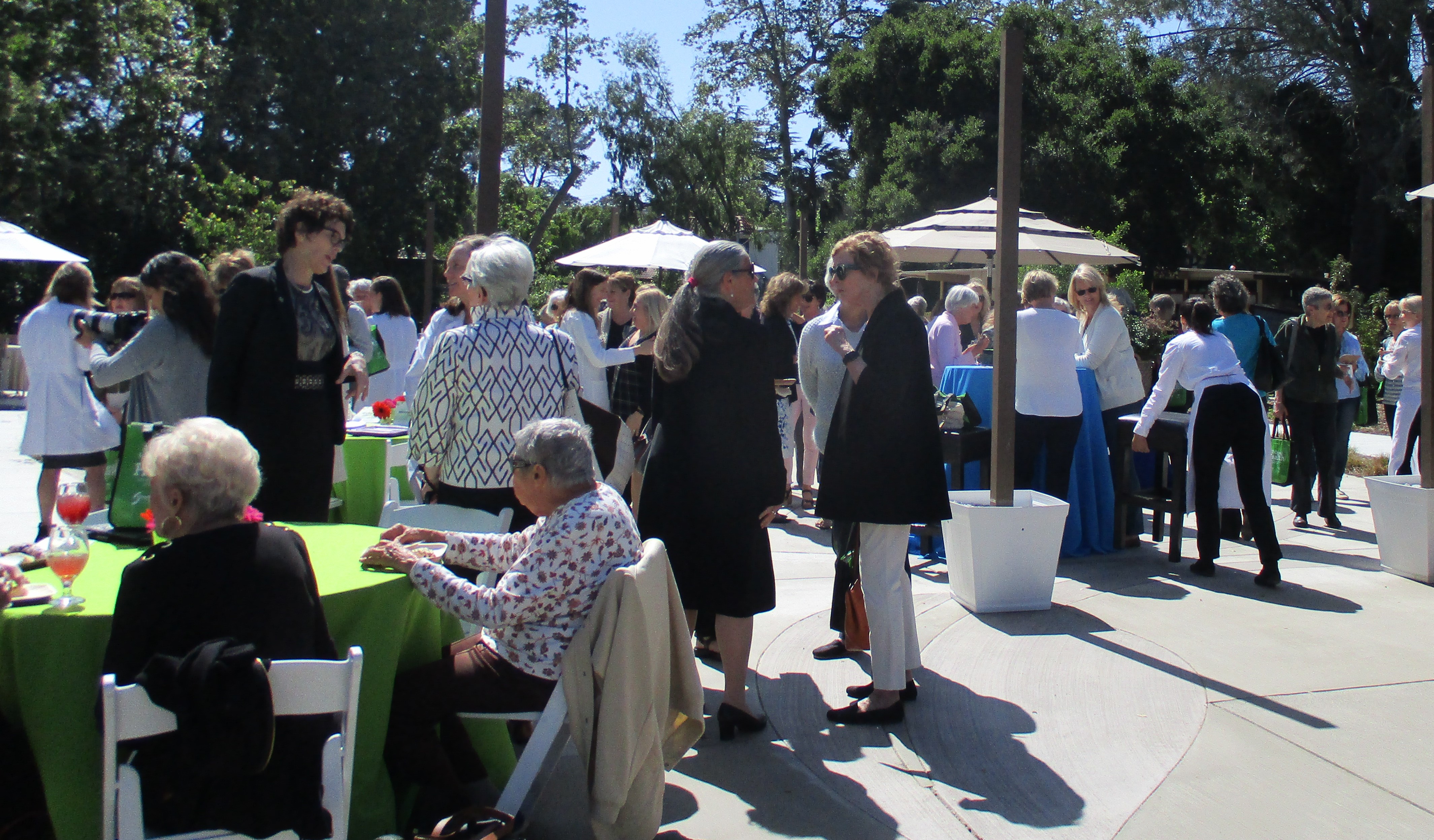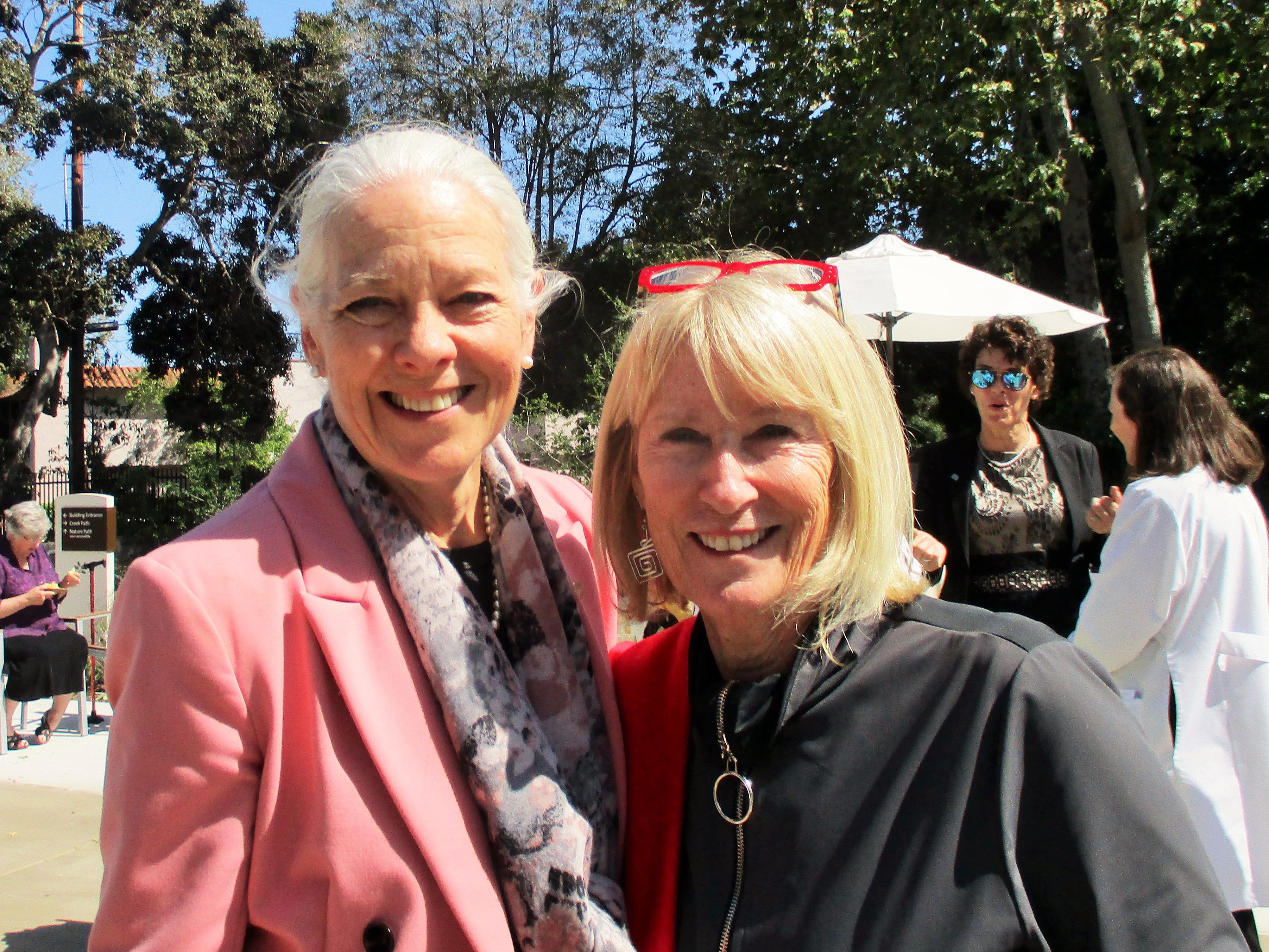 A lovely tea that included Waiakea Water, a sampling of delicious bites & sips of hot and iced teas from Rincon Events was held in the Ridley-Tree Serenity Garden, where guests enjoyed personal introductions with the attending doctors. Sponsors for the event were Ridley-Tree Cancer Center, Sansum Clinic, Waiakea , Montecito Bank & Trust, Southern California Reproductive Center Santa Barbara.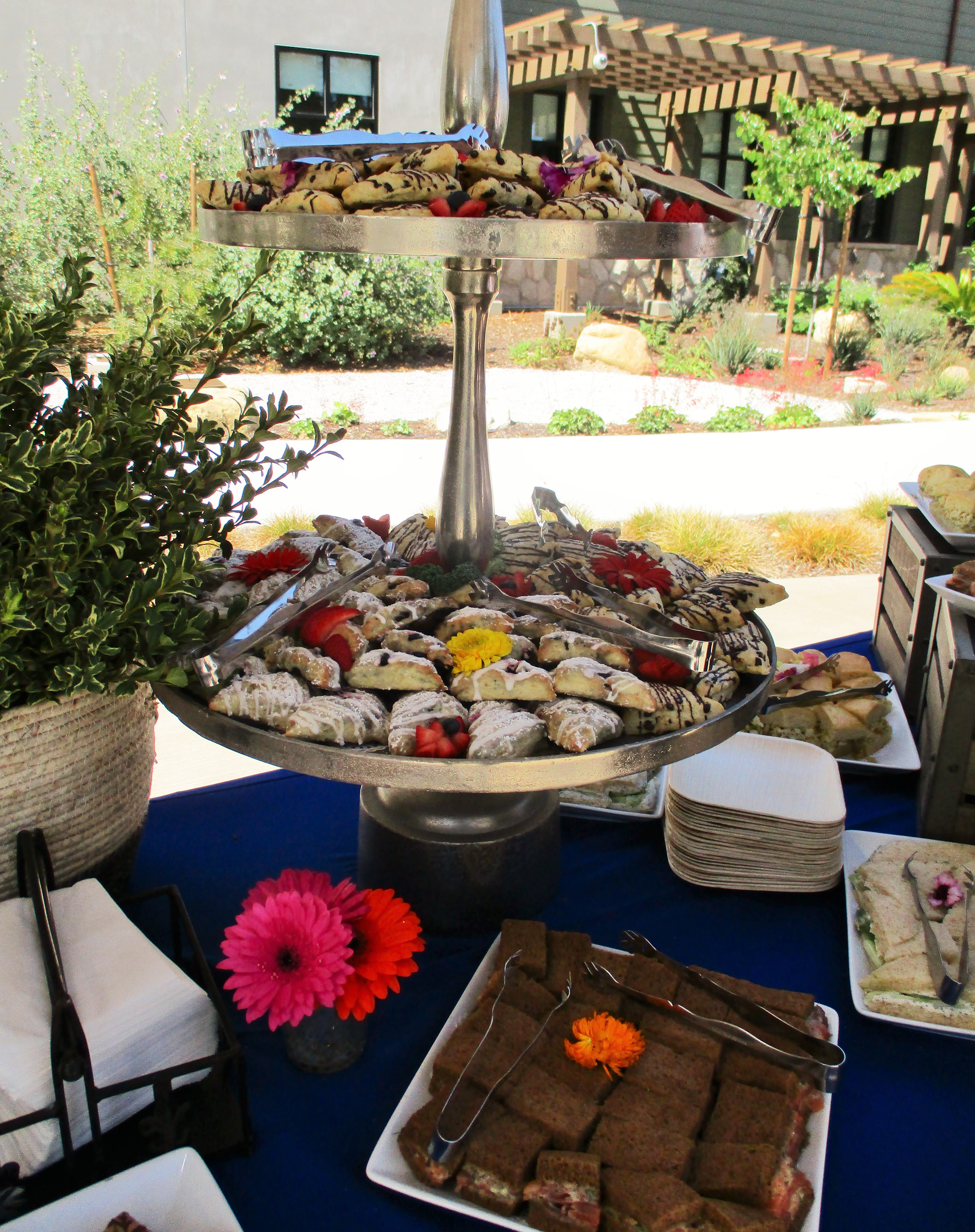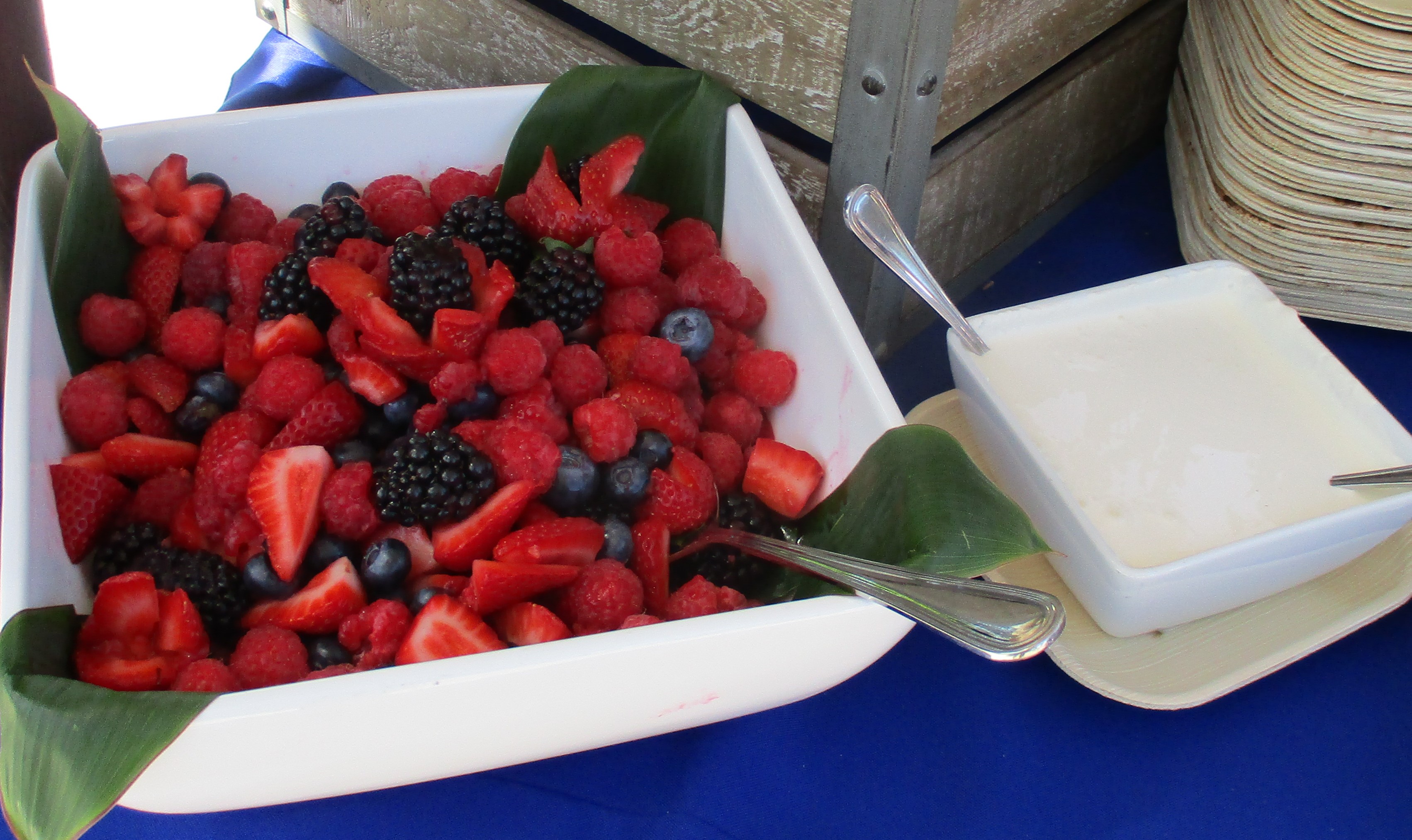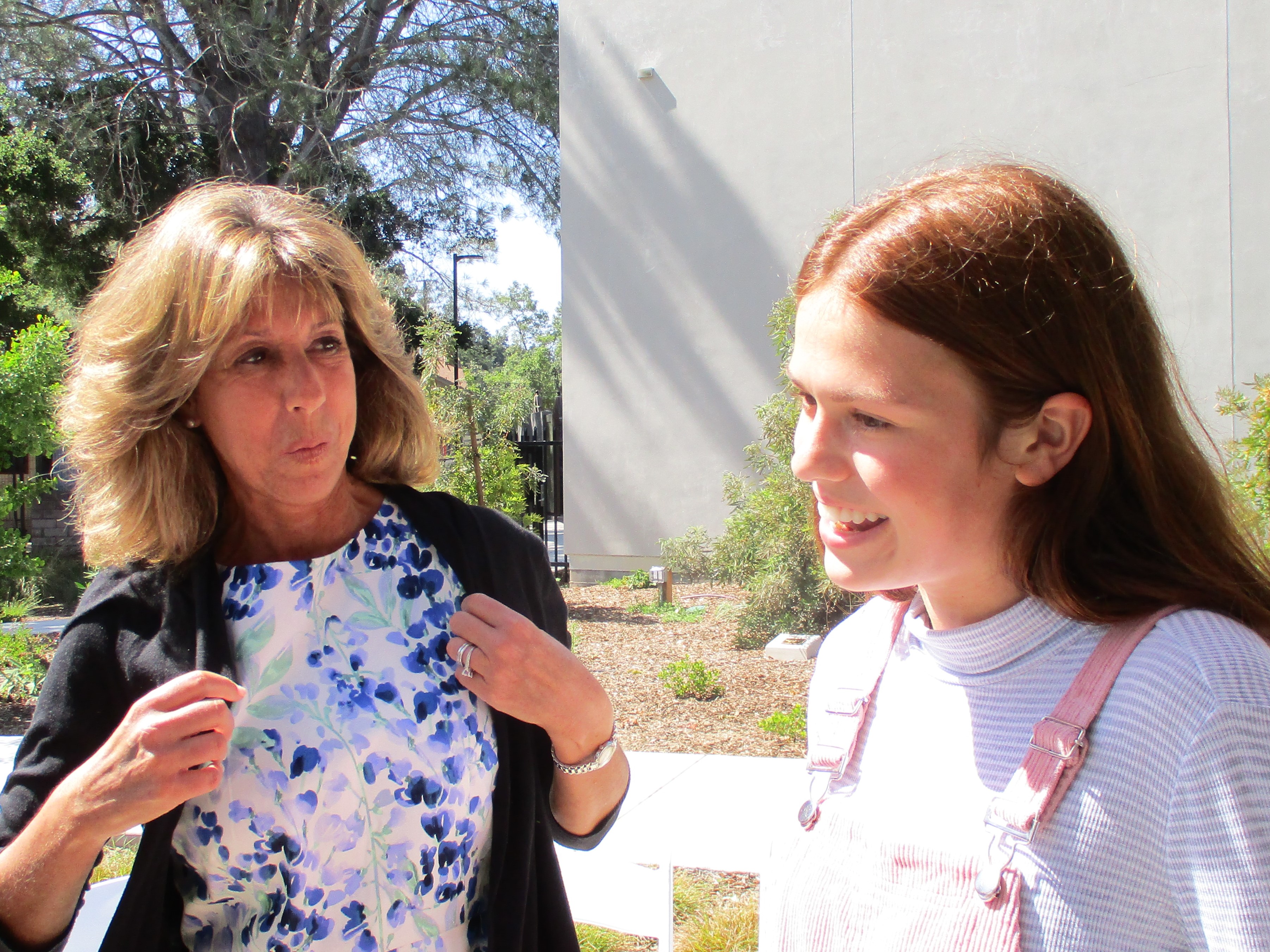 Ridley-Tree Cancer Center at Sansum Clinic (formerly Cancer Center of Santa Barbara with Sansum clinic) has been at the forefront of comprehensive outpatient cancer care on the central Coast for more than 70 years. They have the expertise and technology of an academic center complemented by a personalized approach to care. Their highly trained and devoted physicians and staff integrate the latest technology and treatment protocols with supportive care programs to provide patients with every opportunity for successful treatment, recovery and a healthy return to the activities that enrich life. Ridley-Tree Cancer Center serves as a regional destination for oncology services that ranks with the best of the major treatment centers on the West Coast.
___________________________________________________________________

Ridley-Tree Cancer Center at Sansum Clinic
540 W. Pueblo Street -
Santa Barbara
,
CA
93105
---