NEW REVITALIAZING MINERAL SOAKS
InSpa's moisturizing and Revitalizing Mineral Soaks retail for $18.00 for 13 oz.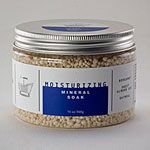 * Dead Sea Salts are prized for their unique composition. In ordinary sea water, sodium chloride (common salt) is the major constituent. The Dead Sea, however, contains a considerably smaller proportion of sodium chloride, the balance consisting of minerals (i.e. magnesium, potassium and calcium chlorides), and a comparatively high concentration of bromides. The therapeutic properties of the Dead Sea are due in large part to the presence of these minerals.
About InSpa
Founded in 1999, InSpa is the nation's fastest-growing mass-market day spa retailer. InSpa products and services are designed to emphasize simplicity, quality and value. There are seven InSpa locations, in and around the Seattle area and two in San Jose, California with plans to expand across the country. InSpa's bath, body and skincare lines are available at all InSpa locations and online at InSpa.com. For locations, hours and a complete spa menu please visit us online at: www.inspa.com.
---

Experience the Chopra Center in the beautiful mountains of Colorado!
Join Dr. Deepak Chopra, Dr. David Simon, and the Chopra Center staff for a profound weekend of renewal to help you restore, reflect, rejuvenate, and reconnect with yourself. Learn effective ways to manage stress, calm anxiety, respond to life's uncertainties, and achieve peace of mind, body,and soul.
This gateway Chopra Center experience is the ideal opportunity for you, your friends, colleagues, and loved ones to discover the healing power of meditation, the timeless wisdom of Ayurveda, the Seven Spiritual Laws of Yoga, and the teachings of Deepak and David. You will leave this weekend renewed, reconnected, and ready to move your life to the next level.
July 13-15, 2007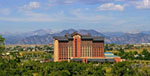 Westminster, Colorado
Nestled between the mile-high city of Denver and the sweet energy of Boulder, the Westin Westminster is the future home of the Rocky Mountain Chopra Center & Spa and is surrounded by miles of trails, lakeside parks, and a panorama of mountains to help you re-connect to nature and the earth.
Call 888.736.6895
---
EARTH TALK
From the Editors of E/The Environmental Magazine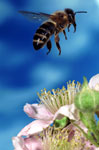 Dear EarthTalk: What is causing the dramatic decline in honeybee populations in the U.S. and elsewhere in recent years, and what is being done about it? -- James Harris, Akron, Ohio
Kids everywhere may revel in the fact that bees are no longer stinging them as frequently on playgrounds and in backyards, but the decline in honey bee populations in the U.S. and elsewhere signals a major environmental imbalance that could have far-reaching implications for our agricultural food supply.
Brought here from Europe in the 1600s, honeybees have become widespread across North America and are bred commercially for their abilities to pollinate crops—90 different farm-grown foods including many fruits and nuts depend on them—and produce honey. But in recent years populations across the continent have plummeted by as much as 70 percent, and biologists are still scratching their heads as to why and what to do about the problem which they have termed "colony collapse disorder" (CCD).
Many believe that our increasing use of chemical pesticides and herbicides, which bees ingest during their daily pollination rounds, are largely to blame. Commercial beehives are also subjected to direct chemical fumigation at regular intervals to ward off destructive mites. Another leading suspect is genetically modified crops, which may generate pollen with compromised nutritional value.
It may be that the build-up of both synthetic chemicals and genetically modified crop pollen has reached a "tipping point," stressing bee populations to the point of collapse. Lending credence to this theory is that organic bee colonies, where chemicals and genetically modified crops are avoided, are not experiencing the same kind of catastrophic collapses, according to the non-profit Organic Consumers Association.
Bee populations may also be vulnerable to other factors, such as the recent increase in atmospheric electromagnetic radiation as a result of growing numbers of cell phones and wireless communication towers. The increased radiation given off by such devices may interfere with bees' ability to navigate. A small study at Germany's Landau University found that bees would not return to their hives when mobile phones were placed nearby. Further research is currently underway in the U.S. to determine the extent of such radiation-related phenomena on bees and other insect populations.
Biologists also wonder if global warming may be exaggerating the growth rates of pathogens such as the mites, viruses and fungi that are known to take their toll on bee colonies. The unusual hot-and-cold winter weather fluctuations in recent years, also blamed on global warming, may also be wreaking havoc on bee populations accustomed to more consistent seasonal weather patterns.
A recent gathering of leading bee biologists yielded no consensus, but most agree that a combination of factors is likely to blame. "We're going to see a lot of money poured into this problem," says University of Maryland entomologist Galen Dively, one of the nation's leading bee researchers. He reports that the federal government plans an allocation of $80 million to fund research in connection with CCD. "What we're looking for," Dively says, "is some commonality which can lead us to a cause."