HEALTH MINDED
MAKING THE BAR . . . SNACKS THAT ARE TOPS
LARABAR
UBER CHERRY COBLER

Classically a summer dessert, Uber couldn't resist the urge to turn Cherry Cobbler into a year-round treat. This crunchier and chewier version of the original offers a combination of dried cherries, almonds, pecans, cashews, raisins, dates, sea salt, and natural sweeteners. At 190 calories, it truly is a snack for all seasons. These bars come in four great flavors and are outstanding from a nutritiional and taste satisfying standard. Visit: www.larabar.com for information on the many great products they have available and where to get them.
BETTY LOU'S - JUST GREAT STUFF
SUPER BERRY ACAI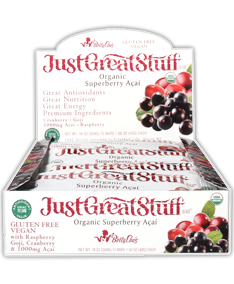 Just Great Stuff Bars come in four flavors and are a quick delicious and healthy snack.
"What are Superberries? The acai berries, goji berries, cranberries and raspberries in this bar are "super" because they are full of powerhouse antioxidants and dietary fiber, and it doesn't hurt that they taste great! Acai berries also contain healthy unsaturated fatty acids that have a ratio similar to olive oil. We use only organic freeze dried acai berries because freeze drying captures all the rich nutrients that this great fruit has to offer!"
Susan Jeffries, Betty Lou's Inc. Food Scientist,www.bettylousinc.com.
____________________________________________________
Cedars-Sinai Heart Institute's Barbra Streisand Women's Heart Center named for entertainer
Gift will boost crucial research, education to combat growing, lethal incidence of women's heart disease
 The Barbra Streisand Women's Heart Center in Cedars-Sinai's Heart Institute will be named for the famed entertainer in recognition of her philanthropic commitment and it will be directed by C. Noel Bairey Merz, MD, a cardiologist and nationally respected expert on women's cardiovascular disease. 
Streisand has a long association with Cedars-Sinai Medical Center, supporting a regenerative medicine research fund in 2007, then underwriting The Barbra Streisand Women's Cardiovascular Research and Education Program in 2008. In 2011, she received the Cedars-Sinai Board of Governors Humanitarian Award for her efforts on behalf of women's heart health and her many other philanthropic activities.
"Women around the world are dying in alarming numbers from an epidemic of heart disease," Streisand said. "We can no longer afford the unfair misconception that heart disease is mostly a man's problem. Nothing could be further from the truth, and in fact this fallacy relegates women to second class citizens. The need for more research into women's heart disease is urgent."
"Barbra Streisand's leadership allows us to dedicate significant resources to women's heart healthcare, education, and research," said Eduardo Marbán, MD, PhD, director of the Cedars-Sinai Heart Institute and the Mark S. Siegel Family Professor. "With heart disease the No. 1 killer of women, we need this level of significant investment to find innovative solutions."
Her involvement goes far beyond philanthropy. "Barbra Streisand has been an inspired and tireless partner for Cedars-Sinai, helping us to spread the word globally about the need to improve treatment and research of women's heart disease," said Bairey Merz, Women's Guild Chair in Women's Health at Cedars-Sinai. "We are honored to partner with her and to build on this exciting partnership to defeat women's heart disease." 
Streisand focused on women's heart disease when she learned the stunning facts about this condition. More than 500,000 women die each year in the United States from cardiovascular disease, more than all cancers combined. At least 40 percent of women do not survive their first heart attack. Since 1984, more women have died annually from cardiovascular disease than men. Despite growing evidence that women's heart disease symptoms differ from men's, women have been diagnosed for decades based on research conducted largely with male subjects.
The Barbra Streisand Women's Heart Center is working to correct that gender inequality through research into female-pattern ischemic heart disease, the development of new diagnostic tools and specialized care for women. 
Center physicians and researchers also are improving the understanding of microvascular coronary dysfunction, a condition that affects mostly women and goes undetected in standard heart disease tests; the heart's small vessels in this dysfunction lose their ability to dilate and allow blood flow. Researchers also have identified gender-specific genes that increase or reduce heart disease risk in women and are exploring the power of female stem cells in regenerating healthy heart muscle after a heart attack.
Streisand's latest commitment will support an expansion of these efforts, along with ambitious programs in prevention and education. These efforts will also benefit men, which is important since heart disease is also the number one killer of men.
Since its inception in 1986, the Streisand Foundation has made grants to national organizations working on women's health, preservation of the environment, voter education, protection of civil liberties and civil rights and nuclear disarmament.
For more information about The Barbra Streisand Women's Heart Center please visit: www.streisandwomensheartcenter.org
About the Cedars-Sinai Heart Institute

Cedars-Sinai's Heart Institute is internationally recognized for outstanding heart care built on decades of innovation and leading-edge research. From cardiac imaging and advanced diagnostics to surgical repair of complex heart problems to the training of the heart specialists of tomorrow and research that is deepening medical knowledge and practice, the Institute is known around the world for excellence and innovations.
____________________________________________________________
EarthTalk®
E - The Environmental Magazine
Dear EarthTalk
: How do I learn about what pesticides may be on the food I eat?
-- Beatrice Olson, Cleveland, OH
 Along with the rise in the popularity of organic food has come an increased awareness about the dangers lurking on so-called "conventionally produced" (that is, with chemical pesticides and fertilizers) foods.
"There is a growing consensus in the scientific community that small doses of pesticides and other chemicals can have adverse effects on health, especially during vulnerable periods such as fetal development and childhood," reports author and physician Andrew Weil, a leading voice for so-called integrative medicine combining conventional and alternative medical practices. He adds that keeping one's family healthy isn't the only reason to avoid foods produced using chemical inputs: "Pesticide and herbicide use contaminates groundwater, ruins soil structures and promotes erosion, and may be a contributor to 'colony collapse disorder', the sudden and mysterious die-off of pollinating honeybees that threatens the American food supply."

In general, fruits and vegetables with an outer layer of skin or rind that can be peeled and discarded are the safest in terms of pesticide residues. Most pesticides are sprayed on the outside of produce. So if you are going to toss the rind of that cantaloupe, you might as well save money and buy a conventional version. But a red pepper would be a different story: For those items consider it money well spent to go organic.

The non-profit Environmental Working Group (EWG) lists a "dirty dozen" of fruits and vegetables with the highest pesticide load so that consumers know to look for organic varieties of them when possible. The dirty dozen are: apples, celery, strawberries, peaches, spinach, nectarines, grapes, sweet bell peppers, potatoes, blueberries, lettuce and kale/collard greens.

Another non-profit working hard to raise awareness about pesticide residues on foods is the Pesticide Action Network (PAN). The group's recently launched website and accompanying iPhone app called "What's On My Food" helps consumers know specifically which pesticide residues are likely ending up on their foods (and in their bloodstreams). In creating the database, PAN linked pesticide food residue data with the toxicology for each chemical and made the combined information easily searchable. "Pesticides are a public health problem requiring public engagement to solve," the group reports, adding that "What's On My Food" can be an important tool in raising awareness.

While the website version of "What's On My Food" is helpful for advance planning, the iPhone app is handy while plying the supermarket produce aisles to help decide whether to go for organic vegetables or stick with the cheaper conventional ones. For instance, the database shows that conventionally grown collard greens likely contains residues of some 46 different chemicals including nine known/probable carcinogens, 25 suspected hormone disruptors, 10 neurotoxins and eight developmental/reproductive toxins—not to mention 25 different compounds known to be harmful to honeybees. Spending a little quality time on the website or app is enough to drive anyone to more organic food purchasing.

CONTACTS: Andrew Weil, www.drweil.com; PAN, www.whatsonmyfood.org; EWG, www.ewg.org.

EarthTalk®
is written and edited by Roddy Scheer and Doug Moss and is a registered trademark of E - The Environmental Magazine ( www.emagazine.com). Send questions to: earthtalk@emagazine.com. Subscribe: www.emagazine.com/subscribe. Free Trial Issue: www.emagazine.com/trial.
---