Dining Out at Home with Kohinoor Rice & Curry
Ready to Eat Meals!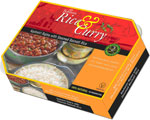 Love ethnic cuisine but hate the hassle of seeking out specialty restaurants and ethnic food markets? Now everyone can enjoy the deliciously authentic flavors of Indian and Asian cuisines anytime with Rice & Curry Ready to Eat Meals from Kohinoor Foods!
Kohinoor Foods Rice & Curry Ready to Eat Meals infuse every kitchen with the rich aromatic scents of gourmet Asian ethnic cuisine that will transport even novice ethnic foods connoisseurs to exotic locales throughout the globe. Kohinoor Foods Rice & Curry Ready to Eat Meals combine deliciously authentic Indian and Asian inspired curries with delightful rice pilaf mixes that enhance the flavor and unique spice combinations of Kohinoor Foods premium curries. Each curry and rice combination is specially crafted to give the same variety of flavor fusions and taste sensations found in Indian and Asian restaurants that friend and family can enjoy!
Kohinoor unique menu items include:
Pindi Chana Masala with Zeera Rice: A mouthwatering blend of whole chickpeas cooked in a light gravy infused with traditional and non traditional herbs and spices paired with an aromatic cumin seed and basmati rice pilaf.

Mughlai Kofta Curry with Peas Pulao: Traditional Indian fritters made of special Indian cottage cheese in an indulgently thick gravy with a basmati rice and garden fresh peas pilaf.

Dal Palak with Zeera Rice: Chickpea and mung bean grams cooked to perfection with chopped spinach and served along side steamed basmati rice seasoned with cumin seeds.
For more information on Kohinoor's line of deliciously healthy and convenient ethnic cuisine, please visit the Kohinoor website at For more information on Kohinoor's line of deliciously healthy and convenient ethnic cuisine, please visit the Kohinoor website at www.kohinoorfoods.com.
---
Planet Organics Coming "Home" to Sonoma
Bay Area's Leading Organic Home Delivery Service Relocates from San Francisco
Sonoma, CA – May 21, 2007 – Planet Organics (www.PlanetOrganics.com), the Bay Area's award-winning organic and artisanal food home delivery service, is relocating its warehouse operations to the old Nicholas Turkey Co. facility at 19445 Riverside Drive here in Sonoma.
The company will move into the new facility on June 1 which will be operational on June 4.
Concurrent with the move, Planet Organics will actively be seeking to buy more products from Napa and Sonoma-area organic farmers, artisan food producers, restaurants and wineries.
The 9,000 square foot, fully refrigerated facility will provide the growing company with 80% more
space than it has been leasing in South San Francisco for the last three and a half years.
Planet Organics, which currently has 30 employees, plans to add 10 new jobs for area residents, from warehouse supervisor to production line workers.
"We're ecstatic about moving our main operation to Sonoma where Lorene Reed, our children and I live," said Planet Organics co-founder and CEO Larry Bearg, "We were lucky to find and lease such a fantastic space – a quality facility like this is hard to come by here and will significantly improve the quality of our operations. We feel like the torch is being passed from one Sonoma family-owned food operation to another with local roots."
"We're very pleased that our neighbors have been able to bring their business home to Sonoma Valley," said Laurie Decker, manager of the Sonoma Economic Development Partnership. "Planet Organics is a great fit for our community. In addition to providing local jobs, it will bring new opportunities for our farmers and the wonderful specialty food producers that we have here."
Planet Organics, which services 5,000 customers in the San Francisco Bay Area, works with many farmers and specialty producers in the Bay Area.
About Planet Organics
Planet Organics is a small family-owned company dedicated to delivering the freshest organic produce, groceries and prepared meals to homes throughout the Bay Area. Since 1997, owners Larry Bearg and Lorene Reed have been sourcing organic and natural foods directly from local farmers and artisans, selecting the highest quality and widest possible variety of foods, backed by premium customer care for busy families. Subscribers order weekly home deliveries via the company's easy-to-use website. Planet Organics is committed to socially responsible business practices, and donates up to 4 percent of its profits to the eScrip program for local schools. To sign up for the service, visit www.planetorganics.com.
---
BITES TO LIVE BY:

Stopping, calming, and resting are preconditions for healing. When animals in
the forest are wounded they find a place to lie down and rest completely for many
days . . . They just rest and get the healing they need.
--Thich Nhat Hanh
---
Community Groups Hit a Home Run for
RFB&D's Annual Record-A-Thon
12th Annual event brings nearly 300 readers from 17 sources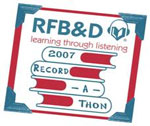 Coinciding with National Volunteer Week, the Santa Barbara Unit of Recording for the Blind & Dyslexic (RFB&D) had a record 300 guest readers for its 12th annual Record-A-Thon that ran from April 16-21, 2007. Record-A-Thon's purpose is to recruit more volunteers for the organization, raise visibility and awareness in the community, increase audio book production and generate much needed operating revenue and scholarship money. RFB&D records audio textbooks and provides them to students who are blind, dyslexic or with other physical and learning disabilities that makes reading and comprehending the printed word difficult or impossible. In the tri-counties the Santa Barbara Unit serves 500 students individually and through area schools. Nearly 200,000 are served nationally.
"We exist to change lives for the better, one individual at a time," says the Santa Barbara Unit's Executive Director, Tim Owens. "But there are so many more students who could benefit from our reading tools – and estimated two million nationwide and 7,500 locally. That's why creating a greater awareness of RFB&B through Record-A-Thon is so critical."
Scholarship winners were announced on the opening day of Record-A-Thon in a reception attended by Santa Barbara Mayor Marty Blum, other city council members and UCSB dignitaries. Ten students will be awarded with four-year memberships to RFB&D, including special playback devices to access RFB&D's audio textbook library with more than 35,000 digitally recorded books. Scholarships are valued at $1,000 each. The RORD Foundation contributed funds for the ten awards.
Throughout the week RFB&D's Record-A-Thon featured filmmakers, authors, community groups, actors, business people, educators, special interest groups and many more – all helping to record books for RFB&D's library and to increase awareness of the organizations vitally important work. The 17 sources drawn from for this Record-A-Thon included: Hollywood Filmmakers Andy Davis, Lowell Blank & Jason Reitman; SB Chamber of Commerce with Steve Cushman and Marcia Reed hosting their "Leadership Council" in reading Steve Crandell's biography of his father, bon vivant Larry Crandell; Beauty Queens Ms. Patricia Starr (Ms. Senior California), and Caitlin Barrett, (Ms. Teen California); prominent and published authors Dan Alef, Len Lamensdorf, Susan Gulbransen, Jane Heller, Laird Koenig, Lacy David, Sally Franz, Harriet Ackert and Frances Halpern, who also hosts KCLU's "Beyond Words."
Local acting company Speaking of Stories brought in actors Bob Lesser, Emma Jane Huerta, Henry Brown, Jr., Charles de L'Arbe, Jon Koons, Allison Coutts-Johnson and Nancy Kawalek. RFB&D Board member Eileen Yardi and Yardi Systems' Chief Operating Officer, Gordon Morrell, rounded up 30 plus company employees to read. Reporters from local press outlets lent their voices to the week-long event as well, including longtime supporter Barney Brantingham (Santa Barbara Independent), Peter Sklar & Sue Foley (Ed Hat.com), Martha Lannan (Goleta Valley Voice), John Palminteri (KEYT), Alex Henteloff (CASA Magazine) and Leslie Westbrook (Santa Barbara Daily Sound).
Laguna Blanca 10th grader Esther Tran-Le, who was last year's winner of the writing competition, sponsored by the Santa Barbara Book & Author Festival, brought in several writers who contributed essays to the book, My California. Writers Carolyn See, Deanne Stillman, Thomas Steinbeck, and Chryss Yost read their own stories, while Tran-Le and her fellow students from Laguna Blanca School – Vanessa Tomm, Rachel Barbour and Lauren Danson – read other essays from the book and monitored the celebrity authors.
Tom Thomas, outgoing President & CEO of SB Bank & Trust, was joined by several of the banks employees, including Lompoc Branch Manager, Adam Johnson, who is a member of RFB&D's Board of Directors; members of the area's Rotary Clubs and its service club for young men and women, Rotaract, took up five hours in the booths on the Friday afternoon of Record-A-Thon week. Wrapping up the week on Saturday morning was sculptor and new author Bud Bottoms, who read from his book for children called Kid Ethics. His sons Joe and Ben Bottoms joined him along with some of the grandchildren. Employees from SAGE Publications, one of the leading publishers of textbooks and other educational materials, joined RFB&D for the first time to read one of their books.
Concluding the 2007 Record-A-Thon, the Kiwanis Club of Santa Barbara Suburban cooked up a BBQ at the nearby Goleta Valley Community Center as a thank you to all the guests, student borrowers, regular volunteers, and staff who participated throughout the week. Seventy-five attended the BBQ and they were thanked for the Herculean effort achieved by RFB&D's Executive Director Tim Owens and Studio Director, Ethan Saxton.
Ten scholarships will be presented at a luncheon ceremony on Saturday, June 9, at RFB&D's studios in Goleta.
All in all, nearly 300 guests joined in reading books for this year's Record-A-Thon – up from last year's 270 guests, and the year before at 242. Among the books read this year were the Measure of A Man by Sidney Poitier; Andrew Carnegie by David Nasaw; Justice For All by Jim Newton; Walt Disney by Neal Galbler; In An Instant by Bob Woodruff; Silver Tongue by Steve Crandell; My California (various authors); Field Notes From A Catastrophe by Elizabeth Kolbert.
Sponsors for the 2007 Record-A-Thon included RFB&D Volunteers; The RORD Foundation; Fredric E. Steck Family Foundation & Kelly LeBrock; The Anne Jackson Family Foundation; students and parents of Laguna Blanca School; Santa Barbara Bank & Trust, Venoco, Inc.; Mid-State Bank; Village Properties; Peebles-Sheen Foundation; Reicker, Pfau, Pyle & McRoy, LLP; Kiwanis Club of Santa Barbara Suburban; Santa Barbara Independent; KCLU Radio.
The Santa Barbara Unit of RFB&D, one of 21 units of Recording for the Blind & Dyslexic was founded in 1976 and is celebrating its 31st anniversary of service to Santa Barbara, San Luis Obispo and Kern Counties. RFB&D volunteers produce more than 150 audio textbooks each year that are housed in a lending library at RFB&D's corporate headquarters in Princeton, New Jersey. Books are provided to schools and individual students – from kindergarten through graduate school. Print disabled students, who utilize RFB&D's "learning through listening" service, report greater comprehension, higher grades and renewed confidence and self-esteem.
Contact 805-681-0531 for more information or go to RFB&D Santa Barbara's website at www.RFBD.org/SB.
---
AGAVE NECTAR LIGHT
A New Option to Provide Good Health
and Replace the Sugar Lows.