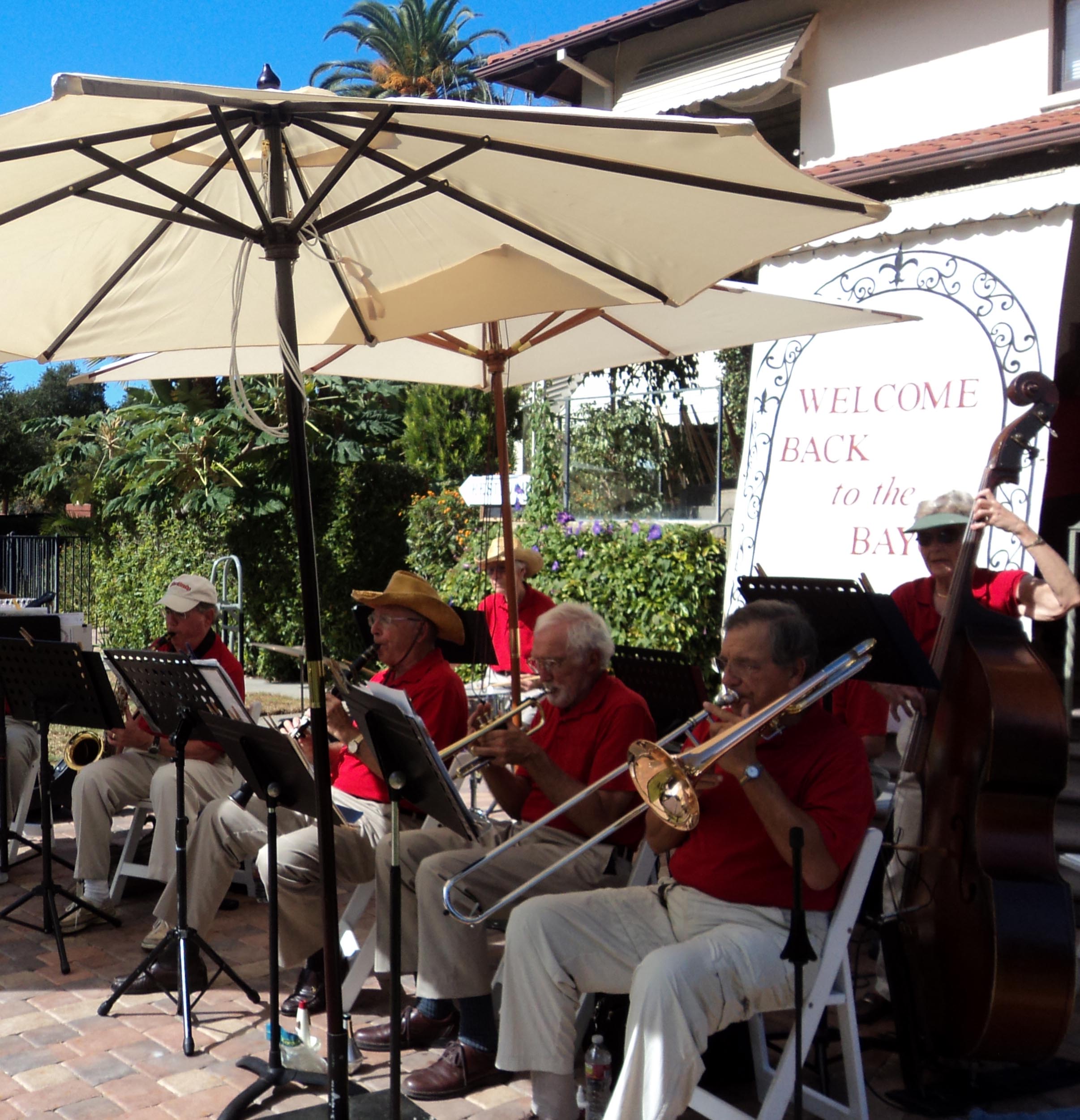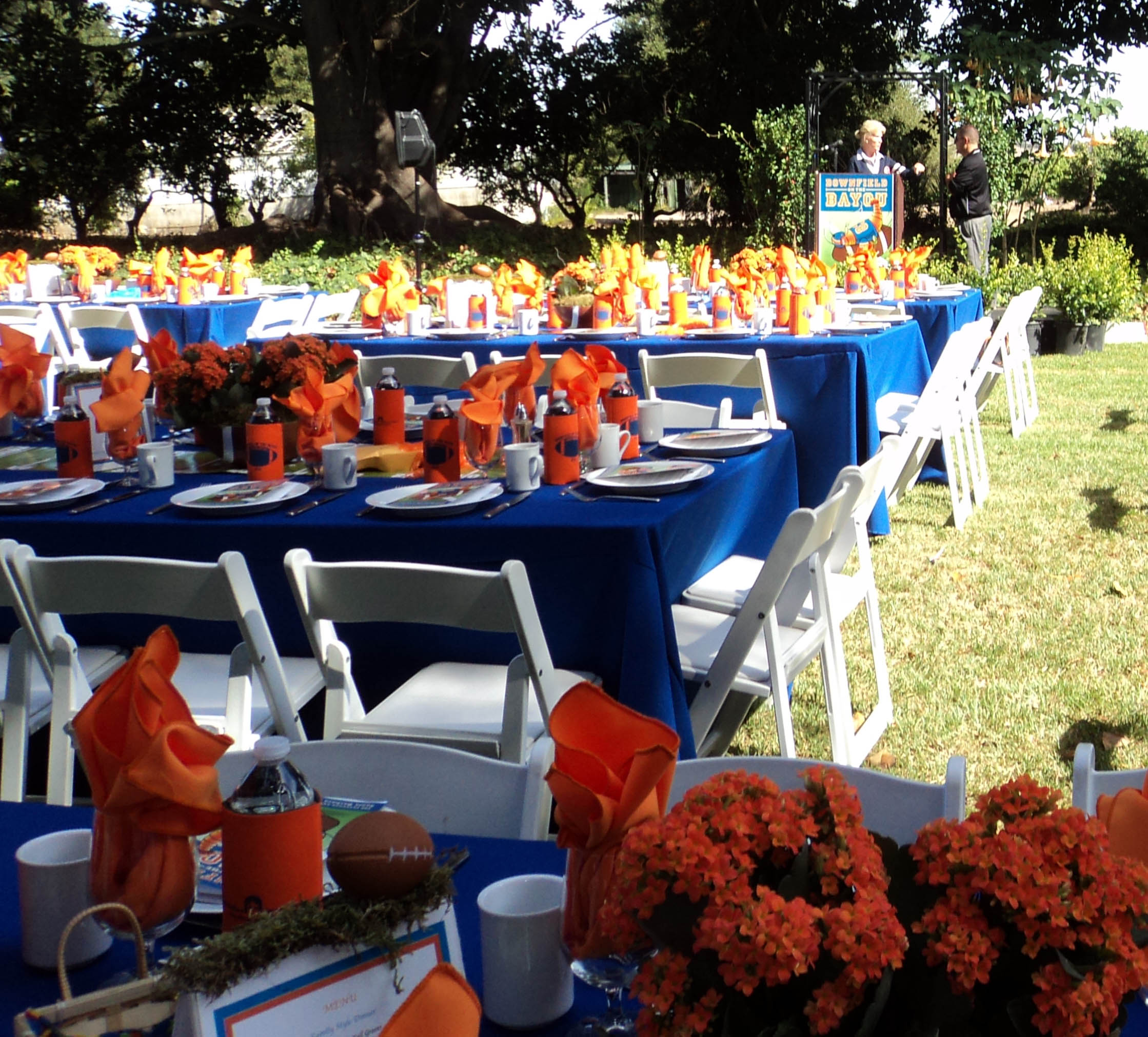 SANTA BARBARA RESCUE MISSION FANTASTIC DOWNFIELD ON THE BAYOU FUNDRAISER
By Bonnie Carroll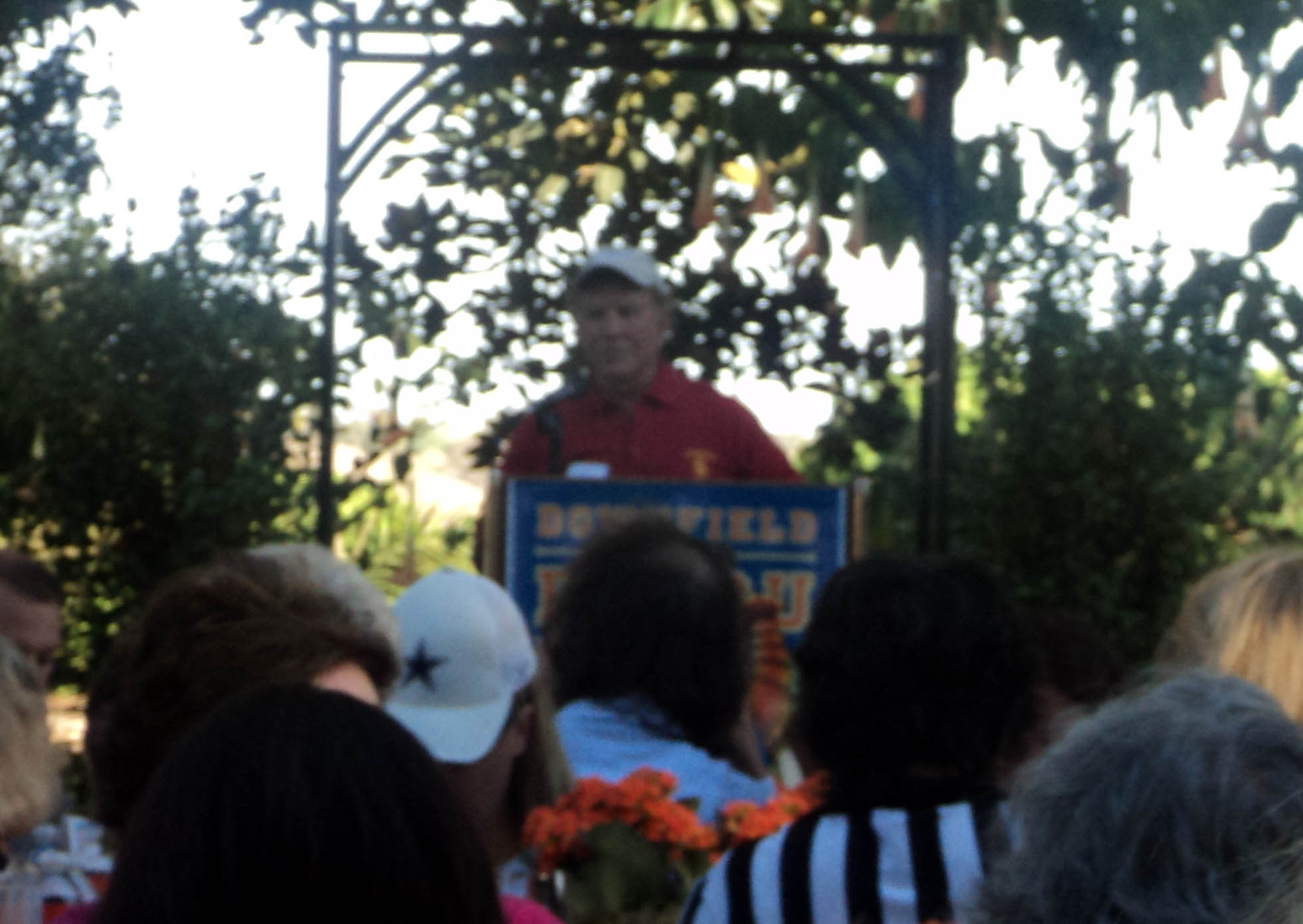 Bob Bryant, founder and owner of Bob Bryant Jewelers was the 2012 event honoree. Bryant who has received many community recognition awards was also Santa Barbara Man of the Year 2000 for his community leadership in the prevention and treatment of alcohol and drug abuse. Many guests showed up wearing the football shirt of their favorite team or their own college team. This event dinner tables reflected the colors orange and blue, which were not chosen for the Chicago Bears, but those of us from Chicago loved it.

  

What is billed as the best silent auction in Santa Barbara attracted a huge crowd at the historic Rancho Dos Pueblos, where guests attending the 11th Annual Downfield at the Bayou event perused the rows of valuable auction items, and signed up for a chance to win a vacation in the Rocky Mountains, while enjoying the great music of the Dixie Daddies band. Co-chairs Susan Hughes and Suzi Ryan, along with the volunteers were easily recognizable in their black & white referee shirts. Dos Pueblos High School band and cheerleading squad opened the dinner program with a lively cheer that brought on the dinner service feast prepared and presented by Lorraine Lim Catering.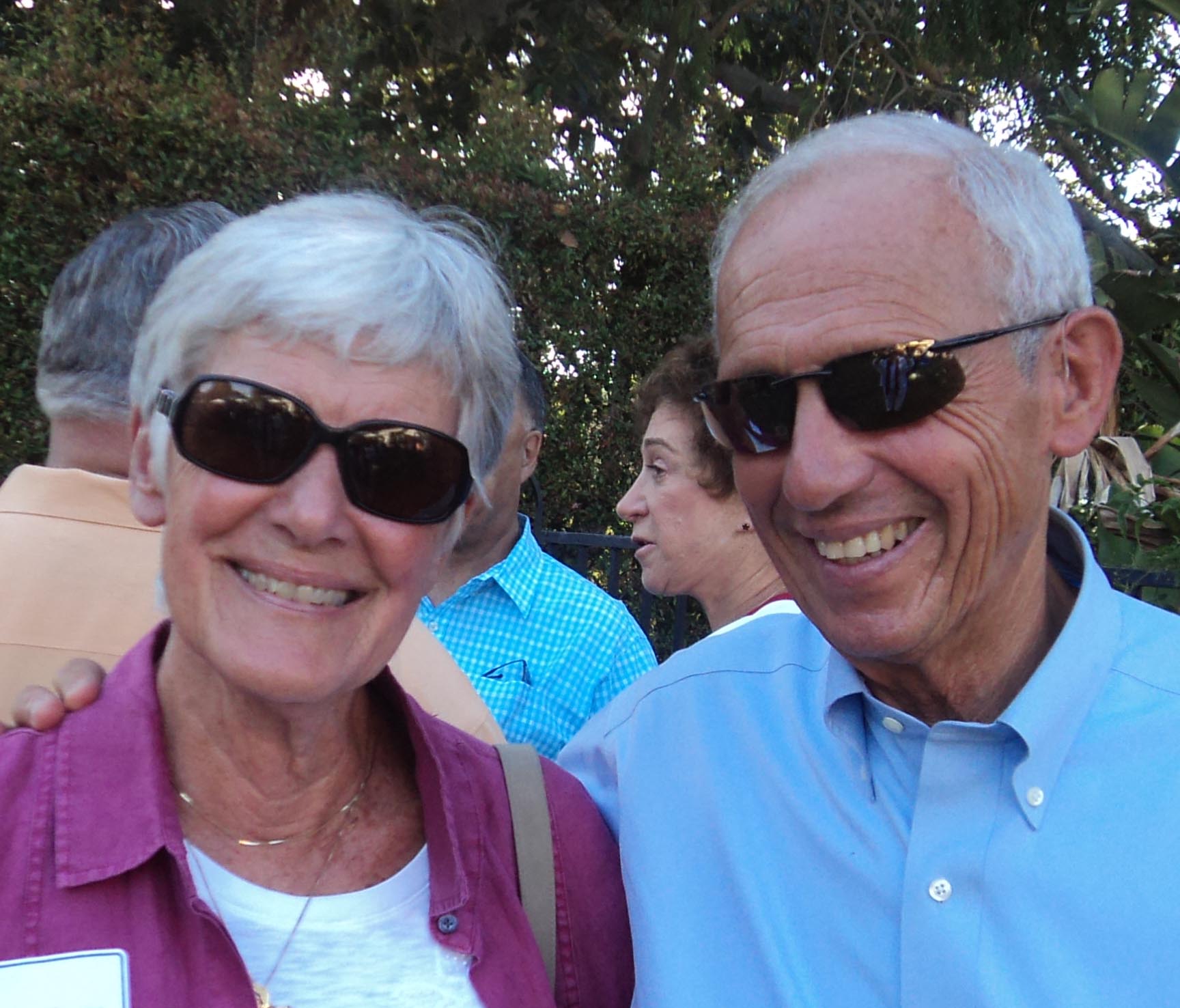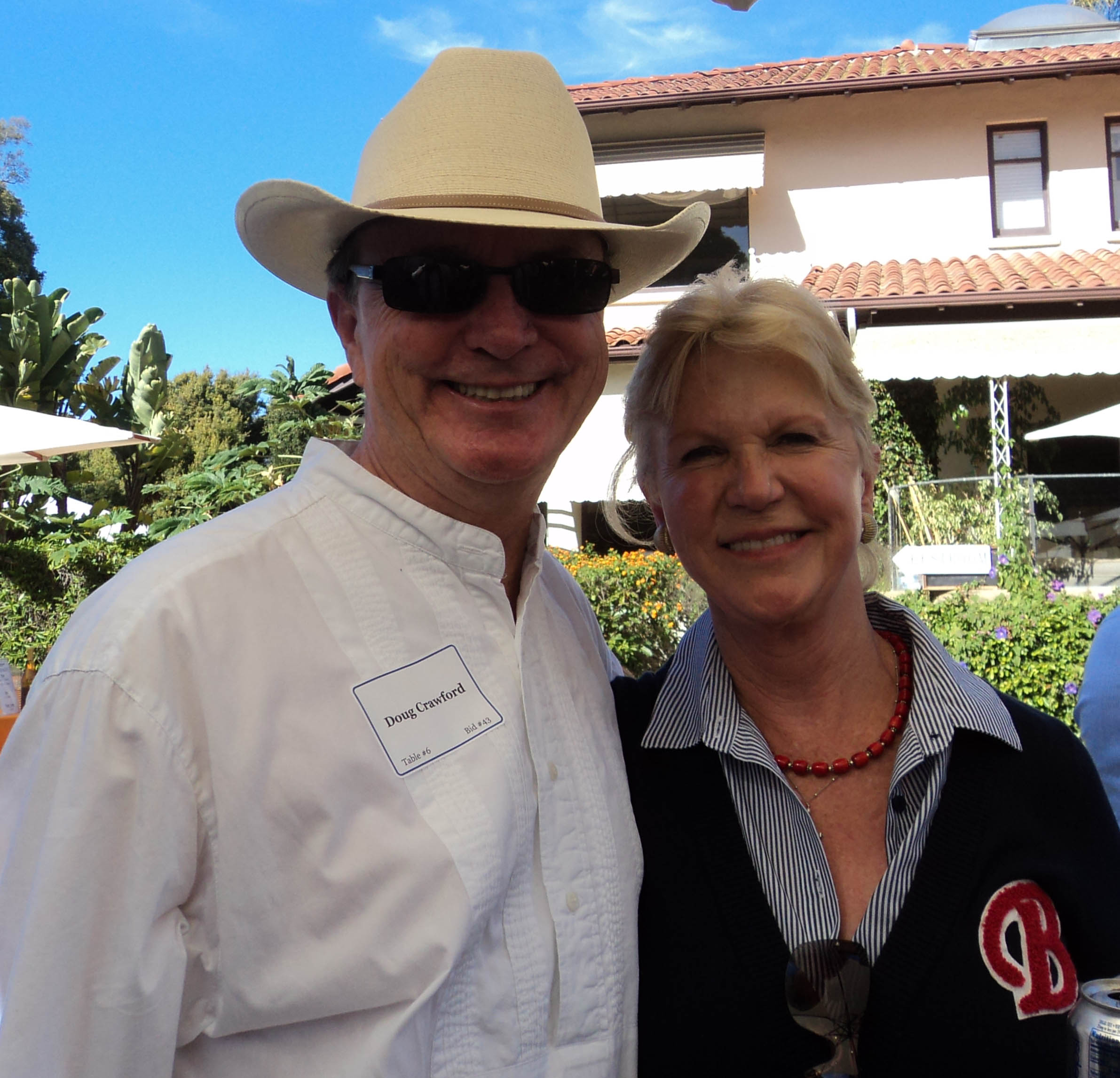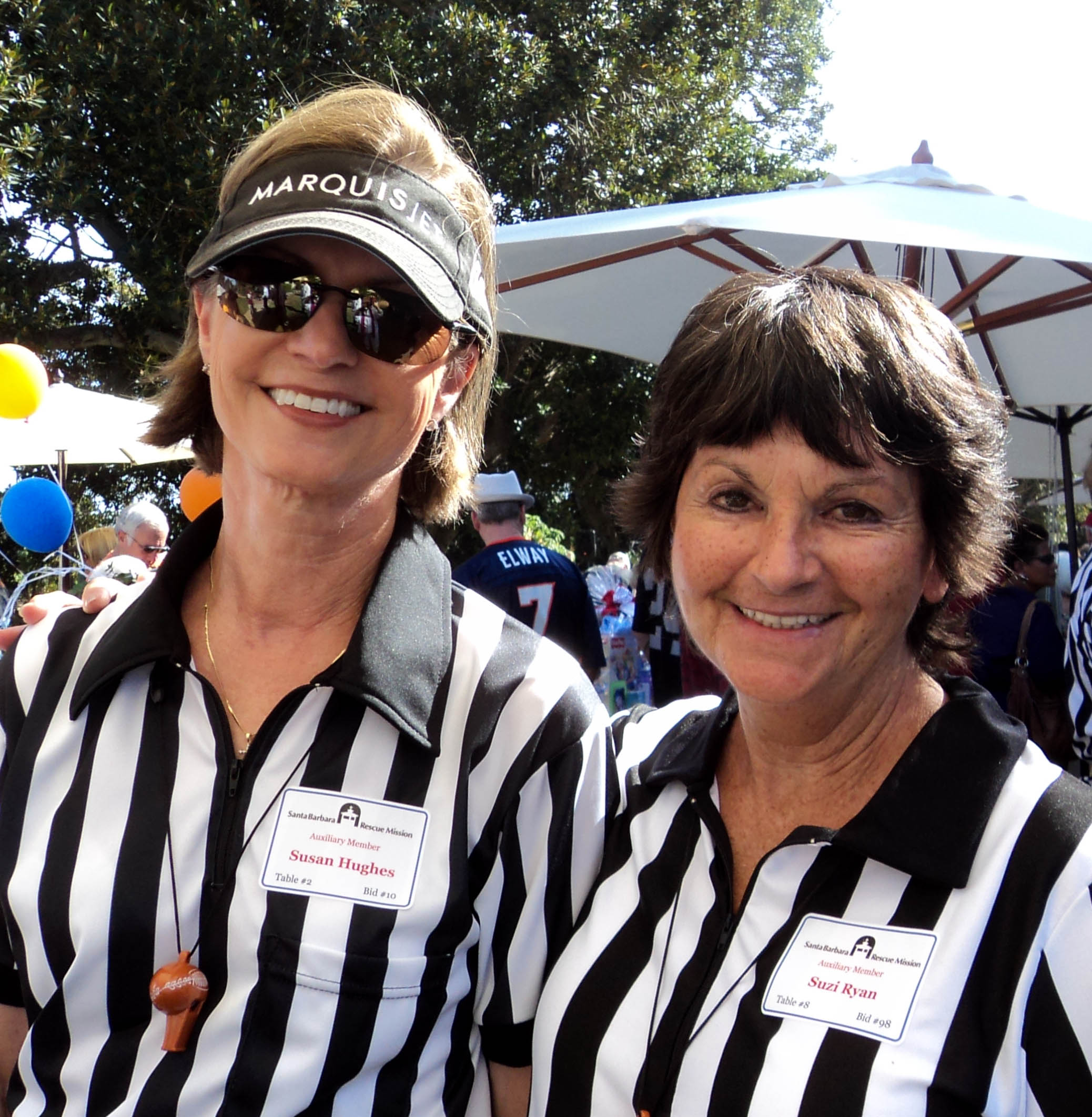 The event was started eleven years ago to further the life-changing work of the SBRM and to honor Dr. Bob Bryant with the Leni Fe Bland award for the important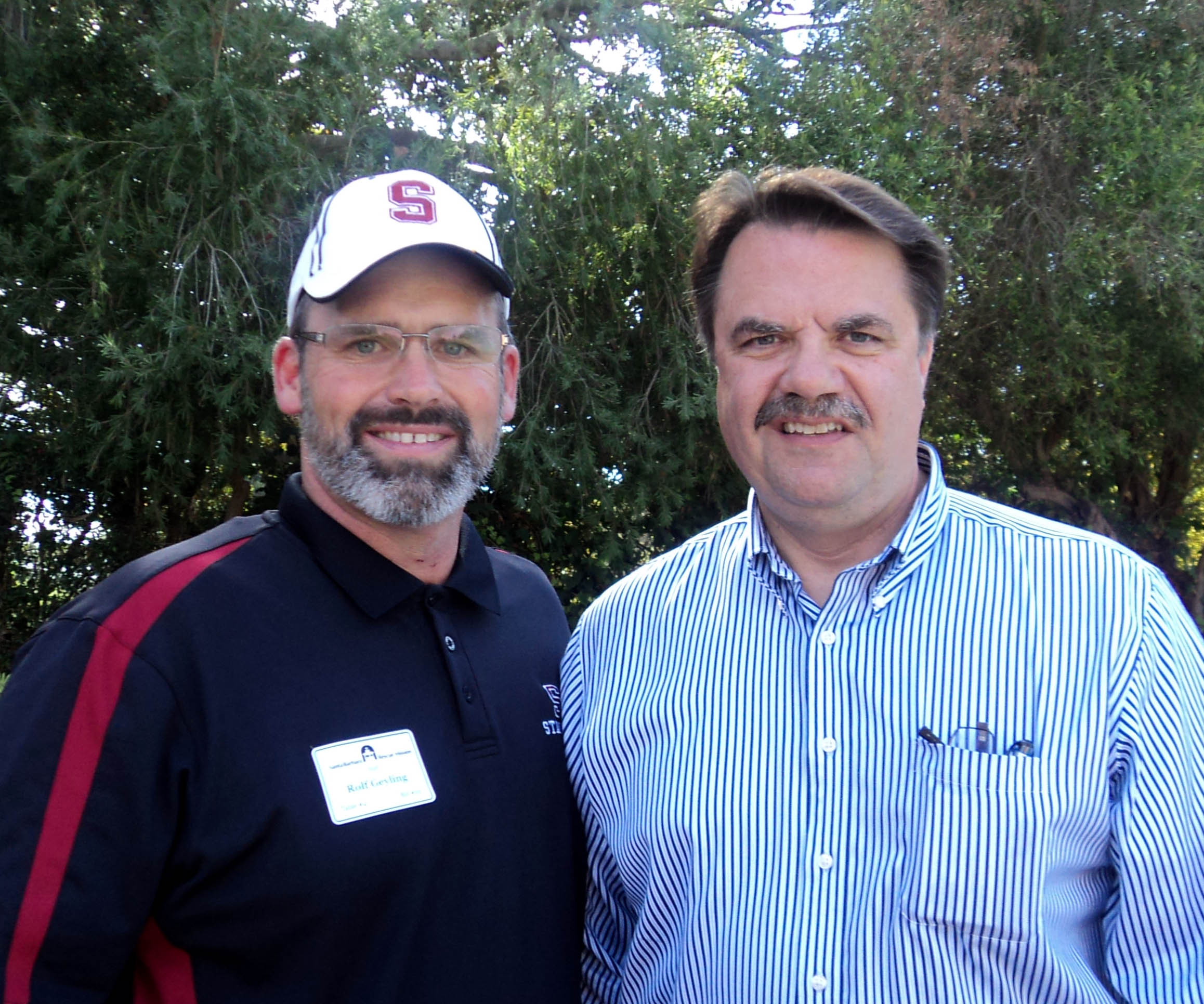 role he plays in our community. Since 1963 the Mission has been a place where the neediest in our community, those struggling with homelessness and addiction experience miracles through God's love, compassionate care and clinical expertise. Rolf Geyling, President of SBRM announced the next day that $380,000 was raised at Downfield on the Bayou.
All proceeds from the event benefit the homeless guest services and state-certified 12-month residential drug and alcohol treatment programs of the Santa Barbara Rescue Mission. For donations or information visit: www.sbrm.org.
___________________________________________________________________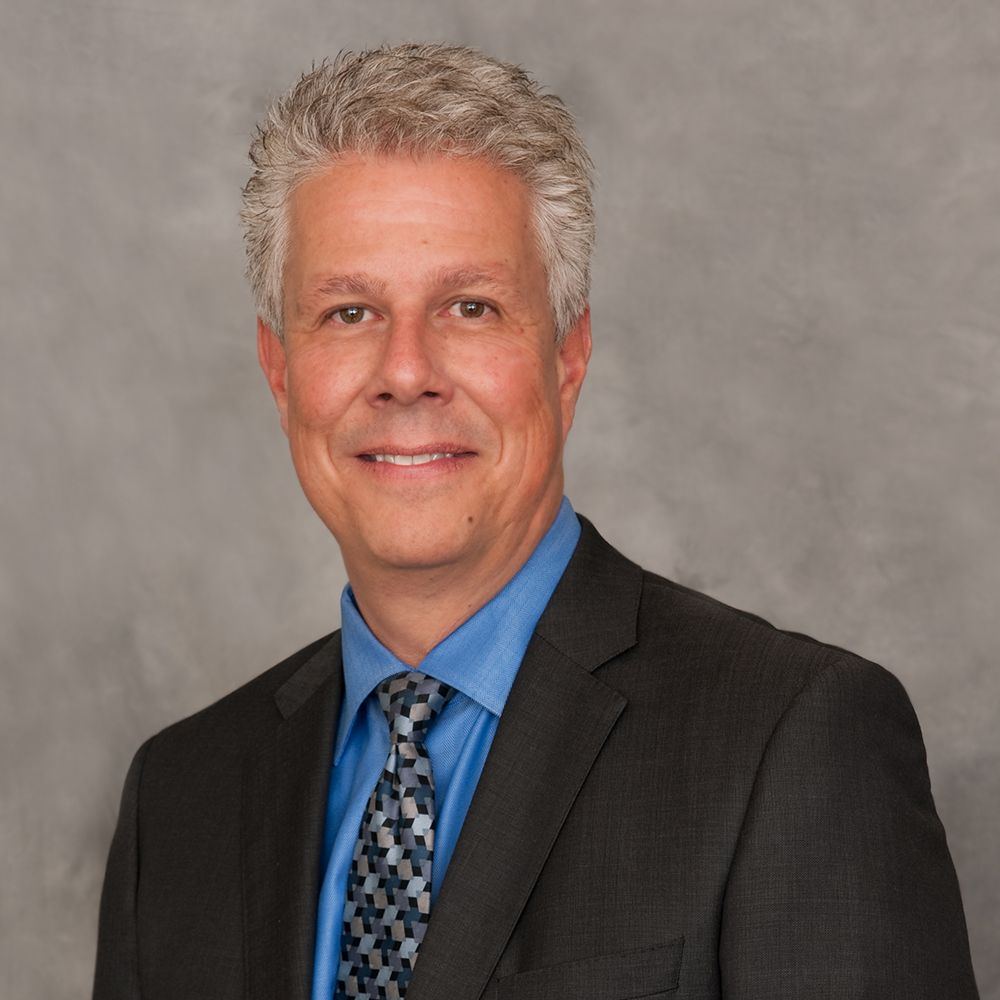 Randal E. Avolio Joins SEE International as President and CEO
SEE International is a 38-year old non-profit organization dedicated to restoring sight and preventing blindness among disadvantaged individuals worldwide. Avolio comes to SEE International after six years as COO at Bend Memorial Clinic (BMC), the largest multispecialty clinic in central Oregon. At BMC, Avolio was responsible for a $70M budget, 400 employees and 100 providers across more than 30 medical specialties. Avolio's background also includes Administrative Director and Management positions at world class facilities such as Cedars–Sinai, USC and UCLA, Orthopedic Hospital, where he spent an aggregate 25 years. His track record of success demonstrates an ability to lead departments and organizations to achieve high levels of success through a collaborative approach, creating effective, lasting coalitions and partnerships.
___________________________________________________________________

DiabetesCare.net Seeking 'Diabetes Heroes'
In celebration of National Diabetes Awareness Month throughout November, DiabetesCare.net is inviting diabetes patients to tell us why their healthcare professional – the person who helps them manage their diabetes – is their "hero."
During National Diabetes Awareness Month this November, DiabetesCare.net, the fastest growing, advertising-free, and completely free-to-use diabetes resource on the Internet, is giving our visitors the chance to pay tribute to their diabetes healthcare provider or caretaker; the person who has gone above and beyond to be an exceptional influence on them and who helps them to manage their diabetes every day.
To enter their "hero" into our contest, DiabetesCare.net members are invited to visit our website, and – in 300 words or less – tell us why their healthcare provider or caretaker deserves this recognition.
DiabetesCare.net will be taking submissions – one per person – through 11:59:59 p.m. ET on November 30, 2012.
Through the November 30 deadline, DiabetesCare.net visitors will be invited to vote for the best "hero" story submitted. The winning healthcare provider/caregiver will receive a $500 gift card, and the patient who nominated the "hero" will be awarded a $250 gift card.
From all of the tallied DiabetesCare.net visitor votes, one winner (defined as one healthcare provider/caregiver and the patient who submitted the entry) will be announced on Dec. 10, 2012, on DiabetesCare.net, and via our main social media outlets, Facebook and Twitter.
The contest is open to U.S. and international residents; void where prohibited; nothing to buy; and a free DiabetesCare.net registration is required to enter the contest and to vote.
In addition to November being National Diabetes Awareness Month, November 14 has been designated as "World Diabetes Day."
"As part of this month of diabetes awareness," remarks DiabetesCare.net manager Mike Boyle, "we are proud to once again this year – via awareness on our website during November – help to secure donations to several worldwide agencies who work every day to find a cure."
___________________________________________________________________
 State-of-the-Art "Health Happens Here" Exhibit Opens at
The California Museum
Innovative multimedia exhibit challenges conventional views on "health" through series of high tech video games & interactive learning stations

Today, The California Museum, in partnership with The California Endowment, officially debuted "Health Happens Here," a digital multimedia exhibit that invites visitors to explore health beyond doctors, diet and exercise. The exhibit incorporates high-tech games to engage and educate visitors, including an interactive journey through a virtual school cafeteria, a brush with school yard bullies, and a chance for visitors to physically navigate a city street confronted by good and bad health choices.

"You don't change the conventional wisdom about health with a conventional exhibit, and 'Health Happens Here' is anything but conventional," said Daniel Zingale, Senior Vice President of The California Endowment. "It is more than an exhibit. It's the voice of everyday Californians who know their health and their lives depend on where they live, work and play."

Developed over a two year period, the exhibit challenges Californians to think about health beyond the doctor's office. The exhibit is built around the idea that health depends largely on where people live, learn, work, and play. The exhibit is based upon the newest statistics from the U.S. Census and Measure of America's Human Development research, which exposed the startling fact that zip codes can predict life expectancy.

"California has long been regarded as the most health-conscious state in the nation," said Richard Costigan III, Chair of The California Museum's Board of Trustees. "'Health Happens Here' takes our state's leadership on health to the next level, making the connections among individual, community and statewide decisions and California's legendary quality of life."

Designed by West Office Exhibit Design in Oakland with content inspired by California youth, the gallery features kid-friendly, high-tech games and videos throughout various interactive stations, including:

· Heads Up: An immersive experience that explores factors that add and subtract from the health of a community. Players use their bodies to grab and collect items that affect community health.
· Fight Blight: A hands-on station where players are challenged to think about the ways their surroundings impact health, while making decisions about community design.

· Stop the Glop: A this-or-that game that engages players to select items from a school lunch line that will best support their nutritional needs so they can thrive.
· Check it Out: A game of comparisons where players select healthy food at a grocery store, and are then challenged to purchase another health-conscious meal at a convenience store.
· Stop the Drop: A high-speed, think on your feet game that asks players to match kids with the support they need as they climb the rope to high school graduation and adulthood.
· ¡Si, Se Puede!: A team-building collaborative game in which four players must work together to navigate a ball suspended by three ropes to targets on a game board in order to change their community for the better.
· Peacekeeper: An interactive journey that asks players to answer questions over the course of the school day to build peer support and prevent bullying.
· State of Health: An educational station that allows players to enter their zip code and have their picture taken. The photo is then utilized in a mosaic of images and life expectancies across a map of California.

In order to allow Californians of all ages a taste of the exhibit, select games are available for play on the exhibit's micro web site located at www.HealthHappensinCA.org.
---