FURAKHA WELLNESS CENTER
LE MERIDIEN HOTEL RIMINI
by Bonnie Carroll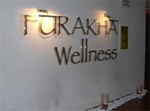 Furakha Wellness Center, located in the Le Meridien Hotel, is a divinely inspired place to be! Not only is the physical design of this spa destination absolutely unique and beautiful, the atmosphere is one of compl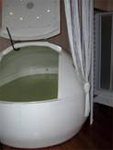 ete relaxation and peace.
From the minute you walk through the door and are escorted to the change room, where you slip into a thong, a robe and slippers to meet your therapists you are happily overcome by a feeling of restfulness.
Before or after treatments guests are welcome to enter the jacuzzi area, which consists of a huge modern jacuzzi that is eye level with a wrap around window overlooking the beach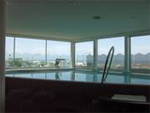 of Rimini. This is simply outstanding! This area is also a rest area following treatments where patrons can enjoy tea and relax on chic lounges.
My requsted treatment expereince at Furakha Wellness was to spend time in the Ektasis Float; a huge egg looking capsule, filled with salt water, that closes out all sound to ensure complete relaxation. There are tiny lights inside to help you find your way around. The water is warm salt water, and your body floats in a very relaxed state for sixty minutes, or less if you wish. While in the Ektasis Float you wear ear plugs to block out sound and protect your ears from filling up with water. This is what I would describe as instant meditation at its best. It is so relaxing and so refreshing. I was told that sixty minutes in this cham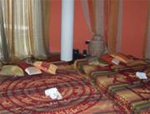 ber can eliminate all symptoms of jet lag, and I believe it!
The center offers many special individualized treatments, as well as a full menu of massage, skin treatments, facial remedies, vichy showers, mud treatments, hydrotherapy leg treatments, head to feet treatments. Unusual Thai treatments are a specialty at Furakha Wellness.
Furakha is located in the Le Merdiien Hotel Rimini, a Starwood Hotel property. For information visit: www.furakhawellness.com.
---

SEEKING SUSHI SOURCES
Help us with the details for our upcoming Seafood Watch sushi guide!
This fall Seafood Watch will launch our first-ever sushi pocket guide in collaboration with the Blue Ocean Institute and we could use your help. Have you wondered how our Seafood Watch research staff decide which fish to include and what common names to use on our pocket guides and website? You can help us with this very important step so our recommendations are relevant and useful.
~ Serena Federman
Outreach Specialist
Monterey Bay Aquarium
Here's how:
1. Let us know what your favorite sushi restaurants are serving. It's a way to start a conversation and get chefs thinking about what types of fish they use, where it comes from and how it's caught.
2. After selecting your favorite sushi restaurant, review their menu and ask your server or sushi chef these questions. If they ask, "Why you are you so curious?", tell them you're helping the Seafood Watch program with some of its market research.
3. To help you remember what questions to ask, we recommend you click the link to the survey, print it out and bring it with you to the restaurant. Fill out as many questions as you can, but don't worry about answering every question; anything you can do is helpful. When you get back to your computer click the survey link again and enter your results!
4. Everyone who submits a survey will be entered to win a cookbook from one of our Cooking for Solutions celebrity chefs or a Seafood Watch reusable canvas tote bag. You must submit your results by July 14th to be entered into the drawing.
 
email: seafoodwatchnews@mbayaq.org
phone: 877-229-9990
web: http://www.seafoodwatch.org 
To order more Seafood Watch pocket guides or learn more about our partnership opportunities, please visit our web site or call our toll free number (877) 229-9990. Please do not respond to this email to order pocket guides.
The Monterey Bay Aquarium and Seafood Watch are trademarks of the Monterey Bay Aquarium Foundation. All rights reserved.
---
EarthTalkTM
From the Editors of E/The Environmental Magazine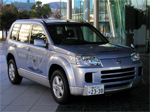 Dear EarthTalk:
How is it that hydrogen can replace oil to run our cars? There seems to be a lot of controversy over whether hydrogen can really be generated and stored in such a way to be practical?                                                                 
-- Stephane Kuziora, Thunder Bay, ON
The jury is still out on whether hydrogen will ultimately be our environmental savior, replacing the fossil fuels responsible for global warming and various nagging forms of pollution. Two main hurdles stand in the way of mass production and widespread consumer adoption of hydrogen "fuel cell" vehicles: the still high cost of producing fuel cells, and the lack of a hydrogen refueling network.
Reining in manufacturing costs of fuel cell vehicles is the first major issue the automakers are addressing. While several have fuel cell prototype vehicles on the road—Toyota and Honda are even leasing them to the public in Japan and California—they are spending upwards of $1 million to produce each one due to the advanced technology involved and low production runs. Toyota hopes to reduce its costs per fuel cell vehicle to around $50,000 by 2015, which would make such cars economically viable in the marketplace. On this side of the Pacific, General Motors plans to sell hydrogen-powered vehicles in the U.S. by 2010.
Another problem is the lack of hydrogen refueling stations. Major oil companies have been loathe to set up hydrogen tanks at existing gas stations for many reasons ranging from safety to cost to lack of demand. But obviously the oil companies are also trying to keep customers interested in their highly profitable bread-and-butter, gasoline. A more likely scenario is what is emerging in California, where some 38 independent hydrogen fuel stations are located around the state as part of a network created by the non-profit California Fuel Cell Partnership, a consortium of automakers, state and federal agencies and other parties interested in furthering hydrogen fuel cell technologies.
The benefits of ditching fossil fuels for hydrogen are many, or course. Burning fossil fuels like coal, natural gas and oil to heat and cool our buildings and run our vehicles takes a heavy toll on the environment, contributing significantly to both local problems like elevated particulate levels and global ones like a warming climate. The only by-product of running a hydrogen-powered fuel cell is oxygen and a trickle of water, neither of which will cause any harm to human health or the environment.
But right now 95 percent of the hydrogen available in the U.S. is either extracted from fossil fuels or made using electrolytic processes powered by fossil fuels, thus negating any real emissions savings or reduction in fossil fuel usage. Only if renewable energy sources—solar, wind and others—can be harnessed to provide the energy to process hydrogen fuel can the dream of a truly clean hydrogen fuel be realized.
Stanford University researchers in 2005 assessed the environmental effects of three different hydrogen sources: coal, natural gas, and water electrolysis powered by wind. They concluded that we'd lower greenhouse gas emissions more by driving gasoline/electric hybrid cars than by driving fuel cell cars run on hydrogen from coal. Hydrogen made using natural gas would fare a little bit better in terms of pollution output, while making it from wind power would a slam-dunk for the environment.
CONTACT: California Fuel Cell Partnership, www.fuelcellpartnership.org.

---