HEALTH MINDED . . .
LEMONGRASS THAI TEA FOR GOOD HEALTH
by Bonnie Carroll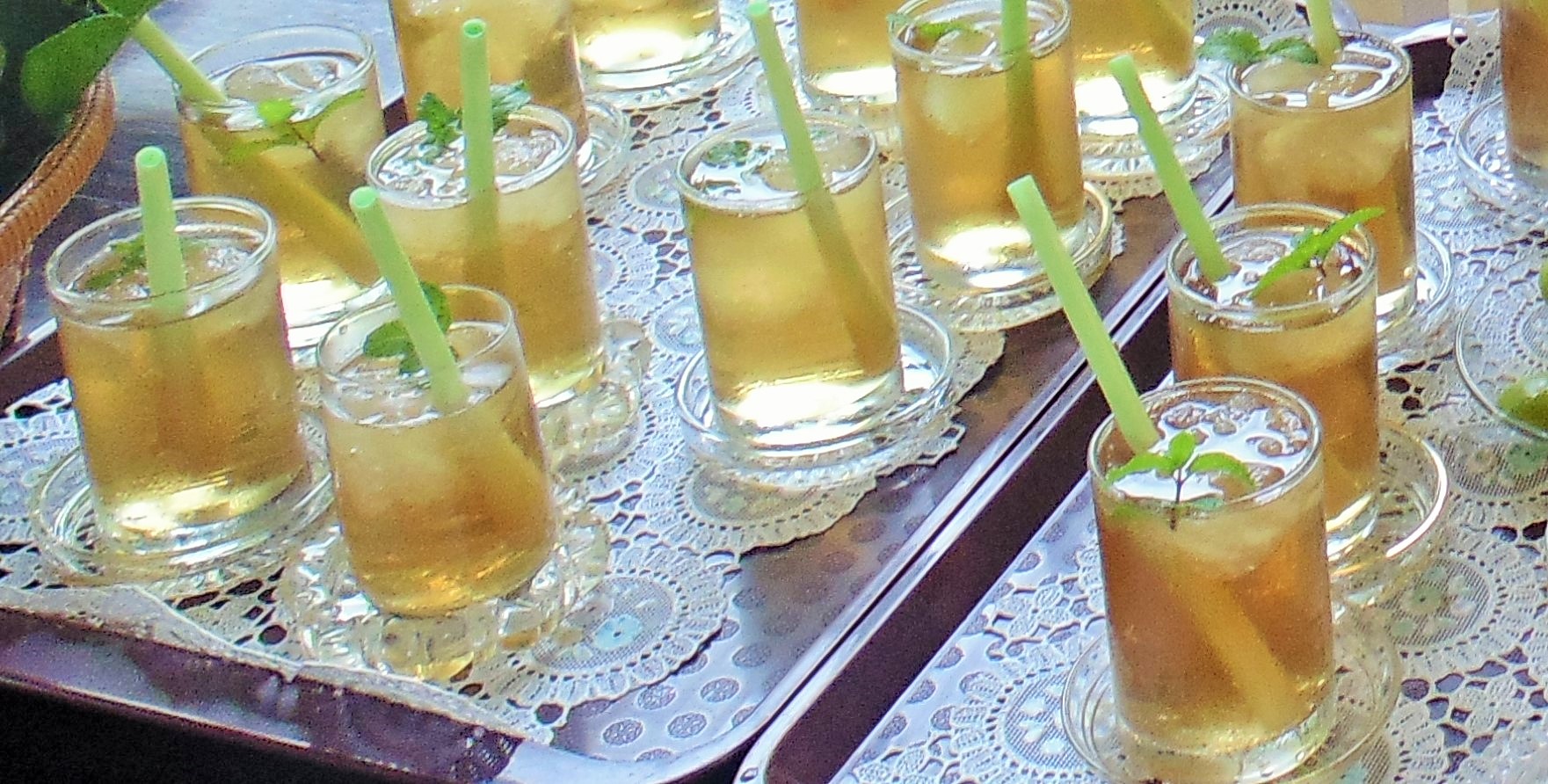 One of the great pleasures of a Thai cooking lesson with Tam, owner and instructor at Amita Cooking School, located up the Chao Phraya River on the Yai Canal in Bangkok, is the final lunch on the colonial style Thai verandah, where visitors savor a four course luncheon they have prepared themselves, accompanied by freshly made Cha Dhra Khai, Thai lemongrass tea made with ingredients from Tam's garden. I have included below preparation instructions for this healthful and delicious tea.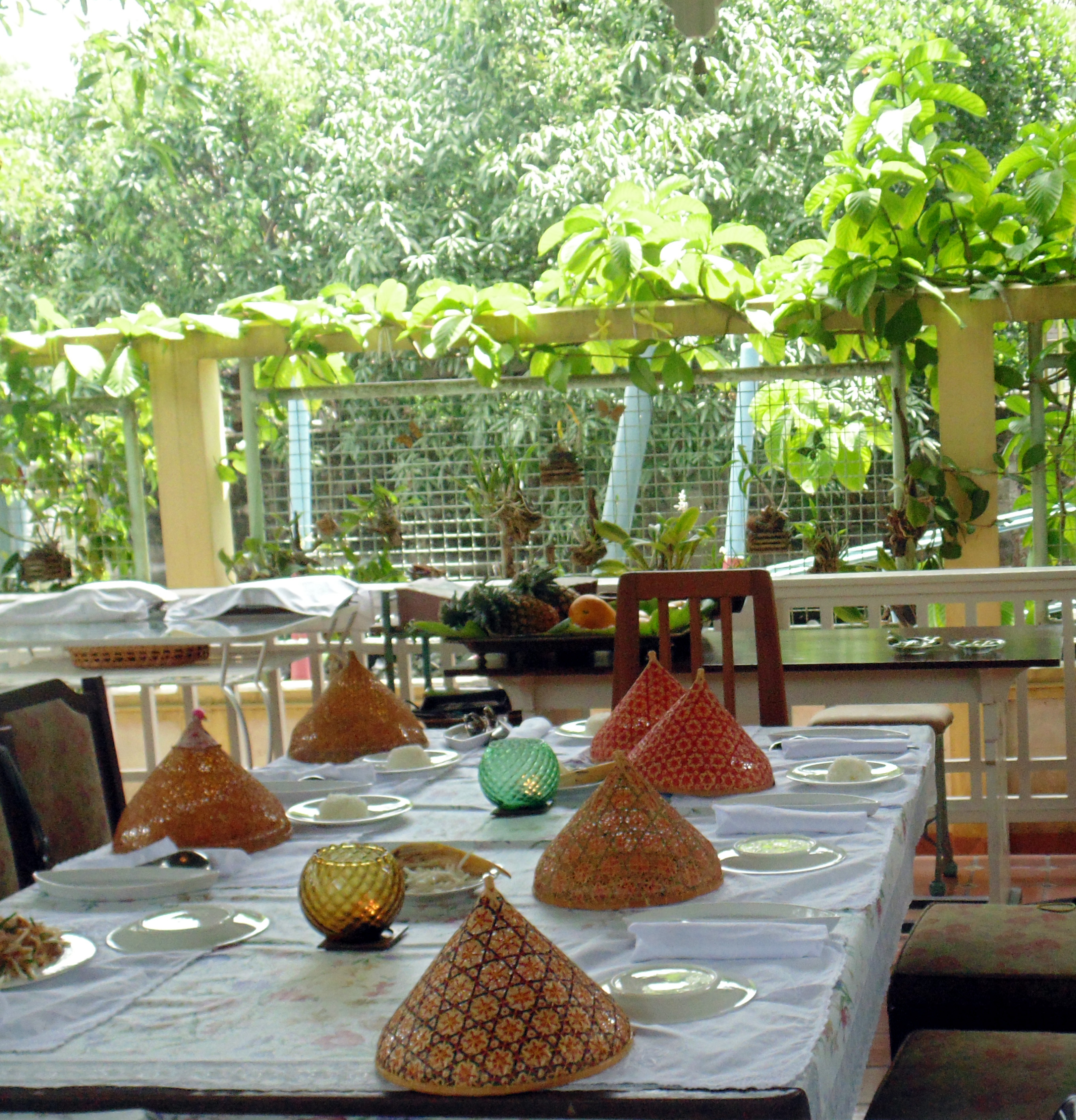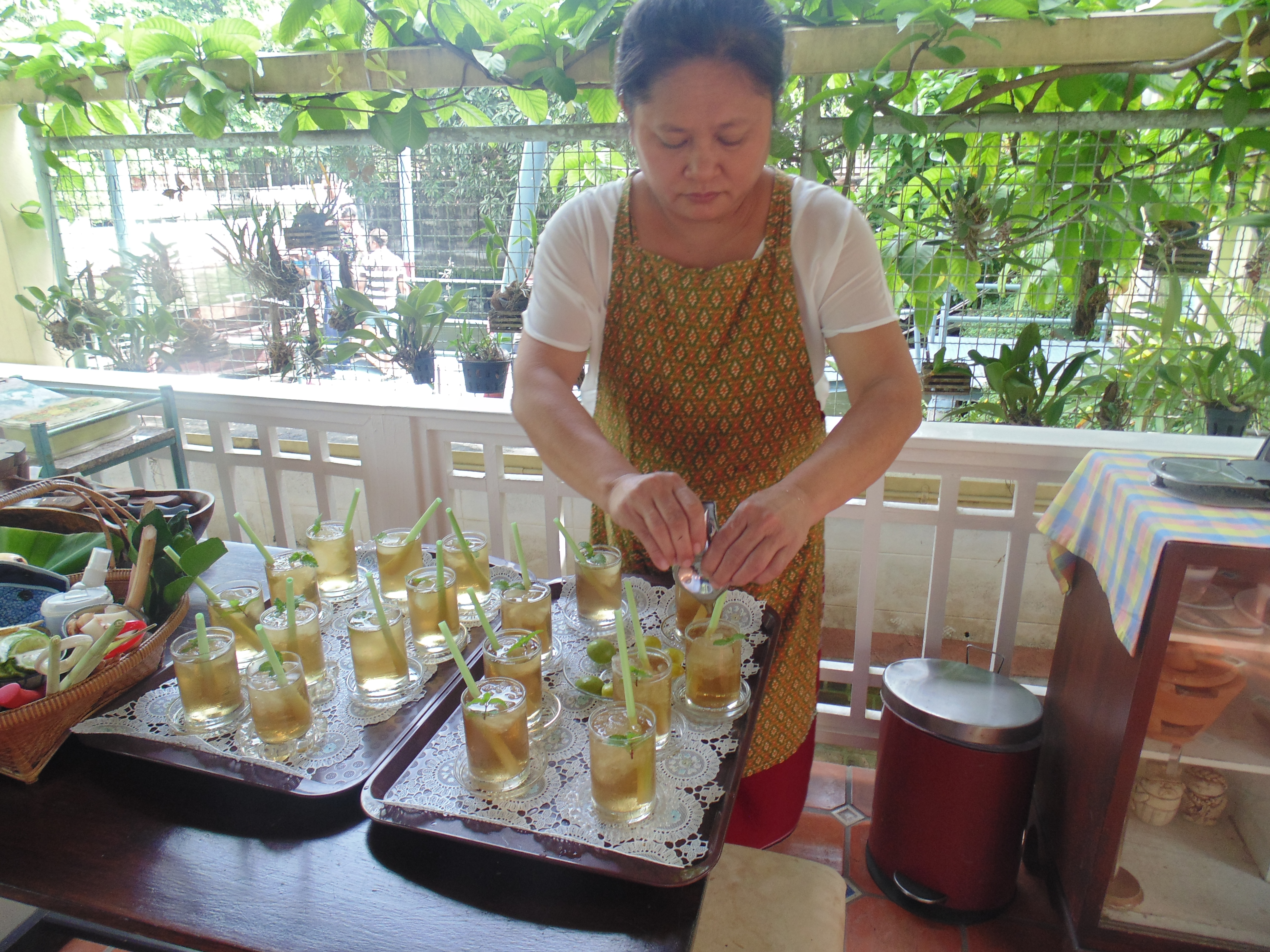 A simple Thai preparation for a large batch of this refreshing tea requires bringing two pitchers of water to a boil, cutting the tops off four fresh lemon-grass stalks and flattening them to release the flavor with a large knife and cutting them into one inch pieces to be placed in boiling water with a cover to boil for 10 minutes; add six tablespoons of sugar, remove lemongrass with slotted spoon and let cool. Some people add chopped fresh ginger when boiling the tea. For a stronger tea let the lemongrass steep in liquid overnight and remove before serving. This tea may be served hot or cold.
Another option is to prepare an easy five minute individual serving with two stalks of fresh lemongrass, one cup water, three tablespoons of sugar and one-forth teaspoon salt (optional). Crush lemongrass stalks to release flavor and cut into small pieces. Thai Kitchen brand sells lemongrass stalks in jars at your area supermarket. Bring water to a boil in small saucepan, add lemongrass, boil three to four minutes and stir in sugar and salt until dissolved. Discard lemongrass and set tea aside to cool. This tea is delicious served in a tall glass with ice, and garnished with fresh basil or lime leave.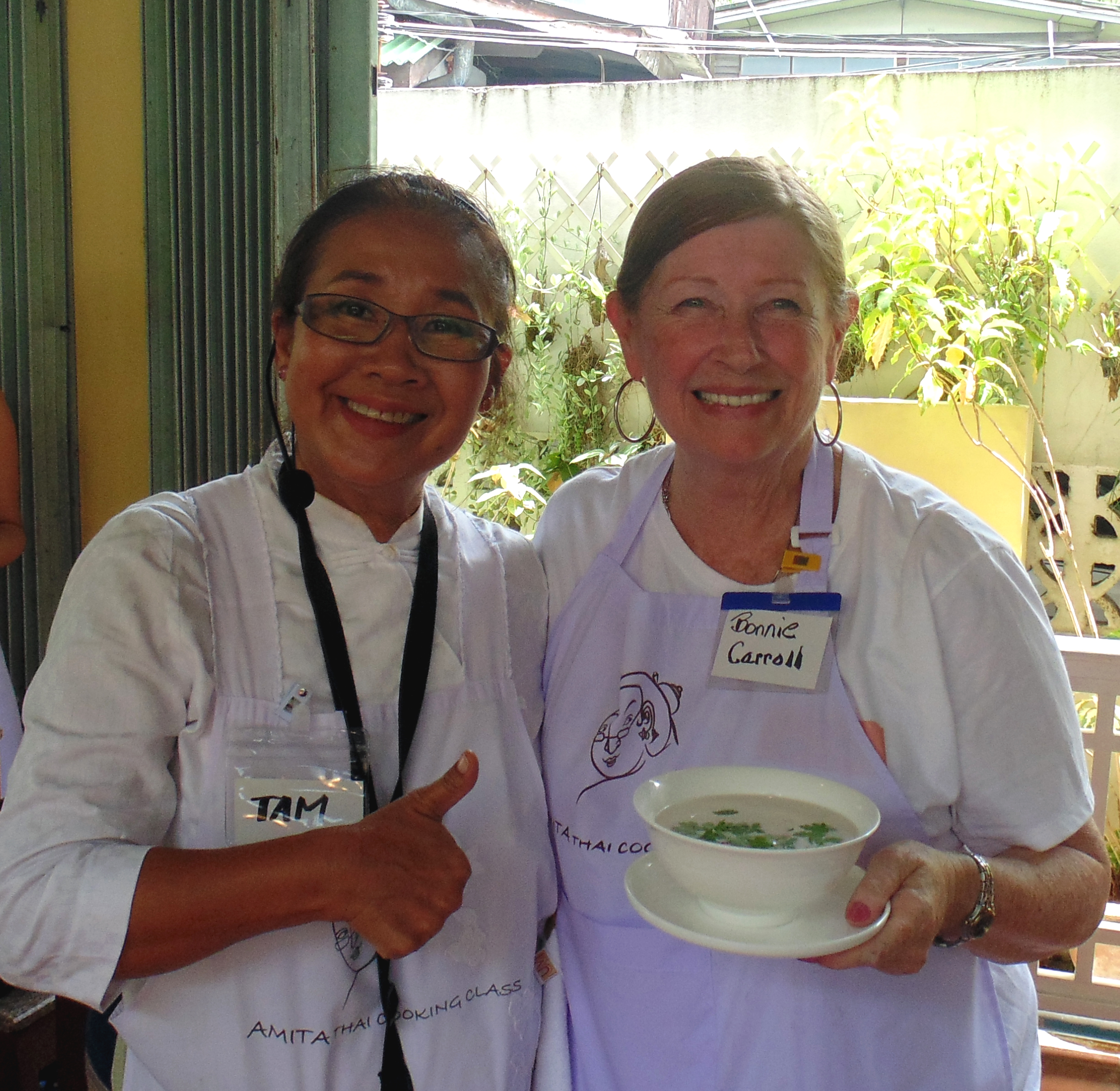 According to cooking instructor Tam, fresh lemongrass tea after a meal not only aids digestion, but also is recognized in Chinese medicine to reduce pain, nausea, muscle spasms and circulatory disorders. Lemongrass produces an aroma commonly known in aromatherapy as 'citronella', and is said to induce a state of relaxation while stimulating the digestive process. It's easy to see why it is one of the most popular tea drinks in Thailand, and it tastes so delicious. For information on Tam's cooking school visit: www.AmitaThaiCooking.com.
Thai ingredients for Thai lemongrass tea can be purchased at your local Asian food stores or on line at www.Importfood.com. This site has been recommended by several food and beverage writers, and any needed Thai products can be delivered to you overnight if required. Cheers!
_____________________________________________________________________
THE HEALDSBURG HOTEL
SPA WINE EXPERIENCE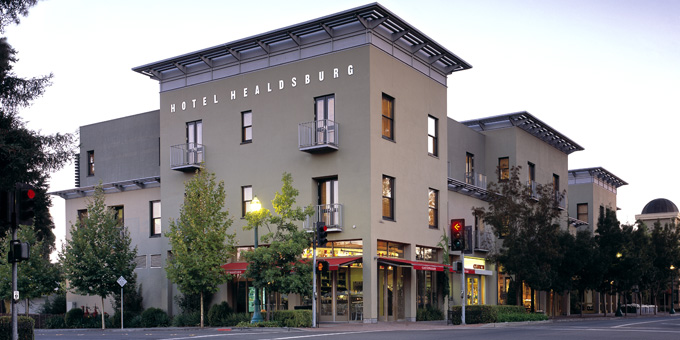 Hotel Healdsburg
Located 67 miles north of San Francisco, Hotel Healdsburg encompasses the Sonoma wine country's simplicity and charm. The Hotel is set on the western edge of Healdsburg's historic town plaza, and guests can enjoy some of the world's finest vineyards, restaurants and shops within minutes of the front steps.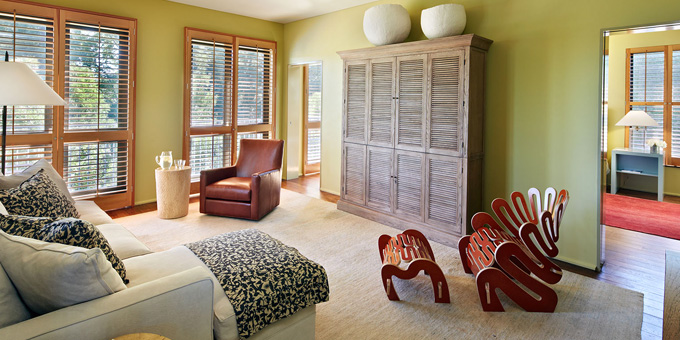 Beautifully appointed guest rooms, country gardens, pool, and the luxurious spa provide a tranquil setting for guests to relax within the hotel grounds. Dining is a highlight of the Hotel where guests can savor Sonoma County's bounty of extraordinary wines and fresh seasonal ingredients at acclaimed Chef Charlie Palmer's Dry Creek Kitchen. Hotel Healdsburg offers a broad range of meeting and special event spaces for executive board meetings, wedding celebrations, wine tasting, lectures, and other occasions.
FROM THE VINEYARD TO THE SPA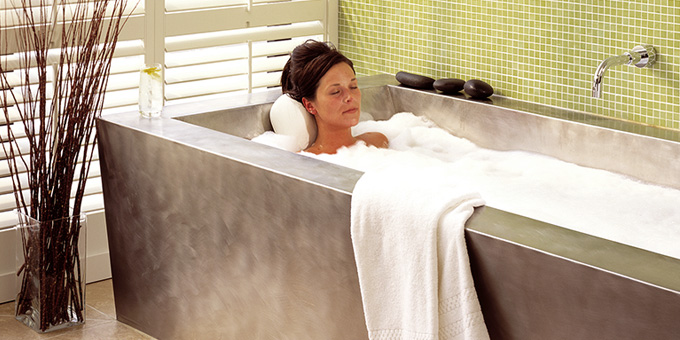 It is Harvest Time in Sonoma County, and The Spa Hotel Healdsburg is pairing with Lambert Bridge Winery to bring Wine to Spa treatments. Continuing with the winemaker's philosophy of picking 'grape to grape,' our artisanal skincare formulator Michele, from Michele's Apothecary, will custom blend the pomace, from hand-sorted grapes, into a fine antioxidant powder that is crafted into each Harvest treatment. Everything from our skin care masks, warm wine poultice bundles, organic sugar scrubs, to our detoxifying pedicure foot soak, will be loaded with the grape skin's anti-aging and energy boosting vitamins. Each service comes with a complimentary glass of Lambert Bridge 2007 Merlot. Treatments include Wine Pedicure with Express Manicure 80 min. $130. Custom Wine Facial 80 min: $215, and Wine Wellness Massage 80 min: $215.
Hotel Healdsburg
25 Matheson Street
Healdsburg, CA 95448
T 707.431.2800
F 707.431.0414
frontoffice@hotelhealdsburg.com
Directions from LA South on Hwy 101
Take Dry Creek Road exit, turn left on Dry Creek Road
Go straight, turn right on Healdsburg Avenue
Go through town, the Hotel is on the right
Turn right on Matheson Street, the Hotel entrance will be on your right 
_____________________________________________________________________
GOOD FOOD ORG GUIDE 2014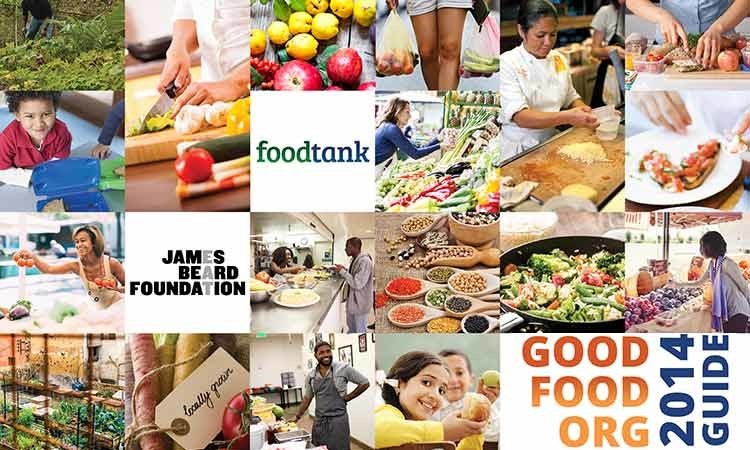 he James Beard Foundation (www.jamesbeard.org) and Food Tank (www.FoodTank.com), along with a prestigious advisory group of food system experts, developed the first annual "Good Food Org Guide." This definitive Guide highlights nonprofit organizations that are doing exemplary work in the United States in the areas of food and agriculture, nutrition and health, hunger and obesity, and food justice. Only nonprofit, scholarly, and municipal initiatives have been selected in order to spotlight efforts that are focused on community building and engagement, advocacy, and service.

The vision and objective of this annual publication is to focus attention on the dozens of nonprofit organizations (listed in alphabetical order, not ranked) who are working in fields, kitchens, classrooms, laboratories, businesses, town halls, and Congress to create a better food system. .

"We hope this guide will serve as a resource for chefs, farmers, students, advocates, and others to find the resources they need about the growing good food movement in the U.S.," says Susan Ungaro, President of the James Beard Foundation.

This annual guide was launched today at the James Beard Food Conference as the definitive guide to organizations—national and state-by-state—who are making an impact with their work.

These groups include organizations who combat childhood obesity, malnourishment, and physical inactivity; prevent food waste; educate consumers on healthy, nutritious food choices; create networks of social entrepreneurs; protect food and restaurant workers; highlight solutions for restoring the health of people and the planet; work with indigenous communities to preserve traditions, culture, and biodiversity; inspire and educate individuals to cook more of their own food; and protect public health, human health, and the environment.

Food Tank is delighted to collaborate on this effort with the James Beard Foundation—we're thrilled to highlight so many great organizations who are working to educate, inspire, and cultivate a better food system.

Please connect with us on Facebook, Twitter, and Pinterest
____________________________________________________________________
EarthTalk®
E - The Environmental Magazine
Dear EarthTalk: Is it true that playing on artificial turf fields can cause cancer? If so, how can I minimize exposure for my sports-loving kids? -- Melanie Witmer, Syracuse, NY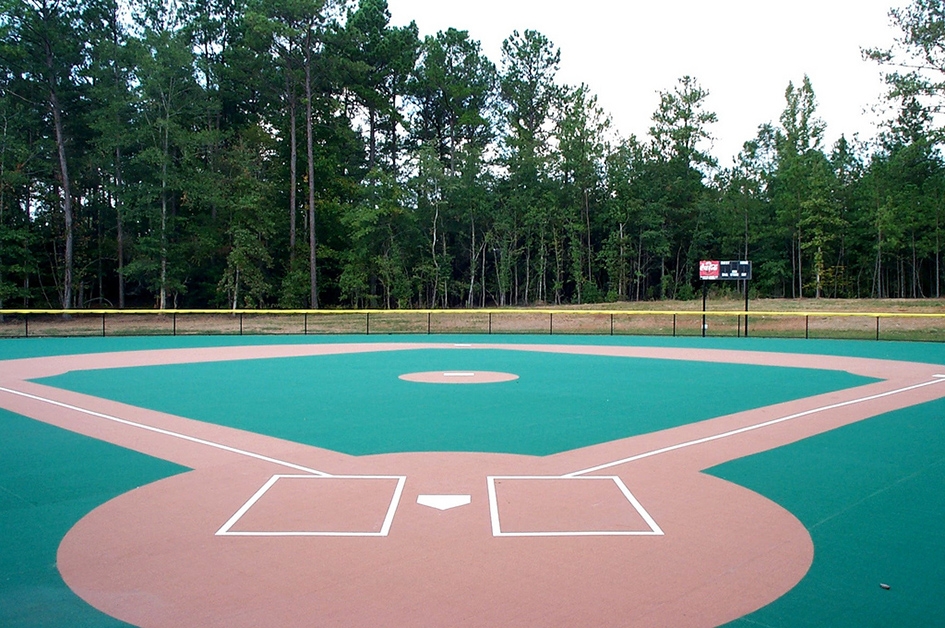 Just when you thought it was safe to play soccer on that brand new synthetic turf field, it may be time to think again. Those little black dirt-like granules that fill up the space between synthetic blades of grass and make up some 90 percent of today's artificial turf fields are actually ground-up car and truck tires. As such they contain a host of potentially noxious chemicals that can lead to a wide range of health problems.
Four of the constituent chemicals in these "tire crumbs" (or "tire mulch") as they are called—arsenic, benzene, cadmium and nickel—are deemed carcinogens by the International Agency for Cancer Research. Others have been linked to skin, eye and respiratory irritation, kidney and liver problems, allergic reactions, nervous systems disorders and developmental delays.
While the risk came to light recently when a University of Washington women's soccer coach began to think it might be more than a coincidence that two of her goalies were stricken with cancer, researchers have known about such potential links for years. A 2007 report by the Connecticut-based Environment & Human Health Inc. (EHHI) looked at several scientific studies and found definitive connections between various health problems and exposure to synthetic turf.
EHHI also reported that kids on playfields are likely to face similar risks as line workers in the rubber fabrication and reclamation industries, where they say health reports show the presence of multiple volatile organic hydrocarbons and other toxic elements in the air. "Studies at tire reclamation sites report leaching of similar sets of chemicals into the ground water," says the group.
The Synthetic Turf Council, an industry group, maintains that there is considerable evidence pointing to the health safety of synthetic turf. But the U.S. Environmental Protection Agency (EPA) isn't taking sides, leaving it up to state and local jurisdictions to decide whether or not to allow artificial turf. The EPA would like to see more research done so parents everywhere can have a better idea of the risks involved.
Of course, synthetic turf fields aren't all bad. For one, they don't need frequent watering (a grass playing field typically requires 50,000 gallons of water per week during growing season) and doesn't require the application of potentially toxic pesticides. Furthermore, turf is much more durable and less costly to maintain than grass, and players suffer fewer injuries on it since it doesn't turn to slippery mud when wet.
Do these pros outweigh the cons? Some schools don't think so and are turning back plans to convert their grass fields to turf. Where it is too late for that, parents should warn their little athletes to stay upright as much as possible—turf-related cancers seem to be most common in goalies who spend the most time down on the turf surface. Also, the Centers for Disease Control and Prevention (CDC) recommends that those playing on synthetic turf avoid eating or drinking on the field where toxic dust can contaminate food and liquids, wash their hands and body aggressively with soap and water afterwards, and remove clothes worn on the field and turn them inside out before washing them separately from other items.
CONTACTS: International Agency for Cancer Research, www.iarc.fr; EHHI, www.ehhi.org; Synthetic Turf Council, www.syntheticturfcouncil.org; CDC, www.cdc.gov.
EarthTalk® is written and edited by Roddy Scheer and Doug Moss and is a registered trademark of E - The Environmental Magazine (www.emagazine.com). Send questions to: earthtalk@emagazine.com.
___________________________________________________________________
Personal Power Can Be Yours with Spa Treatments Designed to Put More Pep in Your Step
An Arabian-Style Spa in the Sinai
Get ready to cleanse, invigorate and refresh the body and spirit at the Spa, with all-natural treatments and a full-body experience.
Singing for Serenity: The Full Day Rejuvenation at Four Seasons Resort Sharm El Sheikh  taps into a musical Tibetan tradition - the Singing Bowl Treatment. The bowls (technically a standing bell) use sound waves to provide meditative healing. After your 80 melodic minutes, you'll let go of repressed emotions and feel waves of joy and happiness wash over you. Think of the experience as emptying out your own bowl so you can fill it up again.
__________________________________________________________________
---