HEALTH MINDED   .    .     .
STEFANO MOSI WINNER OF 2019 GELATO FESTIVAL AMERICA 
GELATO FESTIVAL AMERICA AT PACIFIC DESIGN CENTER WEST HOLLYWOOD

by Bonnie Carroll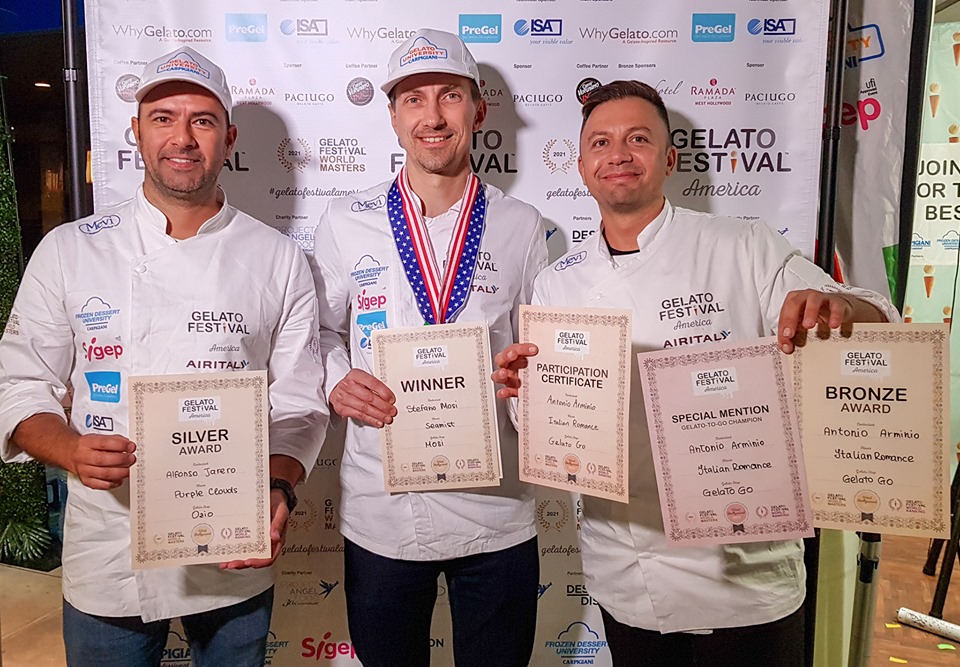 2nd Alfonso Jarero - 1st Stefano Mosi - 3rd Antonio Armenio
The third Los Angeles Gelato Festival America was held at the Pacific Design Center in West Hollywood to the delight of Angeleno's who love Italian gelato. The morning rain did not discourage the panel of technical judges who arrived at 9:00 a.m. to begin the task of selecting the best of twelve gelato entrees prepared by chefs from around the world who all have hopes of making it to the 2021 World Gelato Competition in Italy.
Sixty percent of the vote for the winner comes from the technical judges choice and forty percent is voted on by the general public who vote during the event. Technical gelato Judging is based on presentation, flavor, structure and creativity, with competitors giving an introduction prior to the judging to share details on their gelato and answer questions.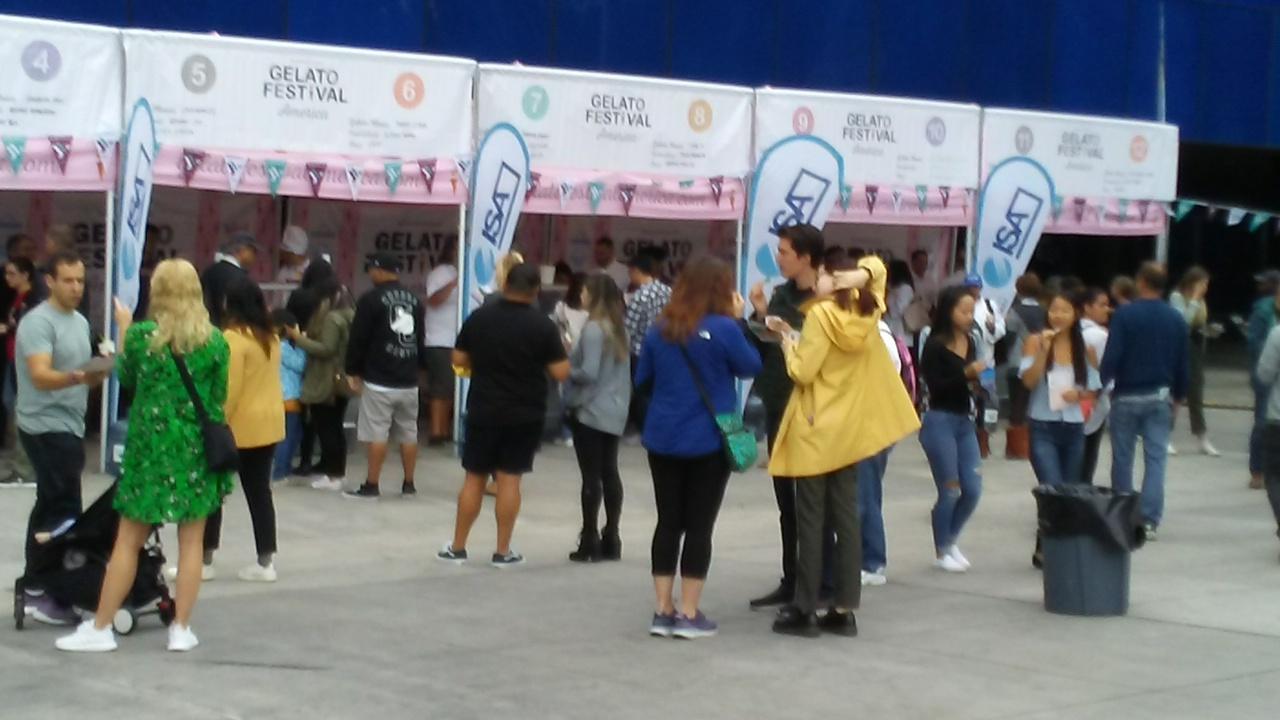 Gelato Tasting Boothes Pacific Design Center
The technical judges panel included a bevy of area travel, food, lifestyle writers. I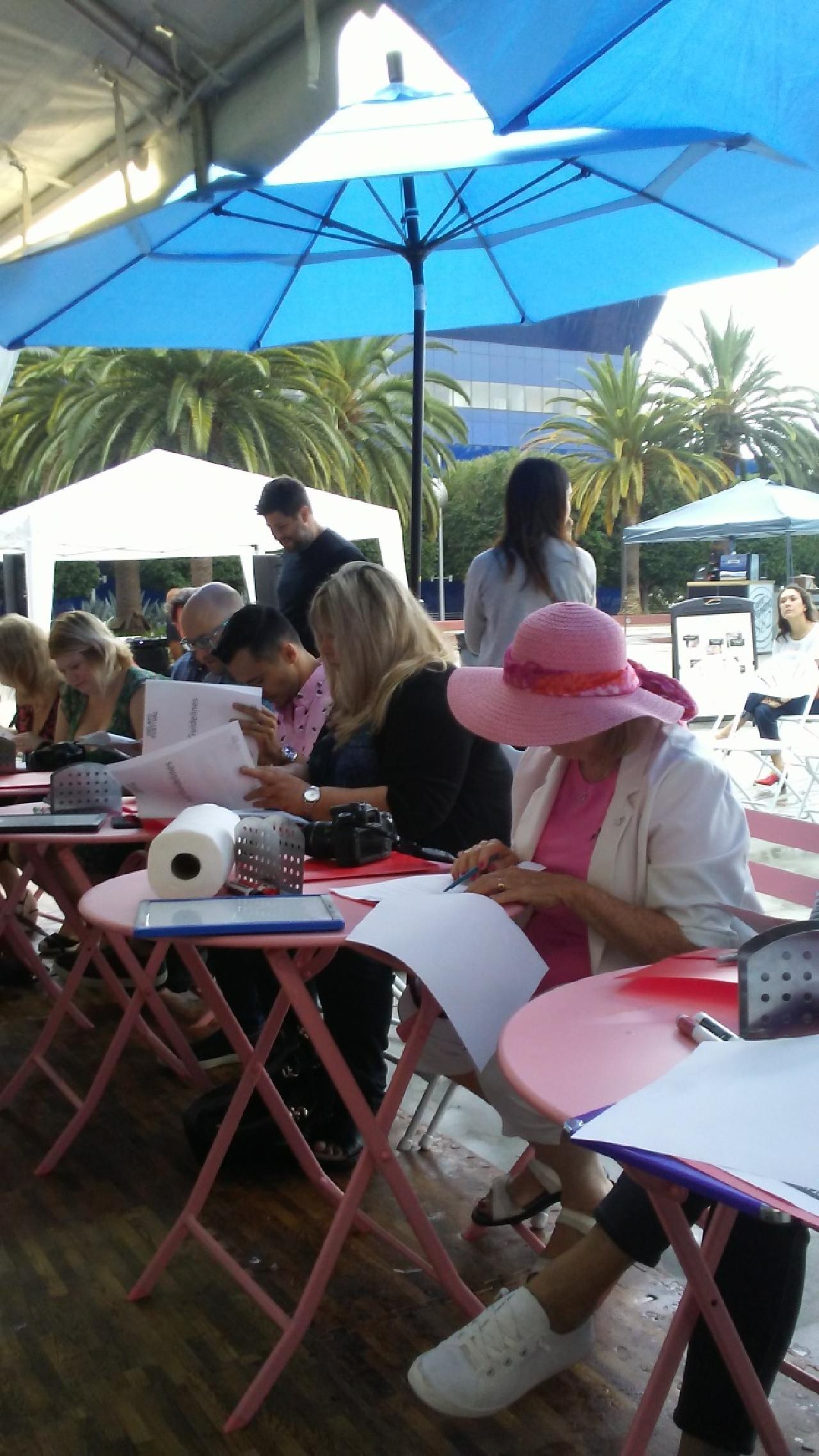 was honored to again be invited to participate and loved serving as a technical judge in 2017 and 2018 in Santa Barbara at the La Cumbre Center to select the best gelato chefs and never cease to be amazed at the outstanding and original gelato submissions for judging. The mission of Gelato Festival America is to spread the culture of artisanal Italian gelato throughout the United States by their visits to seven cities each summer and has been very successful in this quest. During the West Hollywood event Gelato Festival America opened a new permanent house of Gelato on Melrose were visitors could win a hands on gelato making class.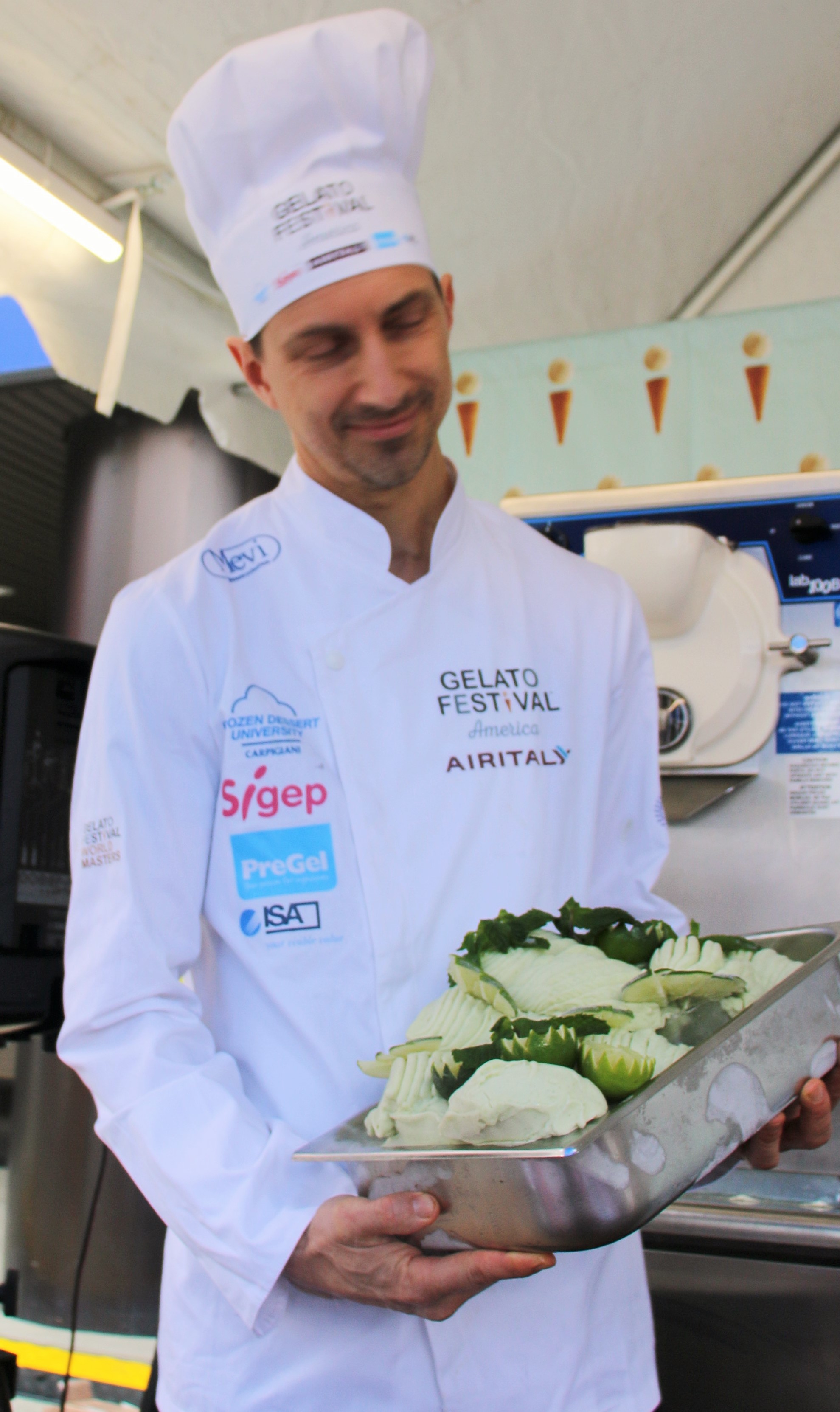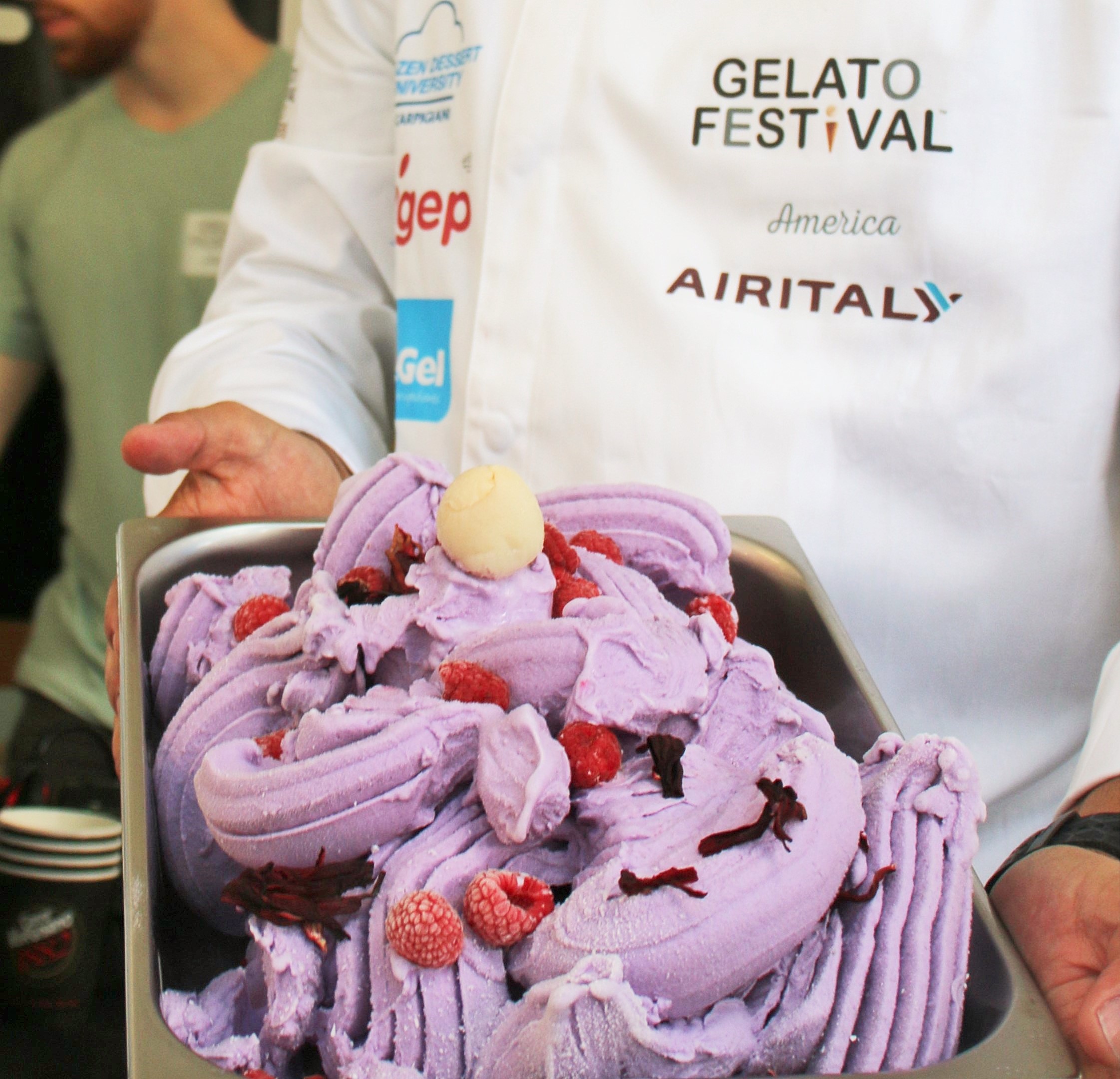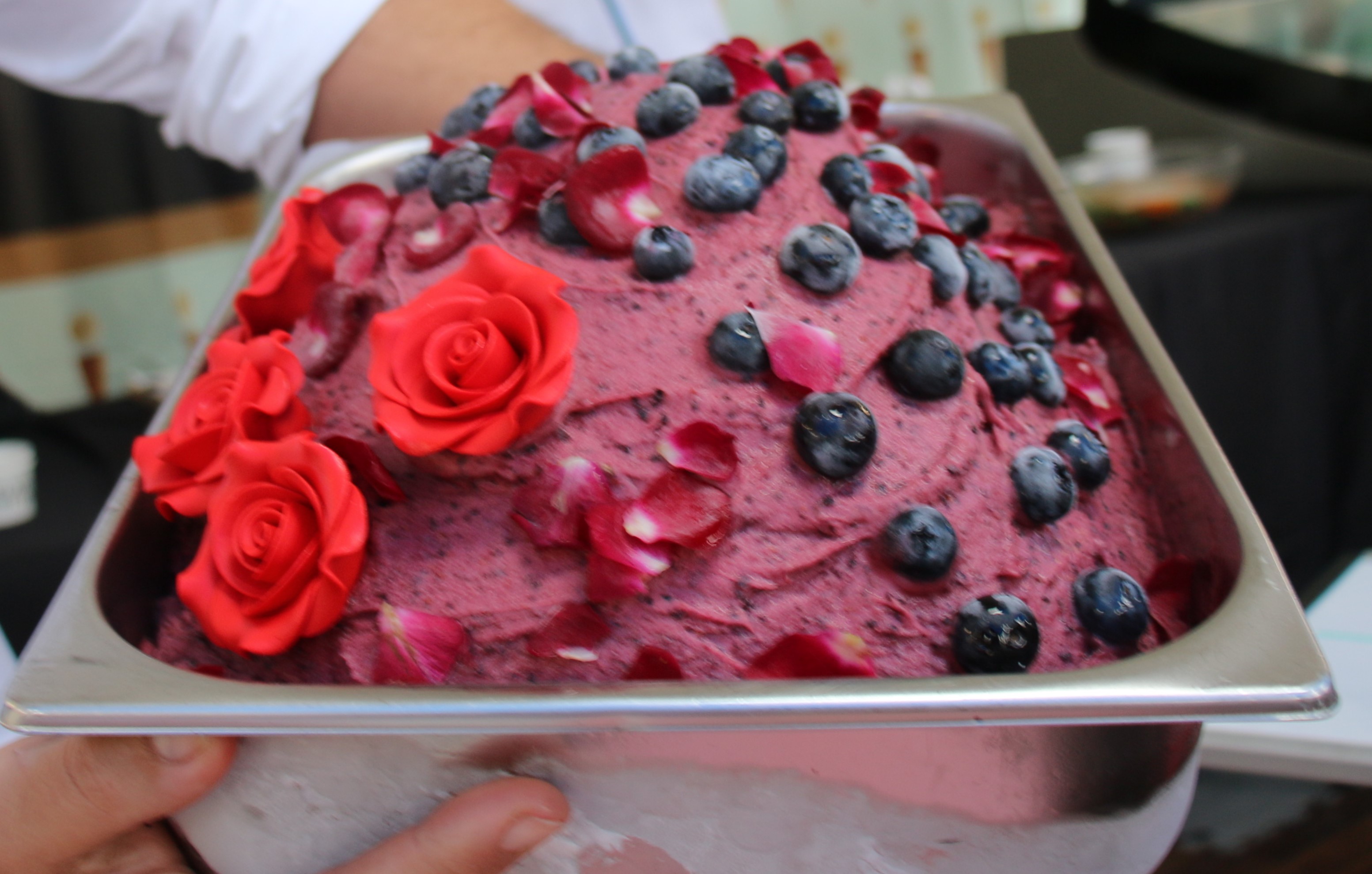 "Seamist" - "Purple Clouds" - "Italian Romance"
2019 Gelato Festival America Winners include 1st Place: "Seamist" by Stefano Mosi of MOSI in Victoria BC, Canada; Second Place: "Purple Clouds" by Alfonso Jerero of Ozio in Mexico City, Mexico; Third Place: "Italian Romance" by Antonio Arminio Gelato Go in Beverly Hills. Technical Jury went to "Tropical Cowboy" by Ashley Westwood of Bibo Fredo Gelato in Reno NV and Popular Jury went to "Sunshine Spicy" by Riccardo Barbarossa of Zona Blu in Weston, Florida. Daniele Palazzoni, Gelato Festival America Director was Emcee and assisted with award presentations.
Complete 2019 Competitors List: "Seamist" by Stefano  Mosi of MOSI in Victoria, BC Canada; "Mangonada" by Katyna Mercenari of Fatamorgana Gelato in Studio City, CA; "Italian Romance" by Antonio Arminio Gelato Go in Beverly Hills, CA; "Sunshine Spicy" by Riccardo Barbarossa of Zona Blu in Weston, FL; "Strawberry213" by Brandon Choi of Stick Station in Commerce, CA; "Purple clouds" by Alfonso Jarero of Ozio in Mexico City, Mexico; "Tropical Cowboy" by Ashley Westwood of Bibo Freddo Gelato in Reno, NV; ;"Cardi "P" by Jason Corosanite of Particle Food Lab/Cafe Vine in Philadelphia, PA; "Dolceforte" by Fabio Ugoletti of Cecconi's in West Hollywood, CA; "Fig, Prune & Grape" by Alison Trent of Ysabel in West Hollywood, California.
Only three American chefs will be eligible overall for a chance to represent America at the Gelato Festival World Masters in 2021 in Italy. The gold medal, presented by ISA to winners, is created by Florentine Goldsmith Paolo Penko. Winning the 1st place gold medal provides chefs the opportunity to compete again for a chance to make it to Italy in 2021."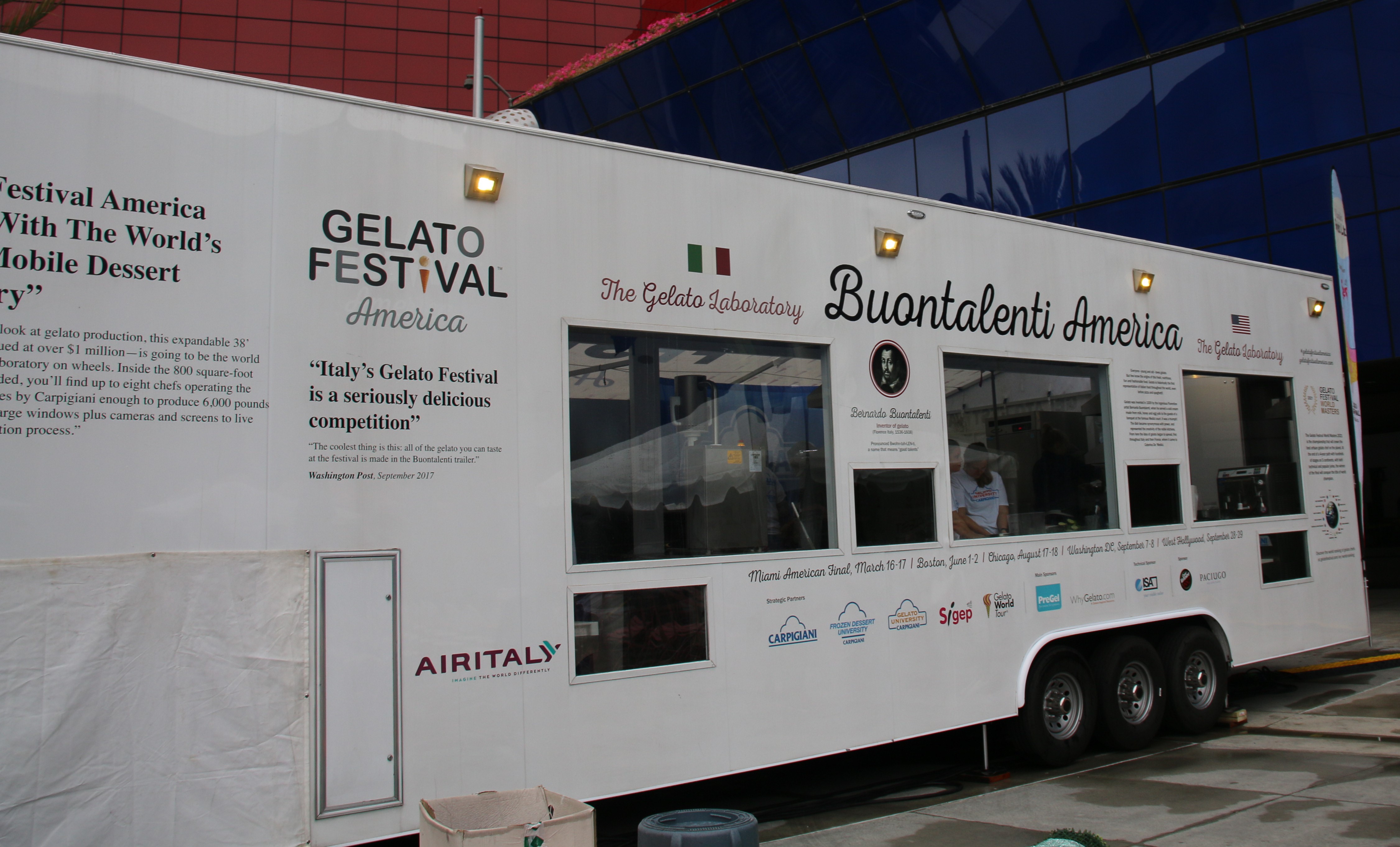 Gelato Festival Labratory on Wheels
Held in collaboration with strategic partners Carpigiani Gelato University, Carpigiani Frozen Dessert University and Sigep - Italian Exhibition Group, Main Sponsor PreGel and WhyGelato.com, and Official Technical Sponsor ISA, AIRITALY, Ramada Inn, La peer hotel, Gelato World Tour, Mevi, Stanpao, Cafe Vergnano 1882, Paciugo Gelato Caffe, Producers. The Gelato Festival America generates the entrants into the Gelato Festival World Masters 2021, the challenge for the best artisan gelato chefs on the planet. The winning gelato chefs selected at each stage of the Gelato Festival America 2019 will win the right to continue the challenge towards the semi-finals and ultimately the final – it's the World Cup of gelato, a journey with hundreds of trials over four years on five continents!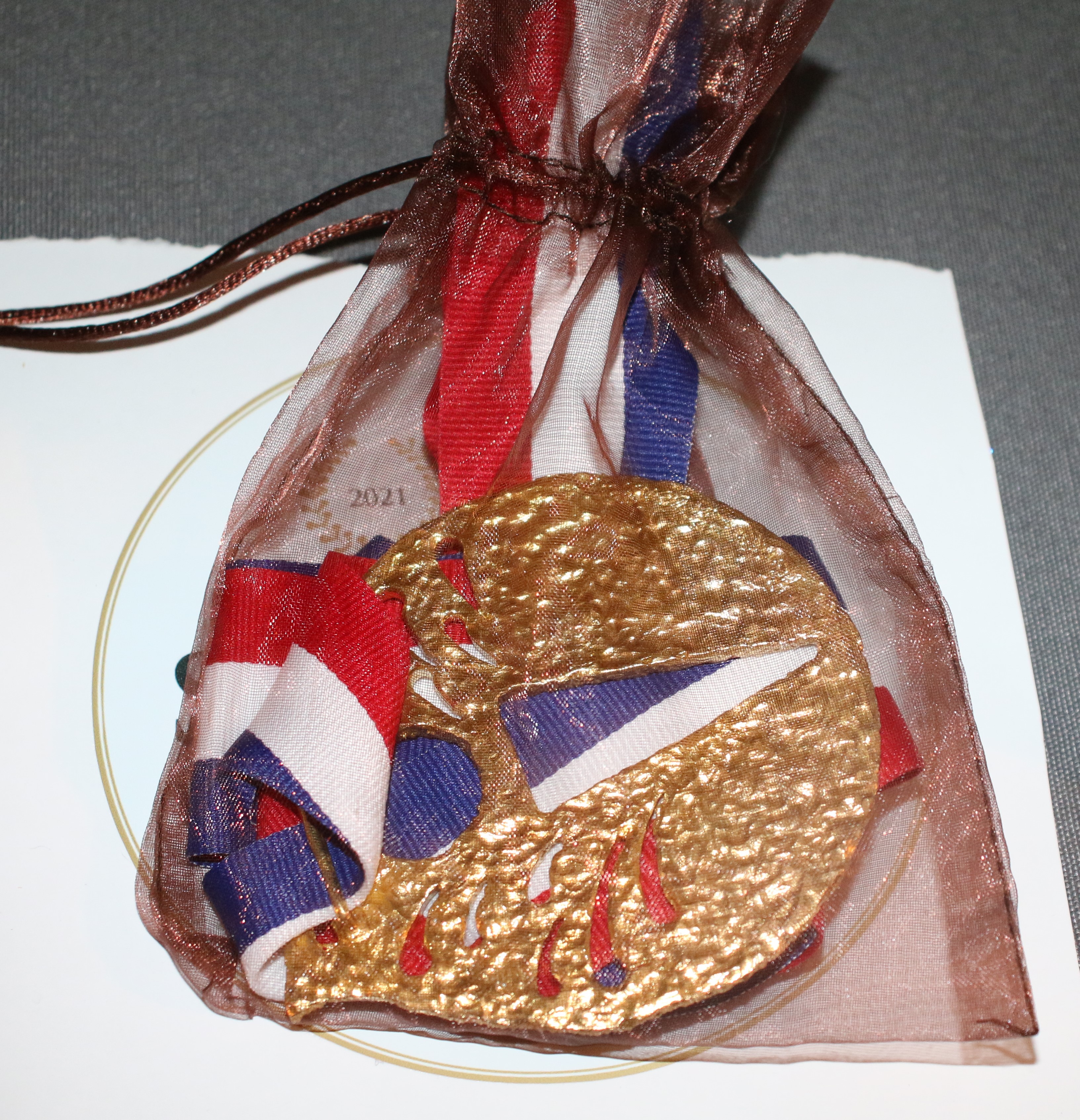 Italian Designer Gelato Festival Gold Medal
The Gelato Festival made its debut in Florence in 2010 inspired by the idea of the first historic gelato recipe by the architect Bernardo Buontalenti in 1559. Since then, the Gelato Festival has expanded its borders, beginning in Italy, then spreading throughout Europe and finally to the United States in 2017 - A total of 64 festivals, preparing the whole planet for the world championship of the Gelato Festival World Masters 2021. For upcoming event information visit www.gelatofestivalamerica.com.
___________________________________________________________________

Ridley-Tree Cancer Center at Sansum Clinic
540 W. Pueblo Street -
Santa Barbara
,
CA
93105
---