A NEW DAY FOR GINGER
By Bonnie Carroll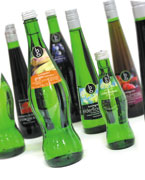 Ginger is a tropical plant from Asia, featuring yellowish-green flowers and having a pungent aroma. Its rootstock is dried and powdered for use as a flavoring or in sugared form as a sweetmeat. It is considered to have good luck properties and is claimed to bring prosperity to those who eat it. Ginger ale or ginger beer and ginger bread have been favorites in America for decades, but there is a revival of fresh ginger drinks and cordials underway that is all about good health, and possibly great wealth.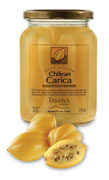 The Deepak Chopra Center for Wellness at the La Costa Resort & Spa recommends their breakfast cocktail of lemon juice and ginger to begin the day with good health. The Bottlegreen folks from England have come up with a refreshing Ginger-Lemongrass Cordial in a beautifully designed presentation; visit www.Chefswarehouse.com. and Gingerita, ginger margarita concentrate, a new California non-alcoholic beverage is served in practically every restaurant in LA; visit www.gingerita.com These seem to be the hottest new health drinks on the refreshment scene.. I also came across a delicious new Chilean Carica fruit product by Tamaya Gourmet. This rare product of Chili is available by the jar or by the case, and is divine with a bit of Ginger powder sprinkled on top; visit www.chefswarehouse.com or www.tamaya.cl
---
CIAO BELLA!
The Nation's Leading Purveyors of Artisanal Gelato and Sorbetto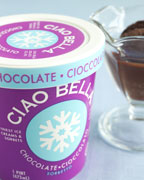 Twenty Years Later, the Ciao Bella Gelato Company
Is Still Inspired by the World's Finest Ingredients,
a Secret Recipe from Turin, America's Best Chefs,
and the City Where It All Began
New York, New York – Ciao Bella Gelato has come a long way since its beginnings as a tiny storefront in Manhattan's Little Italy. A real epicurean success story, Ciao Bella's sales have sky-rocketed, launching the brand to national prominence and landing the gourmet gelato purveyor a spot on the phenomenal hit TV show, "The Apprentice". The numbers tell the story: When F.W. Pierce and Charlie Apt, the entrepreneurial team who grew the company from a local NY specialty into a national brand, set up shop in 1983, annual revenue was at $100,000. Just in the last year, Ciao Bella's revenues increased by nearly 22%, hitting the $12 million mark. With new locations opening on both coasts, and franchise plans in the works, Ciao Bella's growth continues at a swift pace.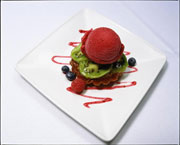 From their kitchen on 40th Street, trucks now deliver Ciao Bella throughout New York, New Jersey, Boston and Washington, D.C. They have expanded to the West Coast with a production facility in San Francisco and distribution center in Los Angeles. Most recently, Ciao Bella has brought their ultra-premium products to the Midwest with a distribution center in Chicago. On account of this tremendous growth, Ciao Bella products are now available for retail sale in 40 states and the Caribbean, at colorful scoop shops operating on both coasts with flagship locations in New York City and San Francisco, and in over 1500 restaurants that incorporate Ciao Bella's innovative flavors into their culinary creations . Available in Whole Foods and other fine groceries nationwide, Ciao Bella Gelato defines the category of accessible luxury.
As a true gelato laboratory, Ciao Bella gives the nation's top chefs and restauranteurs the opportunity to create custom flavors from the finest ingredients imported from around the world. In fact, Ciao Bella is one of the few gelato and sorbet companies to employ their own chef, Danilo Zecchin, to develop unique new flavors and oversee production. This direct relationship with the true innovators in the culinary world allows for the kind of creative freedom from which the most delectable and dazzling desserts are born. Once prominent chefs such as Mario Batali started commissioning custom flavors to serve in their restaurants, other chefs and restaurateurs quickly followed suit. Rather than relying on market research, flavor houses, and focus groups to produce the same old ice cream flavors, Ciao Bella crafts its products based on collaboration with the most sophisticated and imaginative tastemakers and an unfailing commitment to the highest standards of quality.
"We built Ciao Bella on the promise of a superior product, one that New Yorkers could be proud of – that means a commitment to the best ingredients and very hands-on manufacturing process," says company CEO F.W. Pearce. "We won't compromise that; if we did, we wouldn't be making Ciao Bella Gelato."
Recent accolades for Ciao Bella include recognition as the best ice cream in New York by Zagat, the best ice cream in Los Angeles by Angeleno magazine, and selection as the House Purveyor to the prestigious James Beard Foundation. From a small neighborhood scoop shop with barely enough elbowroom to dish out their creamy handmade gelato to the leading artisanal ice cream maker in the country, Ciao Bella has clearly hit upon a recipe for success.